Many of the world's best diving destinations are remote islands or atolls scattered across the ocean, far from the reaches of diving day trips and making them ideally-suited to liveaboard diving. Renowned sites including Raja Ampat and Komodo in Indonesia, Fuvahmulah in the Maldives, and the isolated outposts of Socorro in Mexico and Columbia's Malpelo Island, are all a long way from civilisation, making access difficult at best, and often utterly impossible.

The long travel times required to reach these extraordinary dive destinations means that the best way to explore them is by booking a liveaboard diving holiday. From traditional Indonesian phinisi schooners, to sleek safari boats with every convenience, and sturdy expedition vessels equipped with submarines and research lans, today's scuba divers are spoilt for choice - and ZuBlu can help you find your perfect liveaboard and itinerary.
But, how exactly do you book a liveaboard dive trip, and where are the best places to go? We've put together a guide covering how to book a trip, the best dive safari destination in the world, and everything you'll need to know about liveaboard dive boats!
Dive right in, or find exactly what you're looking for in the menu below:
---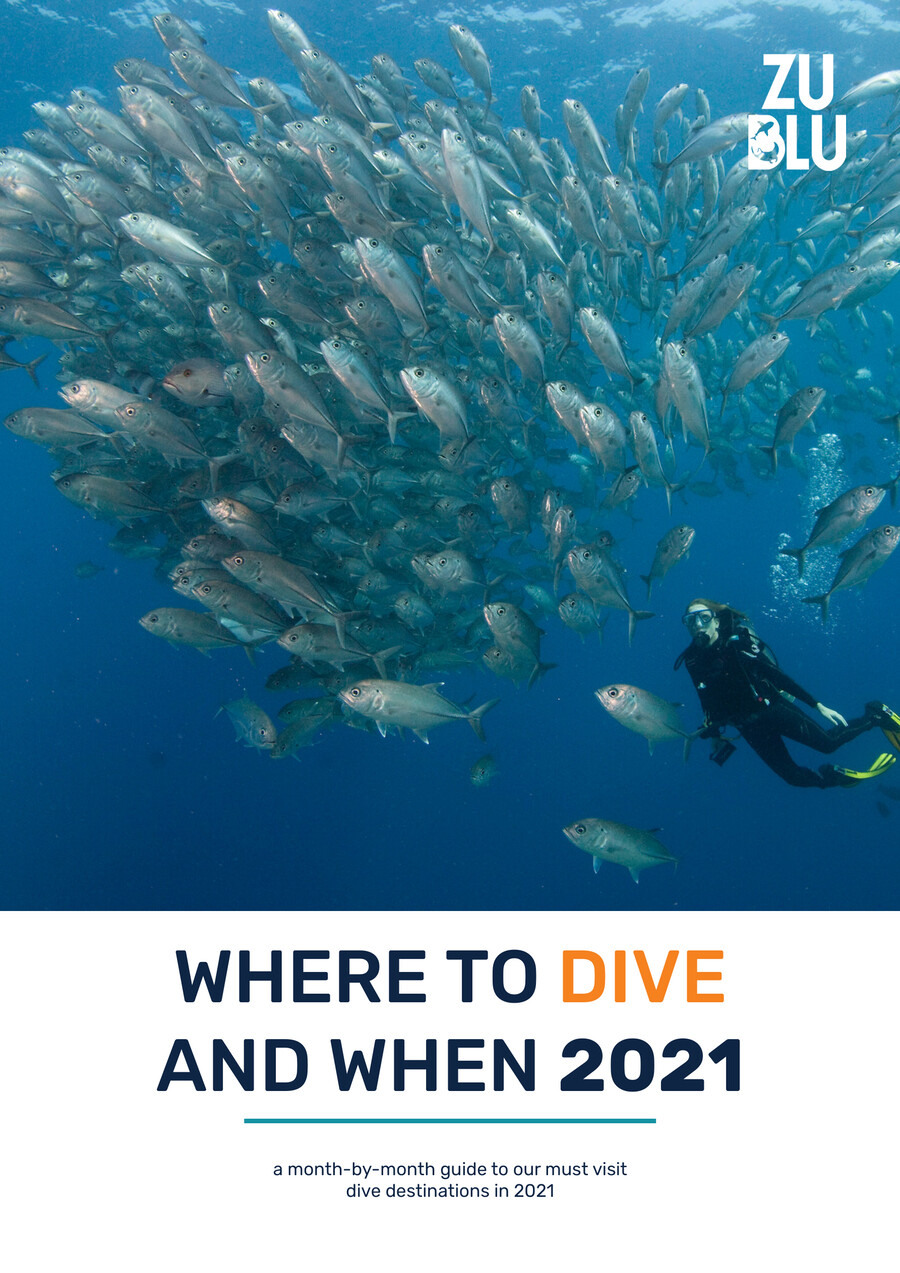 Get inspired with this free month-by-month guide to the best diving destinations from the Red Sea to the South Pacific. Explore ZuBlu's top picks and start planning your 2021 dive holiday.
---
---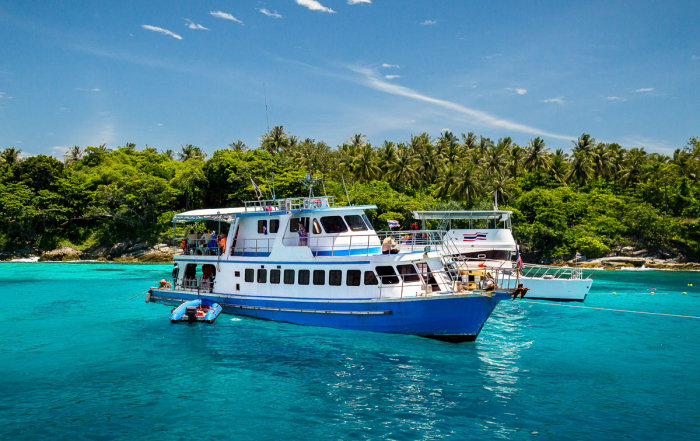 If you're a seasoned diver, then you probably already know exactly what you want from your next liveaboard holiday, and where you want to go. In which case, ZuBlu's search makes it easy to book your ideal trip - there are hundreds of liveaboards to choose from!
But if you're new to liveaboard diving it's worth doing some research and learning more about these safari trips. Like any dive experience or holiday you book, you'll want to make sure it's perfect, so it's important to figure out exactly what you're looking for.
Working out your budget can be a great place to start when searching for the ideal dive safari. Liveaboards trips are more accessible than ever and divers of every type can find their dream itinerary - whether it's a no-frills budget-friendly liveaboard option, an adventurous expedition, or an extravagant ultra-luxurious dive cruise. You should also be realistic about your dive experience, choosing an itinerary that is well-suited to your abilities and ensuring the vessel is equipped with the appropriate facilities. Find out more about choosing the right liveaboard trip here.

Before we dive into the best liveaboard destinations, it's worth mentioning that the fleet you choose can be just as important as the destination itself. Each company has its own focus and philosophy, and a different set of priorities during each voyage. And, once you've found a fleet that fits your travel style and budget, selecting the best boat becomes a lot simpler. And if you need a little extra help to find your perfect match, our detailed write-up of the world's best liveaboard fleets is sure to help you choose.
---
Ready to start planning your ultimate liveaboard diving experience?
Contact one of our dive travel experts today!

---
With so many spectacular dive destinations around the planet, how do you find the right one for your next liveaboard dive holiday? Read on to explore the best dive destinations for liveaboard boats in the world.

Liveaboards in Indonesia
Indonesia's 17,000 islands offer some of the best tropical diving on the planet. From the spectacular reefs and diversity of Raja Ampat, to the manta rays of Bali and Komodo, you'll find exceptional diving - whatever floats your boat! The huge size of the country means that Indonesia is ideal for liveaboard dive trips and you'll find a comprehensive selection of beautiful traditional phinisi liveaboards to choose from, as well as luxury modern vessels with every creature comfort.
Bali to Komodo
This classic itinerary includes diving in the Gilis, Satonda and Moyo Islands in Lombok, Sangeang and Banta Islands in Sumbawa, before heading to the famed sites of Komodo and ending in Labuan Bajo. Some adventurous liveaboards also include a new whale shark hotspot in Lombok.
Komodo north and south
Komodo liveaboard diving combines spectacular islands and exhilarating, current-fuelled dive sites! Dive beautiful reefs, and enjoy exciting drift dives at sites such as The Shotgun. Encounter manta rays at Karang Makassar and Manta Alley, trek in search of Komodo dragons on Rinca and catch the sunset from Padar Island.
Alor and Pantar
Dive spectacular reefs and off-the-beaten-track islands, perfect for an exploratory liveaboard trip. The Pantar Strait is home to pristine reefs and abundant marine life, as well as powerful currents that attract hammerhead sharks and more, plus exceptional muck diving at Beang and Kalabahi.
The Banda Sea
Join a liveaboard 'crossing' dive trip and explore the original 'Spice Islands' of Banda, Run and others, home to everything from schooling hammerhead sharks at Nusa Laut, pristine corals and sea snakes at Manuk and Gunung Api, and exceptional reefs and fish life in the Forgotten Islands.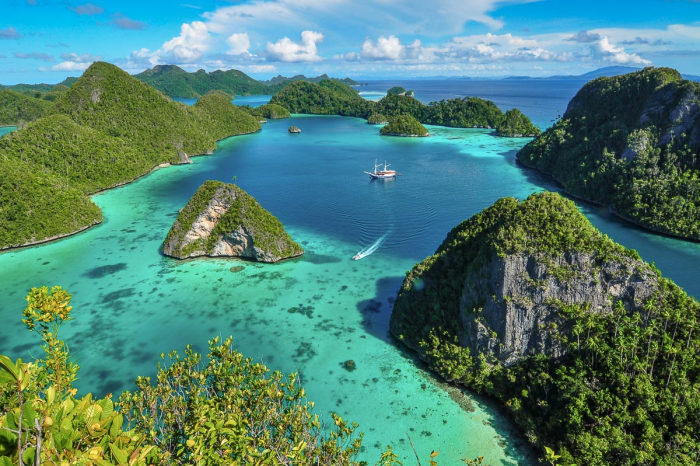 Raja Ampat 
Home to the best tropical reef diving on the planet. The combination of spectacular dive sites, abundant marine life including both reef and oceanic manta rays, and stunning karst landscapes with hidden lagoons and white-sand beaches, ensures Raja Ampat is the ultimate liveaboard holiday destination.
Triton Bay and Cenderawasih Bay
Triton Bay is the site of unique reefs festooned with glowing black coral bushes and soft corals. Whilst over on the eastern side of the Bird's Head Peninsula, Cenderawasih Bay offers exploratory liveaboard diving and wrecks. Both are also famous for their populations of whale sharks that gather around floating fishing platforms known as bagans.
Sangalaki and Maratua
Beyond Indonesia's more popular liveaboard diving areas, these islands off the coast of Kalimantan offer an enticing mix of diving. Expect thriving reefs and exciting drift diving alongside plenty of marine life - including whale sharks, manta rays, sharks, vast schools of fish, and a unique jellyfish lake.
Search, compare and book from the top liveaboards in Indonesia
Discover your next diving holiday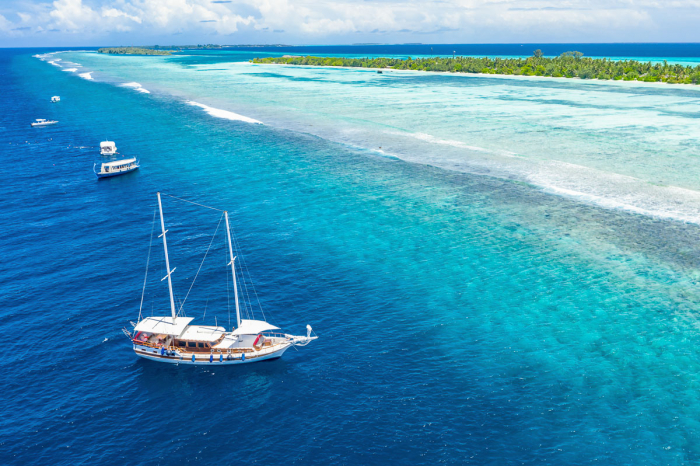 Liveaboards in the Maldives
Stretching over 800 kilometres across the equator in the Indian Ocean, the atolls of the Maldives are home to some of the most spectacular diving in the world, with rich reefs and coral channels to explore, and reliable encounters with whale sharks, manta rays and other shark species. The islands and luxurious resorts offer the perfect tropical backdrop for a spectacular holiday experience, but the size of the country and diversity of dive sites means the Maldives is also uniquely suited to liveaboard diving trips.
Central Atolls
The central atolls of the Maldives are home to some of the best diving in the country, spurring the creation of some fantastic liveaboard routes as well as a network of private island resorts and guesthouses. Round trip dive safaris take in North and South Male atolls and Vaavu Atoll, before heading to North and South Ari and Rasdhoo. Guests can expect manta ray and whale shark encounters, as well as amazing channels, reefs and wrecks packed with marine life.
Southern Atolls
Currently the hottest dive destinations in the country, the Maldives' southern atolls are the perfect choice for an adventurous liveaboard dive holiday with spectacular dive sites spread across different atolls. Typical itineraries from Male might include dives in Vaavu, Meemu and Laamu Atolls on the way south, before reaching Huvadhu, Fuvahmulah and Addu. These remote sites offer encounters with plenty of sharks, including tiger sharks at Fuvahmulah, along with manta rays, pristine reefs and the largest wreck in the Maldives.
Northern Atolls
Heading north from Male Atoll, liveaboards explore a more peaceful side of the Maldives, with far less tourism and some spectacular island scenery. Typical itineraries in the northern atolls visit Baa, Raa and Lhaviyani Atolls - often combined with dives in North Ari and Rasdhoo on the way to Baa Atoll. The highlight of any northern atoll itinerary is the chance to visit Hanifaru Bay in Baa, home to the largest congregations of manta rays in the Maldives, as well as diving exciting wrecks, reefs and channels.
Search, compare and book from our top liveaboards in the Maldives
Discover your next underwater adventure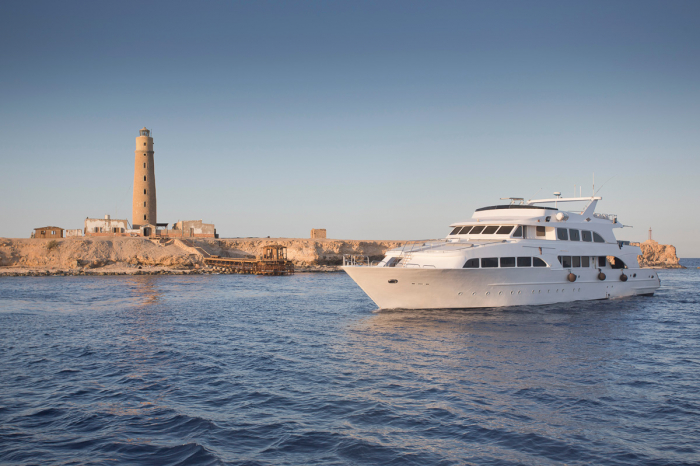 Liveaboards in Egypt and the Red Sea
Egypt's Red Sea offers an eclectic mix of scuba diving, with spectacular reefs and shipwrecks to explore, and stunning marine life that will amaze even seasoned divers. Set against a striking landscape of arid cliffs and lonely islands, and extending over two thousand kilometres from north to south - the Red Sea is the perfect territory for liveaboard diving adventures, whether you're looking for a quick safari or a dive expedition.
Sharm El-Sheikh, Hurghada and Dahab
Liveaboard dive safaris in the northern Red Sea typically depart from Hurghada and visit the spectacular reefs at Ras Mohammed National Park, the Straits of Tiran with its currents and sharks, and the wrecks of the Thistlegorm, Dunraven, Giannis D and Carnatic - amongst the most photogenic wrecks in the world.
Marsa Alam, Brothers Islands and Elphinstone
Liveaboard itineraries exploring Egypt's central Red Sea region depart from Port Ghalib close to Marsa Alam, or Hurghada. Divers can explore coastal sites in search of dugongs and dolphins, then head offshore to the isolated sites of Elphinstone, the Brothers Islands, and Daedalus. All are known for beautiful reefs, dramatic underwater landscapes, and encounters with sharks including hammerheads, thresher sharks, and oceanic whitetips.
St Johns, Rocky Island and Zabargad
Departing from Port Ghalib, liveaboards explore Egypt's most exhilarating diving. Week-long itineraries visit Fury Shoal, Zabargad, Rocky Island, and St. John's Reef, diving pristine coral reefs and hidden wrecks. Add in the excellent visibility and extensive pelagic life, including oceanic whitetips and hammerhead sharks, and you have all you need for an exceptional liveaboard dive holiday.
Search, compare and book from our top Red Sea liveaboards
Discover your next ultimate diving experience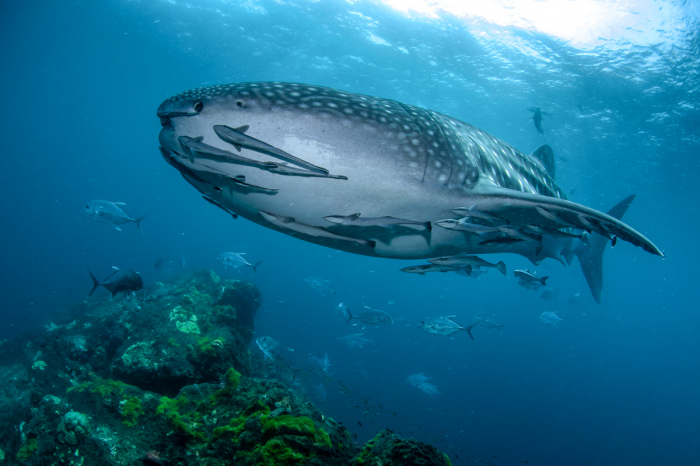 Liveaboards in Thailand
Thailand has long reigned supreme as a much-loved holiday destination and world-renowned diving hotspot. On the west coast, the Andaman Sea stretches from the border with Malaysia to Myanmar and beyond, and is peppered with islands, protected marine parks and isolated pinnacles - as well as Thailand's best diving.
Similans Islands and Richelieu Rock
The Similan Islands, Koh Bon, Koh Tachai and the famous Richelieu Rock are world-renowned dive destinations that offer exceptional underwater adventures and the best liveaboard diving in Thailand. Liveaboards depart from Phuket or Khao Lak to the north and itineraries include spectacular reefs and isolated pinnacles - with the chance of encountering manta rays and whale sharks.
Search, compare and book from the top liveaboards in Thailand
Discover you next Andaman Sea adventure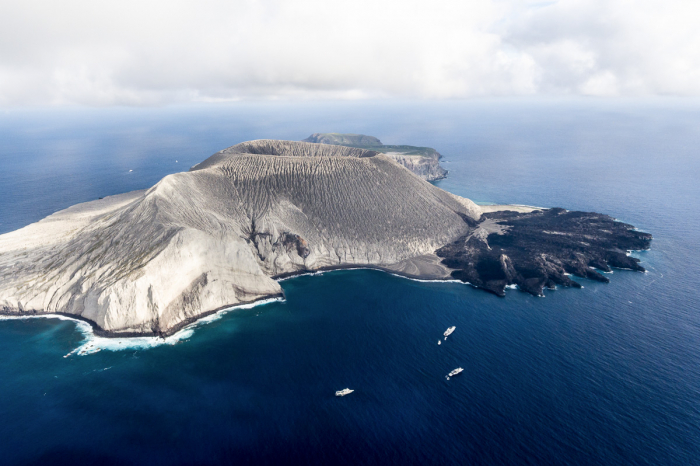 Liveaboards in Mexico
Mexico's impressive size is one of the main highlights of travelling in the country, and the reason why there is such a diversity of dive sites. Liveaboard safaris are the ultimate way to explore these sprawling coastlines, visiting all the top sites in a single trip and providing a true taste of Mexico's diverse and dynamic diving.
Socorro
Considered to offer the best diving in Mexico, Socorro and the Revillagigedo Islands are home to some of the ocean's most spectacular marine life. Socorro liveaboard dive holidays, might have a long open-ocean crossing - but, they're worth the trip. Visitors should expect whale sharks, oceanic manta rays, dolphins, and massive shoals of tuna - plus reef and pelagic shark species. And, thanks to its isolation and marine park protection, this spectacular environment remains pristine.
Guadalupe
Located over 200-kilometres off Mexico's Pacific coast, Guadalupe Island is a hotspot for great white sharks, with over 300 individuals migrating here during the four-month season. Visitors to this unique destination can get up close and personal with these incredible creatures from submerged cages, with no reef in sight, making for a truly thrilling experience.
Baja California
The huge Baja peninsula offers two distinct diving experiences, with the Pacific ocean to the west, and the Sea of Cortez - the "aquarium of the world" - to the east. Sea lions, shipwrecks and schooling sharks are common highlights here, as well as migratory whales, dolphins, orcas, and rays. With so many distinct dive destinations and world-class underwater experiences, Baja California is perfectly suited to liveaboard exploration.
Search, compare and book from our top liveaboards in Mexico
Discover your next favourite destination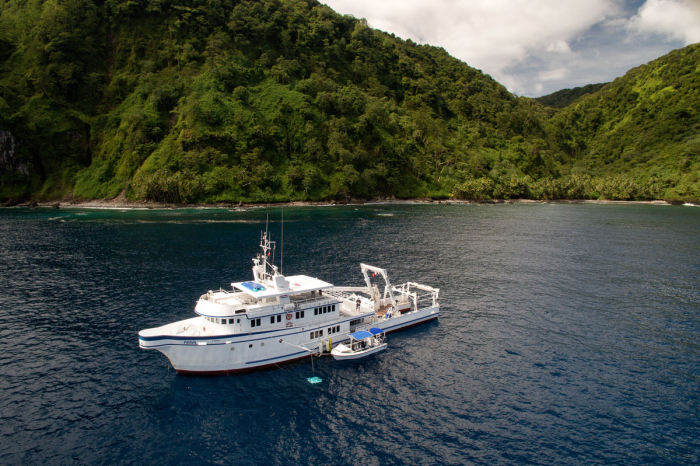 The Hammerhead Triangle - Galapagos, Cocos and Malpelo
The 'Hammerhead Triangle' may sound like the stuff of legend, but it's very real. This triangular constellation of remote islands is located more than 500 kilometres from the mainland, in the middle of the eastern Pacific ocean, and is formed by Cocos Island, Malpelo Island, and the Galapagos Archipelago - all well known hammerhead hotspots. In fact, these destinations arguably offer the best hammerhead diving in the world.
Galapagos Islands
Renowned for their unparalleled endemism, the Galapagos Islands are also a unique dive destination offering exceptional underwater experiences. Visitors can dive alongside equatorial penguins and marine iguanas, as well as whale sharks, manta rays, sea lions, and more. But, at far-flung Darwin and Wolf islands, only reached by liveaboard, divers will discover the archipelago's marquee experience - regular rendezvous with some of the planet's biggest schools of scalloped hammerhead sharks.
Cocos Island
Taking up to 36-hours to reach, this isolated island is reserved for the most intrepid of liveaboard divers. But, with a nickname like 'Little Galapagos', you can rest assured the diving will be worth it. About 20 dive sites have now been documented around the island, including sheer walls, plunging pinnacles, dramatic drifts and beautiful blue-water dives - several of which are firm favourites for spotting huge schools of scalloped hammerheads. Tiger and whale sharks, manta and devil rays, and dolphins and humpback whales are just a few more of Cocos' highlights.
Malpelo Island
Located 500-kilometres from the mainland, Malpelo is part of a 300-kilometre submarine ridge surrounded by a deep water basin. Malpelo is a hotspot for scalloped hammerhead sharks that gather in huge schools, sometimes hundreds strong. Incredibly, these schools are often overshadowed by a healthy population of silkies, numbering up to a thousand individual sharks on occasions. And, to top it off, this marine park can only be explored by one liveaboard at a time, so you'll have the entire place to yourselves.
Search, compare and book from our top liveaboards in the Galapagos Islands
Discover your next intrepid expedition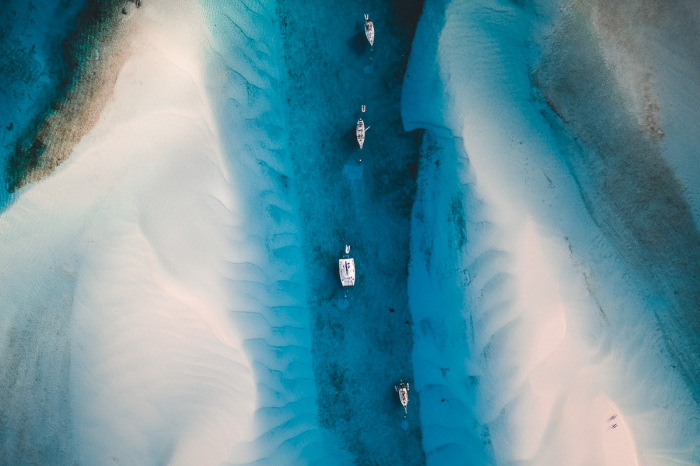 Liveaboards in The Bahamas
The Bahamas is an idyllic island nation renowned for its casual Caribbean vibes and exceptional adventures. The country's 700 stunning islands and over 2000 cays - all fringed by spectacular coral and surrounded by deep ocean trenches - are stretched over a distance of 800-kilometres, making The Bahamas ideally suited to liveaboard trips of all kinds. Fish for prized pelagics, sail in search of isolated islands, and dive alongside some of the most powerful creatures in the ocean - including tiger sharks, hammerheads, bulls sharks, and billfish.
The Exumas, Nassau, and Eleuthera
Often referred to as the 'best of the Bahamas', this route visits the Exumas, Nassau, and Eleuthera - amongst the Bahamas' best diving areas. Expect to explore shipwrecks, take part in shark dives, and discover Nassau's Lost Blue Hole, as well as the region's renowned wall dives that plummet towards the abyss. These voyages also make the most of the islands' land-based attractions, including visiting the world-famous swimming pigs.
Grand Bahama, the Abacos, and Bimini
These islands are generally regarded to offer the country's best shark diving, with both baited and more natural encounters taking place, often in remarkably shallow water. Great hammerheads and tiger sharks are the stars of the show, but you'll likely also encounter Caribbean reef sharks, lemon sharks and nurse sharks. Even wild dolphins make appearances. And, of course, there's also plenty of reefs, wrecks, and walls to add to the fun.
Grand Bahama, Exumas, Nassau, Eleuthera, and Cat Island
This adventurous route is an extension of the classic 'best of the Bahamas' voyage, hitting all the top diving attractions, including the seasonal oceanic whitetip aggregation at Cat Island. Lasting up to 14-days, these cruises offer some 40 dives throughout the archipelago, visiting vibrant reefs, plunging walls, blue holes, shipwrecks, and sand flats full of sharks.
Search, compare and book from our top Bahamas liveaboards
Discover your next ultimate dive safari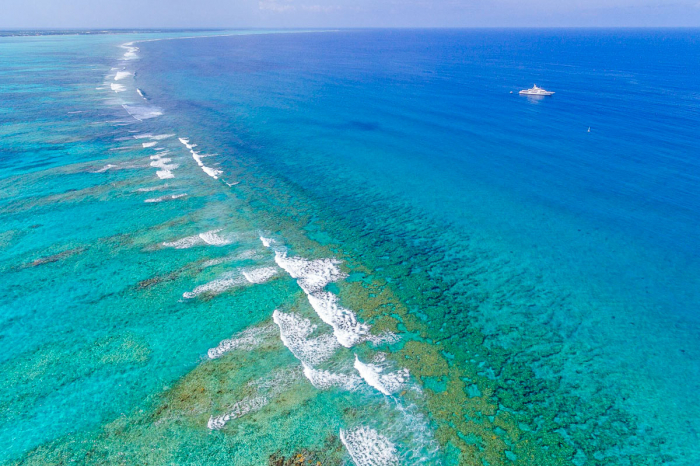 Liveaboards in the Caribbean
As the archetypal tropical destination, synonymous with laid-back, sun-soaked getaways, the Caribbean undoubtedly offers some of the best liveaboard diving in the world. The many different island groups, all surrounded by the warm, species-rich waters of the Caribbean Sea are a divers dream-come-true, and what better way to make the most of your time in the region than with a scuba safari.
Cayman Islands
Widely regarded as the birthplace of recreational scuba diving, this exceptional island escape delivers one dive site for every day of the year. But if you're short on time, a liveaboard is a great way to make the most of your time, exploring multiple sites every day, including seemingly-endless walls, tons of wrecks, and shallow sandbars packed with stingrays.
Turks and Caicos Islands
This archipelago is home to over 40 islands, divided into two groups that lie either side of the Turks Islands Passage. And, with so many islands waiting to be explored, liveaboard diving is by far the best way to tour the Turks and Caicos' many underwater attractions. Expect beautiful coral gardens, 'superhighways' for pelagic species, mating nurse sharks, and the chance to snorkel with humpback whales.
Search, compare and book from our top Turks and Caicos liveaboards
Discover your next Caribbean cruise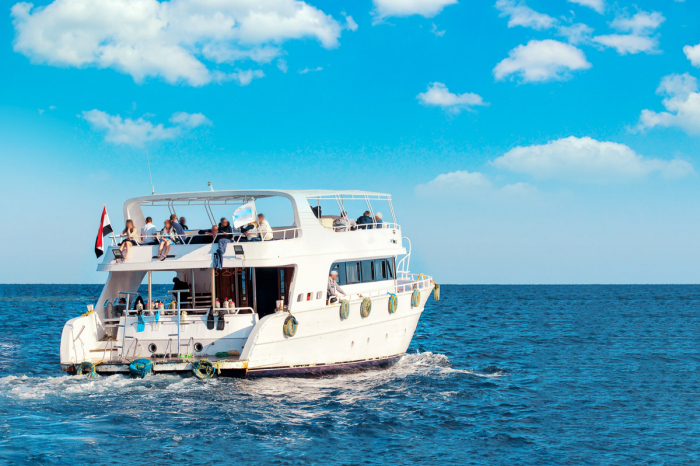 Know before you go
New to the world of liveaboard diving? Well, first of all, congratulations - you're about to embark on the adventure of a lifetime! But, you've almost certainly got plenty of questions, so keep reading to find out everything you need to know before setting sail.
Put simply, a liveaboard dive boat is a boat that scuba divers live on for the duration of their trip. Much like a cruise, but with less people and more incredible diving.

Liveaboard dive boats offer multiple dives per day as part of an all-inclusive package with meals and additional activities. These vessels can be found in all shapes and sizes, hosting anywhere between two and 20+ guests with accommodations ranging from budget-friendly shared dorms, to luxurious boutique experiences at sea.
Liveaboard diving - the pros and cons
One of the best parts of joining a scuba liveaboard is the chance to explore different diving destinations in just one holiday. And, unlike day diving, you won't have lengthy round-trip boat journeys every day. Instead, your boat will move along a preset itinerary or follow weather patterns from one spot to another in search of the best conditions.

This type of dive holiday is also excellent for making new scuba buddies, enjoying mentorship from more experienced guests, and getting into the true spirit of diving! Plus, as countries begin opening their borders after the COVID-19 pandemic, liveaboards are perfectly-suited to the 'new normal' of dive travel.
But, while diving some of the planet's most pristine diving destinations is a dream-come-true, there can be a few downsides.
Guests who get seasick might struggle during their voyage if they don't come prepared. It's essential that you bring everything from home to combat seasickness, just in case you start to feel ill during your trip. Also, most liveaboards aren't as family or non-diver friendly as a resort on land. If you are planning to travel with children or non-divers, carefully research all your options before booking. That way, everyone in your group can enjoy a fantastic holiday on the water!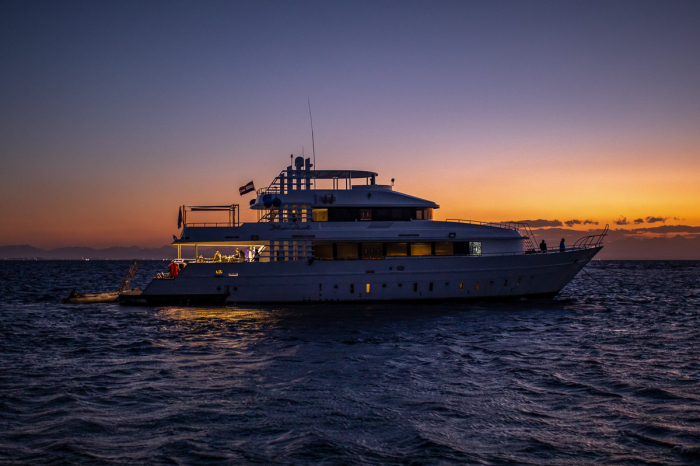 We dive a little deeper into who should join a liveaboard dive trip in a separate article, but the short answer is, anyone. With dive safaris gaining in popularity, more and more trips are available and there's a dream itinerary out there for everyone. And, while liveaboards might seem like the realm of pro divers, beginners can also find shorter trips visiting destinations with calmer conditions - making them ideal for the less experienced. More advanced guests, including tech divers and underwater photographers, will want to choose a liveaboard boat with the right facilities to match their experience, such as guides with extensive knowledge of decompression diving and experts familiar with photography equipment.

Although most liveaboard itineraries cater to divers only, there are some that are suitable for mixed groups, with dedicated snorkel and dive guides and a wealth of extra activities. If you are travelling with family or friends, a chartered voyage might be the best choice, while shared-cabin liveaboards are great for solo travellers.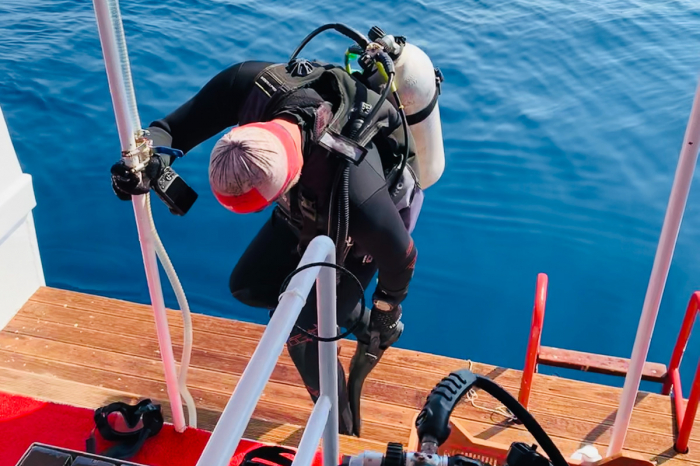 What will it be like during a liveaboard cruise? What should I bring with me and what happens if I get seasick? We answer all these questions, and more, in our separate article about what to expect on a dive liveaboard, but here's a few of the key considerations.

Packing for a liveaboard
Liveaboard dive boats have limited storage space, so pack light. If you are concerned about weight limits on flights, consider renting dive gear onboard. Comfortable, layered clothing is a must, as are toiletries and medicines for the entire trip, including reef-safe sunscreen and insect repellent, basic first aid supplies and seasickness tablets.
Food and drink
Most liveaboards are full-board with three or four meals a day. Snacks, water, tea and coffee are almost always complimentary, while soft drinks and alcohol will sometimes require an extra charge.
Courses, equipment, and nitrox
Courses, rental equipment and nitrox are optional extras available on many liveaboards. Your vessel of choice may offer some, all, or none of these so be sure to check before booking.
Tips and gratuities
It's common practice to tip the hard working crew at the end of your trip, although this is discretional of course. 
Eat, dive, sleep, repeat
After thorough briefings on safety procedures and the itinerary schedule, you'll set sail towards your first destination, often stopping for a check-dive en route. From then onwards, you'll be doing three to four dives a day until the last, which is often a non-diving day, allowing guests to 'off gas' before their flight.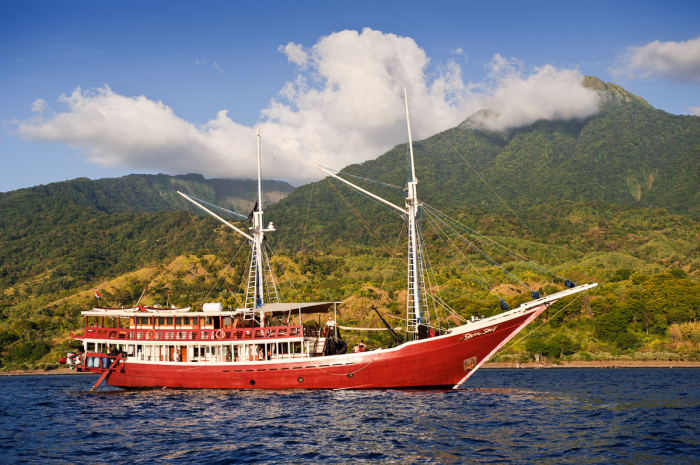 ---
Ready to start planning your ultimate liveaboard diving experience?
Our team of travel experts can help you book your holiday with confidence, with the latest travel advice.

---