Many of the world's best diving destinations are remote islands or atolls scattered across the ocean. Renowned sites including Raja Ampat and Komodo in Indonesia, Fuvahmulah in the Maldives, Thailand's Similan Islands, and the Brothers and Rocky Island in the Egyptian Red Sea, are all a long way from civilisation and out of reach of day trips.
The long travel times required to reach these extraordinary dive destinations means that the best way to explore them is by booking a liveaboard diving holiday. From traditional Indonesian phinisi schooners, to sleek, modern safari boats with every convenience, today's scuba divers are spoilt for choice - and ZuBlu can help you find your perfect liveaboard and itinerary.
So, what exactly is liveaboard diving, and how do these trips work? We've put together a guide covering everything you'll need to know about liveaboard dive boats, what to consider when booking a dive trip on a liveaboard, and the best liveaboard dive destination in the world!
Dive in, or find exactly what you are looking for below:
---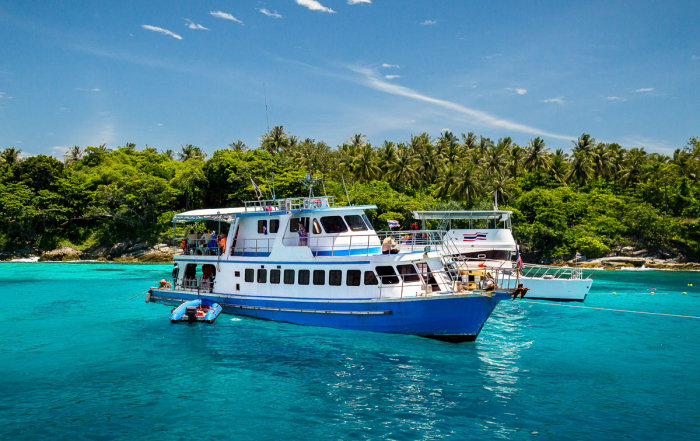 Put simply, a liveaboard dive boat is a boat that scuba divers live on for the duration of their trip. Kind of like a cruise, but with less people and more incredible diving.
Liveaboard dive boats operate much like dive resorts, in the sense that they offer multiple dives per day as part of an all-inclusive package with meals and additional activities. These vessels can be found in all shapes and sizes, hosting anywhere between two and 20+ guests with accommodations ranging from budget-friendly shared dorms, to luxurious boutique experiences at sea.
What is diving like from a liveaboard?
Well, it's amazing! The day might begin with a hot cup of coffee, a snack and an early morning dive. Then, you'll likely enjoy a big breakfast and a few hours of rest as the boat relocates before your next dive. Most liveaboard diving trips offer three to four dives each day, as well as shore excursions or other planned activities like snorkelling.
Your boat will most likely feature outdoor areas with sun and shade for relaxation in between dives, as well as an indoor lounge where weary divers can escape the heat.  For hungry divers, three meals are served each day, as well as free-flowing coffee, tea, water, and snacks.
You can bring your own gear from home, or rent onboard and your equipment will remain set up and privately stored for when you need it. And, whether you dive from a raised platform called a "dive deck" or small support boats known as "tenders", you can be sure of plenty of help and support from the crew.
Liveaboard diving - the pros and cons
One of the best parts of joining a scuba liveaboard is the chance to explore a large region or different diving destinations in just one holiday. And, unlike day diving, you won't have lengthy round-trip boat journeys every day. Instead, your boat will move along a preset itinerary or follow weather patterns from one spot to another in search of the best conditions.
This type of dive holiday is also excellent for making new friends and scuba buddies, enjoying mentorship from more experienced guests, and getting into the true spirit of diving!
And while diving up to four times a day in some of the planet's most pristine diving destinations is absolutely the experience of a lifetime, there can be a few downsides.
Guests who get seasick might struggle during their voyage if they don't come prepared. It's essential that you bring everything from home to combat seasickness, just in case you start to feel ill during your trip. Also, most liveaboards aren't as family or non-diver friendly as a resort on land. If you are planning to travel with children or non-divers, carefully research all your options before booking. That way, everyone in your group can enjoy a fantastic holiday on the water!
'New normal' liveaboard dive travel
As countries begin opening their borders to tourists again, how can divers continue exploring the ocean under the 'new normal' way of life? Well, luckily for us, diving is well-suited to these changes... and we're certainly no strangers to masks. Read on and discovery why liveaboards are perfect for dive travel in the 'new normal'.
Recommended insight
Safety and Fun: Why a liveaboard is ideal for your next diving holiday
It's safe to say, 2020 has been a year of ups and downs. The COVID-19 pandemic grounded flights, locked down major cities, and cancelled holidays all over the world, while ...
---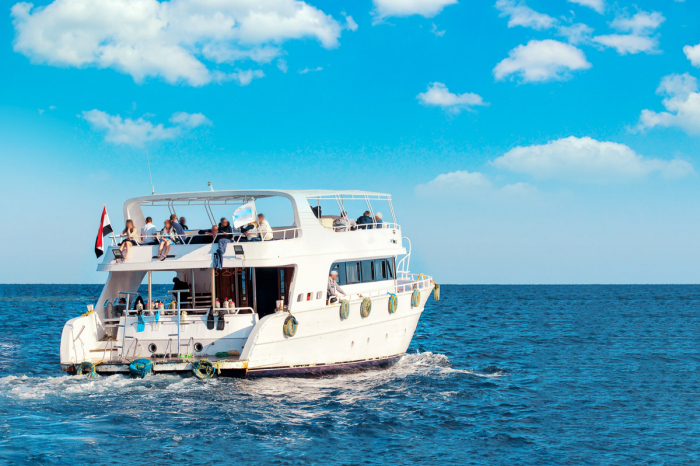 No matter what dive experience you would like to book – a course, resort, or liveaboard – you'll want to make sure it's the right one. The only difference is, get it wrong with a liveaboard, and you can't simply stroll down the road to another resort. So it's important to take some time to figure out exactly what sort of trip you're after.
Luckily for you, ZuBlu's team are experts with tons of personal experience backing up every piece of advice. And to make things even easier, we've distilled all of this knowledge into our unique ZuBlu search, putting the power of discovery firmly in your hands.
What do you want to see?
For many divers, a liveaboard dive trip is all about searching for specific creatures, and most will have a bucket-list of 'must-see' marine life. Sharks, whales and manta rays are regular favourites, although the weird and wonderful world of muck and macro diving provides plenty of favourite critters. With the oceans covering around 70% of the earth's surface, it goes without saying that what you want to see will determine where you want to go.
Where do you want to go?
Alternatively, you may care less about what you see, and more about the experience. Do you long for white sand beaches or dusty desert landscapes? Many liveaboards combine dive itineraries with interesting land excursions, giving guests a complete experience packed with local culture, history and flavour. And of course, different destinations offer very different diving, from vibrant coral gardens to forests of swaying kelp and rubble-strewn black volcanic muck.
Are you a beginner diver or a seasoned pro?
Liveaboard diving holidays are sometimes viewed as more for experienced and professional divers. While this is certainly not the case, experience level is an important factor to consider when booking. One of the golden rules of diving is to dive within your limits, and many itineraries require guests to hold a minimum certification level or number of dives. This is to ensure the safety and enjoyment of all guests.
What's more, boats designed for advanced voyages are often equipped with facilities like camera rooms and tec diving gear. Brand new divers may not require these, but they'll likely still be reflected in the price. Lastly, you should consider the atmosphere. Divers are an inclusive and welcoming community, but professionals may enjoy swapping tales with other advanced divers, while beginners might enjoy the support and shared sense of achievement from a group of like-minded divers.
Budget, luxurious or adventurous dive trips
Liveaboards trips are more accessible than ever and divers of all types can easily find their dream itinerary. Those who enjoy the finer things in life can choose from luxurious vessels equipped with all the facilities of a 5-star hotel, making it easy to explore the underwater world in unparalleled comfort.
For the more budget-savvy traveller, boats with fewer frills can be a great option. A more minimalist approach is taken on board these vessels with fewer luxuries, but plenty of comfort. Some facilities may be shared, but you'll also enjoy an unbeatable atmosphere and share lifelong memories.
If a quick trip won't give you the nitrogen fix you're after, a long, adventurous voyage might be for you. Trips lasting weeks and traversing some of the world's remotest regions are available. These journeys are often combined with conservation and research projects, allowing guests to get hands on with collecting data and aiding in scientific discovery. Research facilities, camera rooms and high-tech underwater equipment are just a few of the possible perks.
The best time of year to travel and dive
One of the great things about diving is that there's always something special on offer, no matter what time of year. A summer dive trip with the whole family can bring unforgettable memories, while a last minute liveaboard diving holiday is a great way to beat the winter blues.
But it's not just about when is best for you; you might also want to think about weather conditions and seasonal animal migrations. For instance, visit Ningaloo Reef in July, and you stand a good change of swimming with humpbacks, manta rays and whale sharks! Or, why not search for hammerhead sharks, thresher sharks and oceanic whitetips on a Red Sea liveaboard trip in November.
To find out where to visit at which time or year, check out our month-by-month guide.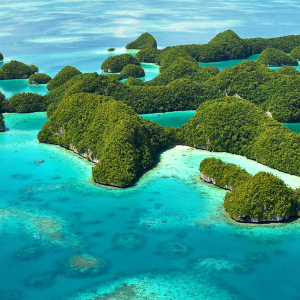 Recommended insight
2021 Dive guide
Month-by-month guide of world-class dive destinations for 2021. So all you have to do it sit back and get inspired.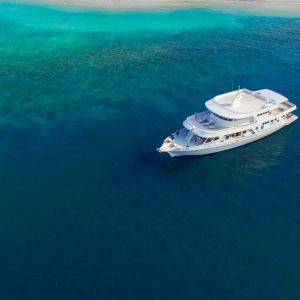 Recommended insight
The best affordable liveaboards in Asia
A relaxing liveaboard trip to the Maldives, the remote Similan Islands or the vast national parks of Raja Ampat and Komodo would be a once-in-a-lifetime experience for many scuba ...
---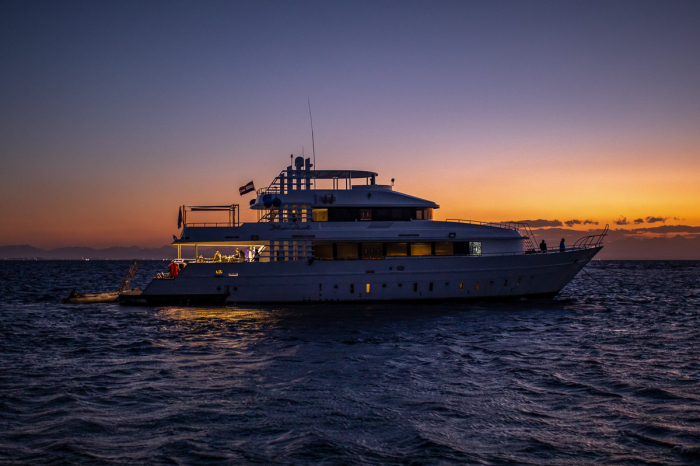 With incredible dive safaris gaining in popularity, more and more trips are becoming available and there's a dream itinerary for every type of guest. Liveaboards might seem like the realm of pro divers, but with so many choices, you're guaranteed to find something that suits your budget and personal travel style.

Beginner divers welcome
If you are hoping to do a course during your liveaboard trip, you should start with finding out whether the boat is PADI or SSI friendly. These are the largest certifying organisations, and the best options for completing an Open Water, Advanced or specialty course.
You'll also need to choose a destination and itinerary that are suitable for learning. Calm, clear waters are best for beginners, and if it's your first time at sea, you should select a quick trip of just three or four days - enough time to complete your course.
Destinations like Egypt's northern Red Sea, Thailand's Similan Islands, and Australia's Great Barrier Reef are ideal for beginners. You'll find calm currents, excellent visibility, and plenty of short itineraries to choose from. These legendary destinations are also ideal for non-divers.
Liveaboard trips for non-divers, families and groups
Some liveaboard itineraries cater especially to non-divers, visiting the best snorkelling sites each day. Others are suitable for mixed groups, with dedicated snorkel and dive guides. If you have non-divers in your travel group, you should also choose a boat with onboard extras that might appeal, including watersports, reliable internet, and wellness offerings or spa.
Because non-divers will be spending more time onboard, it's essential to choose a liveaboard with plenty of space for, along with a stable design for smooth sailing.
If you are travelling with family or friends, a chartered voyage might be the best choice. These customisable trips give you some freedom to choose the itinerary, activities, and other details of your journey. Because chartered cruises offer so much more flexibility, it's easy for the crew to cater to the needs of every guest - ensuring the trip of a lifetime!
Chartered liveaboard trips are also perfect for dive travel in the 'new normal', minimising contact with anyone outside your family or group.
Solo travellers
Are liveaboards suitable for solo travelers? Absolutely! Shared cabin trips are the most common way for solo travellers to enjoy a liveaboard diving adventure, with twin accommodations assigned by gender. Other boats accommodate solo travelers in shared dorm-style cabins.
More luxurious boats might have a single cabin with just one bunk explicitly designed for solo guests. Or if you want a cabin to yourself, you can pay a "single supplement" - make sure you check the vessel's rates and policies before booking.
Tech divers and underwater photographers
If you are a technical diver, then a dedicated tech liveaboard dive trip is ideal. The crew will be trained to handle tech diving equipment and you can enjoy a diving schedule built around the needs of your fellow tech divers, rather than joining mixed groups. Be sure to contact your boat of choice in advance so that they are aware of your requirements for gas blends or rebreather scrubbers.
Underwater photographers should look for a dedicated camera room with individual workstations and rinse bins. In-room charging stations, dive deck camera tables, and wireless internet also come in handy!
Whatever your passion, you'll also want to choose a liveaboard boat with the necessary experience required to make your dream dive holiday happen. For tech divers, this includes extensive knowledge of decompression diving, as well as guiding and support for divers exceeding recreational limits. For photographers, this means small dive groups, and local guides familiar with the dive sites.
---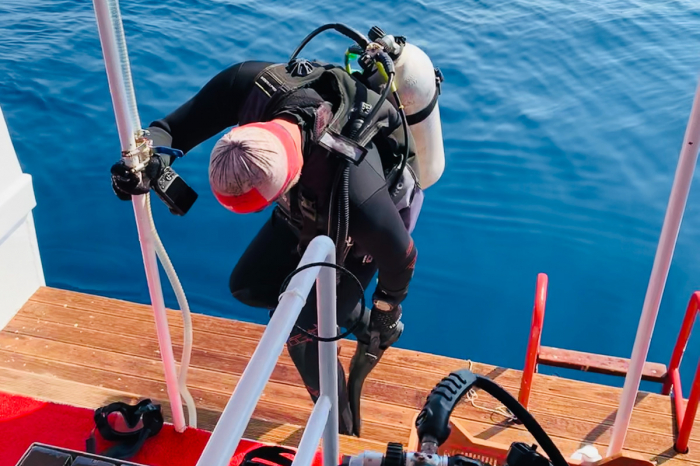 What will it be like during a liveaboard cruise? What should I bring with me and what happens if I get seasick?
Read on, or learn more about what to expect onboard a dive liveaboard, including what to pack for a liveaboard trip, what's included and what isn't, and what a typical day onboard will be like.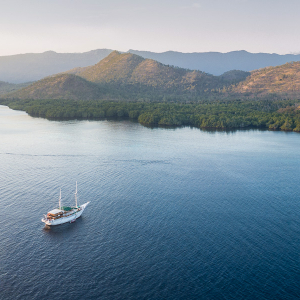 Recommended insight
What to expect on a dive liveaboard trip?
If you're planning your first ever liveaboard dive safari, you've probably got a few hundred questions when it comes to what you should expect onboard. Not to worry - we've got answers!
Packing for a liveaboard
Liveaboard dive boats have limited storage space, so pack light. Single-use plastics, batteries, and other disposable items are best left at home. If you are concerned about weight limits on flights, consider renting dive gear onboard.
Pack comfortable, layered clothing, and don't forget a light sweater for the deck at night, and walking shoes and sun protection for land excursions.
Bring toiletries and medicines for the entire trip, including reef-safe sunscreen and insect repellent, basic first aid supplies and seasickness tablets. And make sure you have originals and copies of your passport, scuba certifications and insurance.
Books, cards or board games, along with a few snacks are all great to have onboard. And don't forget cash for additional expenses onboard, as well as tips.
Sea sickness and how to prevent it
A common problem on liveaboards, it's best to be prepared - pack seasickness tablets just in case. Avoid too much alcohol and caffeine, and stay hydrated. If you do start to feel ill, get out on deck and focus on the horizon.
Food and drink onboard
Most liveaboards are full board with three or four meals a day, snacks and unlimited water, tea and coffee. Soft drinks and alcohol will likely be an extra charge, although more luxurious liveaboards might offer alcoholic drinks with dinner as well.

Courses, equipment, and nitrox
While it is possible to do your Open Water course on a liveaboard, it normally makes sense to get your certification done prior to the trip so you can better enjoy the diving when onboard. Advance courses and specialities are a great idea though!
If weight limits on flights are not an issue, it is worth traveling with your own equipment for the sake of comfort and familiarity.  But you can always rent on the boat.
Many liveaboards offer free nitrox, or as an additional payment. Using nitrox can help fight fatigue and reduce the potential for decompression sickness when doing multiple dives over a week or more. If you're not already qualified, you can do the course onboard.
Fees, fuel surcharges and extras onboard
Don't forget to include national park fees, harbour charges and environmental taxes when you calculate the final cost of your trip. You may also need to pay a fuel surcharge for extended itineraries.

Tips and gratuities
It's common practice to tip the hard working crew of a liveaboard ten percent of the cost of the trip, although this is discretional of course. You should also keep back some cash for porters and taxi drivers when getting on and off the liveaboard.
Eat, dive, sleep, repeat
On arrival, you'll have a briefing explaining safety onboard, the daily schedule and other important details. The first day of your liveaboard trip is then likely to be a non-diving day, or with just a check out dive en route to your first dive destination.
From then onwards, you'll be doing 3-4 dives a day until the last day which will also likely be a non-diving day so you can 'off gas' before your flight.
---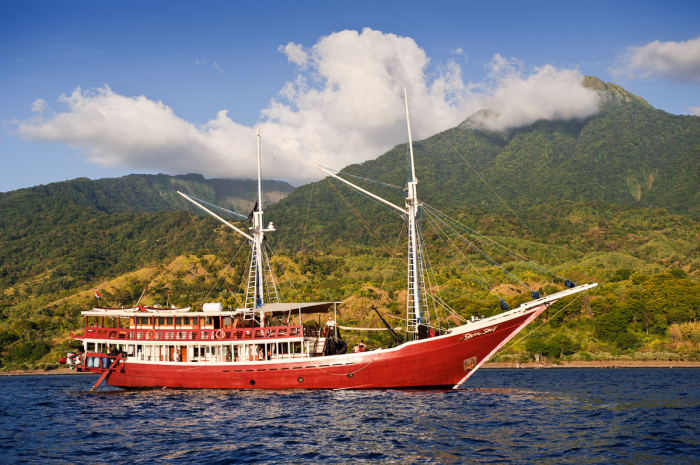 With so many spectacular dive destinations around the planet, how do you find the right one for your next liveaboard dive holiday? Well you can discover and book your perfect trip using the ZuBlu search tool, or read on and explore the best dive destinations for liveaboard boats.
Liveaboards in Indonesia
Indonesia's 17,000 islands are home to the best tropical diving on the planet. From the spectacular reefs and diversity of Raja Ampat, to the manta rays of Bali and Komodo, you'll find exceptional diving - whatever floats your boat! The huge size of the country means that Indonesia is ideal for liveaboard dive trips and you'll find a comprehensive selection of beautiful traditional phinisi liveaboards to choose from, as well as luxury modern vessels with every creature comfort.
Bali to Komodo - A classic itinerary including diving in the Gilis, Satonda and Moyo Islands in Lombok, Sangeang and Banta Islands in Sumbawa, before heading to the famed sites of Komodo and ending in Labuan Bajo. Some adventurous liveaboards include a new whale shark hotspot in Lombok.
Komodo north and south - The perfect combination of spectacular islands and exhilarating, current-fuelled diving! Dive beautiful reefs, and enjoy exciting drift dives at sites such as The Shotgun. Encounter manta rays at Karang Makassar and Manta Alley, trek in search of Komodo dragons on Rinca and catch the sunset from Padar Island.
Alor and Pantar - Dive spectacular reefs and off-the-beaten-track islands, perfect for an exploratory liveaboard trip. The Pantar Strait is home to pristine reefs and abundant marine life, as well as powerful currents that attract hammerhead sharks and more, plus exceptional much diving at Beang and Kalabahi.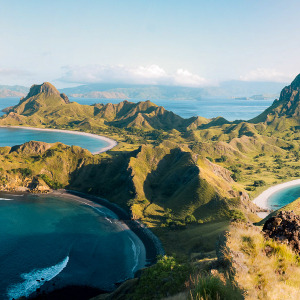 Recommended insight
Liveaboard diving in Komodo
Whether you're new to the world of liveaboard diving or a seasoned pro, read on and discover Komodo's underwater attractions, why a liveaboard is the perfect choice for divers, ...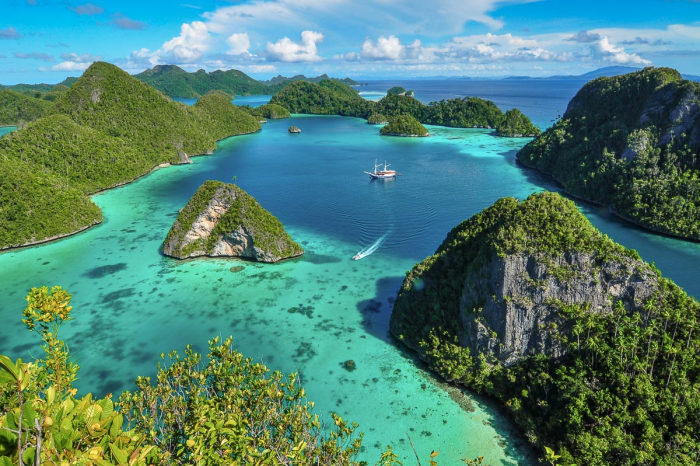 The Banda Sea - Join a liveaboard 'crossing' dive trip and explore the original 'Spice Islands' of Banda, Run and others, home to everything from schooling hammerhead sharks at Nusa Laut, pristine corals and sea snakes at Manuk and Gunung Api, and exceptional reefs and fish life in the Forgotten Islands.
Raja Ampat - Home to the best tropical reef diving on the planet, Raja Ampat's spectacular dive sites, abundant marine life including both reef and oceanic manta rays, and stunning karst landscapes with hidden lagoons and white-sand beaches, makes this destination the perfect choice for divers looking for the ultimate liveaboard holiday.
Triton Bay and Cenderawasih Bay - Triton Bay is the site of unique reefs festooned with glowing black coral bushes and soft corals. Whilst over on the eastern side of the Bird's Head Peninsula, Cenderawasih Bay offers exploratory liveaboard diving and wreck. Both are also famous for their populations of whale sharks that gather around floating fishing platforms known as bagans.
Sangalaki and Maratua - Well outside the more popular liveaboard diving areas, these islands off the coast of Kalimantan offer an enticing mix of reefs and marine life, with whale sharks, turtles and manta rays, plenty of sharks, a unique jellyfish lake and exciting drift diving amidst vast schools of fish on a remote atoll.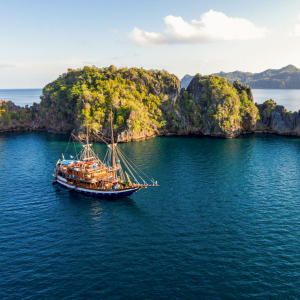 Recommended insight
Raja Ampat Liveaboard Diving
Raja Ampat is a true paradise for liveaboard diving with over 1,500 islands, 46,000 square kilometres of species-rich sea, and a seemingly endless number of dive sites to explore. Read ...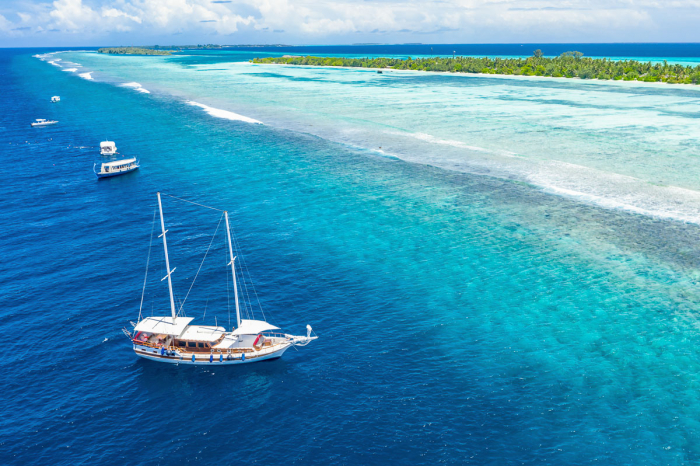 Liveaboards in the Maldives
Stretching over 800 kilometres across the equator in the Indian Ocean, the atolls of the Maldives are home to some of the most spectacular diving in the world, with rich reefs and coral channels to explore, and reliable encounters with whale sharks, manta rays and sharks. The islands and luxurious resorts offer the perfect tropical backdrop for anyone looking for a spectacular holiday experience. However the size of the country and diversity of dive sites means that the Maldives is also the perfect place for an exceptional liveaboard dive trip.
Central Atolls - The central atolls of the Maldives are home to some of the best diving in the country, as well as a network of private island resorts and guesthouses, as well as some fantastic liveaboard routes. Round trip dive safaris take in North and South Male atolls and Vaavu Atoll, before heading to North and South Ari and Rasdhoo. Guests can expect manta ray and whale shark encounters, as well as amazing channels, reefs and wrecks packed with marine life.
Southern Atolls - Currently the hottest dive destinations in the country, the Maldives' southern atolls are the perfect choice for an adventurous liveaboard dive holiday with spectacular dive sites spread across different atolls. Typical itineraries from Male might include dives in Vaavu, Meemu and Laamu Atolls on the way south, before reaching Huvadhu, Fuvahmulah and Addu. Remote sites offer encounters with plenty of sharks, including tiger sharks at Fuvahmulah, along with manta rays, pristine reefs and the largest wreck in the Maldives.
Northern Atolls - Heading north from Male Atoll, liveaboards explore a more peaceful side of the Maldives, with far less tourism and some spectacular island scenery. Typical itineraries in the northern atolls visit Baa, Raa and Lhaviyani Atolls - often combined with dives in North Ari and Rasdhoo on the way to Baa Atoll. The highlight of any northern atoll itinerary is the chance to visit Hanifaru Bay in Baa Atoll, home to the largest congregations of manta rays in the Maldives, as well as dive exciting wrecks, reefs and channels.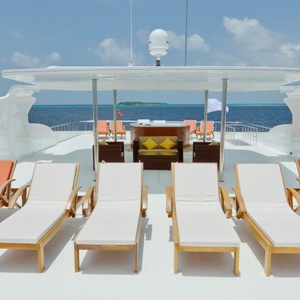 Recommended insight
Best liveaboard diving in Maldives
Stretching over 850 kms across the Indian Ocean, the Maldives is an idyllic island nation characterised by a string of 26 atolls, each with its own vast crystalline lagoon. With so many...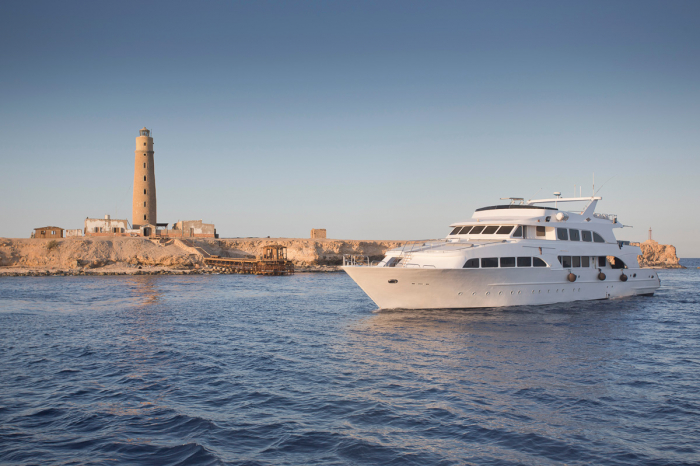 Liveaboards in Egypt and the Red Sea
Egypt's Red Sea offers an eclectic mix of scuba diving, with spectacular reefs and shipwrecks to explore, and spectacular marine life that even seasoned divers will be amazed by. Set against a striking landscape of arid cliffs and lonely islands, the Red Sea extends over two thousand kilometres from north to south - making it the perfect territory for liveaboard diving adventures, whether you're looking for a quick safari or a dive expedition.
Sharm El-Sheikh, Hurghada and Dahab - Liveaboard dive safaris in the northern Red Sea typically depart from Hurghada and visit the spectacular reefs at Ras Mohammed National Park, the Straits of Tiran with its currents and sharks, and the wrecks of the Thistlegorm, Dunraven, Giannis D and Carnatic - amongst the most photogenic wrecks in the world.
Marsa Alam, Brothers Islands and Elphinstone - Liveaboard itineraries exploring Egypt's central Red Sea region depart from Port Ghalib close to Marsa Alam, or Hurghada. Divers can explore coastal sites in search of dugongs and dolphins, then head offshore to isolated islands and reefs of Elphinstone Reef, the Brothers Islands and Daedalus. All are known for beautiful reefs, dramatic underwater landscapes and encounters with sharks including hammerhead sharks , thresher sharks and oceanic whitetips!
St Johns, Rocky Island and Zabargad - Departing from Port Ghalib, liveaboards explore Egypt's most exhilarating diving. Week-long itineraries visit Fury Shoal, Zabargad and Rocky Island, and St. John's Reef, diving pristine coral reefs and hidden wrecks. Add in the excellent visibility pelagic life including oceanic whitetips and hammerhead sharks and you have all you need for an exceptional liveaboard dive holiday.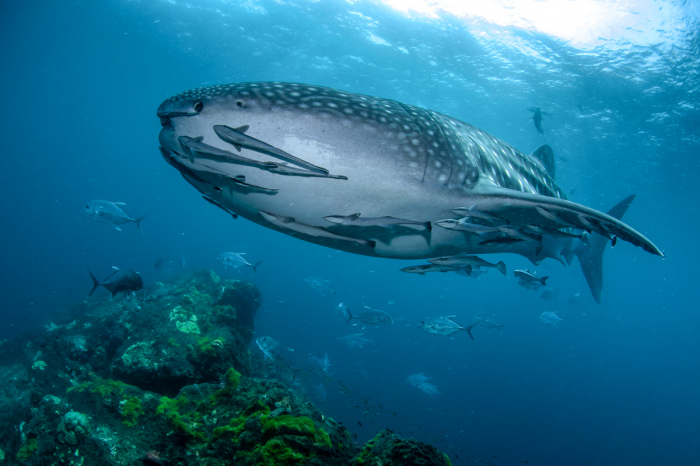 Liveaboards in Thailand
Thailand has long reigned supreme as a much-loved holiday destination and world-renowned diving hotspot. On the west coast, the Andaman Sea stretches from the border with Malaysia to Myanmar and beyond, and is peppered with islands, protected marine parks and isolated pinnacles - as well as Thailand's best diving.
Similans Islands and Richelieu Rock - The Similan Islands, Koh Bon, Koh Tachai and the famous Richelieu Rock are world-renowned dive destinations that offer exceptional liveaboard underwater adventures and the best diving in Thailand. Liveaboards depart from Phuket or Khao Lak to the north and itineraries include spectacular reefs and isolated pinnacles - with the chance of encounters with manta rays and whale sharks.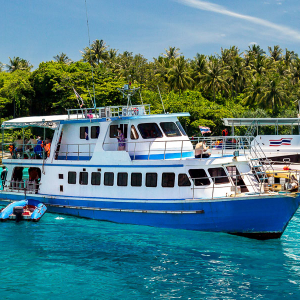 Recommended insight
The best liveaboard diving in Thailand
Thailand reigns supreme as a much-loved holiday destination and world-renowned diving hotspot. The Andaman Sea stretches from the tip of Malaysia to Myanmar and beyond, and is peppered ...