The Bahamas is an iconic Caribbean destination known for its up-close shark encounters, wrecks encrusted in colourful coral, and cool topside attractions including stunning beaches, swimming pigs, and stone grottos made famous by Hollywood. In fact, there's so much on offer here, you'd barely scratch the surface without a liveaboard!
Whether you're looking for a quick getaway or an extended voyage of a lifetime, liveaboard diving is a great way to explore. In this article, we're breaking down three classic liveaboard routes in the Bahamas, so read on for everything you'll need to find the perfect itinerary and start planning your holiday.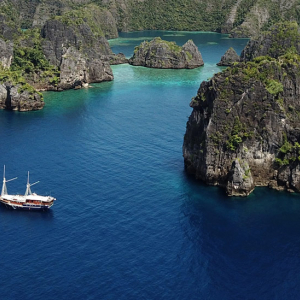 Recommended insight
The ultimate guide to liveaboard diving in 2023
Everything you need to know about liveaboard dive holidays, what to consider when booking a dive safari, and the best liveaboard dive destinations in the world!
Why Bahamas liveaboard diving is so good
With over 700 islands spanning a whopping 13,940-kilometres, the Bahamas represent a massive geographic region. In fact, it's impossible to dive all of the archipelago's incredible underwater highlights in just one trip. 
The solution? Book a Bahamas liveaboard. These dive safaris cover far more territory than resort-based holidays and are ideal for a "best of" tour in this sprawling chain of islands.
But geography isn't the only reason to book a liveaboard in this idyllic destination. Dive safaris are also a great way to save money and maximise your time in the water, with itineraries focused on specific attractions such as the Bahamas' famous sharks, interesting shipwrecks, and a selection of the Caribbean's best dive sites – all in one exciting expedition. 
Just like resorts, liveaboards come in different classes, ranging from budget-friendly, midrange, and luxury accommodations. Some boats even offer extras like fine dining, complimentary alcoholic beverages and Jacuzzis. In terms of diving, liveaboards represent excellent value for money, offering three to four dives per day. Some itineraries even include "open pool" sessions when guests are free to dive as much or as little as they like. Most dive safaris also offer shore excursions, sports equipment like kayaks and paddleboards, and opportunities for snorkelling.
Most boats include amenities for underwater photographers, including rinse bins, camera tables, and electronics stations. And, just like land-based dive operations, facilities such as rental equipment and scuba courses specialist services such as nitrox and support for tech or sidemount divers also easy to find.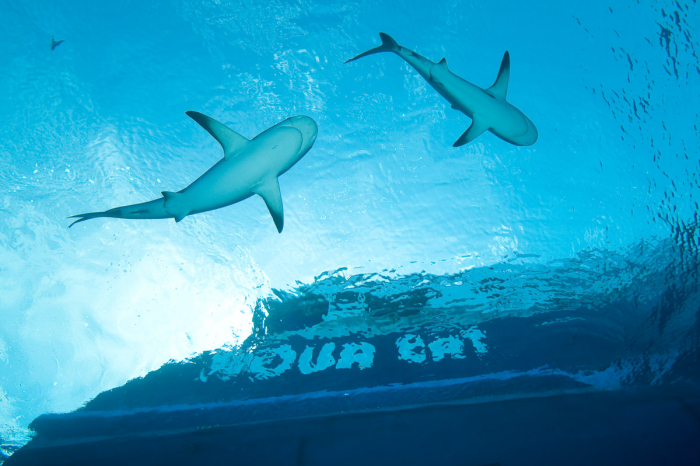 Seasonal dive safaris in the Bahamas
The Bahamas are a year-round diving destination, but, the time of year you visit can impact which wildlife you see and what conditions you'll encounter. Many Bahamas liveaboards change routes according to the season, visiting different areas for seasonal wildlife events.
Bahamas liveaboards focus on Bimini between December and mid-April, in search of the region's famous great hammerheads which peak between January and March when water temperatures plummet. Wild dolphins are encountered in this area all year round providing an added bonus for snorkellers!
From March through June, boats change their focus to Cat Island for the annual oceanic whitetip aggregation. This is also an excellent time of year to dive Nassau, with the potential to see large groups of silky sharks gathering at the Lost Blue Hole. Macro sightings also peak during these months, so keep your eyes peeled for seahorses, jawfish, and solar-powered nudibranchs.
Grand Bahama's Tiger Beach is at its best from May through July, when daily tiger shark sightings are nearly guaranteed. During these months, liveaboards will focus on this area, giving divers the chance for as many up-close encounters as possible!
Ready to start planning your diving holiday in the Bahamas?
Search, compare and book from our hand selected liveaboards
Best Bahamas liveaboard routes
In recent years, the Bahamas have become one of the Caribbean's most in-demand destinations for liveaboard diving, with several exceptional itineraries. These are among the very best routes, guaranteed to deliver incredible underwater exploration.
Best of the Bahamas liveaboard itinerary
These trips last six to eight days and visit many of the Bahamas' iconic diving areas, including shipwrecks, baited shark diving sites, and Nassau's Lost Blue Hole. Not to mention, drift diving and a chance to explore spectacular walls that drop into the abyss. Shore excursions to visit the world-famous swimming pigs, land iguanas, and geological formations are also included. 
During your Best of the Bahamas itinerary, you'll likely encounter Caribbean reef sharks, nurse sharks, and potentially lemon or silky sharks, too. You can also explore the region's signature shallow coral gardens, home to colourful schools of reef fish. The shallows also play host to a rich variety of critters, including seahorses and nudibranchs.
Areas of exploration - Nassau, the Exumas, Eleuthera
Highlights - Shipwrecks, sharks, wall diving
Top dive sites - Lost Blue Hole, The Washing Machine, Current Cut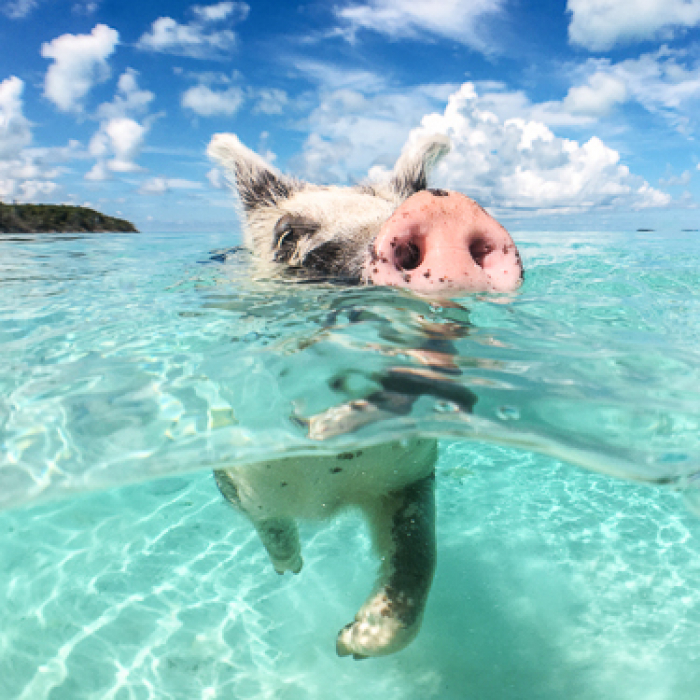 Sharks Galore liveaboard itinerary
These longer voyages typically last seven to eleven days, focusing on the best areas for shark diving – Grand Bahama, the Abacos, and Bimini. Baited and hand-fed experiences typically take place in the shallows, with divers resting on the sandy bottom and waiting while the sharks are lured in using bait boxes. But, these islands are home to more than just sharks – you can expect fantastic reef, wreck, and wall diving as well.
In addition to once in a lifetime encounters with species like great hammerheads and tiger sharks, these trips promise to bring you face to face with scores of exciting species. Caribbean reef sharks, lemon and nurse sharks, and even wild dolphins make frequent appearances. After each day's shark dives are done, you'll also explore vibrant reefs and colourful coral gardens in search of surprisingly diverse underwater wildlife.
Areas of exploration - Grand Bahama, the Abacos, Bimini
Highlights - Sharks, sharks, and more sharks
Top dive sites - Tiger Beach, Shark Rodeo, White Sand Ridge, Bimini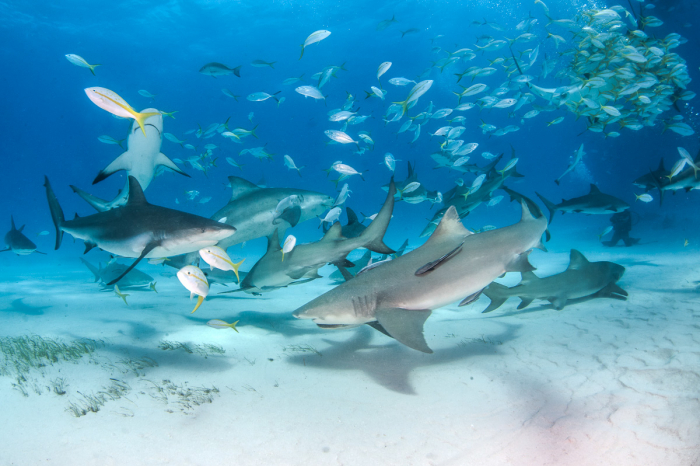 Ultimate Bahamas liveaboard itinerary
Are you a scuba fanatic with plenty of time on your hands? If so, this is your dream itinerary! Lasting up to 14-days at sea, these extended journeys hit all the best diving areas in the Bahamas – as well as a few hard to get to topside attractions like the Thunderball Grotto. You'll have the opportunity to explore vibrant reefs, plunging walls, sand flats teeming with sharks, shipwrecks, and more!
Ultimate Bahamas liveaboard safaris offer incredible value for money, with divers logging up to 40 dives in some of the most incredible areas. You'll enjoy baited and natural shark dives, including an opportunity to witness the oceanic whitetip aggregation at Cat Island during the season. These trips also include exciting exploration in caverns and blue holes, as well as shipwrecks – some with opportunities for penetration. 
Areas of exploration - Grand Bahama, Nassau, Exumas, Eleuthera, Cat Island
Highlights - Reefs, wrecks, sharks, walls, caverns and blue holes
Top dive sites - Tiger Beach, Lost blue hole, The Washing Machine, Current Cut, Cat Island 
---
Are you ready to set sail on one of these classic Bahamas liveaboard itineraries?
ZuBlu's team of travel experts can help! Get in touch today for hands-on assistance planning your trip, plus all the latest travel information and advisories.

---
---
Join the ZuBlu community to receive the latest insights and unmissable adventures
Don't worry, we'll only send you really good stuff - and we never share your details
---