With over 1,500 islands, 46,000 square kilometres of species-rich sea, and a seemingly endless number of dive sites - Raja Ampat is a true paradise for liveaboard diving.
Tempted? This is the only guide you'll need to discover the best liveaboard diving in Raja Ampat, including a careful selection of handy Raja Ampat liveaboard reviews to help you plan the trip of a lifetime.
---
Need help planning your liveaboard adventure in Raja Ampat?
Contact one of our dive travel experts today!

---
What makes Raja Ampat so special?
Raja Ampat is located on the western tip of the Bird's Head Peninsula in West Papua. The region gets its name from the archipelago's four main islands - the 'four kings' in the Indonesian language - of Misool, Salawati, Batanta and Waigeo. More than a thousand other islands lie scattered across the region, ranging in size from jagged giants to tiny pinnacles of rock rising from the turquoise lagoons.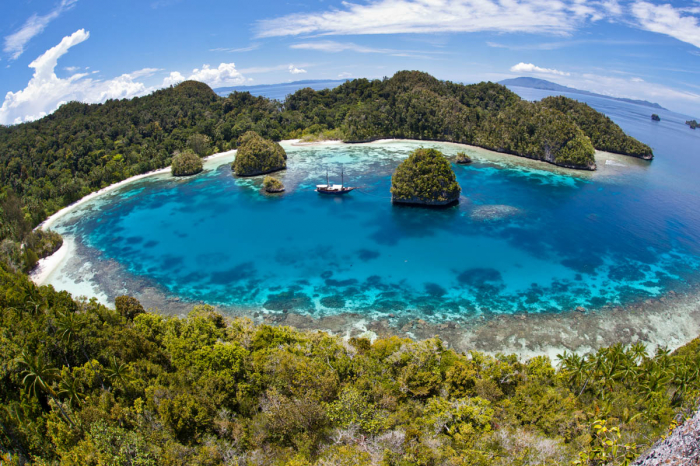 Geography
Situated in the far east of Indonesia, covered in impenetrable forest and rugged karst cliffs, and exposed to the imposing expanse of the Pacific Ocean to the north, Raja Ampat still feels like a land that time forgot. It is this feeling of being at the edge of the world, coupled with raw, unfiltered landscapes that will stop even seasoned explorers in their tracks, that makes Raja Ampat so special.

Biodiversity
At the very heart of the coral triangle, Raja Ampat is rightly known as the epicentre of marine biodiversity. This is because, despite its geographical isolation, West Papua acts as a meeting point for a network of powerful underwater currents. So, while it might seem like a long, complicated trip as you hop from island to island on the surface, beneath the waves, the story is rather different. As nutrient and larvae rich currents from both the Indian and Pacific oceans converge, they create a truly unique environment, packed with many of the most sought after species from each region, plus a few of its own.
---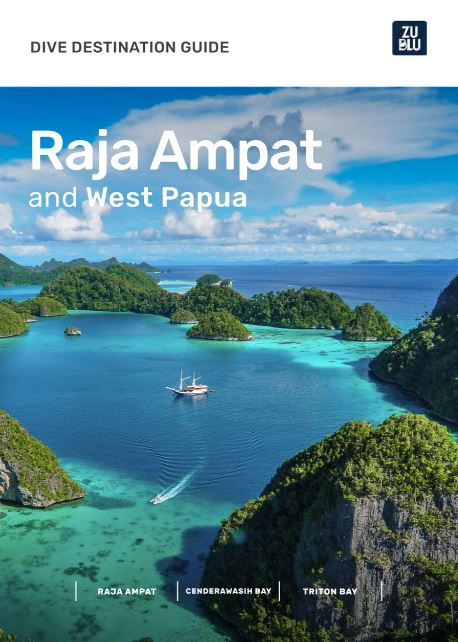 Discover the best places to dive in Raja Ampat, Triton Bay and Cenderawasih Bay in this free guide to West Papua's diving.
---
North or South Raja Ampat
Just as Raja Ampat marks the meeting point of two oceans, the park itself is divided into two distinct regions. Seasons, wildlife, and ease of access are all slightly different between the two parts, but one thing stays the same - outstanding diving.
Diving north Raja Ampat
The northern area of Raja Ampat includes the islands of Mansuar, Batanta, Waigeo and Gam, as well as the renowned Dampier Strait - known for boasting the highest number of fish species recorded on a single dive. Big name sites such as Cape Kri, Manta Sandy, Blue Magic and Mayhem can all be found here, each offering astonishing biodiversity and a mixture of conditions, from easy-going to fast-flowing.

Diving south Raja Ampat
Southern Raja Ampat revolves around Misool, and a scattering of much smaller islands to the south and east. Soft corals flourish in the south, and most sites offer a kaleidoscope of colours. While the conditions here are often more gentle than the north, it still offers plenty of opportunities to get up close with larger, current-loving creatures. In fact, Misool is home to one of the best manta sites in the whole of Raja Ampat, with opportunities to spot both reef and oceanic mantas at the same time.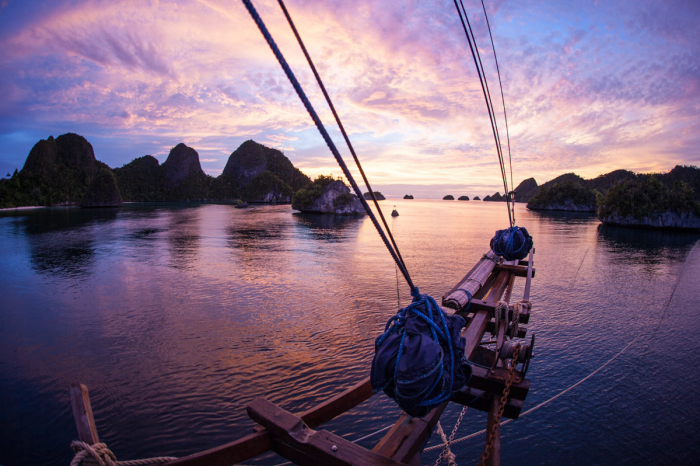 Ready to start planning your liveaboard holiday in Raja Ampat?
Search, compare and book from our hand picked liveaboards
Classic Raja Ampat liveaboard routes
As Raja Ampat's two distinct diving regions are spread over such large distances, and with slightly differing seasons, there are also two main liveaboard routes - north and south. But don't worry, they both often take in the same famous central dive sites before sailing off towards the horizon.
Central and north - Dampier Strait
Departing from Sorong, your liveaboard can explore the Dampier Strait, Bantanta, and Mansuar. At the western end of the Dampier Strait, you'll get the chance to visit the Fam Islands before heading north past Pulau Penem towards Gam. The large islands of Gam and Waigeo have plenty to offer before the vessel pushes further north towards Kawe, and finally Wayag. From here, the itinerary will likely return to Sarong, visiting any iconic dive sites missed on the way out, or any repeat-dives requested by the guests.
Central and south - Misool
Itineraries will usually visit the same iconic Dampier Straits sites before making their way south. Once in the south, the vessel will explore Misool, as well as the smaller surrounding islands of Pelee, Yellit, and Daram. From here, the itinerary will likely return to Sarong, visiting any iconic dive sites missed or any favourites requested by the guests.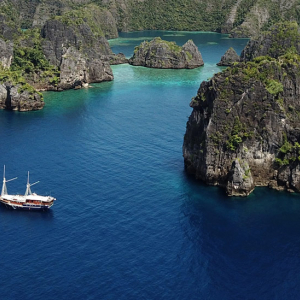 Recommended insight
The ultimate guide to liveaboard diving in 2023
Everything you need to know about liveaboard dive holidays, what to consider when booking a dive safari, and the best liveaboard dive destinations in the world!
Why dive Raja Ampat by liveaboard?
Having made the effort to get to this remote region you'll want to make the most of it, and liveaboards offer the best opportunity to do just that. These floating hotels are perfectly suited to covering the large distances involved, allowing guests to dive as many iconic sites as possible. But nobody wants to spend their whole trip travelling around, right? Most liveaboard operators have got their itineraries down to an exact science, allowing for three or four dives in one area during the day, followed by an overnight voyage to the next stop. Who wouldn't want to wake up in a different, world-class dive destination every day of the week?
The benefits of a moving hotel don't end there, either. On a whim, liveaboards can also take guests to some of the more remote areas in search of more favourable conditions, pristine reefs, and seasonal gatherings of species such as manta rays. Non-diving activities are also common on Raja Ampat liveaboards, including snorkelling, lounging on hidden beaches, and jungle trekking in search of rare endemic birds.
---
---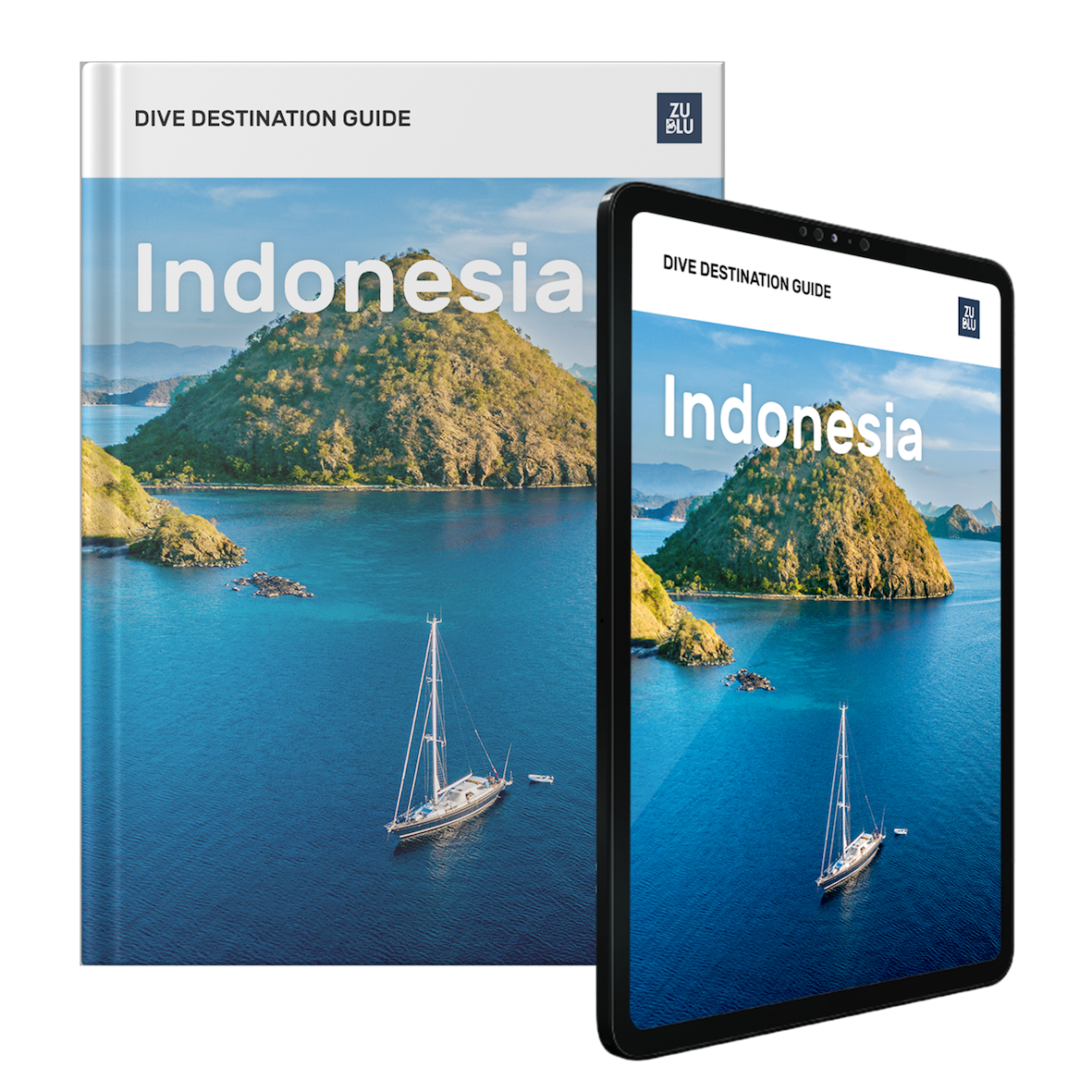 Discover the secrets of Indonesia in this FREE 150+ page scuba dive destination guide. Read online or download today and let us inspire your next diving holiday.
---
Top Raja Ampat liveaboards reviewed
Best liveaboard for unique itineraries
Pindito
The team aboard MV Pindito have been cruising Indonesia's remote regions for over 25-years, gaining unparalleled experience along the way. In fact, Pindito pioneered many of the now-famous diving destinations, including Raja Ampat. The recently refurbished vessel features updated amenities throughout, as well as professional-standard diving facilities, a modern camera room and technical diving support. Guests can choose from an exceptional variety of unique scheduled itineraries or create their own with a custom charter. And it's safe to say, Pindito's itineraries deliver some of Indonesia's most exciting voyages, including citizen science-themed trips, family-friendly cruises, and other unique expeditions focused on whales, macro, and more!

Best value Raja Ampat liveaboard
Oceanic
MY Oceanic offers a modern and updated take on the traditional Indonesian phinisi. This vessel aims to get off the beaten track, offering adventurous voyages filled with the unexpected and the untouched. Accommodating just 12 divers, MY Oceanic is intimate and sociable - setting the perfect tone for an action-packed expedition to some of Indonesia's most far-flung islands and reefs.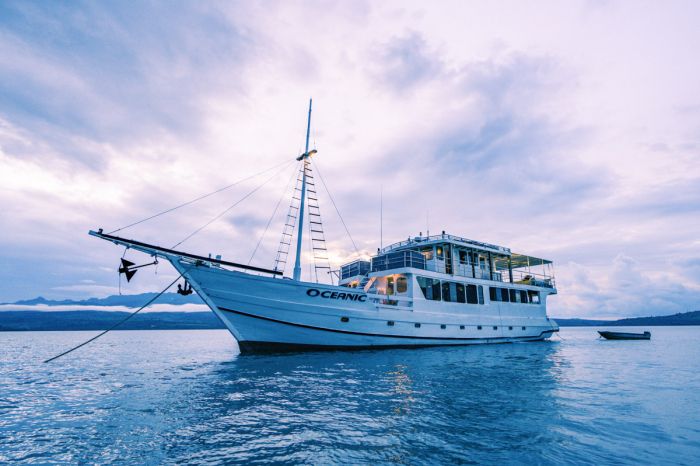 Best for diving in style
Damai I and Damai II
Dive Damai is redefining the concept of liveaboards with their two vessels, Damai I and Damai II. Expect small groups, signature all-inclusive service, and tailor-made itineraries. With over 25-years of experience, these vessels proudly offer some of Raja Ampat's most diverse liveaboard diving experiences, alongside spacious facilities, exquisite cuisine, and superb attention to detail. Damai I and Damai II are luxurious yet unfussy, with modern camera facilities and unlimited dive packages - perfect for dedicated divers after a few extra creature comforts.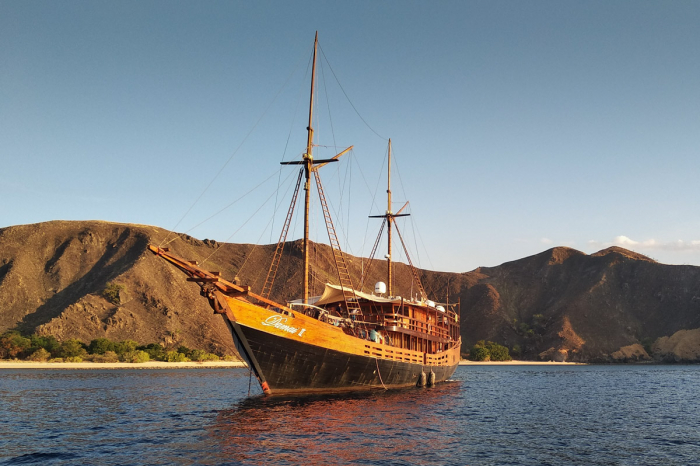 Top Raja Ampat liveaboard for luxury voyages
Seahorse
If you're hoping to explore the remote corners of Raja Ampat in style, this is the boat for you. MSY Seahorse is a traditional Indonesian phinisi, recently renovated specifically for scuba diving, with all the comfort and style of a boutique hotel. This vessel's subtle splendour, accommodating crew, and on-demand watersports will have every guest in a state of heightened relaxation. And to top it off, MSY Seahorse's seasonal itineraries are perfectly timed for exciting wildlife encounters and the best possible conditions underwater.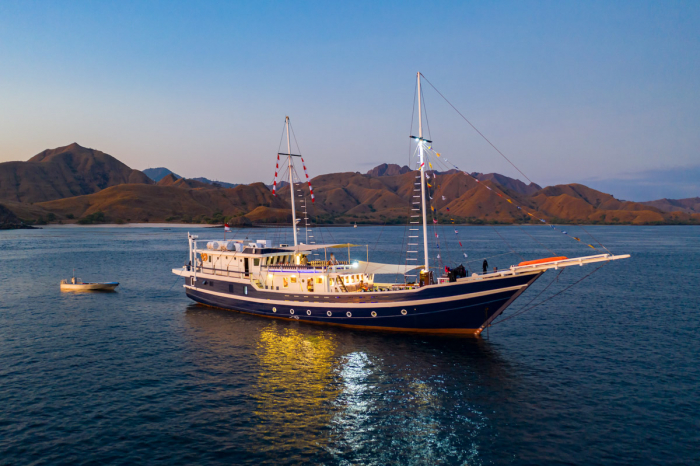 Best liveaboard and resort combo in Raja Ampat
Coralia
The Coralia is the latest project by Papua Explorers, one of Raja Ampat's finest resorts with a well-established reputation for exceptional service, quality and commitment to sustainability. The liveaboard collaborates closely with the resort's Raja Ampat SEA Centre and is dedicated to protecting local reefs and communities. With its state-of-the-art facilities, the Coralia easily navigates the most sought-after areas of Raja Ampat, offering tailored routes in search of the best conditions, whatever the season. And, it's super easy to combine your liveaboard trip with a stay at Papua Explorers resort.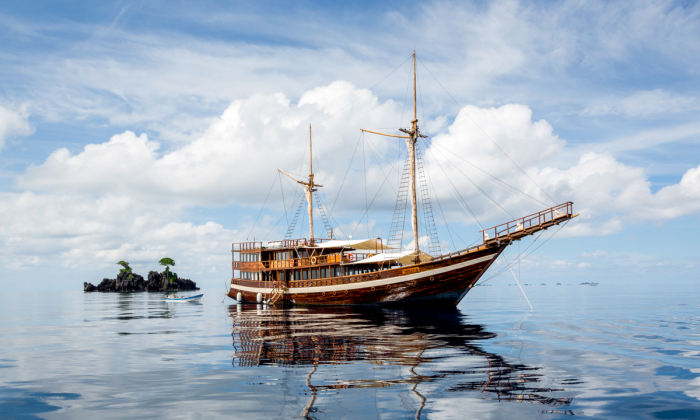 Great for private charters
Akomo Isseki
Akomo Isseki is a beautiful phinisi outfitted specifically for scuba diving expeditions, including seasonal trips to Raja Ampat. The vessel combines classical appeal with 21st-century technology and accommodates just eight guests, providing a highly intimate setting that's ideal for a private charter. Despite its size, this boat feels plenty spacious, with individual equipment areas, a charging table, and a breezy outdoor saloon for relaxing at the end of the day. And, with so few guests onboard, Akomo Isseki is sure to create the personal private charter you've been dreaming of.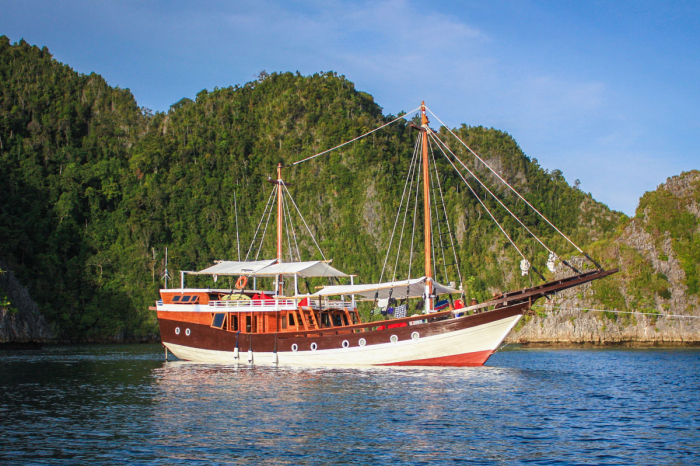 Nataraja
Catering to small groups of divers and non divers, Nataraja offers adventurous and intimate voyages around Raja Ampat, Komodo, and everywhere in between. No detail has been overlooked on board this vessel, from the delicious meals to the five-star dive facilities. Guests will enjoy Nataraja's little touches of elegance, featuring solid wood interiors and modern minimalist decor. Available for private charter, this superb vessel allows groups of up to nine adults and four children to customise their own Raja Ampat sailing adventure!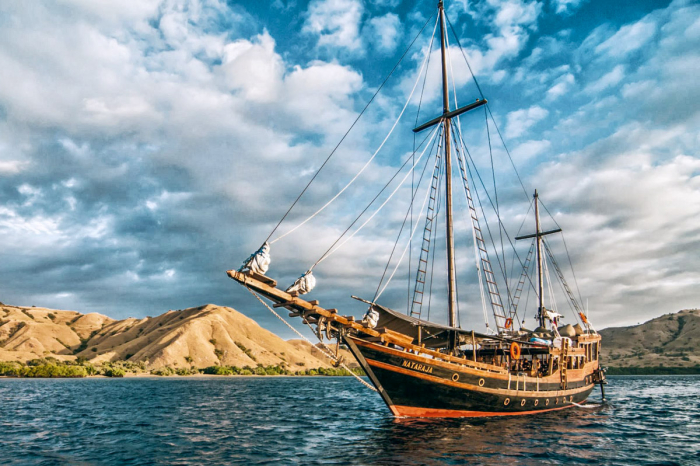 Carpe Diem
Carpe Diem is a well-appointed phinisi offering comfortable cruises to some of Indonesia's remotest regions, including Raja Ampat. Accommodating just ten guests, Carpe Diem was specifically designed for small groups and personalised service. Carpe Diem's dedicated crew also welcomes children on board, making this intimate liveaboard a great choice for families wanting some quality time together. Offering both scheduled itineraries and charter booking opportunities, Carpe Diem creates bespoke cruises for a variety of guests, including relaxing expeditions which combine scuba diving, yoga, and meditation.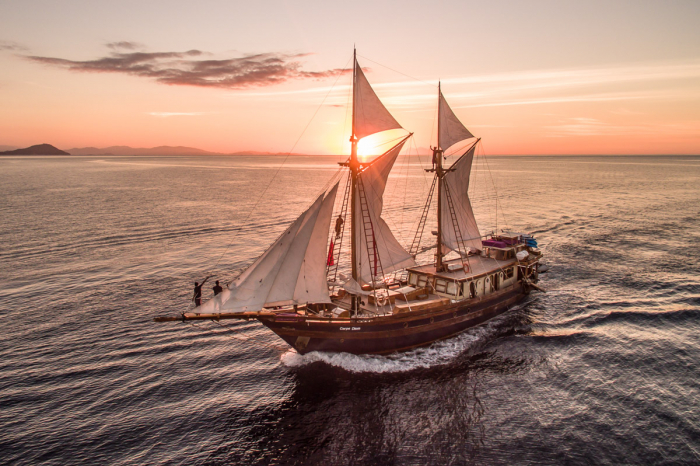 Ready to start planning your ultimate Raja Ampat liveaboard?
Search, compare and book from over 40 liveaboards
Ultimate Raja Ampat liveaboard for photographers
New White Manta
The New White Manta offers adventurous and fuss-free itineraries in Raja Ampat, on board a superbly spacious and stable vessel, custom-designed for liveaboard diving. Underwater photographers are sure to be wowed by this vessel's spacious camera room, wide outdoor work table, and blow-dry stations - making the quest for the perfect photo just that little bit easier. Other luxurious details include a high staff to guest ratio, fine dining, and massage services, creating an all-round hassle-free experience.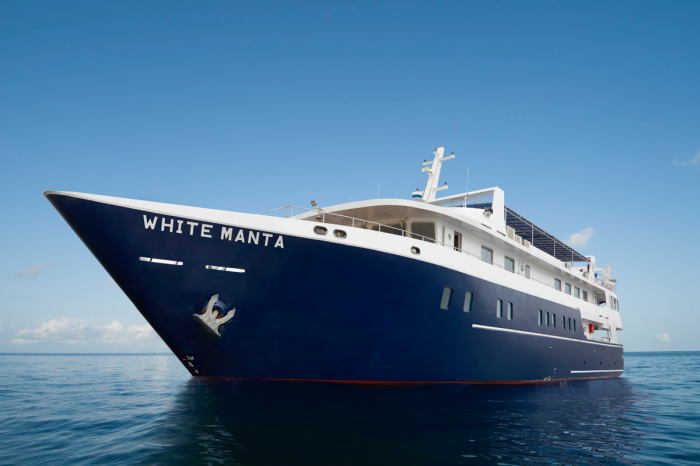 Top vessel for families and friends
Jakare
The Jakaré is one of the region's most impressive vessels, offering a modern twist on the classic phinisi. Unlike any boat you've ever seen, this contemporary sailing ship features inspired interior design, and charming details to help you enjoy each day on the water. It's welcoming social spaces are both luxurious and homely, creating the perfect atmosphere to relax with family or friends. Treat yourself to oversized and perfectly appointed cabins, fine dining, and optional extras like yoga and massage. Or, focus on the underwater world with up to four dives a day, plus nitrox and modern camera facilities.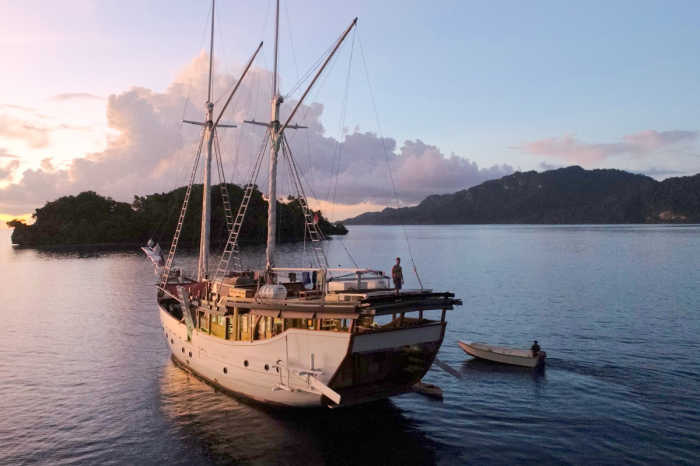 Most sustainable Raja Ampat liveaboard
Kurabesi Explorer
Kurabesi Explorer is operated by Kurabesi Nusantara - a social enterprise founded by two young Indonesian environmentalists deeply committed to marine conservation and sustainable tourism. This award-winning liveaboard provides specially crafted trips designed to have a positive impact on the local people, culture and environment. Plus, it's welcoming family-like atmosphere and incredible facilities are well-suited to both relaxing holidays at sea and highly-focused underwater adventures. The Kurabesi Explorer offers a variety of classic Raja Ampat itineraries, as well as voyages to lesser-known areas.

---
Need help planning your next diving holiday?
Contact one of our dive travel experts today

---
---
---