With over 1,500 islands and 46,000 square kilometres of species-rich sea - plus a seemingly endless number of dive sites - Raja Ampat is ideal for exploring and diving from a liveaboard. In fact, dive safaris are the only way to see many of the highlights found within this expansive dive destination.

But before you go ahead and book a dive liveaboard in Raja Ampat, there are a few things to keep in mind. Read on to discover why dive safaris are the perfect way to explore Raja Ampat, along with descriptions of the classic Raja Ampat liveaboard routes. 
New to the idea of scuba diving safaris? Get up to speed with our detailed explanation of liveaboard diving.
---
Need help planning your liveaboard adventure in Raja Ampat?
Contact one of our dive travel experts today!

---
Why choose Raja Ampat for your next liveaboard dive trip?
Raja Ampat is located on the western tip of West Papua's Bird's Head Peninsula, in the far east of Indonesia where the islands meet the imposing expanse of the Pacific Ocean. Its impenetrable karst landscapes gives Raja Ampat a feeling of being at the very edge of the world, and has meant its extraordinary marine environment remains pristine - reason enough to stop even seasoned dive explorers in their tracks.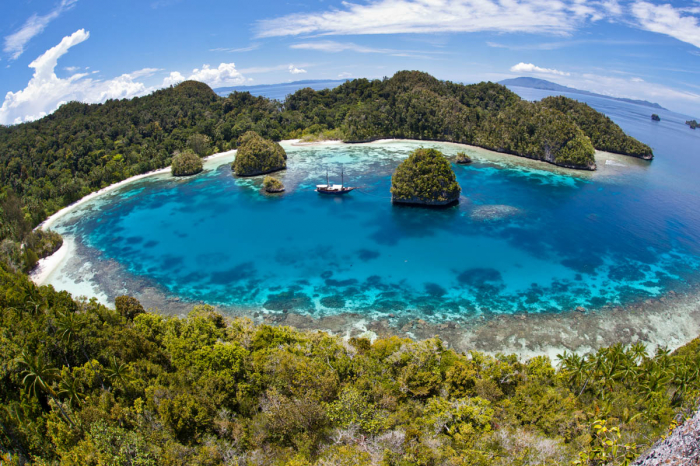 Raja Ampat's geography is well-suited to liveaboard diving
Meaning 'four kings' in the Indonesian language, Raja Ampat gets its name from the archipelago's four main islands - Misool, Salawati, Batanta and Waigeo. However, more than a thousand other islands lie scattered across the region, ranging in size from jagged giants to tiny pinnacles of rock rising from the turquoise lagoons. The resulting labyrinth of waterways is the ultimate environment for liveaboards, allowing guests to explore otherwise inaccessible areas and creating a unique atmosphere of adventure and discovery.
Unlike dive resorts, liveaboards can also switch up their scheduled stops in an instant, delivering the best dive sites with the most favourable conditions at all times. You'll also get to take part in land excursions throughout the many islands, visiting secret sandy beaches, trekking through virgin jungle and searching for rare endemic wildlife, such as the birds of paradise.
Liveaboards are the best way to discover Raja Ampat's legendary biodiversity
At the very heart of the coral triangle, Raja Ampat is rightly known as the epicentre of marine biodiversity. Its location at the confluence of powerful currents, plus the shallow, sunlit seas combine to create the ideal conditions for coral growth which supports an amazing diversity of species, many of which are endemic to Raja Ampat.
It goes without saying that the more dive sites you explore, the more marine biodiversity you'll uncover, and liveaboards are the best way to see as many sites as possible. Most liveaboard operators have got their itineraries down to an exact science, allowing for three or four dives in one area during the day, followed by an overnight voyage to the next stop. Who wouldn't want to wake up in a different, world-class dive spot every day of the week?
Raja Ampat's north and south divide
Just as Raja Ampat marks the meeting point of two oceans, the park itself is divided into two distinct regions. Seasons, wildlife, and ease of access are all slightly different between the two parts, but one thing stays the same – outstanding liveaboard diving.
Diving north Raja Ampat
The northern area of Raja Ampat includes the islands of Mansuar, Batanta, Waigeo and Gam, as well as the renowned Dampier Strait – home to a site that boasts the highest number of fish species ever recorded on a single dive. Big name sites such as Cape Kri, Manta Sandy, Blue Magic and Mayhem can all be found here, each offering astonishing biodiversity and a mixture of diving conditions, from easy-going to fast-flowing.
Diving south Raja Ampat
Southern Raja Ampat revolves around Misool, and a scattering of much smaller islands to the south and east. Soft corals flourish in the south, and most sites offer a kaleidoscope of colours. While the conditions here are often more gentle than the north, it still offers plenty of opportunities to get up close with larger, current-loving creatures. In fact, Misool is home to one of the best manta sites in the whole of Raja Ampat, with opportunities to spot both reef and oceanic mantas at the same time.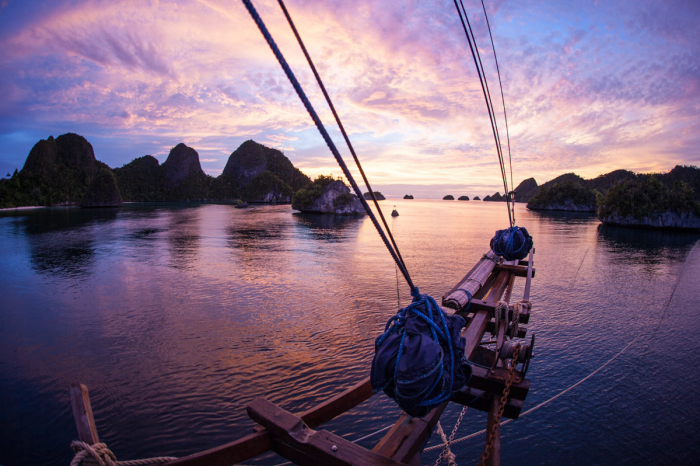 Ready to start planning your liveaboard holiday in Raja Ampat?
Search, compare and book from our hand picked liveaboards
Classic Raja Ampat liveaboard routes
With two distinct diving regions, each with slightly different seasons, it's no surprise that there are also two main liveaboard routes in Raja Ampat – north and south. Conveniently, both itineraries typically take in the famous central dive sites around the Dampier Strait before sailing off towards the horizon. And, there's always the option of combining both north and south Raja Ampat into one epic trip!
Central and north liveaboard itinerary – Waigeo, Kawe and Wayag
Departing from Sorong, your liveaboard will likely explore some of the sites around the Dampier Strait, Bantanta, and Mansuar. At the western end of the Dampier Strait, you'll get the chance to visit the Fam Islands before heading north past Pulau Penem towards Gam. The large islands of Gam and Waigeo have plenty to offer before the vessel pushes further north towards Kawe, and finally Wayag. From here, the itinerary will likely return to Sarong, visiting any iconic dive sites missed on the way out, or any repeat-dives requested by the guests.

Central and south liveaboard itinerary – Misool
Itineraries will usually visit the same iconic Dampier Strait sites before making their way to the remote south. Once there, the vessel will explore the large island of Misool, as well as the smaller surrounding islets of Pelee, Yellit, and Daram. From here, the itinerary will likely return to Sorong, visiting any iconic dive sites missed or any favourite repeat sites requested by the guests.

---
The Indonesian liveaboard dive experts
Speak to the Travel Team today

---