The Caribbean is the birthplace of recreational liveaboard scuba diving – and for good reason. Liveaboard safaris are easily the most convenient and cost-effective way of thoroughly exploring this diverse dive destination, creating the underwater adventure of a lifetime.
The Caribbean is home to dozens of iconic dive destinations famous for flourishing reefs, close encounters with sharks and shipwrecks carpeted in coral. Not to mention fantastic topside attractions, including the ruins of ancient civilisations, stunning white-sand beaches, swimming pigs and limestone grottos. There's so much to see, you could spend months exploring and barely make a dent. And, while no diver can do it all in a single trip, a liveaboard safari can certainly take your trip further.
Whether you're looking to take it easy, or are in search of something a little more exciting, the Caribbean is the perfect place for a dive safari adventure. In this article, we're breaking down the various routes offered by liveaboard vessels in the Caribbean, so keep reading to find your perfect itinerary and start planning your next dive holiday.
New to the concept of liveaboard safaris? Learn all there is to know with our detailed guide to liveaboard diving.
Why is liveaboard diving in the Caribbean so good?
The Caribbean is a perfect playground for scuba divers, with thousands of picturesque tropical islands, hundreds of kilometres of pristine coral reef, and conditions fit for explorers of all skill and comfort levels. These islands are also the birthplace of recreational liveaboard diving, with a local history of dive safaris dating back to the 1950s – so visitors can expect well-organised itineraries and streamlined service.
While it's impossible to visit more than a small fraction of the region's incredible underwater highlights in a single trip, a liveaboard safari undoubtedly helps you cover more ground. These voyages allow you to make the most of your time, visiting different destinations in one action-packed itinerary. And, many venture off the beaten path, exploring untouched and uncrowded dive sites that would otherwise be off-limits.
That said, geography isn't the only reason to book a liveaboard in the Caribbean. These sea safaris are also a great way to save money, with attractive all-inclusive packages covering your room, meals, and multiple dives each day. They can also maximise your time in the water, offering more dives than land-based operations, less time spent in transit, and focused itineraries with exciting themes like sharks and shipwrecks.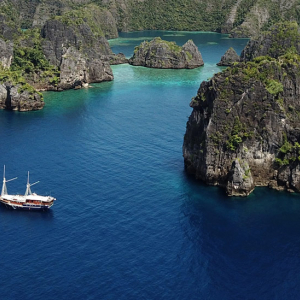 Recommended insight
The ultimate guide to liveaboard diving in 2023
Everything you need to know about liveaboard dive holidays, what to consider when booking a dive safari, and the best liveaboard dive destinations in the world!
Best liveaboard routes in the Caribbean
As we've already mentioned, liveaboards are often considered the best way to explore the Caribbean's unique underwater world – and these are the very best routes they sail, guaranteed to impress even the most distinguished scuba aficionados.
Best liveaboard trips in Belize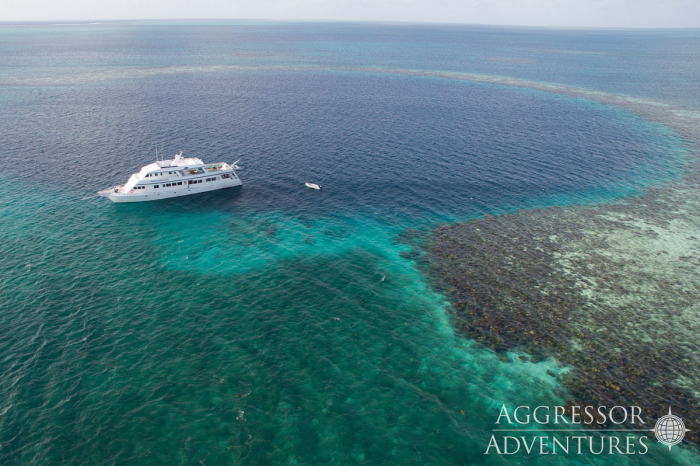 This tiny Caribbean country is a diver's paradise, but many of the finest dive sites are found far offshore – making a liveaboard the very best way to see it all, without wasting precious time in a bumpy speedboat every day. Belize's dive safaris typically last eight-days and both begin and end in the capital, Belize City. Then, it's off to Turneffe Atoll, home to mangrove forests, sheltered lagoons, and nutrient-rich waters packed with marine life. The western sites offer plenty of shallow coral gardens for novice divers, but the eastern and southern reaches quickly transform into drop-offs patrolled by reef sharks, nurse sharks and eagle rays.
Up next, it's off to Lighthouse Reef, home to fascinating limestone formations, including the world-famous Great Blue Hole. This submerged sinkhole is known for its cave-like features, including massive stalactites – and you might also spot sharks in the shallows. Once you're better acquainted with Belize's unique subterranean side, you'll head south to Half Moon Cay for some of the Caribbean's very best wall diving. Keep an eye out for spawning reef fish, which may attract whale sharks and manta rays!
Best liveaboard diving trips in the Bahamas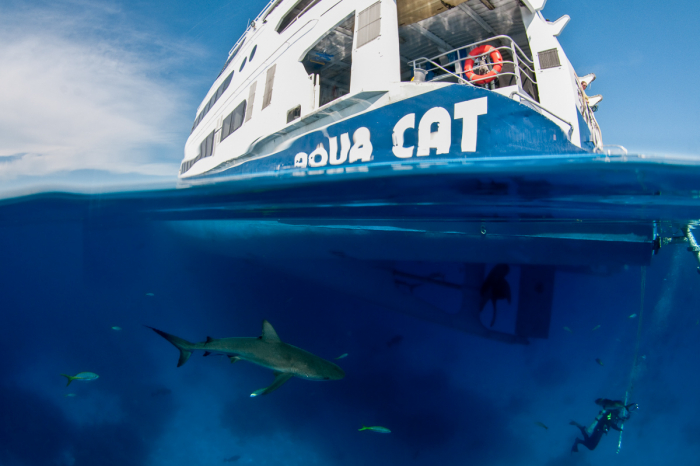 The Bahamas cover a massive geographic region, with unlimited opportunities for exploration. Some liveaboard trips in the Bahamas last up to 14-days at sea, exploring the best diving areas in the islands, plus a few hard to reach above-water attractions like the Thunderball Grotto. These trips focus on vibrant Caribbean reefs, plunging walls, shipwrecks, and fun, fast-paced currents. But, the real treat here is an opportunity to dive with the Bahamas' notorious 'Big Five' – tiger sharks, Caribbean reef sharks, great hammerheads, silkies, and oceanic whitetips. 

Most Bahamas liveaboards include both baited and natural shark dives, with carefully managed encounters, as well as seasonal aggregations and chance sightings. Friendly pods of dolphins can also be seen here, adding a special highlight. Of course, no trip to the Bahamas is complete without exploring the region's well-known caverns, blue holes, and shipwrecks. 
Areas of exploration - Grand Bahama, Nassau, Eleuthera, Exumas, Cat Island
Highlights - Reefs, sharks, caverns and blue holes
Top dive sites - Tiger Beach, Lost Blue Hole, The Washing Machine, Current Cut, Cat Island 
Best liveaboard trips in Turks and Caicos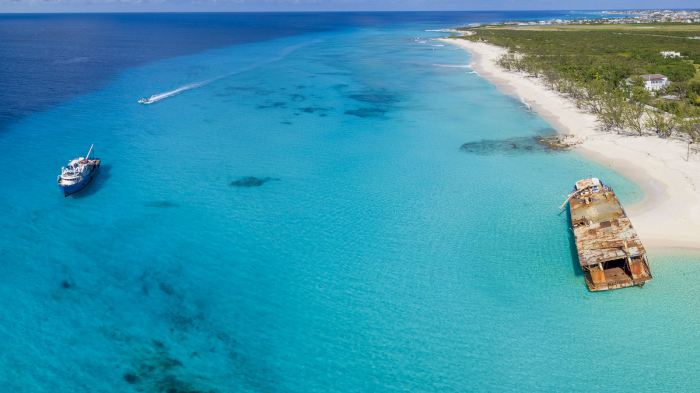 With over 40 islands in the archipelago, liveaboard diving is the best way to explore all that Turks and Caicos has to offer. Most trips start and end in Providenciales and last around eight days. Liveaboard itineraries in Turks and Caicos vary significantly by season, with boats focused on spotting migratory humpback whales between December and March and spending most of their time in protected leeward areas during the storm season from June to November. Between July and September, nurse sharks also gather here, offering once in a lifetime opportunities to dive and snorkel with dozens of these docile bottom dwellers. 
No matter when you plan to visit, you'll spend the majority of your time exploring stunning coral gardens and plummeting walls, joined by vast schools of colourful reef fish. This is also one of the Caribbean's sharkiest destinations, with nurse and reef sharks popping up frequently and occasional sightings of larger species like hammerheads and even tiger sharks! Most itineraries also include a wreck or two, the most impressive of which are found around Salt Cay. 
Areas of exploration - Providenciales, West Caicos, French Cay
Highlights - Reefs, walls, sharks, migratory whales
Top dive sites - Grace Bay, the wrecks of Salt Cay, Double D, Shark Hotel, French Cay
Best liveaboard trips in the Cayman Islands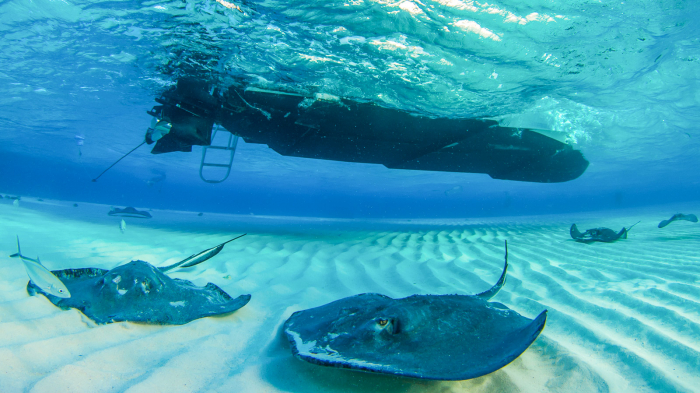 These trips last a week at sea, beginning and ending in George Town, Grand Cayman. Liveaboard itineraries in the Cayman Islands include stops at the country's iconic diving areas, showcasing the best of all three islands whenever possible. The Caymans are renowned for numerous well-preserved shipwrecks, plummeting walls, and colourful light-filled coral gardens. Plus, close encounters with friendly Southern stingrays at the world-famous Stingray City. 
While liveaboard diving in Grand Cayman, you'll likely encounter sea turtles, eagle rays, and potentially nurse sharks cruising the region's stunning reefs and drop-offs, while the shallows offer vast schools of tropical reef fish, lobsters, crabs, and shrimp. But, wreck diving is one of the biggest treats here, with historical Soviet and American vessels blanketed in coral. 
Areas of exploration - Grand Cayman, Little Cayman, Cayman Brac
Highlights - Historical wrecks, near-vertical walls, shallow coral gardens
Top dive sites - USS Kittiwake, Doc Polson wreck, Russian Destroyer, Bloody Bay Wall, Stingray City 
---
Need help planning your ultimate Caribbean liveaboard experience?
Contact one of our award winning travel experts today!

---
---
Join the ZuBlu community to receive the latest insights and unmissable adventures
Don't worry, we'll only send you really good stuff - and we never share your details
---