Have you ever heard of the Banda Sea crossing? If not, get ready to have your mind blown!

The Banda Sea Crossing is one of the most exciting liveaboard adventures on planet earth, offering a sampler of Indonesia's very best diving. You'll explore current-swept seamounts and walls, stunning coral gardens that stretch for kilometres, and silty muck and macro slopes. Plus, you'll likely encounter an incredible variety of wildlife, ranging from minuscule macro to migrating whales - and everything in between!
Sound like your kind of trip? Just wait until you hear about the hammerheads…
---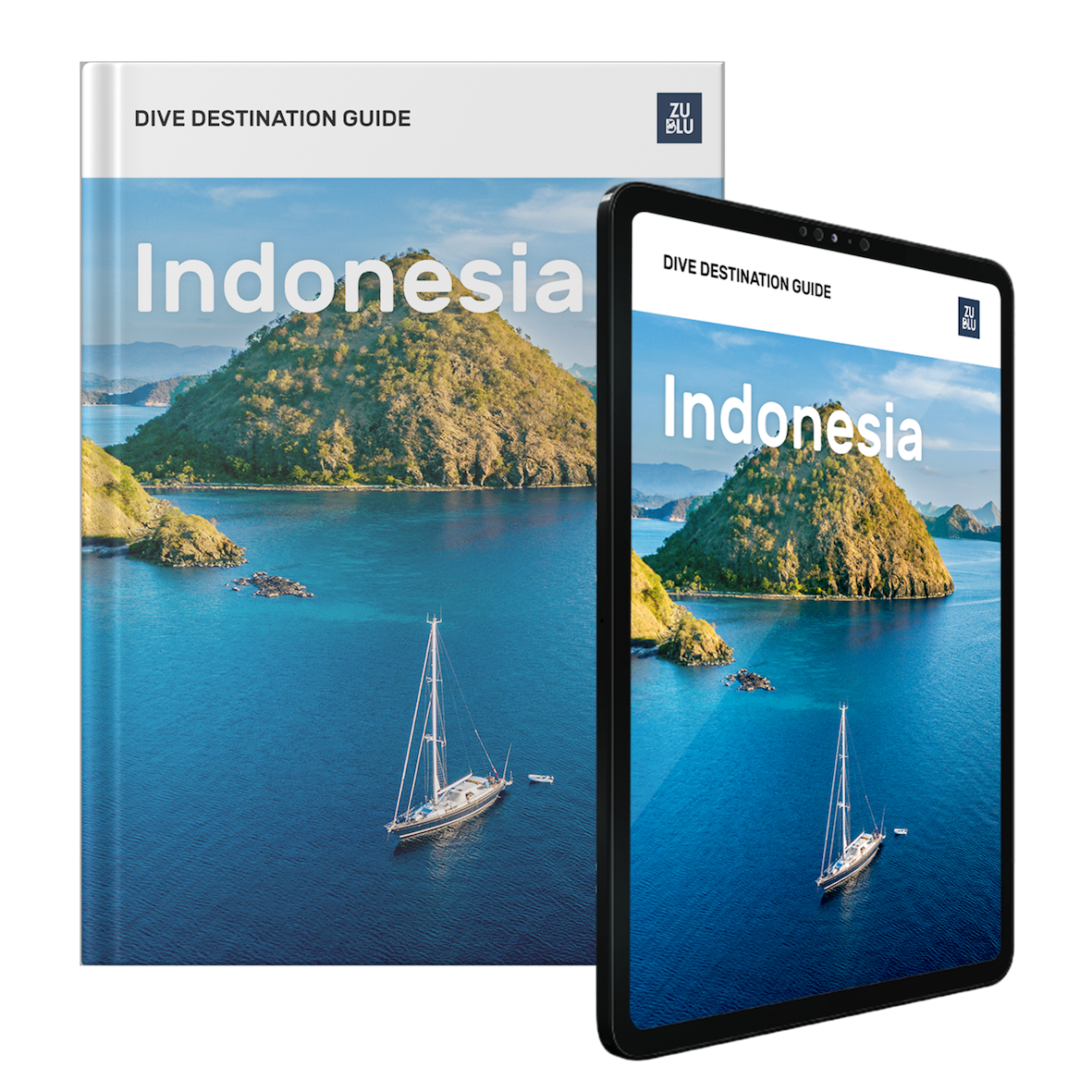 Discover the secrets of Indonesia in this FREE 150+ page scuba dive destination guide. Read online or download today and let us inspire your next diving holiday.
---
What is the Banda Sea crossing?
Each year, as the seasons change during March and April, and then again during September and October, Indonesia's liveaboards move between Raja Ampat in the east and Komodo in central Indonesia, crossing the Banda Sea in the process. 
Fortunately, this seasonal switch aligns with the two peaks of the Banda Sea diving season – short windows of opportunity famous for crystal clear visibility, cold upwellings and thermoclines, and schooling hammerhead sharks. 
Since many liveaboards have to make the crossing twice each year, anyway, their operators have slowly started to invite guests along for the ride. And, if even a fraction of the diving tales told about this trip are true, the lucky guests taking part in the crossing are experiencing some of Indonesia's most dynamic diving, often without another boat in sight.
The crossing itself can last anywhere between ten and 12-days, cruising from Maumere to Ambon – or vice versa. And, these incredible expedition-style trips don't just include scuba diving. Most operators also include shore excursions focused on the fascinating history of the region's Spice Islands and rare wildlife like the birds of paradise. While your liveaboard is at anchor, you'll also enjoy chances to snorkel on pristine reefs in remote backwaters that only a handful of humans visit each year. 
There are a surprising number of variations to this Banda Sea itinerary, some of which add up to an additional week at sea, and can include diving in Raja Ampat, Triton Bay, or the Forgotten Islands and Saumlaki.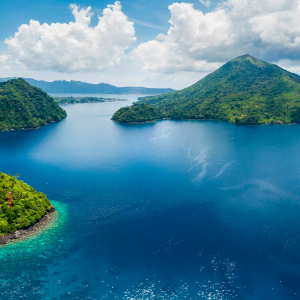 Recommended destination
Indonesia
Banda Sea and Forgotten Islands
One of the last frontiers of dive exploration in Asia, the Banda Sea is a remote haven for marine life that until recent years remained largely unexplored. Offering that perfect ...
Banda Sea's diving highlights
If you've heard anything about Banda Sea diving, hammerhead sharks were probably the stars in the story. This is one of the most reliable places on planet earth to spot them schooling by the hundreds. And, your crossing will coincide perfectly with their peak season! Because big fish enjoy swimming in big currents, most of your hammerhead dives will be done as drifts. Adventurous dive groups will zip along current-swept ridges and walls or venture far out into the blue in search of these graceful predators.
While Banda's hammerheads are absolutely the highlight here, there is plenty of other amazing diving to be done while you're in the region. Black volcanic sand slopes and coral gardens that spread for kilometres in every direction set a stunning backdrop for all-around excellent diving. You'll find yourself surrounded by schools of tropical reef fish during most dives, with pelagics like tuna passing by in the blue. And, many operators visit their own "secret sites" in this area, adding extra anticipation and excitement to each itinerary.
Areas of exploration during Banda Sea liveaboard trips
The most incredible part of jumping aboard a Banda Sea crossing is the opportunity to visit so many different diving areas! You'll be exploring some of Indonesia's best and least-known sites, famous for powerful currents, stunning biodiversity, and seemingly endless visibility. And, you'll have a wide variety of speciality dives to look forward to, including a chance to spot rare macro wildlife like mating mandarinfish, and blue water diving in search of schooling hammerheads.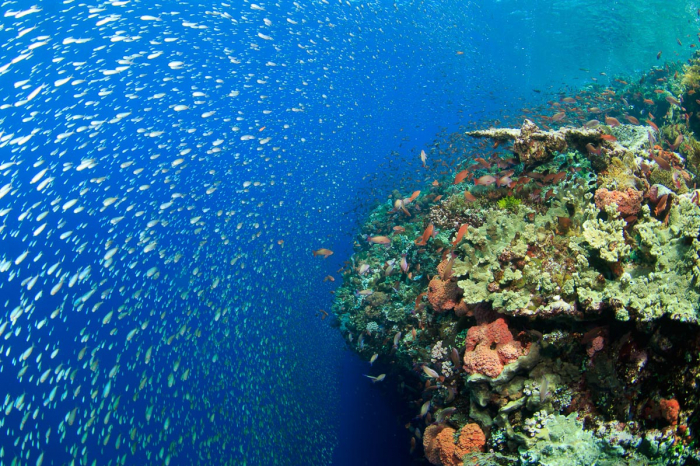 Islands of the Banda Arc
The Banda Sea's inner arc is an archipelago of isolated volcanic islands scatted in a curving chain from north to south. Once fought over during the spice trade, these small patches of tropical paradise have been completely overlooked by mainstream dive travel, leaving you to enjoy them in peace! Around Hatta Island, you'll enjoy incredible coral gardens with massive barrel sponges and dense schools of fusiliers. Batu Kapal, by contrast, is famous for its series of pinnacles, blasted by powerful open ocean currents and frequently patrolled by sharks. 
Manuk Island is home to an incredible sea snake aggregation allowing divers to take the plunge with hundreds, if not thousands, of banded sea kraits. Pombo Boi boasts unique megafauna encounters with dugongs and dolphins, plus easy-going conditions perfect for a day of relaxed reef diving. Mandarinfish dives at dusk are also a "can't-miss" event in the Banda Arc, with these colourful gobies emerging as the light fades to perform their elaborate mating dances. 
Side trips and extensions
Diving the Banda Sea and its arc of islands are the highlights of every crossing. But, most trips include at least one side excursion, either north or south of Banda.
Koon Island and the outer arc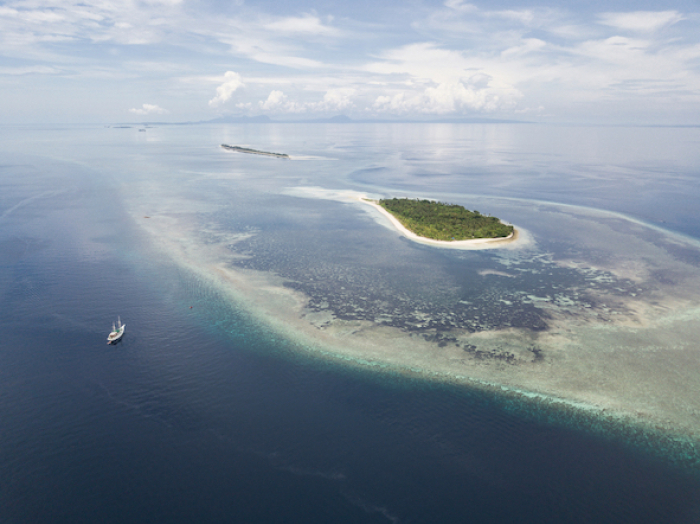 Banda's outer arc of islands are flat coral islands, home to stunning beaches and exceptional diving as well, with plummeting near vertical walls, and mucky volcanic slopes. Around Koon Island, you can expect slightly calmer currents, and lovely hard and soft coral gardens swarmed by colourful reef fish. In fact Koon's signature site is famously named 'Too Many Fish'!
Ambon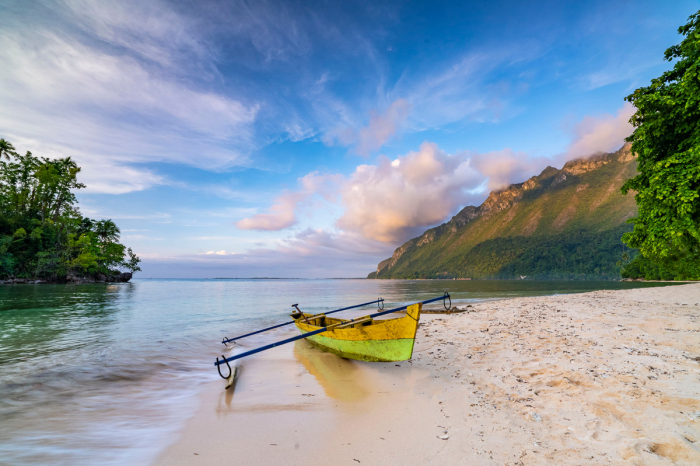 By contrast, Ambon Bay is home to incredible muck and macro diving, second only to Lembeh – Indonesia's official critter diving capital. The bay's northern coast has a series of black sand sloping sites and a jetty which, although littered with man-made waste, are home to an astonishing array of bizarre and beautiful critters. The island is also home to the surreal psychedelic frogfish found nowhere else on earth!

Forgotten Islands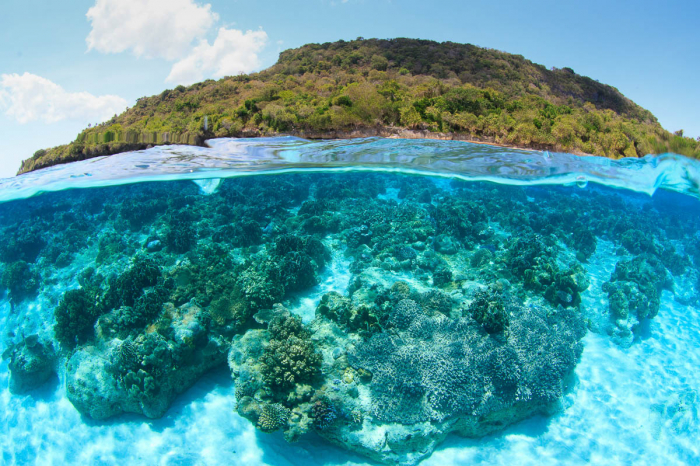 The tiny islands dotting the southeastern border of the Banda Sea are home to spectacular diving – and due to the remote nature of the sites, absolutely anything is possible when it comes to wildlife encounters. Lucky dive groups might spot whales and dolphins on the surface or marine megafauna like hammerheads and manta rays at depth. The isolated reefs found in this region are stunning as well, with dense carpets of hard and soft coral and vast shoals of colourful fish, making it perfect for a few wide-angle shots, as well.  
Raja Ampat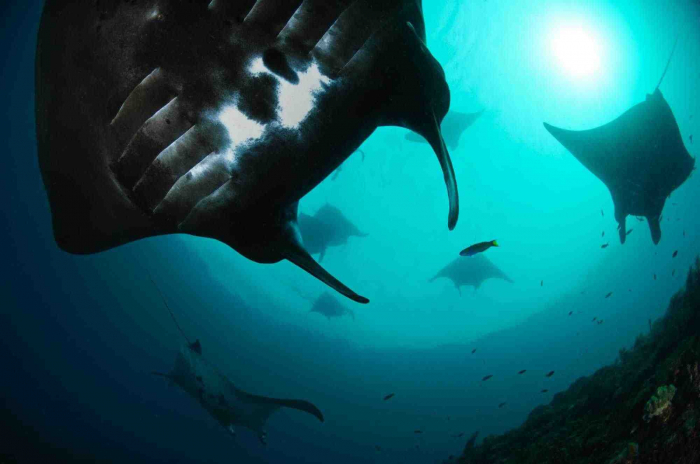 This one of Indonesia's most legendary diving areas, famous for its mind-blowing biodiversity, both above and below water. The park's northern reaches around the Dampier Strait are famous for ripping currents and marine megafauna like sharks and tuna – topping many divers' big fish bucket lists. Further south, the park transforms, giving way to stunning hard and soft coral gardens. You'll still enjoy plenty of action-packed drift diving here though, punctuated by incredible encounters with oceanic manta rays and patrolling sharks. If you can catch a break from the current, this is also an excellent place to search for macro, with three species of pygmy seahorses sometimes spotted on just one dive! 
---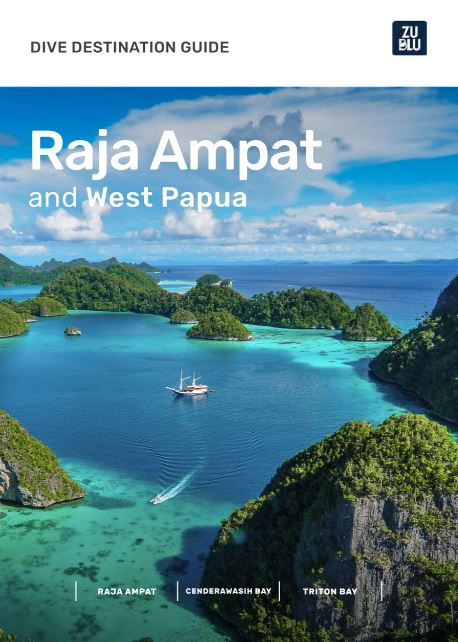 Discover the best places to dive in Raja Ampat, Triton Bay and Cenderawasih Bay in this free guide to West Papua's diving.
---
Triton Bay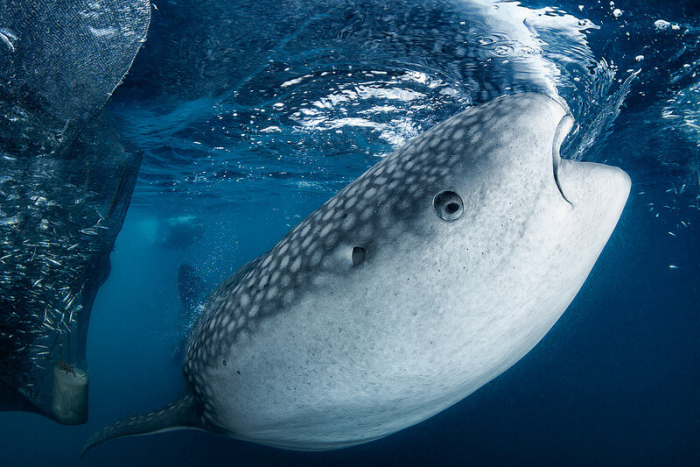 Found a few hundred kilometres southeast of Raja Ampat, this is one of the lesser-known parts of West Papua. While you're sure to love the pristine reefs and macro life found in Triton Bay, the real attraction here is a chance to encounter the biggest fish in the sea – whale sharks, while they hover motionless below local fishing platforms. There, the sharks slowly suck fish from the nets, enjoying a free meal at a leisurely pace. This makes for a once in a lifetime photo opportunity, with just a handful of divers in the water and no telling just how many sharks might turn up!
Lucipara and Gunung Api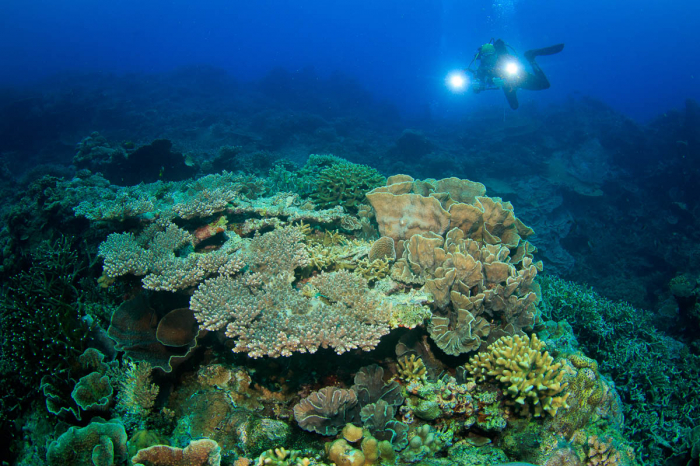 Gunung Api and the Lucipara Islands are cast out in the middle of the Banda Sea. The reef system around the isolated volcano known as Gunung Api was once destroyed by a volcanic eruption, but you'd never know it by looking. The sites here boast spectacular hard coral gardens, with massive table and cabbage leaf formations often bustling with sea snakes. Further afield, the islands of Lucipara are surrounded by deep water – dropping to thousands of metres in some places, beckoning a wide variety of pelagic species in from the open ocean. These diving areas often experience less current than Banda's inner and outer arc, making for an ideal break from drift diving. 
Alor and Flores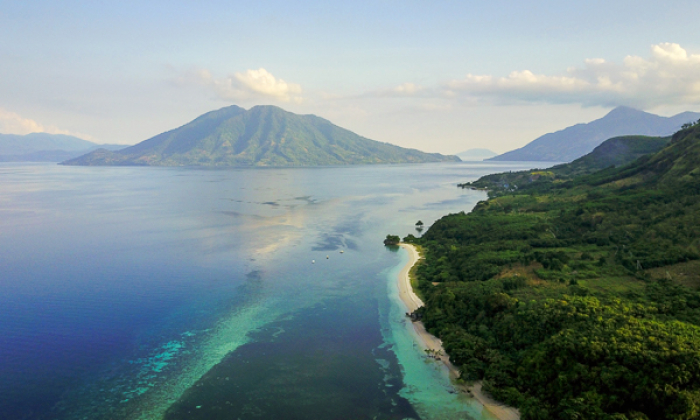 With Komodo National Park to the west and the Banda Sea to the north, it's no surprise that these waters are among Indonesia's most biodiverse. You can expect kaleidoscopic coral gardens, fast-paced drift diving, and plenty of big stuff, including reef sharks, schooling barracuda, sea turtles, and eagle rays. But, there are plenty of small and cryptic creatures here, too, hiding on the reef. In short, divers here can look forward to a little bit of everything. 
Ready to start planning your Banda Sea adventure?
Search, compare, and book from our exclusive selection of liveaboards
Who is this trip right for?
During the Banda crossing, you'll be taking the plunge in some of our planet's most pristine waters, sometimes with powerful currents. And, you'll be spending ten days or more at sea, so it goes without saying that these expeditions aren't for the faint of heart. 
You should have at least 50 logged dives and an Advanced Open Water certification if you're planning to make the journey. And, you should feel comfortable diving in challenging conditions and using advanced techniques such as negative descent and reef hooks. 
Because you'll be cruising in such remote regions, you'll likely spend most of your time at sea "unplugged" – with no cell service or internet access. So, this trip is best suited to intrepid guests who don't mind going without social media or email for a couple of weeks. 
Are you ready to start planning the ultimate dive adventure? Check out all of our favourite boats that make the Banda Sea crossing to find your perfect fit. Whether you're hoping for a laid-back backpacker-friendly vibe or a few luxurious creature comforts, we have you covered!
Need a little extra assistance? No worries! Contact us today for all the latest travel updates and advice, and hands-on guidance from our team of travel experts. 
---
Ready to book your Banda Sea adventure?
Contact one of our dive travel experts today

---
---
Join the ZuBlu community to receive the latest insights and unmissable adventures
Don't worry, we'll only send you really good stuff - and we never share your details
---