Thailand's Similan and Surin islands sit firmly among Southeast Asia's most cherished diving destinations – and liveaboards are the only way to see their many highlights. These waters are home to stunning coral reefs, massive granite boulders, and underwater wildlife ranging from macro critters to colossal megafauna. Plus, thanks to decades of marine park protection and new visitor limits put in place in 2018, many of the island's sites remain in good health, boasting clear water, great conditions for diving, and an incredible diversity of life waiting to be discovered!
Ready to explore Thailand's best reefs from a liveaboard? Read on for ZuBlu's top tips on getting there, making the most of you scuba excursions, and which of the park's incredible dive sites simply can't be missed.
Wondering what on earth a liveaboard is? Check out our detailed guide to liveaboard diving.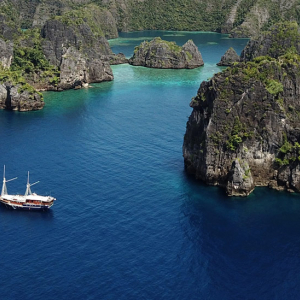 Recommended insight
The ultimate guide to liveaboard diving in 2023
Everything you need to know about liveaboard dive holidays, what to consider when booking a dive safari, and the best liveaboard dive destinations in the world!
Why are the Similans good for liveaboard dive trips?
The Similans' underwater scenery is a diver's dream
The Similan Islands are famous for their underwater landscape of massive granite boulders blanketed in coral. In some areas, these chunks of stone create caverns, archways, and swim-throughs where leopard and reef sharks love to nap. In others, the landscape flattens out into plateaus swept by currents – the perfect playground for big fish. And, no matter where you're diving around the Similan or Surin islands, you can expect to encounter beautiful hard and soft coral gardens on every dive. From colourful sea fans and sponges, to sprawling staghorn formations, just about every surface is completely encrusted with living reef organisms.
Unique geography delivers interesting dive sites
The Similan and Surin islands were formed millions of years ago when two of the planet's tectonic plates began to push against one another. This event, called subduction, is the origin of the region's massive stone deposits, having forced giant slabs of rock up from the earth's centre, creating islands and seamounts in the process. It also allowed liquid magma to bubble up toward the surface, forming domes. The Similans' famous dive site, Elephant Head Rock, is an excellent example of this effect. Once these tectonic events concluded, the region's warm, nutrient-rich water and sunshine fuelled massive coral growth, eventually resulting in the stunning gardens that can be seen here today.
When subduction took place, the continental shelf prevailed and the eastern Thai plate came to rest on top of the western Indian plate. Not only did this event form the various islands, it also created stone deposits on their western coasts. This accounts for the visible difference between the granite boulders found on most west-facing sites and the gentle sloping reefs found to the east.
Rich marine life on every dive
It isn't just geology that makes the Similan and Surin islands special. The islands rise up from deep ocean trenches, where powerful currents and massive upwellings of cool, plankton-rich water can be found. These waters feed a vibrant reef ecosystem known for colourful coral formations and tropical fish. They also beckon giant oceanic species from the open sea. Whale sharks and manta rays are common here, thanks to easy access to fast-moving water and their favourite foods. Whales, dolphins, and other massive marine animals also migrate through the region, sometimes spotted on the surface in between dives.

The Similan and Surin island offer easy liveaboard access
The Similan and Surin islands are also unique diving destinations because they are so convenient to visit and explore. This is a great place to pop in for a quick trip, thanks to the islands' relative proximity to the mainland and well-connected ports of departure. And, because the region boasts diving conditions ranging from mild to wild, there's a little bit of something for everyone, including laid-back reef exploration, fast-paced drifts, and everything in between. And, many liveaboards offer scuba courses at sea, beginning with your very first breaths underwater. But, it's important to note that not all of the region's sites are suitable for beginners. Some areas are more challenging, with strong currents and cold upwellings of murky water, ideal for attracting the region's iconic supersized filter feeders.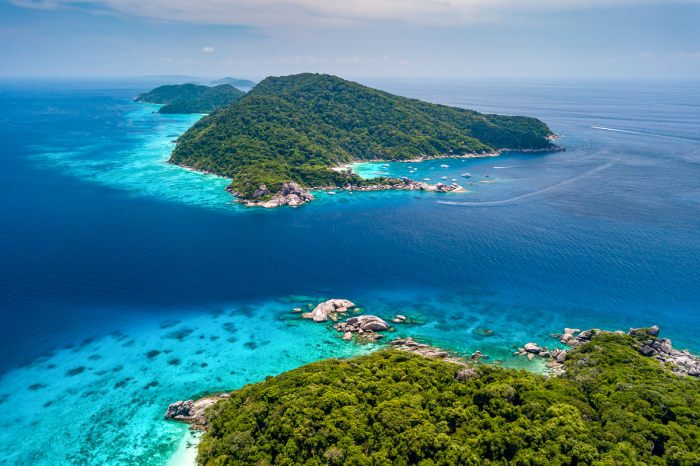 Ready to start planning your holiday in Thailand?
Search, compare and book from our hand-picked liveaboards.
The best dive sites in the Similan and Surin islands
Liveaboard diving is, without a doubt, the best way to see the Similan and Surin islands. And, the majority of multi-day safaris hit most, if not all, of these classic sites. In fact, some itineraries will even offer two or more stops at the most famous dive spots to allow plenty of time for taking in the epic scenery and wildlife.
Christmas Point
This reef truly typifies the Similan Islands, with its massive granite boulders and endless options for swim-throughs. The numerous tunnels and canyons boast a thick crust of soft corals and sea fans, with archways and delicate formations seemingly held together by the swaying gardens that cover them. Thousands of tiny glassfish school in caverns and overhangs, giant sea cucumbers and colourful sea stars pose peacefully in the shallows, and schooling trevally patrol the reef's edge. Keep one eye on the blue for passing sea turtles, barracuda, and reef sharks, but don't forget to enjoy the reef itself, as it offers some excellent opportunities for landscape photography.

East and West of Eden
These twin sites boast some of the region's most stunning shallow coral gardens, making them ideal for underwater photographers and divers of all skill levels. In fact, massive bommies and incredible staghorn formations can be found in just five metres of water. To the west side of this site you'll find a field of signature boulders encrusted with sea fans and sponges, surrounded by sand channels. While the site's eastern reaches boast a gently sloping kaleidoscopic coral reef swarmed by tropical fish. But, because the currents typically run north to south here, you won't be able to drift between the two sides – it's one or the other!
Elephant Head Rock
Named for a large piece of rock visible above the surface, this is one of the Similans' most iconic dive sites. In the shallows, keep an eye out for fascinating smaller species like fire gobies and the endemic Similan Islands jawfish, as well as sea turtles lazily chomping at the reef. Then, descend through a deep channel of boulders, where reef sharks and leopard sharks like to nap in the current. At the south end of this site, a series of pinnacles leads to deeper water where pelagics like manta rays and whale sharks occasionally pass by, and barracuda and giant trevally make regular appearances out in the blue. Due to strong currents, this can be one of the region's more challenging sites.
Shark Fin Reef
This will often be the liveaboard's last stop before returning to the mainland, and is sometimes dived along with its sister site, Boulder City, depending on the currents. Both areas provide a dramatic backdrop of granite, with massive rock formations covered in coral. In the shallows, you'll have a chance to spot sea turtles and nearly every species of reef fish found in the region. Head deeper, and you might bump into massive Napoleon wrasse, giant barracuda, and reef sharks. Batfish, tuna, and trevally often school here, surprising lucky dive groups during their safety stop. Boulder City is prone to powerful currents, and nearly anything can turn up, including iconic megafauna.

Koh Bon and Koh Tachai
About an hour from the Similans but still within the national park's limits, Koh Bon is one of the only proper wall dives in Thailand and is perfect for big fish. You'll likely spot Napoleon wrasse, eagle rays, and reef sharks here, no matter where you descend. And, chance encounters with leopard sharks and manta rays are not uncommon. If you're up for a bit of a challenge, the Koh Bon Pinnacle, just a few hundred metres north of the island, offers action-packed drift diving past a series of towering underwater formations. This is where you're most likely to spot marine megafauna, but advanced techniques like negative descent may be required. Night dives at Koh Bon are a special treat, revealing an incredible variety of critters, with nudibranchs galore!
Koh Tachai is home to several sites, the most popular of which is the Koh Tachai Plateau. This submerged field of hard coral and boulders offers plenty of drama for wide-angle photography, with massive granite slabs, swim-throughs, and channels blanketed in hard and soft coral. Peer under this site's numerous overhangs to spot napping turtles and leopard sharks, plus cool cryptic species like nudibranchs. On calm days, this is laid back reef diving at its finest, with colourful fish by the hundred and gently swaying sea fans. When the current is pumping, huge schools of swirling chevron barracuda, trevally, and tuna can be spotted here, as can the occasional manta ray or whale shark!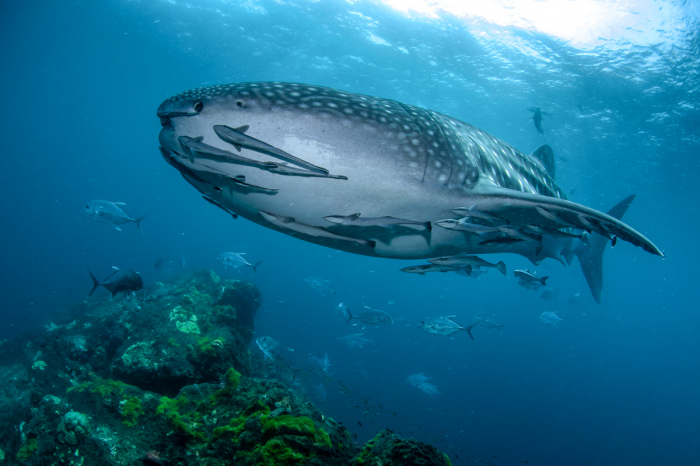 Richelieu Rock
This is easily Thailand's most famous dive site, a place so legendary that it's become a household name in the world of scuba diving. So, it should come as no surprise that it's the main attraction on almost every liveaboard's itinerary in the region.
Richelieu Rock is found to the north of the Similans, past the Surin Islands, towards the border with Myanmar. This remote location, combined with the surrounding deep sea and upwellings of cool, nutrient-rich water, make it a hotspot for large marine life – including the biggest fish in the sea, whale sharks! In fact, while the entire Andaman Sea is famous for whale shark spotting, this dive site is the undeniable epicentre for up-close encounters.
But whale sharks aren't the only attraction at this massive dive site. Richelieu Rock is a giant submerged horseshoe-shaped formation, consisting of a huge central pinnacle surrounded by a ridge of jutting rocks. Every visible surface here is completely encrusted with hard and soft coral, and the entire landscape is studded with big barrel sponges and sea fans. You might spot sea turtles, schooling reef fish, pelagics like barracuda, eagle rays and manta rays, or even cool macro critters like nudibranchs, all depending on the day's currents.
Planning a liveaboard trip to the Similan Islands
Liveaboard safaris to the Similan and Surin islands generally depart from Khao Lak or Phuket. From Bangkok, where most visitors enter the country, Phuket is easy to reach via a short domestic flight. Some international arrivals land directly in Phuket, especially those connecting through other Southeast Asian countries like Singapore. From Phuket, you can easily arrange a taxi or bus for the rest of the journey to Khao Lak, though most liveaboards are happy to handle your transfers. Because the town has served as the gateway to the Similans for decades, Khao Lak has a surprisingly diverse selection of hotels, guesthouses, and resorts, plus plenty of options for dining and nightlife. Phuket, on the other hand, holds international fame for its resort atmosphere and nightlife.
It is also possible to visit the Similans via day boats from Khao Lak. However, the journey can take up to three hours round-trip and you'll likely only have time for two dives. We recommend booking a liveaboard as you'll be able to dive up to four times per day and be able to reach the best dive sites, some of which are well beyond the reach of day boats.
Liveaboard diving season in the Similan Islands
The diving season in Thailand's Similan and Surin islands runs from mid-October to mid-May. And, if you're hoping to dive with whale sharks, you'll want to visit towards the end of the season, from February onwards, with April often billed as the best month for encounters. It's also best to avoid the peak season in December and January when prices are higher and resorts become crowded.
No matter what time of year you plan to visit, pack for warm, tropical weather. Sudden afternoon downpours and thunderstorms occur almost all year round, offering a break from the midday heat. You can expect more precipitation, heat, and humidity during the shoulder months of May and October as the annual monsoon storms advance and retreat. 
The Similan and Surin islands are famous for their outstanding diving conditions, with warm water between 26-29°C, meaning most divers are comfortable in just a shortie or rash guard. This region also boasts excellent visibility, sometimes topping out at over 30 metres. Keep in mind that the cold upwellings and plankton blooms that occasionally reduce visibility here also attract marine megafauna like whale sharks and manta rays to feed. 
Whether you're planning your very first scuba diving holiday or your hundredth, the Similan and Surin islands belong on your bucket list! Trust the ZuBlu team to help you plan the trip of a lifetime to this classic destination, with up-to-date travel tips and advice, plus pro support throughout your adventure!
---
Need help planning your liveaboard adventure in Thailand?
Contact one of our dive travel experts today.

---
---
Join the ZuBlu community to receive the latest insights and unmissable adventures
Don't worry, we'll only send you really good stuff - and we never share your details
---