For many years, Thailand has reigned supreme as a much-loved holiday destination and world-renowned diving hotspot. On the west coast, the Andaman Sea stretches from the tip of Malaysia to Myanmar and beyond, and is peppered with offshore islands and protected marine parks. From sheltered shore dives to far-flung frontiers, the Andaman Sea has a dream trip for divers of every kind. While on the east coast, the Gulf of Thailand has become synonymous with tranquil waters, idyllic palm-lined beaches, and fantastic conditions for learning to dive.
Sandwiched by sensational dive sites on either side, there could hardly be a better place for your dream liveaboard diving holiday.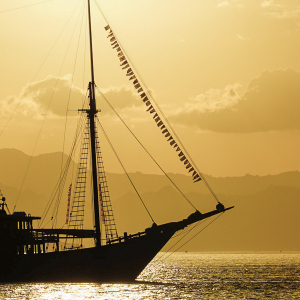 Recommended insight
The ultimate guide to liveaboard diving in 2021
Everything you need to know about liveaboard dive boats, what to consider when booking a dive trip on a liveaboard, and the best liveaboard dive destination in the world!
Diving in the Andaman Sea or Gulf of Thailand?
Despite covering much of the country's coastline, the Gulf of Thailand's best diving is actually found in a relatively small area. The southern islands of Koh Samui and Ko Tao routinely rank as Thailand's top diving destinations east of the peninsula, as well as being hotspots for tourism. The distance between these two islands is very small - particularly when compared to the far-flung archipelagos on Thailand's western coast - and the dive sites are located within easy reach of islands. So there's no real need for a liveaboard in order to explore Thailand's east coast.
But, with so many islands scattered north and south, the Andaman Sea on Thailand's west coast provides the ideal ingredients for a liveaboard holiday. The Similan Islands, Surin Islands, and Richelieu Rock are popular west coast sites, all around 60km from the mainland. And, while some of the sites can still be accessed from the mainland, a liveaboard greatly improves the experience by eliminating long boat journeys and including different far-flung islands in one epic trip.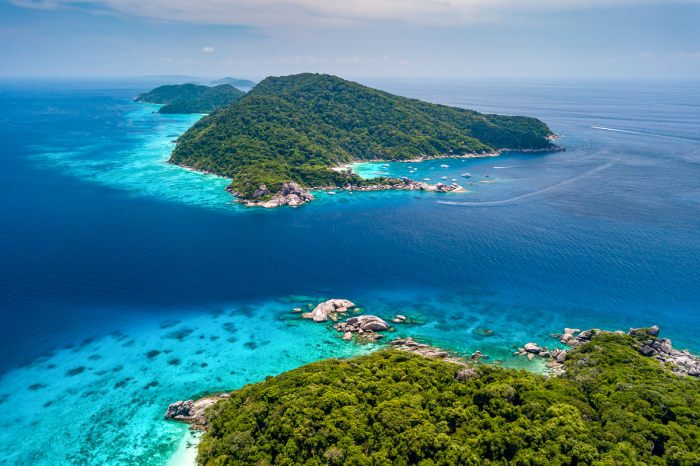 Liveaboard diving from Phuket or Khao Lak
Not only are the Similan Islands, Surin Islands, and Richelieu Rock perfectly-suited to liveaboard diving, they're also easily accessible. The two main departure points - Khao Lak and the island of Phuket a little further south - can be reached by road, with a bridge connecting Phuket to the mainland. And, for visitors short on time, the island of Phuket also boasts its own international airport. Divers can choose to depart from either Khao Lak or Phuket for their liveaboard diving holiday and still have access to the same superb diving.
Another benefit of accessible departure points is that visitors can combine their Thailand liveaboard diving holiday with a wealth of additional activities. Phuket is a much-loved tourist hotspot, famous for its beaches, bars and watersports, that lies close to iconic islands like Koh Phi Phi, while Khao Lak delivers a slightly quieter atmosphere. And for those seeking a more authentic Thai experience, a handful of National Parks can be found within easy reach of both destinations.
Short safaris or long liveaboard dive trips
Lying so close to the mainland, Thailand's liveaboard diving is uniquely well-suited to short, action-packed dive safaris lasting just a few days. Imagine packing 14 incredible dives into a four-day cruise around the Similan Islands!
Short trips like these are a fantastic option for first-time liveaboard divers looking to dip their toe into life on board. But with so many world-class sites in the area, you'll also find no shortage of longer, more adventurous voyages hitting all the highlights including the Similan Islands, Surin Islands, and Richelieu Rock.
The Similans sit so close to shore that it's actually possible to visit them on a day trip from Khao Lak. But to give this destination the exploration it deserves, without multiple long boat rides back and forth, a Similans diving liveaboard is the best option.
Explore the Similan and Surin Islands, Richelieu Rock, Koh Bon and Koh Tachai
Thailand's west coast is home to several world-renowned diving destinations, all easily reached on a liveaboard from Phuket or Khao Lak. Here's a brief breakdown of some of the iconic spots.
Similan and Surin Islands diving
The Similan Islands are a collection of nine islands within a designated national park, due west of Khao Lak. Noteworthy sites among the islands include Elephant Head, Christmas Point, East of Eden and Shark Fin Reef. Divers can expect exciting species such as barracuda, trevally, leopard sharks and Napoleon wrasse, as well as favourites like turtles and anemone fish.
Set within a designated national marine park, the five Surin islands boast a huge reef network and some of the most impressive hard coral diversity in Thailand. The two main islands - Ko Surin Nuea and Ko Surin Tai - lie just 200 metres apart, creating a unique channel that can be easily enjoyed by snorkellers.
Exploring Richelieu Rock by liveaboard
Arguably Thailand's most famous dive site, Richelieu Rock is an isolated pinnacle located southeast of the Surin Islands. The site has become known for its rich coral, prolific marine life and regular encounters with whale sharks and manta rays.
Discover Koh Bon and Koh Tachai
These exposed northern islands are frequently included in liveaboard trips around the Similan Islands and are the place to be if you're after a big fish encounter. Koh Bon boasts one of Thailand's only wall dives, and the surrounding deep water is a beacon for manta rays. Manta rays can also be found around a pinnacle on neighbouring Koh Tachai along with many schooling fish.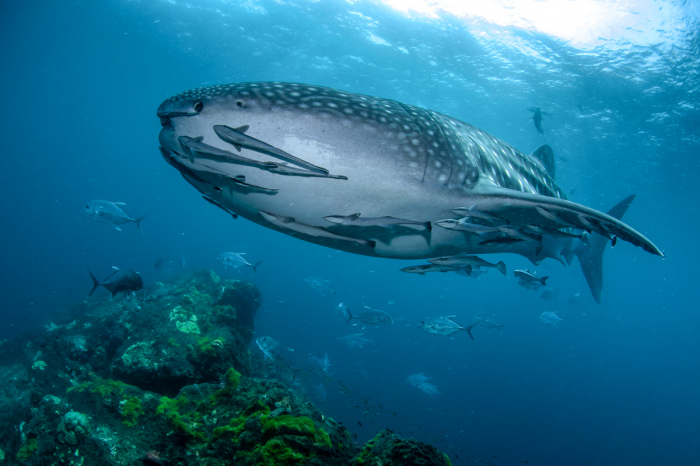 Frontier liveaboard diving - the gateway to the Mergui Archipelago
The Mergui Archipelago is fast emerging as a highlight for adventurous divers visiting the Andaman Sea. This exceptional diving destination is located off the coast of Myanmar - still often referred to as Burma - and only opened up to tourism within recent decades. This long chain of untouched islands is one of the last remaining diving frontiers in the world and incorporates the renowned Burma Banks.
The dive sites here varied, with something to offer all types of diver, and the large distances between sites make it perfect for liveaboard diving. Search for rare macro critters in the south, or encounter spectacular pelagics to the north. And, as you're off-the-beaten-track, you'll likely be the only dive boat in sight. Liveaboards departing from Khao Lak and Phuket, or Ranong to the north, will often include this remarkable region on longer, more adventurous voyages heading north.
Conditions for all experience levels
If diving the remote Burma Banks sounds too intrepid, you'll find plenty of calmer, more relaxed conditions further south. Thailand's west coast boasts tons of dive sites with varying conditions, keeping divers of all experience levels entertained.
The southern region - around Phuket and Koh Phi Phi island - offers more shelter, making them a great choice for new divers. And while a handful of protected dive sites can be found along the entire coast, in general, the diving becomes more exposed as you head further north.
If this has got you dreaming of a Thailand liveaboard diving holiday, trust our expert team to provide you with all the insights and assistance you'll need. With tons of personal experience, and simple comparisons of the top liveaboards in Thailand, we'll help turn your dream into a reality.
---
---