If you're planning a liveaboard dive holiday, the fleet you choose can be just as important as the destination! Each individual company has its own focus and philosophy, and a different set of priorities during each voyage. And, once you've found a fleet that fits your vacation goals and personal travel style, selecting the best boat is a snap.
Not sure which fleet to choose? Keep reading to discover the planet's very best dive liveaboard operators, or check out our ultimate guide to liveaboard diving for more useful insights.
Blue O Two
Blue O Two diving is all about flexibility and customer satisfaction. This expansive fleet offers liveaboard trips in 14 different destinations around the world – including the Maldives and Red Sea – and resort diving in five, so it's easy to combine a multi-day safari at sea with local resort-based exploration.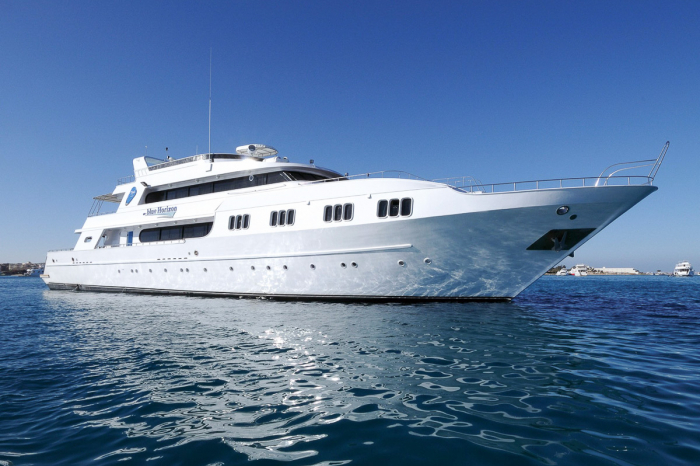 Their wide variety of itineraries makes finding your ideal trip as simple as possible. Most of their itineraries include three to four dives a day in addition to snorkelling, watersports, and land-based excursions – ideal for divers who want a choice of activities during their time at sea. And, if you're looking for a speciality trip, then look no further, the Blue O Two fleet offers everything from technical wreck exploration to citizen science expeditions with Project Shark!

Best for: Divers with flexible travel plans.
Why we love this fleet: This fleet offers outstanding "best of" itineraries in most of its destinations, ideal for diving in a new region for the first time.
Aggressor Fleet
Even if you're brand new to the world of liveaboard diving, there's a good chance that you've heard of the Aggressor Fleet. Synonymous with luxury and the highest of standards, Aggressor dive boats are among the planet's very best – no matter which of their incredible destinations you decide to visit.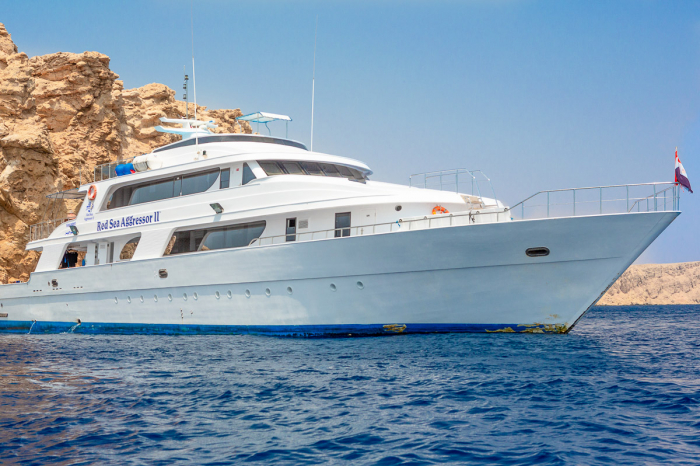 This fleet has spent over three decades assembling the finest yachts and staff, and fine-tuning their superb customer service. Guests aboard these boats are guaranteed a quality diving experience and lush accommodations, guaranteeing the ultimate eat, sleep and dive experience. Plus, the fabulous onboard extras and sumptuous details are sure to satisfy even the most discerning of divers!
Best for: Reliably high-quality dive experiences.
Why we love this fleet: Aggressor Adventures offers a variety of unique experiences including family weeks, photography seminars, and island-hopping voyages that combine multiple destinations.
Emperor Divers
Compared to some fleets, Emperor Divers keep it simple – delivering highly specialised experiences in Egypt, the Maldives and now Indonesia. Yet guests will want for little whilst aboard their fleet of modern motor yachts and phinisis, all twelve of which boast contemporary and spacious interiors, recently updated facilities, and excellent amenities for divers.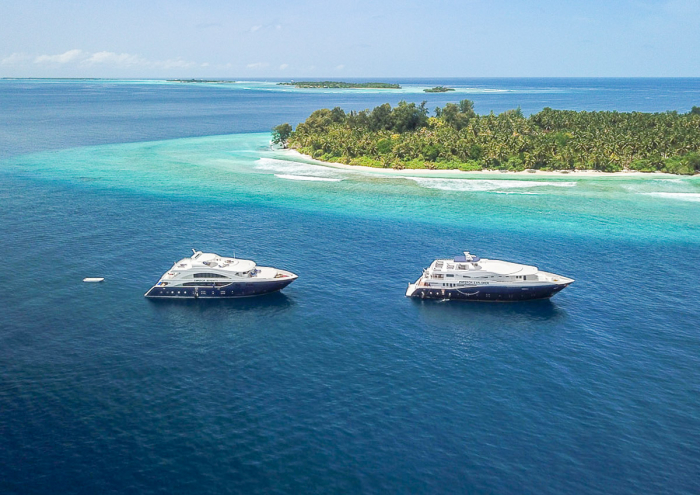 The Emperor fleet includes a lot of freebies as well, with complimentary extras such as nitrox for certified divers, snorkelling equipment and watersports gear, WiFi, wine with dinner, and fun themed nights like beach barbeques under the stars. Still not sure Emperor Divers is your best bet? This fleet's Egyptian flagship vessel, Emperor Elite, claimed the Dive Travel Awards 2020 title of best liveaboard worldwide!
Best for: Solo travellers.
Why we love this fleet: Emperor Divers allows experienced buddy teams to choose their own adventure, exploring with or without a guide.
Carpe Diem Maldives
Born in 2008 from a passion for the Maldives' exceptional diving, the Carpe Diem fleet delivers the ultimate blend of comfort and convenience. In the years since, this fleet has built a strong reputation, winning awards year after year – including the "leading liveaboard brand of the year". Operating just three vessels, the Carpe Diem fleet promises exceptional attention to detail, catering to laid-back divers looking for a taste of the luxury life.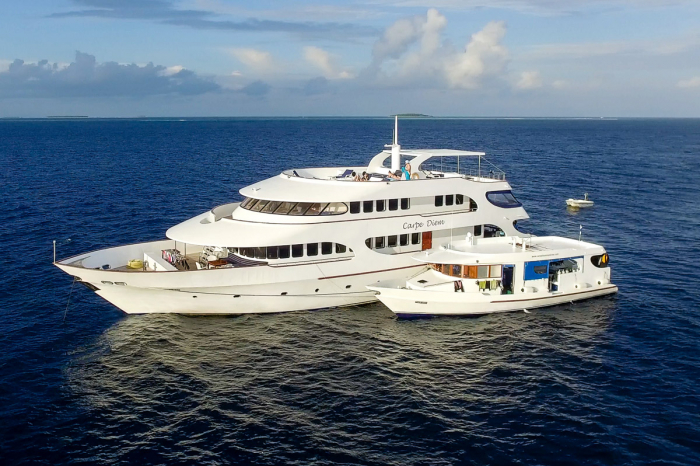 Expect modern, skillfully-designed vessels, a friendly and professional crew, and exciting itineraries that highlight the best of the Maldives throughout the year. Not to mention nitrox 32% and options for private charter. But, while Carpe Diem's meticulous presentation and high standards of service can be found throughout the fleet, each vessel also offers its own unique charm, making this fleet a great choice for any diver.

Best for: Environmentally-conscious divers.
Why we love this fleet: Carpe Diem take responsibility in protecting the local marine environment and have received a certificate of excellence from the Shark Research Institute in recognition of their quality shark diving operations.
White Manta Diving
For a fuss-free expedition to some of the world's most far-flung diving destinations, look no further than White Manta Diving. Established in 1989, the White Manta Diving fleet boasts a wealth of experience providing effortless cruises around Indonesia. Crewed by a passionate team, White Manta's exciting expeditions aim to transform your typical dive vacation into an adventure that will educate, inspire, and energise, while being as environmentally-sensitive as possible.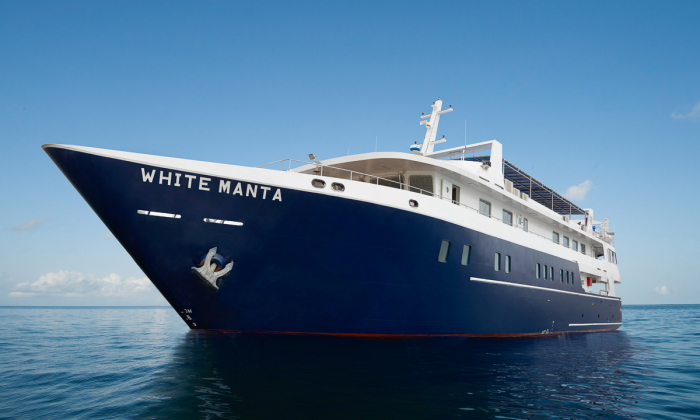 Both vessels boast an amazing mix of facilities, with high crew to guest ratios, camera facilities, and spacious sun decks furnished with massage beds. And, if you're new to the world of liveaboard diving, or just generally don't like the motion of being at sea, the White Manta fleet offers some of the largest and most stable vessels in the region.
Best for: Photographers.
Why we love this fleet: Both vessels in the White Manta fleet boast first-class camera facilities and an unrelenting enthusiasm for sharing knowledge and experiences.
Sea Serpent
The Sea Serpent fleet is one of the largest and most experienced in the Red Sea, accommodating all levels of diving from recreational to technical. Each of the six vessels comes well-equipped with plenty of space, industry-leading facilities and superb five-star service – and that's just the start.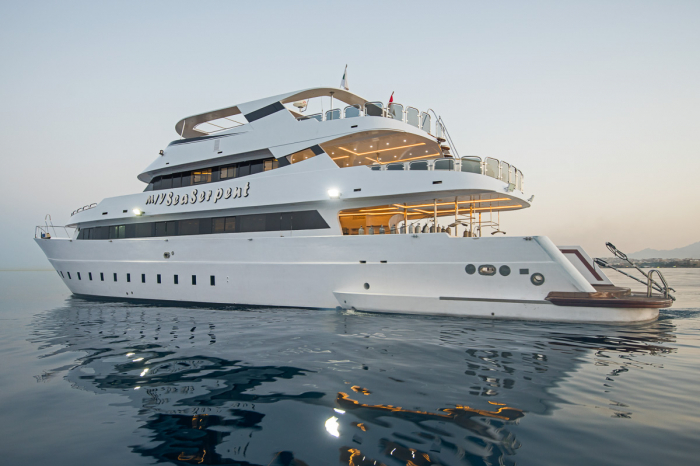 The Sea Serpent fleet provides complimentary nitrox to certified divers on every trip and proudly accommodates any course, allowing guests to further their own diving certification with ease. Experienced divers who want nothing more than to explore the depths, can find comprehensive facilities on board selected vessels, including rebreather, stage and sidemount tanks, Suex scooters, twinsets, and oxygen and helium fills – what more could you possibly need?
Best for: Adventurous divers who like a little extra luxury.
Why we love this fleet: This fleet never misses the mark, delivering luxury, adventure, and gadgets galore, all at an affordable price.
Scubaspa
Taking indulgence to a whole new level, the Scubaspa fleet began as a unique concept aimed at redesigning the world of luxury liveaboards. Their vessels seamlessly combine the adventure of liveaboard diving with the comfort and sophistication of a five-star resort. In fact, they are the only vessels in the Maldives to be awarded PADI 5-Star Dive Resort status.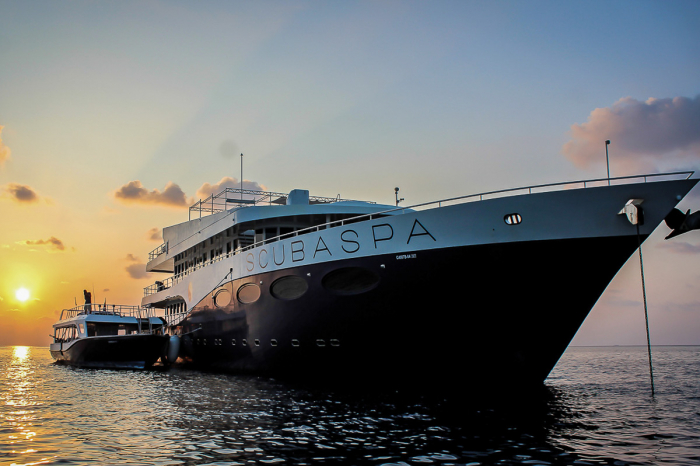 Luxurious suites, fine dining, serene lounges, gyms, Jacuzzis, and world-class onboard dive centres are just a few of the facilities to expect on a Scubaspa liveaboard. Plus, you can grab an award-winning spa treatment from expert therapists in your lush cabin or a tranquil treatment room overlooking the ocean – now that's diving in style.

Best for: Five-star luxury at sea.
Why we love this fleet: Scubaspa's sublime luxury tops many resorts, let alone boats, promising the trip of a lifetime for divers and non-divers alike.
Master Liveaboards
Looking for your next big adventure? Master Liveaboards was founded in 2015 to connect intrepid travellers to the world's most unsurpassed diving destinations in maximum comfort. Their menu of far-flung, bucket-list-worthy destinations includes the Galapagos Islands, the Solomon Islands, the Bahamas, Truk Lagoon, and even Bikini Atoll!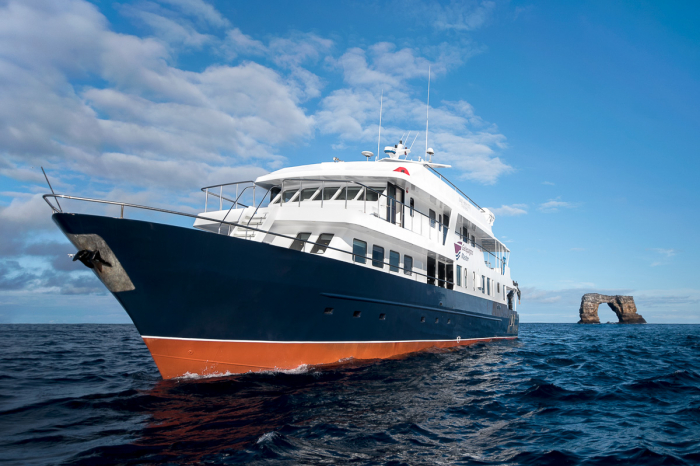 Dive cruises are delivered by a highly experienced team, committed to caring for all your needs both above and below the water, aboard a series of vessels fitted with the latest equipment – not to mention generous dive decks and lounge spaces. Allowing you to fully appreciate every moment of your exciting dive adventure.

Best for: Crossing dream dive destinations off your bucket-list.
Why we love this fleet: Master Liveaboards put your mind at ease with reliably high standards of service throughout some of the most remote and untamed regions on earth.
Nautilus Fleet
Offering a selection of capable vessels built to the same high-standards as some of the ocean's largest cruise ships, the Nautilus Fleet encourages guests to turn a cold shoulder to all things mediocre. Through hard working and highly-trained staff, superior comfort and unfaltering attention to detail, Nautilus commits to delivering excellence on board its voyages to bucket-list destinations such as Guadalupe, Socorro, the Sea of Cortez, and more.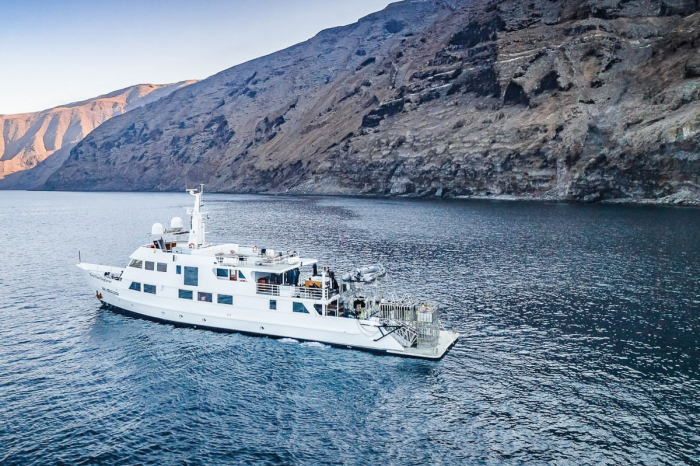 Whether they have all the gear, no idea, or maybe a little of both, the Nautilus Fleet is dedicated to helping underwater photographers reach their goals. Complimentary photography workshops are offered before the trip even departs, to ensure guests know their cameras inside and out. And, to push your skills even further, why not jump on a one-day Backscatter workshop led by industry pros? This fleet  also offers some of the only ADA compatible facilities, suitable for guests with limited mobility.
Best for: Enthusiastic photographers looking to develop their skills.
Why we love this fleet: The Nautilus Fleet doesn't aim to meet the needs of discerning divers, it aims to exceed them in every way.
---
---
Ready to start planning your perfect liveaboard diving holiday?
Our team of travel experts can help you book your holiday with confidence, with the latest travel advice.

---
---
Join the ZuBlu community to receive the latest insights and unmissable adventures
Don't worry, we'll only send you really good stuff - and we never share your details
---