Although Malpelo Island marks the eastern corner of the Hammerhead Triangle, it's safe to say it is the 'wild west' of the Pacific, with the lowest guest numbers of any destination in the Hammerhead Triangle - by far. The island is hard to get to, isolated, and boasts some of the craziest weather patterns you're likely to see on a dive trip, with at least four seasons represented every day. So, why would anyone choose to visit the island?
The answer is easy - because the diving is incredible! Exceptional marine life including whale sharks and giant oceanic manta rays call this UNESCO World Heritage Site home, as do colossal schools of silky sharks and scalloped hammerheads. If that isn't enough big fish action for you, don't worry - there's more. These waters are also famous for towering tornados of barracuda and jacks, Galapagos sharks, and the elusive smalltooth sand tiger shark. 
Read on to learn all about this exciting dive destination, what makes it so unique, and why it's among ZuBlu's top picks for advanced and adventurous divers! 
---
Need help planning your dive holiday to Malpelo?
Contact one of our dive travel experts today

---
---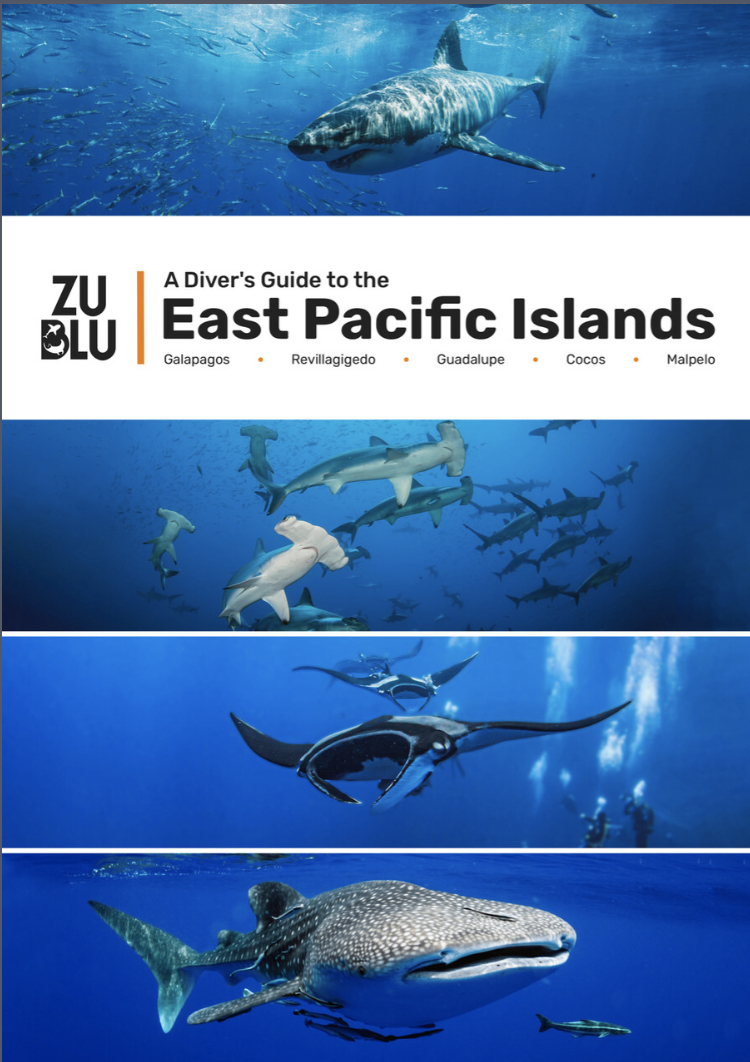 Download your free guide to diving the East Pacific Islands - from Guadalupe and Socorro, to Cocos, Malpelo and the Galapagos. Discover everything you need to know in this comprehensive50 page destination guide.
---
Low visitor numbers
Just a handful of visitors have the opportunity to explore Malpelo each year. The island itself is all but uninhabitable, with sheer cliffs, constant rainfall, and a species of endemic land crabs that will happily eat almost anything in their path. Access to the island is also incredibly challenging, and is made via a single small landing bridge and ladder suspended over the sea, requiring a combination of skill, athleticism, and luck. Fortunately though, as a visitor, you won't have to worry about this treacherous task as tourists are not currently allowed ashore. In fact, the island's only residents besides crabs, lizards, and seabirds are the Colombian naval staff stationed there for the island's protection. 
Thanks to Malpelo's far-flung location, no day trips can reach the island, and there is currently only one liveaboard making the journey. This means that you're guaranteed to have the dive sites all to yourself. In most cases, the only other boats seen at the island are privately owned yachts and the Silky - Malpelo's sole sentinel - operated by Biodiversity Conservation Colombia. This catamaran patrols the waters around the island, keeping watch over the protected marine area.
Crazy strong currents
All of the Eastern Pacific islands are known for strong currents - but no other destination comes close to those of Malpelo. Around the island, no less than four different oceanic flows converge, delivering a nutrient-rich soup of fast-moving water. These powerful and ever-changing tidal shifts can often escalate to extremes, propelling divers along walls and craggy reefs at high speeds - an experience that is not for the faint of heart.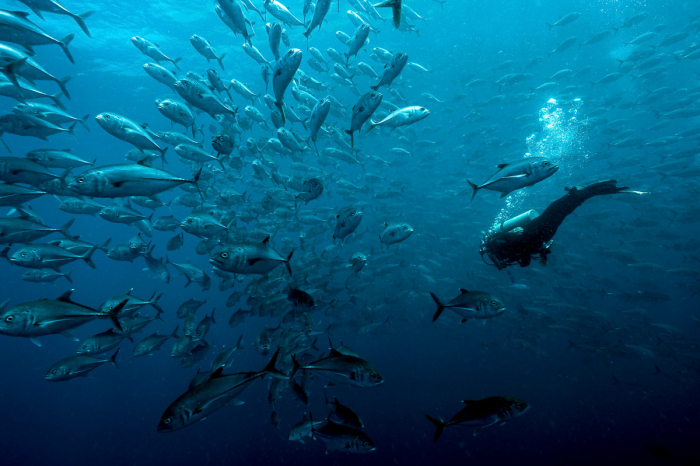 While Malpelo's currents can deliver breakneck drifts and low visibility, they are also the primary reason for the region's incredible biodiversity.  Thanks to cold upwellings packed with plankton, these waters deliver a steady supply of food for filter feeders like whale sharks, manta rays, and even humpbacks. They also create an ideal environment for sharks, pushing cold water from depths up toward the surface, and tempting vast shoals of both pelagic and baitfish in from the open ocean. These in turn attract large schools of scalloped hammerheads, silkies, Galapagos sharks, and unusual deep-sea species like smalltooth sand tigers. Smaller sharks also make use of Malpelo's currents, with docile bottom dwellers like whitetip reef sharks napping in large groups, while allowing the fast-moving water to aerate their gills. 
Because Malpelo's currents are so powerful, each diver is required to wear a GPS beacon. This device can send a signal to boats in the region, allowing a speedy search for missing group members. It is also common to change dive sites or even scrap a dive altogether if the conditions aren't right. But don't feel disheartened if this happens, it's all for your safety and is part-and-parcel of diving one of the world's last true frontiers. 
Size and geographic isolation
Malpelo's landmass is incredibly small, just 1.5-kilometres by 640-metres. And when you consider how remote the island is, lying more than 500-kilometres west of Colombia's mainland, it's safe to say the island is just a speck in the vast ocean.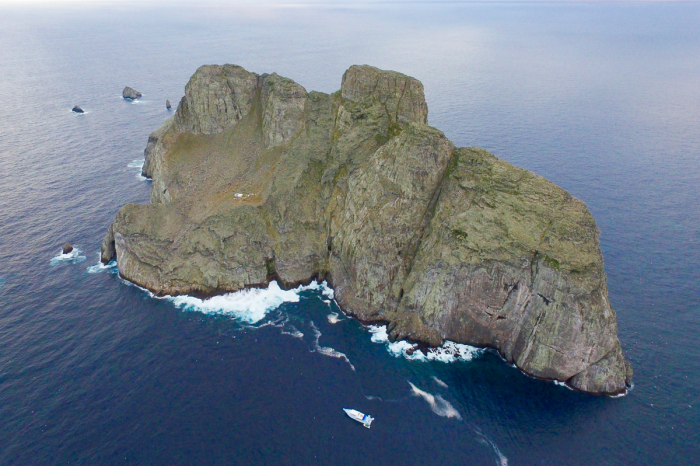 Malpelo is home to a surprisingly small number of dive sites, so you're likely to repeat a few during your trip. To the northeast, a group of islets known as Tres Mosqueteros offers fantastic pinnacle diving. To the southwest, another series of rocks - known as Salomón, Saúl, La Gringa, and Escuba - deliver high-speed drifts with plenty of pelagic action. Along Malpelo's coast, you'll find a few craggy reefs and walls, and hidden seamounts that can boast just as much action as those further offshore, with schools of barracuda and jacks sometimes reaching two or three stories tall. 

Many of Malpelo's dive sites are small as well, encompassing enclosed coves and short sections of near-vertical wall. Rather than fighting against the current or risking being swept off the site entirely, divers often hunker down amongst the rocks or take shelter on protected plateaus. All the while keeping a watchful eye on cleaning stations where the island's signature pelagic species frequently visit to have their skin picked free from parasites. 
Ready to start planning your liveaboard adventure to Malpelo?
Search, compare and book from our hand picked trips
Proximity to incredibly deep water
Malpelo is actually the summit of a submerged mountain. This is the only landmass that rises above the surface from the Malpelo Ridge - a series of volcanic submarine peaks that spans more than 300-kilometres northeast to southwest. The ridge formed between 16 and 17-million years ago when two areas of seismic activity, the Cocos-Nazca Spreading Centre and the Galápagos hotspot, began to interact. This pushed volcanic rock up toward the surface from the depths of the Panama Basin, creating Malpelo and the other submerged formations around it. 
The Malpelo Ridge rises up from deep water, with depths of over 3000m found just a few kilometres offshore. Some of the most famous dive sites drop away to well beyond the recreational diving limits within a few fin kicks of the wall. This type of steep drop-off is uncommon, even in the Eastern Pacific, offering an experience unlike any other.
Species not seen elsewhere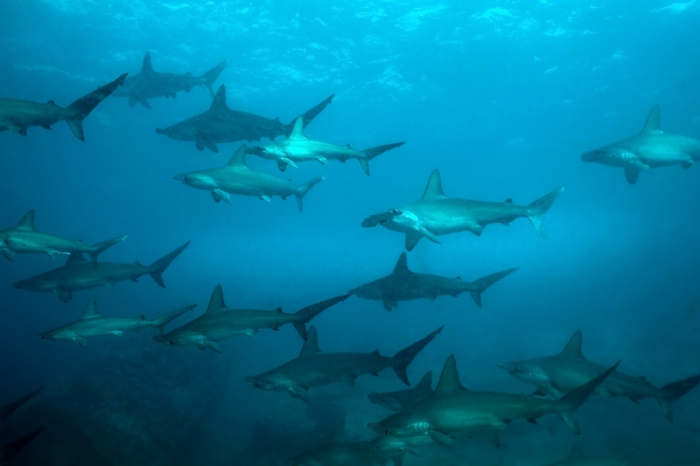 Often heralded as the shark diving capital of the world, Malpelo is most famous for the large numbers of silkies and hammerheads. While it's true that both species can be spotted here schooling by the hundreds - an incredible sight to behold - they are far from the only exciting animals found in these waters.
This is one of the only known places in the world where the smalltooth sand tiger sharks can be regularly observed in depths suitable for humans. Known locally as the "ferox" this seemingly monstrous species is surprisingly docile, swimming slowly and feeding mostly on invertebrates and small bottom-dwelling fish. Smalltooth sand tigers can grow to a whopping four metres and sport a vicious looking mouth full of jagged teeth, making them a favourite among underwater photographers. This animal is extremely rare, even in Malpelo, and divers who manage to spot one can consider themselves lucky - a true once in a lifetime encounter!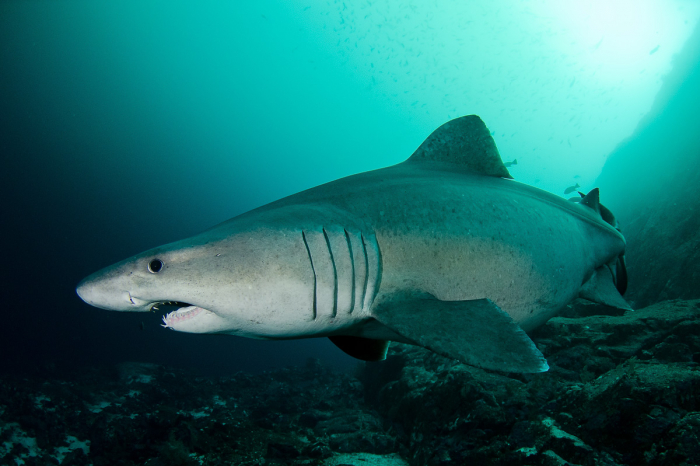 Divers at Malpelo can also search for a variety of smaller endemic species. These include the Malpelo barnacle blenny, a small black and red tube dweller, and the Malpelo wrasse, a pastel pink and blue fish with an elongated body, often seen spawning in large groups. Other rare finds here include the Cocos batfish - a strange bottom dweller that appears to walk on two hand-like appendages. Larger 'less-than-common' species include giant grouper and oceanic blacktip sharks.

Rare seabirds also roost here, with over 50 species sighted over the course of a calendar year. 30 of these are migratory, crossing incredible distances to reach the island. Malpelo's barren rock also hosts several species of land crabs and reptiles, including lizards and geckos, seen nowhere else on earth.
---
With the recently announced creation of the Cocos-Galapagos Swimway, which will include Malpelo and its surrounding waters, visitor numbers in the region are sure to rise. So, now it is the time to visit!
---
Dreaming of a dive holiday to Malpelo?
Contact ZuBlu's team of travel experts to start planning your trip today

---
---
Join the ZuBlu community to receive the latest insights and unmissable adventures
Don't worry, we'll only send you really good stuff - and we never share your details
---