Frequently asked questions
The ZuBlu Site
How does the search work?
We've built the ZuBlu platform to put the power of discovery in your hands. On our homepage, select up to 3 categories of marine life you would like to see, which country you would like to travel to, or your intended month of travel, then click 'Find My Perfect Trip' and let our search engine do exactly that. Alternatively, you can simply select a category of marine life without a month and we will show you the best places to see them, or just a time of year and we'll suggest the best places to go diving during that month. Our aim is to match your preferences with the most suitable resorts and destinations across all the countries we feature, giving you the best chance to find your perfect dive experience.
How are results displayed?
Our search results page acts a portal to the best diving in Asia and will display a list of resorts based on your preferences entered on the home page. You can then further refine your preferences by changing the species you wish to see, when you want to travel, what other highlights are important to you - beaches or nightlife for instance - as well as the number of other people traveling with you. You can even select combinations of these in order to narrow down your search even more and our responsive ZuBlu search engine will adapt and update the search returns, even as you change your preferences.
Importantly you can also share the results of your search using the buttons found at the top right of the search page, making it easy to share what you have discovered with your friends or family.
What are the marine life categories?
We have broadly defined 8 marine life categories that allow you to quickly select the type of species and dive experience you would like to search for. The majority of the categories are fairly intuitive – sharks are for sharks, turtles are for turtles – but some may require a bit of explanation:

'Wrecks and Caves' includes different types of wrecks, such as boats or planes, as well as caves, caverns and swim-throughs for example Sipadan's 'Turtle Tomb' or the shark tunnel underneath Gato Island in Malapascua, Philippines.
'Macro creatures' includes all the small, bizarre, cute or fascinatingly-ugly creatures you may find on any reef in Asia, but are particularly associated with 'muck diving' destinations. Given the incredible diversity of these 'critters' we cannot possibly include every single species. Instead, we have focused on iconic and sought-after species such as seahorses, flambuoyant cuttlefish and harlequin shrimp.
'Reefs & Walls' encompasses the various reefscapes that you might want to see - from healthy coral fields to isolated seamounts - as well as a few species that are often identified with these types of reefscape or habitat.
'Mammals & Pelagics' includes whales, dolphins and other underwater mammals, as well as pelagic species such as the rare Mola mola or Sunfish.
If you are looking for something in particular, simply select the broad category your fish of choice falls under, then click the 'refine' button. A whole array of species or sub-options will appear and by clicking on a particular species, such as 'Whale shark' under 'Sharks', or 'Seahorse' under 'Macro Creatures', you can now refine your search even more precisely. If you can't see something you are looking for then get in touch and we will do our very best to find the best destination to see a species we don't list. As ZuBlu grows we'll add more and more options but for now we have aimed for a broad, representative selection of different species - we would rather feature a few iconic species and build from there, rather than try to shoe-horn in every nudibranch, shrimp or reef fish from the start.
What if I am using a mobile device or tablet?
If you are browsing the website on a mobile or tablet, you will see that pages with a lot of information, such as destinations and resorts, have the different page elements divided between tabs that appear across the top of the page. Simply click on these to explore all the different information that would normally be displayed on a larger browser page.
What are all the icons used on the search page?
Species icons are used on the search page to help indicate what marine life you can see at the different destinations. We use a simple ranking to indicate the likelihood of seeing a particular animal – very likely, likely or possible - as this might vary throughout the year due to migrations, seasonal weather and other factors. This likelihood is illustrated by different transparency levels, shown below.

We have combined our first-hand experience with local knowledge from resorts and other diving contacts to produce what we call our 'species calendars' - summaries of how likely you are to see a species at a particular destination that are hidden away in the site database and used to modify search returns . However, as so often said by dive guides, nothing is guaranteed and you will see what you see; we just hope to give you a push in the right direction. 
These species icons are used elsewhere on the site to simply indicate what you might see within a country, region or destination.
We use 'Highlight' icons to to help you refine what else is important to you on your holiday. Whether you are looking for pristine beaches or some alternative land adventures such as hiking, you can easily make your choice by selecting one or more of the different icons.
As with the species icons, we also use these 'Highlight' icons on destination pages to give you an 'at a glance' idea of what is particularly special about the location.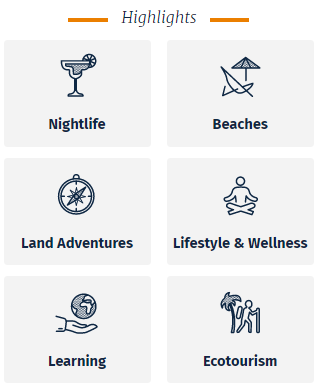 'Ideal for' allows you to modify your search by the number of people traveling - solo traveller, couple, family, or group. For instance if a destination has plenty of activities for children, we will indicate this with our 'Family' icon. If it is more of a romantic destination and great for honeymooners, we use the 'Couples' icon. We aim to work with a broad range of resorts at a destination so we can be sure we cater for every type of traveller, but the 'Ideal for' filter gives you a quick-and-easy way to show the resorts you are particularly interested in.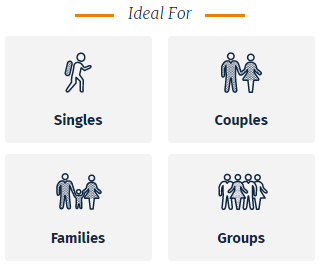 And other pages? What do those icons mean?
When we first start working with a resort, we examine their sustainable business practices and commitment to conserving the environment using a simple system we have devised in conjunction with ClearOceans. We then display the results using five icons, each one linked to a particular broad area we call our 'Green criteria' – environment, economic, experiences, marine and social. We display one of these green heart icons if the resort in question is making significant efforts or contributions.

The cost of staying at a resort is indicated with a simple, dollar sign scale from one to three, with three the most expensive. These are displayed on resort thumbnail pictures and give you an 'at a glance' idea of the cost of the resort to help you find the right resort for your budget.
A summary of the facilities found at a resort or dive centre are shown on the resort pages to give you a quick way to better understand what a resort has to offer. Some examples are shown below:


Bookings and Payments
I have found my perfect resort - what now?
Once you have found your ideal resort, you can easily get in touch by clicking any of the 'Enquire Now' buttons found throughout the ZuBlu site. Alternatively, if you have spotted a particular package that you are interested in, you can make an enquiry specifically about that. Simply fill in the form with your name, contact details, and any additional questions or information and we'll get to work.
What about if I don't know where to travel?
If you don't have a clear idea about where you would like to go, would like a more personalised service, or would like us to assist with an itinerary that is less 'off-the-shelf' and more 'off-the-wall', then you can contact us using our 'Concierge enquiry', which can easily be found in the footer navigation menu at the bottom of the page. To help us get a better understanding of what you would like us to do, we ask you to include as much information about your perfect trip as you can.
After making a 'Concierge enquiry', we will quickly respond with an acknowledgement, then get to work checking availabilities, looking for suitable resorts or putting together your perfect itinerary. We will then send you a few suggestions or further questions so we can get a better idea what you would like to do and when, and ensure your next dive adventure is perfect for you. If you are making an enquiry about a specific resort or package, we will again quickly acknowledge your enquiry before approaching resorts and checking availabilities. We will endeavour to get back to you as soon as possible but given time zone differences and the remote location of some of our resorts, we may not get an immediate reply. As soon as we hear anything, we will let you know, but we will always keep you informed about how we are progressing with a booking.
In general, we will keep in touch with you via email but we are also happy to to chat by phone or Skype if you would prefer to ask questions and engage with us in other ways.
Throughout the process, we'll aim to provide as much insight into the best travel arrangements but please note we are only able to advise on any flights you may require and are unable to book them for you.
When you have made a final decision, we will then liaise with the resort and ensure all accommodation and any pre-booked activities are confirmed. We will then send a summary of the entire booking and details of these arrangements for you to approve before a booking is made with a supplier on your behalf. You must carefully check the accuracy of the information sent to you, including but not limited to the dates, names, times and locations. We prefer to to send any documents to our customers via email whenever possible.
To understand more about the agreement you are entering into with us, as well as the role of Booking Agent we take in the booking process, please read our Terms and Conditions.
ZuBlu believes that as part of our commitment to providing the best possible service to our guests, we should also be able to offer the best possible price. Our price match guarantee means that:
If you receive a quote at a lower price than the one received from ZuBlu, we will match that price;
If you have made a booking with ZuBlu and then receive a confirmed quote at a lower price, within 24 hours of making your booking with ZuBlu, we will refund the difference.
To qualify for our price-match guarantee, your quote must be identical in all details to the one you have received from ZuBlu, be received within 24 hours of the quote or booking made with ZuBlu, and must including diving and accommodation.
It must also must meet the following conditions:
The quote must be identical in all details, including but not limited to, travel dates and duration, the resort, dive centre or liveaboard, room type, cabin, room occupancy, number of guests and all inclusions and exclusions.
The quote must be subject to the same booking and cancellation policies;
The quote must include diving and accommodation together;
The quote must be in the local currency used by the resort, dive centre or liveaboard and not subject to currency conversions;
The quote must include any applicable local taxes and fees;
The quote must be exclusive of booking, processing and payment fees.
The following will not qualify for our best price guarantee:
Special rates as part of a package;
Special rates or discounts offers by a third party, rather than those offered by a resort, dive centre or liveaboard;
Travel agency rates, staff, corporate, or member rates, rates only available to subscribers or members of a website or club, rates only available to residents of a specific destination or country;
Rates that are not accessible to the general public;
Quotes on websites that cannot process bookings or payments, and redirect guests to a third party site for completion;
Quotes that cannot be verified by ZuBlu using reasonable means.
If you feel your booking or quote with ZuBlu qualifies for our best price guarantee, please get in touch with us at [email protected].
How do I know if the booking is confirmed?
Once we have finalised the itinerary approved by you, confirmation of the booking will only occur upon receipt of a requested deposit or the entire payment. At this point, we will be able to confirm your reservation subject to your agreement to both our and the relevant suppliers Terms and Conditions. Please note it is your responsibility to ensure your travel arrangements coincide with your booking and that all relevant insurance is in place and immigration requirements are met. 
How can I pay for my booking?
We will send you a full invoice and request payment via the Trust My Travel payment portal. We are able to request payment in your local currency to avoid unnecessary FX charges and can accept payment by debit and credit cards. Please note we will charge a small administrative fee to cover any card transaction costs as well as any other transfer charges we incur in making your booking.
How is my money protected if I make a booking and payment through ZuBlu?
In accordance with The Package Travel, Package Holiday and Package Tours Regulations 1992, we protect your package booking through a 'Trust Account' payment system managed by our independent travel payment protection specialists, Trust My Travel Ltd.  Your payments are initially deposited and held in a Trust Account and cannot be released until all contractual obligations have been filled and your holiday has been completed, or until the appropriate financial failure insurance is put in place.
We also use Trust My Travel Ltd to process payments to ensure your money is protected.  We are a Protected Processing Member of Trust My Travel and our membership logo is available to view on our website. To learn more, please read our Terms and Conditions. Details of how you are protected can also be found by going to the Trust My Travel Ltd Terms. Should you have any questions about how you are protected or want to make a claim, please contact [email protected] and quote your booking reference.
I have paid for my trip - what happens before I fly?
Before you embark on your trip, we will have sent you all the relevant documents, contacts and details that you may require when you arrive at your destination. If you have any questions about this information or feel anything is missing, please do not hesitate to contact us.
Please ensure you have confirmed all your travel, medical, insurance and immigration arrangements as necessary and sent these to the resort, and ZuBlu. Any travel details are vital so that a resort can arrange transfers for you.
For insurance cover, we recommend DAN Asia Pacific and World Nomads.
If you have any concerns about traveling to your destination, please consult your country's foreign office site. Or we recommend the UK's Foreign Office Travel Advice for relevant and up-to-date information.  
Before you embark on your trip, we will also send you some useful information about ways you can reduce your carbon footprint as you travel, and what you can do to reduce your environmental impact when you have arrived. As you may have already gathered, we believe sustainable tourism is the way forward for the travel industry and we hope our guests will be ambassadors for ZuBlu, and sustainability.
Can you help me whilst I am traveling?
If you have any problems or questions whilst you are traveling or at your destination, please get in touch with us and we will always endeavour to help in anyway we can. But we do suggest you always talk to the resort or dive centre in person first - they are 'on the ground' and far more likely to be able to assist you.
What happens when I get home?
We always welcome feedback of any kind and will contact you after your trip with a few simple questions. Whilst we know personally the resorts and dive centres we recommend to our guests, businesses and circumstances can change and we are always keen to understand why a resort may not have met your requirements, or a destination did not quite live up to what you expected from the description on our site. And of course, any feedback about ZuBlu, our site and the enquiry and booking process is vital to us. Only by talking to you, our guests, can we get a better understanding of how we can improve our business and procedures.
We also encourage our guests to look at how they can support ongoing conservation efforts at the destination they have just visited. Our destination pages and our conservation section showcases some incredible organisations that are committed to conserving the marine environment at many of the destinations we feature, or across Asia as a whole. If you have had an incredible experience at a destination, we strongly suggest you consider helping by direct donation, spreading awareness of an issue related to the marine environment, or sharing the work done by a particular organisation so others can donate or support. You can also contribute to the ZuBlu Trust, an independent foundation currently being set up by ZuBlu.
Sustainability
You describe yourself as a 'Sustainable dive travel platform' - what is that?
We are often asked why we describe ourselves as 'Asia's first sustainable dive travel platform'. We also get 'Does your site run on solar power?' Well no, it doesn't. Although the server farm that hosts our site does implement green technologies to reduce its environmental impact and uses energy from renewable sources whenever possible.
However, our choice of hosting company is not the reason why we describe ourselves as a sustainable dive travel platform. Instead we use this phrase because we believe responsible and sustainable practices should be right at the heart of what we do as a travel agent and the travel industry as a whole, and we are committed to bringing sustainable businesses and local conservation to the fore.
Throughout the dive travel industry, there are companies and resorts that are reducing their environmental impact and making their business practices more sustainable, and communities and NGOs striving to protect the reefs, turtles and sharks on which they depend. It is these resorts and communities, and the work they are doing, that we hope to share with you - those that are making a difference in the destinations we ourselves want to dive.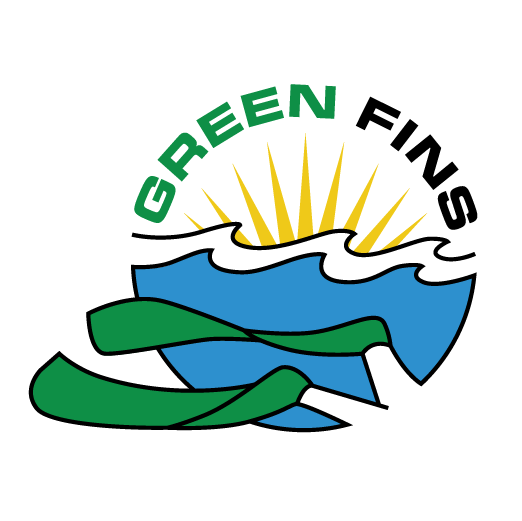 ZuBlu is a proud partner of The Reef-World Foundation and promotes and supports their Green Fins initiatve, the only recognised set of environmental standards designed to help businesses and national authorities achieve a more sustainable dive travel industry.
Green Fins encourages dive centres and snorkel operators, local communities and governments to work together to reduce their environmental impacts. By adopting a Code of Conduct, those business best able to act can minimise negative impacts on the marine environment created by tourism.
The Code of Conduct consists of 15 points, which target environmental threats posed by the tourism industry, both under water and on land. Green Fins members receive training and the tools to promote environmental education and awareness and tapping into both tourists and the dive travel business community.
ZuBlu directly supports the work of Green Fins by donating a portion of its income made from bookings to Green Fins member resorts and dive centres. ZuBlu also encourages its guests to make a similar donation at the time of booking.
Sustainable dive tourism is at the heart of ZuBlu's business, and by supporting and promoting Green Fins, we believe we can create a positive change in the destinations we feature on our site, and help preserve the marine environment for future generations of divers.
Read more about our partnership with Reef-World and the Green Fins initiative.
Are the resorts you work with 'Eco Resorts'?
To help our guests make a more informed choice about where and when they should spend their holiday time and money, ZuBlu in conjunction with ClearOceans has designed a simple set of criteria which we use to assess the sustainable practices of a resort. It is not our aim to 'mark down' a resort in any way, instead we hope to encourage resorts in making the transition to more sustainable practices. We use the following broad categories:
Environment - Waste, Chemical Waste, Recycling, Energy, Water, Carbon
Social - Staff, Training, Community
Economic - Local businesses
Marine - Conservation activities, mooring programmes, guidelines
Experiences - Guest involvement, responsible tourism
There are many dive companies and resorts throughout Asia that are making significant changes to their businesses and adopting more sustainable practices, setting up their own conservation projects, or supporting local initiatives. However, it is actually quite difficult to learn more about what is going on at a particular destination and such information is often completely ignored by other online dive travel agencies. So we have made it our goal to compile all of this information, for the benefit of both our guests and the resorts themselves. We think we should shout out loud about a resort removing plastic bottles and straws from its business!
What can I do as a guest?
Our guests are our ambassadors, for ZuBlu and for sustainable practices within the travel industry. We encourage all our divers to look at how they travel, how they can reduce their environmental impact when visiting a destination, and how they can support conservation efforts after their holiday. Ultimately, it is our guests as travellers that can make the biggest impact - ZuBlu simply acts as a portal, gathering and presenting what information we can, then giving our guests the best possible means to make more informed choices and facilitate change.
What are the conservation projects you list on your site?
We are proud to showcase a selection of conservation projects being conducted across Southeast Asia. Run by individuals and organisations, large and small, these projects protect habitats, reefs and marine life, encourage change to a more sustainable way of life, and help to ensure a future for our oceans and, in turn, our own species.
We encourage our guests and visitors to the site to learn more about these projects and consider supporting them.
---
Can't find what you're looking for?