Do you dream of sailing off into the horizon with a handful of friends or family, leaving all your worries behind? Few resort-based getaways come close to the freedom and intimate atmosphere of chartering a private yacht. Plus, some of the most sought after vacation destinations on the planet are ideally suited to ocean-based exploration – from the Maldives and the Caribbean, to the many islands of Indonesia. 
Whether it's an action-packed private dive expedition, or a luxurious and romantic couple's cruise with all-inclusive everything, charter yachts are the ultimate setting for a once-in-a-lifetime trip. Start by creating the perfect atmosphere with the vessel of your dreams – a rustic wooden sailing schooner or a stylish modern motor boat – then tailor your voyage, choosing who you invite and the types of activities on board.
But what exactly is a charter yacht, and how do you go about booking one? We've created a comprehensive guide to everything you need to know about charter yachts, including helpful hints on what to expect on board and a few considerations concerning cost.
Dive in, or find exactly what you are looking for below: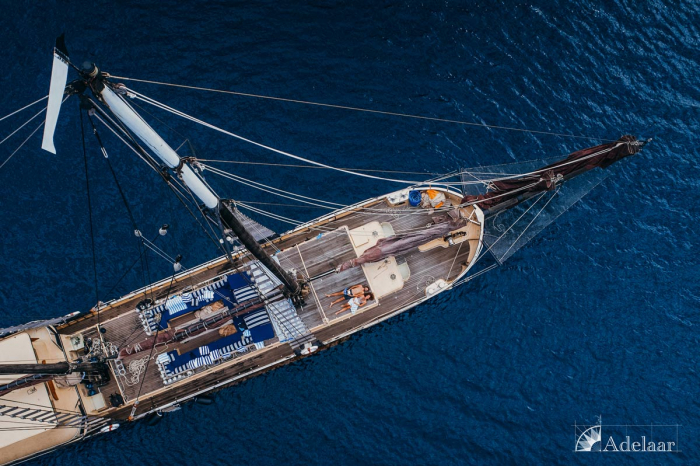 ---
Need help planning your private charter yacht?
Contact one of our award winning travel experts today

---
---
Private charter yachts are boats that allow guests to book the entire vessel – essentially it's a yacht rental. Therefore, the biggest difference between charter yachts and liveaboards, is that you'll have the whole boat to yourself. Charter yachts themselves can be found in all shapes and sizes, depending largely on the location and budget. Different boats also come with different charter agreements and offer varying degrees of service – you can even choose to charter a vessel with or without a crew. 
Charter boat voyages often sail in remote areas where exploring by water allows guests to see and experience more during a single trip. This makes them perfect for activities such as scuba diving, as well as immersive cultural experiences in island-strewn locations. And, as you'll be the only guests on board, the itinerary itself can also be tailored to match your personal preferences. 
Click here to dive deeper into the difference between charter yachts and liveaboard safaris.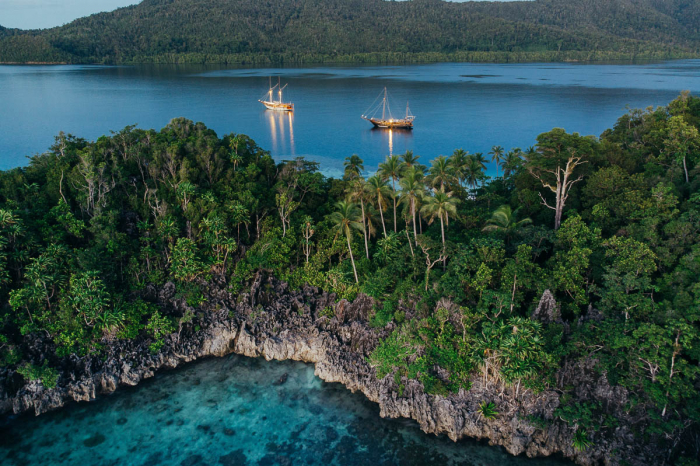 Recommended yacht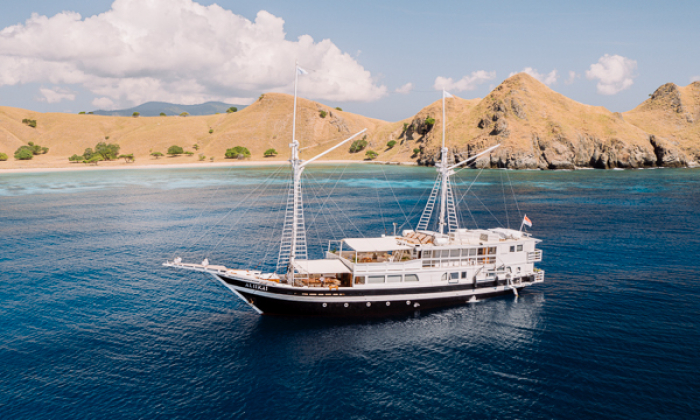 Aliikai
Embark on the charter adventure of your dreams onboard Aliikai. This recently renovated phinisi offers adventurous groups of up to 15 guests the chance to explore Indonesia's remote ...
Who will be joining your charter?
A charter yacht's biggest draw is its exclusivity – you and your friends or family will be the only guests on board. So considering who will be joining you is a good place to start when planning your trip, as this will guide you in your choice of vessel and itinerary. For example, a large motor yacht with plenty of cabins may not be the right choice for a romantic couple's vacation where a single master suite would suffice. Likewise, a charming wooden sailing yacht won't suit a large group of adrenaline-seeking surfers, but may be just right for a small family or group of close friends.
What do you want from the charter experience?
There are charter vessels and itineraries out there to suit every personal preference, which can make finding the right one quite difficult. So considering what itinerary and activities you want from your charter experience can help narrow down your choice of yacht. Are you interested in family-friendly fun, action-packed adventures, luxurious romance, or something else? Once you have decided on the experience and ambience, you'll have a better idea of which yacht, itinerary and activities will be right for you.
Activities such as sandbar picnics and fine-dining might be the order of the day for couples in love, while adventurous families might prefer enriching excursions and cosy film screenings under the stars. Or, if you're looking for some true rest and recuperation, facilities for yoga and meditation could be high on the list, alongside onboard massage services. 
Most charter vessels will offer activities suitable for the majority of guests, with some all-inclusive yachts going as far as offering almost anything your heart desires. But, for more specialised activities including scuba diving, it's important to choose a vessel with the right facilities.
Dates for your charter yacht vacation
Once you have an idea of what you want to do, and where you want to go, it's time to consider when you want to travel. The local seasons are important, as you'll want the optimum weather in order to make the most of your time at sea. In some parts of the world, charter boats may shut down or change destination during certain months to avoid monsoons, hurricanes or rough surface conditions. For scuba divers and surfers in particular, booking during the right season can be crucial, as iconic marine life and breaks may disappear at different times of the year.
Who can charter a vessel?
Many people assume that you need some sailing experience to charter a yacht, but thankfully, this is not the case. While most destinations require a certification to skipper your own vessel in their waters, guests without the required experience can almost always hire a skipper along with their boat of choice. In fact, fully-crewed vessels are the most widely available and popular charter options in many destinations – meaning yacht charters are available for anyone. Click here for a more detailed explanation of chartering a vessel with and without a crew.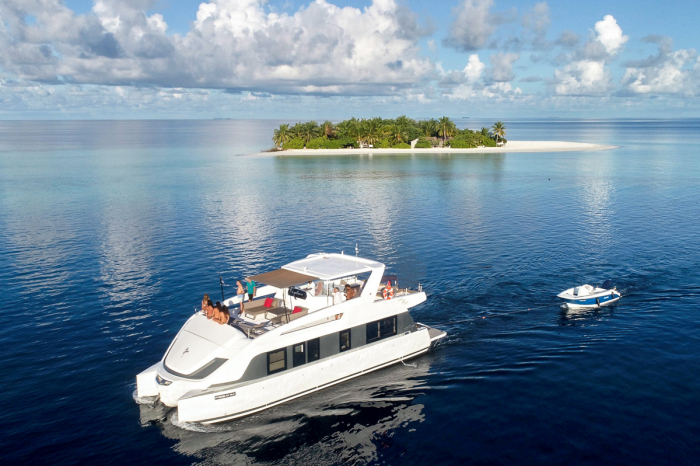 While yacht charters are available throughout the world's oceans, there's a small selection of stand-out destinations that offer unparalleled charter yacht experiences.
Indonesia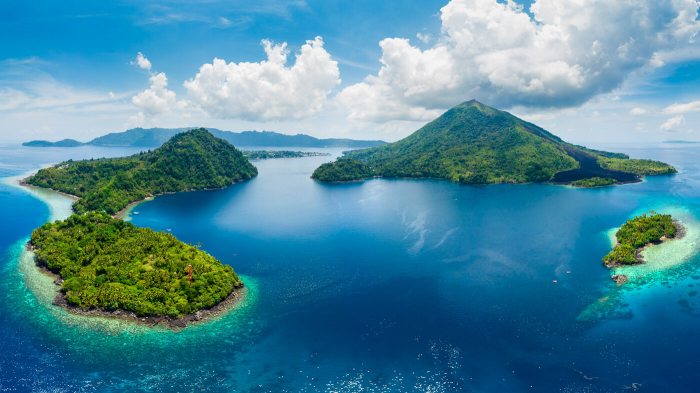 With over 17,000 individual islands, surrounded by some of the most picturesque and biodiverse waters on the planet, Indonesia is a haven for anyone that loves the oceans. Divers, surfers, sailors, and snorkellers alike all flock to this idyllic island nation in search of incredible ocean escapades. But the ocean isn't this country's only attraction. Indonesia is also home to some of the most spectacular scenery on earth, with volcanic, jungle-clad landscapes interspersed with serene temples and trendy, boutique tourist attractions. The nation's rich and complex heritage has also created a wonderful blend of cultures, with each destination delivering something a little different from the last.
Boasting a long history of boat-building and seafaring, Indonesia's charter yacht experiences are simply sensational. Charming, masterly-crafted traditional phinisis rule the waves here, and almost always come fully-staffed with an expert local crew. You'll also benefit from the nation's unparalleled hospitality, where you'll be welcomed like family and want for nothing during your stay.
Recommended yacht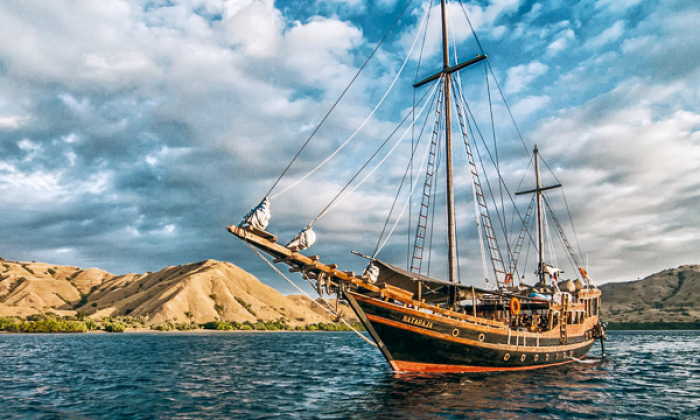 Nataraja
Nataraja is a stylish sailing vessel, perfect for exploring Indonesia's legendary scuba diving destinations. This boat offers adventurous and intimate voyages, catering to small groups ...
Embark on an intimate adventure
Search, compare and book from our top charter yachts in Indonesia
The Maldives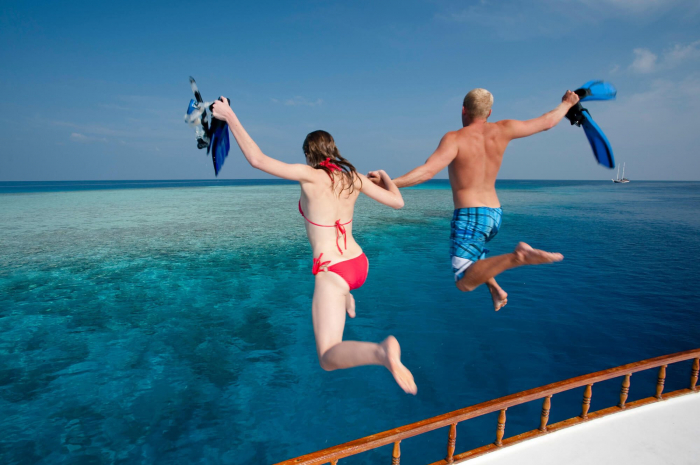 The Maldives has long been an iconic destination for luxury-seeking travellers. But with dozens of vast atolls, each boasting its own sweeping lagoon, this extravagant destination is also an ocean-enthusiast's dream-come-true. Dotted with palm-fringed private islands and remote uninhabited sandbanks, this famous destination has a near-endless selection of must-see attractions and unbelievable indulgences – alongside vibrant, yet less well-known local islands. Not to mention, you'll also have unrestricted access to some of the busiest coral reefs, remarkable underwater experiences, and renowned surf breaks on the planet. 
As a nation well-versed in delivering exclusive experiences and five-star service, the Maldives offers some of the best luxury charter yacht trips in the world, sure to satisfy even the most discerning of guests. Expect stylish modern motor yachts with sumptuous amenities and expertly-designed details at every turn, perfectly-complemented by the first-class customer service for which the Maldives is famous.
Recommended yacht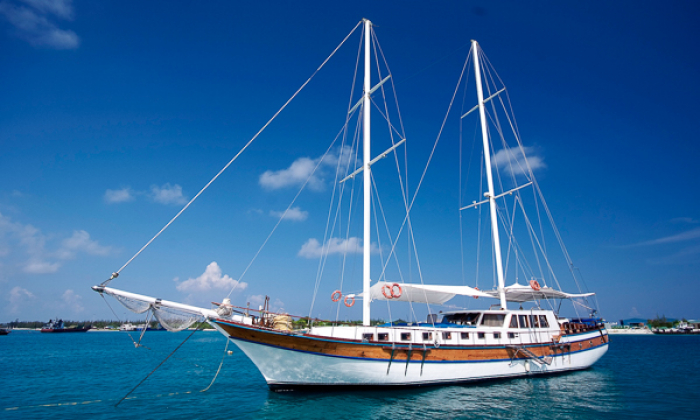 Felicity
Felicity offers private scuba safaris with an adventurous flare for up to fourteen guests. Each of this vessel's custom itineraries includes diving, snorkelling, and the watersports of ...
Set sail into sublime luxury
Search, compare and book from our top charter yachts in the Maldives
The Caribbean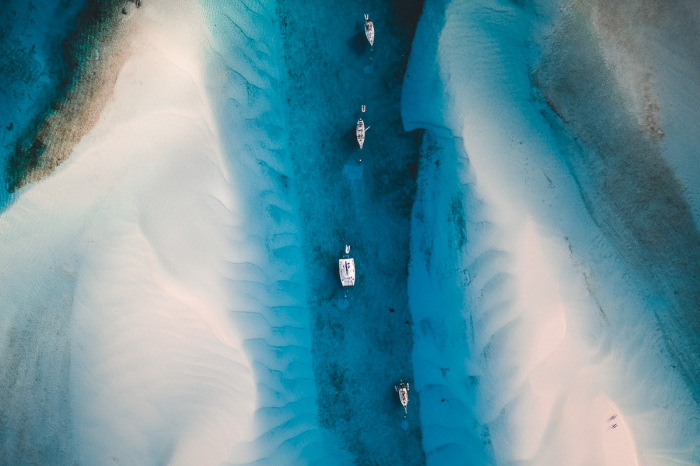 Tourists have long been drawn to this quintessential vacation destination, thanks to its tropical climate and relaxed island-style atmosphere. Some of the world's most breathtaking scenery can be also found here, with sapphire blue water cutting through snow-white sandbanks, all set to a backdrop of verdant volcanic cones. While the local laid-back vibe is one of this destination's defining characteristics, its popularity has given rise to many exclusive resorts and charter experiences, many including all the facilities you could possibly want. 
With many different nations to explore, each with their own unique heritage, culture, and enduring colonial influences, the Caribbean is an ideal destination to explore by boat. As a popular playground for experienced boaters, charter yachts in destinations such as the Bahamas often come without a crew, mirroring the Caribbean's easy-going atmosphere and unique sense of freedom. Of course, skippers and chefs are always available if you'd rather just sit back and relax.
As we touched on above, there is no one-size-fits-all when it comes to charter yachts, so what you should expect onboard largely depends on the type of charter you decide to book.
Crewed and bareboat charters
One of the biggest factors affecting your experience is the crew. Some vessels come with a full crew on board who will safely sail the boat between destinations, meaning guests never have to lift a finger. This type of charter is perfect if you're looking for maximum relaxation from your trip, or if you have no prior sailing experience. On more luxurious and all-inclusive packages, the crew might even include expert chefs, waitstaff, and guides for watersports and shore excursions.
Just as you can charter a vessel with a crew, you can also charter one without. Frequently known as 'bareboat' charters, this option is ideal for more experienced boaters who'd like to take control and plot their own course. As the name suggests, this type of charter generally comes with limited frills, but it does provide extra privacy and freedom. Check out this separate article for more detail on the difference between crewed and bareboat charters.
Charter yacht itineraries and activities
As we mentioned before, as you'll be the only ones on board, charter yacht itineraries can usually be fully-customised to suit your group's personal preferences. This can include spending more time in certain destinations, for example, or heading off-route slightly to take in a particular attraction. That said, some vessels specialise in delivering trips with a particular focus, with an itinerary that has been carefully designed to create the right ambience. Common itineraries include relaxation and wellbeing, adventure and excitement, luxury and romance, family-friendly fun, or specific activities such as scuba diving and surfing. Clearly, the type of itinerary you choose could greatly alter your experience on board.
One of the main differences between these itineraries, aside from where they visit, is the activities that are available. The majority of charter vessels will feature their own small selection of books, board games and films, as well as watersports, such as snorkelling equipment, kayaks or stand-up paddleboards. But, beyond that, things get more diverse. Voyages focused on relaxation and wellbeing might support activities such as yoga, meditation, and massage, while romantic itineraries will often include secluded private dining experiences. Similarly, family-focussed trips might not venture far from the beaten path, offering excursions to zoos or waterparks along the way, while adventurous trips venture deeper into the unknown in search of volcano and jungle trekking and castaway-style experiences.
If your itinerary is focussed on a particular watersport, the vessel should feature a selection of associated facilities on board. On a scuba diving charter, for example, you might expect a dive deck or dive platform, compressors, rinse tanks, rental gear, and more. The combination of facilities will vary from boat to boat, with some offering a little more than others. Click here for more information on the sorts of itineraries and activities offered on board charter yachts.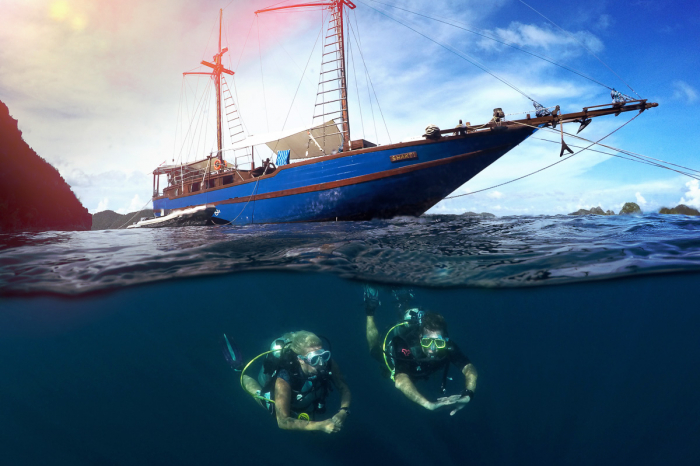 Recommended yacht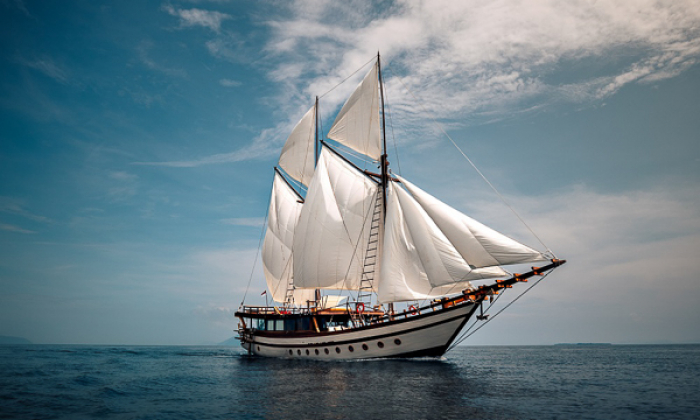 Senja
Launched in 2021, Senja is a 31-metre phinisi that combines a contemporary aesthetic with traditional design - perfect for romance, intimacy and blissful relaxation. With just one ...
Whether you book a crewed or bareboat charter it'll come well-equipped with all the necessities, so you can leave the kitchen sink at home. You'll likely be cruising around relatively dry regions with warm climates, so light beachwear is often enough for the days, with a windbreaker or warm jumper for cooler evenings. You'll also want some more modest, breathable attire and comfortable shoes if you're planning any trips ashore. For specialist activities, such as scuba diving, you may also want to pack some of your own equipment to ensure a good fit and comfortable use. Most importantly of all, don't forget to bring plenty of sun protection, including reef-safe sunscreen.
The cost for a private charter can vary from hundreds to thousands of dollars per day. In most cases the pricing is easy to understand, but to make it even easier, we've written a whole separate article on the cost of chartering a yacht. However, if you're short on time, or just want the basics, here's a brief outline of the costs involved. 
Bareboat charters are a fixed price and come with little more than the vessel itself, and full tanks of water and fuel. Almost everything else is your responsibility, and if you'd like to hire a skipper or chef, you'll have to pay extra for the service. Crewed charters can either be all-inclusive – where almost everything is covered upfront – or hired at a base price, with additional facilities paid for per use. Different destinations favour specific types of charters, with Indonesia typically offering luxurious all-inclusive trips, and the Caribbean favouring bareboat experiences. 
Some of the costs associated with chartering a yacht include marina fees, fuel, national park and marine park fees, and provisions such as drinking water and food. If you've opted for a crewed charter, the majority of this will be included, but you may have to pay for premium alcoholic beverages or specialty foods. Extravagant activities like jet-skiing, wakeboarding, and wind sports often require a small extra charge, as do massage services, bespoke dining experiences, and private guides. Certain sports such as scuba diving may also require an additional charge, depending on your trip. Tips are rarely included in the price and are often relied upon by both the captain and crew.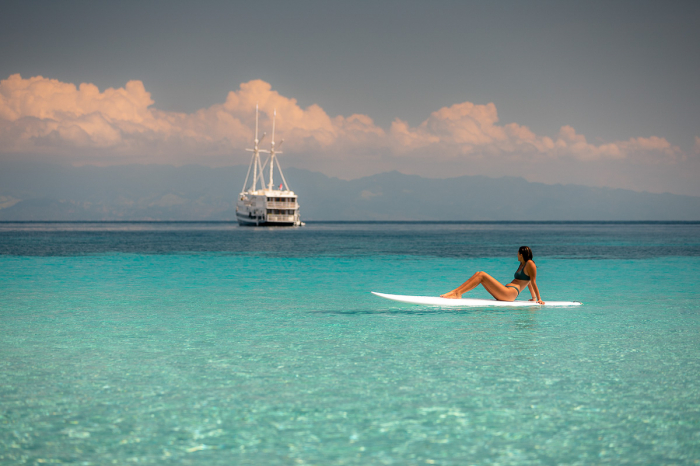 ---
Ready to start planning your luxury charter yacht experience?
Our team of travel experts can help you book your holiday with confidence, using the latest travel advice.

---
---
Join the ZuBlu community to receive the latest insights and unmissable adventures
Don't worry, we'll only send you really good stuff - and we never share your details
---