Scuba diving in
Galapagos Islands
Work through your bucket-list of underwater encounters and discover the true meaning of biodiversity in the legendary Galapagos Islands - one of the most remarkable scuba diving destinations on the planet.
Highlights
Witness the unparalleled biodiversity that inspired Charles Darwin
Dive with up to 30 different species of shark during one incredible trip!
Once-in-a-lifetime visits to a flamingo lagoon, the Charles Darwin Research Station, and more
Encounter endemic species, from penguins and fur seals to marine iguanas
Remote, isolated, and other-worldly, scuba diving trips in the Galapagos Islands offer once-in-a-lifetime adventures and exhilarating encounters with unique wildlife. This remarkable archipelago boasts biodiversity so rich, and ecosystems so pure, that they became the foundation for our entire understanding of natural history. Not many places can claim a title like that.
Diving in the Galapagos Islands
Hammerhead shark

Year round

Plentiful reef life

Year round

Seals & sea lions

Year round
At the meeting point of several oceanic currents, the Galapagos Islands boast a unique mix of both tropical and temperate species which thrive among nutrient-rich upwellings from the deep surrounding ocean. In fact, when it comes to biodiversity, this region has few rivals - particularly if you're looking for big fish. Incredibly, some 30 species of shark call these waters home, along with mantas, devil rays, and eagle rays. Plus, you can find yellow-bellied sea snakes, sea lions, dolphins, huge sea turtles, and unique marine iguanas. But the conditions that support such biodiversity comes with a price, as the majority of sites are best suited to advanced divers who are comfortable in deep - and often cold - water, with strong, ripping currents.
Scuba diving San Cristobal
The most easterly of the main islands, San Cristobal is where a lot of liveaboard dive trips begin. Day trips can also be done to many of the island's dive sites, including Lobos Island, Santa Fe, Five Fingers, Whale Rock, and more. Tijeretas Hill is a great site for beginners, offering superb visibility and plenty of photo opportunities, while Kicker Rock is ideal for those with a little more experience. You can expect to see rays, sharks and sea lions, which congregate around a thin channel carved through the towering rock wall.
Scuba diving Santa Cruz and Santiago
Heading northwest, the next two main islands are Santa Cruz and Santiago. Santa Cruz's Gordon Rocks dive site is undoubtedly among the best in the central islands, featuring strong surge, ripping current, and impressive schools of hammerheads. Cousin's Rock, on Santiago Island, is also a favourite for its wealth of smaller creatures. The walls, slopes and steps here are covered in black coral bushes, sea fans, red sponges, and small hard corals which shelter hawkfish, nudibranchs, frogfish, and Galapagos sea horses.
Diving Isabela Island
The majority of Isabela's diving is located around its northern coast, including Punta Albemarle and Cape Marshall - often dubbed the ray capital of the Galapagos. Punta Vicente Roca, on the northeastern tip, is an incredible cold-water site renowned for encounters with mola mola, penguins and sea lions, as well as marine iguanas and red-lipped batfish. Further north you'll find Roca Redonda - famous for its streams of natural gas bubbles. Descend quickly and pull yourself along the rocks in search of Galapagos sharks, silky sharks and schools of hammerheads, as well as an abundance of nudibranchs.
Darwin and Wolf Islands diving
It can take up to 14 hours of sailing to reach Darwin and Wolf Islands, but it's worth every minute, as these remote islands deliver some of the best scuba diving in Galapagos. From the boulder-strewn site known as Landslide to the many swim-throughs found at The Caves, Wolf Island is nothing short of spectacular. But it's Shark Bay that many divers come to see. You'll likely be ambushed by playful sea lions as you descend in search of yellowfin tuna, pelican barracuda, and jacks, as well as Galapagos sharks, silky sharks, and schools of hammerheads.
Remote Darwin Island is located in the far northwest of the Galapagos Island chain. Surface conditions can be rough and currents challenging, but the cool touch of the Humboldt current is less prevalent, making this site feel more like a tropical dive than most others. In a sense, there's really only one dive site here, known as Darwin Arch, but it can be explored in a variety of ways. Only, one thing is sure to stay the same - a high probability of hammerhead sharks that gather in their hundreds.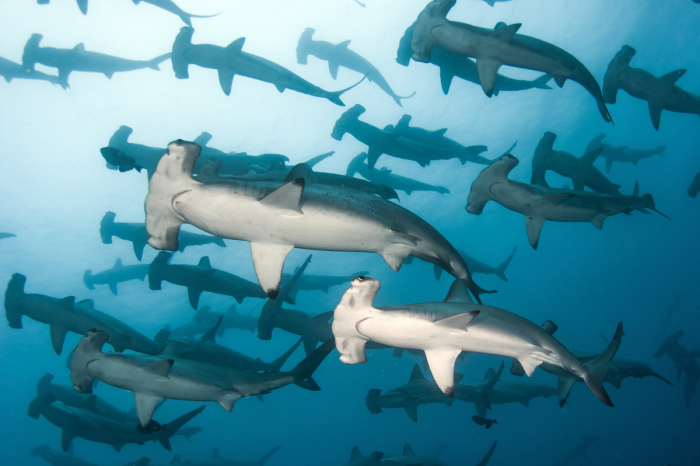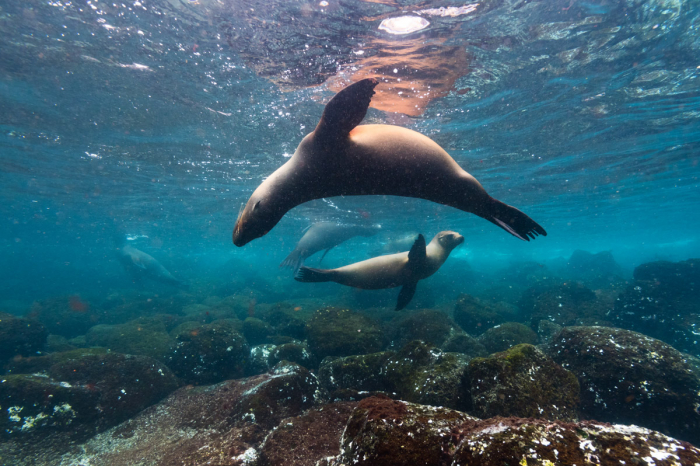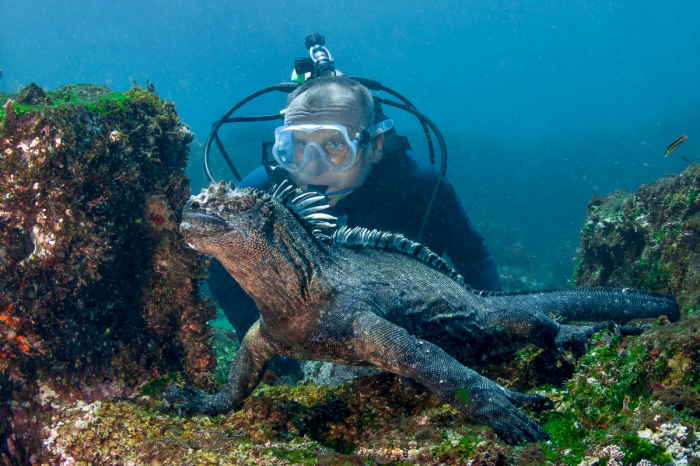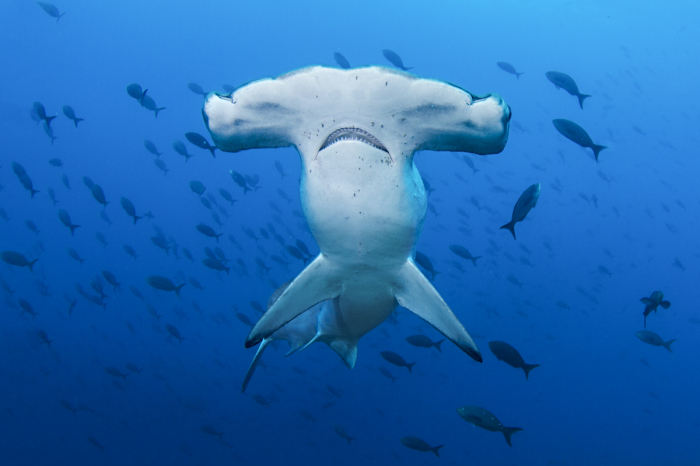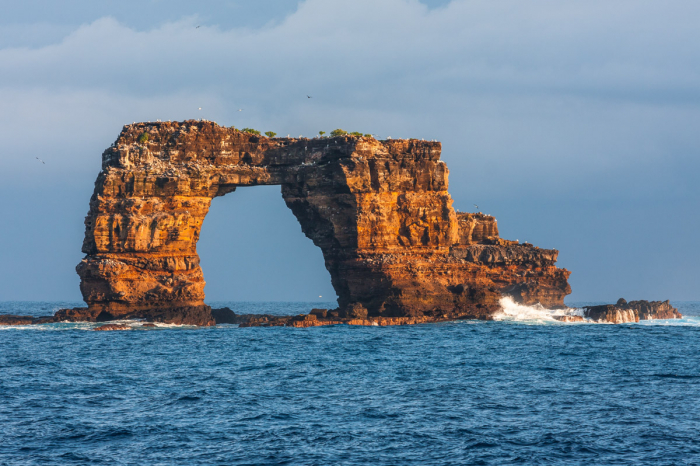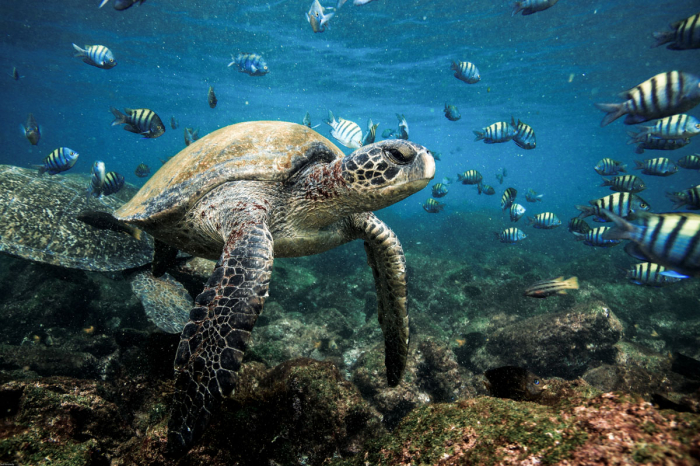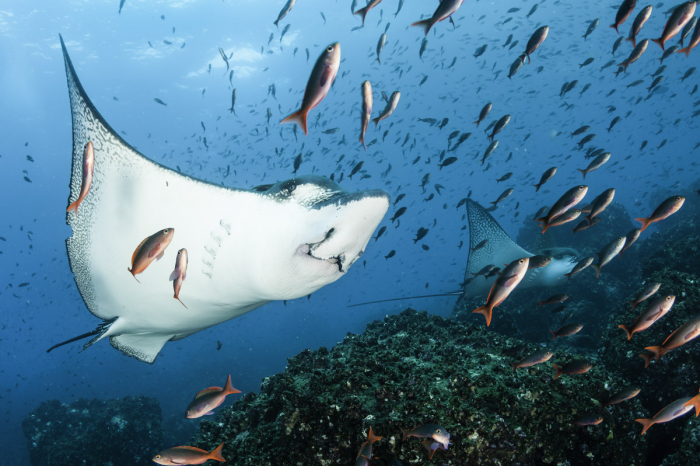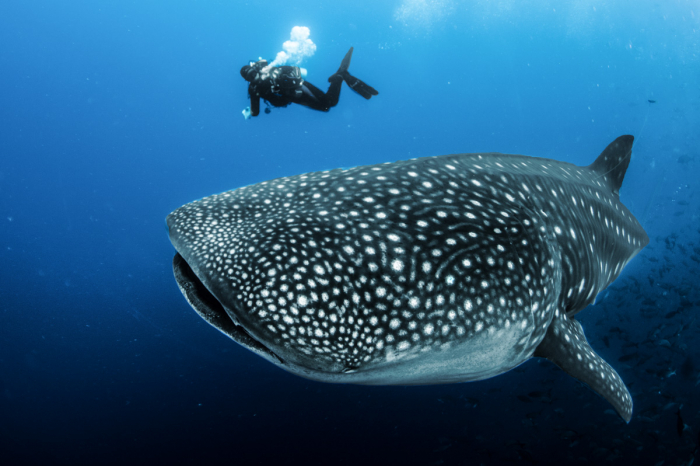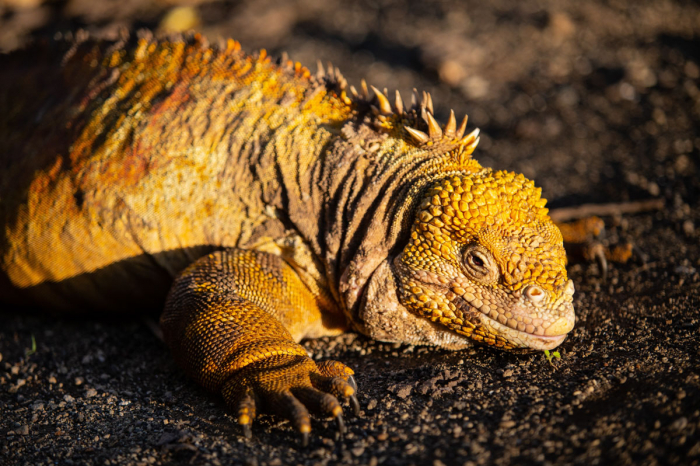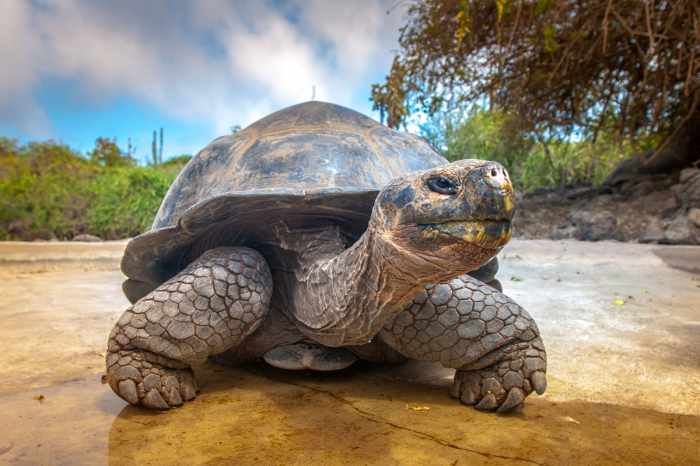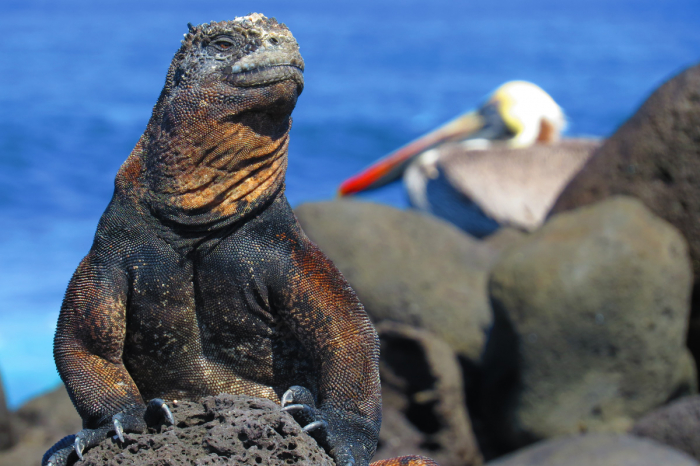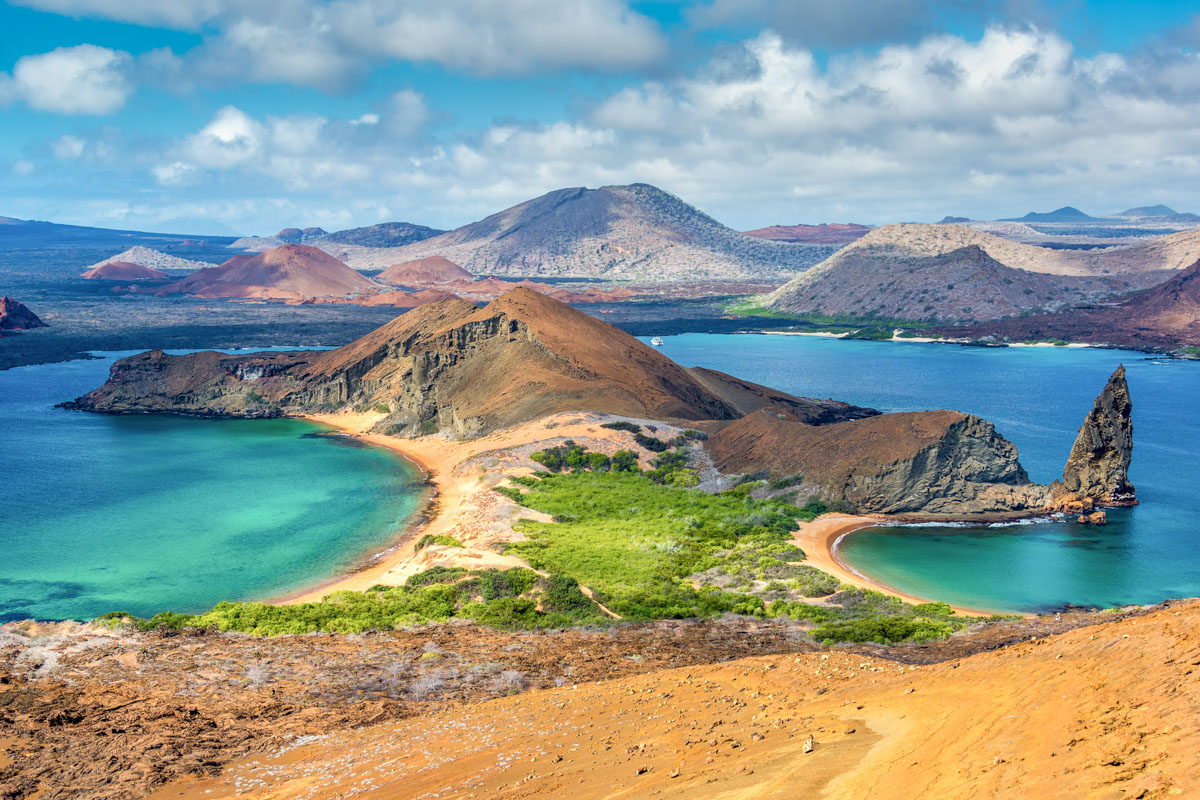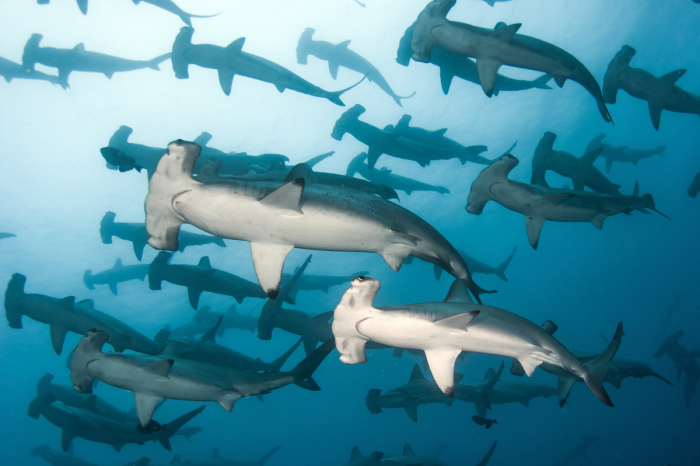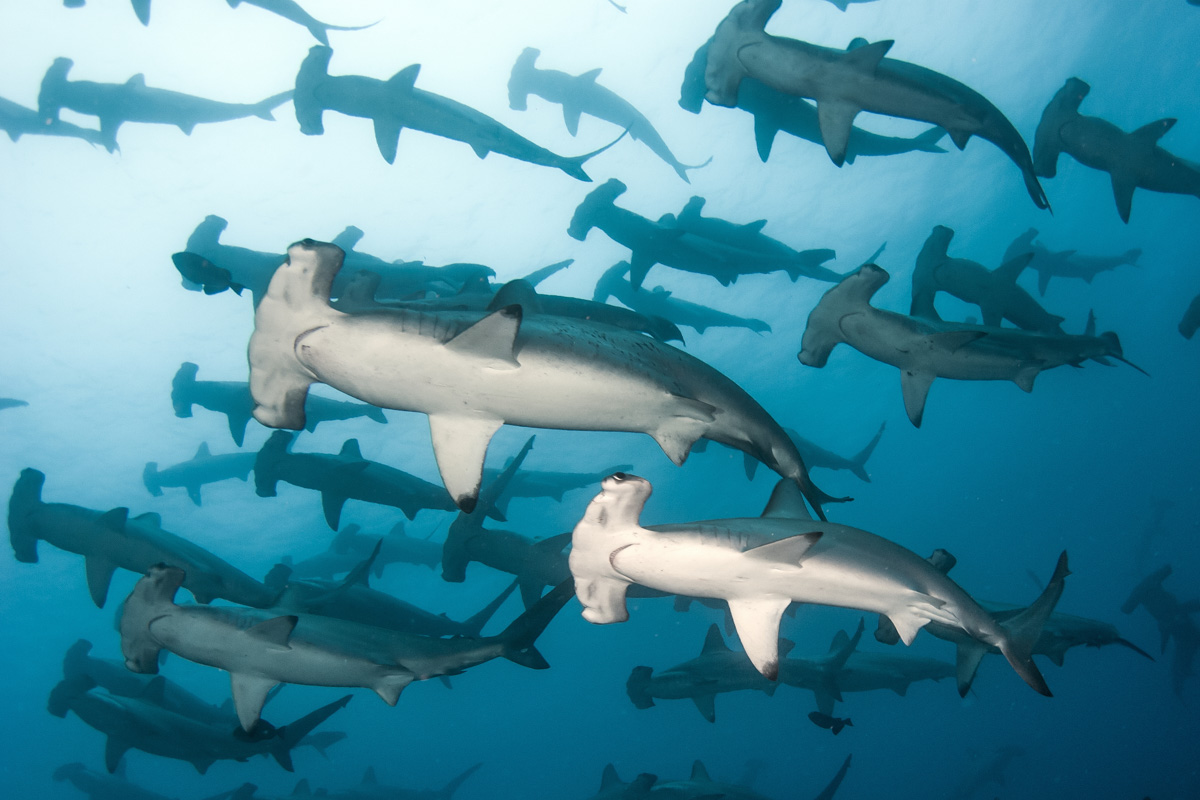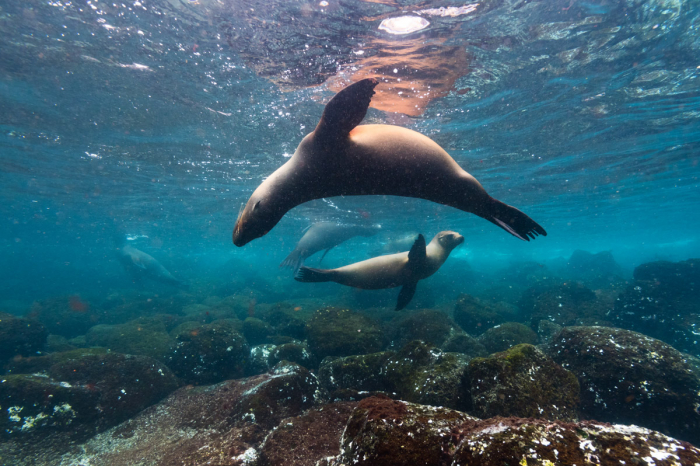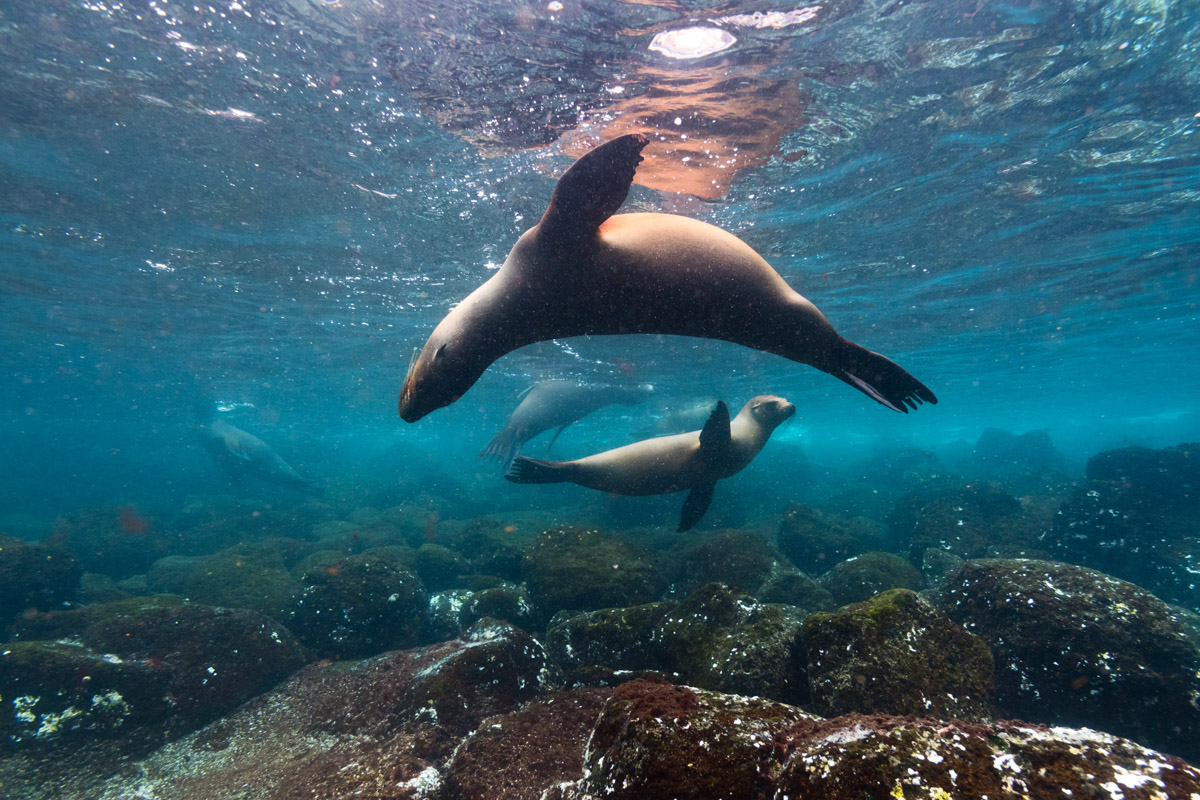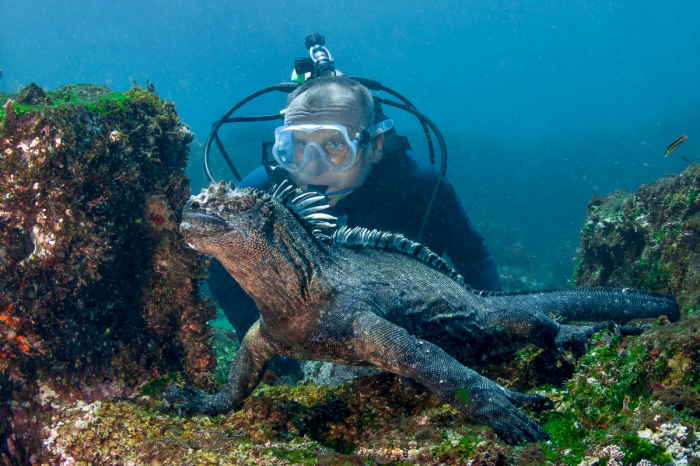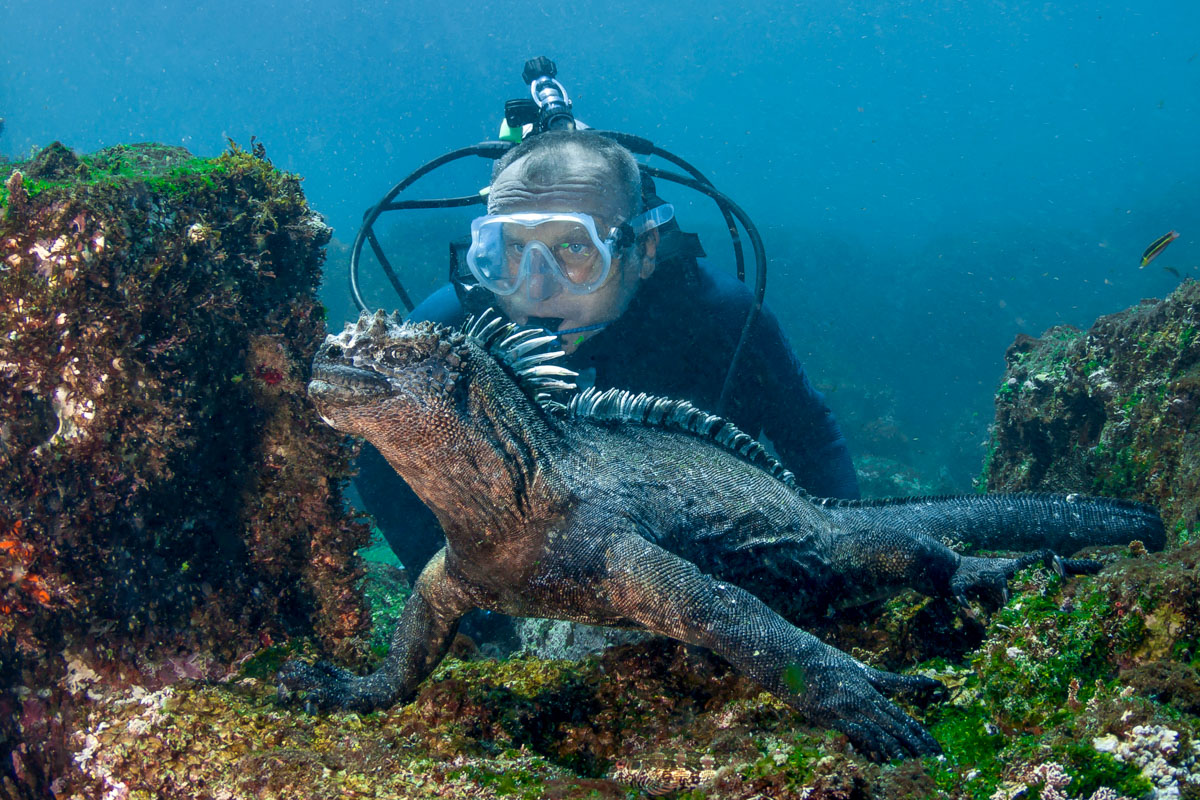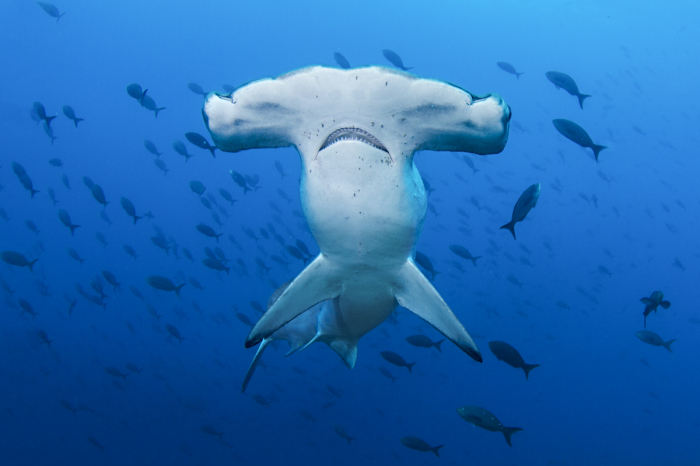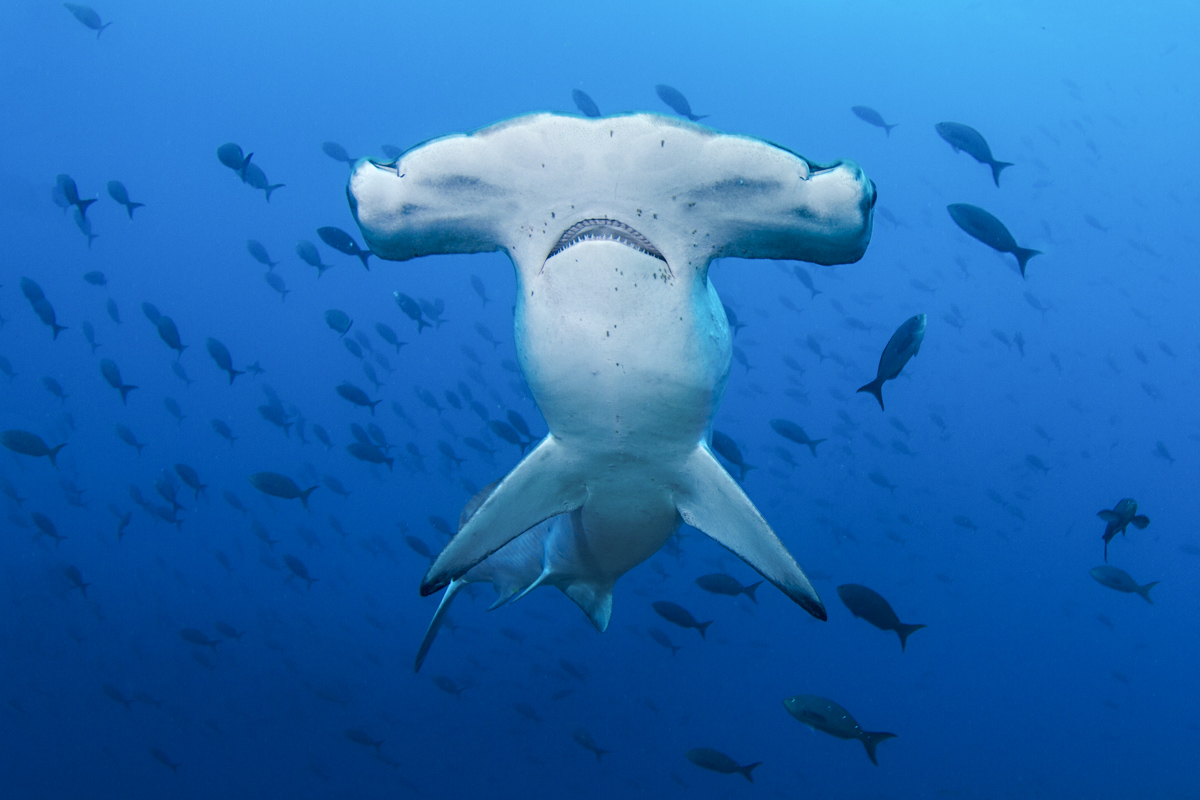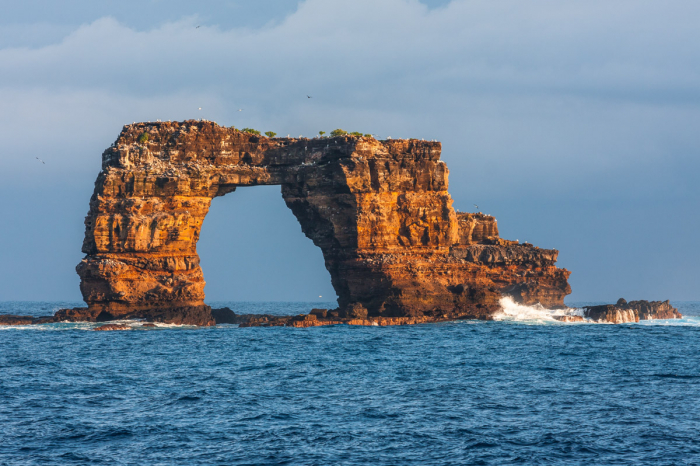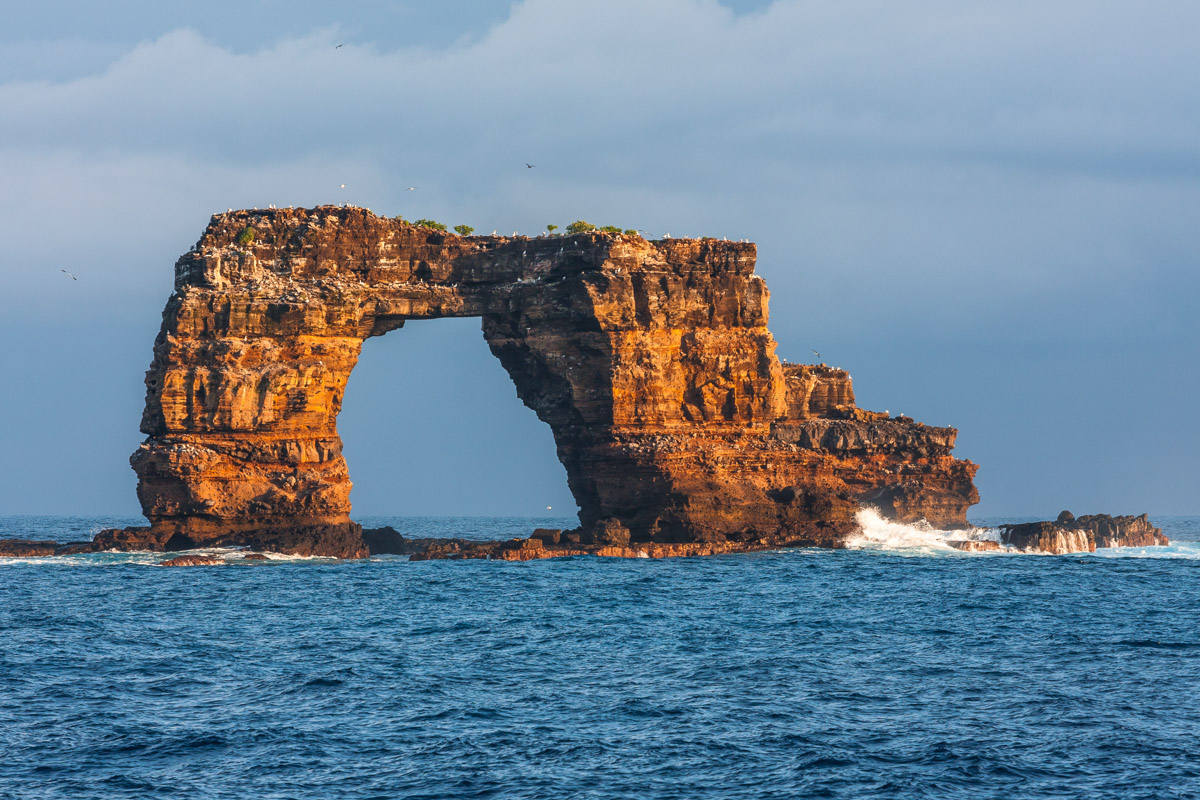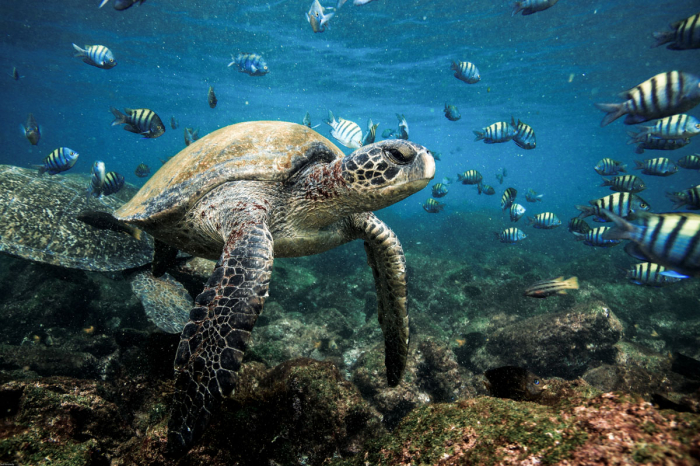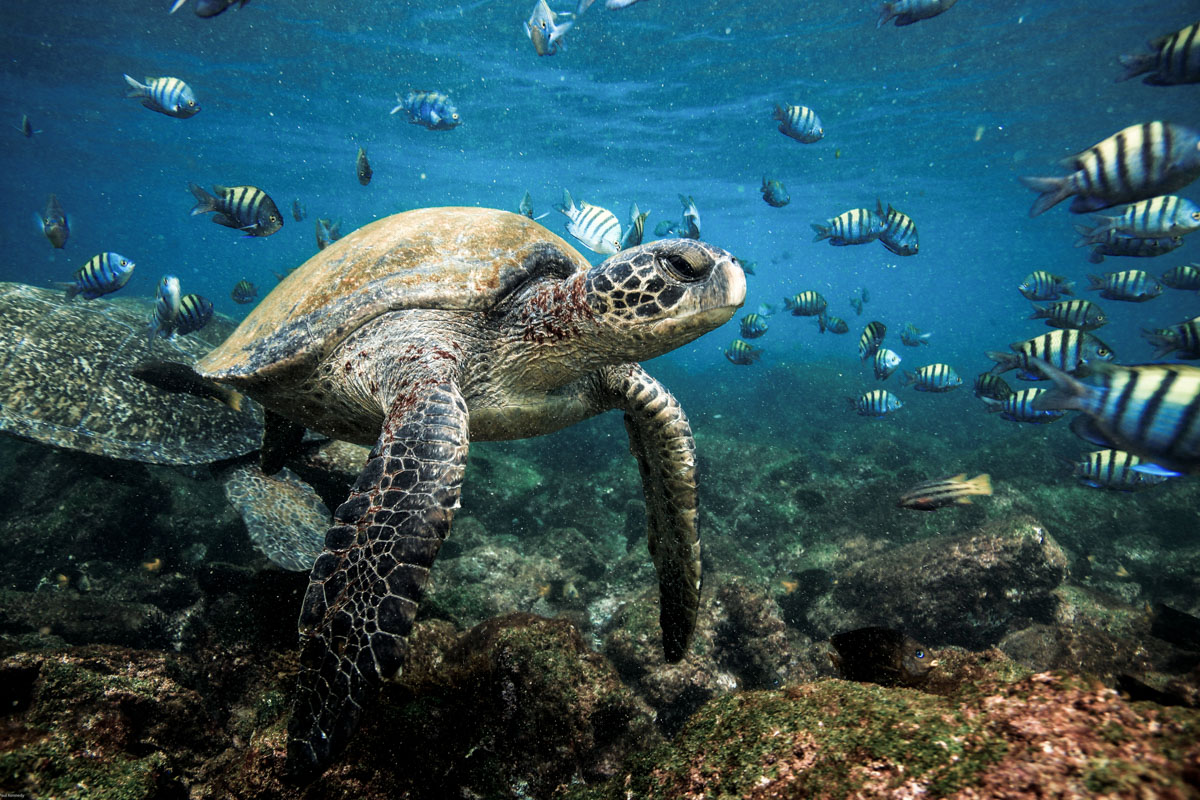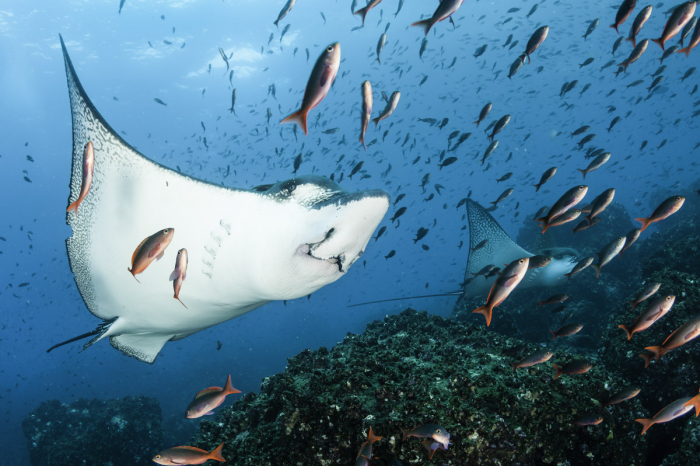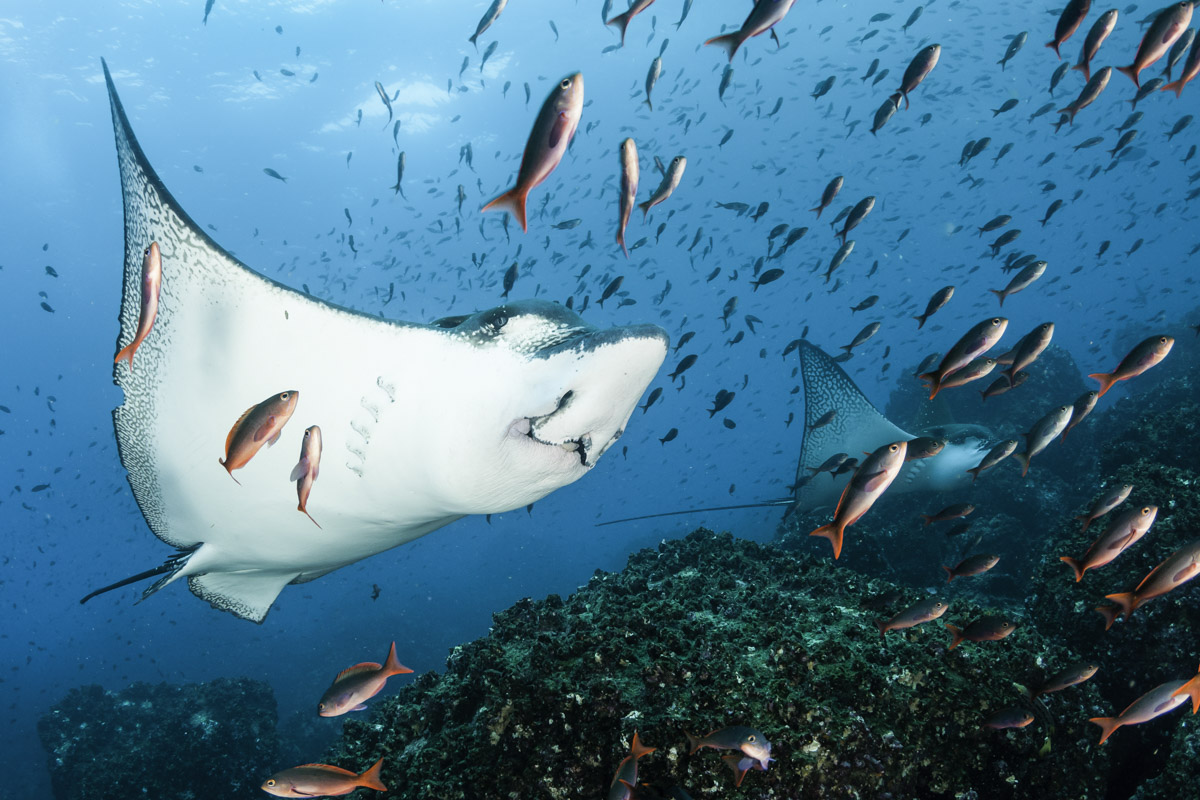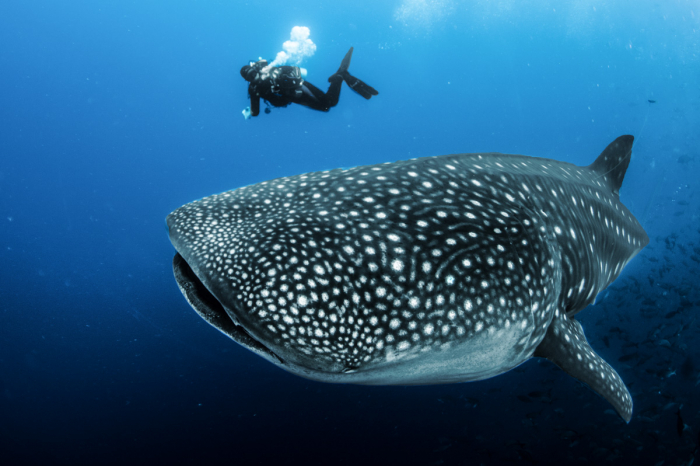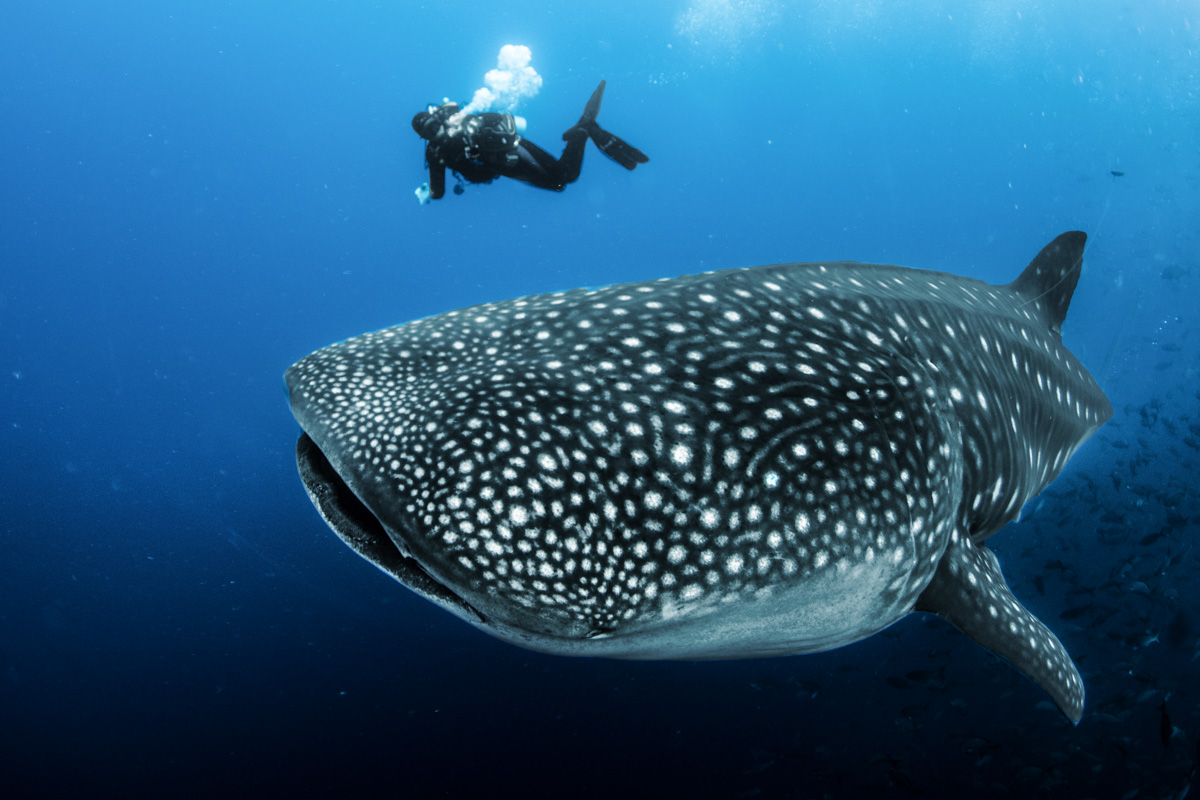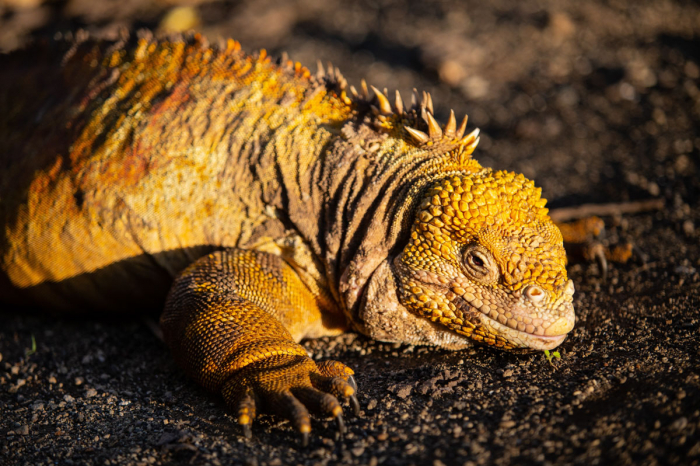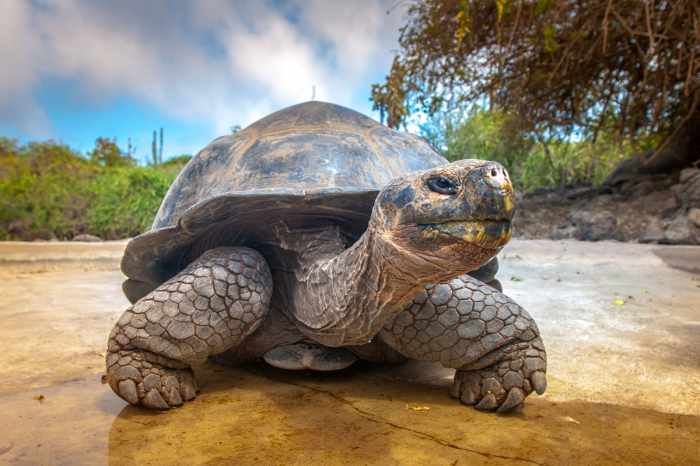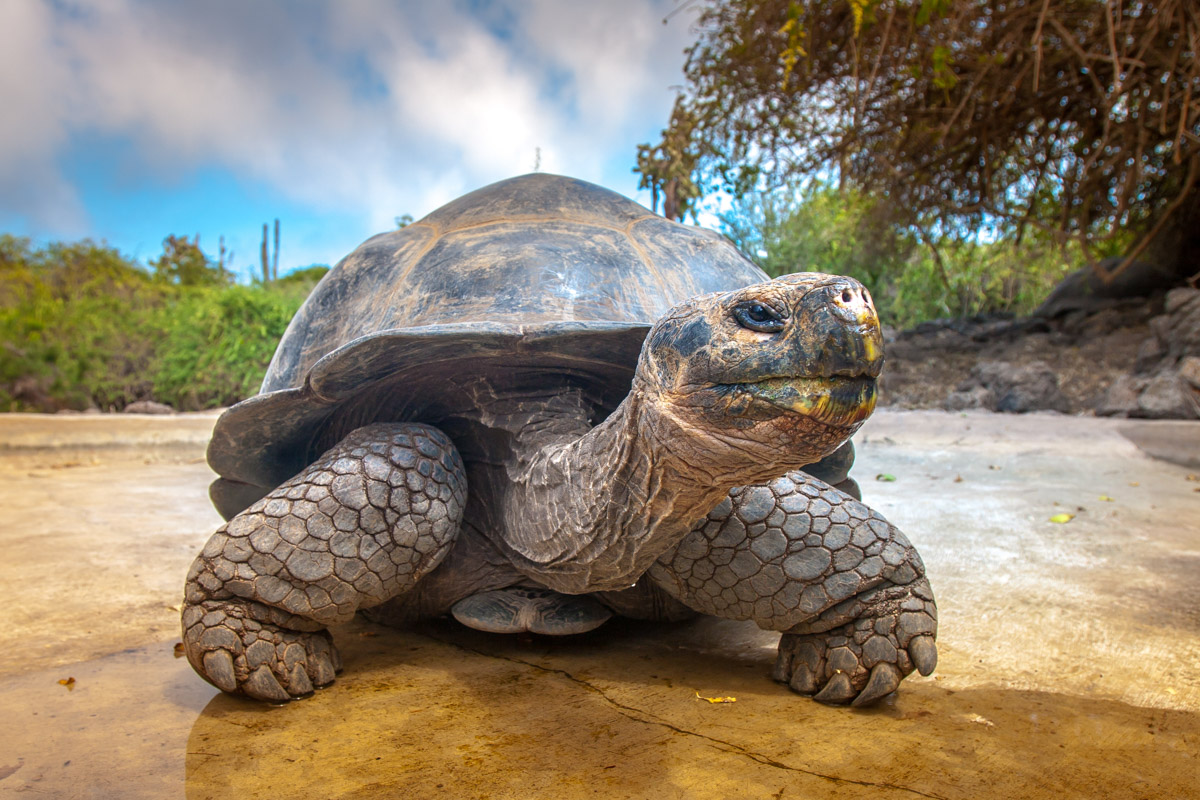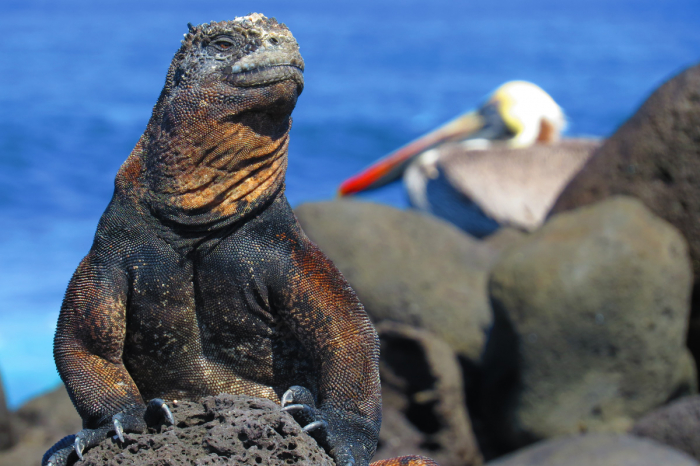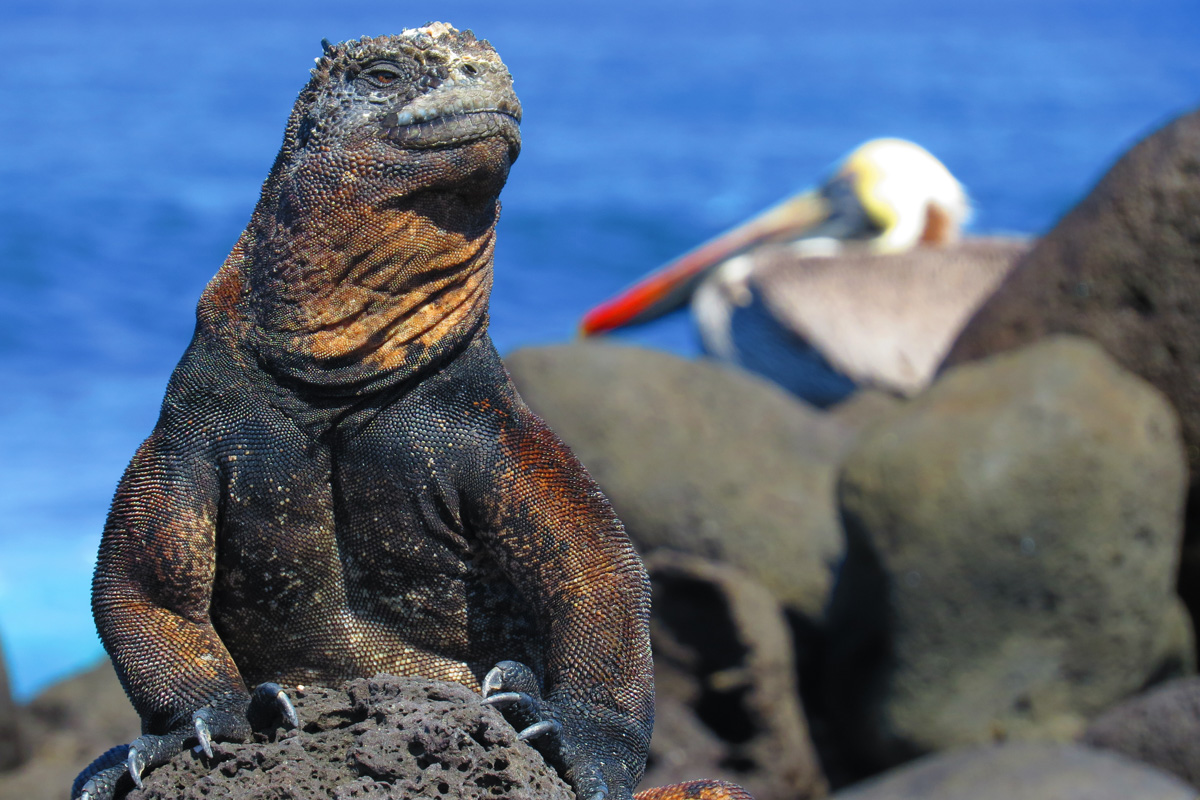 Diving Environment
Type
Big animals, walls and pinnacles, strong currents
Top tips

May is a great time to dive the Galapagos Islands. The water's still warm and you've got a reasonable chance to spot a whale shark. It's also just before peak season, meaning fewer crowds.
Seasickness medication is recommended if you're planning a liveaboard trip between June and November.
The Galapagos Islands are fantastic for bird watchers, with up to three-quarters of a million seabirds, including blue-footed boobies and albatross, flocking to the islands during the dry season.
Be sure to bring plenty of reef safe sunscreen, it's all too easy to forget the sun's strength when you're snorkelling in the refreshingly cool water.
About the Galapagos Islands
Located almost 1,000 kilometres off the coast of Ecuador, the Galapagos Islands are known the world over as the inspiration behind Charles Darwin's The Origin of Species - a ground-breaking book which paved the way for our current understanding of evolution and the natural world. Despite lying directly on the equator, the Galapagos Islands aren't your typical tropical getaways. Stark, rocky and very exposed, this volcanic island chain could easily be from another planet. And yet surprising, a scattering of towns can be found amongst the rugged wilderness, accommodating a small population of local people alongside adventurous tourists.
Comprising thirteen main islands, five smaller islands, and numerous little islets, the Galapagos Archipelago is a national park and the first UNESCO World Heritage Site. Thanks to its remote location, this unique archipelago has nurtured a long list of endemic species - many of which evolved in complete isolation to their cousins on neighbouring islands. Plus, with such effective geographical and governmental protection, many of these animals have evolved without an inherent fear of humans.
How to get to the Galapagos Islands
To explore the Galapagos Islands, you'll first need to get yourself to mainland Ecuador, then grab a domestic flight from either Quito or Guayaquil international airports to the islands of Baltra or San Cristobal. There are around three daily flights, taking approximately three hours. If you're staying on one of the other inhabited islands, there are two airlines - Emetebe and Fly Galapagos - offering inter-island flights between San Cristobal, Baltra and Isabela. Otherwise, you can use a speedboat or ferry - or a combination of the two - to reach your destination. If you've organised a liveaboard trip, you'll likely be collected from the airport and shuttled to the vessel.

Where to stay
While there are several inhabited islands within the chain, each with their own tourist infrastructure and a nice selection of diving day trips, the Galapagos Islands simply can't be visited without a trip to Wolf and Darwin Islands. And the only way to do that is via liveaboard. There are plenty of great operators here, delivering bucket-list-worthy trips to the best Galapagos Islands diving.
And what's more, many of these itineraries offer unmissable highlights such as a trek up to Bartolome lookout and discovering the Galapagos' famous tortoises on Santa Cruz. Availability can sometimes be scarce, so be sure to book well in advance to ensure your dream Galapagos diving holiday!
Galapagos Islands diving season
You can enjoy year-round diving in the Galapagos Islands, so the best time to visit really comes down to personal preference. The islands experience two seasons, each offering slightly different climates, water temperatures, and marine life. 

Wet season
The wet season runs from January to May and is often referred to as manta season. As well as being the wettest time of year, it's also the warmest, with the intense tropical sun only interrupted by brief afternoon showers. With the southeast winds weakening, warm, calmer waters drift from the Panama Basin. Sea temperatures tend to fluctuate between 20-25°C but can reach 28-30°C in some places, with inevitable thermoclines at depth.
As the name suggests, manta rays are common at this time, particularly off the coast of Isabela Island. Hammerhead schools tend to be larger during the warm season and it's also a great time to spot other species. At this time, you can also witness the interesting mating behaviour of marine iguanas and blue-footed boobies.
Dry season
The dry season, also known as whale shark season, runs from June to December when the giants of the ocean come to feed in the plankton-rich waters surrounding Wolf and Darwin Islands. And it's not just whale sharks - melon-headed, pilot and humpback whales can also be seen as they migrate to the coast of Ecuador between August and September. Plus, this is also the best time to find tiger sharks patrolling these waters.
While this season might see less rain, it is also cooler, both above and below the waves and has slightly reduced visibility. Water temperatures can reach lows of 19°C and surface conditions can be more choppy.
Conservation of the Galapagos
The Galapagos National Park was established in 1959 and is Ecuador's oldest park. In 1998, a Marine Protected Area (MPA) was established, which protects all the waters within 45 miles of the islands' coasts. Both the national park and MPA are intended to protect the area's unique biodiversity and ensure the sustainable use of natural resources. While some agriculture and fishing are allowed, the Galapagos Islands' most important economic activity is tourism, with more than 100,000 people visiting every year.
Research is one of the key missions within the Galapagos, with marine biologists carefully monitoring human interactions and species populations. To ensure that tourists observe regulations, the reserve uses satellite-based geographic information system technology to monitor activities. When visiting the protected areas, there are also some extra rules to follow, including not bringing any food, not smoking, and checking your shoes for seeds before transferring to another island.
---