Do you dream of diving healthy coral reefs, searching for sharks, and exploring ghostly wrecks including the legendary Thistlegorm from the comfort of a stylish liveaboard? Egypt offers all this, and more.
In actual fact, many divers consider liveaboards to be the best way to explore the Red Sea, and visitors will find a wide variety of vessels operating throughout the region. Read on to discover everything you need to book your Egypt liveaboard diving holiday, including a hand-picked selection of Red Sea liveaboard dive boats to help you find your dream vessel.
Why the Red Sea?
The Red Sea is one of the seven wonders of the underwater world, boasting a unique and ever-changing geography and tons of world-class dive sites for divers of all levels and interests. Plus, this entire region is rich with cultural heritage and mystical landscapes of dusty desert and crystalline waters.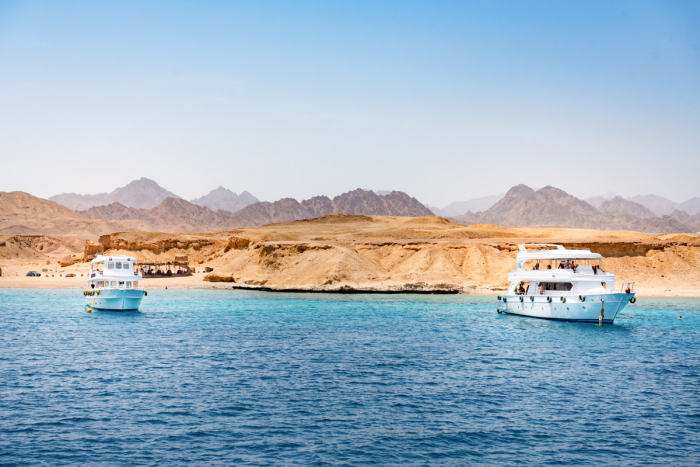 Geography
The Red Sea was formed when the Arabian peninsula split from the Horn of Africa, and this movement continues today at remarkable speeds. Following three weeks of tectonic activity in 2005, the sea widened by around eight-metres in some places. This vast rift in the earth's surface stretches for over 2000 kilometres from north to south, and reaches depths of over 2000-metres - leading some to argue that the Red Sea hosts the largest coral reef system on the planet.
Biodiversity
Since it was formed, the Red Sea has been connected to two separate bodies of water - first the Mediterranean Sea, then the Indian Ocean. This allowed species to migrate from both regions and led to an incredible mix of biodiversity. Subsequently, with just the narrow Bab al-Mandab Strait connecting to the Arabian Sea to the south, the Red Sea's unique, sheltered environment has allowed many species to evolve in total seclusion. Today, it's estimated that almost 20% of the fish species found in the Red Sea live nowhere else on earth. Flasher wrasse, anemonefish, and pipefish are just a few of the many endemic species that can be found.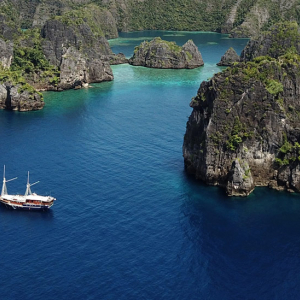 Recommended insight
The ultimate guide to liveaboard diving in 2023
Everything you need to know about liveaboard dive holidays, what to consider when booking a dive safari, and the best liveaboard dive destinations in the world!
North, central or south?
When it comes to liveaboard diving in Egypt, there are three distinct regions. Each of these areas offers the same incredible experiences that have made the Red Sea famous, along with a dash of individual personality.

Get a taste of everything in Egypt's northern Red Sea
Diving the northern Red Sea couldn't be easier. Several popular beach-front resort towns provide direct access to this unique underwater playground, or, you can book a liveaboard from Hurghada or Sharm El-Sheikh for an extra immersive experience.
The northern region includes most of the iconic Red Sea wrecks, such as the Rosalie Moller, along with several marine protected areas such as Ras Mohammed and the Straits of Tiran. Further into the Gulf of Aqaba, you'll also find the chic town of Dahab with its infamous Blue Hole. Visitors to the north can encounter plenty of incredible marine life including humphead wrasse, sea moths, bluespotted rays, and stargazers, as well as seasonal congregations of hammerheads and whale sharks.
Get your thrills in Egypt's central Red Sea
Located off the coast of Marsa Alam, the highlight of the central region are the offshore reefs of Daedalus and the Brothers Islands. These advanced dive sites are renowned for fast-flowing currents and close encounters with hammerheads and thresher sharks.
But, there's also plenty on offer a little closer to shore, including the world-famous Elphinstone Reef which features a stunning landscape of steep walls and caves, as well as more impressive sharks including oceanic whitetips and schooling hammerheads. Even closer still, divers can find several sites with a surprise or two up their sleeve, including the ever-elusive dugong.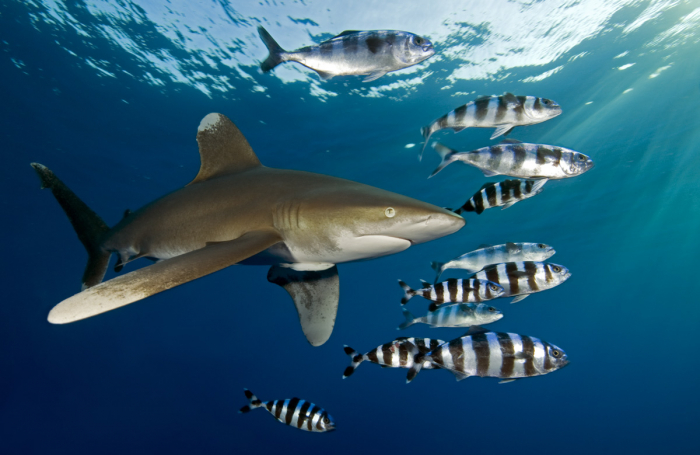 Discover unimaginable beauty in Egypt's south
Signposted by the small outcrop of Ras Banas, the southern region offers remote and exhilarating diving, with pristine coral reefs, crystal-clear visibility and plenty of pelagic fish. Lying just north of Ras Banas, Fury Shoal is a large complex of reefs filled with sun-drenched coral gardens as well as steep, current-swept drop-offs.
Zabargad and Rocky Island marine parks sit just a few kilometres apart, offering thrilling walls and strong currents with sightings of oceanic whitetips, grey reef sharks, hammerheads, silvertips and manta rays. Finally, just a few fin-kicks from the Sudanese border, you'll find St John's Reef and likely the healthiest, most vibrant coral in the entire Egyptian Red Sea.
---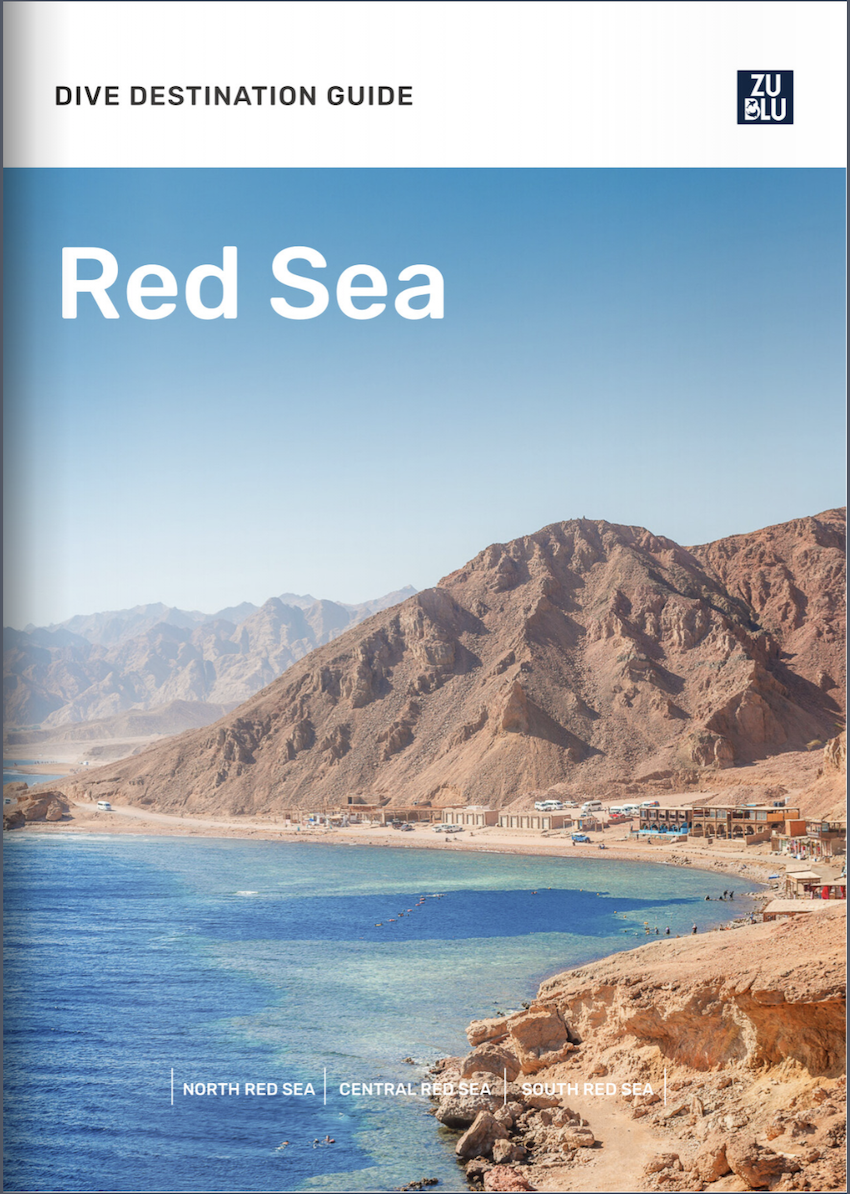 Explore the top wrecks, where to dive, the best seasons and pro tips in this 50 page guide to Egypt and the Red Sea.
---
Classic Red Sea safari routes
North
Offering the perfect combination of fascinating wreck dives and breathtaking coral reefs, this classic Red Sea diving safari provides a relaxing and enriching experience for divers of all levels. Departing from Sharm El-Sheikh or Hurghada, you'll visit renowned national parks such as Ras Mohammed and explore the infamous ship's graveyard of Abu Nuhas, among many more iconic Red Sea sites.
Northern Red Sea, Tiran and Dahab
This magical itinerary departs from Sharm El-Sheikh or Hurghada and ventures deep into the Gulf of Aqaba in search of pristine protected reefs and dramatic desert landscapes. Boasting conveniently short sail times between some of the Red Sea's best dive sites, this itinerary is a perfect introduction for first-time visitors.

Vessels depart from Safaga or Marsa Alam to explore this thrilling central region. Offering deep walls, spectacular drop-offs, and even a wreck or two, these three off-shore reefs are home to some incredible pelagic action including thresher sharks and hammerheads.

St. Johns, Zabargad and Rocky Island
To reach this remote southern region, vessels will likely depart from Marsa Alam. Voyaging to the southernmost reefs of the Egyptian Red Sea, this route promises unique and challenging experiences filled with flawless reefs, steep drop-offs, tunnels, and superb biodiversity.
What makes diving in Egypt's Red Sea so special?
While there are plenty of interesting shore dives within the Red Sea, the vast majority of this region's best diving lies further out at sea - many beyond the reach of day-trips. In fact, it's more or less impossible to visit sites such as the Brothers Islands and the remote southern reefs in any other way besides a liveaboard. Plus, as well as the classic itineraries mentioned above, some vessels also offer trips that combine more than one region - such as north and central, or central and south. This allows guests to experience more of what the Red Sea has to offer in one epic trip. And believe us, you're going to want to see it all.
Best Red Sea scuba diving liveaboards
Perfect for photographers
Blue
Custom designed for adventurous Red Sea liveaboard excursions, MY Blue offers a stylish setting for exploring some of Egypt's most impressive diving areas. One of the region's bigger boats, Blue sleeps up to 24 guests in absolute comfort, and offering plenty of space to spread out in between adventures. Make the most of your time in the water with up to four dives a day in some of the Red Sea's most legendary sites, plus nitrox, modern photo facilities, and support for tech divers. You'll also be looked after by one of the region's most energetic and dedicated teams - ensuring your total comfort and satisfaction around the clock.
Emperor Echo
Emperor Divers have gained a strong reputation for providing plenty of bang for every buck, and the recently refurbished Emperor Echo is no exception. Hallmark details include complimentary wine with dinner, free nitrox fills for certified divers, and a minimum of 21 dives during every week-long voyage. Throw in Emperor Echo's contemporary communal spaces, and exciting must-see itineraries, and you've got yourself the ultimate 'dive, eat, sleep, repeat' vacation. What more could you need?

Top luxury liveaboard in the Red Sea
Blue Force 3
Widely regarded as one of the best liveaboards in the Red Sea, Blue Force 3 effortlessly combines function and style, delivering unsurpassed relaxation during every voyage. From the vessel's meticulous construction to the expertly-crafted itineraries, everything on board has been designed by divers, for divers. Blue Force's keen attention to detail guarantees a stress-free holiday full of unforgettable experiences. And then there's the diving. As you'd expect from this legendary fleet, Blue Force 3 is fully-equipped for every underwater adventure, including both technical and rebreather facilities.

Best-suited to group bookings
Snefro Love
The Snefro Love offers laid-back and free-spirited luxury, underpinned by outstanding customer service, exciting itineraries, and chartered custom voyages. One of the region's most spacious options, Snefro Love sleeps 20 guests in ten cabins, and offers multiple air-conditioned indoor areas, and several sun decks - ideal for a large group getaway. But truth be told, any one of the Snefro Fleet's boats could have taken this title, with several smaller vessels accommodating between eight and 18 guests. Plus, this fleet also offers a few extra perks for groups, including free-of-charge spaces on selected group bookings.

Ideal liveaboard for non-divers
Emperor Elite
Compared to some other dive destinations, Red Sea liveaboards are very much diver-focussed, with fewer frills such as onboard spas and watersports equipment. That said, if you're travelling with non-divers, the Emperor Elite is probably the boat for you. As part of the reputed Emperor Divers fleet, this award-winning vessel provides free snorkelling kit rental, allowing non-diving guests to share the excitement of this unique underwater environment. Combine this with extra perks such as a €35 voucher to spend on board, complimentary red wine with dinner, and one of the most spacious cabins in the region, and you're guaranteed a relaxing trip for every type of guest.
---
Read to book a Red Sea Liveaboard?
Contact one of our dive travel experts today.

---
---
---