Whether it's a single great hammerhead cruising toward you out of the blue, or a wall of hundreds of schooling scalloped hammers off in the distance, you'll never forget your first encounter! These shy and graceful predators are among the ocean's most fascinating species - captivating divers and underwater photographers with their unique appearance and distinct behaviour. So, it's no surprise that cruising alongside them tops so many divers' bucket lists.
Sound like you? Well if you're wondering where to dive with hammerhead sharks, you've come to the right place! Keep reading for ZuBlu's favourite destinations, hand-picked by our team of pro divers, travel experts, and shark fanatics. Then, start planning the trip of a lifetime, diving with these elusive and entrancing animals.
1. Malpelo
Lying 500-kilometres off of Colombia's wild Pacific coast, Malpelo is a scrap of barren rock rising from the sea, surrounded on all sides by sheer vertical cliffs. The island itself is surprisingly small, but as the easternmost point of the famed hammerhead triangle, it's what lies below that attracts so many dedicated liveaboard divers and big fish enthusiasts.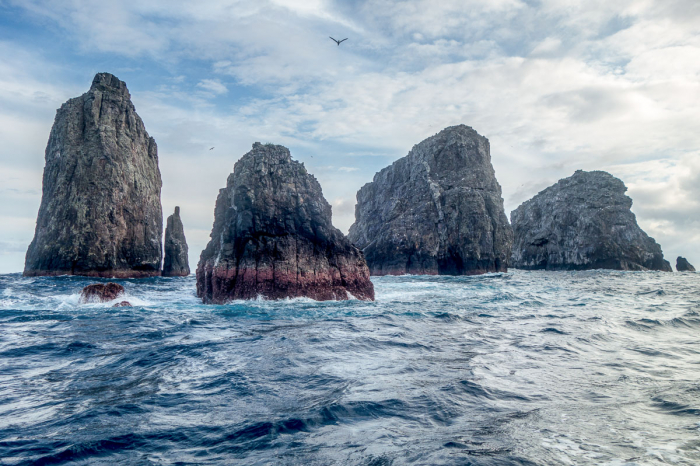 Malpelo sits atop a massive submarine ridge that drops off into some of the planet's deepest waters - making it a dream destination for pelagics. In fact, supersized wildlife can turn up on nearly every dive, from lone whale sharks, to hundreds of hammerheads, and occasionally up to a thousand silkies!
Best time to visit: Dive Malpelo's rocky reefs and pinnacles between January and May for a chance to spot schooling hammerheads, sometimes in groups as large as 200.
---
Start planning your ultimate hammerhead shark adventure!
Contact the ZuBlu Travel Team today

---
2. Cocos
One of the world's leading liveaboard destinations for diving with big animals, Cocos Island is in a class of its own. This remote jungle-encrusted rock, found far off the Pacific shores of Costa Rica, marks the hammerhead triangle's northern tip, and is home to manta rays, dolphins, sharks of all kinds, and nearly 30 endemic fish species - including the rare red-lipped batfish. But schooling hammerheads are the real stars of the show here, often appearing in massive walls with hundreds of individuals swimming together.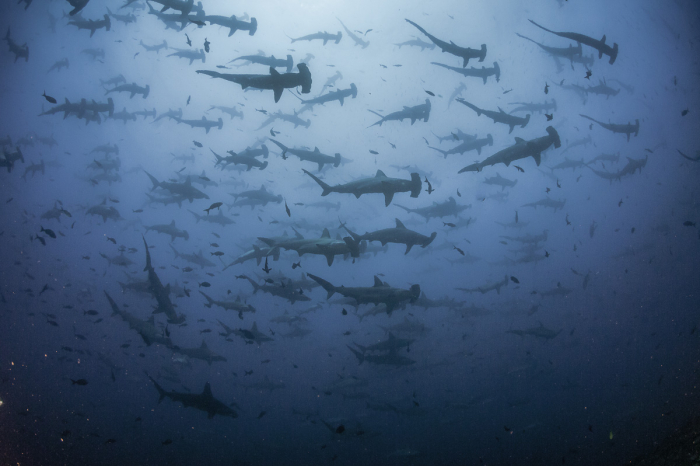 Cocos Island's underwater landscape is barren rock with scattered seamounts where divers are often forced to shelter from powerful open ocean currents and wait for the hammerheads to come in close.
Best time to visit: Plan your Cocos Island adventure between June and November, the region's rainy season, for the best hammerhead encounters!
3. Galapagos
If scuba diving with hammerhead sharks in the Galapagos Islands isn't on your bucket list - it should be! This region is the beating heart of biodiversity on our planet, with over-the-top wildlife encounters absolutely guaranteed. Penguins, marine iguanas, sharks, mantas, seals and sea lions, and mola mola can all be seen here - making for some of the world's most dynamic diving. And, this is the easiest destination in the hammerhead triangle to reach - with liveaboard and day diving options available.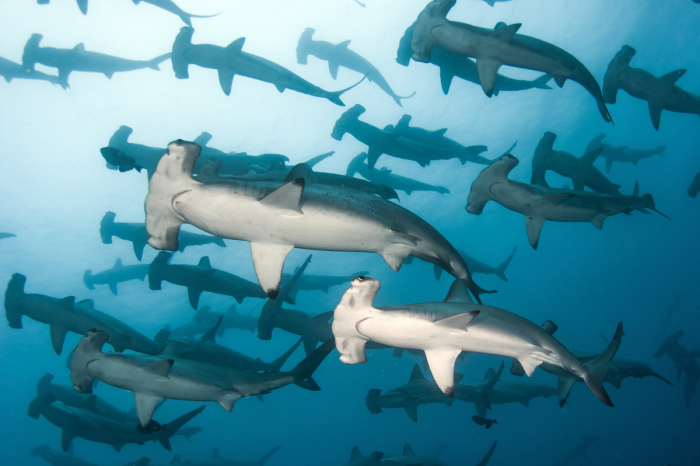 The schools of scalloped hammerheads spotted swimming in the Galapagos are likely larger than anywhere else on planet earth. In fact, sometimes groups over a thousand strong are spotted at legendary sites like Darwin's Arch and Wolf Island. Any time you spot just one shark, look up and around - and who knows how many you might see!
Best time to visit: Though whale shark season, from June through November, is often considered the best time to dive here, visits between January and May offer the best chances for schooling hammerheads.
4. Baja California
Baja California is a bit of a divers' secret, even though it's been on the scuba radar for decades. Once dubbed the "aquarium of the world" by Jacques Cousteau, these are among the planet's most biodiverse waters, home to an incredible variety of species from macro to mighty. And, it's one of the world's best places to spot schooling hammerheads, too!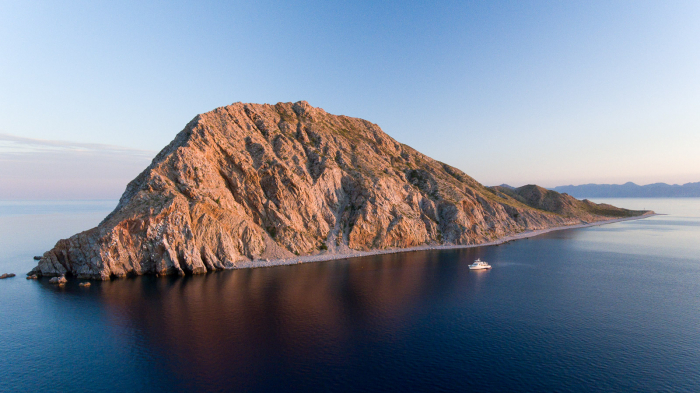 In Baja, schooling scalloped hammerheads are often found congregating around offshore seamounts. If you're diving out of La Paz, head to El Bajo - where the sharks are often seen swimming by the hundreds. Or, if you're diving out of Cabo, take a trip to the Gordo Banks, where schooling hammerheads are joined by manta rays and other supersized wildlife.
Best time to visit: Dive in Baja California between June and November for incredible shark encounters, minus the tourist crowds.
5. The Red Sea
Egypt
Head to Egypt's central and southern regions, especially the waters around Daedalus Reef, for outstanding drift diving, pristine coral reefs, and a chance to spot schooling hammerheads as they pass by in the blue. This diving area is known for its plummeting walls and powerful currents as well, making it an ideal liveaboard diving destination for advanced and adventurous guests.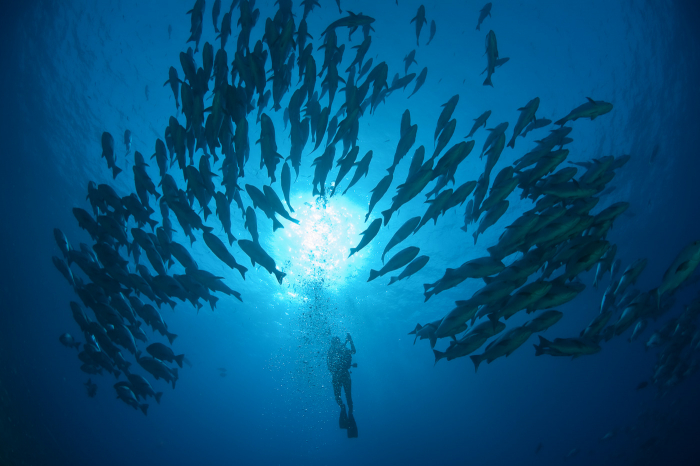 Best time to visit: While Egypt's southern Red Sea can be dived year round, the months from September through November, offer the best balance of weather, dive conditions, and low tourist numbers.
Sudan
As you head further south into Sudan, the diving only becomes more impressive. Once home to Jacques Cousteau's Conshelf experiment, the fantastic biodiversity here has been documented for decades - but few visitors dare to venture this far. For adventurous liveaboard divers, that means plenty of hammerhead action with no other groups around to scare them off.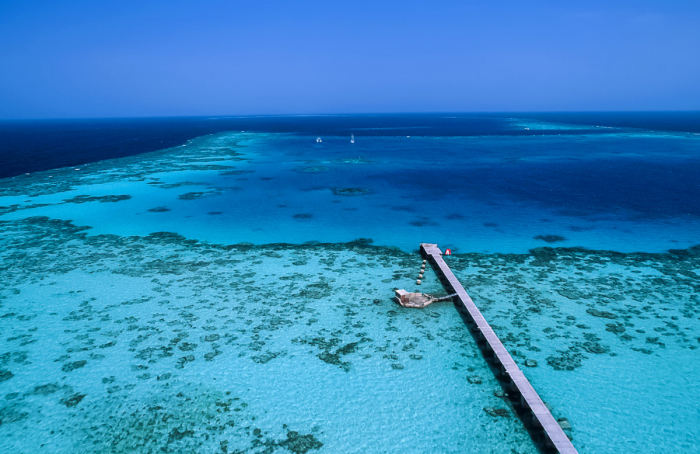 Best time to visit: Like Egypt, diving in Sudan is excellent every month of the year. But, divers in the know prefer to visit between February and July, when hammerhead sightings peak and the weather above water is comfortable.
---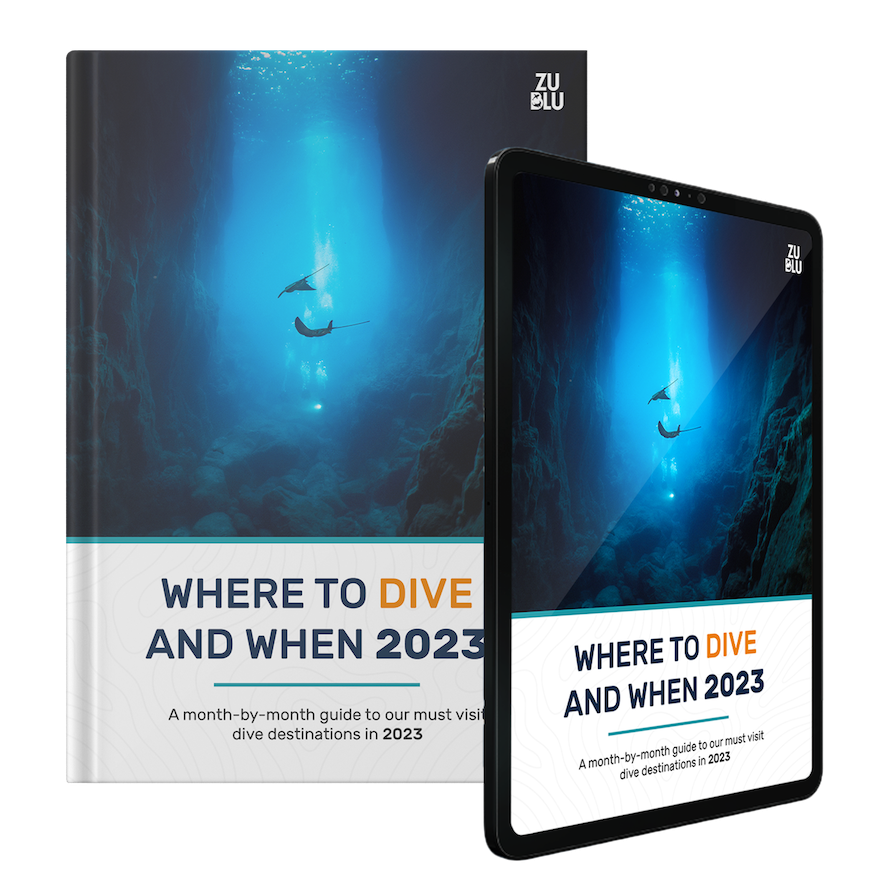 Need some inspiration for your next diving holiday? Download this FREE month-by-month guide to ZuBlu's top diving destinations in 2023.
---
6. Fuvahmulah
Located in the Maldives' deep south, Fuvahmulah is one of the region's most isolated and least visited atolls. This destination's relatively unknown dive sites and off the beaten path atmosphere make it perfect for guests looking to get away from it all. And, with just a handful of visitors making the trek each year, you're likely to have this region's sharkiest sites all to yourself!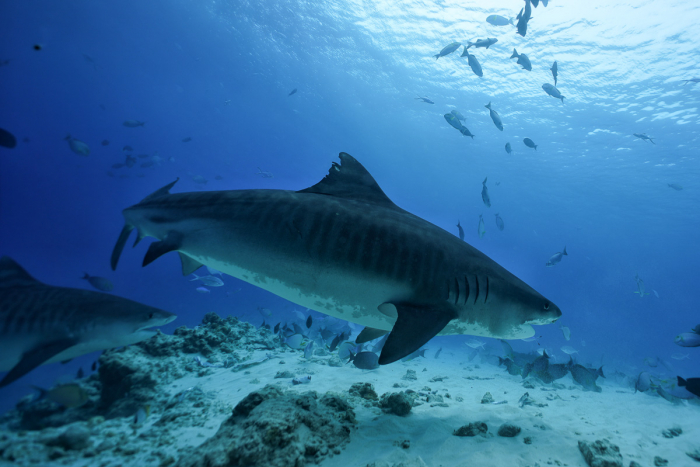 Fuvahmulah is, without a doubt, the best place in the Maldives to dive with sharks. Be sure to keep an eye out in the blue during all of your dives here, as scalloped hammerheads make regular appearances. And, though you're less likely to spot them, great hammerheads can also be found visiting deep water cleaning stations.
Best time to visit: The diving here is excellent all year round, but the months between November and April offer up plenty of big fish action, with plenty of reports of scalloped hammerheads.
7. Layang Layang
If you've never heard of this remote atoll in the South China Sea, don't worry, you aren't alone. Found 300-kilometres from the coast of Borneo, Layang Layang is miles off the typical dive travel map! But, visitors intrepid enough to make the trip will be well rewarded.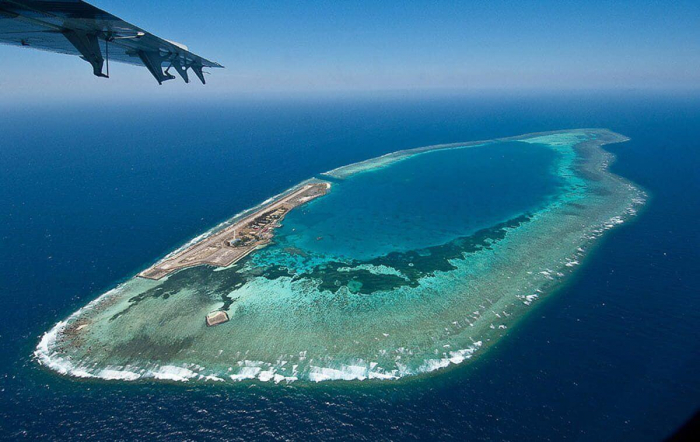 This archipelago is actually part of a larger diving area known as the Borneo Banks, which has remained largely protected from commercial fishing operations thanks to its isolated location. This pristine ecosystem supports numerous seasonal migrations, the most famous of which is a known mating aggregation of hammerheads - with sharks sometimes gathering by the hundreds out in the open ocean. Most dives in search of the sharks are conducted in blue water, with no reef in sight.
Best time to visit: The schooling hammerheads in this region only visit during April and May, with nearly guaranteed sightings during their brief mating season.
8. Banda Sea
The current swept pinnacles and reefs of Indonesia's Banda Sea are home to impressive hard and soft coral cover and staggering biodiversity. Once at the heart of the lucrative global spice trade, these islands boast powerful currents that have been well known and documented for centuries. This, combined with the deepwater basin found in the archipelago's centre, creates the ideal environment for migrating scalloped hammerheads.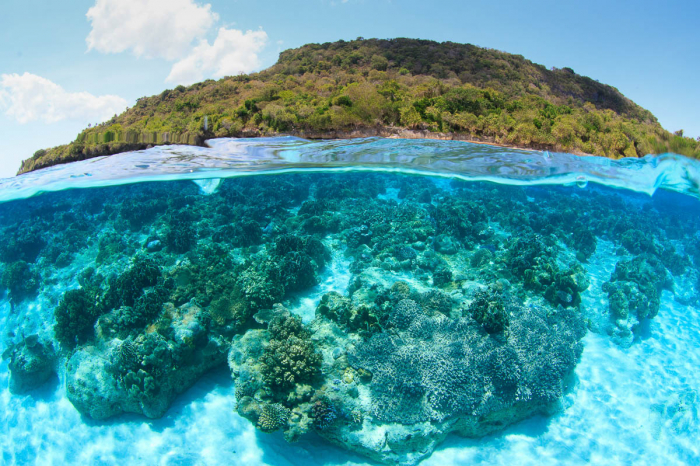 While most divers come here for the sharks, many stay for the outstanding reef diving. Sea snakes, dolphins, mobulas, massive schools of reef fish, and minuscule macro are among the region's other famous residents.
Best time to visit: There are technically two hammerhead seasons in the Banda Sea, one between March and May and the other between September and November. But, most local divers agree that the second season is the best time of year to dive the Banda Sea.
9. Bahamas
The crystal clear waters of the Bahamas are home to a stunning variety of shark species, among them the great hammerhead. And, while there's a chance that you'll spot these graceful apex predators throughout the region, there's no place more reliable than Bimini.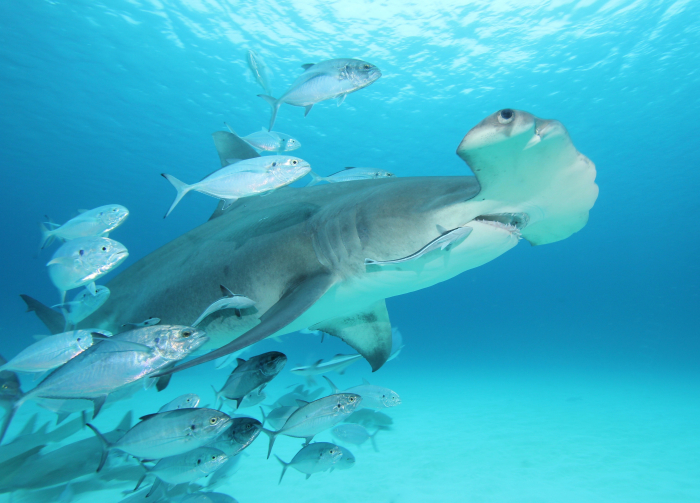 Shark diving in the Bahamas is less reliant on chance encounters than elsewhere in the world, but that doesn't make the encounters any less exhilarating! Divers here will rest in the sand, patiently waiting while professionals set up bait boxes. Then, the sharks slowly start to arrive. During most of these dives, lemon and nurse sharks are the first to arrive on the scene. But, after a few minutes, they are often joined by great hammerheads and even the occasional tiger shark. Because they are searching for food, the sharks come surprisingly close to dive groups, often within a metre or two!
Best time to visit: Dive here between December and April for nearly guaranteed encounters with great hammerheads, sometimes joined by up to five additional shark species.
10. Mikomoto and Yonaguni
If you've never considered Japan as a scuba diving destination, don't feel bad. You aren't the only one missing out! In fact, even the most seasoned underwater explorers likely haven't heard of these small offshore islands.
Mikomoto
Mikomoto is found just southwest of Tokyo, off the southern tip of the Izu Peninsula. Its open sea location, swept by the Kuroshio Current, the second strongest current in the world, makes it a magnet for supersized oceanic wildlife. You'll enjoy drift diving, dynamic underwater landscapes, and walls of hammerheads swimming by in the blue - sometimes with hundreds of individuals forming one massive "shiver".
Best time to visit: Mikomoto Island is easily dived onboard day boats, with most sites less than 15-minutes from the shore. Hammerheads can be seen here all year round, but their season peaks from July through October.
Yonaguni
Yonaguni is Japan's westernmost island, home to a distinct small-town atmosphere and green rolling hills. Below the waves, divers will encounter rocky reefs, open-ocean currents, and pelagics of all kinds, including hammerhead sharks. The island is also home to a mysterious underwater formation - the Yonaguni Monument, which resembles a submerged pyramid.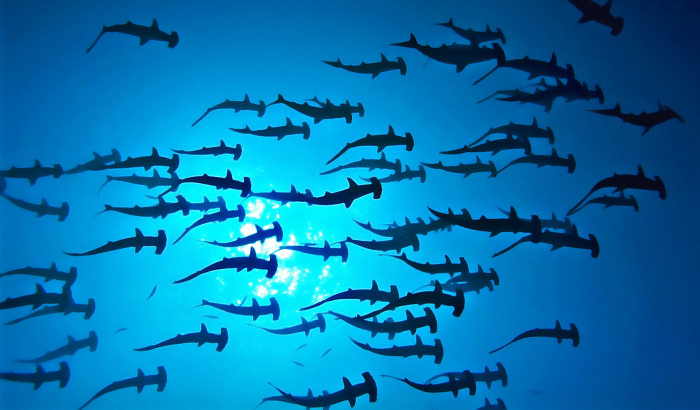 The hammerhead dives at Yonaguni are deep and short, conducted in blue water. You won't have a reef to rely on for reference, so neutral buoyancy is an absolute must. But, the sharks found here are often larger, mature individuals that will boldly approach divers, unlike the large "walls'' of juveniles seen further north in Mikomoto.
Best time to visit: Hammerhead season here overlaps with the windy and peak tourist months between January and March.
---
Keen to finally tick a hammerhead encounter off your bucket-list? Or maybe you already have and can't wait for your next opportunity? Get in touch with our team for some advice. With tons of personal experience, and plenty of expert tips, they'll have you happily diving with hammerheads in no time.
---
---
Join the ZuBlu community to receive the latest insights and unmissable adventures
Don't worry, we'll only send you really good stuff - and we never share your details
---