While the Red Sea is best known for its coral reefs and close encounters with sharks, the region is also home to many exciting shipwrecks. These sunken vessels are a playground for advanced divers, offering endless opportunities for exploration, plus a few spooky stories to get your skin tingling.
Take a trip back in time with wartime relics, discover strange and surprising cargo lost to the depths, and feel your hair stand on end swimming past eerie and intimate items lost at sea. There's a wreck for every diver here - from the legendary Thistlegorm to the remote Umbria.
1. SS Thistlegorm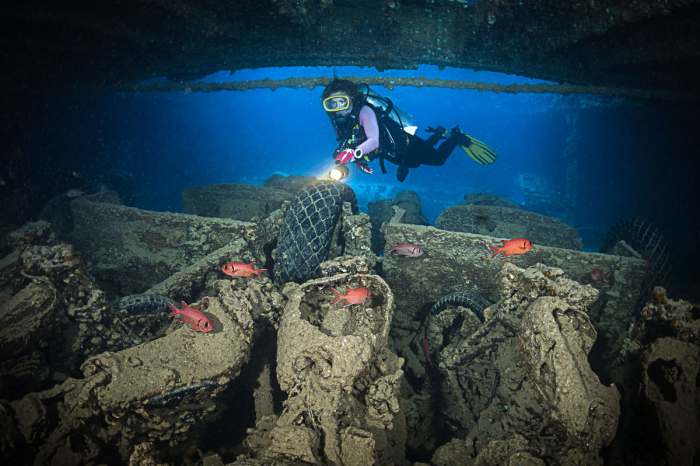 Every Red Sea wrecks map ever written includes Egypt's most famous vessel - the SS Thistlegorm. This British armed Merchant Navy ship sank on October 6, 1941, after suffering extensive damage during a German bombing raid. The Thistlegorm and her cargo then lay undisturbed for years, before being rediscovered by Jacques Cousteau.
Today, the Thistlegorm is without a doubt the Red Sea's most popular and best-known shipwreck, home to incredible WWII artefacts including motorcycles, trucks, rifles, ammunition, military boots, and more. Dives here typically include a tour of the cargo holds, and stop at landmarks like the towering anti-aircraft guns, still pointed and at the ready. 
How to dive here: Diving the Thistlegorm from Hurghada is an easy excursion, usually including three tanks, meals, and a full day at sea.
Best for: This wreck is perfect for practice and confidence building. And, there's plenty to see here without ever going inside!
Pro tip: Dive here early in the day before multiple groups have an opportunity to stir up sediment, reducing visibility inside the wreck.
2. SS Dunraven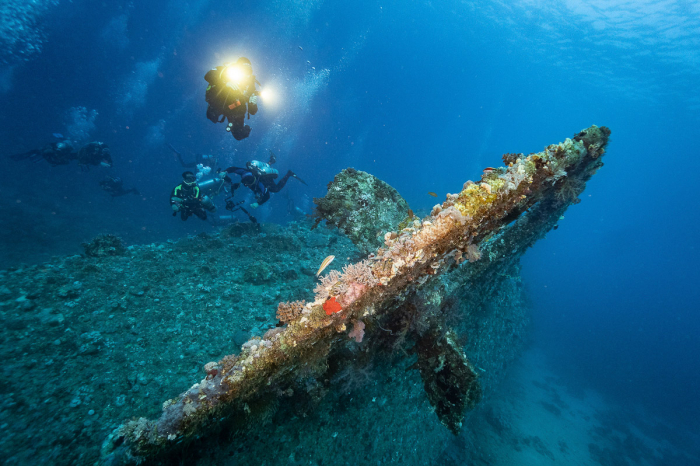 This former British steamship sank in 1876, after running aground on the Beacon Rock reef. The damage caused Dunraven's cargo of cotton and wool to set fire, badly damaging the ship's structure, before finally coming to rest in the shallows. This is one of the best wrecks in the Red Sea to combine wrecks and reefs, with the ship's exterior easily explored alongside colourful coral gardens clouded by fish.
The Dunraven is easy to penetrate, with large holes in the hull and shallow depths making it an excellent practice site for novice wreck enthusiasts. This site is also home to a surprising amount of macro wildlife, making it a top pick for photographers. 
How to dive here: This wreck is easy to reach via a day trip from Hurghada or Sharm el Sheikh.
Best for: This site makes for an excellent underwater classroom, allowing new wreck enthusiasts to safely explore her interior.
Pro tip: Don't forget to pack your macro lens, as exotic nudibranchs and colourful pipefishes are often spotted in her cracks and crevices.
3. Giannis D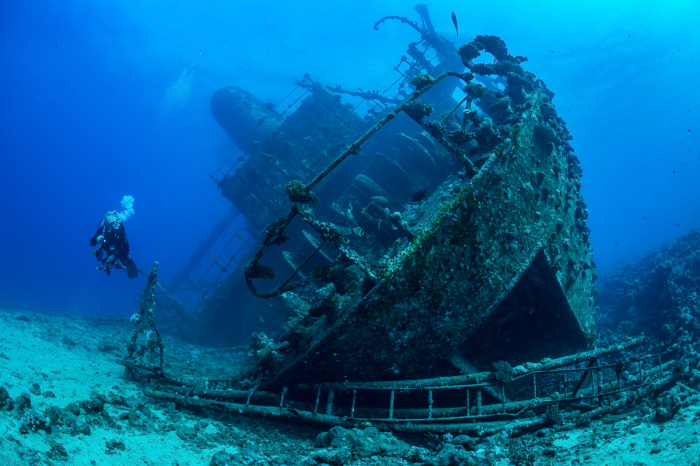 One of the lesser-known wrecks in the Red Sea, the Giannis D offers fascinating exploration, both inside and out, with shallow depths and easygoing conditions. Lying in three large sections, this wreck begins in less than five metres of water with its partially-buried propeller found just beyond 20 metres. So, even Open Water divers can tour her superstructure! Advanced and experienced visitors can head to the engine room - a maze of catwalks and handrails jutting out at odd angles. Make your safety stop alongside her mast, and on a clear day, enjoy a fish's eye view of the entire hulk scattered along the seabed.
How to dive here: The Giannis D is easily accessed via a short boat ride from El Gouna or Hurghada.
Best for: This is a great place to work on your wreck speciality or Advanced Open Water certification, but offers exciting penetration routes for experienced wreck divers.
Pro tip: Combine this dive with the exploration of the three other wrecks found in Abu Nuhas, known as the ship's graveyard.
4. Rosalie Moller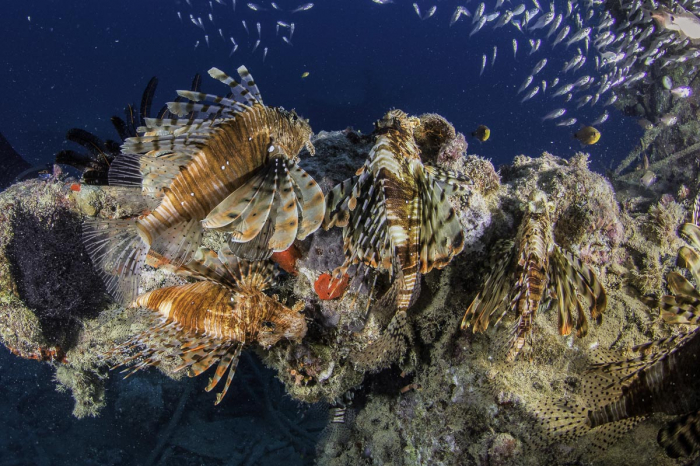 Lying in 55 metres of water, the Rosalie Moller is one of the Red Sea's most interesting shipwrecks for technical exploration. This former cargo ship was sunk by German forces in October of 1941, giving the hull decades to accumulate a dense carpet of hard and soft coral. Now a thriving artificial reef, this deepwater site is also a magnet for pelagics, with reef sharks, tuna, and jacks patrolling the deck.
Because the Rosalie Moller is not accessible to recreational divers, it's one of the region's least visited wrecks. Expect silty conditions and low visibility, allowing wartime relics to slowly come into focus during challenging penetration routes. 

How to dive here: This wreck is challenging to access, and typically visited only via liveaboard and private charter.
Best for: Technical divers with experience and certification for diving beyond 50 metres.
Pro tip: You'll find less WWII artefacts here than the Thistlegorm wreck, thanks to the efforts of numerous salvage operations.
---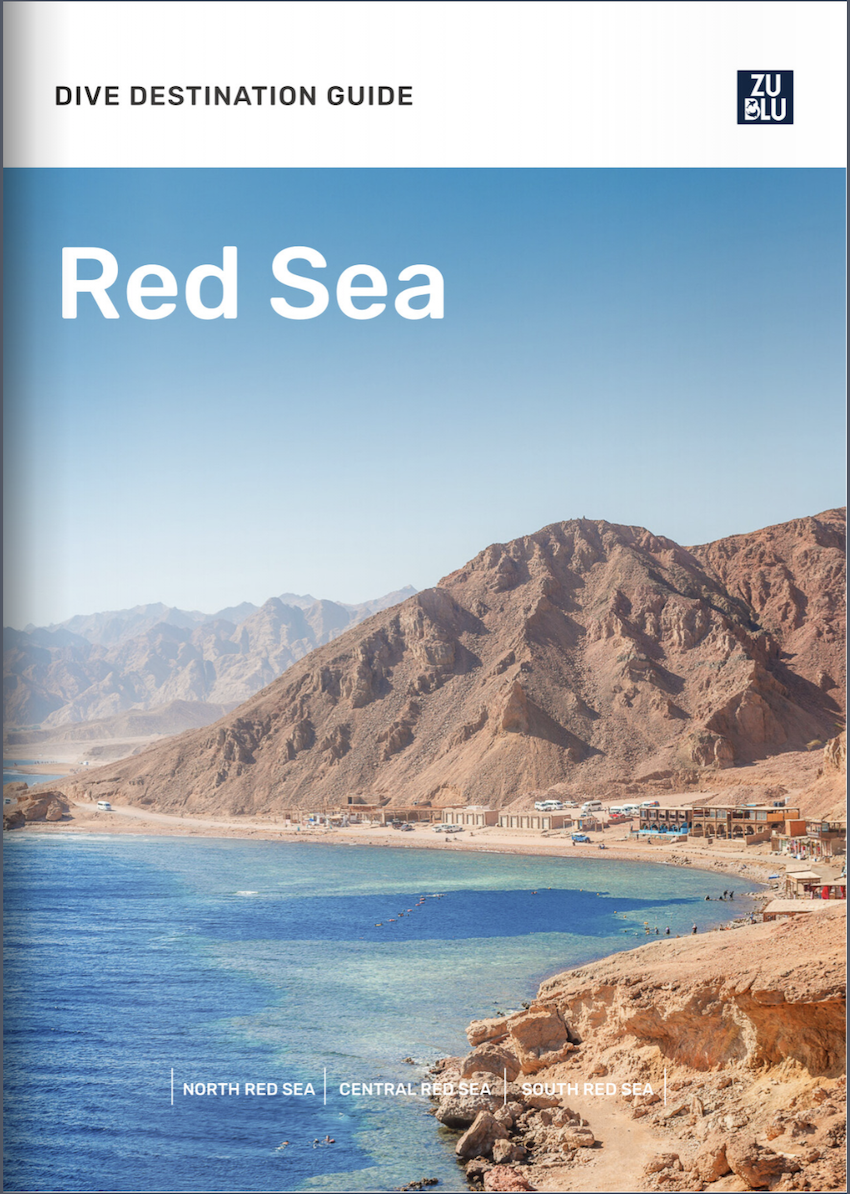 Explore the top wrecks, where to dive, the best seasons and pro tips in this 50 page guide to Egypt and the Red Sea.
---
5. Kingston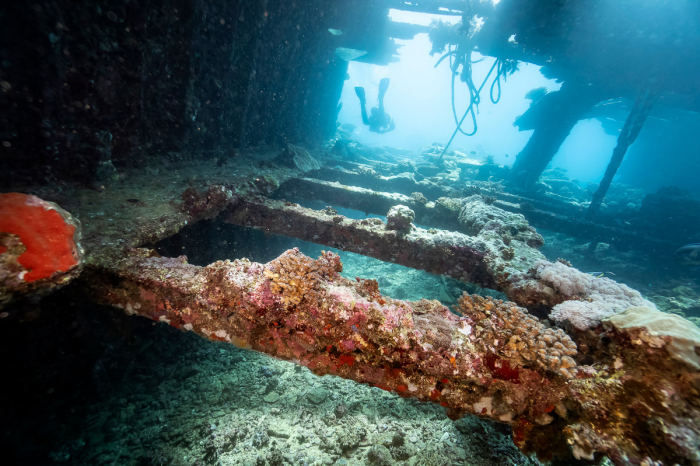 This steamship wrecked on Shag Rock Reef in 1881, running aground in shallow water. Today, she lies at depths ranging from 10 to 20 metres, making her a perfect stop for your second tank of the day - after exploring legendary Shag Rock. With over 100 years underwater, her hull has been totally transformed into a living reef, boasting incredible coral gardens and abundant marine life. The Kingston easily makes the list for top wrecks in the Red Sea.
This is a great place to spot sea turtles and schooling anthias, plus pint-sized finds like nudibranchs. Because this wreck sits almost entirely upright, she makes for an excellent orientation dive - perfect for wreck speciality and open water students. 
How to dive here: Your best bet for diving here is a Northern Red Sea liveaboard itinerary.
Best for: Divers of all skill and certification levels, with calm currents and excellent visibility.
Pro tip: Spend your safety stop enjoying a view of this wreck and Shag Rock Reef, one of the region's most colourful coral expanses.
6. SS Carnatic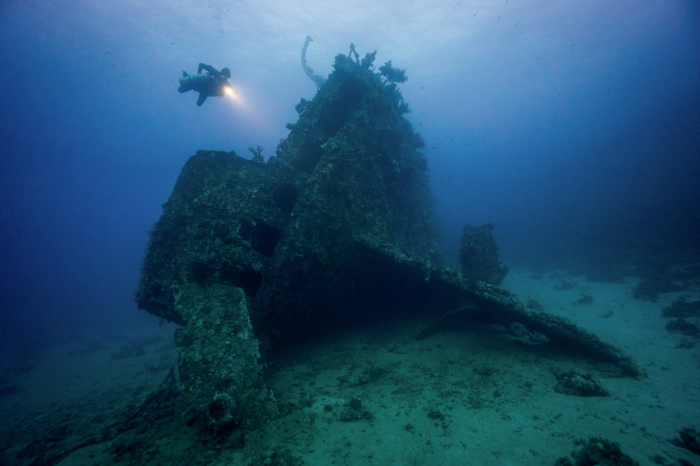 Part of the ship's graveyard at Abu Nuhas reef, the Carnatic ran aground in 1869, making it the region's oldest wreck. With over a century at depth, the Carnatic has been reduced to a skeleton of its former self, with each of the hull's exposed ribs completely encrusted in hard and soft coral.
Swim through this maze of beams for a chance to spot schooling glassfish, cool macro creatures like nudibranchs, and shattered wine bottles - all that's left of its original cargo. The Carnatic is shrouded in mystery, with local legends of unsalvaged gold and copper, and a curse on anyone who disturbs this lost treasure.
How to dive here: Abu Nuhas is easy to reach via a day trip from El Gouna or Hurghada.
Best for: While you can go inside this wreck, it is not technically a penetration dive, making it suitable for Advanced Open Water divers.
Pro tip: This wreck's interesting remains and light-filled labyrinth of columns make for especially attractive underwater photographs.
Learn more about the best diving in Egypt's Northern Red Sea region!
7. Salem Express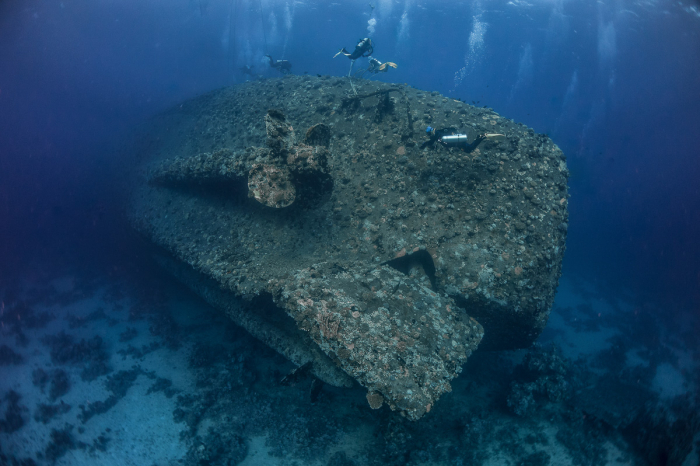 The Salem Express has earned a reputation as one of the world's most poignant dives and a controversial addition to our list of best wrecks in the Red Sea. This passenger ship ran aground in 1991, claiming the lives of hundreds of pilgrims returning from Jeddah in Saudi Arabia. Salem Express diving feels like a trip to hallowed ground, with passengers' personal items littering the hallways, cabins, and surrounding seafloor. The wreck's internal passageways have been sealed shut, closed to divers out of respect for the huge loss of life. Lying in twelve to 30 metres of water, divers of all skill levels can explore this emotional maritime tomb. 
How to dive here: You can dive the Salem Express on a day trip from Hurghada or from Safaga.
Best for: Wreck divers and underwater photographers of all skill and certification levels.
Pro tip: Take your time to absorb this wreck's most haunting highlights including stacked suitcases, a television, and child-sized bicycle
8. Aida
Embedded in the sloping reef of Big Brother Island, the Aida is a highlight for Southern Red Sea wreck diving. Because she lies at an extreme angle, ranging from 25 to 60 metres, she appeals to traditional and technical divers – with stunning coral cover extending well beyond the recreational diving limits. Because of the challenging diving conditions here, with powerful open ocean currents, you'll likely tour this wreck's exterior as part of a fast-paced drift dive. So, don't plan to stick around for too long or penetrate her interior. While exploring this wreck's hull, keep an eye out in the blue - rare pelagics like oceanic whitetips are sometimes spotted here.
How to dive here: The legendary Brothers Islands are typically visited as part of a Central Red Sea liveaboard itinerary.
Best for: Advanced and adventurous divers with experience in a strong current.
Pro tip: You'll need to charter a private vessel if you're hoping to spend more time taking in this wreck's details.
If you're still left wanting more, the Red Sea is home to countless more shipwrecks open for exploration. Search strange scattered cargo including tiles and toilets at less famous sites like the Yolanda wreck and the MV Marcus. Or, take the plunge at current-swept sites like the Ulysses and Numidia. We predict that Egypt's Red Sea will be one of 2021's hottest dive destinations - and these stunning wrecks are just the icing on the cake!
Ready to start planning your trip to Egypt's Red Sea?
Search, compare and book from our hand selected liveaboards in the Red Sea
9. Umbria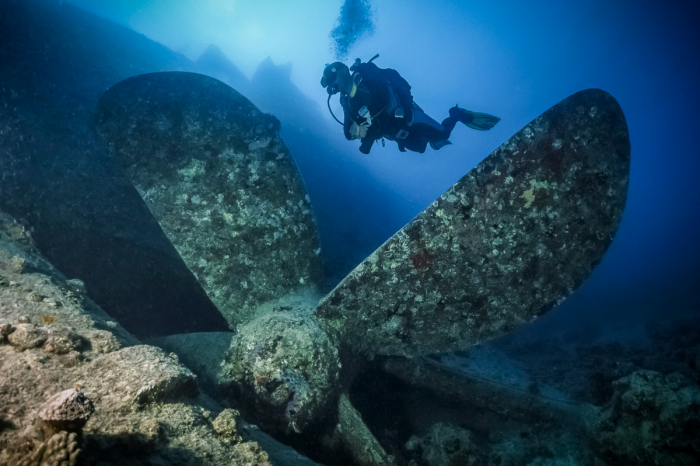 Rightly considered one of the world's best wreck dives, this 155-metre Italian war supply vessel was scuttled by its captain to avoid the cargo of munitions entering enemy hands. The Umbria now lies on its port side, at a depth of around 38-metres, and stretches up towards the surface. Almost entirely intact, this vessel provides a variety of opportunities for exploration. Divers can even enter the hull and glimpse the various bombs, detonators, and other munitions, as well as the cargo of Fiat 1100 Lunga trucks, specifically designed for off-road use in the Italian colonies of the era. As well as the cargo, the wreck is encrusted with hard corals, and adorned with sponges, feather stars, and more.
How to dive here - Located close to the entrance of port Sudan, this wreck is incredibly easy to access, with just a short boat trip required.
Best for - Intermediate to advanced divers can make full use of this incredible experience.
Pro tip - Experienced wreck divers can access the entirety of the ship including the engine room and bakery.
Want to explore Sudan's Red Sea?
Search, compare and book from liveaboards in Sudan
10. MV Priamos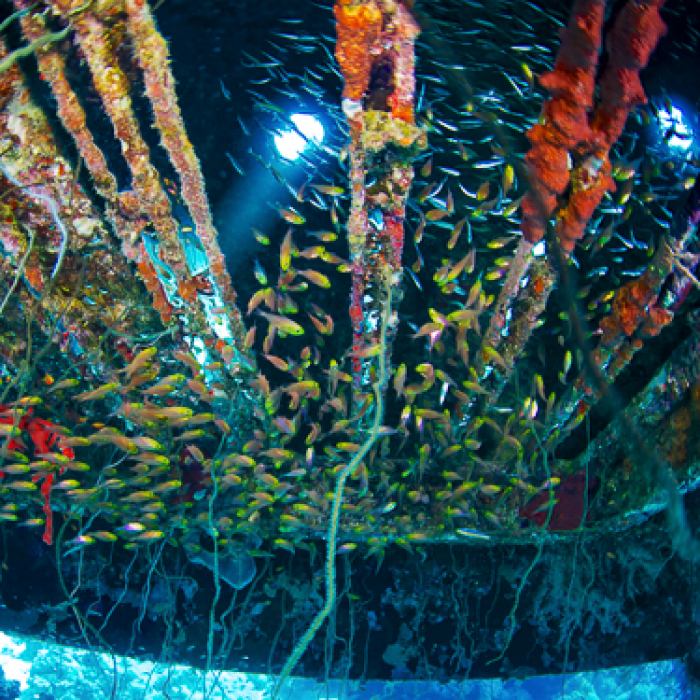 This wreck goes by several names - MV Priamos, Le Faon, Orchard Reefer, and occasionally, even just Banana Boat. No matter the name, this vessel delivers exceptional underwater experiences that rivals the wrecks of Egypt and Sudan. Measuring 120-metres long and lying at a depth of 27-metres off Moucha Island, this wreck is heavily carpeted with a variety of coral and swarmed by schools of fish. Leaning on its port side, a large crack in the hull allows divers to navigate from the deck to the keel with ease, exploring both sides of this impressive wreck. 
How to dive here - Day trips are offered from Djibouti's capital city, or you can stay at the hotel located on Moucha Island itself.
Best for - Visibility is low due to the high plankton content so this wreck is best suited for intermediate and advanced divers.
Want to explore Sudan's Red Sea?Pro tip - This wreck is often confused with the SS Archon Raphael, but they are actually two different vessels.
Want to explore Djibouti's Red Sea?
Search, compare and book from liveaboards in Djibouti
---
And, if you're still left wanting more, the Red Sea is home to countless more shipwrecks open for exploration. Search strange scattered cargo including tiles and toilets at less famous sites like the Yolanda wreck and the MV Marcus. Or, take the plunge at current-swept sites like the Ulysses and Numidia. 
---
---
Join the ZuBlu community to receive the latest insights and unmissable adventures
Don't worry, we'll only send you really good stuff - and we never share your details
---