Unless you've been living under a rock, you've probably heard about the legendary scuba diving found in Komodo National Park. This is one of the wildest destinations on earth, boasting a spectacular island landscape patrolled by real-life dragons. And, beneath the surface, divers will find powerful currents, breathtaking coral gardens, and incredible marine life such as manta rays.
Read on and learn all about why a liveaboard is the perfect choice to explore Komodo, up-to-date tips for finding your best boat, and which route suits your skill and comfort level. 
Whether you're new to the world of liveaboard diving or a seasoned pro – we've got you covered!
Why Komodo's geography is ideal for liveaboard diving
One of the keys to Komodo's fabulous biodiversity is its location between two major bodies of water – the Pacific Ocean to the north, and the Indian Ocean to the south. The currents that flow between the two converge around Flores Island, in a nutrient-rich blend that breathes life into the region, fuelling spectacular coral reefs and supporting marine creatures of all shapes and sizes.
The other major factor when it comes to Komodo's incredible underwater wildlife is its position at the heart of Southeast Asia's Coral Triangle. This massive area is known as one of the planet's most biodiverse regions, home to thousands of species of fish and coral, as well as rare marine mammals and reptiles. In fact, Komodo National Park is home to over 1,000 different types of tropical fish, 260 species of coral, and endangered animals including dugongs.
Divers can expect to explore plummeting walls, current-swept pinnacles, and light-filled coral gardens. But, the park's coral channels are the real highlight. These submerged formations were etched into the reef by thousands of years of fast-moving water, creating current-fed funnels where manta rays are known to feed and frolic.
Other than scuba diving, Komodo's number one attraction is its population of namesake dragons. These massive monitor lizards can reach a maximum length of three metres, and an astonishing weight of 70 kilograms, making them Indonesia's most powerful predator. Other fascinating above-water attractions include one of the planet's only pink beaches, as well as one of the world's most famous scenic lookouts over Padar Island.
Exploring this region by liveaboard gives guests the power to choose what they see and where, focusing on specific conditions and wildlife in different parts of the park. This is also the only way to explore much of this massive geographic region without dedicating your precious holiday time to long boat rides.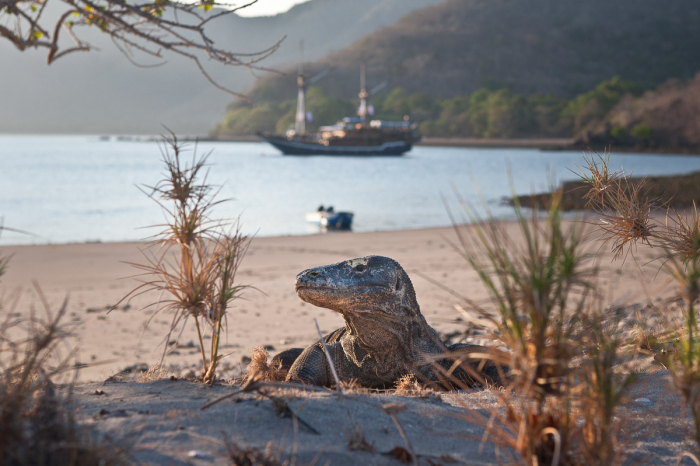 Ready to book your liveaboard trip to Komodo?
Browse our partner liveaboards in Komodo
Liveaboards allow divers find the best conditions
Komodo's currents are legendary among divers and these fast-moving waters treat adventurous guests to Indonesia's wildest drift dives, and encounters with plenty of marine life! Each day, tides are forced through a series of channels connecting the Flores Sea to the Sumba Strait, and eventually the Savu Sea. As this water is squeezed between the islands in Komodo National Park, it gains speed and power, creating underwater conditions that range from exciting to extreme – with some areas out of bounds for beginners as a result.
Generally speaking, the stronger the current, the more big fish it will attract, making Komodo an obvious choice for encounters with all kinds of large species, including manta rays, sharks, trevally, tuna, and more. Thankfully, multi-day dive safaris in Komodo offer the freedom to follow the current, dropping divers in the ideal place to enjoy a fast-paced drift packed with pelagics like sharks and rays.
Diving north and south Komodo from a liveaboard
Komodo National Park's 50 plus world-class dive sites can be roughly divided into north and south, with different conditions and distinct diving in both areas. And, if you book a liveaboard trip at the right time of year, you can see it all in one trip!

North Komodo diving
Welcome to one of Indonesia's most stunning undersea environments, boasting warm, clear water and kaleidoscopic coral gardens. Sheltered from the cold upwellings of the south, divers here will spend their time exploring current-swept channels and reefs known for their big fish action – with reef sharks, giant trevally, and tuna buzzing past in the blue. Famous sites such as Castle Rock and Shotgun feature ripping currents that can present a challenge for even the most experienced of divers. But, the region is home to more moderate options as well, suitable for intermediate skill levels. And, a handful of sites including Karang Makassar even host gatherings of manta rays when the conditions are just right!

South Komodo diving
Are you ready for manta madness? Komodo's southern waters are colder and murkier than the north, but these chilly, nutrient-packed upwellings are the reason for all the incredible filter-feeding action in this part of the park. You can also expect different underwater topography, with macro-packed reef slopes, cleaning stations, and rocky outcroppings encrusted in soft corals, sea fans, and sponges. No visit to the south is complete without diving Manta Alley – arguably Komodo's best-known site thanks to its nearly guaranteed encounters.
South Komodo is also home to the legendary above-water attractions of Padar and Rinca – with Komodo dragon trekking, a pink-sand beach, and one of Indonesia's most famous scenic lookout points.
---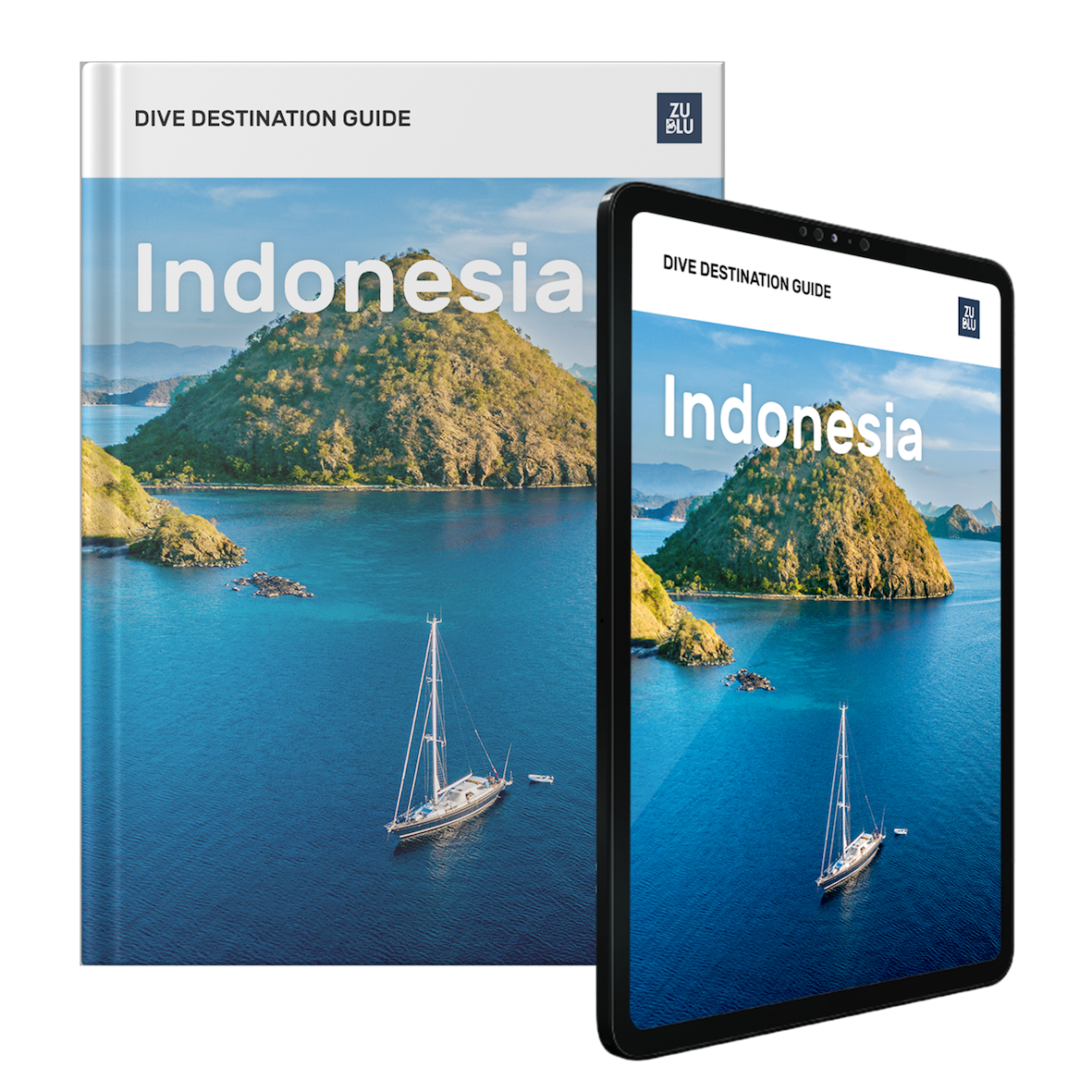 Discover the secrets of Indonesia in this FREE 150+ page scuba dive destination guide. Read online or download today and let us inspire your next diving holiday.
---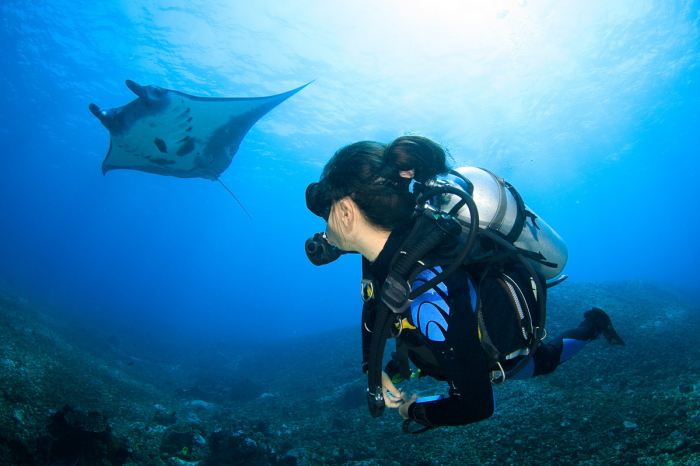 Choosing the right liveaboard route in Komodo
If what you've just read sounds tempting, your next step is selecting the ideal Komodo liveaboard diving itinerary. But to do that, you need to decide on what you want to see, and when you plan to visit.
Liveaboards operate in Komodo throughout the year, with a dramatic influx of operators between April and October, as vessels arrive from Raja Ampat. North Komodo is sheltered from adverse conditions and can be dived year round as a result. The south, however, is prone to rough seas during Komodo's peak liveaboard season, and is at its best between October and December. Almost all liveaboard itineraries will visit the southern sites at this time.
Most liveaboard routes will focus on either the north or south of Komodo, but itineraries will usually also incorporate time in the central region at the start or end of each trip. This gives guests the opportunity to choose which highlights from the north or south they hope to experience, plus a chance to dive at the legendary central sites. Big names in this area include Karang Makassar, Tatawa Besar, and Batu Bolong, where marine life ranges from pygmy seahorses and colourful nudibranchs to mighty manta rays and rare dugongs.
The advantages of diving in Komodo from a liveaboard
Komodo National Park spans a vast geographic area of over 1,730 square kilometres. Adventurous guests can explore over 50 dive sites around the park's major islands – Komodo, Padar, and Rinca – as well as 26 smaller islets that make up the region. And, new sites are still being discovered in far-flung regions like west Komodo!
Booking a multi-day liveaboard dive safari is the only way to take full advantage of this region's remote and hard to reach diving areas and explore all the park has to offer! And, you're likely to get more dives in, as well. Most boats average three to four dives a day in this area, maximising your opportunities to master drift diving, swim alongside manta rays, and search for interesting macro species.
Other big benefits to exploring Komodo by liveaboard include a smaller and more intimate setting than most resorts, allowing for more one-on-one time with instructors and guides. You'll also have the advantage of beating the "day boats" to some of the most popular sites which can become crowded during peak season.
Liveaboard diving offers a straightforward all-inclusive setting, with three or more meals, plus coffee, tea, and snacks. Most boats offer multiple lounge areas with indoor and outdoor options – ideal for rest and relaxation during your surface intervals. Lastly, dive safaris are a great way to get to know fellow divers. Whether it's sipping coffee before an early morning dive or comparing the day's best photographs during dinner, you're likely to enjoy the company of fun and friendly explorers from all over the world during your trip. This is an ideal environment for learning more about the sport, making new friends and dive buddies, and getting inspiration for your next adventure.
---
Looking for a liveaboard diving holiday exploring Komodo?
Our expert team can help you find your ideal liveaboard experience!

---