Unless you've been living under a rock, you've probably heard about the legendary scuba diving found in Komodo National Park. This is one of the wildest destinations on earth, boasting powerful currents, breathtaking coral gardens, incredible marine life including manta rays, and a spectacular island landscape above water - patrolled by real-life dragons!
Read on and learn all about Komodo's underwater attractions, and essential information on why a liveaboard is the perfect choice, up-to-date tips for finding your best boat, and which route suits your skill and comfort level. Whether you're new to the world of liveaboard diving or a seasoned pro - we've got you covered!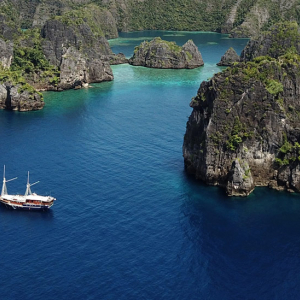 Recommended insight
The ultimate guide to liveaboard diving in 2023
Everything you need to know about liveaboard dive holidays, what to consider when booking a dive safari, and the best liveaboard dive destinations in the world!
Geography, location, and landscapes
One of the keys to Komodo's fabulous biodiversity and famously fast-paced currents is its location between two major bodies of water - the Pacific Ocean to the north, and the Indian Ocean to the south. The currents that flow between the two converge around Flores Island, in a nutrient-rich blend that breathes life into the region, fueling spectacular coral reefs and supporting marine creatures of all shapes and sizes.
The other major factor when it comes to Komodo's incredible underwater wildlife is its position at the heart of Southeast Asia's Coral Triangle. This massive geographic region is known as one of the planet's most prolific, host to thousands of species of fish and coral, as well as rare marine mammals and reptiles. In fact, Komodo National Park is home to over 1,000 different types of tropical fish, 260 species of coral, and endangered animals including dugong.
Other than scuba diving, Komodo's number one attraction is its population of namesake dragons. These massive monitor lizards can reach a maximum length of 3 metres, and an astonishing weight of 70 kilograms, making them Indonesia's most powerful predator. Other fascinating above-water attractions include one of the planet's only pink beaches, as well as one of the world's most famous scenic lookouts over Padar Island.
Below water, Komodo's landscape is just as impressive. Divers can expect to explore plummeting walls, current-swept pinnacles, and light-filled coral gardens. But, the park's coral channels are the real highlight. These submerged formations were etched into the reef by thousands of years of fast-moving water, creating current-fed funnels where manta rays are known to feed and frolic.
Exploring this region by liveaboard gives guests the power to choose what they see and where, focusing on specific conditions and wildlife in different parts of the park. This is also the only way to explore much of this massive geographic region without dedicating your precious holiday time to long boat rides.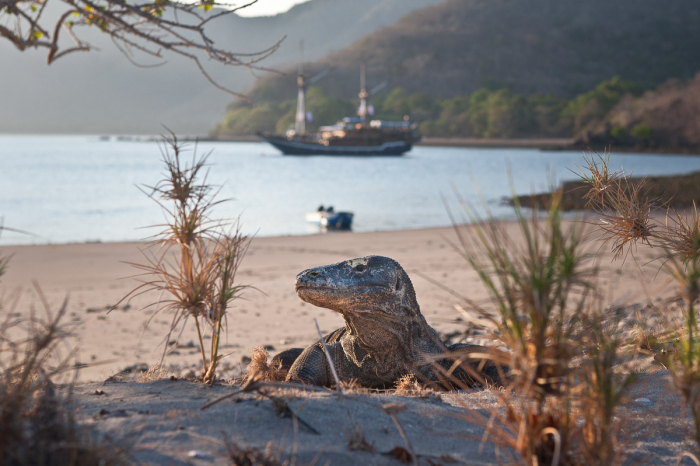 Go with the currents
Komodo's currents are legendary among divers and these fast-moving waters treat adventurous guests to Indonesia's wildest drift dives, and encounters with plenty of marine life!
Komodo's currents are so intense because of the location and shape of the islands that force each day's tides through a series of channels connecting the Flores Sea to the Sumba Strait, and eventually the Savu Sea. As this water is squeezed between islands it gains speed and power, creating underwater conditions that range from exciting to extreme - with some areas out of bounds for beginners as a result.
Generally speaking, the stronger the current, the more big fish it will attract, making Komodo the obvious choice for encounters with all kinds of megafauna, including manta rays, sharks, trevally, tuna, and more. And with their extended itineraries, liveaboards in Komodo are perfect for adrenaline junkies and fans of high-speed underwater adventure and marine life encounters. These multi-day safaris offer the freedom to follow the current, dropping divers in the ideal place to enjoy a fast-paced drift packed with pelagics like sharks and rays.
Two parks in one
Komodo National Park's 50 plus world-class dive sites can be roughly divided into north and south, with different conditions and distinct diving in both areas. And if you book a liveaboard trip at the right time of year, you can see it all in one trip!
North Komodo diving
Welcome to one of Indonesia's most stunning undersea environments, boasting warm, clear water and kaleidoscopic coral gardens. Sheltered from the cold upwellings of the south, divers here will spend their time exploring current-swept channels and reefs known for their big fish action - with reef sharks, giant trevally, and tuna buzzing past in the blue. Famous sites such as Castle Rock and Shotgun feature ripping currents that can present a challenge for even the most experienced of divers. But, the region is home to more moderate options as well, suitable for intermediate skill levels. And, a handful of sites including Karang Makassar even host gatherings of manta rays when the conditions are just right!
South Komodo Diving
Are you ready for manta madness? Komodo's southern waters are colder and murkier than the north, but these chilly, nutrient-packed upwellings are the reason for all the incredible filter-feeding action in this part of the park. You can also expect different underwater topography, with macro-packed reef slopes, cleaning stations, and rocky outcroppings encrusted in soft corals, sea fans, and sponges. No visit to the south is complete without diving Manta Alley - arguably Komodo's best-known site thanks to its nearly guaranteed encounters.
South Komodo is also home to the legendary above-water attractions of Padar and Rinca - with Komodo dragon trekking, a pink-sand beach, and one of Indonesia's most famous scenic lookout points.
---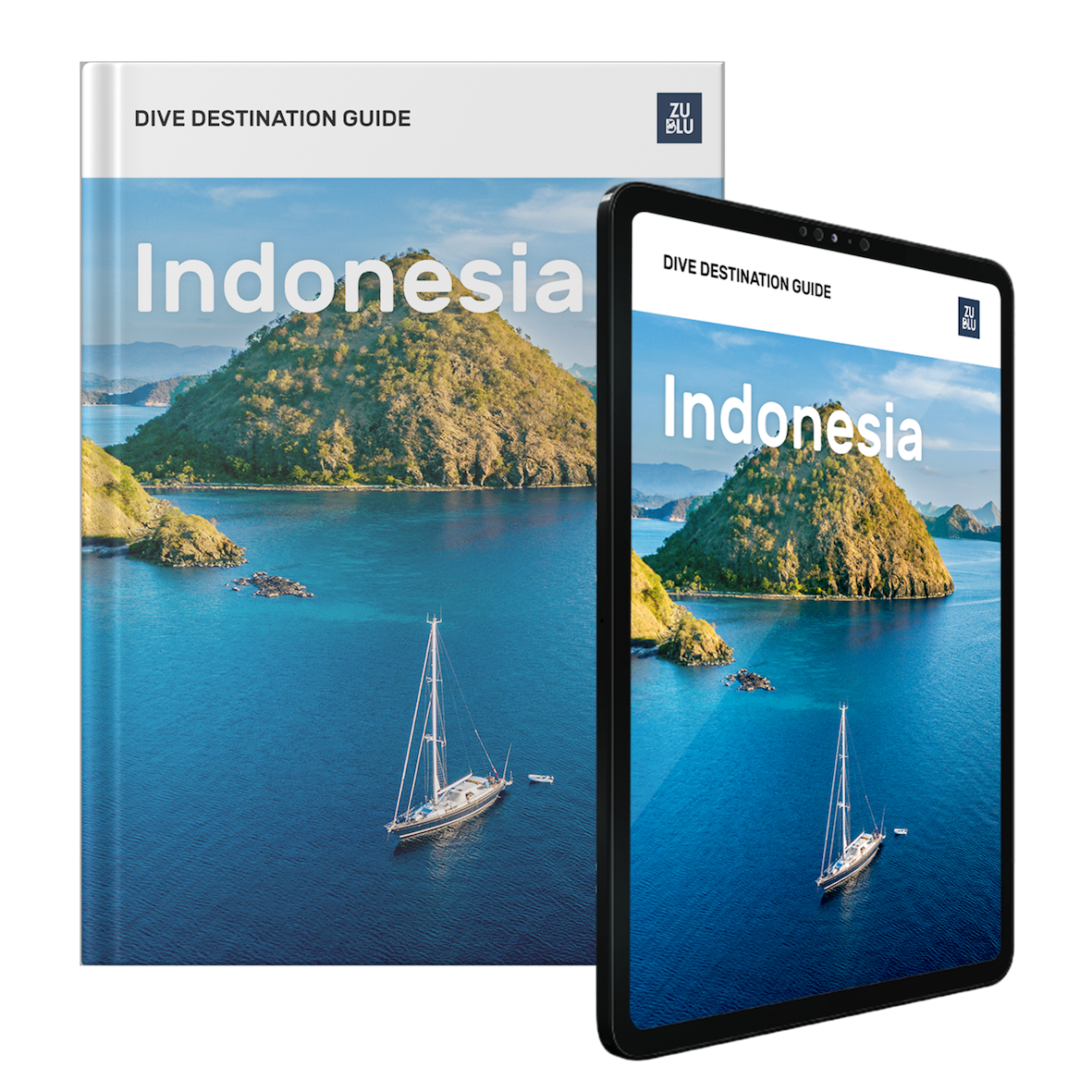 Discover the secrets of Indonesia in this FREE 150+ page scuba dive destination guide. Read online or download today and let us inspire your next diving holiday.
---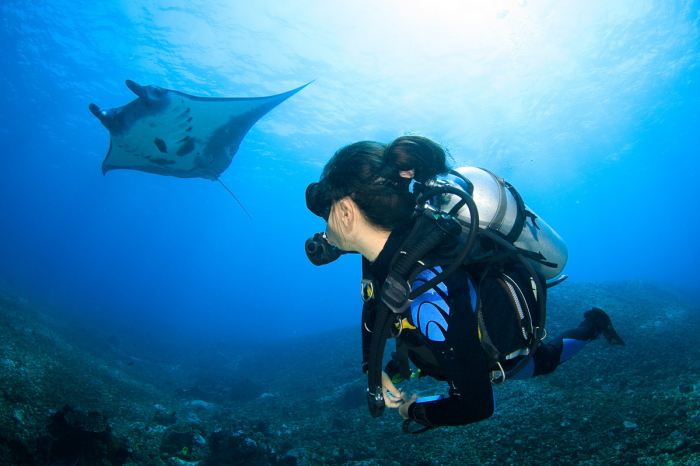 The right liveaboard route in Komodo
If what you've just read sounds tempting, your next step is selecting the ideal Komodo liveaboard diving itinerary. And to do that you need to decide on what you want to see, and when you plan to visit.
Komodo has two seasons - wet and dry. The rainy season runs from January to April, and the dry season runs from April to December, with monsoon winds during June, July and August. During these windy months, southern Komodo is prone to rough seas and challenging surface conditions, access becomes difficult and this part of the park all but shuts down.
From October to December, nearly all of the diving in Komodo focuses on the south. During these months, water temperatures drop, and conditions are at their very best. North Komodo can be dived year round, thanks to its shelter from rough seas. 
Most liveaboard routes focus on either northern and central or southern and central Komodo. This gives guests the opportunity to choose which highlights from the north or south they hope to experience. Plus, a chance to dive at legendary central sites like Karang Makassar, Tatawa Besar, and Batu Bolong - where encounters with sea life ranging from pygmy seahorses and colourful nudibranchs to mighty manta rays and rare dugongs are possible!
Benefits of a liveaboard in Komodo
Komodo National Park spans a vast geographic area - over 1,730 square kilometres. Adventurous guests can explore over 50 dive sites around the park's major islands - Komodo, Padar, and Rinca - as well as 26 smaller islets that make up the region. And, new sites are still being discovered in far-flung regions like West Komodo!
Booking a multi-day liveaboard diving safari is the only way to take full advantage of this region's remote and hard to reach diving areas and explore all the park has to offer! And, you're likely to get more dives in, as well. Most boats average three to four dives a day in this area, maximizing your opportunities to master drift diving, swim alongside manta rays, and search for interesting macros species.
Other big benefits to exploring Komodo by liveaboard include a smaller and more intimate setting than most resorts, allowing for more one-on-one time with instructors and guides. You'll also have the advantage of beating the "day boats" to some of the most popular sites which can become crowded during peak season.
Liveaboard diving offers a straightforward all-inclusive setting, with three or more meals, plus coffee, tea, and snacks. Most boats offer multiple lounge areas with indoor and outdoor options - ideal for rest and relaxation during your surface intervals. Lastly, your safari at sea will include opportunities to get to know your fellow divers. Whether it's sipping coffee before an early morning dive or comparing the day's best photographs during dinner, you're likely to enjoy the company of fun and friendly explorers from all over the world during your trip. This is an ideal environment for learning more about the sport, making new friends and dive buddies, and getting inspiration for your next adventure!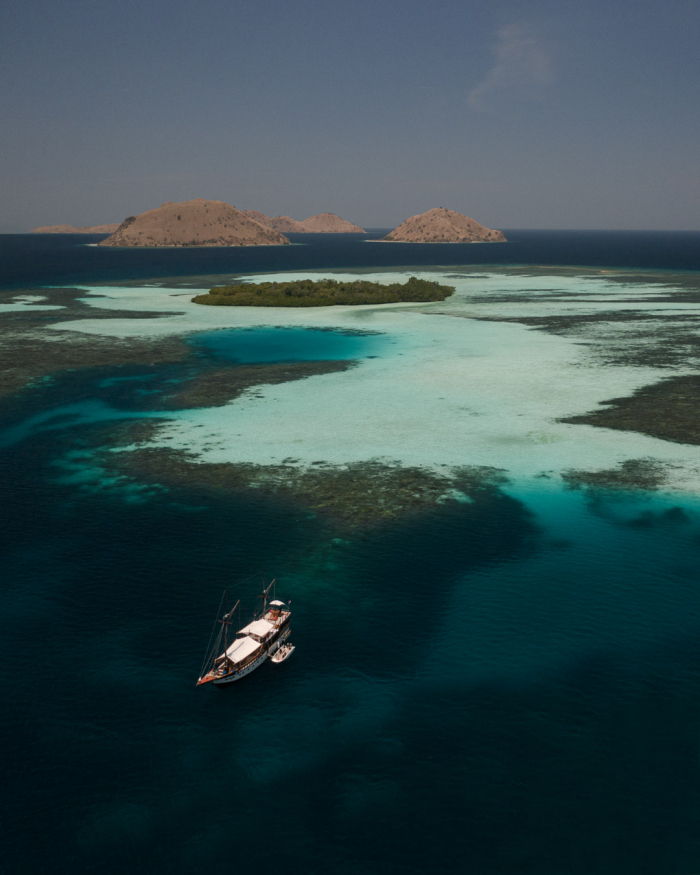 The best liveaboard dive boats in Komodo
Which boat is best for you? If you're trying to narrow down the options, relax. There's no need to read hundreds of boat reviews or research for hours. Here come our top picks for the very best liveaboard dive boats in Komodo - with options for divers of all stripes!
Best for couples and wellness - Scubaspa Zen
Are you hoping to blend adventure, romance, and relaxation during your Komodo dive holiday? If so, Scubaspa Zen might be your best boat This luxurious partner of the legendary Scubaspa Yin and Yang in the Maldives specialises in an indulgent escape from the everyday, with brand new facilities and sublime services at every turn.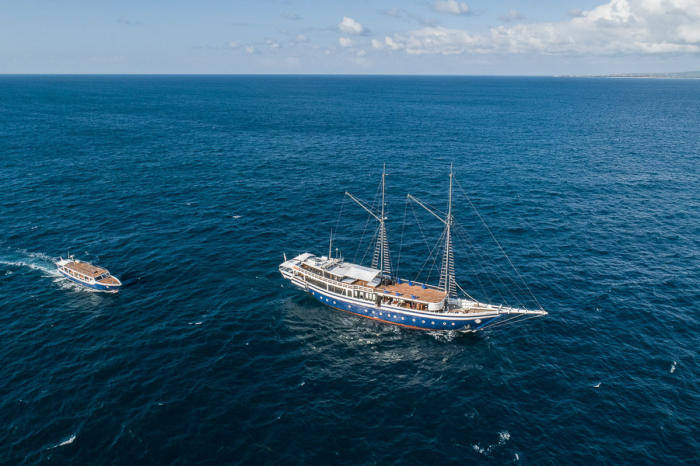 Scubaspa Zen feels more like a floating five-star resort than a boat, boasting creative gourmet cuisine, daily yoga and wellness offerings, exceptional spa services, and water sports of all kinds. Plus, stunning itineraries, outstanding amenities for divers and photographers, and unparalleled personal service from a highly-trained international team.
Best for photographers - Blue Manta
Planning to capture your incredible Komodo diving experiences on film? Blue Manta has some of Komodo's best facilities for underwater photographers, easily competing with land-based resorts.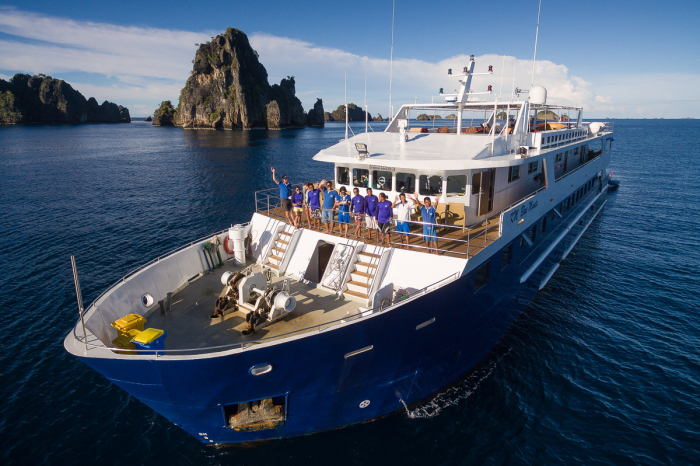 Guests aboard this spacious and modern motor yacht will enjoy an incredible selection of itineraries combining northern and southern Komodo with the world-class muck diving of Maumere. These fully photo-supported safaris feature small dive groups, with a maximum of four guests per eagle-eyed guide as well as an onboard photo crew. Plus, dedicated rinse bins, compressed air for drying, and individual camera stations to help you care for photo and video gear.
Best overall value - Wunderpus
With just four cabins, this traditional sailing vessel offers intimate and adventurous voyages in style. Plus, outstanding onboard amenities and some of Komodo's most sustainable operations.
Choose from exciting four and five-day scheduled safaris, or opt for a private charter with your own custom-created itinerary. No matter which adventure suits you best, you'll enjoy outstanding dive services with small group sizes, top of the line rental gear, and perfectly timed experiences aimed at helping you watch wildlife - not other divers. You'll also enjoy a perfectly appointed cabin, four delicious meals per day, and incredible views from the beanbag lounge and outdoor dining room.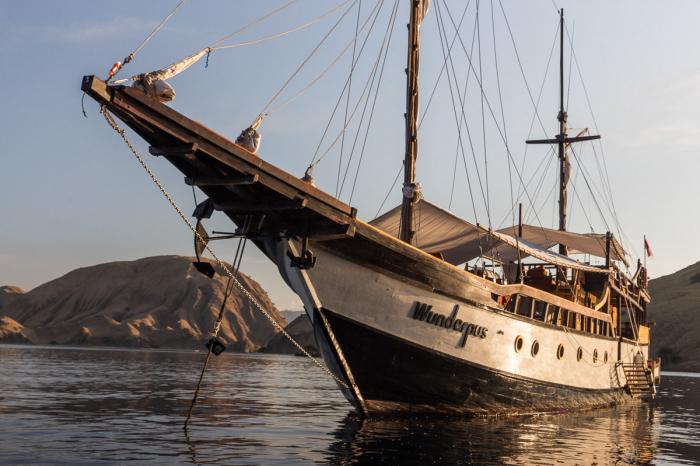 If you're travelling on a budget and hoping to get the most bang for your buck, check out this boat's partner liveaboard - Mimic. This vessel offers some of the region's lowest prices, with all the same great facilities, and shared dorm-style accommodations. 
Best for budget travellers - Sokaraja
Budget travellers and backpackers, rejoice! Sokaraja offers incredible four and five-day trips with some of Komodo National Park's most accessible prices.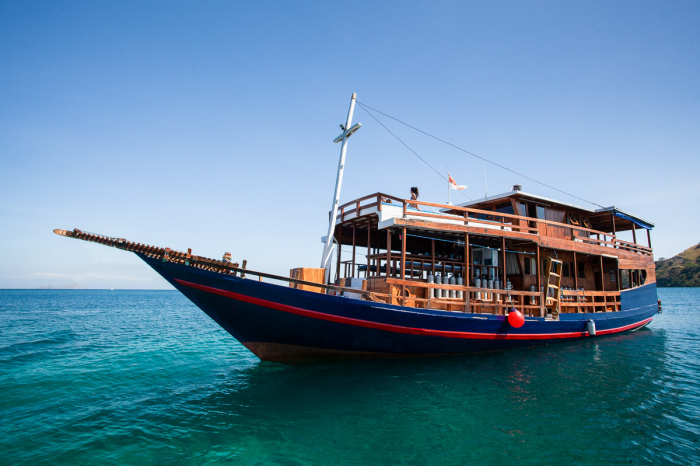 Don't let this boat's low prices fool you; it's still a spacious and stylish option for liveaboard diving in Komodo. Guests can choose between shared dorm-style or private cabins, with options for every budget and personal travel style. Sokaraja also promises a fun and relaxed social atmosphere, with family-style meals, chilled out sun and shade lounges, and a maximum of ten guests onboard. Plus, creative itineraries hitting all of Komodo's most impressive dive sites and above-water attractions.
Best for families - Jakaré
Plenty of liveaboards claim to be family-friendly, but few actually are. The Jakaré is doing things differently - offering incredible hospitality for guests of all ages and plenty of action for non-divers as well.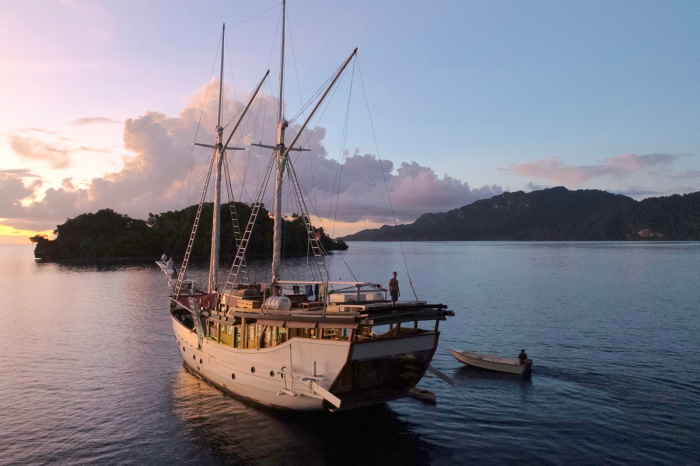 Enjoy seven to twelve action-packed days at sea, with options for discovery well beyond scuba diving. Each itinerary includes snorkelling, kayaking, and trekking. Plus, yoga and mindfulness sessions on select trips. This traditional sailing vessel also offers a small and intimate group setting with plenty of room for each guest to spread out in the shaded beanbag lounge, or topside on the spacious sundeck.
Best for luxury charters - Tiare
Tiare is raising the bar for luxury charters in Komodo, offering exceptional cruises to remote destinations, tailor-made itineraries, and tempting facilities for families and friends, whether they are divers or not.
Tiare was founded by five cousins with five passions - the sea, diving, photography, cuisine, and the amazing country of Indonesia. With the dream of building a boat to embody their love of sharing adventures, the team put their hearts into sourcing the best crew, services and equipment to guarantee an exceptional diving holiday. Accommodating 14 guests, this vessel delivers comfortable and personal expeditions to pleasure-seeking divers and adventurers. Fantastic times are assured.
Best for affordable charters - Carpe Diem
This boat's motto is 'Explore, dream, discover'. And, unlike many of Komodo's prestigious chartered vessels, Carpe Diem offers options for every budget and travel preference - making it easy for divers to join in the charter fun.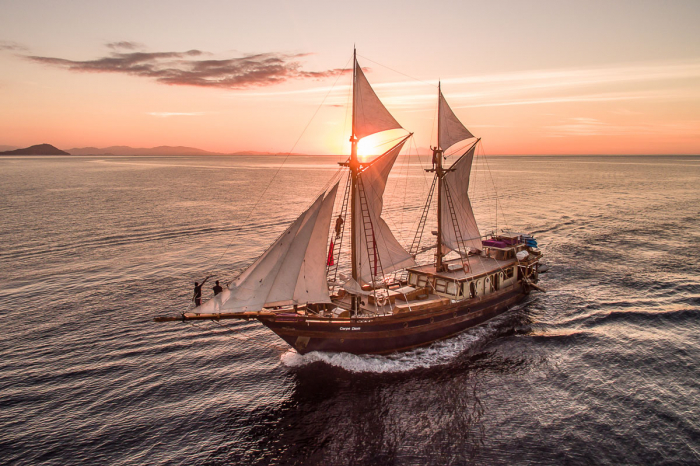 Carpe Diem offers affordable chartered trips throughout the beautiful Indonesian archipelago aboard a tastefully outfitted traditional sailing Phinisi. With just ten guests onboard, each trip is an intimate adventure, with a high crew to guest ratio and an entirely custom itinerary. You'll enjoy comfortable solid teak cabins complete with chic, modern decor, chef-prepared meals, and daily non-diving activities. Plus, expertly led scuba experiences with small group sizes and a flexible schedule.
Unique voyages and conservation - Adelaar
Most liveaboards spend around five days exploring Komodo, but Adelaar is setting a new standard! This boat offers incredible 10-day expeditions to lesser-known diving areas, with a focus on wildlife conservation and exploratory diving.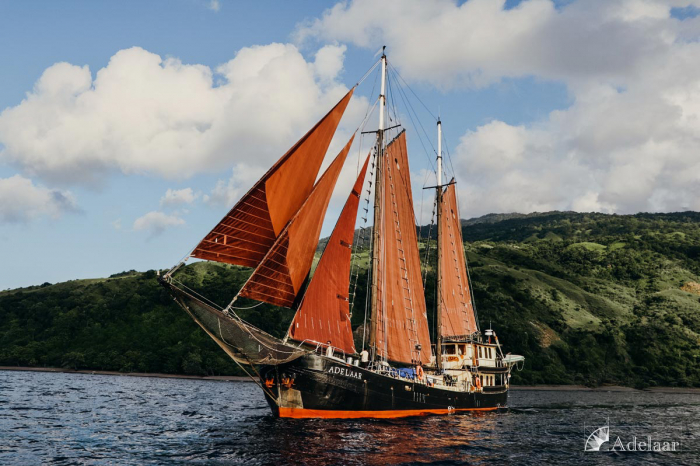 Whether you're diving in Komodo for its powerful drift dives, manta rays and sharks, or incredible reef diving, Adelaar offers a mind-blowing itinerary just for you! These unique expedition-style adventures focus on relatively unexplored areas like Sumbawa and the park's northwestern waters, plus all the classic sites around Komodo National Park. Speciality conservation-focused trips are also available, featuring a marine-biologist led agenda complete with individual manta ID, daily lectures and above-water environmental activities, and more!
---
Tempted by a liveaboard diving holiday exploring Komodo? Our expert team can help you find your ideal liveaboard experience!
---
---