Update Jan 2022 - Guadalupe Island has been closed to tourism and other activities by the Mexican authorities.

Have you ever dreamt of coming face to face with a great white shark? If so, Guadalupe Island in Mexico's eastern Pacific should be the next hot destination to top your scuba diving bucket list! The island is one of the only places in the world where divers can get up close and personal with these powerful animals - with over 300 individually identified sharks visiting the island each year.
With its gin-clear water, Guadalupe Island shark diving is absolutely breathtaking. And with liveaboards offering a range of exhilarating underwater experiences, you'll be sure to find the perfect great white shark dive!
Guadalupe Diving - What to expect
Day trips are out of the question when it comes to Guadalupe Island shark diving. In fact, depending on whether you sail from San Diego or Ensenada, it can take up to 20-hours just to reach the island! 
After your departure, your liveaboard of choice will offer detailed safety and informational briefings. This is when you'll start getting acquainted with the island and its famous residents, and learn about safe diving practices for both yourself - and the sharks. You'll also have plenty of time to get to know your fellow explorers and the crew, set up your camera equipment, or just relax and enjoy the ride. 
The voyage is also a great chance for wildlife watching as migratory orcas, whales, and dolphins are often seen on the surface, along with seals and sea lions, and a wide variety of seabirds. Besides, the great white encounters are so special, we promise the long boat ride is 100% worth it!
Eat, sleep, dive, repeat
If you're new to the world of dive safaris, don't worry, it's an easy schedule to get used to. And, because your dives will all take place right off the back of the dive deck, Guadalupe liveaboard diving feels more relaxed than more traditional trips.

Each day you'll start with a light breakfast or coffee and your first early morning opportunity to hit the water. Then, you'll alternate with other divers on board, taking turns in the water throughout the day. Most boats offer three to four shark experiences between sunup and sundown, with scheduled meals and breaks to keep divers fuelled-up and ready for action. And, with sharks patrolling around your boat, you'll have plenty of chances for observation from above water as well. Some operators also offer surface enclosures, allowing photographers and white shark enthusiasts to spend as much time in the water as they want each day!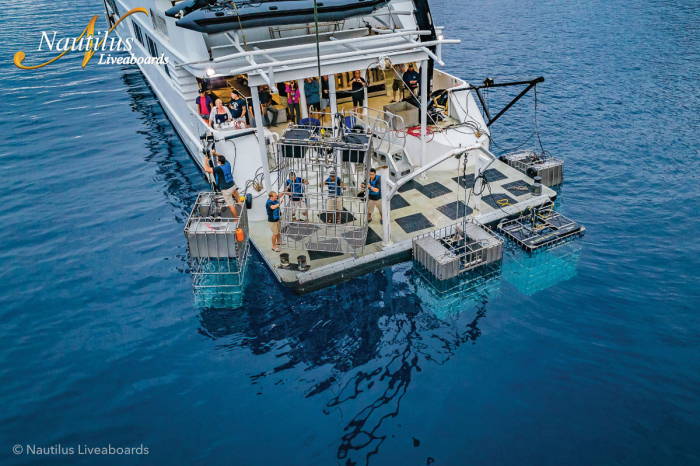 Once your day in the water has concluded, you'll have a delicious dinner and drinks with your fellow adventurers to look forward to, along with educational and entertaining activities in the evening.
As cage diving with great white sharks at Guadalupe Island has become increasingly popular, there are more and more outstanding options for liveaboard dive safaris. You'll have the chance to choose exactly how luxurious, adventurous, or intimate you want the journey to be. And Guadalupe shark diving needn't cost the earth, with different boats to suit every budget and personal travel style. 
There are no land-based tourist services on Guadalupe Island. So, you'll be sleeping, eating, and diving on your liveaboard of choice throughout the adventure. Be sure to base your decision on what creature comforts you want to enjoy onboard, as well as how much time you're hoping to spend in the water.
Your time in the water
Shark diving at Guadalupe Island differs from a traditional scuba experience because you won't be swimming or exploring a variety of underwater environments. Instead, you'll spend your time observing the great whites from the safety of an underwater enclosure or cage. This helps both humans and sharks maintain a safe distance at all times - promoting safe and passive encounters for all.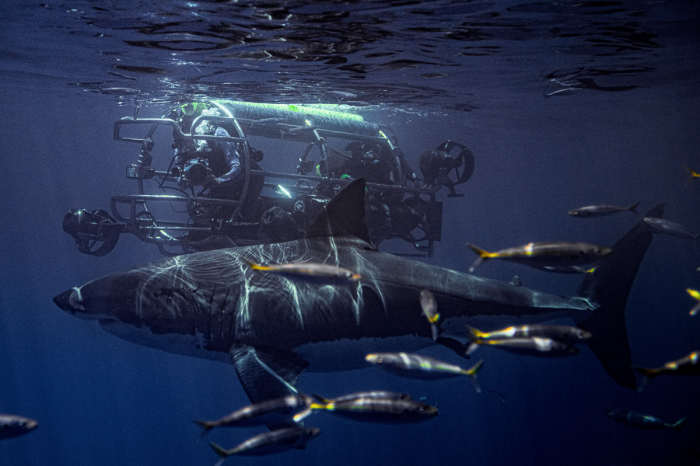 Because you'll never stray outside the cage, traditional dive equipment like tanks and fins won't be necessary during your adventure. Instead, you'll be using surface supplied air, delivered via a "hookah" - or hose system. And, you'll wear boots to protect your feet as you move around inside the cage. It is also important to note that some divers might feel the cold slightly quicker than usual, as they'll move around less than on a standard dive. Water temperatures range from 20-22°C, so don't underestimate the cold! Pack a full 5mm wetsuit or thicker, plus gloves and a hood if you tend to feel the chill quickly. 
Cage diving with great whites requires careful planning and surface support, with a highly-trained team on deck operating lures to help bring the sharks in close. These days, most companies avoid chumming and loose bait in favour of decoys and lures that resemble the sharks' natural prey - seals. 
Find your perfect liveaboard
Search our liveaboards in Guadalupe to find your favourite.
Guadalupe's famous great whites
It is not clear exactly why great white sharks gather in Guadalupe but, scientists have finally agreed on a theory!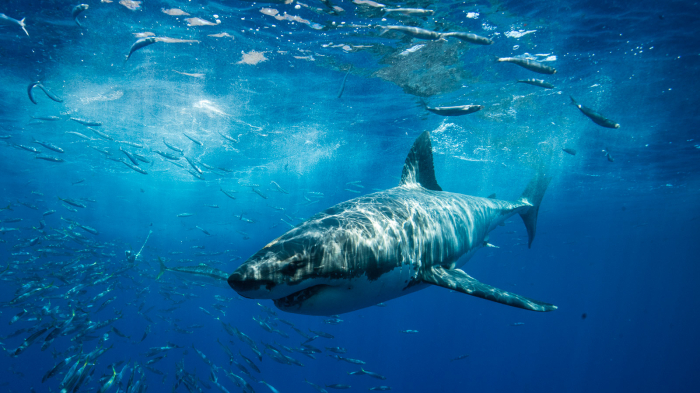 It is believed that the sharks come here to mate and feed on elephant seals, before continuing their solitary, open ocean migrations. Each year, numerous females are sighted with evidence of recent mating, including gashes and bite marks around their gills - and swollen bellies! This theory is also supported by the seasonal changes observed in Guadalupe's white sharks from month to month.
Best time for shark diving at Guadalupe Island
The season starts in July, when rowdy gangs of juvenile male sharks arrive. These younger, smaller sharks are known for high-speed passes and lure strikes at speeds of nearly 50 kilometres per hour. Younger sharks are also known to put on a show for lucky dive groups on the surface, splashing and breaching in dramatic fashion. As the season continues, more and more female sharks join. Then, by the time the season ends in October, these waters are dominated by supersized females - topping out at nearly 5.5 metres in length!

Guadalupe's great whites follow the same migratory pattern through the Pacific and Sea of Cortez each year, with most of the over 300 sharks spotted here each season being well-documented individuals. Your liveaboard of choice will likely have a photo database onboard to help you identify the sharks seen on your trip. You may also spot tagged sharks in Guadalupe as researchers are conducting a variety of studies on these powerful pelagic animals, including using radio beacons to track their movements.
Check out the Marine Conservation Science Institute homepage for more information on white shark identification database. 
---
Ready to start planning your Guadalupe great white shark adventure?
Contact our team of dive travel experts today!

---
---
---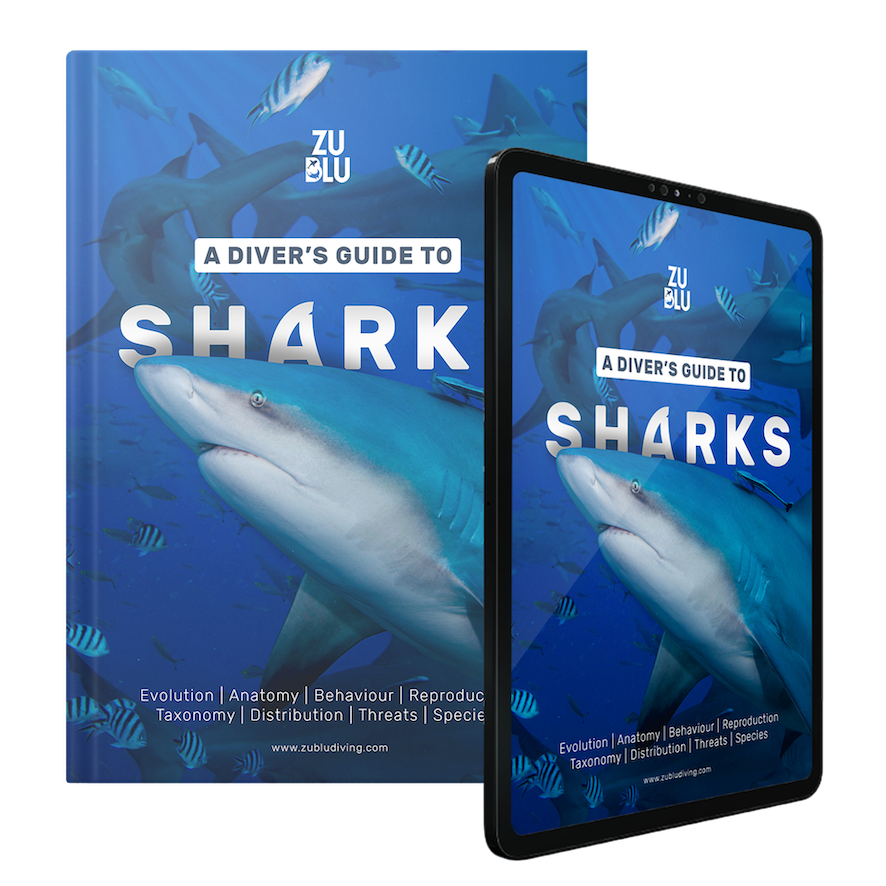 Everything you need to know about these wonderful creatures in a FREE 50 page guide. Read online or download today!
---