As the birthplace of recreational dive safaris, there are few places better suited to a liveaboard diving vacation than the Caribbean. Warm waters, tropical reefs, and spectacular islands await divers visiting this iconic region, as well as a tempting selection of liveaboards, perfect for diving and exploration.
But which vessel should you choose for your Caribbean liveaboard diving getaway? Well, to help you decide, we've reviewed some of the Caribbean's top liveaboards.
Caribbean liveaboards reviewed
To help narrow down your choice of liveaboards in the Caribbean, we've reviewed a few of our absolute favourites based on some of the more popular preferences.
Best value Caribbean liveaboard
All Star Morning Star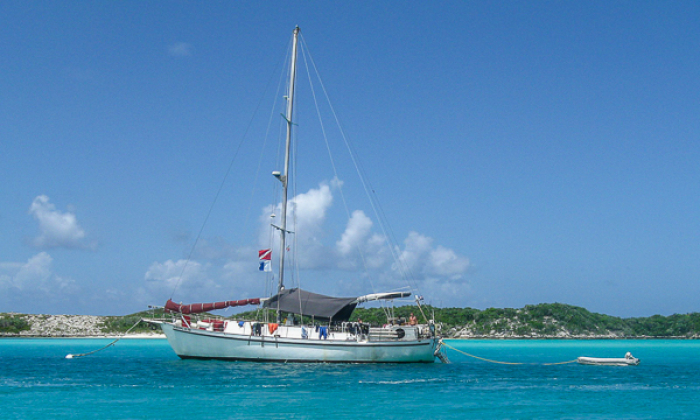 All Star Morning Star is a 20-metre sloop-style liveaboard accommodating up to 18 guests on voyages in the Bahamas. Part of the well-known Blackbead's Cruises fleet, this lively liveaboard describes its trips as 'camping above the water' and is perfect for sociable guests, including singles, couples and groups. Expect action-packed days filled with fun activities such as sailing, halyard swinging and freediving. And, as the day winds down, guests congregate to share stories over a glass of rum punch, before retiring to the bunk-style accommodation below deck.
With scheduled weekly voyages throughout the Exuma Cays, All Star Morning Star incorporates a variety of day-dives, night-dives, and shark feeding experiences into each itinerary. Boasting decades of local diving experience, the team behind this liveaboard are comfortable catering to both new and experienced divers as they cruise around the very best dive sites in the Bahamas.
Perfect Caribbean liveaboard for photographers
Bahamas Master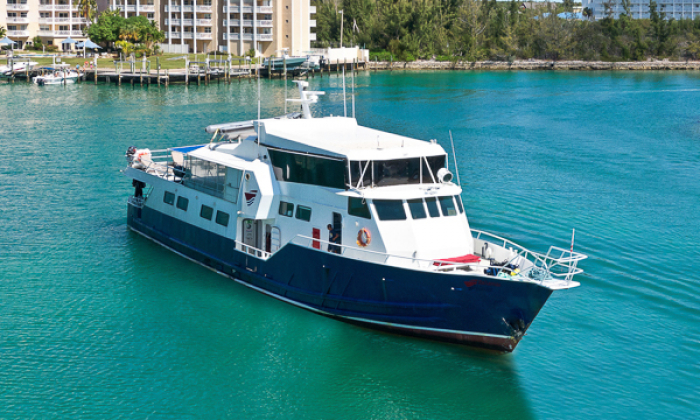 The Bahamas Master is a modern motor yacht delivering smooth scuba diving adventures around Grand Bahama and beyond. Part of the prestigious Master Liveaboards fleet, this is one of the Bahamas' most capable boats, and is fitted with up-to-date equipment thanks to a recent refurbishment. This versatile liveaboard also offers five different cabin classes, including not one, but two, single staterooms specifically for solo travellers.
Designed by divers, for divers, the Bahamas Master is sure to meet the expectations of even the most discerning of underwater explorers. The vessel's spacious shaded dive deck offers individual equipment stations, professional quality rental gear, and a comfortable tender to drop guests right into the action, which includes reefs, wrecks, walls and both baited and natural shark encounters. Nitrox fills and rebreather support are also available for those certified, while underwater photographers will find a modern, well-equipped indoor camera room on the lower deck.
Best hospitality on a Caribbean liveaboard
All Star Aqua Cat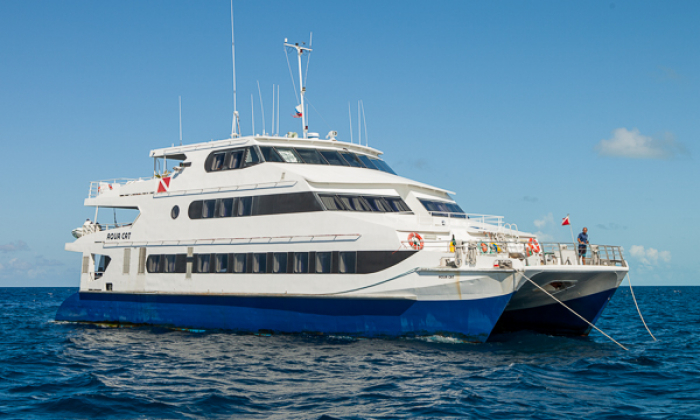 Aqua Cat is a luxurious catamaran liveaboard delivering exclusive experiences with a comfortable and casual vibe. Guests of all kinds can enjoy Aqua Cat in equal measure, with plenty of watersports and daily excursions to keep non-divers occupied. And, the dedicated onboard team will do anything they can to ensure everybody is well looked after – an attitude that saw Aqua Cat's crew voted the best in the world by Scuba Diving Magazine readers.
Offering up to 26 dives during each week-long trip, Aqua Cat is well-suited for underwater exploration with itineraries that incorporate a variety of famous Caribbean dive sites. Convenience is the name of the game on this liveaboard, with all diving done directly from the dive deck, which features individual space for every diver, a camera table, and showers. Aqua Cat also offers nitrox and can accommodate sidemount set-ups and rebreathers.
Best liveaboard for diving the Caribbean in comfort
Belize Aggressor IV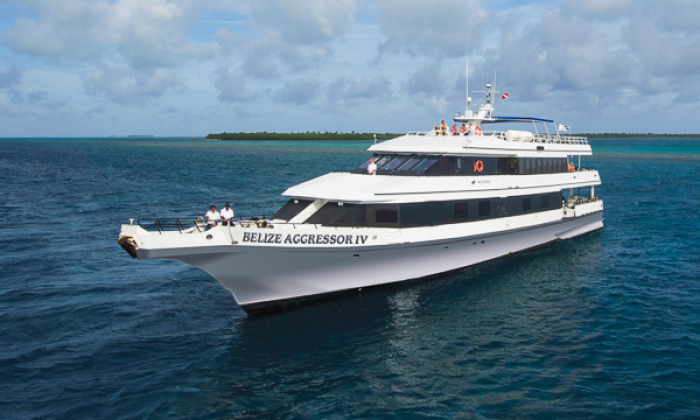 Built and powered for comfort, safety and stability, the 42-metre Belize Aggressor IV has been operating in Belize since 2002. Offering superb week-long voyages around Turneffe Atoll and Lighthouse Reef, this impressive liveaboard delivers guests to many of the country's underwater highlights, such as Half Moon Caye and the Great Blue Hole. Of course, each trip is underpinned by the Aggressor Fleet's first-class service, garnering this boat a well-deserved reputation among divers visiting the bucket-list destination of Belize.
The size and design of this liveaboard's dive deck allows for diving to be conducted directly from the yacht. Guests can enjoy up to five dives a day, with warm showers, individual lockers and nitrox fills providing extra comfort and convenience. A camera table and low pressure hoses are also on hand for dealing with delicate photography gear.
Ideal Caribbean liveaboard for dedicated divers
Cayman Aggressor IV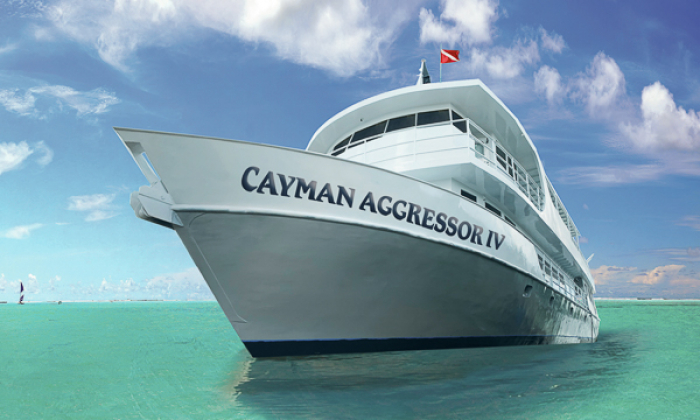 The Cayman Islands were one of the first dive destinations to offer recreational liveaboard diving and have become the Aggressor Fleet's flagship destination. So who better to explore them with? Having operated in the Cayman Islands since 1984, all the fleet's unparalleled local expertise has been channelled into the Cayman Aggressor IV. As a result, guests are blessed with first-class hotel-style hospitality and luxurious details – including an on deck hot tub and complimentary wine – as they sail between iconic sites such as Bloody Bay Wall, Eden Rock, and Stingray City.
Like other Aggressor vessels, the dive deck aboard Cayman Aggressor IV has been carefully designed to facilitate stress-free diving, with showers, camera facilities and nitrox fills readily available. Guests can expect up to 27 dives during each week-long voyage, entering the water directly from the liveaboard, with no bumpy speedboat transfers.
Best Caribbean liveaboard for beginners
Roatan Aggressor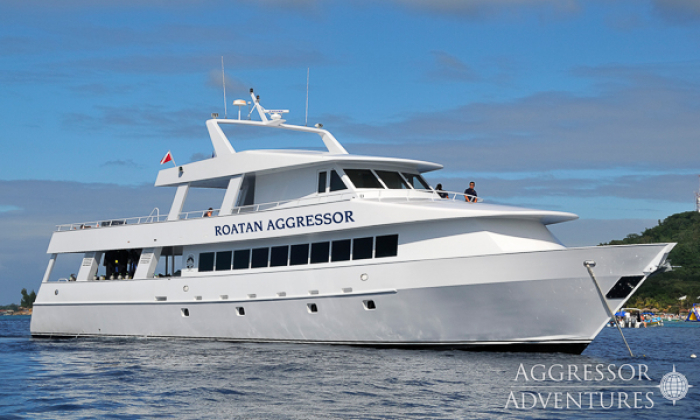 When it comes to liveaboard diving in the Bay Islands of Honduras, there can only ever be one choice – not least because it's the only vessel currently operating in this exceptional dive destination. But, even if it wasn't, the Roatan Aggressor is sure to hold its own, guaranteeing the fleet's phenomenal standards of service along with a few extra perks to pique your interest. These little added luxuries include fine dining, complimentary wine with dinner, and an on-deck hot tub.
When it comes to the main event, this modern motor yacht's diver-friendly design includes a shaded back deck with equipment stations, facilities for camera care, and easy entrance and exit from a stable swim-up ladder. Roatan Aggressor's unique itineraries enable guests to explore the Bay Islands best sites in one action-packed trip, and recently certified open water divers are welcome to join the fun!

Top sustainable Caribbean liveaboard
Turks and Caicos Explorer II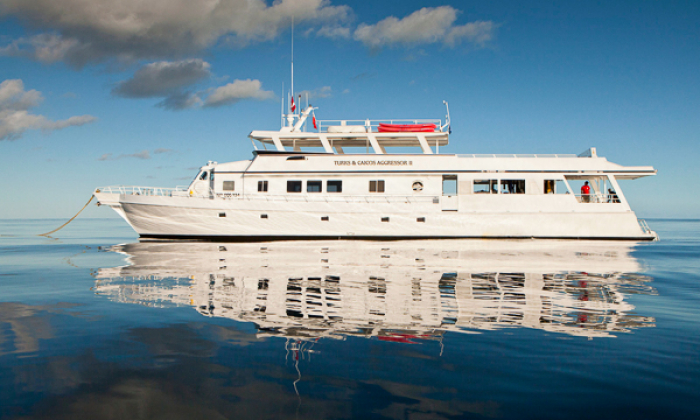 The Turks and Caicos Explorer II is one of the country's longest-serving liveaboards, backed by nearly 20 years of cruising experience. This vessel's week-long dive safaris are delivered in a relaxed and social atmosphere and aim to cater to guests of all kinds, with accommodation options suited to various budgets. And, as part of the industry-leading Explorer Ventures family, this liveaboard is also a safe bet for environmentally-conscious divers, thanks to the fleet's partnership with Reef-World and its Green Fins certification.
Featuring a diver-focussed design, guests will enjoy day after day of easy diving with a convenient swim deck, stable ladder, safety stop lines and optional nitrox fills. The spacious, shaded dive deck also features a convenient camera table for underwater photographers. Each eight-day itinerary aboard the Turks and Caicos Explorer II includes diving around both the Turks and Caicos islands, incorporating exhilarating shark encounters with epic reef, wall, and channel diving.
---
Ready to book your Caribbean liveaboard adventure?
Speak to the ZuBlu Travel Team today

---