If you're planning your first ever liveaboard dive safari, you've probably got a few hundred questions when it comes to what you should expect onboard. Not to worry - we've got answers!
Keep reading for all you'll need to know, including what to bring on a liveaboard dive trip, what's included and what isn't, and what a typical day onboard will be like.
And if you still want more, you can learn more about what to consider when booking a liveaboard dive holiday, who should join a trip, and the world's best diving destinations for liveaboards in ZuBlu's comprehensive guide to liveaboard diving.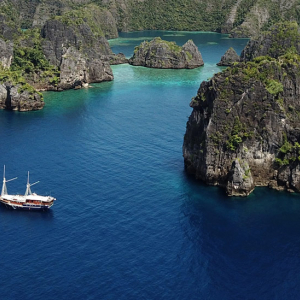 Recommended insight
The ultimate guide to liveaboard diving in 2023
Everything you need to know about liveaboard dive holidays, what to consider when booking a dive safari, and the best liveaboard dive destinations in the world!
Packing for a liveaboard
You'll want to pack for your liveaboard much as you would any other vacation - but with a few extra considerations. First off, liveaboard dive boats have limited storage space, so bring the bare essentials only and consider renting dive equipment onboard. Single-use plastics, batteries, and other disposable items are best left at home - or brought back with you for proper recycling.
Clothing wise, start with appropriate layered outfits. And as most boats have air-conditioned interiors, you'll also want to bring a light sweater along in case it gets chilly inside, or on deck at night. Don't forget comfortable walking shoes and extra sun protection for land excursions.
Pack whatever toiletries and medicines you'll need for the entire trip. Be sure to include reef-safe sunscreen and insect repellent, basic first aid supplies and seasickness tablets, just in case! You'll also need to bring originals and copies of essential documents, including passport, your scuba certifications and insurance.
A good book, cards or board games will help pass the hours onboard, and are a good way to get to know your fellow divers! It's also a good idea to bring a few snacks from home, for when a sudden craving hits you.
Cash is important to cover any additional expenses onboard. And, it's essential to educate yourself on the laws of the country you plan to visit. In some countries, importing alcohol is forbidden. In others, common prescription medications from home might be illegal.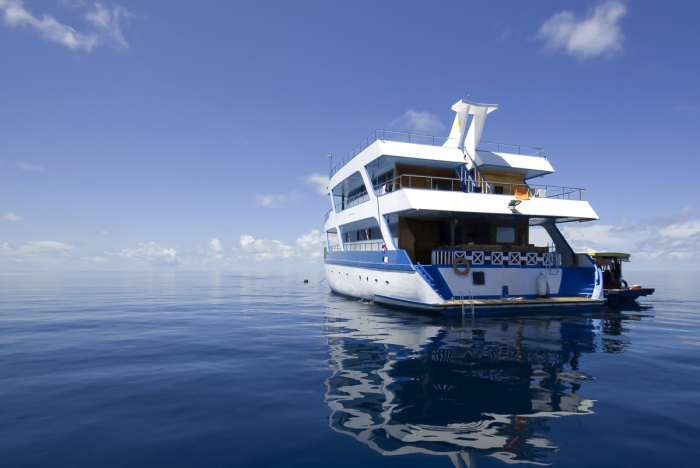 Sea sickness and how to prevent it
Even if you've never been seasick, you should take a few basic precautions against it. After all, few things are less comfortable than multiple bouts of nausea while you should be diving.
Dehydration, alcohol consumption, and exhaustion can all play a part when it comes to seasickness. So, it's important to drink plenty of water throughout, keep beer, wine, and spirits, to a minimum, and get plenty of rest. You might also find it helpful to avoid overly greasy or spicy foods, large doses of caffeine, or anything else that could cause stomach upset.
You'll also want to pack seasickness tablets, just in case you start to feel ill. These should be taken at the first sign of trouble, as they take up to an hour to start working. If you do get sick, get above deck, breathe fresh air, and try to keep your visual focus on the horizon. You may also feel comforted by lying down or pacing - these simple actions can help your body cope with the sensation of a boat's constant movement on the water.
Food and drink onboard
Most liveaboards offer an all-inclusive package with three or four meals a day, snacks, coffee, tea, and water included. These offerings can range from family-style, buffet meals to fine dining, with gourmet entrees and a changing daily menu.
Some boats add extras to that complimentary mix, including soft drinks and alcohol - for example, a glass of wine with dinner. Others offer complimentary welcome or departure cocktails, or special touches like hot drinks on deck after your dives.
Meals at sea are a highlight for hungry divers. The majority of boats offer an enticing blend of Western and local dishes at every meal, as well as lighter options and sweet treats like cookies and cakes. In most cases, alcoholic beverages will be available for sale at the boat's bar once the day's diving has concluded.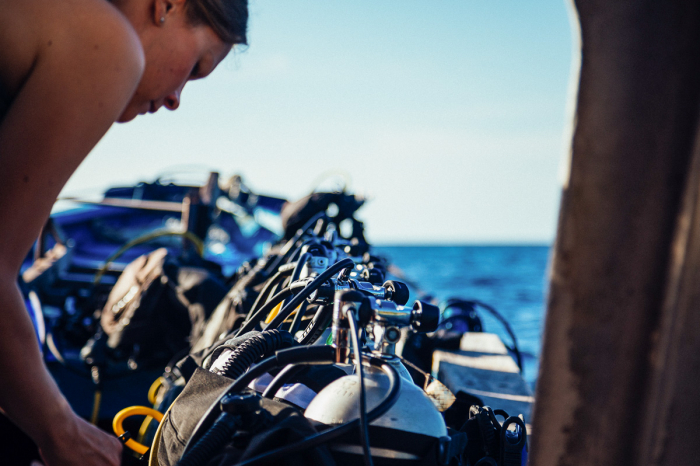 Courses, equipment and nitrox
More and more liveaboards are offering scuba certification and speciality courses at sea! But remember, you'll likely need to pay for any courses onboard in cash, and most operators require advanced notice to book these extra services.
Nitrox is another option to consider. Enriched 32 per cent blends are commonly offered to help fight fatigue after multiple dives, possibly prevent decompression illness, and add a few minutes of bottom time for divers with good air consumption.
If you aren't already nitrox certified, many liveaboards offer the opportunity to complete the course during your holiday. If you're already qualified, find out ahead of time what blends your vessel offers, and if it is an extra cost.
Do you own dive equipment? If so, you might want to bring it along for your trip, as you'll probably feel more comfortable diving with your own gear. However, if you're new to the sport or don't yet have your own kit, you're better off opting to rent onboard.
Fees, fuel surcharges and extras onboard
Cocktails and nitrox aren't the only additional expense you'll need to consider at sea. Often as not, your liveaboard will be cruising through national parks or protected areas that require an entrance fee. These charges are normally paid in cash to park rangers and staff. Environmental taxes are also applied in some countries.
Some boats may include a fuel surcharge policy with their bookings. This fee covers extra fuel costs, in case of market price changes, or the boat uses more than expected due to a route change or bad weather.
Tips and gratuities
Even if you're from a country where offering gratuities is uncommon, a liveaboard trip might be the one time when you'll want to offer a small financial reward for excellent service. Keep in mind your liveaboard crew works around the clock, cooking meals, guiding and everything in between!
Ten percent of your trip's cost is considered a generous gratuity. But, how much to give is a personal decision that should be based on your experience onboard. You might also want to keep some cash to hand for tipping porters, taxi drivers, and others while in transit.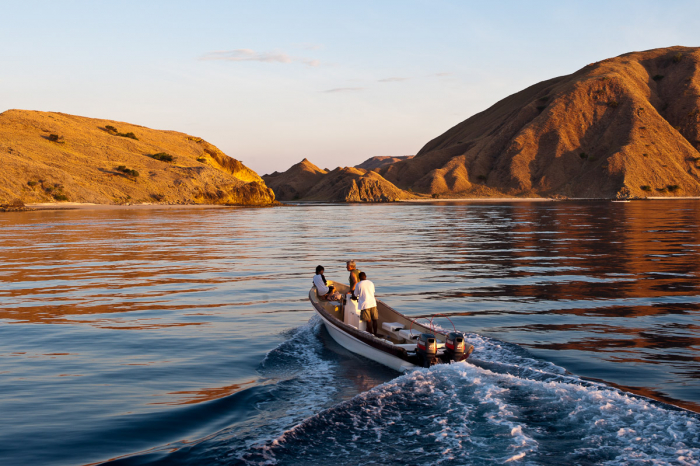 Eat, dive, sleep, repeat
The amount of time you'll get to spend in the water is one of the biggest benefits of booking a liveaboard dive vacation rather than a resort.
Most liveaboard itineraries include diving and non-diving or transit days. Exactly how many days you'll get to spend underwater will depend on how far-flung your destination of choice is. For example, some remote areas take an entire day to reach, and you'll likely spend at least part of the first and last days travelling instead of diving.
Once you've arrived at your destination, the real excitement begins. Liveaboard dive boats usually offer three to four dives per day, allowing you to join as many as you'd like. Some allow unlimited diving, and others will plan optional shore excursions or additional watersports for divers to enjoy when they aren't underwater.
Tenders and dive decks - diving from a liveaboard
Liveaboards come in all shapes and sizes, so entering and exiting the water will be different on every boat. During the first day of your trip, you'll receive a thorough briefing that outlines dive procedures, as well as other onboard information you'll need to know. These will cover vital safety details, how and where to store equipment, rules when it comes to aquatic wildlife, who you'll be diving with, and more.
On some boats, you'll dive straight from the back deck or specialized dive platform. This means that you'll likely make a giant stride entrance, and come back onboard via a submerged swim deck or ladder.
Other boats use tenders, known locally as dhonis, dinghies, or RIBs. These smaller support boats transport divers from the liveaboard to each site. How you get in and out of the water will depend on the size and style of the tender that you're diving from.
If you have any doubts about how each dive day will go, talk with your cruise director or boat manager. These customer service experts are happy to answer your questions, ease your concerns, and help you enjoy the underwater adventure of a lifetime!