Hanifaru Bay in Baa Atoll is the site of one of the most spectacular congregations of manta rays in the Maldives - if not the world. After catching the attention of the diving world in the 1990s, the bay and its manta rays and whale sharks are now part of a UNESCO World Biosphere Reserve - a perfect example of tourism, government and scientists working together to protect a unique natural event.

Learn more about what makes Hanifaru Bay so unique and how you can snorkel with hundreds of manta rays and visiting whale sharks, and even witness the ray's unique 'cyclone feeding'.

---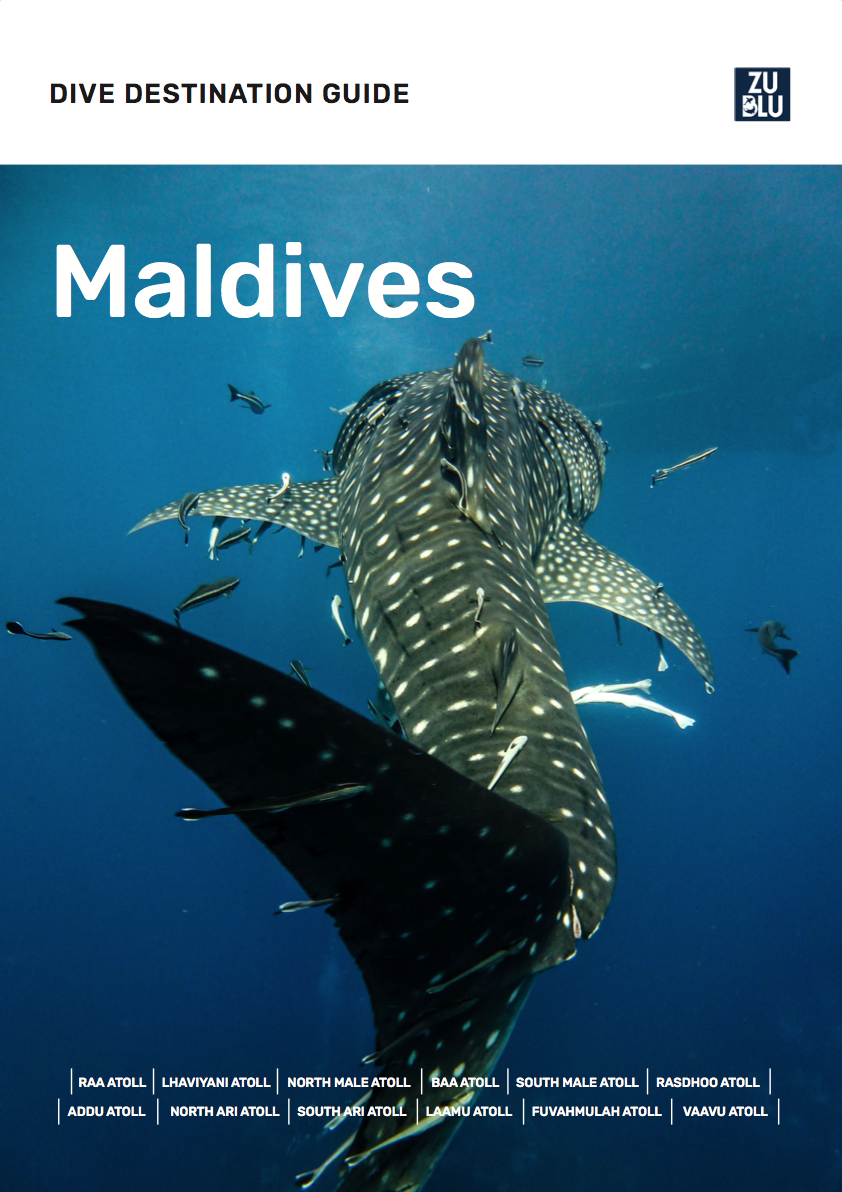 Complete guide to the best diving in the Maldives. Explore the atolls, seasons, and pro tips in this free 37 page destination guide.
---
What makes Hanifaru Bay so special?
Located on the southeastern side of Baa Atoll, Hanifaru Bay overlooks a deep-water channel that separates the island from neighbouring Dharavandoo. The bay's reef is twice as wide at the mouth as it is towards the lagoon, forming a distinctive keyhole-like shape. This unique structure acts like a giant funnel, driving high concentrations of plankton deeper into the bay and closer to the surface - creating the perfect conditions for a bonafide filter-feeding frenzy. This high concentration of plankton is the reason why the manta rays gather here in such huge numbers - the more food there is, the more mantas join in the feeding! Individual manta rays barrel-roll through particularly dense patches of food, but will also join up and form manta trains - spiralling 'cyclones' of rays feeding in formation. It is this extraordinary behaviour that has made Hanifaru Bay so famous.
Protecting Hanifaru
Measuring little more than the size of a football field, tiny Hanifaru Bay is the marine highlight of Baa Atoll - even of the Maldives as a whole. But it wasn't always so well protected. For local fishermen, the bay was known as a rich whale shark hunting ground before dive operators began to descend on the area in the 1990s. In this day and age, such unique places rarely stay secret for long, and as word of the incredible numbers of manta rays and whale sharks spread, Hanifaru Bay became overloaded with an unprecedented influx of boats and divers.

Realising that tourism at the site was unsustainable, the Maldivian Government intervened. On World Oceans Day, 8th June 2009, Hanifaru was declared a Marine Protected Area (MPA), with the Ministry of Environment and the Manta Trust cooperating to create a sustainable management plan. Regulations put in place included a limit on the number of visitors, time restrictions within the bay, and bans on scuba diving and fishing. Then, just two years later in 2011, the entirety of Baa Atoll was declared a UNESCO World Biosphere Reserve, with Hanifaru Bay one of the core protected zones.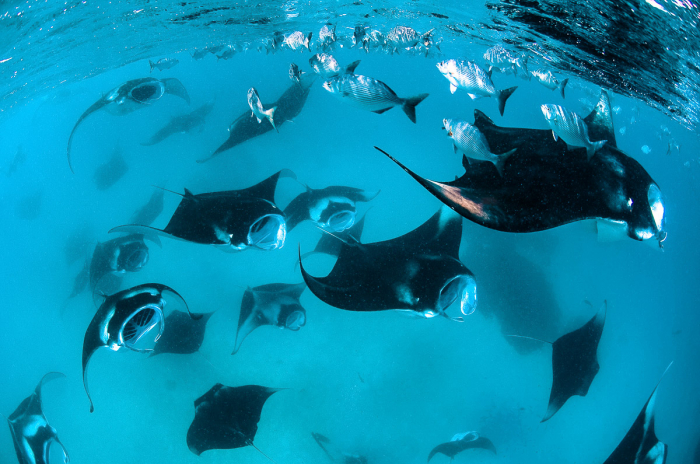 Visiting Hanifaru Bay
While diving is no longer permitted in the bay, snorkelling certainly is. And with a maximum depth of around 20-metres, and the mantas and whale sharks spending most of their time feeding near the surface, there's really no need for a tank.
Exploring from a resort
As with the rest of the Maldives, if you'd prefer to stay on land, your main decision is whether to go for luxury or local accommodation. If you are looking for a private resort, Baa Atoll has plenty to pick from, and all offer trips to Hanifaru. But if you'd like to be close to the action, Dusit Thani and Royal Island resorts are located on neighbouring islands, providing almost instant access to the bay. 
More affordable options can be found on the local island of Dharavandhoo, which lies just across the channel, overlooking Hanifaru Bay. Dharavandhoo is just a twenty-minute flight or a two hour speedboat journey from the international airport in Male, making it very easy to reach. Aveyla Manta Village is a fantastic environmentally-conscious option, delivering a five-star experience without the price tag.
Liveaboards
Given that Hanifaru Bay is one of the Maldives' most impressive marine attractions, the vast majority of northern liveaboard itineraries will stop here during the manta season. Again, you can choose from luxurious vessels like the elegant Emperor Explorer or more affordable options such as Carpe Diem. These vessels use designated 'drop-zones' where guests can enter the water and then swim a short distance into the magic of the bay. 
Citizen science opportunities
For an extra special and sustainable experience, we highly recommend jumping aboard with Manta Trust Expeditions, who offer a variety of liveaboard based itineraries that explore Baa Atoll. During these voyages, you will take an active part in cutting-edge scientific research, learn all there is to know about mantas and other endangered marine life from industry experts, and support the Manta Trust's global conservation effort.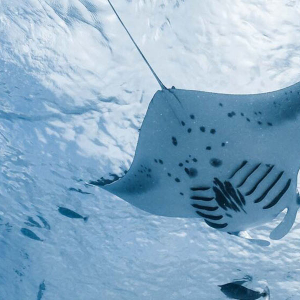 Recommended insight
5000th manta rays identified by Manta Trust
In December, Manta Trust reported a significant milestone reached by its pioneering Maldivian Manta Ray Project - the discovery of its 5000th reef manta ray. And to celebrate, they're...
Manta seasons made simple
The Maldives' monsoon seasons dictate the movement of the manta rays and whale sharks within the atolls as these filter-feeders naturally follow the plankton as it's pushed back and forth by the dominant winds and currents. Hanifaru Bay's feeding aggregations occur from May to December, with the best times usually from late July to early October - particularly around the full or new moon, when the increased tidal currents create the highest concentrations of food in the bay. At this time, lucky visitors can be graced with hundreds of mantas and several whale sharks.
The manta gathering occurs during the southwest monsoon, known quite rightly as the wet season. Unfortunately, this does mean grey skies and stronger winds, but with an average year-round temperature around 27°C, you're unlikely to feel cold. And, you'll rarely have to endure anything more than a few hours of dramatic rain, as most of the storms are generally short lived. Water temperatures are also relatively constant throughout the year at 26-29°C.
Good to know
If you would like to experience Hanifaru Bay, you must purchase a token costing somewhere in the region of $20-$30. To minimise the need for physical interactions, these tokens are available online, and can be bought by resorts and liveaboards on behalf of their guests. Or, If you're staying on the local island of Dharavandhoo, you can purchase a token from the Hanifaru Visitor Centre. Each of these tokens allows 45-minutes of in-water interaction with the manta rays and whale sharks. All entrance-fee proceeds go to the Baa Atoll Conservation Fund to support conservation of Hanifaru Bay and Baa Atoll. 
Liveaboards cannot visit the site directly, and instead stop at Dharavandhoo where guests can take a taxi boat to the bay. The total number of visitors allowed in the bay at a time has been reduced to 45 until further notice. Each guide needs to be certified with a Hanifaru Bay Guide License from the Biosphere Reserve and can lead a maximum of ten snorkellers. The total number of vessels at Hanifaru MPA is now restricted to five, excluding the ranger vessel.
---
Are you ready to meet the manta rays and whale sharks of Hanifaru Bay?
Trust ZuBlu to help you with the details. Our team of dive travel experts have tons of first-hand experience in the region as well as plenty of useful tips to ensure your trip is one to remember.

---
---
Join the ZuBlu community to receive the latest insights and unmissable adventures
Don't worry, we'll only send you really good stuff - and we never share your details
---