Back to ZuBlu Tips & Articles
A Diver's Guide to Fuvahmulah
---
Fuvahmulah is the ultimate destination if you're looking for the pelagic encounter of a lifetime – no other place in the Maldives, or even Asia, offers divers the chance to encounter 7 types of sharks in a single day. Lucky visitors can also bump into mola molas, pilot whales and congregations of black oceanic mantas, as well as schools of barracudas, yellowfin tuna, bonitos, sailfish, and much, much more...

Read on and discover why Fuvahmulah is ZuBlu's favourite destination in the Maldives for big fish!
FUVAHMULAH ATOLL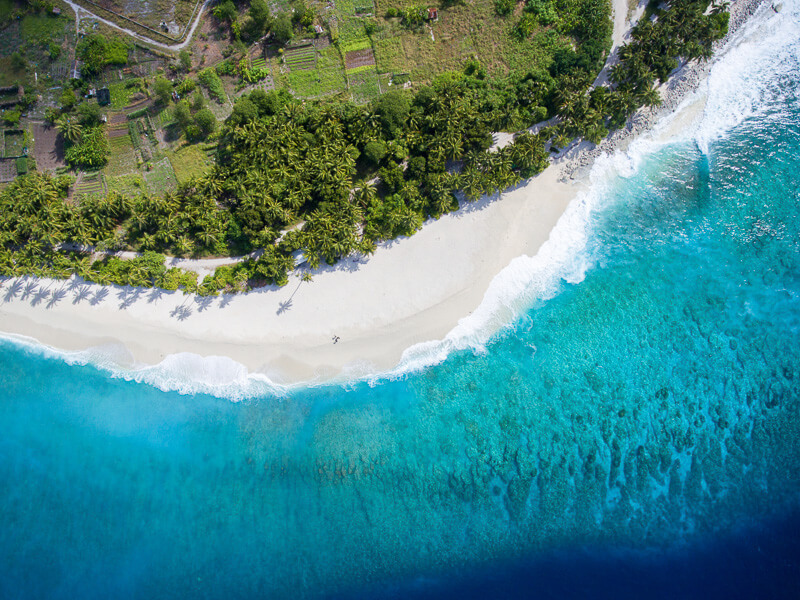 The tiny atoll of Fuvahmulah is the closest to the equator of all the country's islands and reefs and, with its isolation and unique environment, has earned itself the nickname of the Maldivian Galapagos. Above water Fuvahmulah has freshwater lakes and lush tropical vegetation, but it is the underwater environment that is the real draw as the atoll offers some truly unique diving experiences. Fuvahmulah has over 20 known dive sites, each boasting pristine reefs and drawing large numbers of pelagics, and due to its equatorial location, the diving here isn't affected by seasonal changes - meaning world-class diving experiences can be had year-round.

The resident tiger sharks first made Fuvahmulah famous, but visitors can also get up-close and personal with thresher sharks, scalloped hammerhead sharks, oceanic whitetip sharks, silvertip sharks, grey reef sharks and whitetip reef sharks. Whale sharks also make an appearance every year as well as black oceanic manta rays. In fact, Fuvahmulah may well be one of the best places in Asia if you want to dive with such a variety of big animals in a wild and relatively unknown destination.
DIVE FUVAHMULAH
Get in touch today and book your trip!
FUVAHMULAH DIVE SCHOOL

As the first professional dive school on the island, Fuvahmulah Dive are the resident marine life experts.
Using their wealth of knowledge, we've listed a few of Fuvamulah's top highlights – and more importantly, the best time to see them with your own eyes.
DIVING FUVAHMULAH ATOLL
Fuvahmulah Dive School was the first professional diving school based in Fuvahmulah Atoll and the only one to offer tiger shark encounters in a safe and responsible manner. The dive centre is now run by a team of diving professionals who have all logged thousands of dives exploring and researching Fuvahmulah's unique marine environment. They pride themselves on providing excellent service to both individuals and groups, and for running tiger shark encounters safely and in a sustainable manner. Every guest is given a comprehensive briefing and explanation of shark behaviour, and the dive guides all have Shark Speciality and Shark Expert certifications – as well as expert knowledge about local conditions.
All images courtesy of Fuvahmulah Dive School.
HOW TO GET TO FUVAHMULAH
All international flights to the Maldives use Malé's International Airport, located on Hulhule, about 2km east of Malé island. Domestic flights and seaplane transfers to resorts also use this airport, although the seaplane terminal is on the far side of the island, requiring a five-minute bus transfer across the runway. There are two scheduled flights to Fuvahmulah every day and flights take just over an hour.
If you have a late flight arrival or if the transfer to your final destination is not available immediately, there are a number of accommodation options in Malé itself. Or you can stay on Hulhumale next to the airport where you will find affordable accommodation and hotel bars serving alcohol which is prohibited in the capital or on local non-resort islands.