Looking for the pelagic encounter of a lifetime? Fuvahmulah is guaranteed to impress. No other place in the Maldives, or even Asia, offers divers the chance to encounter seven types of sharks in a single day. And, lucky visitors can also bump into mola molas, pilot whales and congregations of oceanic mantas, as well as schools of barracuda, yellowfin tuna, bonitos, sailfish, and much, much more...
Read on and discover why Fuvahmulah is the best big fish destination in the Maldives!

Fuvahmulah Atoll
The tiny atoll of Fuvahmulah is the closest to the equator of all the country's islands and reefs. This isolated equatorial location has given birth to a truly unique environment, earning Fuvahmulah the nickname of the Maldivian Galapagos.
Above water Fuvahmulah has freshwater lakes and lush tropical vegetation, but it is the underwater environment that is the real draw as the atoll offers some truly unique diving experiences. Fuvahmulah has over 20 known dive sites, each boasting pristine reefs and drawing large numbers of pelagics, and due to its equatorial location, the diving here isn't affected by seasonal changes - meaning world-class diving experiences can be had year-round.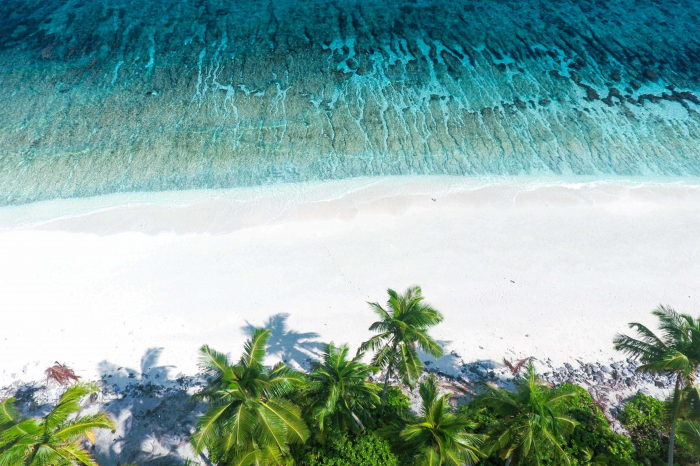 The resident tiger sharks first made Fuvahmulah famous, but visitors can also get up-close and personal with thresher sharks, scalloped hammerhead sharks, oceanic whitetip sharks, silvertip sharks, grey reef sharks and whitetip reef sharks. Whale sharks also make an appearance every year as well as black oceanic manta rays. In fact, Fuvahmulah may well be one of the best places in Asia if you want to dive with such a variety of big animals in a wild and relatively unknown destination.
As the first professional dive school on the island, Fuvahmulah Dive are the resident marine life experts. Using their wealth of knowledge, we've listed a few of Fuvamulah's top highlights – and more importantly, the best time to see them with your own eyes.
---
Ready to plan your trip to Fuvahmulah Atoll?
Contact one of our dive travel experts today.

---
1. Tiger sharks
One of Fuvahmulah's biggest draws is a dive site known as Tiger Zoo - probably the only dive site in Asia that guarantees tiger shark sightings every day. Tiger sharks are drawn to this area by waste produced from the local fish market meaning sightings are not dependent on seasons, time, or conditions. Divers can be treated with sometimes dozens of sharks boasting lengths of up to five-meters.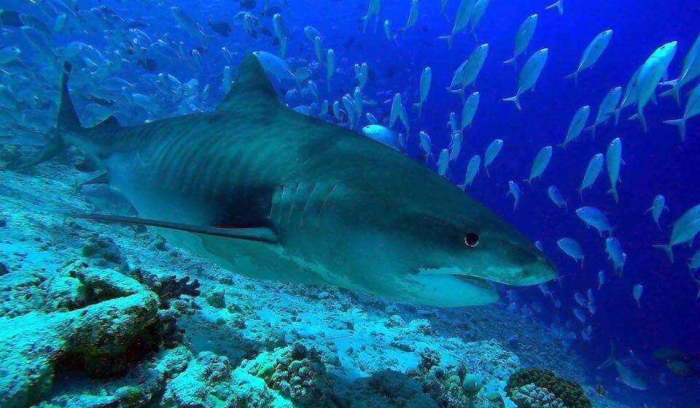 The sharks here are not aggressive but Fuvahmulah Dive's experienced guides all hold shark speciality certifications, delivering a comprehensive pre-dive briefing about shark behaviour and following all necessary safety rules and requirements. Private dives can be arranged for underwater photographers, providing a personalised service to help capture the perfect shot. Fuvahmulah Dive also offers a photography and videography service to create lasting memories of this unforgettable experience.
Best time of year: Year round
2. Thresher sharks
Fuvahmulah offers truly unique opportunities to see these elusive creatures. Thresher sharks are deep water fish which regularly move into shallow waters to visit cleaning stations on the reef.
A deep dive is often needed to observe these cleaning stations, and the sharks are usually only present during the dim light of early morning, or at dusk. However, at the right time of year in Fuvahmulah, thresher sharks can be found at any time of day, and in much shallower depths of just 12-15 meters. And, if you're lucky, you can even catch them jumping right out of the water.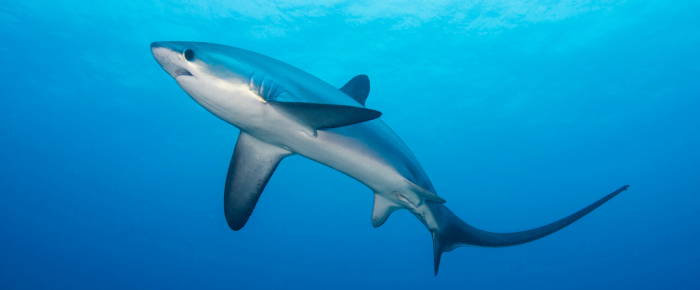 The thresher sharks at Fuvahmulah frequent several different sites around the atoll and Fuvahmulah Dive School's guides are experienced in getting guests to the right site at the right time. Sightings of thresher sharks are possible year-round but visitors have a higher chance of spotting them between April and November.
Best time of year: Visit between April - November for the best chance to see them in shallow waters
3. Hammerhead sharks
Solitary hammerheads can be found around Fuvahmulah at any time of year, but sightings are often a case of being in the right place, at the right time. Thankfully though, large schools of scalloped hammerheads are also common around the atoll, with sightings relying heavily on the perfect currents.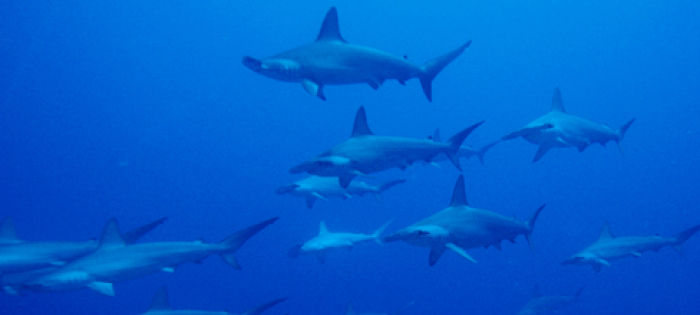 While these conditions can occur during any month of the year, the probability is highest from January through March. Great hammerheads are also found around the atoll but the probability of an encounter is less likely. Hammerhead dives in Fuvahmulah are generally deep and in strong currents, making them suitable for advanced divers only.
Best time of year: Visit between January - March for the best chance to see large schools
4. Oceanic manta rays
Unlike the rest of the Maldivian atolls, there are no reef manta rays around Fuvahmulah. Instead, black oceanic mantas are the most common species, and 80% of sightings of this spectacular species from the Maldives are from this atoll.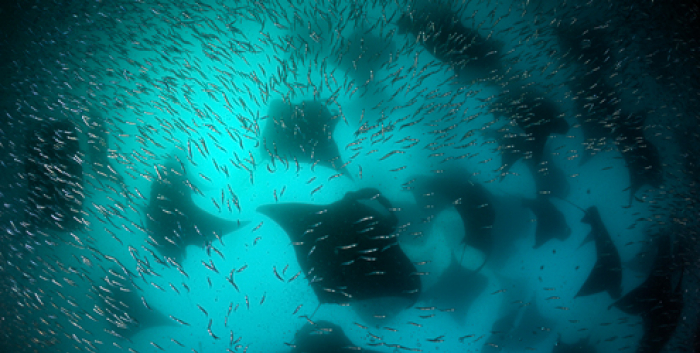 Individuals can be seen at cleaning stations throughout the year, but for a real treat, visitors should head to Fuvamulah between March and May for the mating season. During this time, hundreds of black oceanic mantas arrive here, creating one of the most unique dive experiences in Asia. The exact timing of this event is hard to predict as conditions fluctuate from year to year.
Best time of year: March - May, although the exact timing is hard to predict
5. Other highlights
Silvertip sharks are one of the more unique inhabitants of Fuvahmulah. Lucky visitors to the atoll can sometimes see hundreds of these sharks schooling between the months of January and March.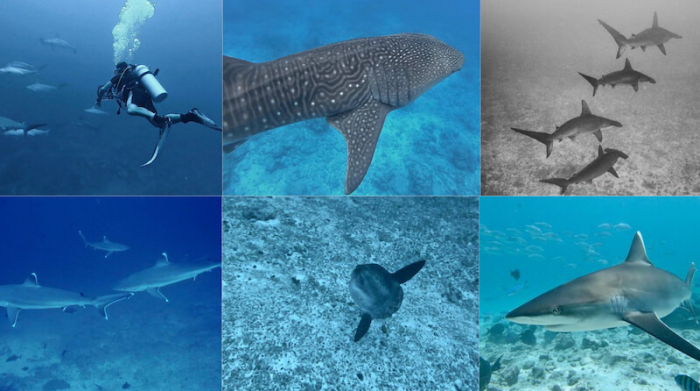 Fuvamulah also offers plenty of caves where white-tip reef sharks, and their juveniles, can be found throughout the year, and grey reef sharks are also frequently seen around this remote atoll. Whale sharks visit Fuvahmulah year-round although the probability is higher between December and April, around the time of the north-east monsoon, and with the month of March offering the highest chance of sighting.
Silver-tip sharks: January - March
White-tip reef sharks: Year round
Grey reef sharks: Year round
Whale sharks: December - April
Images courtesy of Fuvahmulah Dive School.

---
Diving Fuvahmulah Atoll
Fuvahmulah Dive School
Fuvahmulah Dive School was the first professional diving school based in Fuvahmulah Atoll and the only one to offer tiger shark encounters in a safe and responsible manner. The dive centre is now run by a team of diving professionals who have all logged thousands of dives exploring and researching Fuvahmulah's unique marine environment.
They pride themselves on providing excellent service to both individuals and groups, and for running tiger shark encounters safely and in a sustainable manner. Every guest is given a comprehensive briefing and explanation of shark behaviour, and the dive guides all have Shark Speciality and Shark Expert certifications – as well as expert knowledge about local conditions.

Carpe Vita
Meaning "seize life", Carpe Vita is an award-winning motor yacht that offers voyages throughout the Maldives, including exhilarating seven-night adventures in the deep south. This stylish liveaboard was built to the same standards as its sibling vessel, Carpe Diem, and boasts equally impressive facilities. But, at 38-metres in length, Carpe Vita promises extra space for its 20 passengers, guaranteeing plenty of comfort and privacy. Above all, this vessel was clearly designed for divers, with quality rental gear, nitrox, camera tables, and a spacious 20-metre dive dhoni - making it a top choice for exploring the adventurous atoll of Fuvahmulah. But, Carpe Vita also caters to both fishing and surfing excursions, in case you planned on tackling the Maldives' only beach break at Thoondu.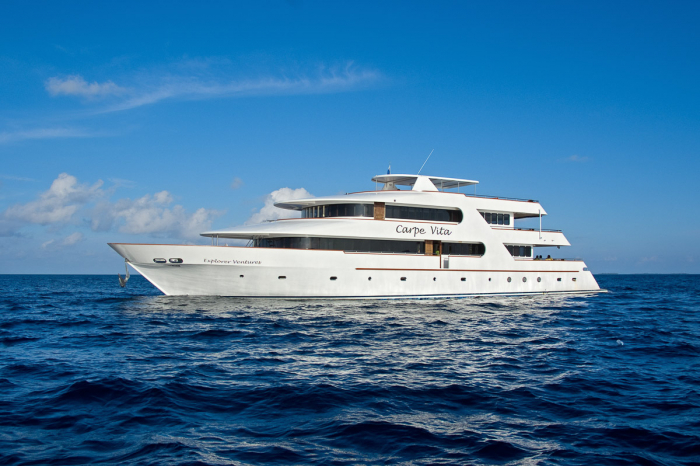 Emperor Explorer
Launched in 2019, this contemporary, custom-built motor yacht has been designed to deliver seamless scuba diving experiences in the Maldives. At 42-metres long, this impressive vessel has the hallmarks of a superyacht, including a sleek and stylish form, and luxurious details such as an upper deck open air spa, and a tempting restaurant where guests can enjoy a complimentary glass of wine every evening. These details extend to the Emperor Explorer's diving facilities, which include a spacious 24-metre dive dhoni, free nitrox, and full equipment rental, complete with complimentary SMBs and reef hooks. For those hoping to catch some heart-thumping footage of Fuvahmulah's famous resident sharks, this vessel also provides a dedicated camera table, air gun, and charging stations, as well as separate camera rinse tanks.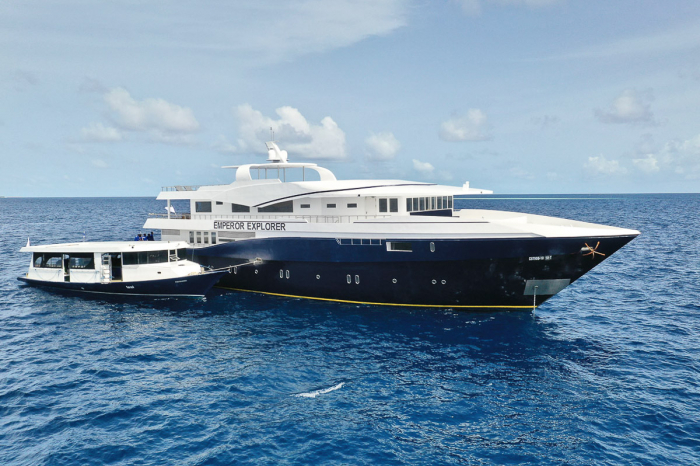 Blue Force One
Often regarded as one of the very best liveaboards in the world, Blue Force One definitely doesn't skimp on the details. This 42-metre premium dive boat aims to compete with many five-star resorts, delivering more comfort to guests during extended voyages and deep south itineraries - with not one, but two outdoor Jacuzzis, solariums, and one of the best stocked bars in the region. Guests will also benefit from complimentary use of paddleboards, kayaks, snorkelling gear, and a banana boat. Blue Force One can accommodate up to 24 guests across its 12 spacious cabins, two of which come furnished with private spa baths. And of course, as part of the prestigious Blue Force fleet, guests can be confident that this vessel's dive facilities will more than meet their expectations.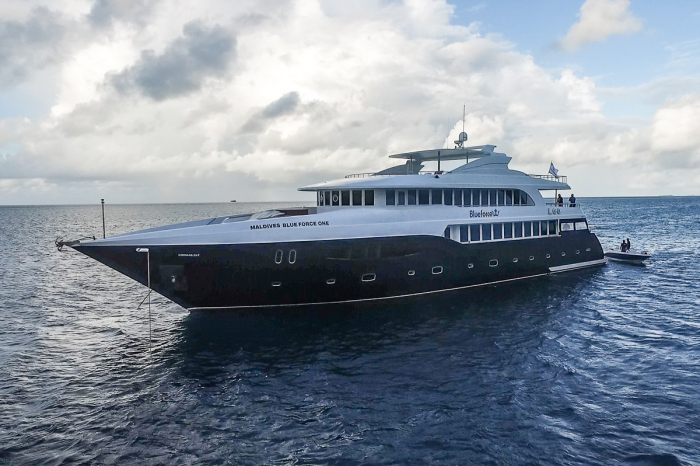 Nautilus Two
The 43-metre Nautilus Two easily accommodates up to 24 guests without feeling crowded. A huge lounge acts as the social hub on board, with dining tables on one side and the bar and lounge on the other, separated by a traditional five-metre fishing dhoni. Rich wooden furnishings create an atmosphere of sophistication, while draught beer and hand-crafted cocktails are available to help you unwind. Nautilus Two's design emphasises open-air social spaces, offering a huge sun deck furnished with loungers and a spacious foreship complete with a Jacuzzi. An accompanying 23-metre dhoni ensures stress-free diving even in the Maldives' most remote southern atolls, providing quality rental equipment, personal storage space, and concierge service from an energetic crew. Other activities are also available, including kayaking, paddleboarding, kitesurfing, and snorkelling.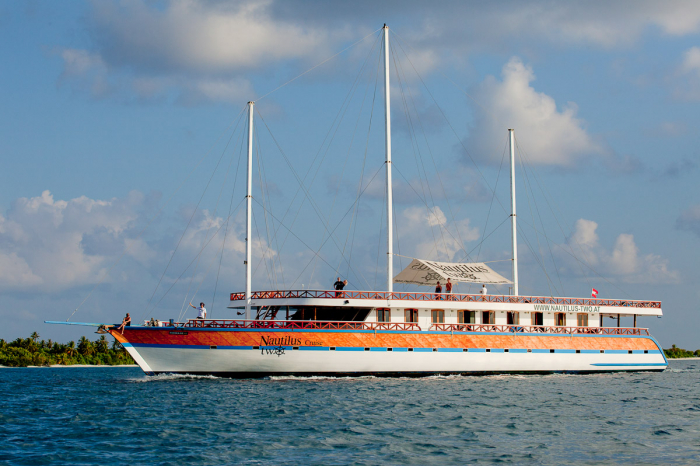 Moonima
Moonima is a high-performance 30-metre motor yacht venturing throughout the Maldives in search of exciting and adventurous experiences under the expertise of Eco Pro Divers. This salubrious vessel features a total of ten spacious, air-conditioned cabins, but sails with a maximum of just 18 passengers to provide the best diving and highest standards of comfort and service. Taking guest welfare to the next level, Moonima incorporates wellness into each and every voyage, offering a selection of detoxifying fresh blended juices, calming herbal teas, and healthy meals, as well as opportunities for mindful activities such as yoga and meditation. Itineraries include unforgettable encounters with nurse sharks, whale sharks, and manta rays, as well as convenient dive facilities such as high-quality rental equipment, camera cleaning and storage areas, and complimentary nitrox for certified divers.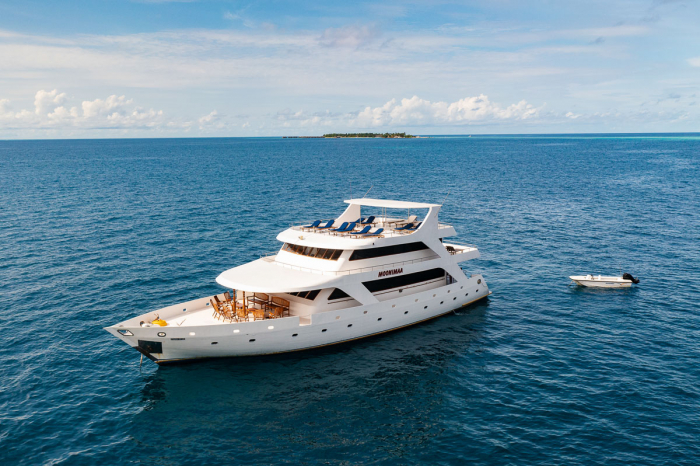 Manta Expeditions
Manta Expeditions is closely affiliated to the Manta Trust, offering both liveaboard and land-based expeditions to Fuvahmulah and other southern atolls. During these incredible experiences, guests will have the opportunity to participate in cutting-edge manta rays conservation research. The aim of these expeditions is to dive as much as possible alongside manta rays, using photo-ID, video measurements, and behavioural observations to unravel the mysteries of their lives. Of course, manta rays aren't the only stars here, and guests will likely encounter many of Fuvahmulah's iconic species.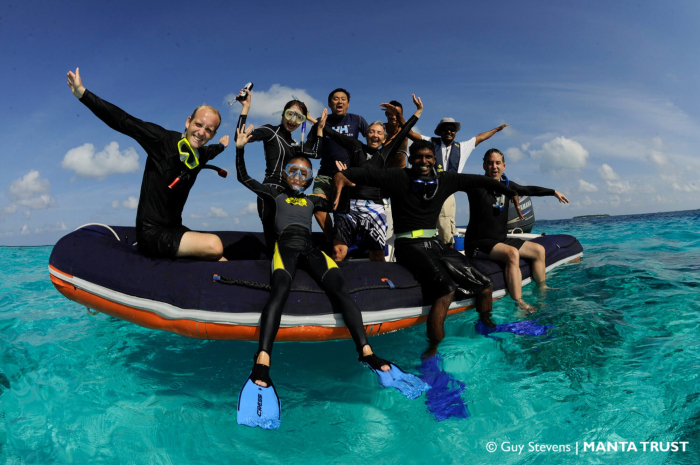 ---
How to get to Fuvahmulah
All international flights to the Maldives use Male's International Airport, located on Hulhule, about two-kilometres east of Male island. Domestic flights and seaplane transfers to resorts also use this airport, although the seaplane terminal is on the far side of the island, requiring a five-minute bus transfer across the runway. There are two scheduled flights to Fuvahmulah every day and flights take just over an hour.
If you have a late flight arrival or if the transfer to your final destination is not available immediately, there are a number of accommodation options in Male itself. Or you can stay on Hulhumale next to the airport where you will find affordable accommodation and hotel bars serving alcohol which is prohibited in the capital or on local non-resort islands.
---
---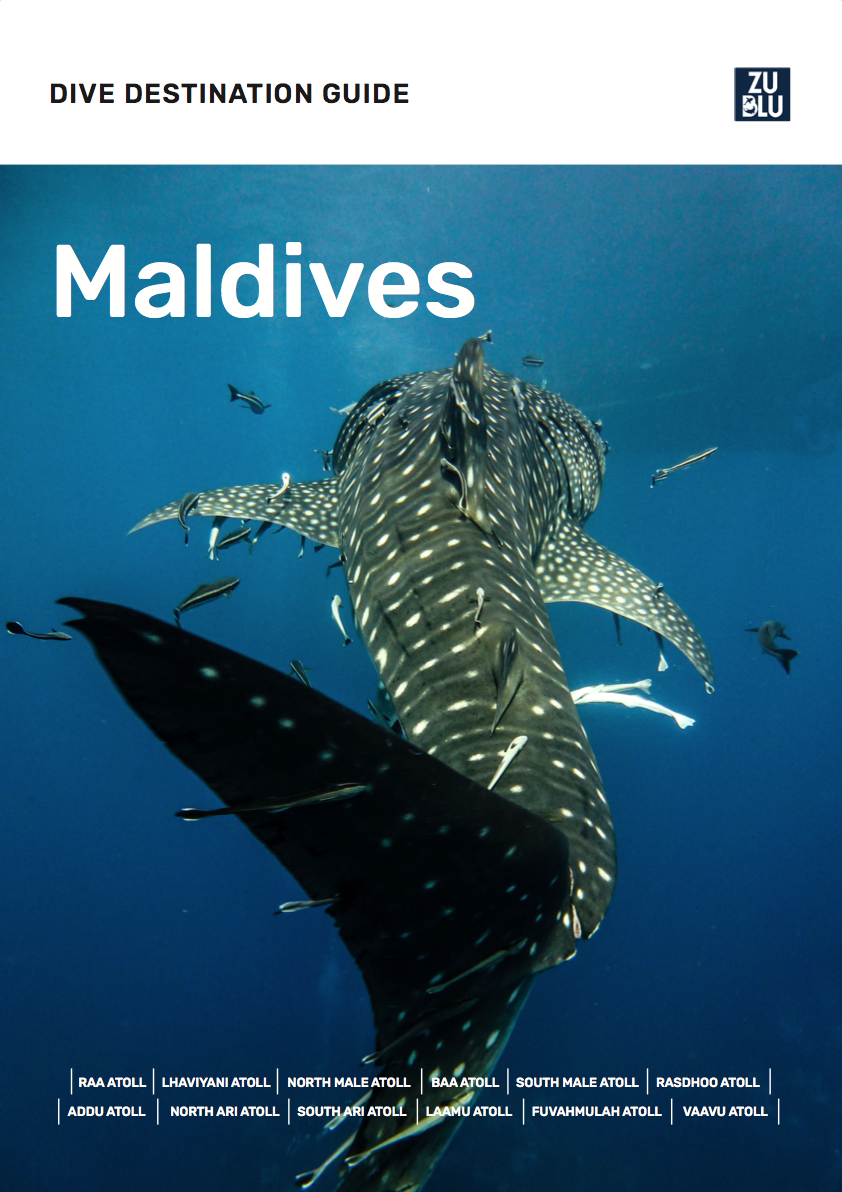 Complete guide to the best diving in the Maldives. Explore the atolls, seasons, and pro tips in this free 37 page destination guide.
---
---
Join the ZuBlu community to receive the latest insights and unmissable adventures
Don't worry, we'll only send you really good stuff - and we never share your details
---