Did you know that a group of sharks is actually called a shiver? Some divers speculate that the name comes from our instant reaction to encountering these powerful apex predators. And, while coming across a group of sharks might sound intimidating, diving alongside these graceful oceanic animals is perfectly safe and a ton of fun, too!
While Mexico is fairly new to the planet's dedicated shark diving scene, it is already drawing tons of attention from divers in the know. Read on to learn more about Baja, and Mexico's, best destinations for shark encounters, with guaranteed chills, thrills, and up-close encounters with some of the planet's most awesome shark species!

---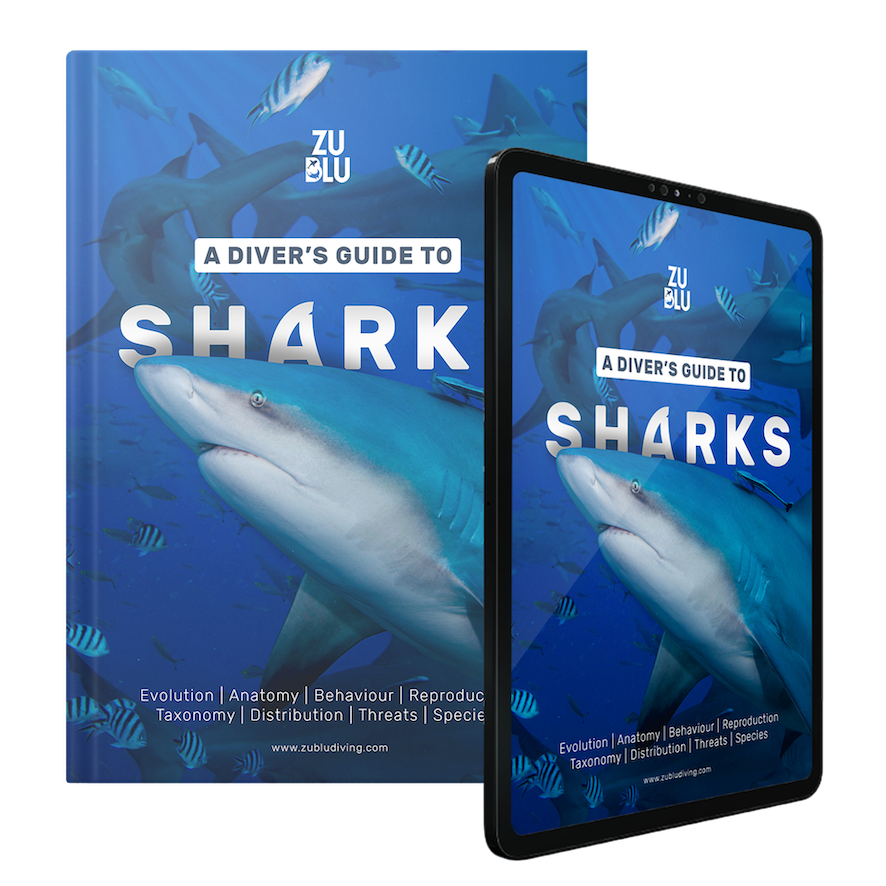 Everything you need to know about these wonderful creatures in a FREE 50 page guide. Read online or download today!
---
Guadalupe Island shark diving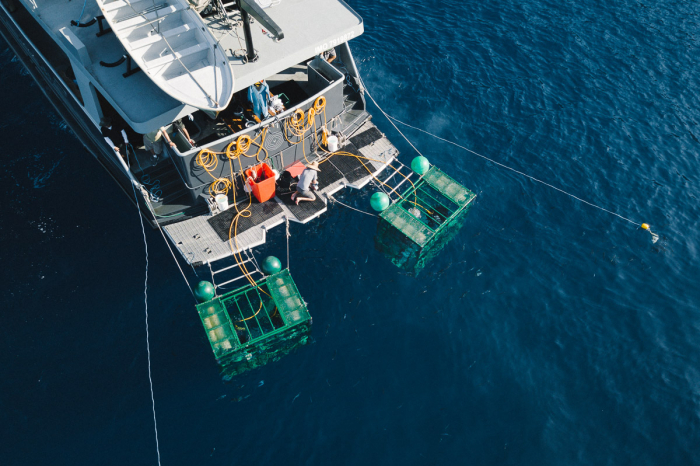 Once you reach the island of Guadalupe, you'll have the chance to enter the water up to four times a day, passively interacting with over 300 individually documented great white sharks. During these protected encounters, lucky dive groups might see the sharks splashing and breaching as they strike at lures – or cautiously approaching the cage for a closer look at the funny looking fish inside.

Not sure if cage diving is right for you? No worries! There are plenty of safe and ethical shark diving operators in Guadalupe. Your biggest concern should be getting there soon – Guadalupe's incredible great white cage diving won't stay a secret for much longer!
Gordo Banks and The Corridor
If you're hoping to dive alongside powerful Pacific predators, you don't have to go all the way to Guadalupe Island to do it. There are excellent options for shark diving close to San José del Cabo!
The Gordo Banks are a series of submerged offshore seamounts, found one to two hours from Los Cabos. Here, schools of jacks, tuna, snapper, and groupers are joined by eagle rays, cow-nose rays, and mobula rays. This remote reef is also regularly patrolled by silky sharks, and even whale sharks are occasionally spotted between April and June.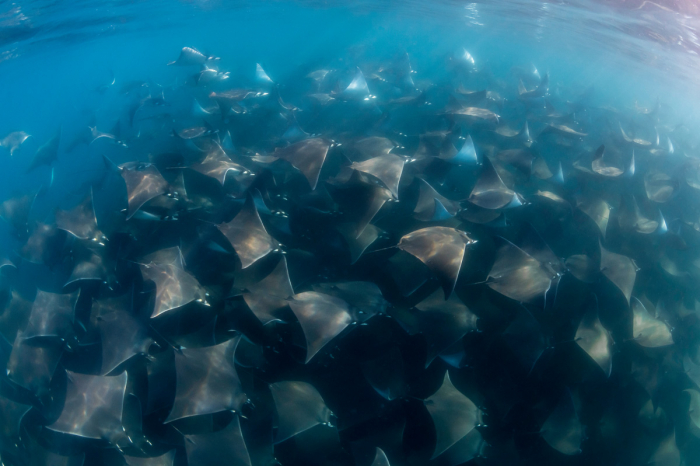 But, the real stars of the show here are schooling hammerheads, sometimes appearing by the hundreds. These massive groups consist mostly of juvenile males, drawn in from the open ocean for an opportunity to feed and visit the region's cleaning stations. Hammerheads are also spotted regularly in "The Corridor" - a similar diving area littered with seamounts en route to the Gordo Banks.
Dives at these submerged offshore sites are deep, with most sites beginning at 30-metres or more. You can also expect powerful currents and potentially rough surface conditions here. But, coming face to face with hundreds of schooling hammerheads is well worth the challenge!
El Bajo and Los Islotes
A few hours north, in Mexico's vibrant and biodiverse Sea of Cortez, more shark action awaits. Departing from La Paz, it will take you one to two hours to reach El Bajo and the far side of Espíritu Santo National Park. This far-flung diving destination is famous for its submerged ridge of seamounts, where spectacular marine wildlife can be found.
More of a rocky spine than a pinnacle, El Bajo is a series of cleaning stations that attract all kinds of marine megafauna. And, because this underwater formation is the only shelter for kilometres, it's also a popular place for schooling hammerheads to gather. The sharks are frequently spotted swimming out in the blue, in groups over a hundred strong, with individuals breaking rank to queue patiently at the cleaning station.
Discover the top liveaboards in Baja
Compare and book your ideal liveaboard adventure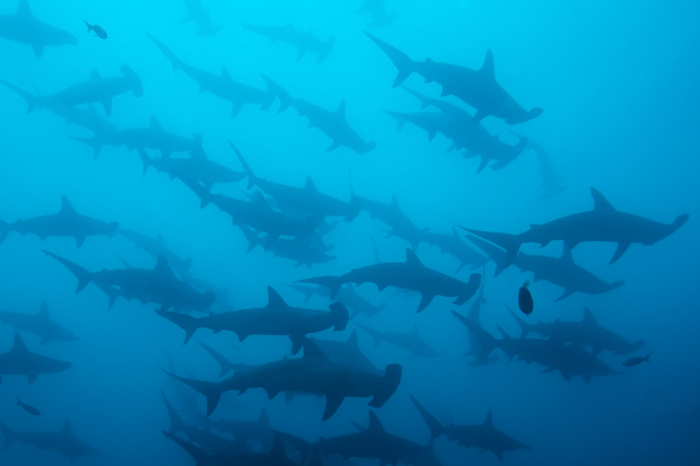 El Bajo's dives are deep and challenging, with most experiences taking place below 30-metres and in powerful flowing currents. But, the extra effort is totally worth it! In addition to hammerheads, silky sharks, whale sharks, and even giant oceanic manta rays are sometimes seen. Many operators combine a two-tank adventure here with a stop at the Los Islotes sea lion rookery on the way back to shore, an ideal experience for divers with limited time for exploring the region.
La Paz whale shark diving
Did you know you could go diving with whale sharks in La Paz? Unless you're an expert on scuba exploration in Mexico's Baja peninsula, the answer is probably no. That's because, unlike similar experiences in Mexico's Caribbean, this aggregation of the world's biggest fish remains largely unknown - even among adventurous and well-travelled explorers!
The first thing to know about whale shark diving in La Paz is that you may not need to dive at all. These giant filter feeders aggregate each year in the Sea of Cortez to feast on their favourite meal - plankton - found floating on or close to the surface. That's why whale sharks are so commonly spotted in just a metre or two of water!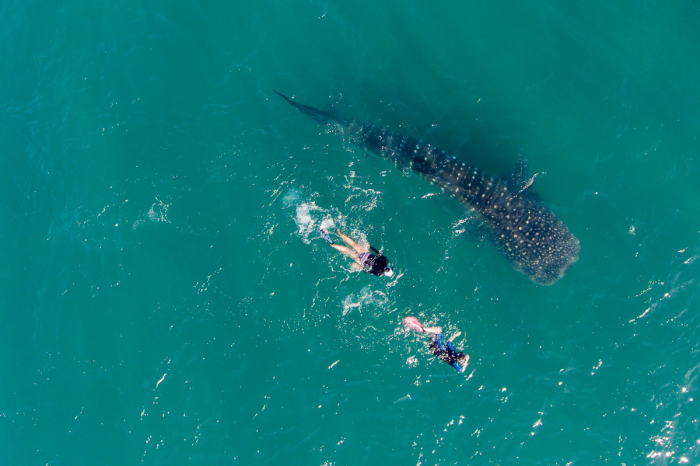 Each year, between November and February, hundreds of these gentle ocean giants pass through this region. And snorkelling alongside them is a snap! Most trips depart from the marina in La Paz and last between three and four hours, and include everything you'll need to enjoy your day on the water - equipment, water, lunch, and plenty of snacks. You'll have up to 30-minutes in the water with each individual before moving on. And, thanks to strict marine park protection, a limited number of boats and snorkelers will be in the water at any given time - allowing you to enjoy a calm, passive encounter with each individual.
Socorro and Revillagigedo, Mexico's final frontier
Located a whopping 30-hours or more offshore, Socorro and the Revillagigedo Islands is easily one of Mexico's most remote and pristine scuba diving destinations, with a reputation for up close encounters with oceanic manta rays, bottlenose dolphins, and up to ten shark species!

A trip here isn't for the faint of heart. Socorro's diving is dynamic and challenging, with powerful currents and potentially rough surface conditions, and can only be explored via a liveaboard dive safari. But, for guests intrepid enough to embark on this adventure, the rewards are just as big as the park's famous wildlife!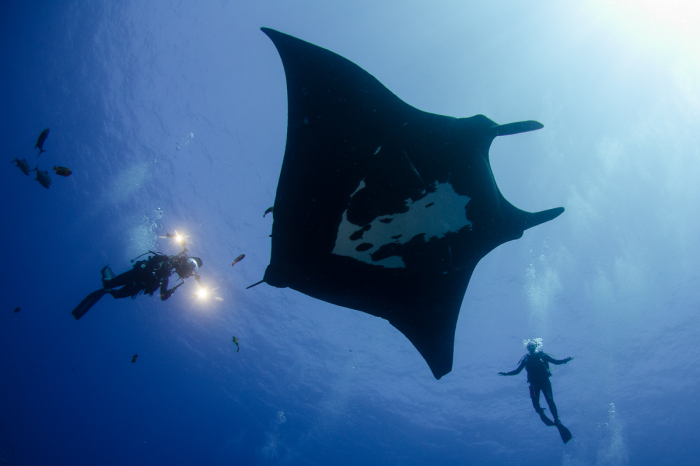 Dives here focus on cleaning stations and walls, where pelagic and reef shark species gather. Drift along craggy reefs and canyons where silkies and Galapagos sharks patrol the drop-off, explore crevices and overhangs where lazy white-tips nap together, and peer out in the blue where hundreds of schooling hammerheads could flash by - sometimes in the blink of an eye! And, with a bit of luck, other species like whale sharks and even tiger sharks can be spotted here, too. 
Liveaboards visiting the Revillagigedo Islands typically offer trips lasting nine days or more at sea. But don't worry. You won't get bored. With diving this action-packed, you're guaranteed to finish your trip wishing it had lasted longer!
---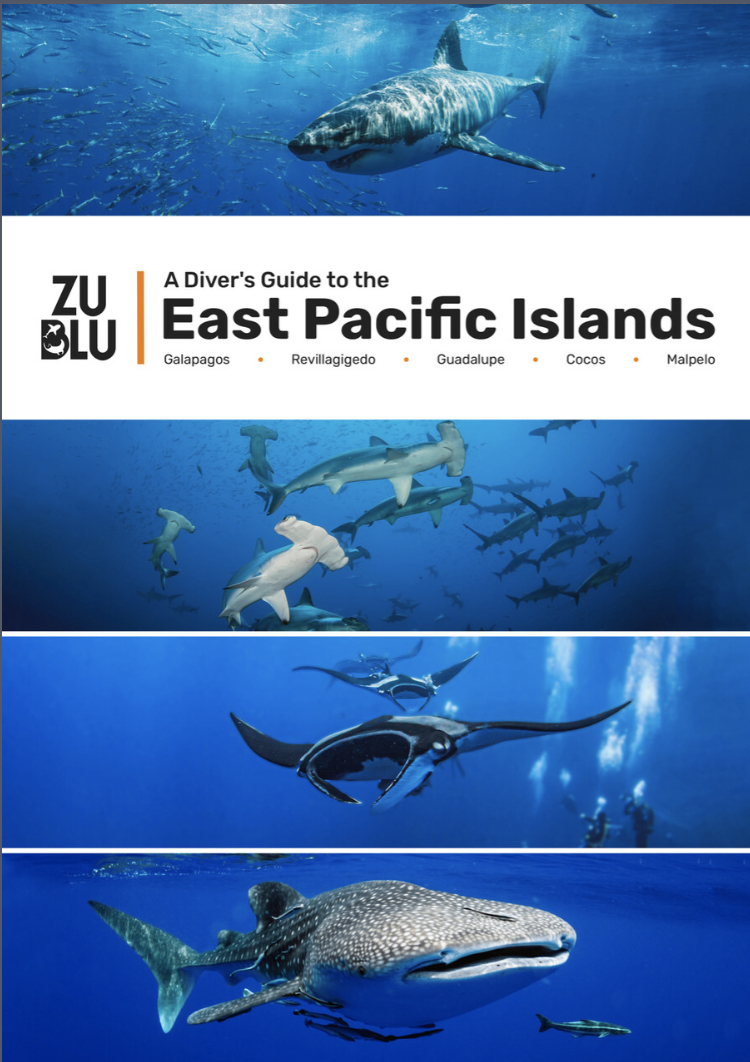 Download your free guide to diving the East Pacific Islands - from Guadalupe and Socorro, to Cocos, Malpelo and the Galapagos. Discover everything you need to know in this comprehensive50 page destination guide.
---
---
---
Are you ready to start planning your shark diving adventure?
Our team of travel experts is standing by to offer updated travel tips and advice, and provide seamless and stress-free experiences from start to finish!

---