Scuba diving in the
Maldives
Idyllic islands, spectacular resorts and astonishing encounters with manta rays and whale sharks - the Maldives delivers both five-star luxury and exceptional scuba diving experiences across the atolls.
Maldives diving highlights
Snorkel among feeding whale sharks and manta rays in Hanifaru Bay
Cruise in style on luxury liveaboards, exploring remote dive sites 
Dive healthy reefs and channels in search of sharks and schooling fish
Discover serenity on an idyllic paradise island – perfect for a romantic getaway
Get away from it all at some of the world's most exclusive private island resorts
The Maldives is one of the most popular scuba diving destinations in the world and rightly known for delivering astonishing encounters with whale sharks and manta rays. But it's not just the bigger species that attracts divers to the Maldives. With current-swept channels, coral-clad thilas, fascinating wrecks and over a thousand islands boasting their own vibrant reefs, the Maldives offers a near endless selection of dive sites to explore.
Once reserved as a playground for the rich and famous, the Maldives has opened up to divers of all persuasions in search of unbeatable dive experiences, and some of the most breathtaking scenery the world has to offer. But the country's renowned five-star service and indulgences aren't just confined to the private island resorts. With front-row access to the Indian Ocean, this unique country also offers an array of incredible ocean activities. Explore the reefs in a submarine, dine with loved ones beneath the waves, or cruise the horizon on a luxury yacht – in the Maldives, the world is your oyster.
---
---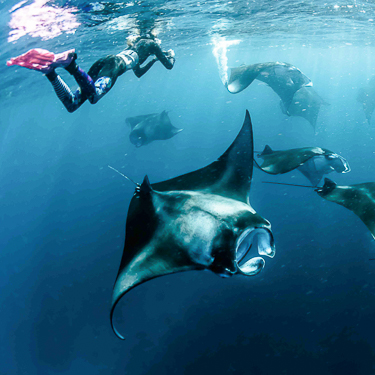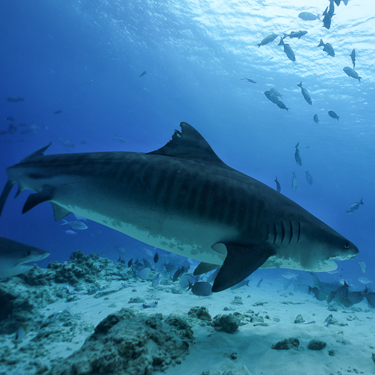 Year round
Guaranteed tiger shark encounters in Fuvahmulah
For a genuine heart-pounding adventure, visit Fuvahmulah's Tiger Zoo – the only site in Asia delivering guaranteed tiger shark sightings. On a good day, divers can witness dozens of patrolling tiger sharks, ranging up to five metres in length!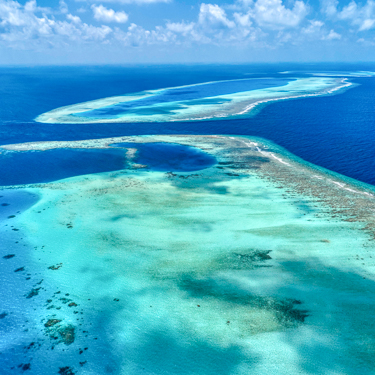 December to April
Experience Vaavu Atolls' thrilling channels
For a classic Maldivian diving experience, head to Vaavu's epic channels. During the wet season, manta rays rule these waters, but for the rest of the year strong currents provide some truly thrilling shark dives amidst schools of big fish.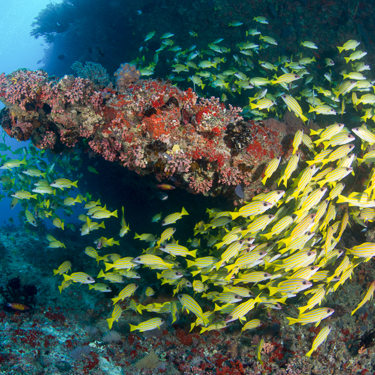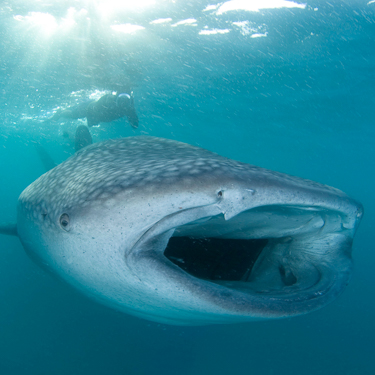 ---
When is the best time of year to dive in the Maldives?
The Maldives offers excellent year-round diving but there are two distinct seasons that dictate diving conditions in the Maldives - the dry northeast monsoon and the wet southwest monsoon.
Diving during the Maldives' northeast monsoon
High season, from December to April.
Visibility at its best on the eastern side of each atoll.
Manta rays and whale sharks on the western side of each atoll.
Known in Dhivehi as Iruvai, the northeast monsoon from January to April offers the best weather with plenty of sun and little rain. The sunniest months are normally January and February. This high season is also the best time of year for diving and other ocean activities, but is also the busiest and most expensive time of year to visit the Maldives. The prevailing winds from the northeast mean that manta rays are more likely to be seen at dive sites in the west of the atolls, while channels and thilas in the east are at their best as they are bathed in clear ocean water.
Diving during the Maldives' southwest monsoon
Low season, from May to October/November.
Visibility at its best on the western side of each atoll.
Manta ray and whale shark sightings on the eastern side of each atoll.
Known in Dhivehi as Hulhangu, southwest monsoon from May to November is low season, with more rain, less sun, and stronger winds, but it is also quieter and a more affordable time of year to visit the Maldives. The wettest months are normally May and October, but you will also get plenty of sun. The atolls can be dived year-round as sheltered sites can always be found within the atolls. The prevailing winds mean that manta rays are more likely to be seen at dive sites in the east of the atolls, while channels and thilas in the west are at their best.
Manta ray and whale shark seasons
The monsoons in the Maldives have a significant impact on where you're most likely to encounter manta rays and whale sharks throughout the year. Throughout each monsoon season, the prevailing winds and currents continuously push plankton across the atolls, concentrating this mobile bounty on the opposite side of the atoll from which the wind is blowing. 
Manta rays and whale sharks follow their food, so during the high season from December to April, when winds are blowing from the southeast, manta rays are normally found on the western side of the atolls. The situation then reverses during the low season from May to November, when manta rays are normally found on the eastern side of the atolls.
In a nutshell, manta rays and whale sharks tend to congregate 'downwind' of the monsoon winds as they track the plankton across the atolls.
For example, in Hanifaru Bay in Baa Atoll, both manta ray and whale shark sightings peak during the wet season, when winds are blowing from the southeast. Likewise, in South Ari Atoll's marine protected area, whale sharks are typically spotted around the eastern island of Dhigurah during the wet southwest monsoon, and move to the southwest during the dry northeast monsoon.
What makes the diving in the Maldives so good?
The diving environment in the Maldives
Nearly all of the dive sites in the Maldives fall into one of only a few categories – namely kandus, giris and thilas, as well as wrecks.
Kandus
Kandus are channels carved through the atoll's outer reef wall by strong oceanic currents and are where much of the Maldives' diving takes place. Huge volumes of water are funnelled back and forth through these channels, creating the ideal conditions for coral growth and attracting marine life including tuna, reef sharks, mantas, and more, and making for thrilling drift dives, particularly on an inward tide.
Thilas and Giris
Both thilas and giris are submerged coral pinnacles – the only difference is how close they come to the surface. Giris typically reach right up to the surface, even becoming exposed on very low tides, while the well-known thilas lie a little deeper, with their coral covered summits at depths of around 10-15 metres. Inside the lagoons, thilas and giris offer gentle dives with lots to discover, including macro life such as frogfish, and are often the site of cleaning stations used by manta rays. But, those that lie within the Maldives' infamous kandus are often swept by powerful currents and offer breathtaking big fish action.
Farus
Farus are small fringing reefs that are visible from the surface and typically resemble the shape of a horseshoe. These sheltered structures are great for snorkelling and learning to dive, while some deeper sections can provide enough interest for more advanced underwater explorers.
What marine life can I expect to see when diving in the Maldives?
Whale sharks and manta rays
Whale sharks and manta rays are the most famous marine residents in the Maldives. These gentle giants provide some of the most mesmerising underwater encounters imaginable thanks to their breathtaking size and graceful movements. Incredibly, encounters with whale sharks and manta rays are almost guaranteed in particular places in the Maldives! Baa Atoll's Hanifaru Bay is the site for some of the planet's most impressive gatherings of reef manta rays, while Fuvahmulah delivers around 80% of all oceanic manta sightings in the entire country. Or if it's whale sharks you're after, the Maamigili Marine Protected Area in South Ari Atoll records almost daily sightings. 
Reef life in the Maldives
Encounters with both green and hawksbill turtles are likely throughout the Maldives and you may even be lucky enough to spot them nesting on beach. In fact, many resorts have their own turtle hatcheries to help protect any eggs laid on the local beaches. Apart from a prolific variety of Indian Ocean reef fish, other bigger species include tuna, mackerel and wahoo, plus trevally, barracuda and Napoleon wrasse. Not to be overshadowed by their larger relatives, both eagle rays and stingrays are commonly seen on many dive sites, and close to shore in the shallows.
Commonly encountered sharks in the Maldives
Reef sharks are spotted throughout the Maldives, with several atolls known for sizable schools of grey reef sharks in their channels. But, if it's sharks you're looking for, the southern atolls are where the action is. Huvadhoo Atoll alone is home to around 13 shark species, including silkies, silvertips, nurse sharks, spinner sharks and bull sharks. Nearby Fuvahmulah is another shark paradise, delivering seasonal hammerhead and thresher shark sightings along with guaranteed daily tiger shark encounters.
Coral and macro marine life
Of course, the marine life in the Maldives isn't all big and many dive sites play host to fire gobies, fairy basslets, frogfish, ghost pipefish, leaf scorpionfish and more. While some of the Maldives' underwater scenery has been affected by bleaching events, many coral reefs are bouncing back with surprising vigour particularly around channels and areas exposed to currents. Diverts can witness fields of corals, while whip corals, sea sponges and sea fans create bizarre forests that stretch as far as the eye can see.
Which atolls offer the best diving in the Maldives?
Each atoll in the Maldives has its own unique attractions, including spectacular dive sites that draw scuba divers from around the world.
Northern Atolls
Noonu Atoll
Noonu is an often overlooked destination in the country's northern reaches, close to where the two parallel chains of atolls converge. Divers can discover dramatic underwater topography clouded by colourful fish and scores of reef sharks. And, with fewer tourists than some of the more popular atolls, Noonu's dive sites remain remarkably quiet.
Lhaviyani is located south of Noon on the Maldives' eastern side. It is a popular northern atoll for divers, offering healthy coral reefs, accessible shipwrecks – including the famous Shipyard site - and regular reef shark sightings. Lhaviyani Atoll also delivers seasonal manta ray encounters, including at noteworthy sites such as Felivaru Kandu and Kuredu Express.
Located in the Maldives' northwest, Raa Atoll is a regular favourite among divers. Development in this atoll is low key, creating the ideal environment for remote relaxation, yet the reefs bustle with energy and manta rays and large pelagics can often be found relishing the currents. The most popular dive sites are in the southern half of the atoll, including Reethi Thila, Fenfushi Giri, Kottafaru, Sola Corner, and the area around Vandhoo.
Baa Atoll – located due south of Raa Atoll – has become one of the iconic scuba diving destinations in the Maldives. This UNESCO Biosphere Reserve is home to the legendary Hanifaru Bay, which welcomes some of the largest and most reliable manta ray congregations in the world. But the atoll's protected status means there's plenty to see outside the bay as well with beautiful reefs and thilas to explore.
Central Atolls
Rasdhoo is a small atoll located just a few kilometres off the northeast coast of North Ari. Despite its small size, Rasdhoo built its scuba diving reputation on exhilarating encounters with big marine species. No matter what time of year, visitors here are in with a chance of encountering reef sharks, eagle rays, manta rays and even hammerheads at sites such as Manta Block and Rasdhoo Madivaru.
North Ari is a well developed atoll on the western edge of the Maldives, within easy reach of Male's international airport. The atoll's diving focuses on sites within the lagoon, where schools of barracuda, snapper, tuna, and trevally, as well as turtles, rays and reef sharks can be seen. Maaya Thila and Fish Head are two of the most famous dive sites, while Fesdhoo is home to a unique manta ray night dive. North Ari even offers several purposely scuttled shipwrecks to explore. 
South Ari is one of the Maldives' most established tourist hotspots and marquee dive destinations, featuring some fantastic drifts and one of the country's most impressive artificial reefs - the Machchafushi Wreck. But South Ari's fame is due to almost daily whale shark sightings throughout the year in the southern marine protected area which incorporates the islands of Dhigurah, Maamigili and Rangali. Manta rays are also frequently seen at Madivaru, otherwise known as Manta Point.
North Male is the location of the country's capital city and primary international airport, and was the Maldives' original dive destination. As such, this atoll is perhaps the most popular of them all. Underwater highlights include Banana Reef, Manta Point, Maldives Victory, HP Reef and Girifushi Thila, offering divers the chance to encounter manta rays, wrecks, reef sharks, schooling barracuda, and more. With its convenience, wide variety of resorts, liveaboards and dive sites, North Male is an ideal option if you're looking for the quintessential Maldivian experience.
Just a stone's throw from the capital and international airport, South Male provides a great alternative to North Male, offering yet more of the Maldives iconic scuba diving experiences, set within a slightly less developed environment. Divers can explore some of the country's most famous dive sites, including marine protected areas packed with life such as Guraidhoo and current-swept pinnacles like Kandooma's Cocoa Thila.
Vaavu is a sparsely populated atoll located below South Male, on the eastern side of the archipelago, and is home to some of the best channel diving in the Maldives, at sites including Fotteyo Kandu and Miyaru Kandu. These attract schools of grey and whitetip reef sharks, along with other big species. Fulidhoo Kandu and Vattaru Reef are great alternatives while a night dive at Alimatha jetty delivers exceptional reef shark encounters in the shadowy, star-lit shallows.
Lying south of Vaavu, Meemu Atoll is even further removed from the hustle and bustle of Male. And, while the atoll is less well-known, the diving is every bit as impressive. The narrow channels - including Mulee Kandu and Malaku Kandu - deliver plenty of pelagic action, with schools of trevally, tuna and barracuda, along with manta rays, reef sharks and occasional hammerhead appearances.
Faafu Atoll is located below South Ari, on the archipelago's eastern side. Compared to other destinations in the Maldives, Faafu's reefs are a relatively recent discovery by the dive community. Visiting divers can discover a wealth of unspoiled dive sites and enjoy an atmosphere of pioneering underwater adventure – a rarity in the Maldives. Highlights include Filitheyo Kandu with its three separate sites - Filitheyo Thila, Filitheyo Outside, and Dolphin Corner.
Dhaalu Atoll sits directly below Faafu and, like its northern neighbour, is regularly overlooked by dive tourists. For those that do choose to visit, however, this means uncrowded dive sites and a blissful sense of escapism. The atoll's walls are punctured by more than a dozen channels, including the protected Fushi Kandu where schools of eagle rays and sharks can be seen.
Laamu is the southernmost of the Maldives' central atolls, and is separated from Huvadhoo by a 97-kilometre passage. Only a few kandus pierce Laamu's outer walls, meaning tidal flows in and out of these channels can be intense – and where there are powerful currents, there are powerful fish. Fushi Kandu is the top channel dive while Hithadhoo Corner is Laamu's own 'manta point'.
The large atoll of Thaa more or less straddles the archipelago's eastern and western edges, tying the two distinct atoll chains together. With sharks, mantas, eagle rays, and turtles all on the cards, the diving here is typical of the Maldives. Olhugiri Kandu delivers schooling fish and hunting pelagics while 7-Up and Gorgonian Garden concentrate on healthy coral colonies.
Southern Atolls
Huvadhoo is a large, isolated atoll separated from the rest of the archipelago by two wide channels. It is one of the least explored dive destinations in the Maldives, offering some adventurous underwater experiences. Huvadhoo's vast lagoon shelters impressively healthy reefs, while the surrounding open ocean makes this atoll a magnet for marine life, including 13 different species of shark. Villingili Kandu and Nilandhoo Kandu are currently the two favourite sites for shark diving.
Fuvahmulah is a unique southern atoll lying close to the equator that has quickly become the Maldives' most sought-after destination among experienced divers. Just beyond the harbour walls, Fuvahmulah's famous Tiger Zoo dive site boasts guaranteed tiger shark encounters every day of the year. While other marine life including schools of hammerheads, silvertips and oceanic manta rays put in appearances at different times of year.
Addu is the southernmost atoll in the Maldives and this isolated outpost offers a fantastic mix of culture, scenery and scuba diving. The atoll's vibrant reefs attract many of the usual suspects, including turtles and reef sharks. Resident manta rays can also be seen at Muli Kolhu Faru, as well as Maa Kandu and Maa Kandu Beyru. Finally, this atoll is a favourite among wreck-diving enthusiasts, who come to explore the WWII British Loyalty – the largest wreck in the Maldives.
---