The Maldives is an idyllic island nation of 26 atolls, strung across 850-kilometres of the Indian Ocean and each with its own vast lagoon filled with dive sites. With so much exceptional scuba diving on offer, it's not surprising that the best way to explore the Maldives is onboard a dive liveaboard. Their ability to cover the distances between atolls, and flexibility to follow seasonal marine life and weather, means that liveaboards are the perfect choice for that ultimate Maldivian diving holiday. 

So, if you're ready to experience all that this country has to offer, keep reading to discover our selection of the best diving liveaboards in the Maldives.
Ready to start planning your dive safari in the Maldives?
Browse our top liveaboards in the Maldives
The top-rated liveaboard in the Maldives
Carpe Diem
The first of its fleet, the Carpe Diem offers both scheduled dive safaris throughout the Maldives and a diverse selection of itineraries. Boasting four beautifully designed decks, superb facilities, and experienced and dedicated staff, Carpe Diem creates dream dive holidays year after year. Divers enjoy a premier dive service based on experience and excellence, complemented by spacious, plush cabins, convenient camera facilities, and up to three dives per day at renowned Maldives dive sites with sharks and manta rays.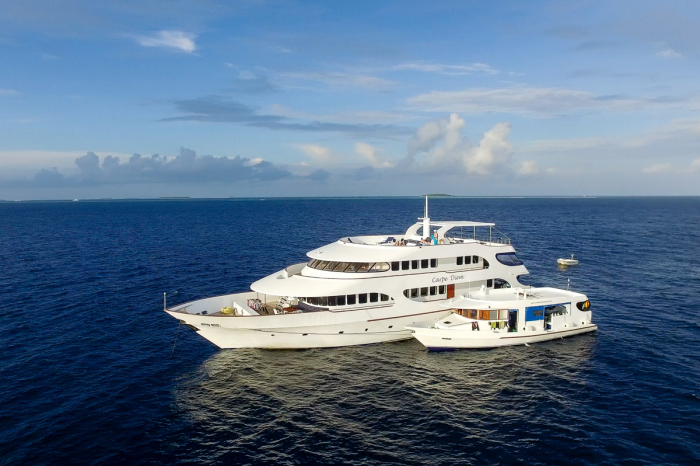 Carpe Diem Cruises' fleet of modern, spacious motor yachts offer a premier diving service in the Maldives. Born from a passion for Maldives diving, the fleet was designed by divers, for divers, with comfort, convenience and luxury in mind. Luxurious, yet casual, divers will love their attention to detail, from skilfully-designed lounges and well-appointed cabins, to top deck luxuries. All three vessels and their friendly, professional crew offer an unparalleled liveaboard experience throughout the Maldives. Guests can explore the best dive sites, with exciting routes and itineraries that take into consideration the changing seasons, and highlight the best of the Maldives throughout the year.
Best luxury liveaboard
Blue Force One
Blending chic modern interiors and first-class service with adventurous Maldivian diving, Blue Force One is in a league of its own. Sublime comforts permeate every aspect of this vessel's impeccable design, with facilities ranging from on-deck Jacuzzis to a disco-themed party room. And, boasting large in-vogue lounge spaces and roomy, perfectly-appointed cabins, Blue Force One delivers unbeatable five-star luxury. In fact, if it weren't for the stunning ocean vistas, you might forget you were at sea at all.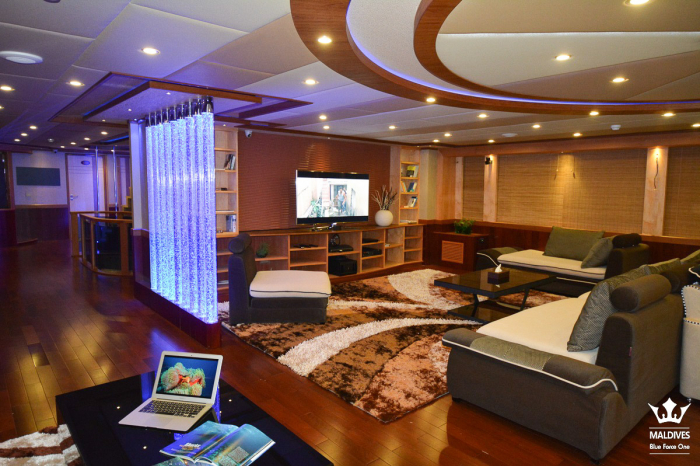 As you'd expect from such a lavish liveaboard in the Maldives, Blue Force One's superior standards of service extend throughout its dive facilities, offering concierge-style attention and hands-on assistance above and below water. Dual staircases lead to the spacious swim deck and provide easy access to the dedicated dhoni where Individual storage space is provided for every diver. Plus, with extra perks for experienced ocean explorers, such as nitrox and designated areas for camera equipment, Blue Force One is, without a doubt, one of the most luxurious liveaboards in the Maldives.
Best onboard spa
Scubaspa Ying
Looking for the ultimate blend of adventure and indulgent relaxation? Well look no further than the award-winning Scubaspa and its twin vessels Ying and Yang. 
Setting new standards of luxury in the industry with a unique 'floating resort' concept, these vessels deliver a truly sublime service based on excellence, experience and unparalleled relaxation. Scubaspa's Ying and Yang are the only Maldives liveaboards to receive PADI 5-Star Dive Resort status, making them well-equipped to deliver the dive holiday of a lifetime. An accompanying 20-metre dhoni acts as the floating dive centre, featuring rental equipment, nitrox and multilingual instructors.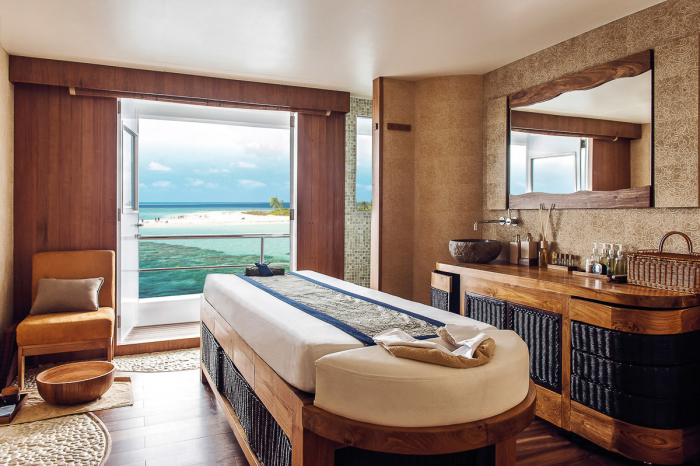 Offering countless other first-class facilities including sumptuous suites with panoramic ocean views, a gym, Jacuzzi, open-air cinema, and spacious al fresco dining, Scubaspa truly is a resort above the water. And, the onboard Asian spa – the largest of its kind in the Maldives – is ready to re-energize your body and soul with a menu of tantalizing treatments and calming classes, from open-air massages to guided meditation and yoga. This really is as good as it gets!
Best liveaboard for underwater photographers
Maldives Aggressor II
With so many unbelievable diving experiences around every corner, an underwater camera is an essential tool when visiting the Maldives – how else are you going to prove your tales? And if you're travelling with camera equipment and looking to get the shot of a lifetime, you need a liveaboard that's up to the task.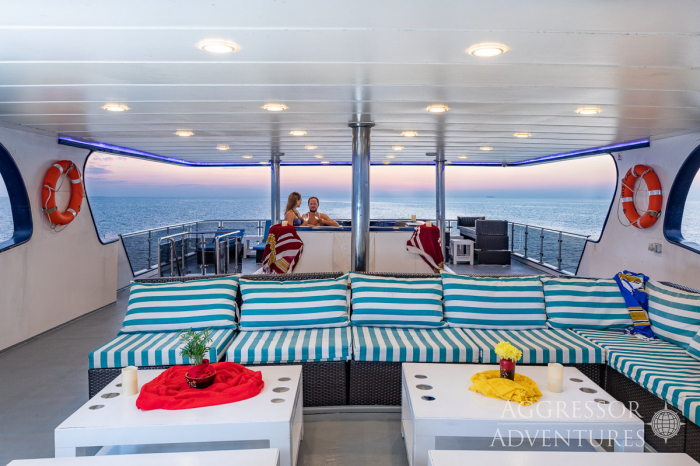 The Maldives Aggressor II is the ultimate vessel for underwater photographers, offering hard-to-beat facilities for camera care and preparation. A three-tier camera table, blow-dry station, charging area, and fresh-water rinse bins ensure even the most avid photographers are well catered for, while the 18-metre dhoni delivers spacious stress-free diving. And, with a professional team of expert guides offering the same high standards of service above and below the waves, the Maldives Aggressor II makes capturing each epic image absolutely effortless.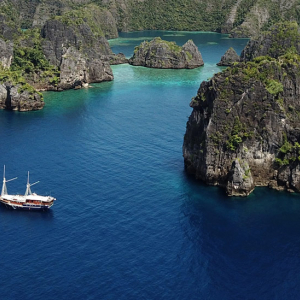 Recommended insight
The ultimate guide to liveaboard diving in 2023
Everything you need to know about liveaboard dive holidays, what to consider when booking a dive safari, and the best liveaboard dive destinations in the world!
Best value-for-money liveaboard
Moonima
Moonima combines the design of a modern safari yacht with comfortable amenities and unparalleled customer service, for a unique liveaboard adventure in the Maldives. One of the most spacious and luxurious vessels in the Eco Pro Divers fleet, Moonima offers a variety of exciting seasonal diving itineraries for up to 20 guests, including trips to the far north. You'll love this boat's updated interiors, roomy cabins, delicious meals, and excursions to the region's very best dive sites.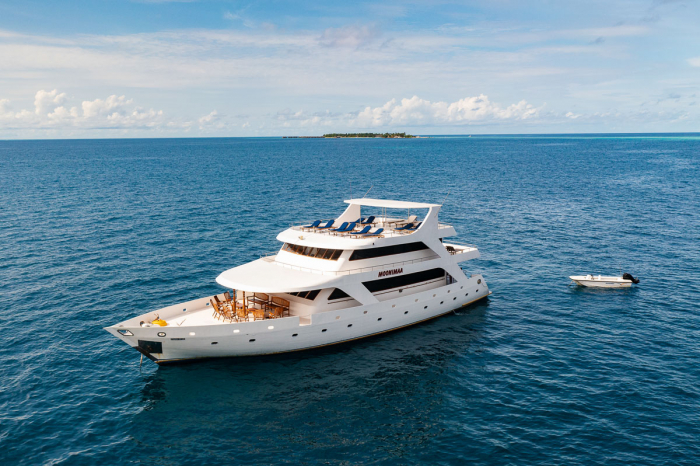 Dedicated divers will love Moonima's thoughtful facilities, including a shaded dive deck, custom dive dhoni, high-quality rental equipment, and camera cleaning and storage areas. Plus, everything you'll need to clean and care for personal gear brought from home. You'll also find plenty of extras onboard, with free nitrox for certified divers, 15-litre tanks on request, and the option to add extra dives to your itinerary. This liveaboard offers a variety of voyages through the Maldives' central and northern atolls, plus private charter, with a trip to suit every diver's skill and comfort level.
Best liveaboard for solo travellers
Adora
Despite its reputation as a honeymoon hotspot, the Maldives is a fantastic destination for solo travel. With a huge number of islands to discover, and underwater environments to explore, lone travellers are free to sculpt their own experience, making lifelong friends along the way. And, while budget, dorm-style liveaboards may be few and far between in this luxurious destination, some of the Maldives' most iconic vessels are still well suited to single divers.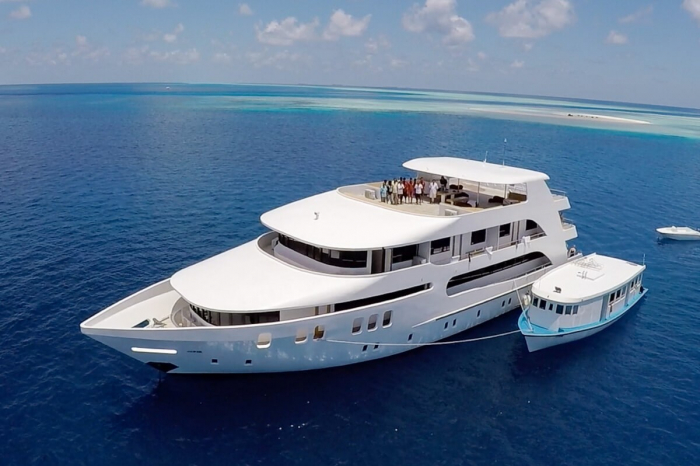 Adora is managed by the Maldives Boat Club, one of the longest running, and most experienced operators in the Maldives - and it shows. And for solo travelers, the convenience and comfort of its superior single cabin is just one of many little touches that set this vessel apart. Every detail on board Adora has been meticulously crafted to deliver an unforgettable experience for guests, from the accommodation and facilities, to the delicious dining and personalised service. Best of all, this vessel is ideal for getting to know fellow guests, thanks to the warm and convivial atmosphere created by the social-design of the communal spaces.
Best liveaboard for families
Fascination Maldives
The salubrious Fascination Maldives offers intimate, private charters for up to six guests, making it perfectly suited to families. And, each bespoke itinerary is 100% customisable, allowing you to design your own Maldivian liveaboard adventure – be it diving, snorkelling, surfing, or all three. Boasting sumptuous solid teak interiors, oversized cabins, and a well-stocked bar, this vessel feels like your own five-star villa above the waves, complete with an onboard chef to keep your family well-fuelled.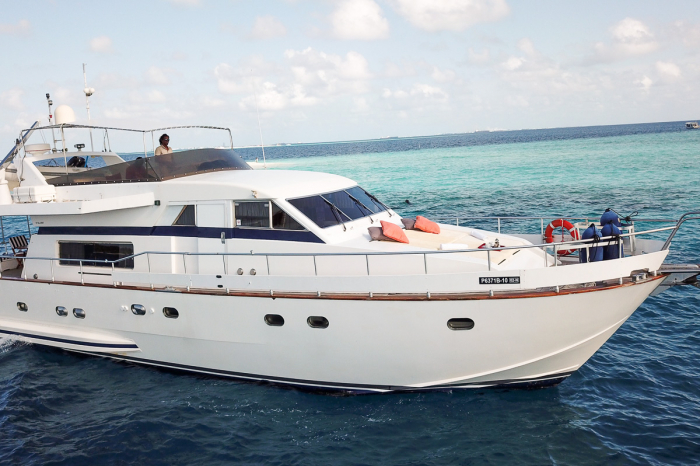 This luxurious power yacht was recently refitted specifically for custom dive charters within the Maldives, and now comes equipped with a spacious, shaded dive deck and hot water rinse showers for maximum comfort before and after every dive. And the best part about this fantastic vessel? With just six guests on board and three crew members, you're guaranteed all the attention you require, both above and below the water.
---
Recommended liveaboard itineraries in the Maldives
For manta rays
If you're hoping to encounter manta rays in the Maldives, you'll almost certainly want to head north during the low season from June to October. The northern atolls boast some of the Maldives' best manta hotspots, including Baa Atoll's Hanifaru Bay and Lhaviyani Atoll's Fushifaru – among many more. Baa Atoll, in particular, makes this northern route worth its salt, delivering jaw-dropping manta ray congregations with spectacular reliability.
For sharks
Famed for thrilling current-swept channels and open ocean dive sites, the southern atolls - often referred to as the 'deep south' - are the ultimate place to get up-close and personal with sharks. Addu Atoll's aptly named Shark Hotel and Huvadhoo's impressive Nilandhoo Kandu are great spots for an exhilarating shark dive. But when it comes to sharks, Fuvahmulah deservedly wears the crown, boasting guaranteed tiger shark encounters, year-round threshers, and seasonal schools of silvertips and hammerhead sharks.
For the classic Maldives' liveaboard experience
For many people travelling to the Maldives, a taster of the country's classic dive sites and underwater experiences is the ultimate way to go. No region is better suited to offer this than the central atolls. From the infamous pelagic-packed channels of Vaavu Atoll and South Ari's whale shark encounters, to manta sites in North Male and Rasdhoo's hammerheads – the central atolls truly have it all. Plus world-class sandbanks and islands to explore, and a handful of sensational wrecks, there's little else you could possibly ask for.

---
If you're ready to start planning your next underwater adventure, or you need a little more advice, get in touch with our travel experts today. Our team of experts have decades of industry experience and are ready to help with up-to-date advice for international travel, professional tips and tricks for a seamless experience, and price matching - to help you get the best deal possible.
---
Get in touch with a dive travel expert today

---
---
---
Join the ZuBlu community to receive the latest insights and unmissable adventures
Don't worry, we'll only send you really good stuff - and we never share your details
---