With stunning reefs and ripping currents, clear water, cool macro creatures, and incredible big fish action, Maratua Island is in a diving class of its own. And, thanks to its remote location at the edge of the Derawan Archipelago, off Kalimantan's northeast coast, this little-known dive destination remains pristine and uncrowded – a true tropical paradise, without another dive group in sight! 

Want to learn more about one of Indonesia's most fascinating diving frontiers? Read on for all the information you'll need to know before you go, including a selection of Maratua's best dive sites. 
Maratua's incredible underwater world
The diving around Maratua is out of this world! You'll explore kaleidoscopic coral reefs fuelled by ripping currents and dizzying drop-offs teeming with marine life. These nutrient-rich waters are home to hundreds of hard and soft coral species, vast schools of colourful reef fish, and mind-blowing yet minuscule macro creatures. But, the real delight in these remote waters is the wealth of marine megafauna that calls the region home. 
During a typical dive in Maratua, you'll likely come across sea turtles and schooling fish species including barracuda, snapper, tuna, mackerel, and jacks. Nurse sharks, reef sharks, manta and eagle rays, and even hammerheads can be spotted here, with breathtaking up-close encounters considered a common occurrence. Maratua's single reef channel – the aptly named 'Big Fish Country' – attracts the most marine life and is home to what many people believe is one of the largest schools of barracuda in Southeast Asia!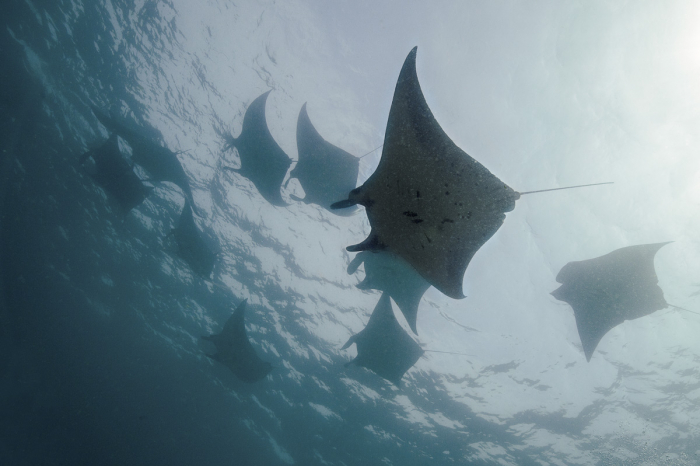 As well as plenty of life, this diverse diving destination boasts an incredible variety of underwater environments. Expect current-swept coral channels, plummeting near-vertical walls, sprawling reefs, and even a couple of world-class muck dives with rare wildlife such as mating mandarinfish. And, because so few tourists make the trip, you're likely to have the very best sites all to yourself! Maratua features over 20 dive sites, most within a short boat ride from the main resorts. And, if you're hoping to take your adventure further, a plethora of breathtaking sites await elsewhere in the Derawan Archipelago. 
Ready to start planning your dive holiday to Maratua?
Search, compare and book from our hand selected dive resorts
The best dive sites in Maratua
The diving around Maratua is simply stunning, with sites ranging from mild to wild, and a dive to suit every skill and comfort level. And, while nearly every operator on the island has their own secret spot that no other shop visits, you'll also want to make time to explore a few of the classics!

The Channel or Big Fish Country
This is easily Maratua's most famous site – and for good reason! The currents at this channel through the reef range from challenging to extreme, making it a dive site best left for the advanced and adventurous. But, those who are up for the thrill will be rewarded! Giant tornadoes of barracuda, reef sharks, manta and eagle rays, and even hammerheads can be seen here. And, the nutrient rich waters that flow through this site fuel incredible coral growth, making it a hotspot for wide angle underwater photography.
Mid Reef
Pristine coral, currents, and powerful pelagics make this one of the most dynamic sites in Maratua, if not all the Derawan Archipelago. Early morning dives often include encounters with shy thresher sharks, as they emerge from the depths to visit the reef's numerous cleaning stations. Nurse and reef sharks, mantas and eagle rays, and giant schools of jacks are also common. This is one site where you'll always want to keep an eye on the blue! But, don't forget to take in the reef itself – the coral formations here are absolutely stunning, with colourful hard and soft specimens covering every centimetre. 
Turtle Traffic
This shallow, light filled site boasts a mix of sand channels and massive coral bommies, where moray eels, mantis shrimp, lobsters and nudibranchs cleverly disguise themselves amongst the colourful formations. But, the real attraction is the site's namesake population of green and hawksbill sea turtles. Multiple encounters are nearly guaranteed on every dive, and these friendly ocean-going reptiles often approach divers, coming close to get a better look!
Fantasy Wall
Giant barrel sponges, swaying sea fans, and endless hard and soft coral gardens typify this plummeting wall. And, the site is a hotspot for wildlife, with pint-sized critters hiding out in the reef's cracks and crevices, as well as bigger species passing by in the blue. Peer into the wall's caves and overhangs for a chance to spot rare animals like leopard sharks taking a break from the current, and spend your safety stop exploring the reef top, known for its massive hard coral formations. 
Jetty Dive
This is Maratua's very best site for night diving, a shallow house reef that starts just a few metres from the shore. Hit the water minutes before sundown for a chance to spot colonies of mandarinfish mating, or go on a full macro adventure searching for harlequin shrimp, blue ringed octopus, kaleidoscopic nudibranchs, and all sorts of weird and wonderful creatures. Head a bit deeper to discover elephant ear sponges, giant clams, and fascinating bottom dwellers like crocodilefish.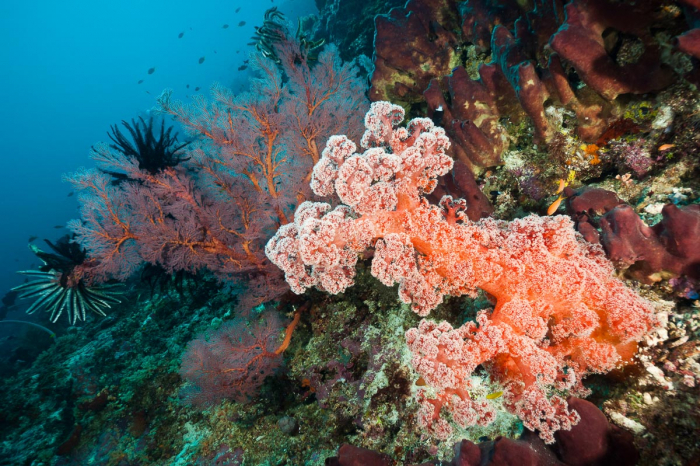 ---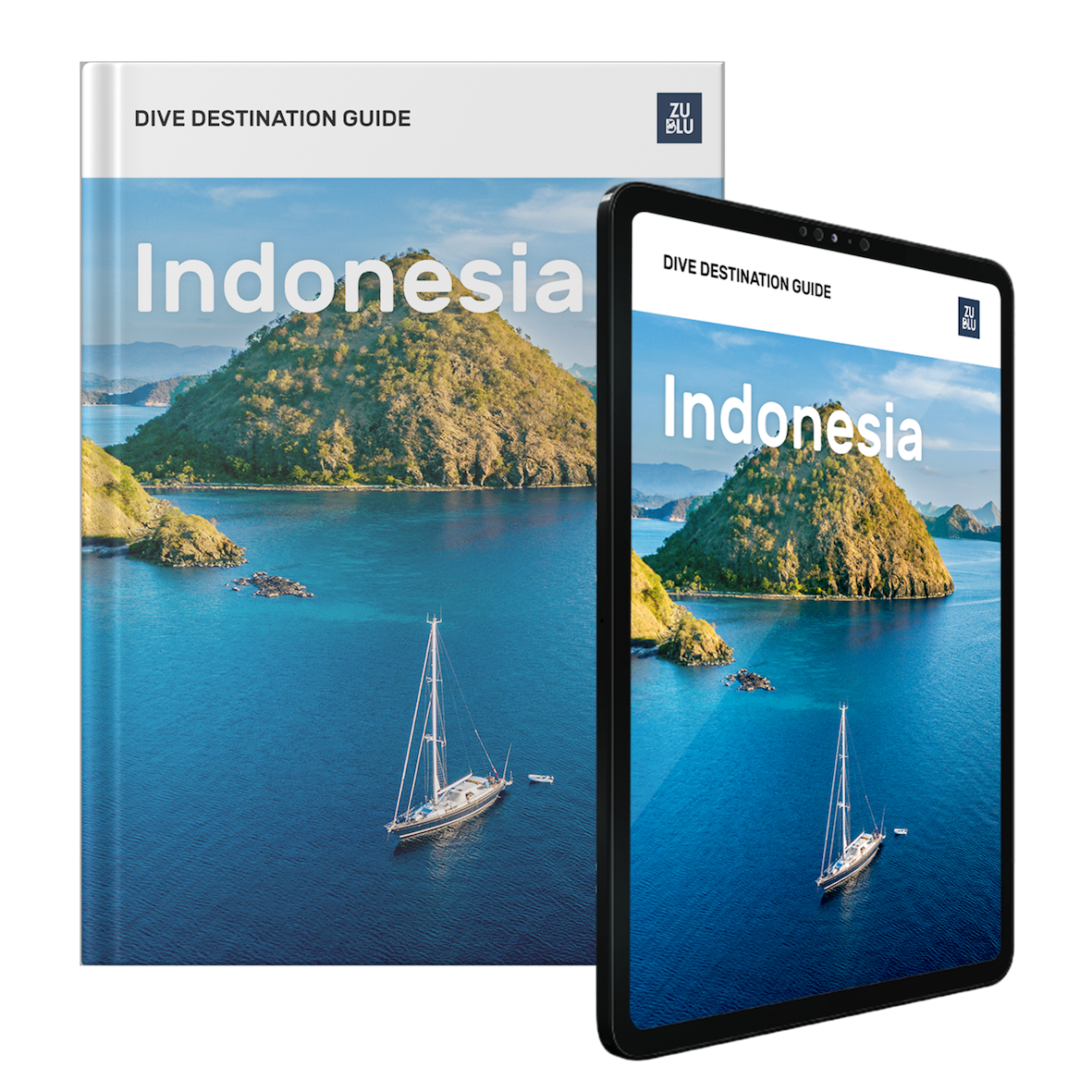 Discover the secrets of Indonesia in this FREE 150+ page scuba dive destination guide. Read online or download today and let us inspire your next diving holiday.
---
Life on the island of Maratua
These remote islands take a bit of effort to get to, and guests should plan for an overnight stay somewhere along the way. That's why we've explained the entire process of how to get to Maratua in a separate article, including typical flight times and airline options. Or, check out our destination page for details on Maratua's dive seasons.
Thankfully, once you've arrived on the island, it's easy to get around – either on foot, or by rented bicycle or scooter. And, with deserted white sand beaches, swaying palms, and crystal clear lagoons waiting to be explored, you'll likely want to spend plenty of time just wandering around on your own. 
Maratua is home to several guesthouses, and resorts – offering a bit of something for everyone. Most come complete with their own private docks, so guests can swim, snorkel, and explore at their own pace. And, with stunning shallow and light-filled coral gardens beginning just a few fin kicks from the shore, it's easy to enjoy an unguided adventure any time you want. 
Because so few visitors make the trek to Maratua, the island remains pristine. Above water attractions include freshwater caves, a stingless jellyfish lake, and kilometres of virgin rainforest, home to monitor lizards, coconut crabs, kingfishers, flying foxes, and other exciting wildlife. A walk through the island's local villages is equally enriching, revealing the back to nature lifestyle of the indigenous Baju tribe that calls this island home.
---
Are you ready to take the plunge into Maratua's pristine underwater world?
ZuBlu can help you make the trek! Trust our team of experts to guide your adventure from start to finish with updated travel tips and advice vital to planning and preparing for the trip of a lifetime!

---
---
Join the ZuBlu community to receive the latest insights and unmissable adventures
Don't worry, we'll only send you really good stuff - and we never share your details
---