Looking for a world-class dive holiday without the hassle of a long-haul flight? Well, you're in luck. Southeast Asia and the Indian Ocean are home to some of the planet's very best underwater experiences, meaning you don't have to venture far to enjoy the dive trip of your dreams.
So read on and explore our hand-picked selection of exceptional dive destinations, all within easy reach from major cities and airports in Asia.
Indonesia
Straddling hemispheres and home to a seemingly infinite blend of islands and cultures, Indonesia is a country bursting with diversity. Its location at the heart of the Coral Triangle – the global epicentre of marine biodiversity – means the surrounding waters are just as vibrant as the country itself and offer some of the world's most incredible diving. Although Indonesia's thousands of islands are scattered across a vast expanse of ocean, there are several truly unmissable dive sites that are very convenient to visit.
Bali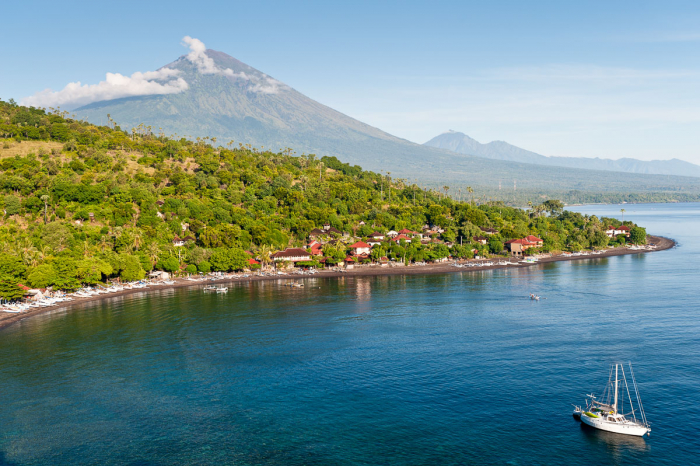 As a hugely popular tourist destination, Bali's international airport in Denpasar receives direct flights from throughout Asia, and the diving here is among the best Indonesia has to offer. Divers can explore the colourful coral gardens of Menjangan Island in the north, the reefs and muck diving of Padangbai in the east, and current-swept manta cleaning stations around Nusa Lembongan and Nusa Penida in the south. Bali is also home to one of the world's most famous wrecks, the USAT Liberty, which lies just metres from the beach. Plus, this island is probably the best place on the entire planet to spot the highly elusive ocean sunfish.
North Sulawesi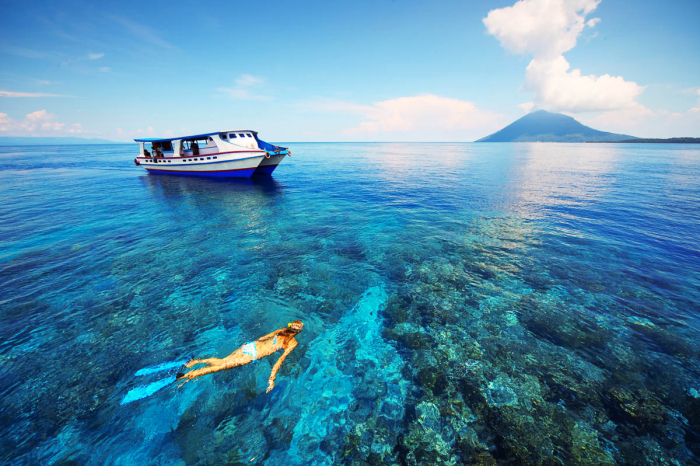 North Sulawesi's capital, Manado, has direct flights from Singapore, China and Japan. The coast north and south of Manado offers some fantastic diving with beautiful black sand slopes, but the real attraction is the number of quality dive destinations within easy reach of one another. From Manado, divers can easily head to the Bunaken National Park, the islands of Bangka and Gangga, as well as the legendary Lembeh Strait – all within a couple of hours. North Sulawesi is a prime example of Indonesia's incredible diversity, with everything from exhilarating wall diving with large pelagics, to critter hunting in the muck and spotting dugongs in seagrass all on offer. 
Komodo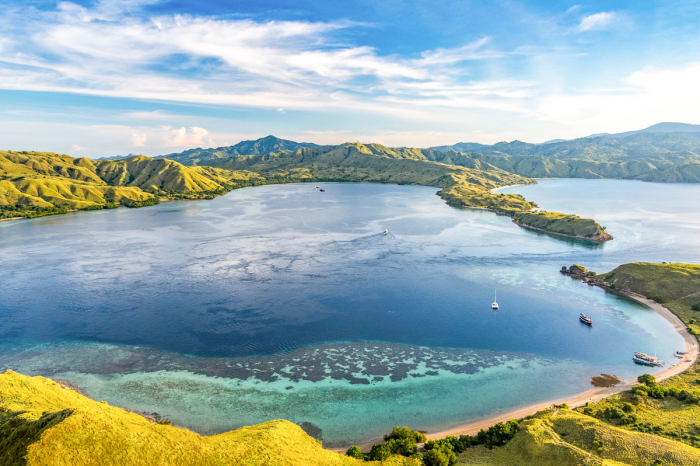 In the not-so-distant past, travelling to Komodo would have seemed like an adventure, but today, this popular tourist attraction is surprisingly accessible. A short onward flight from Bali is all it takes to get to this world-famous dive destination where giant lizards stalk the beaches and manta rays soar beneath the waves. Some liveaboards also operate routes between Bali and Komodo, either embarking or disembarking near the international airport in Bali.
When to visit
With so many exceptional destinations to choose from, Indonesia is a true year-round dive destination. In general, the dry season runs roughly from April through October, providing the most reliable beach weather. But if you're here for the diving, there's always sites worth seeing, no matter what the season.
---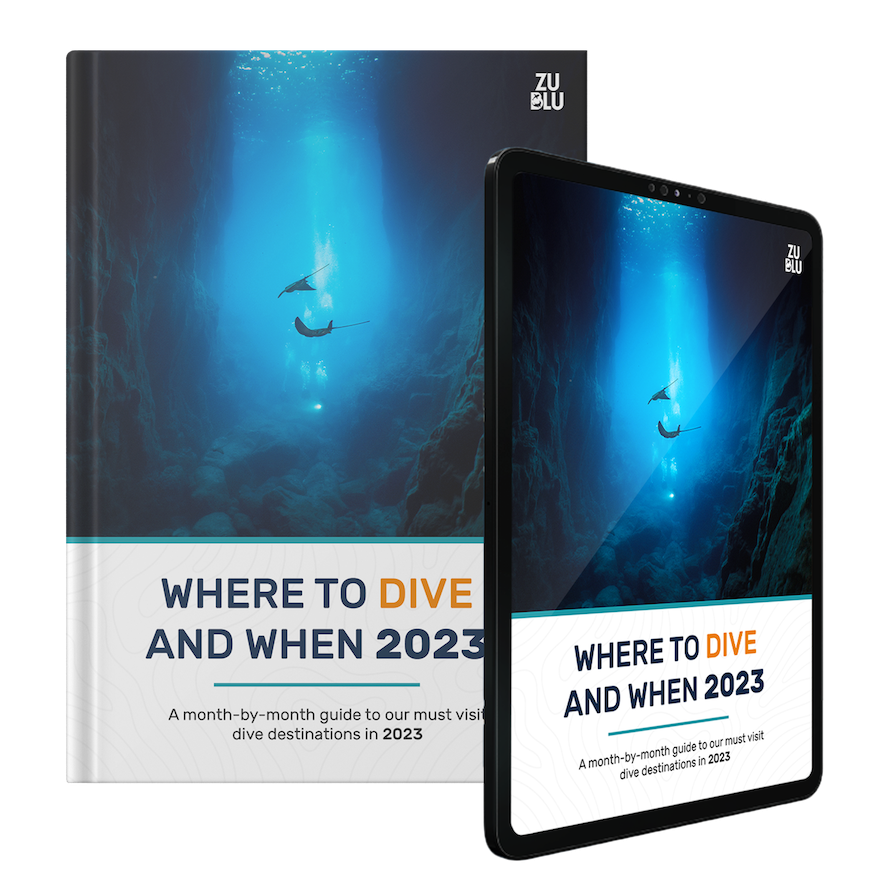 Need some inspiration for your next diving holiday? Download this FREE month-by-month guide to ZuBlu's top diving destinations in 2023.
---
Thailand
Famed for its remarkable culture, intricately embellished temples, stunning scenery, and celebrated cuisine, Thailand is a firm favourite among tourists the world over. It is also a staple destination among divers who enjoy the country's accessible dive sites, beautiful coral reefs, and plentiful marine life – year after year. And with regular two-hour flights from Singapore, it would be hard to find a reason not to visit.
Phuket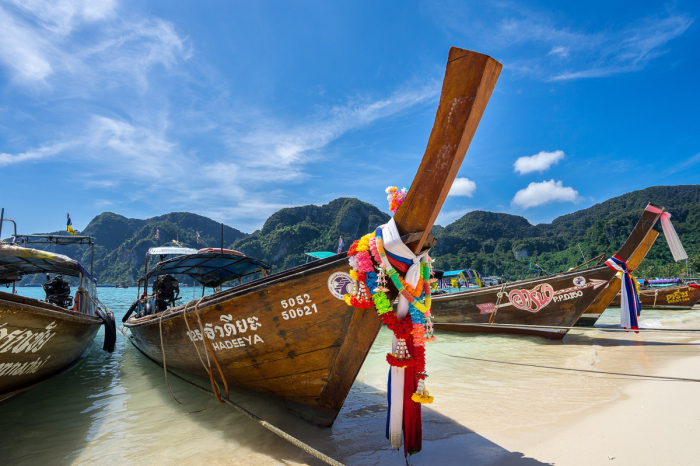 Phuket is a globally connected island, receiving flights from all over the world, including across Asia. Aside from its beautiful beaches and bustling nightlife, Phuket also offers a selection of nearby dives. While there are a few worthwhile local reefs, many visitors choose to explore the Racha Islands, where a handful of great reefs can be found. Dive operators normally offer three-tank trips to the popular trio of the King Cruiser Wreck, Shark Point and Anemone Reef, which are around two hours away by boat.
Similans, Surins & Richelieu Rock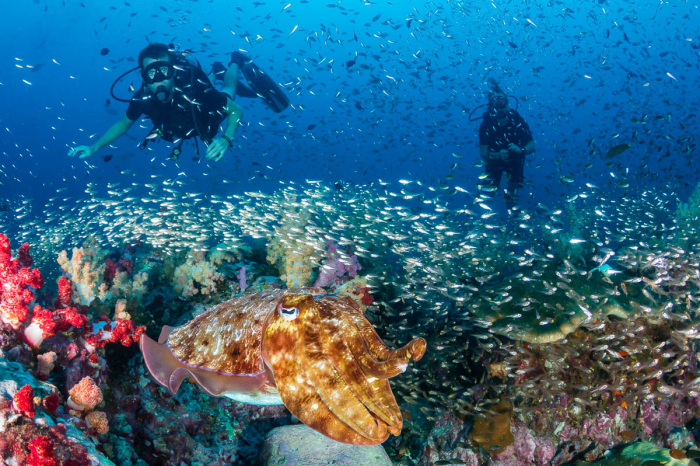 From Phuket, it is just a one-hour drive to Khao Lak – the gateway to the Similan and Surin Islands. These island chains are iconic of Thailand's astounding scenery, with tranquil beaches fronted by crystal-clear water and dramatic hillsides dense with tropical foliage. As established marine parks, the Similan and Surin Islands also offer plenty of beauty beneath the surface, including striking seascapes such as swim-throughs and towering pinnacles, as well as frequent encounters with manta rays and whale sharks. Liveaboards depart from Khao Lak to explore these incredible islands, offering a choice of short trips or extended voyages.
When to visit
The best time to visit Phuket is during the dry season, from November to April. This is also the dive season for the Similan and Surin Islands, though the months of February and March will generally offer fewer crowds and higher chances of a whale shark encounter.
Malaysia
Malaysia has long been enticing travellers with its contrasting scenery and a beautiful blend of cultures. The country's extensive coastline, spli by the South China Sea, is dotted with world-class dive destinations, ranging from shallow, sheltered reefs to isolated islands patrolled by powerful pelagic species. And, as both a travel hub and popular tourist destination itself, getting around Malaysia is effortless.
Mabul and Sipadan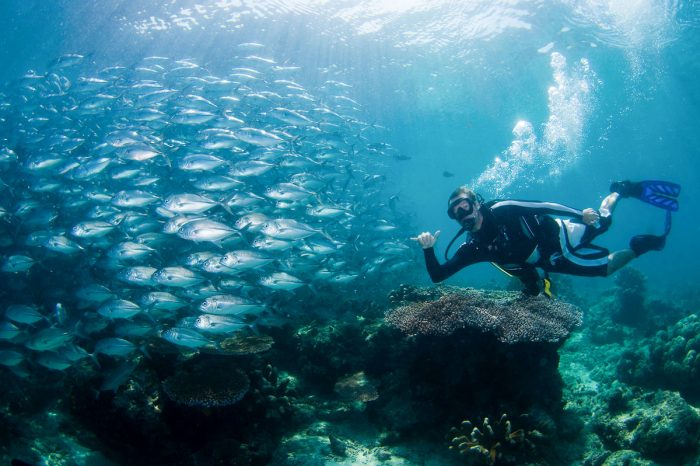 From Singapore, a direct flight to Tawau takes around two and a half hours. From there, it is just a short drive to Semporna, followed by an hour-long boat ride to Mabul. To make life easier, resorts in the area typically offer return transfers to and from the airport. Mabul's scuba diving focuses on muck diving, as the reefs are home to all kinds of interesting critters, including frogfish, flamboyant cuttlefish, seahorses, mimic octopus, and more. Of course, if you're in the mood for some action, Sipadan's current-swept dive sites and towering tornadoes of barracuda are just a boat trip away.
When to visit
Although Mabul and Sipadan can be dived at any time of year, the best time to visit can be at the end of the wet season, in April and May, or the end of the dry season, in September and October. At these times of year, the weather can be incredible and the crowds are less.
The Philippines
The Philippines has long been celebrated for its rich cultural heritage, idyllic beaches, and friendly communities. What's more, this island nation has become a favourite among divers, with an all-encompassing dive scene that caters to every interest. Whether you're dreaming of big animals, craving a critter fix, or would like a bit of everything, the Philippines has something for you.
Moalboal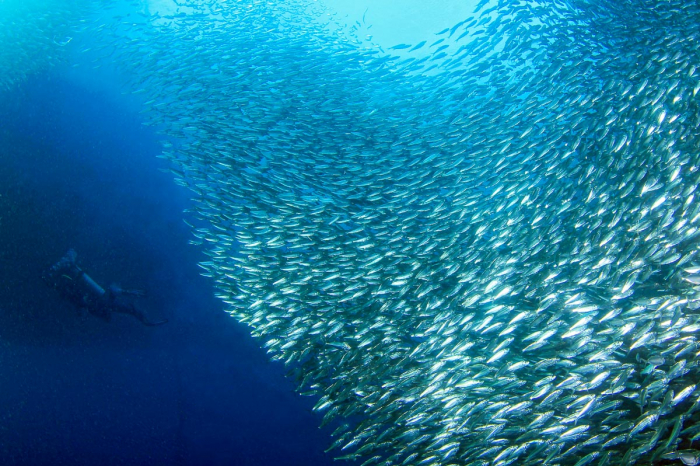 Travellers looking for the perfect Philippines dive experience will struggle to find a better destination than Moalboal, and it's easily accessible from the international airport in Cebu. Situated in the heart of the Visayas – and with stunning beaches, exhilarating wall diving, and an incredible diversity of marine life – Moalboal is a firm favourite among many seasoned divers. The peninsula's reefs are home to schools of barracudas, jackfish and batfish, as well as plenty of turtles, and a vast, shimmering school of silvery sardines that hugs the coast at Panagsama.
Malapascua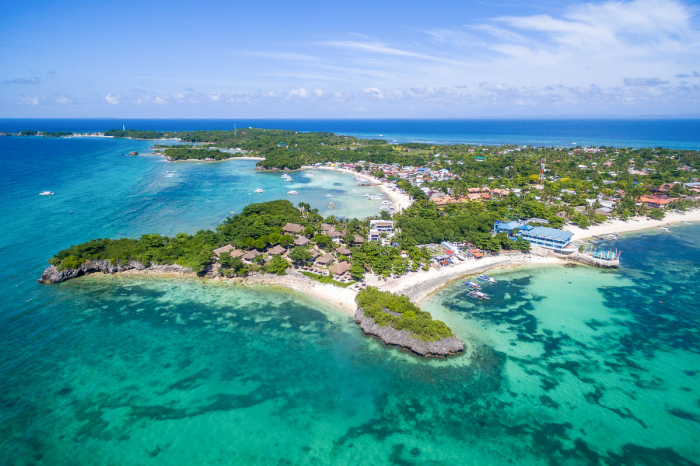 Experienced divers looking for something unique should also consider Malapascua, as most operators on the island can organise return transfers to and from the island from Cebu's international airport. The island is home to some stunning coral reefs, plenty of weird and wonderful critters and several wrecks – including the well-known Dona Marilyn. However, seasoned divers are drawn to Malapascua to dive the Monad Shoal. Just before dawn, shy thresher sharks make a daily pilgrimage from the depths to visit a series of cleaning stations scattered around the shoal, delivering near guaranteed encounters.
Dumaguete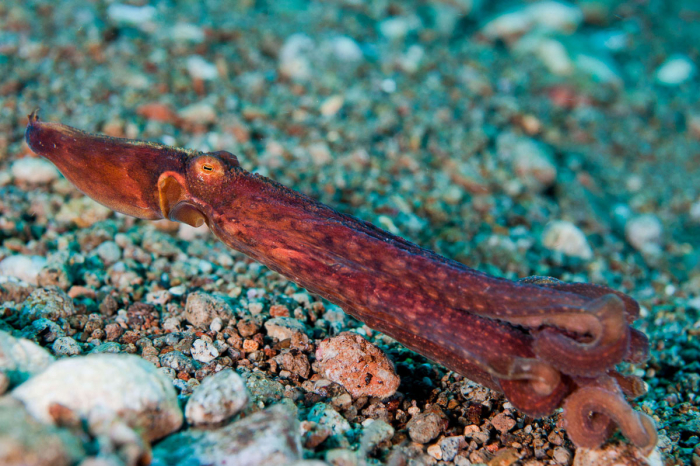 Dumaguete is home to some of the Philippines' best muck diving and is just a half-hour ferry ride from the island of Cebu, or accessible by plane from Manila. From frogfish and Rhinopias to flatworms, nudibranchs and seahorses, the list of sought-after subjects to be found here is simply phenomenal. Not to mention the local cephalopods season, which sees octopuses and cuttlefish of all shapes and sizes descend on these black sandy slopes to flex their muscles and flash their mesmerising colours.
Anilao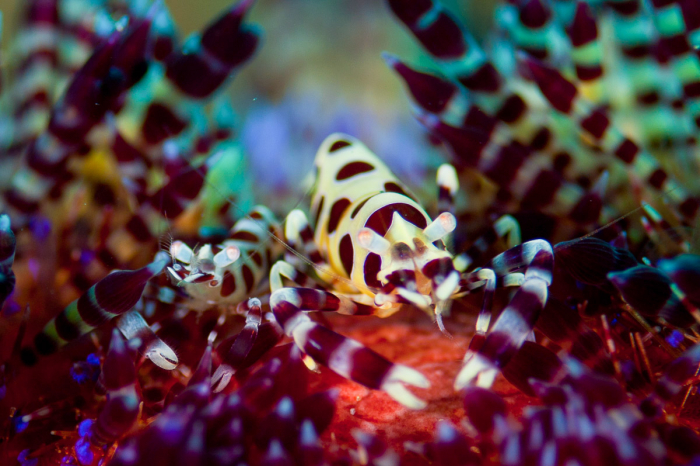 Anilao is a low-key tourist destination providing a peaceful escape from city life, with a string of resorts nestled between the coastal jungle and the rugged shoreline. Easily reached via a straightforward drive south from Manila's international airport, Anilao was the Philippines' first scuba diving destination and is still regarded as one of the best in Southeast Asia. In particular, Anilao has developed a well-deserved reputation for its world-class muck diving – offering almost every critter encounter a diver could dream of. 
Puerto Galera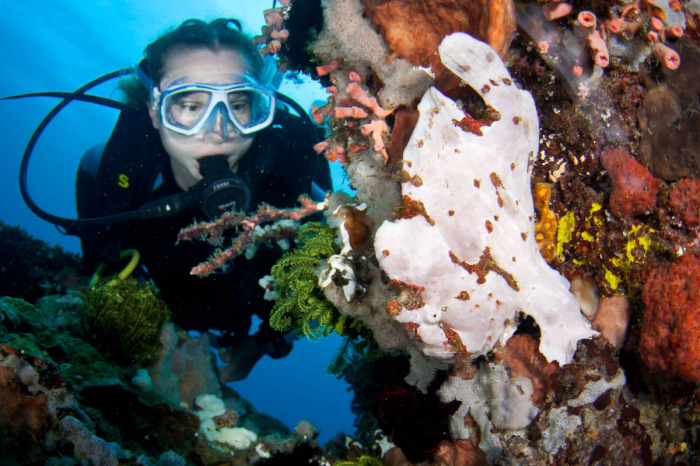 Just a stone's throw from Anilao across the Verde Island Passage, Puerto Galera requires a little extra effort to get to but is home to some exceptional scuba diving. The area is considered one of the Philippines' most diverse diving destinations, and over 300 different types of coral and nearly 60 percent of the world's known reef fish species have been recorded from Puerto Galera's reefs. Divers of all kinds will find something to enjoy here, with critters galore, alongside current-swept canyons and carpets of soft, colourful coral.
When to visit
The best time to visit is during the later half of the dry season, around February, March and April. At this time, the weather will be pleasant on land and the water conditions are optimal for diving.
The Maldives
The Maldives is an iconic tropical island getaway, complete with inviting azure lagoons and secluded sandbanks. But, while it may seem like a distant paradise, the Maldives is surprisingly accessible, thanks to direct flights from Asian travel hubs such as Singapore. And, while the journey may take a little longer, a holiday in one of the world's most in-demand dive destinations has got to be worth it, right?
Central Atolls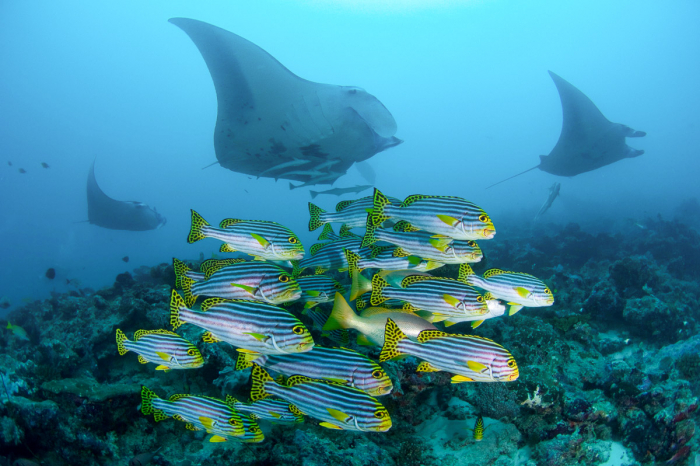 Thankfully, some of the Maldives most iconic experiences lie within the central atolls, with just an easy transfer from the airport. North Male Atoll, where the airport is located, offers year-round manta ray encounters, while neighbouring South Male Atoll is home to some of the country's most famous dive sites. And, just across the water, on the archipelago's west side, South Ari Atoll delivers year round whale shark encounters. If you'd like to enjoy the maximum number of dives during your trip, a liveaboard is the perfect option.
Many liveaboard operators also conduct circular trips around these central atolls, allowing divers to experience many of the Maldives' underwater highlights. Embarking and disembarking out of North Male Atoll, just a stone's throw from the airport, these trips are a great way to maximise your time while keeping travel arrangements simple.
When to visit
The Maldives' many islands and atolls deliver world-class diving holidays at any time of year. January to April mark the dry season, when the weather is at its  best, but the rest of the year can be every bit as good, and guests will experience fewer crowds and take advantage of lower rates.
---
Looking for an easy dive holiday?
Contact the travel team today

---