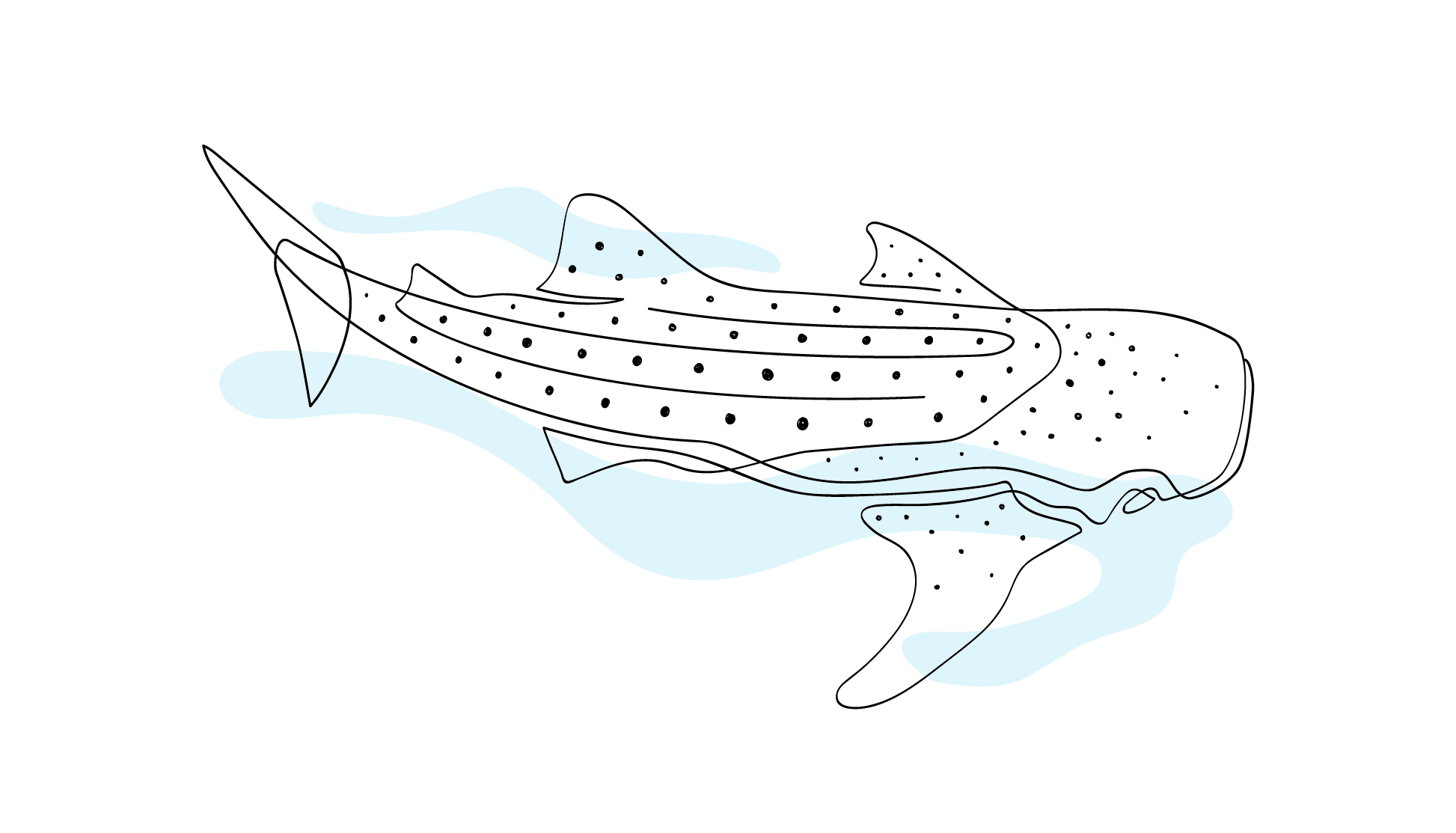 Discover stunning islands and beaches, encounter whale sharks and manta rays and explore Thailand's finest dive destinations
Overview
Book a liveaboard trip and explore the famous Similan Islands
Encounter manta rays at Koh Bon and Koh Tachai
Dive the famous Richelieu Rock in search of whale sharks and more
Similan Islands diving is renowned for its clear blue waters, spectacular marine life and stunning landscapes, above and below the waves. Located 65 kilometers off the coast of Phang Nga province in southwestern Thailand, the islands are easily accessible by liveaboard diving safaris or day trips from Khao Lak. The Similan Islands' beautiful, white sand beaches and abundant tropical wildlife, along with the spectacular pinnacles of Koh Bon, Koh Tachai and Richelieu Rock, are the perfect combination for anyone seeking adventure and exploration.
Diving in the Similan and Surin Islands
Whale shark

February - May

Manta Rays

February - May

Leopard shark

October - May

Schooling Fish

October - May

Giant frogfish

October - May

Plentiful reef life

October - May

Soft corals

October - May
The world-famous diving of the Similan Islands, Koh Bon, Koh Tachai and Richelieu Rock has drawn divers from around the world for decades and is considered to be the best in Thailand. The variety of underwater landscapes, rich marine life, clear water, and of course the beautiful island landscapes, are ideal for anyone in search of an exhilarating dive safari.
The underwater landscape of both groups of islands offer everything from rock formations, swim-throughs, steep walls, bommies, and towering rocky pinnacles, all covered in bright corals, sea fans and schooling fish. Around the Similans in particular, the coral gardens and deep rocky gorges are perfect for exploration and offer even experienced divers plenty to discover. Famous sites such as Elephant Head, Christmas Point, East of Eden and Shark Fin Reef offer opportunities to see a wide variety of marine life such as turtles, anemone fish, moray eels, stingrays, pufferfish, lionfish, batfish and occasionally larger species such as barracuda, trevally, leopard sharks and Napoleon wrasse.

Diving Koh Bon and Koh Tachai
If it is big animals you are looking for, then the islands to the north of the Similans - Koh Bon, Koh Tachai, Richelieu Rock and the Surins - are the places to explore. Koh Bon is the site of one of the only wall dives in Thailand, and is well known for manta rays that are seen along the ridge that runs west from the island, or in the deep water to the south. A pinnacle to the north of the ridge is also great for encounters with rays, and leopard sharks are also seen in the deeper sections. Nearby Koh Tachai's pinnacle is also a great spot for manta rays, and plenty of schooling fish. Both of these islands are quite exposed and can have strong currents so beginner divers have to be cautious.
Diving Richelieu Rock
However it is the famous Richelieu Rock that offers the best diving on the west coast of Thailand. This isolated pinnacle of rock emerges from deep water, breaking the surface of the sea at low tide. The site has become famous for its rich coral, prolific marine life and for being one of the best locations in Thailand to spot whale sharks. Nutrient-rich upwellings create perfect conditions for plankton blooms that in turn attract plenty of fish, including the biggest of all. Whale sharks are most often seen at Richelieu towards the end of the season, from February through to May - April being one of the best months for encounters. But even without the whale sharks, Richelieu Rock is an exceptional dive. The horseshoe-shaped site consists of a huge central pinnacle surrounded by smaller rocks, every inch of which has been colonised by something - soft corals, anemones, barrel sponges and sea fans. Schools of reef fish surround the pinnacles, big groupers and barracuda cruise by and there are smaller creatures to be found in every nook and cranny of the site.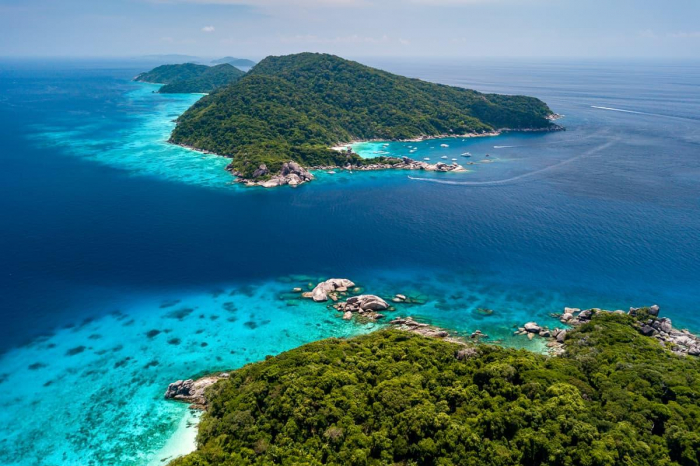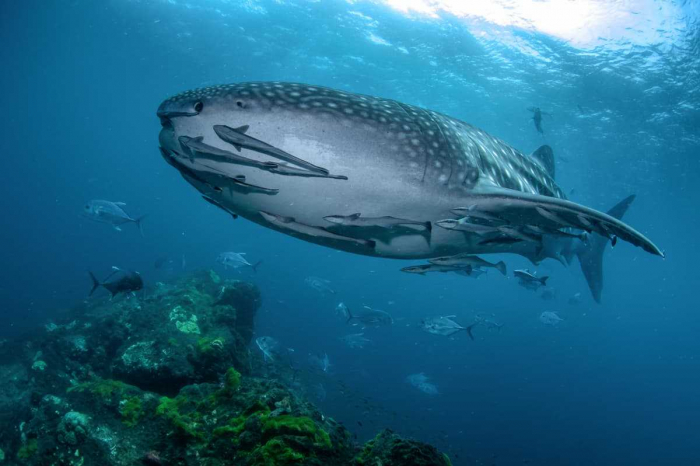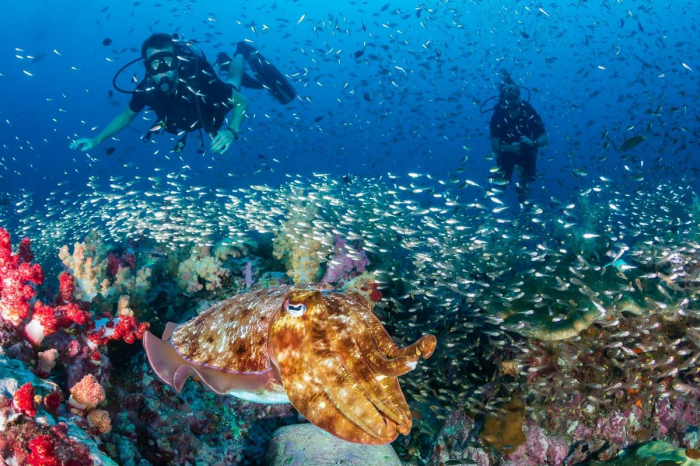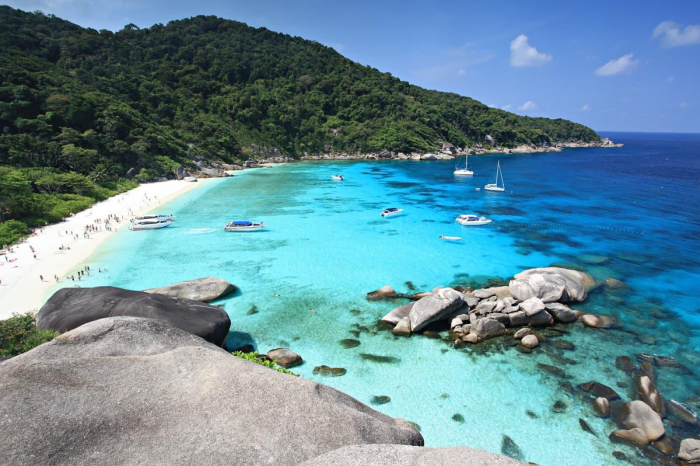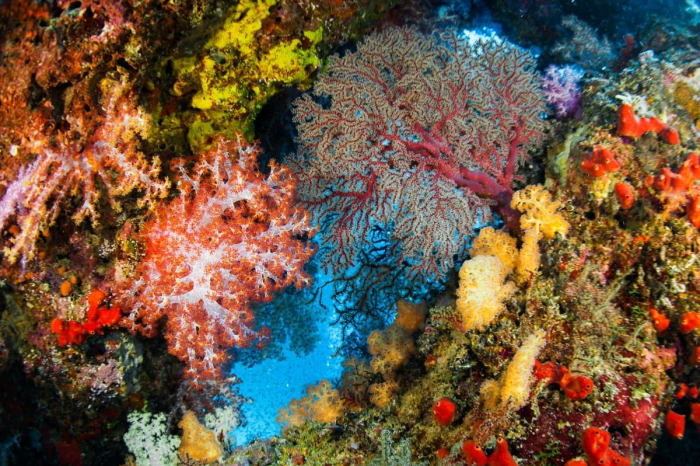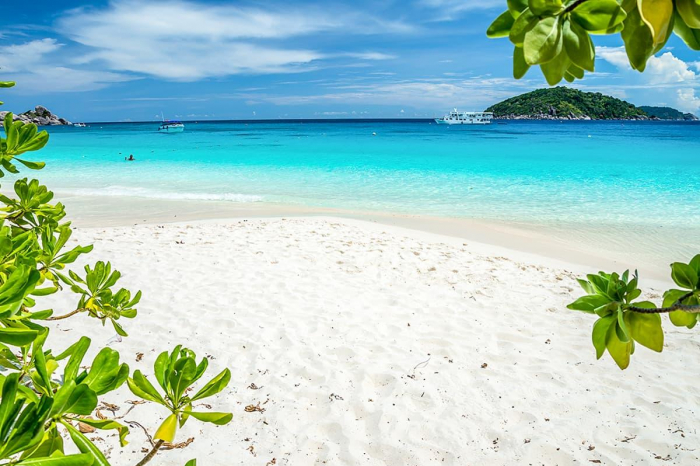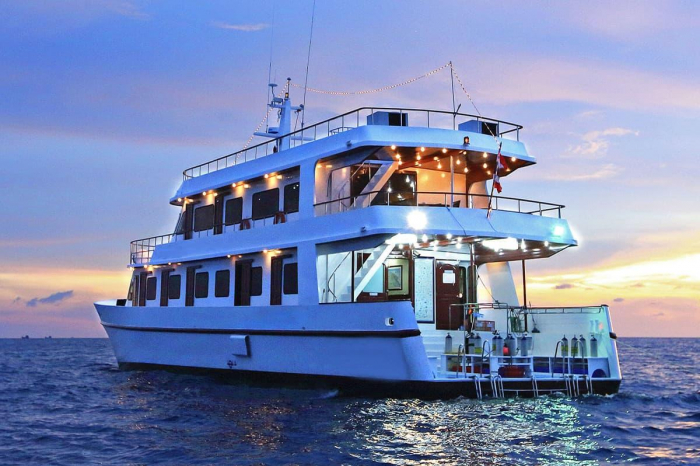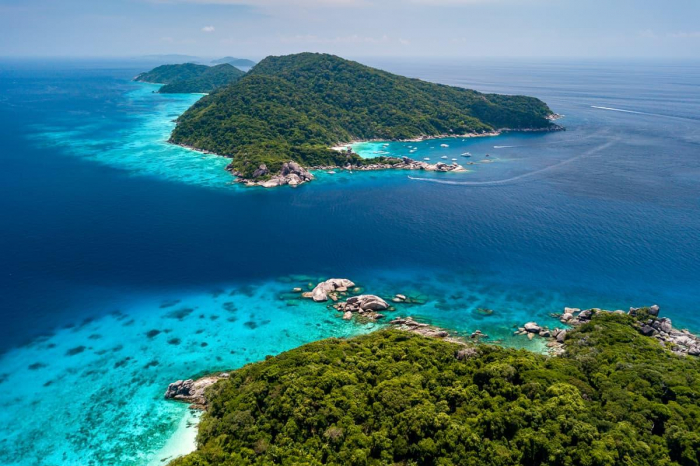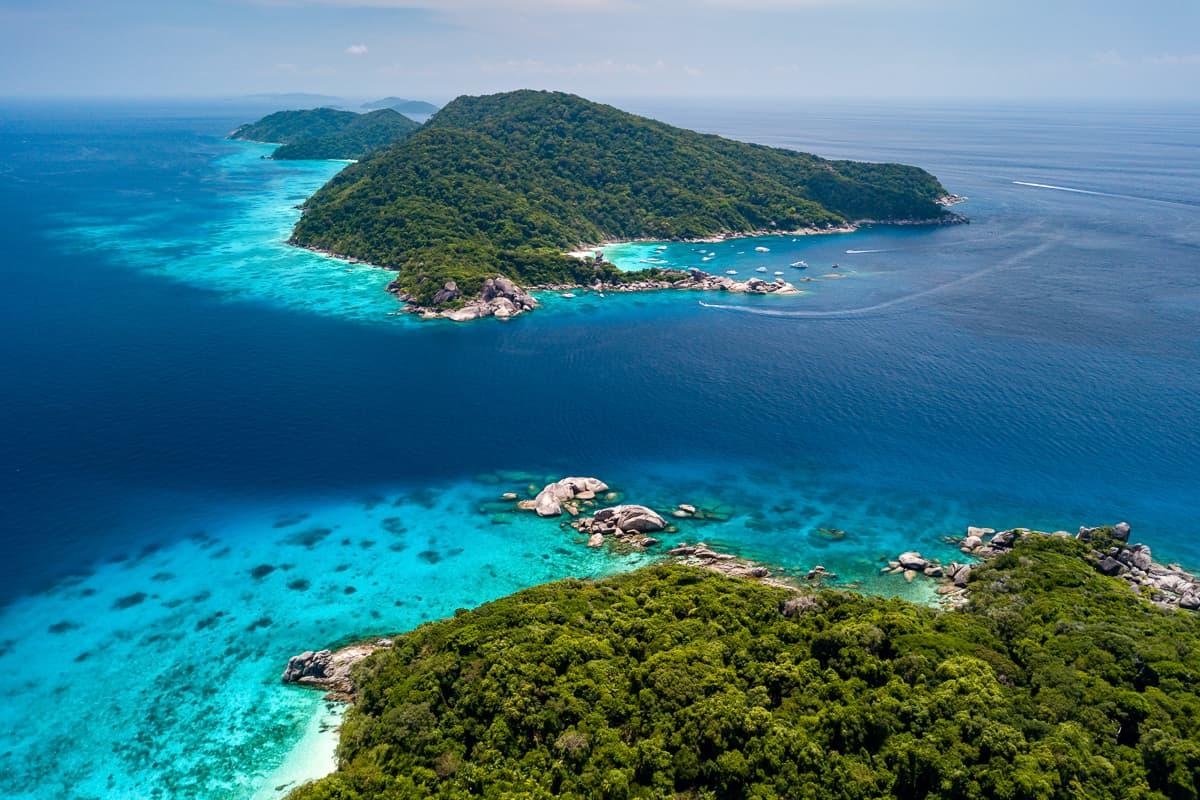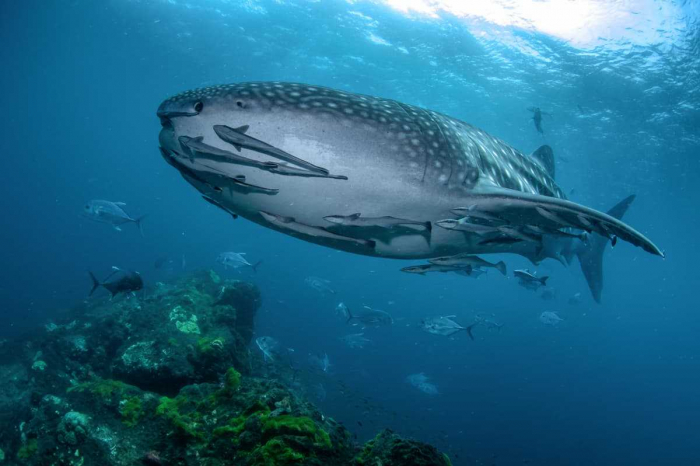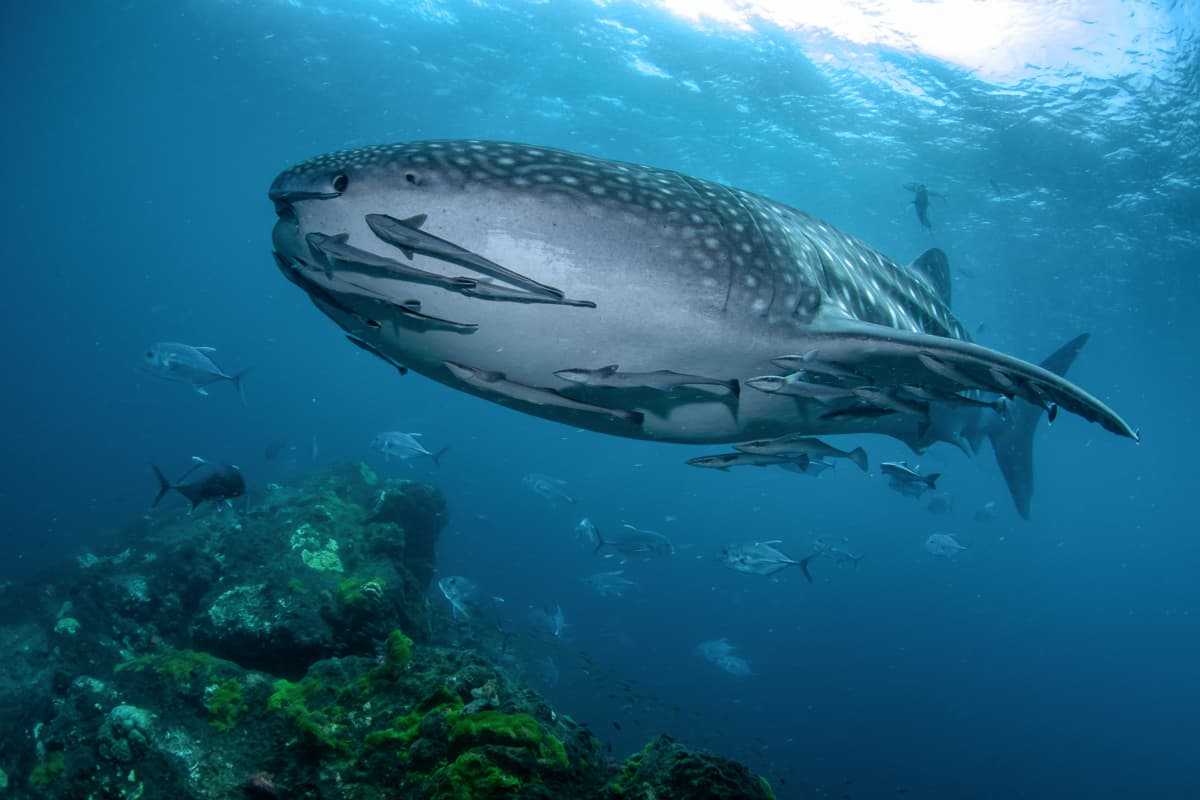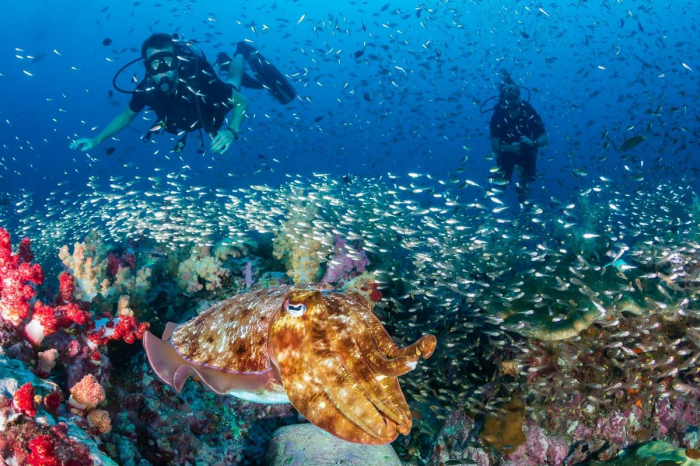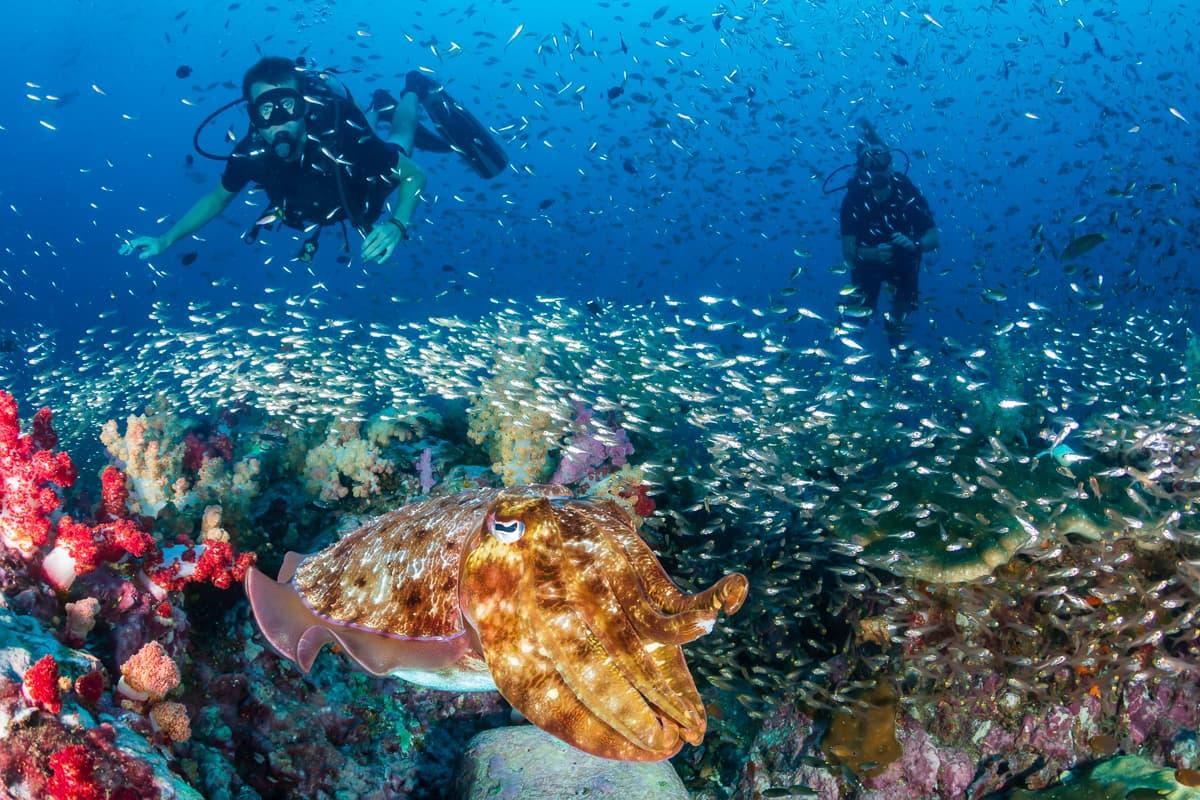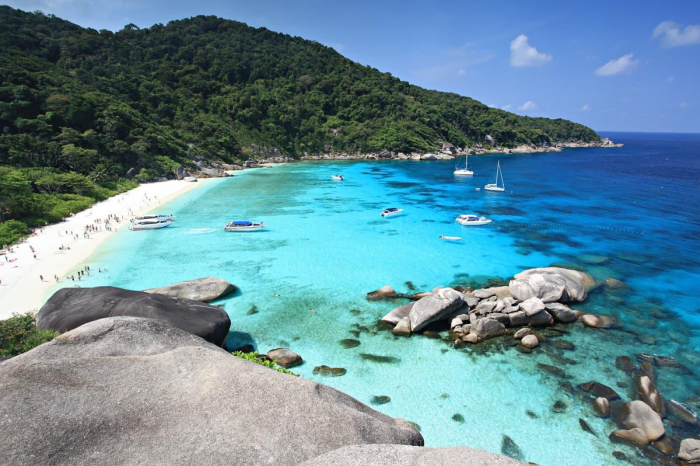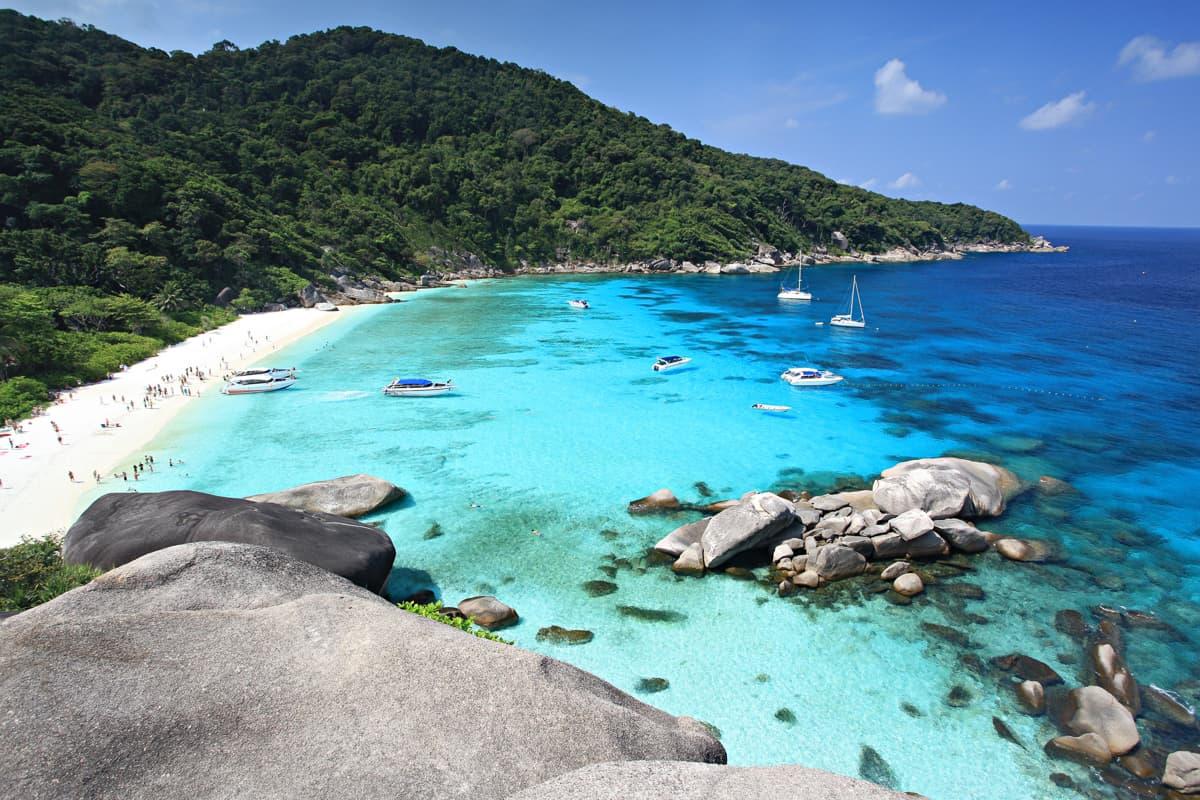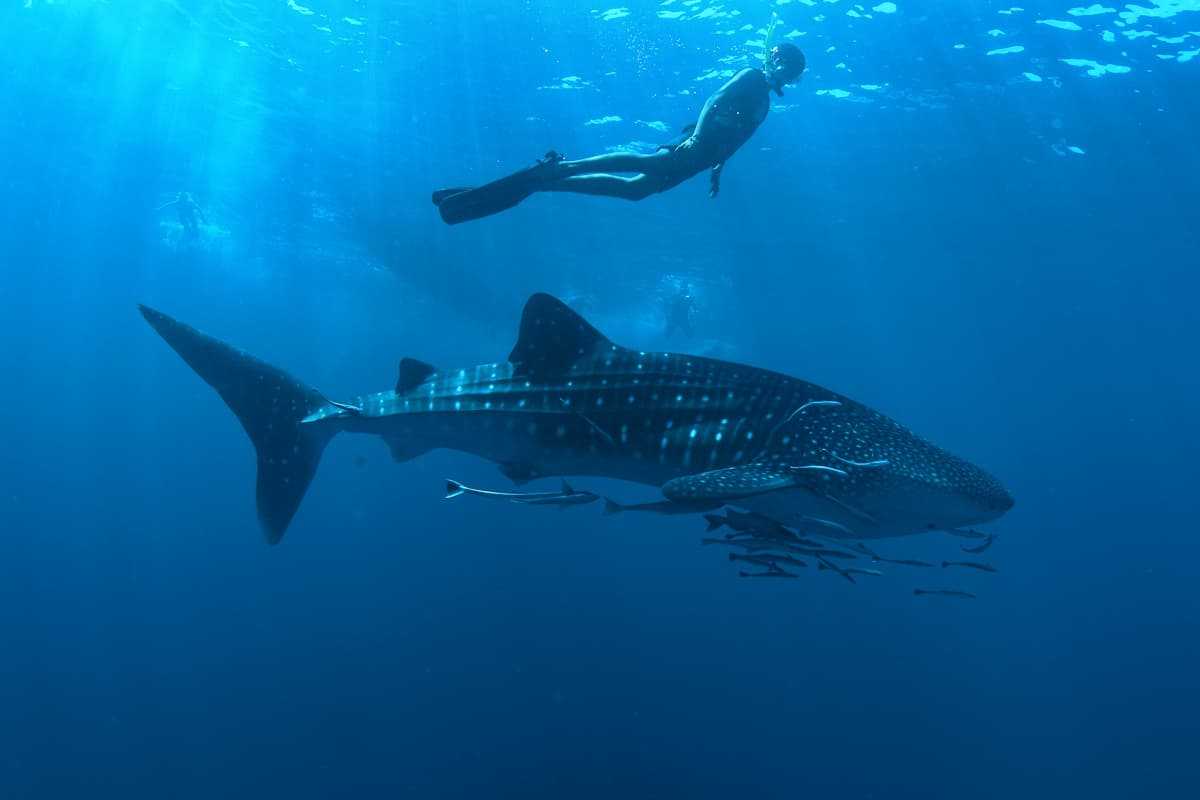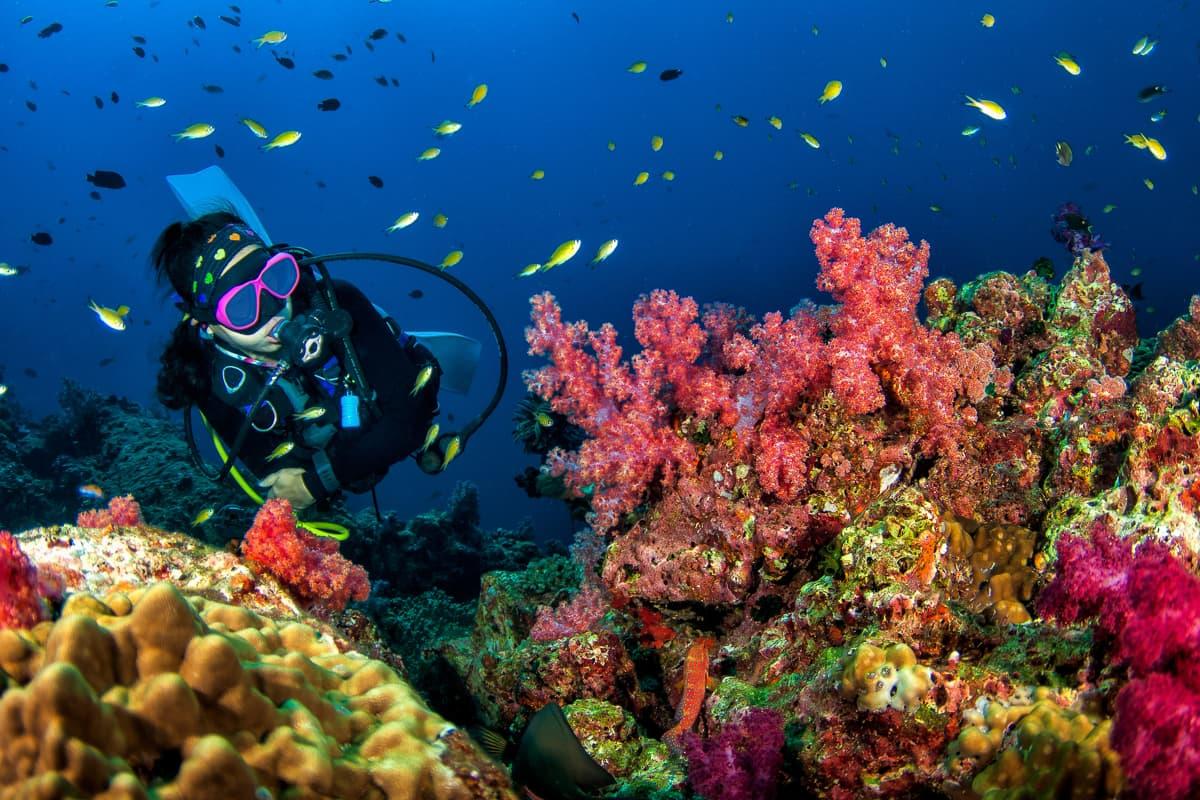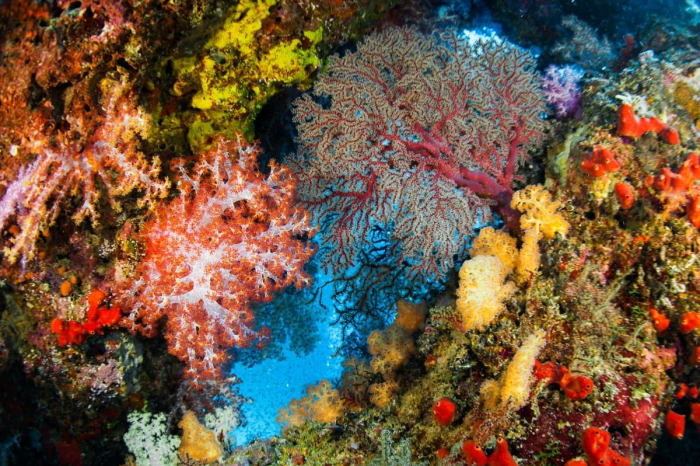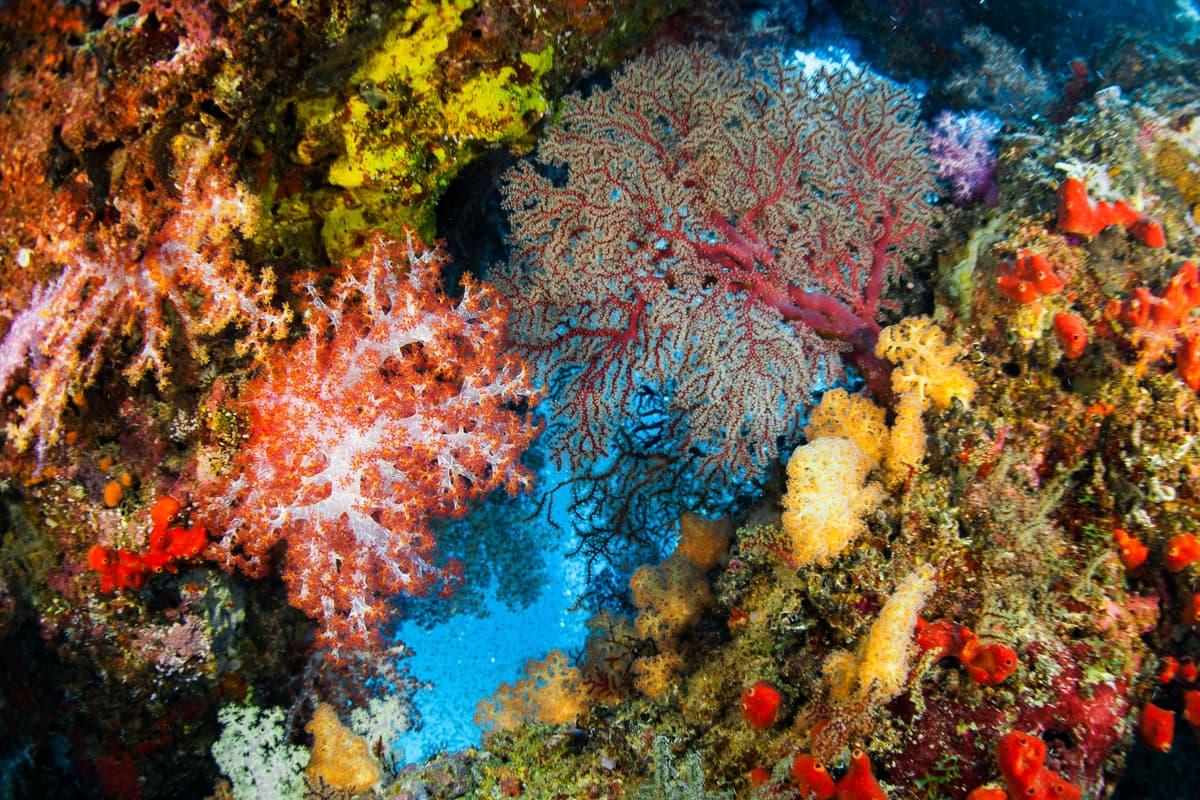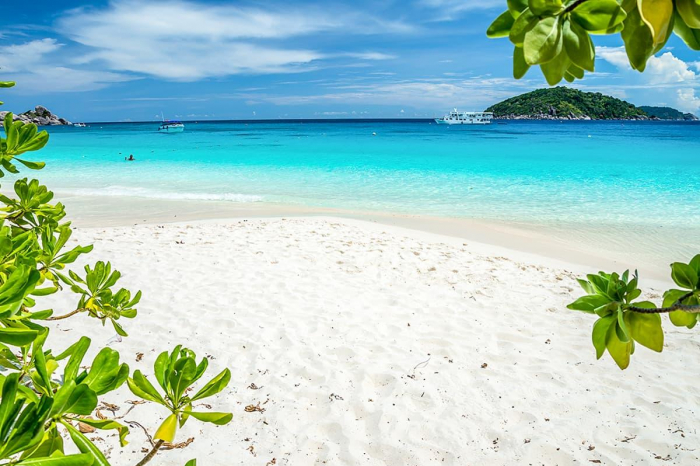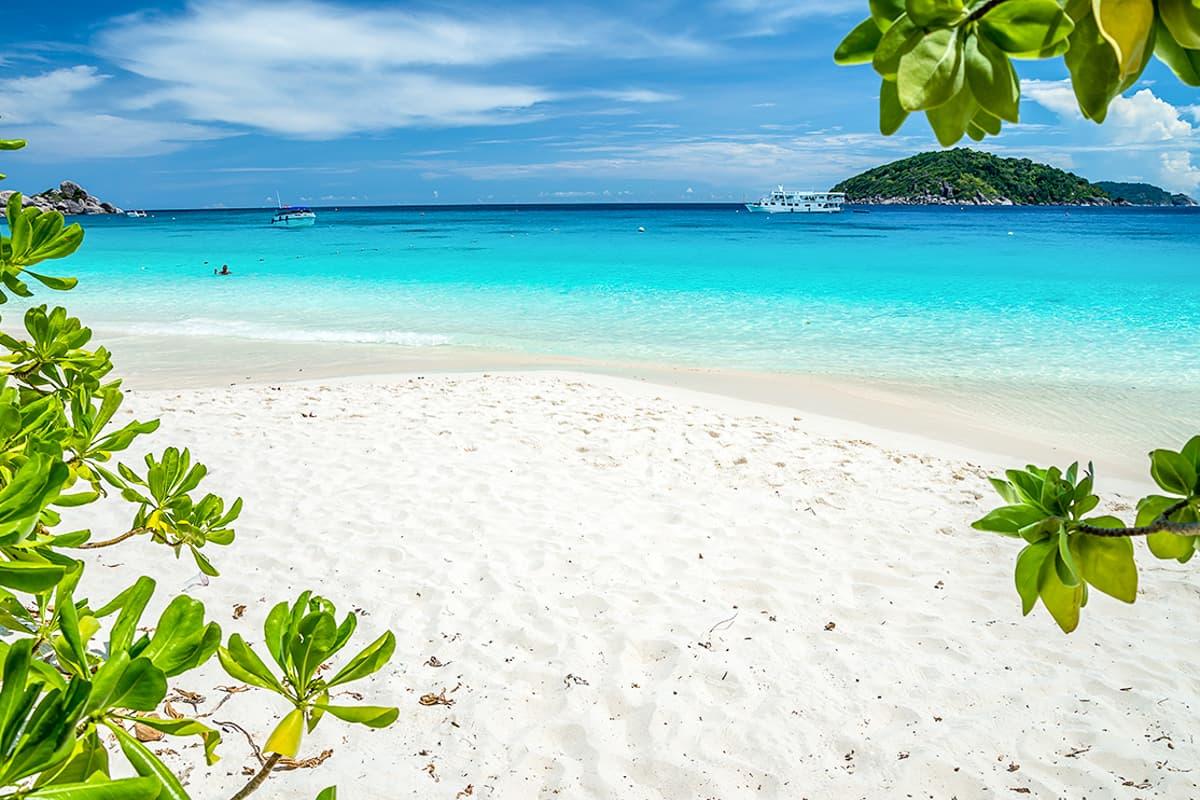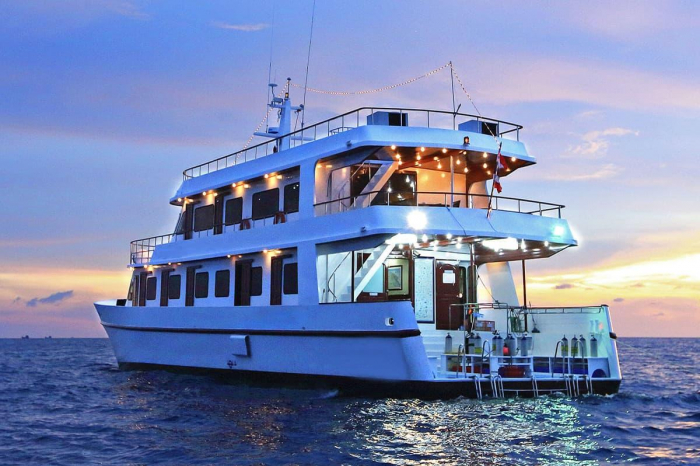 Diving Environment
Diving Season
Mid-October to Mid-May
Top tips

If you are interested in wreck diving, the Boonsung and Seachart wrecks can be dived on day trips out of Khao Lak.
Khao Lak has a surprisingly wide range of places to eat - apart from the many Thai options, there are Indian and German restaurants, great Italians and some really good bakeries selling tasty pastries.
The nearby Khao Sok National Park is worth a visit to explore the spectacular karst landscape and ancient rainforest.
About the Similan and Surin Islands
Named after the Malay word for nine - Sembilan - the Similans are a collection of nine rugged islands that are known by both their names and numbers. First designated as a National Park in 1982, the protected area was expanded in 1998 to include the neighbouring islands of Koh Bon and Koh Tachai - famous for manta ray encounters and other marine life. Further north towards Myanmar lies the world-famous Richelieu Rock and the Mu Ko Surin Island Marine Park, another protected area that has become a magnet for divers who travel to the park in search of the biggest fish in the sea - the whale shark.
Both the Similans and Surins are characterised by huge granite boulder formations that tumble down into the sea, gently sloping coral reefs, and a number of submerged pinnacles that form dramatic underwater seascapes. With their beautiful beaches, lush jungle hillsides and a huge array of marine species, the islands are a playground for those in search of an unforgettable adventure experience, both above and below the surface of the water.
Getting to Khao Lak
The small coastal town of Khao Lak is the gateway for liveaboard safaris and day trips to the Similans and Surins.
From Bangkok there are daily flights to Phuket or Krabi Town with Bangkok Airways, Thai Airways and Air Asia. You will then need to arrange a taxi or bus to Khao Lak. Depending on your accommodation or dive centre, most can arrange these details as part of your package. There are also direct busses, or a combination of train and bus from Bangkok to Khao Lak. From both Phuket or Krabi you can arrange for a private taxi, mini-van or hourly local bus service to Khao Lak. Khao Lak is located about an hour drive from Phuket airport, and once in town, it's 15-30 minutes to the pier at Thap Lamu. Divers and snorkelers are usually picked up at their Khao Lak accommodation or meet at the dive centre for a group taxi ride to Thap Lamu.
Where to stay
There are no resorts on the Similan or Surin Islands. The park authorities used to offer small bungalows and tents for overnight stays on several of the Similan Islands, however they recently announced a ban on overnight stays to help protect the environment. That said, the best way to explore the Similans and Surins is by liveaboard safari out of Khao Lak, the closest port on the mainland. This small town has become a well-known tourist spot and gateway to the islands and there are plenty of different options for accommodation and dive centres, ranging from budget backpackers to luxurious boutique hotels.
You'll most likely need a night in Khao Lak if you are heading out to the Similan and Surin Islands, and ZuBlu can help you book both your liveaboard and a hotel prior to the trip.
Similan Islands dive seasons and weather
The Similans National Park is open from mid-October through mid-May and the most popular time to visit is in December and early January during the holiday season. However, in late-February to mid-March there is very little rain and the water is typically very calm, so the diving can be fantastic. Temperatures start to rise, but the seas are very calm and the evenings are nearly perfect!
Weather is a major factor in the life of these islands. Afternoon thunderstorms and showers occur almost year-round but during the dry season - November through April - this is a welcome respite from the warm days. The Islands themselves receive only one third of the rainfall that the mainland gets and storms that can affect the conditions normally only occur at the beginning and end of the season as the weather patterns begin to change. The park is closed during the annual monsoon from May to October.
---
Similan and Surin Islands top resorts