Discover Moalboal's incredible diving, characterised by dramatic coral walls and the famous schools of sardines
Highlights
Dive Pescador Island with its dramatic scenery and amazing marine life
Explore the plunging coral walls and reefs that hug the coast
Dive or snorkel with the mesmerising school of sardines at Panagsama
Enjoy Moalboal's laid-back atmosphere, unspoilt by overdevelopment
Looking for Asia's very own version of the famous 'Sardine Run'? Then look no further than Moalboal, tucked away in the heart of the Visayas and home to some of the Philippines' best dive sites. Moalboal's diving offers dramatic walls and prolific marine life, and the town is home to beautiful beaches and a fantastic, laid-back atmosphere. In fact, you'd struggle to find a better destination if you're looking for that perfect Philippines dive experience.
Moalboal's Diving
Schooling Fish

Year round

Giant frogfish

Year round

Walls & pinnacles

Year round

Plentiful reef life

Year round
The deep waters of the Tanon Strait combine with the currents that run along Moalboal's coastline and create the perfect conditions for the growth of plunging walls of coral that start literally metres from the shore. Add in the great visibility, beautiful beaches and lots of marine life and you'll understand why Moalboal was one of the first areas in the Philippines to find fame as a dive destination. Yet despite its long-standing popularity, Moalboal has held on to its laid-back, friendly atmosphere - one that continues to draw divers from around the world.

Diving with Moalboal's sardines
Moalboal's diving claim to fame is its version of the Sardine Run - a vast, shimmering school of silvery sardines that currently hugs the coast at Panagsama. When divers first discovered this incredible natural phenomenon, the sardines congregated at Pescador Island, but in recent years the fish have moved closer to shore. Today, divers, freedivers and snorkelers alike can simply swim out from the beach and be engulfed in this pulsating, swirling mass of fish - an experience like no other in the Philippines.
The reefs that surround the peninsula's coastline support an incredible amount of marine life and you can encounter schools of barracudas, jackfish and batfish, plenty of turtles, and a huge diversity of smaller marine life. One of the highlights is diving at Pescador Island, just a few kilometres offshore. This protected area has plenty of marine life, including schooling fish, reef sharks and turtles, but is more well known for its swim-throughs and tunnels that split the reef. Closer to shore you can explore the wreck of a small plane just off the northern tip of the peninsula, visit another marine protected filled with fish life and drift along the plunging walls that define the west coast. And head further south, and you'll find the little-explored reefs and walls of Alegria.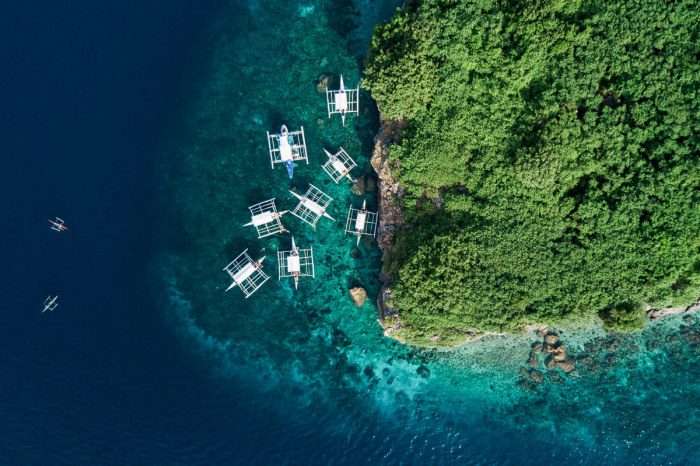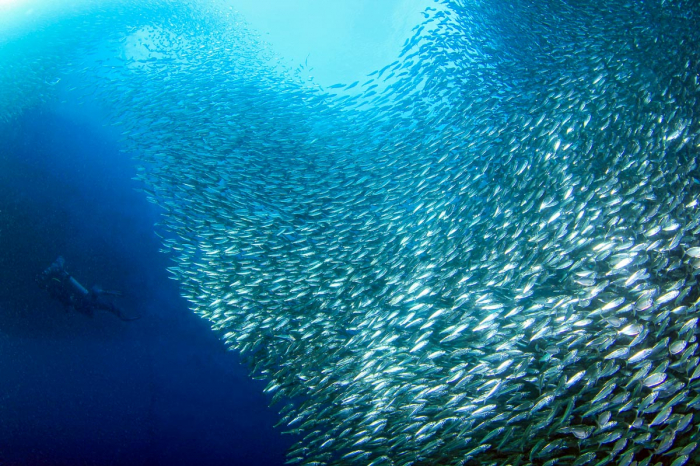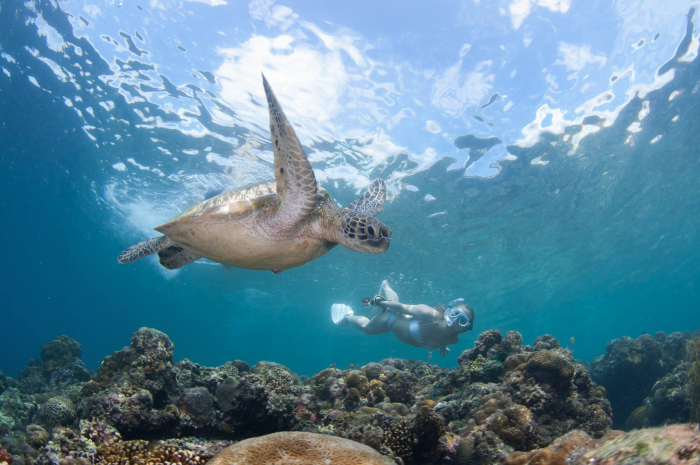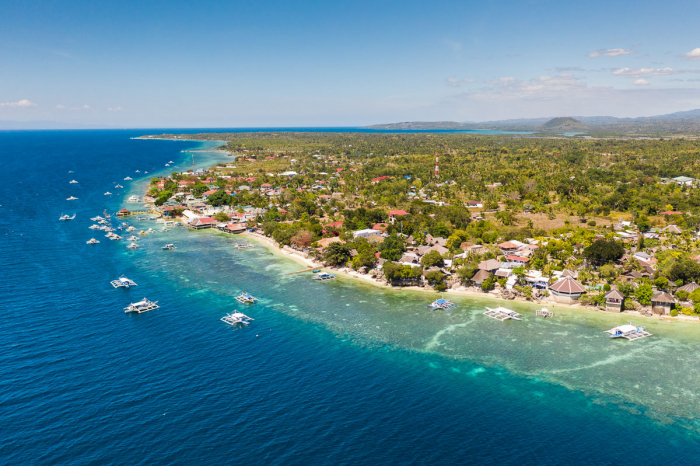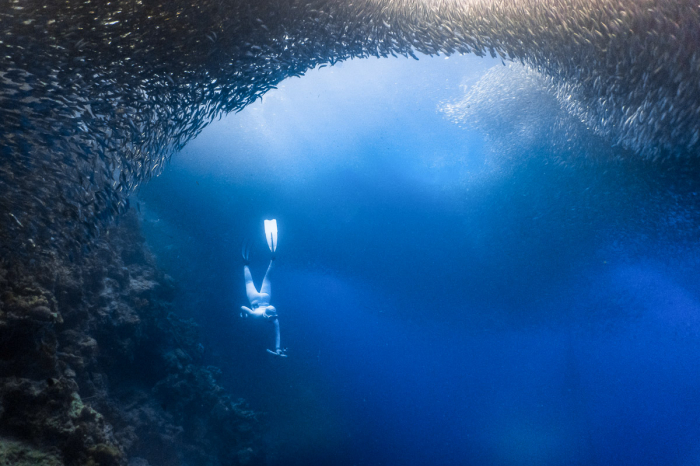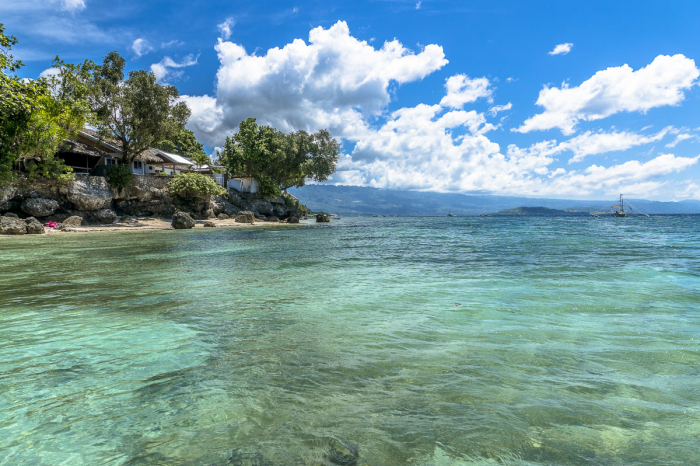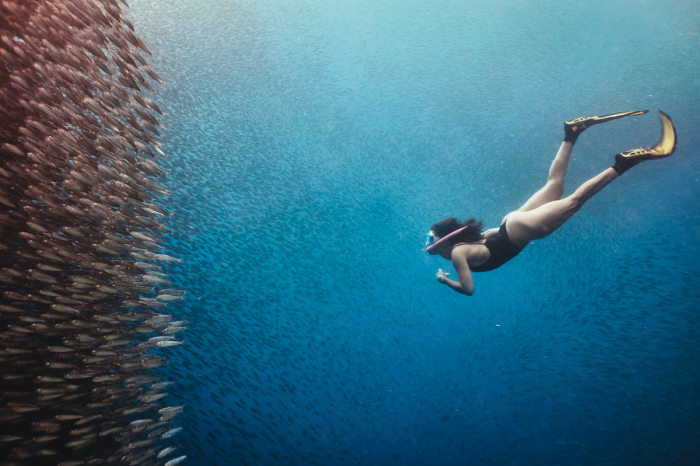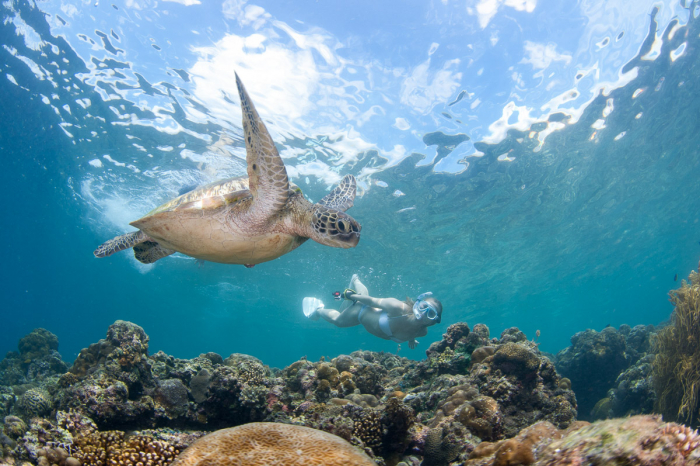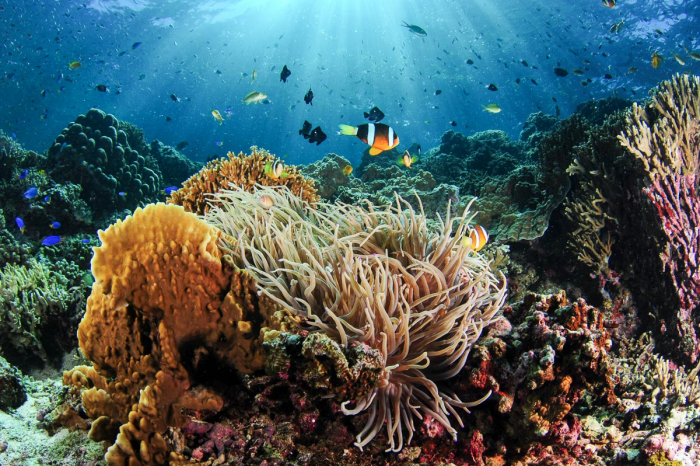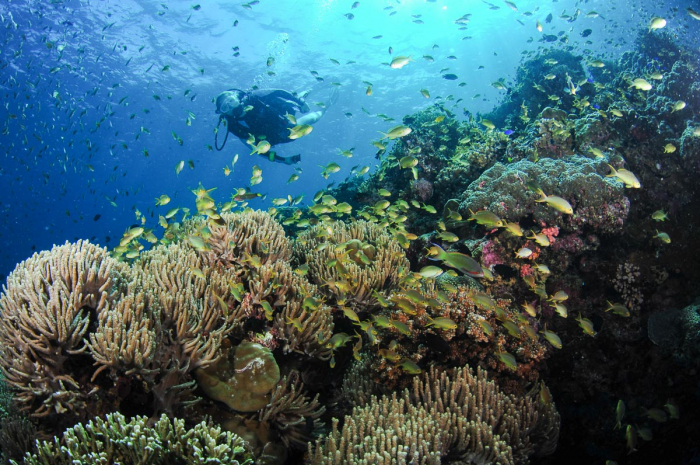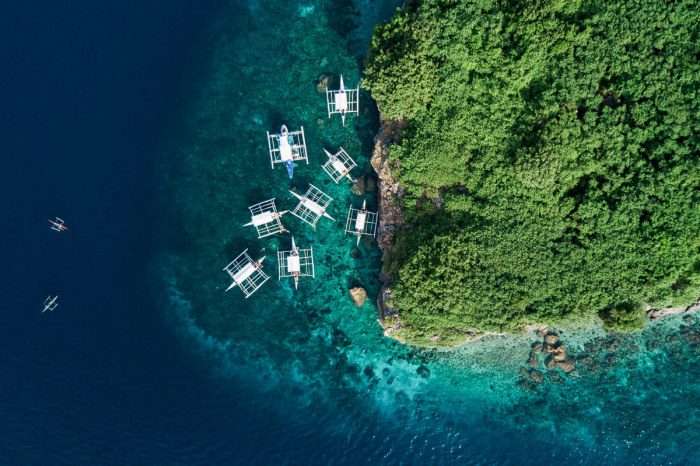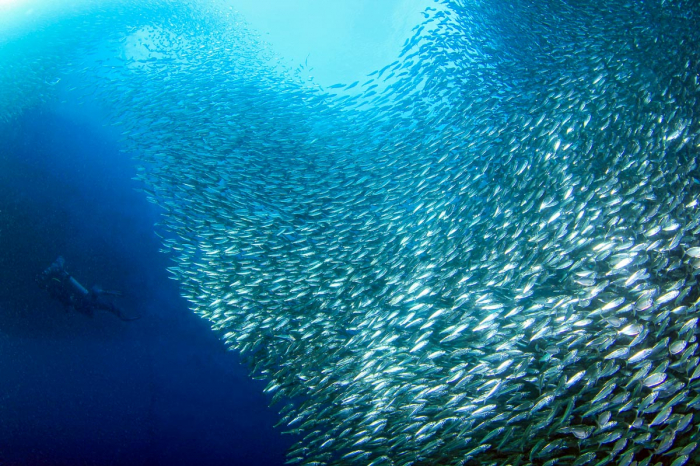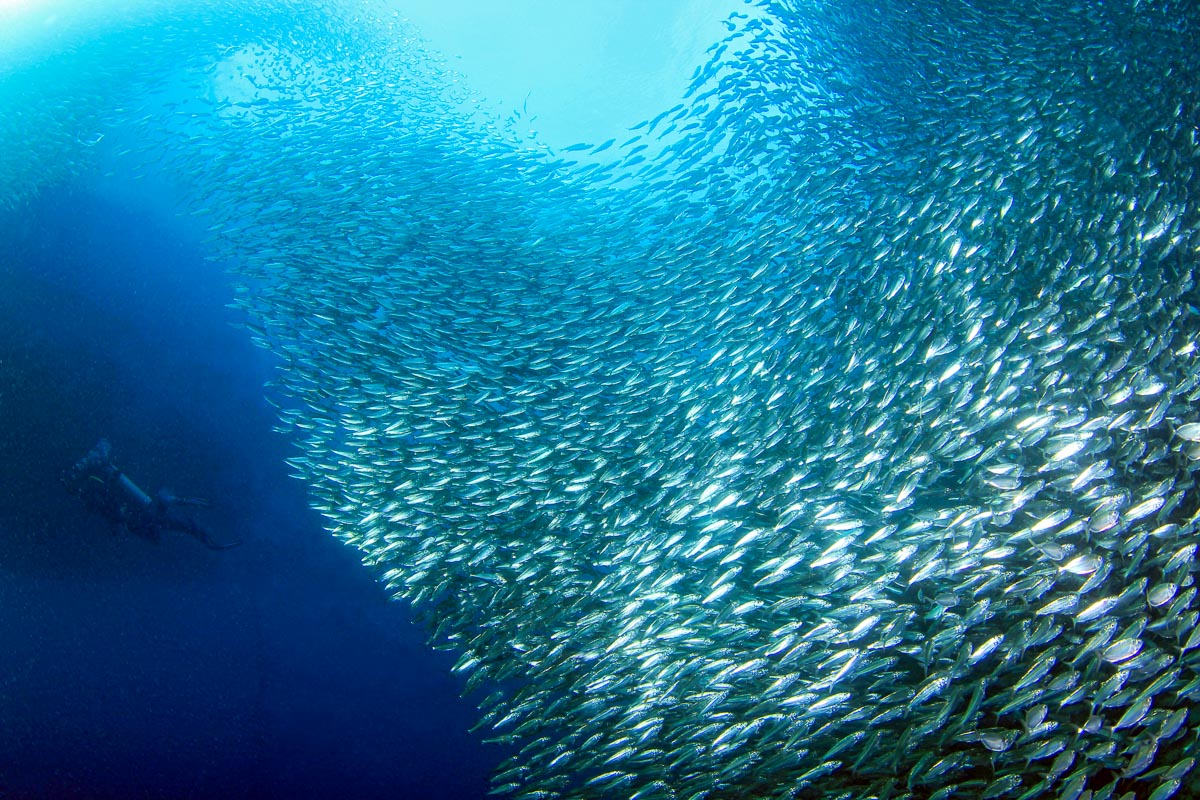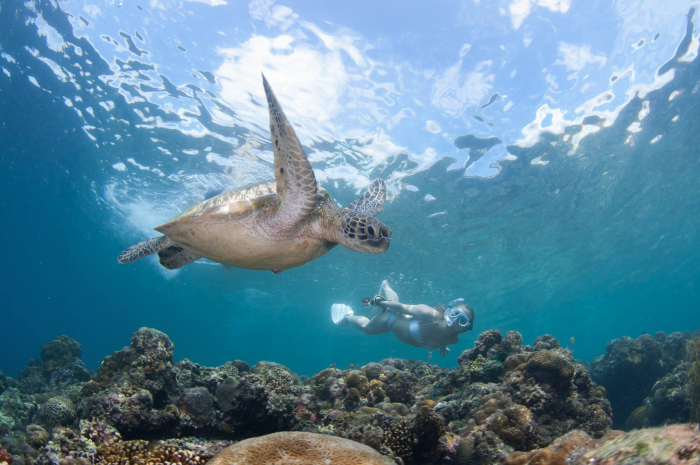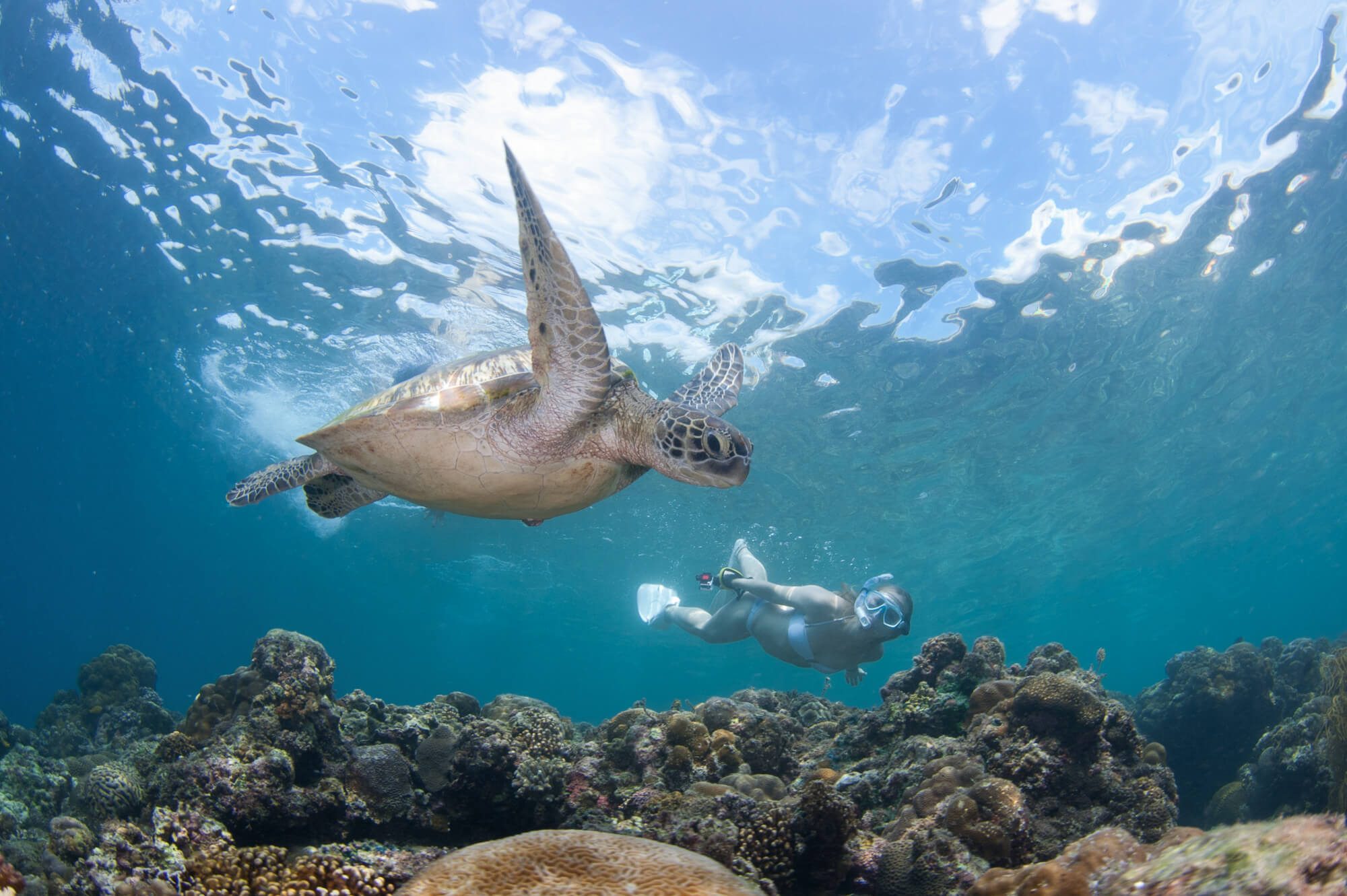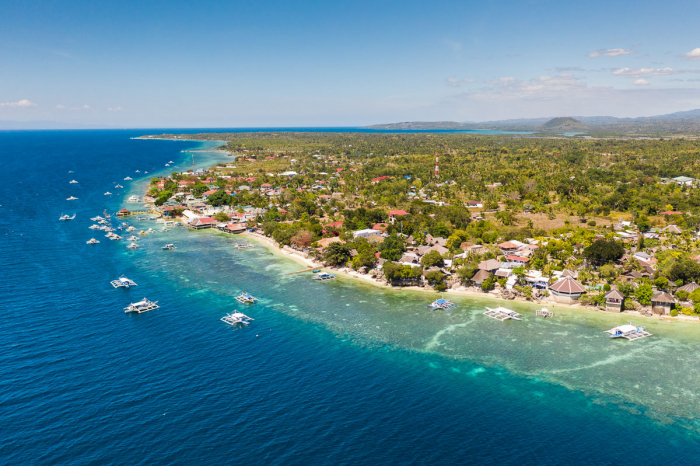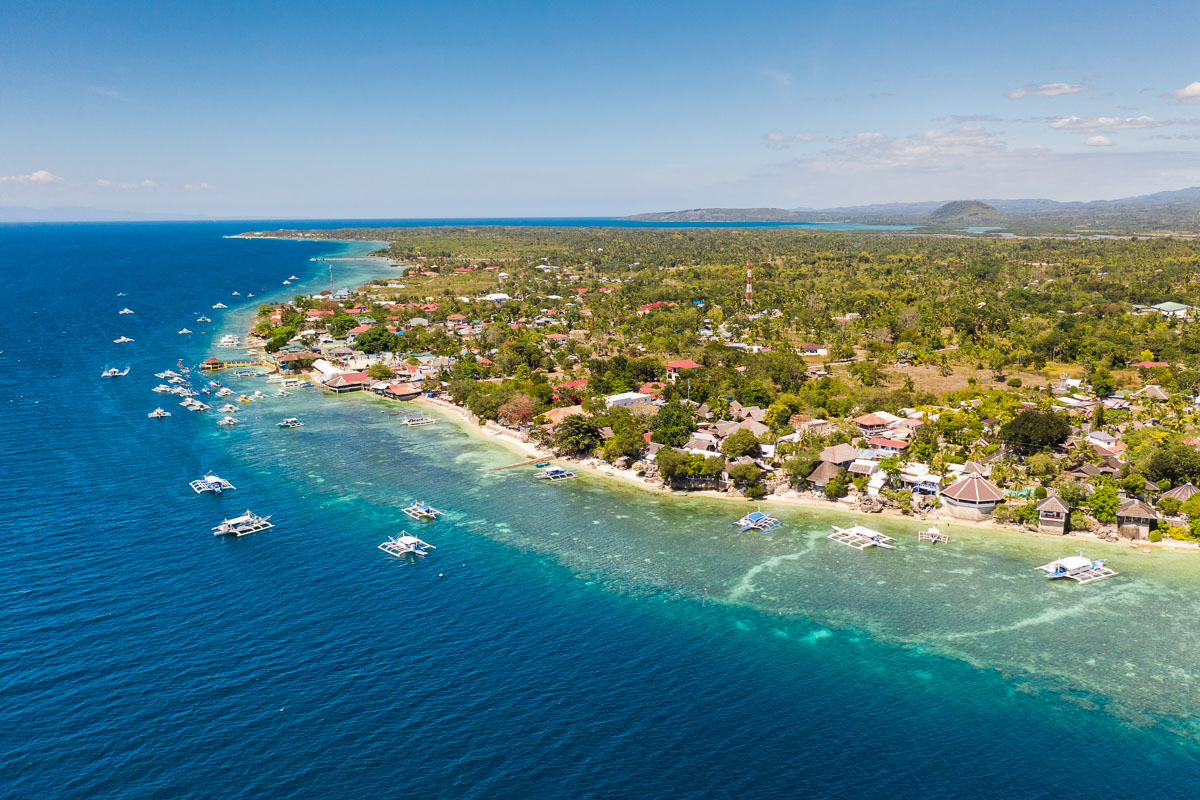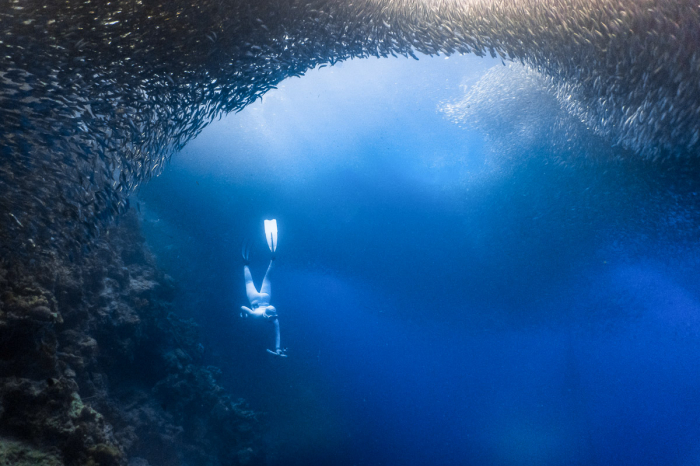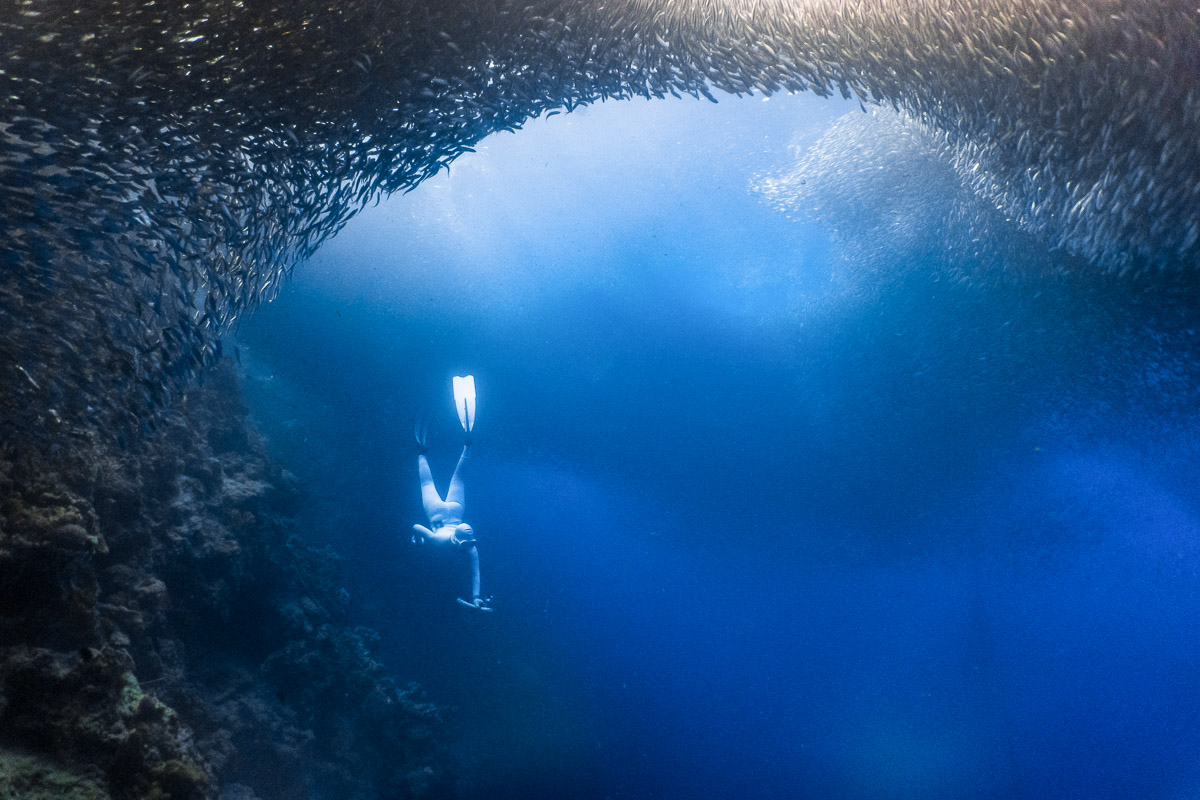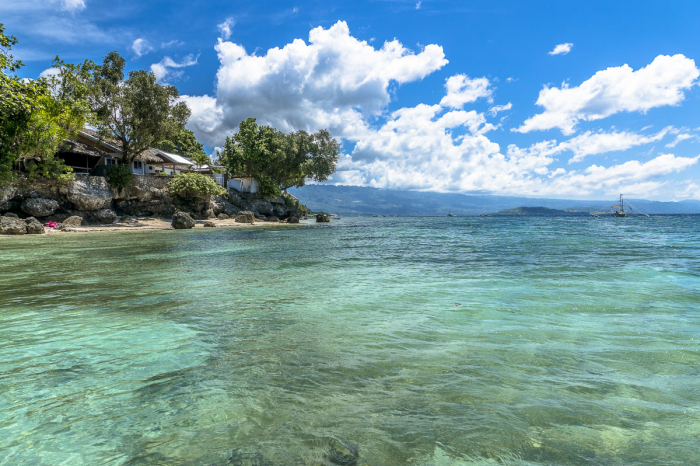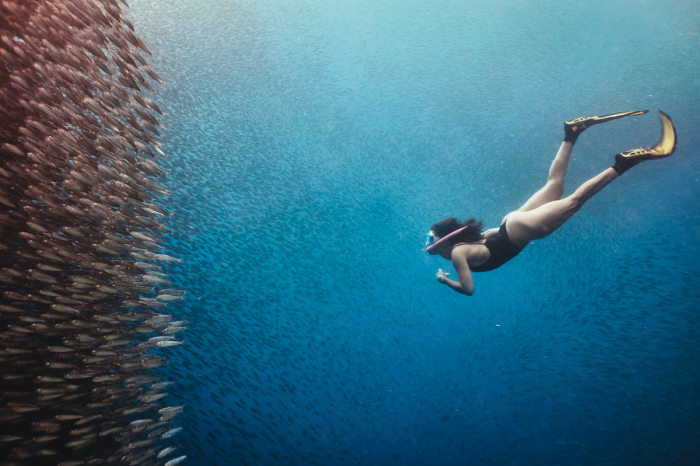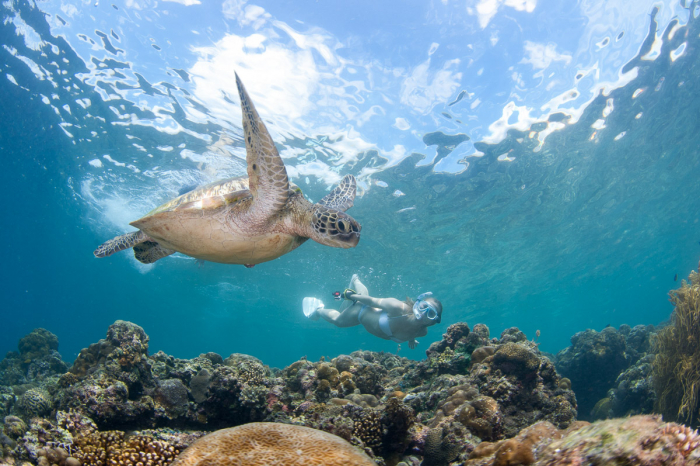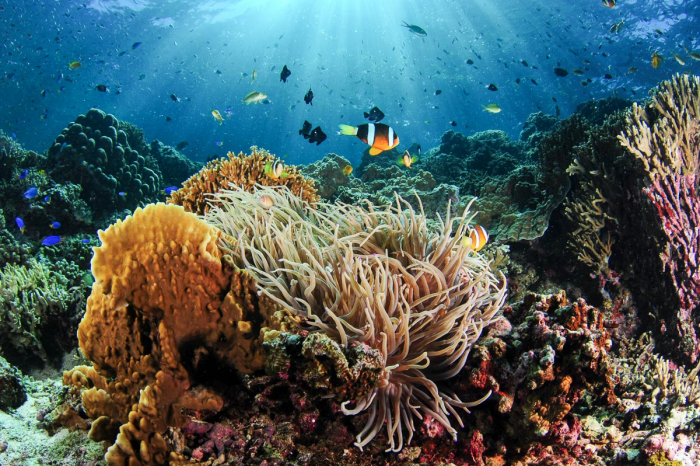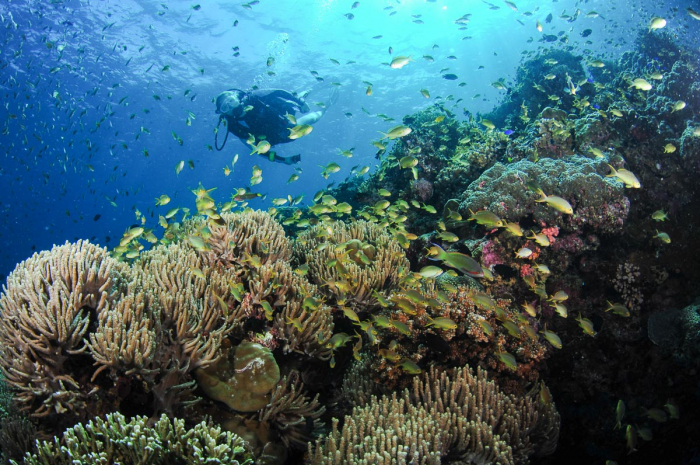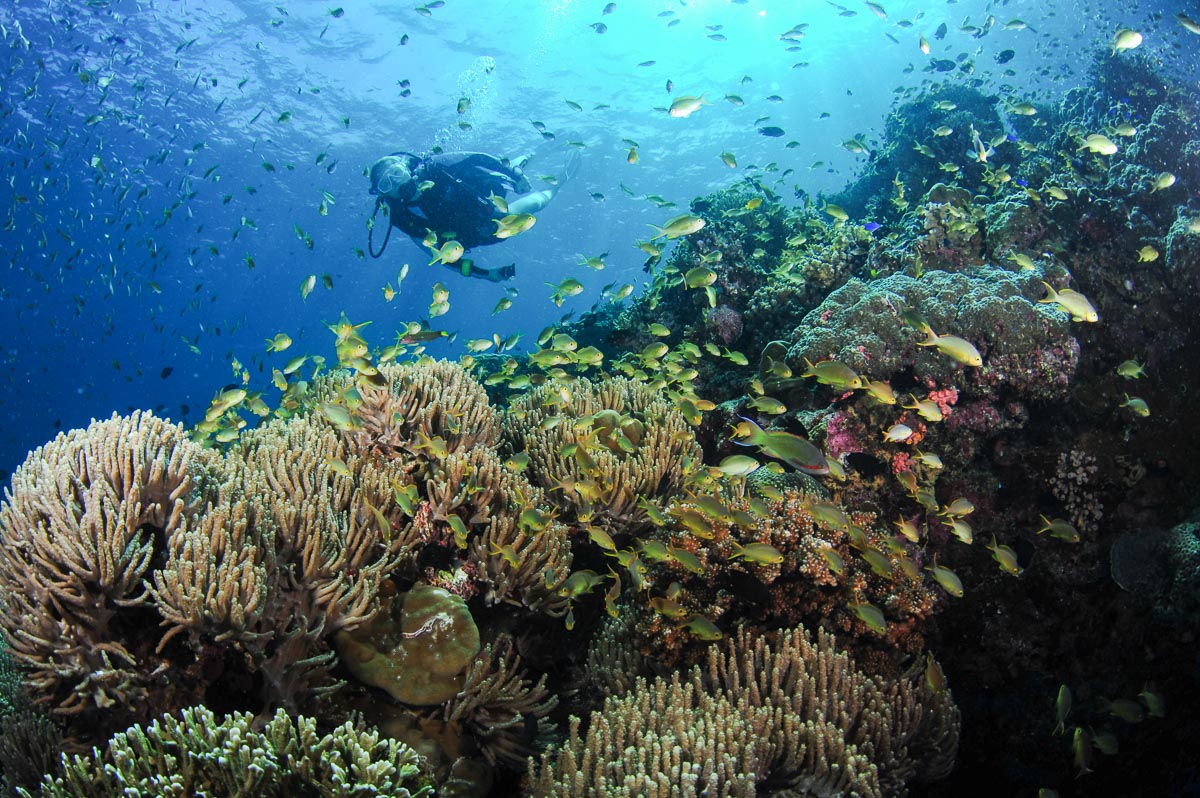 Diving Environment
Type
Reefs, walls and drift diving
Diving Season
November to April
Top tips

Many resorts and shops rent out mountain bikes if you would like to check out the local surroundings on your own.
If you are looking for some things to do on dry land, then head to Lambug for another beautiful beach, or explore the nearby Kawasan River.
Check out Ven'z Kitchen if you would like to try some tasty modern versions of Filipino food.
About Moalboal
Peaceful Moalboal lies roughly 100 kilometres from Cebu City and faces the deep Tanon Strait that separates Cebu Island from Negros to the west. Up until the 1970's the people of Moalboal made a living as fisherman and farmers, but after the incredible diving was discovered by scuba divers the town has steadily grown into a laid-back collection of dive centres, dive resorts and guesthouses, restaurants and bars - ideal for travellers looking to explore the rich underwater environment that has made this part of the Philippines famous.
Moalboal's dive centres and resorts are concentrated around the Copton Peninsula. On the southwest coast, the rocky Panagsama Beach has plenty of restaurants, bars, dive centres and guesthouses, while further north the beautiful White Beach has a stunning stretch of glorious sand and is a little more peaceful. Both areas offer the same easy access to the reefs and walls along the coastline, as well as nearby Pescador Island.
25 kilometres down the coast from Moalboal, you'll find the picturesque town of Alegria, known for its magnificent waterfalls and caves, rich history, prolific marine life and spectacular coral reefs. A haven for adventure, scuba diving and snorkeling, Alegria is home to some hidden underwater wonders that remain largely unexplored by the crowds seen at other Philippine diving destinations. Think pristine reefs, fun drifts, energetic schools of fish and interesting macro critters.
Getting to Moalboal
From Manila, probably the quickest way to get to Moalboal is to fly direct to Dumaguete City then catch the ferry to Santander on Cebu, and a taxi onwards to Moalboal. If you are flying into Cebu City, then it is a 4 hour taxi ride or a 5-6 hour bus ride to Moalboal.
Dive seasons and weather
The best time of year for diving in and around the Moalboal area is from November to May, when there is little rain and the weather and visibility are at their best. December to February is a little cooler, whilst from March onwards the days are hot and dry. The rains typically arrive in June or July and last until September. Being south of the main typhoon belt, Moalboal rarely suffers from the effects of these storms, but can have a few days of bad weather. Water temperature is usually around 26°C to 28°C but will occasionally get as low as 25°C in January and February. A 3mm wetsuit and a hood are recommended if you do a lot of diving and don't forget to bring sunscreen for when you are out of the water!
Where to stay
Moalboal's resorts and dive centres are concentrated around Panagsama and White Beach, although there are also smaller resorts and guest houses scattered along the coast to the north and south. Most of the accommodation on offer consists of small guest houses although there are a few more upscale resorts - many of which cater for divers with their own in-house dive centres. All have access to the same great diving, so pick a place according to your budget and personal preferences rather than access to dive sites.

---