Giant tornadoes of barracuda, beautiful reefs, tropical fish everywhere, and turtles galore – it's no wonder Sipadan's iconic diving is considered the crown jewel in Malaysia's Celebes Sea. And, while Sipadan has been dived for decades, it's still in a league of its own, boasting some of the planet's most beloved dive sites and once-in-a-lifetime underwater experiences. 
If you're hoping to dive this spectacular and highly celebrated island of Sipadan, this is the article for you! Keep reading for our top tips on how to get there, scoring a coveted Sipadan dive permit, making the most of your time in Sabah, and enjoying every minute underwater.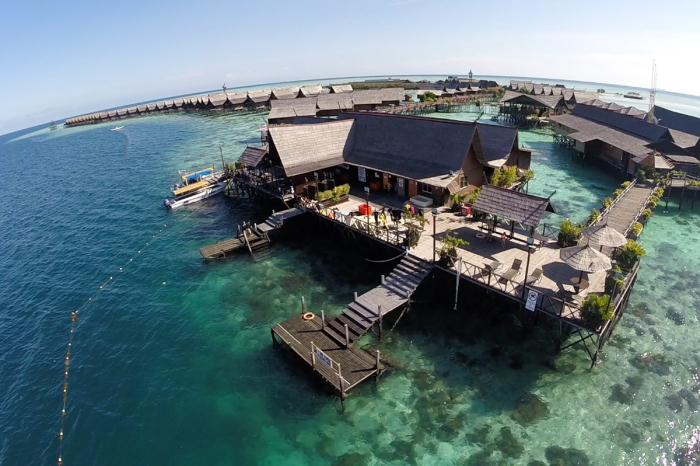 Sipadan is a paradise for divers
Barely more than a speck of sand in the Celebes Sea's turquoise expanse, Sipadan boasts an extraordinary marine environment – a towering coral pinnacle that has helped make the island one of the most popular diving destinations in Southeast Asia. Its popularity means getting to and from Sipadan is easier than ever before and the resort options for divers are plentiful, with facilities fit for every budget and travel style. 
Travelling to Sipadan
Sipadan lies just off the coast of Sabah, with most international visitors flying into Kota Kinabalu, the state's main transit hub and international airport. From there, you'll need to catch a second flight onwards to Tawau. On arrival, you'll have the option to travel via bus or private transfer to Semporna, then finally to Mabul by boat. To make getting there and away a bit easier, all of the main resorts in the area offer easy to arrange transfers to and from Tawau airport.
Mabul and Kapalai are the two gateways to Sipadan, and both are fantastic stand-alone diving destinations, as well. Plenty of guesthouses, hotels, and high-end resorts have sprung up over the years and, as divers are no longer permitted to stay on the island of Sipadan, you'll have to select one of these two islands as your home base.
Scoring a dive permit for Sipadan
To protect Sipadan's exceptional underwater environment, a limited number of guests are allowed to dive each day, and arriving without prior arrangement will almost certainly end in disappointment.
The easiest way to get a permit for diving in Sipadan is to book a dive package with a minimum of three nights at one of the major resorts and dive centres. These usually include two or three days of diving around Mabul or Kapalai for each day of diving at Sipadan. This might sound like a hassle but the neighbouring sites are so impressive, you wouldn't want to miss them anyway. And, capping the daily number of divers in Sipadan is an outstanding strategy for protecting the island's dive sites, keeping them in top condition for the next generation of underwater explorers.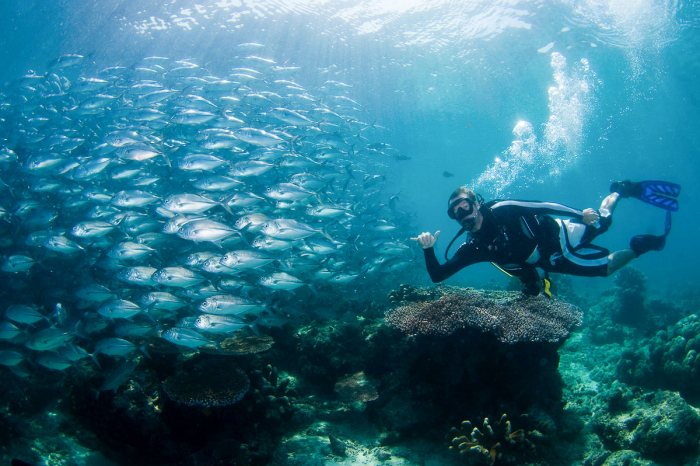 Scuba diving Sipadan's underwater world
Since divers started exploring the region in the mid-1980s, Sipadan's fame has steadily grown. This is Malaysia's only oceanic island, perched atop a long-extinct volcano that, over the course of millennia, has transformed into a pinnacle rising up from the depths of the Celebes Sea. It is this combination of deep waters, currents, and shallow sites on the topside of the pinnacle that combine to create unbelievable diving conditions, and world-class sites teeming with marine wildlife. 
For how famous the park is, Sipadan is surprisingly small. There are just 12 dive sites scattered around the island, boasting a blend of deepwater drop-offs, flourishing coral gardens, current-swept reefs, and even an underwater cave system. But, topography is hardly the highlight in this dynamic diving destination! Vast tornadoes of barracuda and jacks, reef sharks, sea turtles, and other pelagics make frequent appearances, while the reef itself is clouded by colourful fish, with bannerfish, moorish idols, and damselfish schooling by the hundreds. 
One of the most exciting parts of diving in Sipadan is the contrast between the island and its neighbouring underwater environments. Both Mabul and Kapalai boast shallow reefs, as well as sand, gravel, and muck – home to a weird and wonderful variety of pint-sized macro wildlife. Colourful nudibranchs, pipefish and seahorses, and rare cephalopods like the blue-ringed octopus are among the region's most exciting finds. The currents here are less intense than Sipadan, making them ideal for enjoying some easy-going underwater exploration in between heart-pounding adventures. 
Discover the best diving resorts around Sipadan.
Search, compare and book your next diving holiday
Sipadan's can't-miss dive sites
Most divers just spend a handful of days exploring Sipadan in hopes of spotting the region's signature wildlife – sharks, turtles, and massive shoals of barracuda and jacks. But if you don't have tons of time in the park, we recommend diving these sites for an all-inclusive 'best of' experience.
Sipadan Jetty – AKA The Drop-Off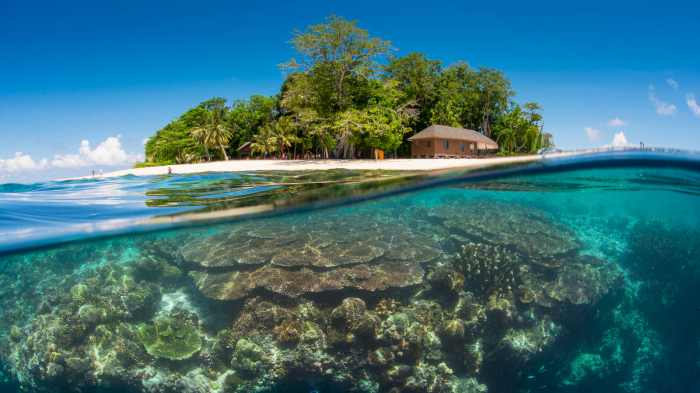 This dive starts directly from the island's main jetty, located on the northern point of the island. The sudden and steep drop-off here plunges straight down to the seafloor, over 600-metres below, making for a seriously spectacular wall dive. As you cruise past this site's stunning near-vertical hard and soft coral gardens, be sure to keep one eye out in the blue where schools of barracuda and batfish swim by. Lone reef sharks, turtles, and eagle rays also patrol at the reef's edge, and big turtles are often seen napping in the wall's caves and overhangs. 

Turtle Tomb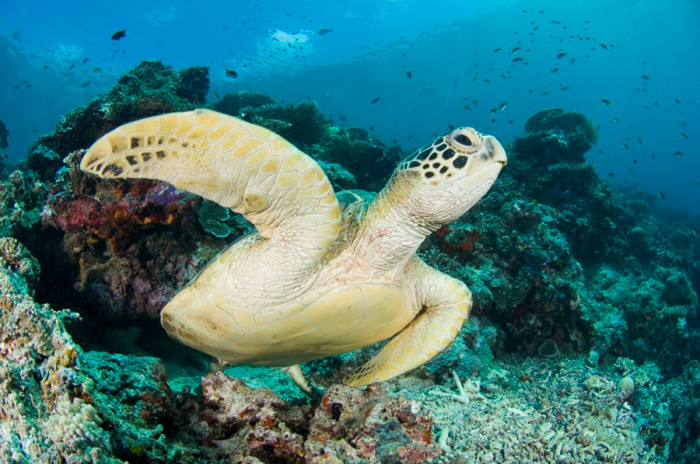 This is easily Sipadan's most famous site and is sometimes also known as Turtle Cavern. The 'turtle tomb' is a submerged cave system, beginning at around 20-metres down and just a short swim from the island's jetty. Local legend goes that this is where the island's sea turtles come to die, and indeed turtle skeletons can be found within the cave, making it a favourite for underwater photographers. Take care while exploring this 'overhead environment' and opt for a certified technical diving centre if you're hoping to go deep into the network of tunnels.
Barracuda Point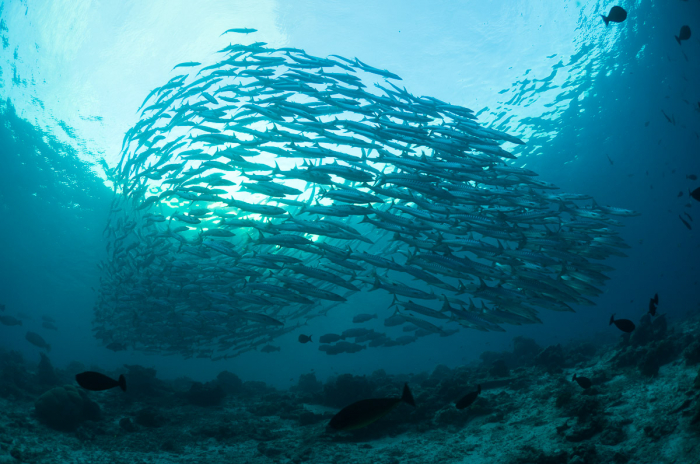 As its name suggests, this dive site is famous for its massive swirling schools of chevron barracuda. Hundreds of these powerful pelagic fish congregate here, and lucky dive groups may even see them swimming in tight formation, forming Sipadan's signature barracuda tornado. When you aren't totally mesmerised by this spinning wall of sea life, you'll also notice lovely hard and soft coral formations, with reef sharks, bumphead parrotfish, and eagle rays cruising past. The main coral channel – home to Turtle Rock – has a maximum depth of around 20-25 metres. But, watch out for its legendary currents, which can sometimes ramp up to heart-pounding speeds that feel a bit like diving in an underwater river.
South Point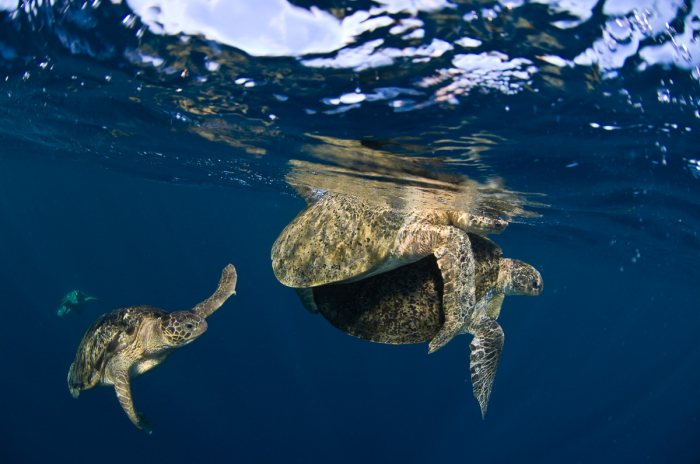 At the southern tip of Sipadan's reef and a quick 15-minute boat ride from the main jetty, lies South Point. This site's sloping reef starts at five metres and descends to the south, with a second drop-off that plummets into the abyss, well beyond recreational dive limits. Be sure to watch the blue, where lone hammerheads and thresher sharks occasionally cruise by. Reef sharks, massive moray eels, and a full rainbow of colourful reef fish can be found in the shallows, where stunning hard and soft coral formations dominate the landscape. South Point is also home to a turtle cleaning station where big green turtles queue up for a treatment. This is a site known for strong and changing currents, so it's best to come prepared for a high-speed adventure!
Hanging Gardens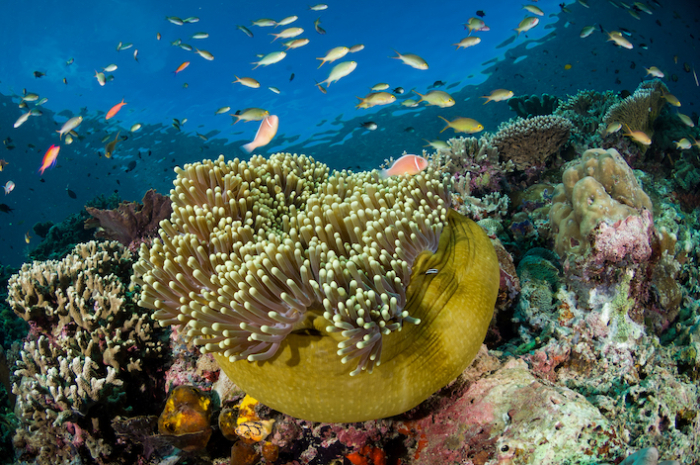 Sipadan's powerful currents introduce a wealth of vital nutrients to the region's water. This, in turn, fuels incredible coral growth, and no site boasts more impressive soft coral formations than Hanging Gardens. Peer inside giant barrel sponges, watch massive gorgonians sway in the current, and explore in the shallows where clouds of tropical fish cover the corals. Deeper on the steep wall you'll be greeted by patrolling reef sharks, bumphead parrotfish, and so many sea turtles that you could easily lose count. Like many of Sipadan's best sites, this wall is sometimes swept by a fast-moving current, making for a scenic drift dive with conditions ranging from mild to wild, depending on the day. 
Sipadan's dive season
While Sipadan is technically a year-round dive destination, the best time of year to visit is during the dry season between April and October. And, divers in the know tend to favour the 'shoulder' season, which includes April and May, as well as September and October. Head to the destination page for more detail on Sipadan's scuba diving seasons.
---
Ready for the dive trip of a lifetime to Sipadan?
Our experienced travel experts would love to assist with planning your Sipadan scuba diving vacation.

---
---
Join the ZuBlu community to receive the latest insights and unmissable adventures
Don't worry, we'll only send you really good stuff - and we never share your details
---