Scuba diving in
Bali
Indonesia
Encounter manta rays and mola mola, dive the Liberty wreck and explore some of Indonesia's most beautiful landscapes and fascinating cultures.
Diving highlights
Dive the world famous Liberty Wreck at Tulamben
Encounter Mola Mola and manta rays around the rugged island of Nusa Penida
Search for Rhinopias, mimic octopus and frogfish on Bali's amazing 'muck' sites
Take some time out and immerse yourself in Bali's unique culture
Combine a dive holiday with yoga or free diving classes in Amed
With a fascinating mix of culture, arts, beaches and waves, all set against a stunning backdrop of rice fields, temples and volcanoes, the beautiful island of Bali has something for everyone. Many visitors stay in the south to relax on the beaches, bask in the waves and sip cold beers and cocktails. But Bali is much more than just a beach lover's heaven. The island's unique culture and religion - known as Agama Hindu Dharma - gives the island a very different feel to the rest of Indonesia and visitors can learn about Balinese spiritual beliefs in the thousands of beautiful temples that dot the island.
Bali also has some of Indonesia's best and most accessible diving. The island's underwater world is all about diversity - of dive locations and experiences. Located at the edge of a channel that funnels extraordinary volumes of water from the Pacific to the Indian Ocean, the range of conditions and habitats around Bali support a huge diversity of species. There is something for everyone, including awesome macro critter hunting, shallow reefs, plunging walls, action-packed drifts, and of course, unrivalled wreck diving at Tulamben's Liberty Wreck. From the fringing reefs of Menjangan, black sand ridges and patch reefs at Seraya and prolific ecosystems of Lombok and the Gili Islands, to the teeming reefs and currents of Nusa Penida and Lembongan - all are home to a fantastic diversity of marine life.
Dive in and explore the rich waters of the 'Island of the Gods', and see for yourself why Bali is truly an extraordinary destination both above and below the surface.
---
Ready for your dive adventure in Bali?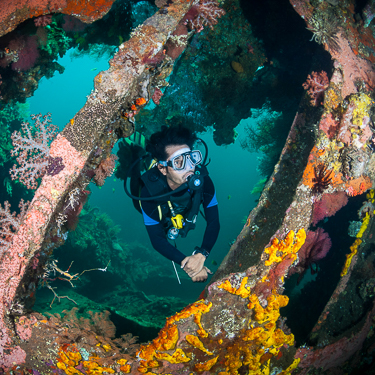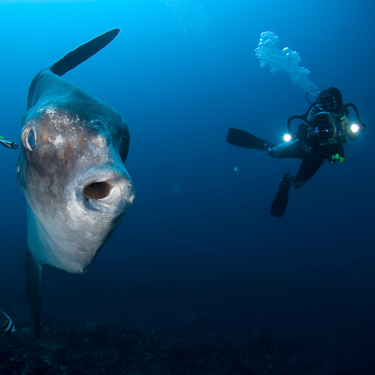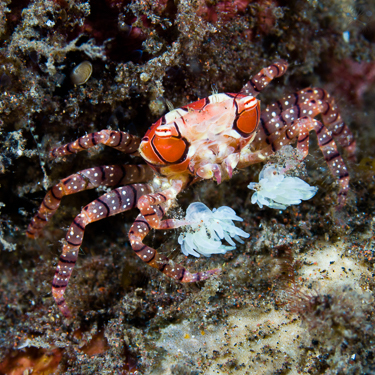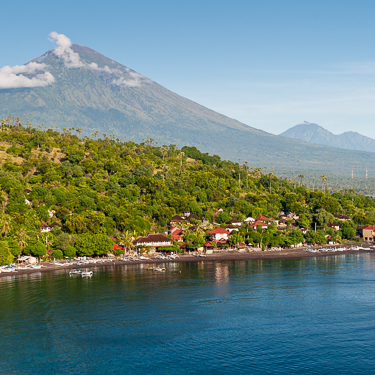 ---
When to dive Bali, Indonesia
The weather in Bali revolves around two distinct seasons. The best diving conditions are during the dry season from April to October, when conditions are good all over Bali. Between May and September, the monsoon winds pick up and there are upwellings of cold water, particularly around Bali's southeast. This can make conditions slightly more difficult but produces perfect conditions for mola mola!
December through to March is the rainy season, which tends to reduce visibility, particularly in Bali's north and northwest. Given Bali's location in the tropics, you're likely to have some rain whatever time of year you visit. Along the coast, day time temperature is normally 30-32C, with high humidity. During the windy summer months, nights are cooler and the humidity drops - perfect Balinese weather. Water temperatures are typically 24-28C, but the currents around Bali can create very strong upwellings of cold water - which can be below 20C. Bring a 5mm wetsuit if you are planning on diving around Nusa Penida in the summer months.

The busy tourist seasons are also worth considering. Prices will rise and hotels may be booked out during the major holiday periods such as school summer holidays, Christmas and New Year, and Chinese New Year. Indonesian national holidays, in particular Eid el-Fitr, can also mean hotels are very busy. Also be aware of Nyepi, the Balinese New Year, when the entire island shuts down for 24 hours. The exact date of Nyepi changes every year, so be sure to check in advance.