Home to classic resorts, world-renowned nightlife, and some of Thailand's less explored dive sites, the Southern Andaman Sea is an exceptionally diverse region, with a bit of something for everyone. You'll find a wide variety of underwater environments here, with dazzling coral reefs and towering pinnacles that have enjoyed decades of marine park protection. And, you're likely to spot some pretty impressive wildlife, including leopard sharks, mantas, and all kinds of beautiful macro creatures. 
Does the Southern Andaman Sea sound like your dream scuba diving destination? Read on for ZuBlu's top tips on travel, diving the many islands and national parks, and making the most of your time above and below the water.
---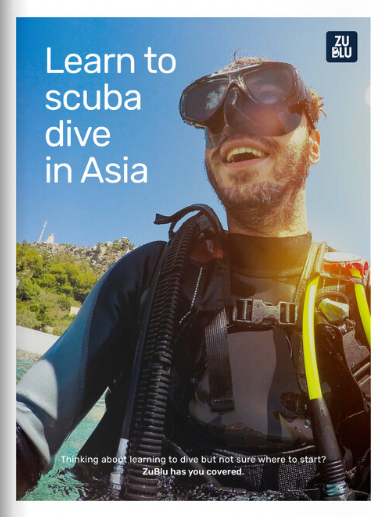 All you need to know about learning to scuba dive in Southeast Asia
---
Get to know Thailand's deep south
Despite being one of Thailand's original resort destinations, this region is often overlooked by divers in favour of the Similan and Surin Islands to the north. And, whilst you might not know it, you're probably already familiar with some of the destinations here - Phuket sounds familiar!?

On a map, Phuket, looks like part of the mainland, but it's actually the largest island in Thailand, with a narrow channel separating it from the peninsula. On the mainland to the east, the Ao Nang district of Krabi is home to lovely seaside resorts and some of the country's most dramatic scenery. This is also the jumping-off point for exploring some of the Southern Andaman's other offshore attractions, including Railay Beach, a hotspot for rock climbers. Longtail boats heading out to the Phi Phi Islands and busses going south to Koh Lanta also depart from here.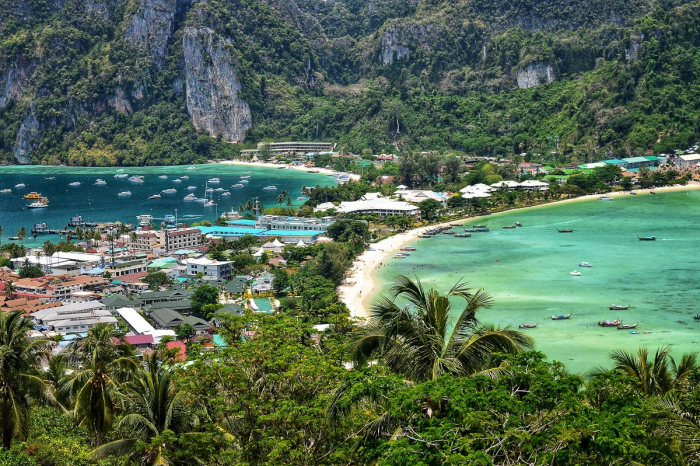 The islands of Koh Lanta, Koh Phi Phi, and Tarutao boast three distinctly different personalities, with options for relaxed resort travel, backpacking and budget-friendly accommodations, and even overnight camping. The one thing they all have in common? Outstanding scuba diving and snorkelling, plus plenty of calm bays and sparkling sandy beaches to explore. 
Same same, but different
The diving in this region differs significantly from that of the Similans and Surins, despite their close proximity. For starters, you won't find many of Thailand's signature boulder fields here. Instead, you'll be exploring limestone pinnacles, fringing coral reefs, and even a shipwreck or two. You'll also notice that the islands boast similar reefs but different conditions on their protected and open-ocean sides. This makes it easy to find diving conditions ideal for divers of all skill levels.
You'll still find dozens of protected dive sites with visibility reaching up to 30 metres - ideal for beginners. And, if it's wildlife you're after, you won't be disappointed, as leopard sharks, manta rays, and vast schools of fusiliers and barracuda can be seen, as can macro creatures like nudibranchs and pipefish. 
The way you dive will likely be a bit different in Thailand's deep south, too. Day trips are the most popular option for exploration, with traditional longtail boats zipping divers out to the offshore sites. But, if you're a dedicated diver hoping to score the most tanks possible, a liveaboard might be your best bet. These multi-day safaris don't offer the flexibility of day diving, but they do represent excellent value for money. 
What makes the South Andaman Sea special?
This diverse diving destination is bursting with highlights, in part thanks to the large geographic area that it covers. You'll have access to numerous national parks, many of which encompass protected marine areas as well as scenic islands and coastlines. And, you'll be well placed to embark on land-based adventures, with jungle and mangrove hiking, temple touring, rock climbing and rappelling, and some of the planet's prettiest beaches within reach. 
One of the other big benefits to diving in this region is that you can explore at your own pace. This casual setting allows you to dive as much or as little as you like, with two and three-dive trips available depending on the site. And bouncing around between the islands is a piece of cake, so don't feel pressured to pick just one. Pairing a party hotspot with a quiet natural wonderland can help you get the best of both worlds, all in one trip!
Ready to start planning your holiday in Thailand's Southern Andaman Sea?
Search, compare, and book from our hand selected diving holidays.
South Andaman Sea highlights
Love coral reefs and clouds of colourful fish? Well, you've come to the right place. Whether you're diving stunning limestone pinnacles or sprawling reefs, you'll find plenty of life - including a surprising amount of macro hiding amongst the coral.
Plenty of iconic wildlife calls this region home too, with leopard and bamboo sharks among the most sought after species. Four different types of sea turtle live here, as do manta rays, reef sharks, and a wide variety of pelagic fish, including tuna and trevally. Whale sharks do make surprise appearances, though it isn't as common as elsewhere in Thailand.
The Southern Andaman Sea is also home to a few shipwrecks. The King Cruiser is the most popular, but it doesn't offer opportunities for penetration. Other nearby wrecks are far less-visited and include fascinating remnants of aeroplanes and helicopters, tugboats, and cargo ships.  
The Southern Andaman Sea's best dive sites
Considering the region's size, the southern Andaman Islands are surprisingly easy to explore. You can expect excellent surface conditions and comfortable boat rides to most sites, plus lovely rock formations and jungle swathed islands that make for pleasing boat trips. Be sure to pack your snorkel, as you'll likely have the chance to swim and explore independently during your surface intervals, and many of the shallow reefs here are just as lovely from the surface.
Shark Point - Phuket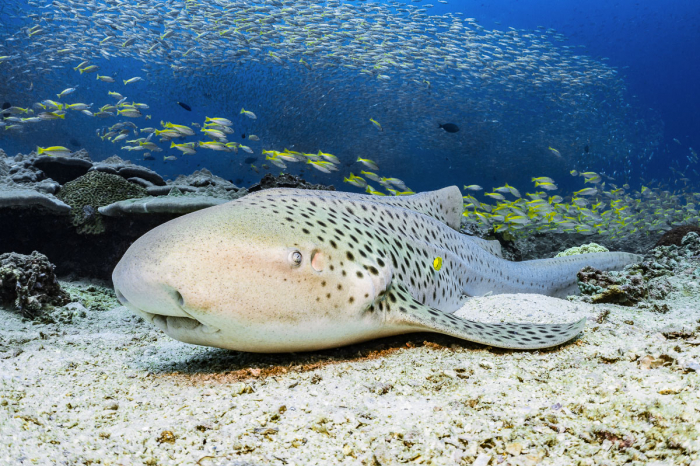 If you're hoping to spot a leopard shark, this is your site. This docile bottom-dwelling species is frequently spotted here, napping in sand channels and under rocky outcroppings. Shark Point comprises three towering pinnacles, with a vibrant coral reef stretching between them. Huge barrel sponges and sea fans dominate the landscape, as do sprawling table corals and delicate staghorn formations. Depending on the day's currents, you'll either stay in one area, searching among the coral gardens for small reef species or drift along in the current, taking in a dramatic landscape clouded by colourful reef fish.
King Cruiser Wreck - Phuket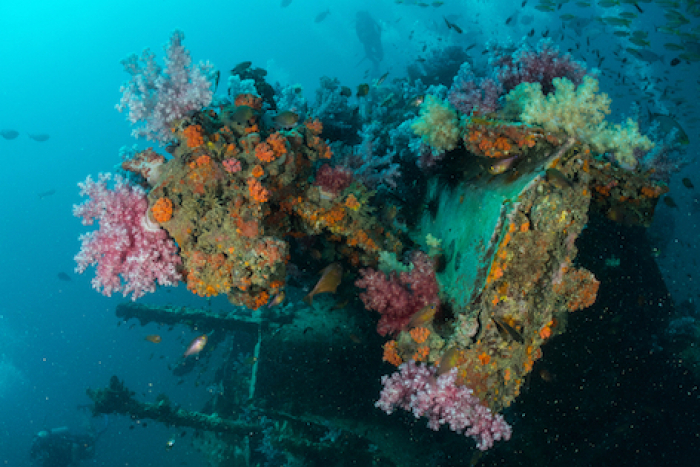 After straying off course between Phuket to the Phi-Phi Islands in 1997, the 85-metre King Cruiser ran aground on Anemone Reef, where it now lies in 12 to 30 metres of water. As sections of this wreck have begun to collapse, it is no longer open for penetration. However, its exterior offers large twin propellers and an open back deck famous for its population of massive lionfish and swirling schools of glassfish. Great barracuda, hawksbill turtles, and vast schools of fusiliers and trevally are all common here, as are juvenile reef fish and nudibranchs amongst the hull's thick blanket of coral. 
Bida Nai and Bida Nok - Koh Phi Phi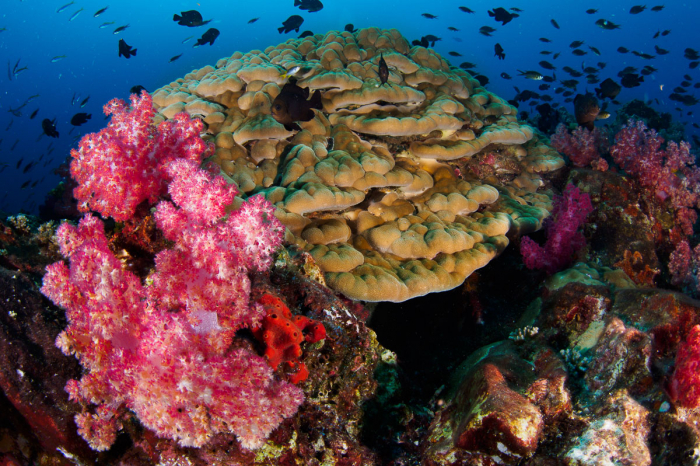 Above water, these twin limestone islands are marked by layers of orange and white mineral deposits. Descend just a few metres below the surface and you'll find a patch reef of boulders and massive coral bommies, providing the perfect place for some laid-back reef diving. Head to the southeast side of Bida Nai to explore an outcropping known as Fantasy Reef, appreciated for its massive gorgonian fans and barrel sponges, schooling trevally and jacks, and reef fish of all shapes and sizes. Underwater photographers, don't miss out on this wide-angle opportunity - you won't find many landscapes better than this in the Andaman Sea. 
Koh Talu - Krabi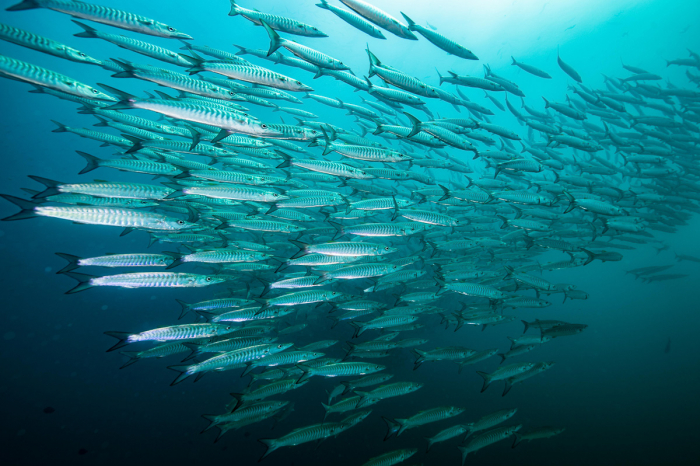 The island of Koh Talu also boasts two separate swim-throughs suitable for all skill levels, with entrances often guarded by large barracuda. The reef itself is made up of massive table corals and staghorn formations and sprawling gardens of tree and mushroom corals swaying in time with the waves. Head deeper to explore a sandy bottom littered with stingrays, cuttlefish, and mantis shrimp. This is also where you can find a series of small pinnacles, home to cute macro critters, including seahorses, nudibranchs, pipefish, and even schooling razorfish.
Hin Daeng and Hin Muang - Koh Lanta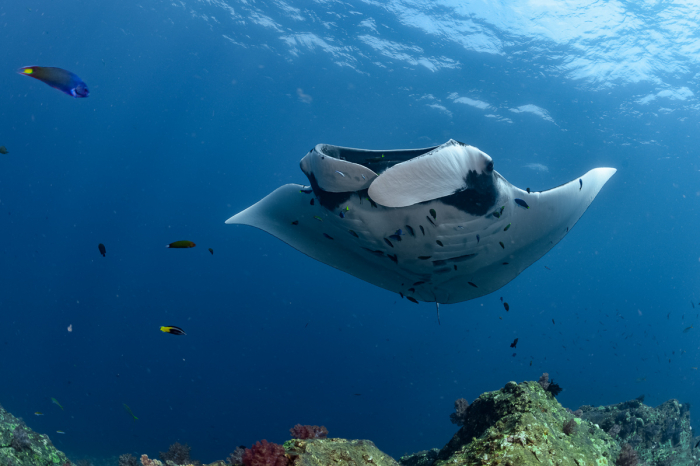 These remote submerged rocks offer some of the most exciting scuba diving in the Southern Andaman Sea. Hin Daeng, also known as Red Rock, is home to a stunning light-filled coral garden and is also one of the region's best sites for spotting mantas. Hin Muang, or Purple Rock, is Thailand's most dramatic vertical wall, with a carpet of jewel-toned coral that extends well below recreational limits. Keep an eye on the drop-off, as reef sharks, leopard sharks, and mantas frequently visit. But, don't miss the pinnacle's leeward side, home to giant anemone gardens and their respective anemone fish.
Eight Miles Rock - Tarutao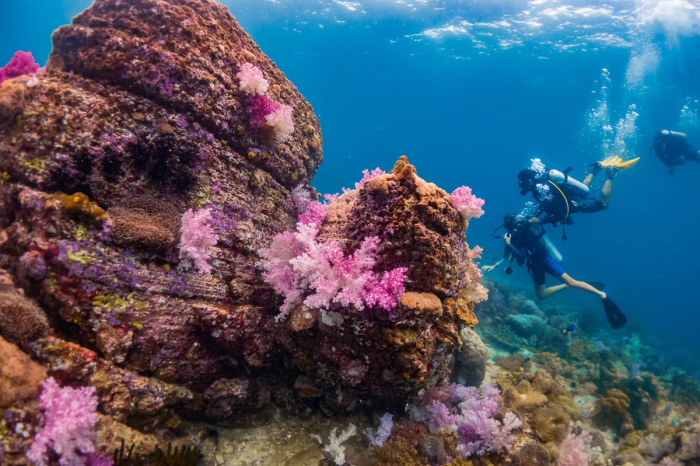 Located eight miles south of Koh Lipe, this is one of Thailand's southernmost Andaman dive sites. The rock itself is a submerged pinnacle beginning at around 12 metres and dropping rapidly to well beyond 50. This is an exciting multi-level dive with plenty of opportunities to escape the ripping current. On the site's south side, explore the deep channel where massive potato grouper and reef sharks can be spotted or shallow up to comb through massive soft coral gardens. And don't forget to keep an eye on the blue, as whale sharks and mantas make frequent but brief appearances.
---
Ready to start planning your next scuba diving holiday in Thailand?
We're here to help! Contact one of our dive travel experts today.

---
Where to stay and what to do
Unlike the Similan and Surin islands farther north, this area is easily explored via day boats based in Krabi, Phuket, Koh Phi Phi, or Koh Lanta.
Phuket and Phi Phi share access to many of the same dive sites, but the two destinations couldn't be more different! Phuket offers something for every traveller, from secluded five-star beach resorts to cheap and cheerful guesthouses set back from the beach, plus the notorious nightlife of Bangla Road and Patong Beach. Phi Phi, by contrast, boasts some of Thailand's most beautiful beaches dotted by resorts and lodges to fit every price point. The island's lovely bays, cliffs, and islets are ideal for nature lovers and outdoor adventurers.
Tarutao Island offers extremely limited options for overnight accommodation and dining, and no nightlife, making it a top pick for day boats. But, you might consider staying there for a night or two just for the shorter boat rides to Thailand's southernmost dive sites. Krabi, on the mainland, is actually a large town, with a bustling seaside port. Divers in the know typically head to the neighbouring town of Ao Nang, home to a wide variety of resorts and hotels with a relaxed oceanside ambience. 
Koh Lanta is a popular stop among backpackers and still retains much of its rustic charm. This is largely due to its strict national park protection that limits development, and most resorts here offer a more natural and eco-friendly atmosphere. In addition to diving, Koh Lanta offers outstanding hiking, beachcombing, and a chance to visit the indiginous, semi-nomadic sea people known as the Chao Leh.
Getting there and around
While Phuket airport does receive some international flights, most visitors enter the country through Bangkok. From there, Phuket is easy to reach via a short domestic flight. If you aren't planning to stay put, the rest of this region will prove easy to navigate via taxi or public bus and ferry, though most hotels and dive centres are happy to arrange your transfers.  
Some exciting multi-day liveaboard safaris operate in this region, but most of the diving is done via dayboat. While this can make for long days on the water, many of the Southern Andaman's best diving areas are great for snorkelling. And, you'll likely have an opportunity to hop in during each day's surface interval.
Seasons and weather
Diving is great all year round, though the very best conditions coincide with peak tourist season between November and April. During the low season, the weather is less predictable, with more rain and choppier seas, sometimes making the further-flung sites challenging to reach. If you're considering a liveaboard, the season runs from October through May.
No matter when you plan to visit, pack for hot, humid weather. Sudden afternoon downpours and thunderstorms occur almost all year round, sometimes offering a much-needed break from the midday heat. You can expect more precipitation, heat, and humidity during the shoulder months - with intense tropical conditions during May and October.
This region is known for excellent diving conditions, with warm water between 26-29°C and most divers are comfortable in just a shortie or rash guard. You can also expect good visibility, sometimes reaching 30 metres.
---
Whether you're new to the sport of scuba diving or you've been at it for years, the southern Andaman Sea belongs on your bucket list. Let the ZuBlu team take you there! We'll help you plan the trip of a lifetime with up-to-date travel tips and advice, plus pro support throughout your adventure! 
---
Join the ZuBlu community to receive the latest insights and unmissable adventures
Don't worry, we'll only send you really good stuff - and we never share your details
---