With over a thousand islands surrounded by cobalt-blue water and dazzling fringing reefs, it's no surprise that scuba diving is one of the Maldives' top attractions. But with so many exceptional dive resorts to choose form - all offering the Maldives' iconic blend of adventure and sublime five-star relaxation - travellers are truly spoilt for choice.

To help you decide where to stay this year, we've tested thilas and dived from dhonis across the atolls - and come up with a handful of our all-time favourites.
Read on to discover the best dive resorts in the Maldives.

---
Ready to start planning your Maldives scuba diving getaway?
Contact one of our award winning dive travel experts today

---
Adaaran Prestige Water Villas, Raa Atoll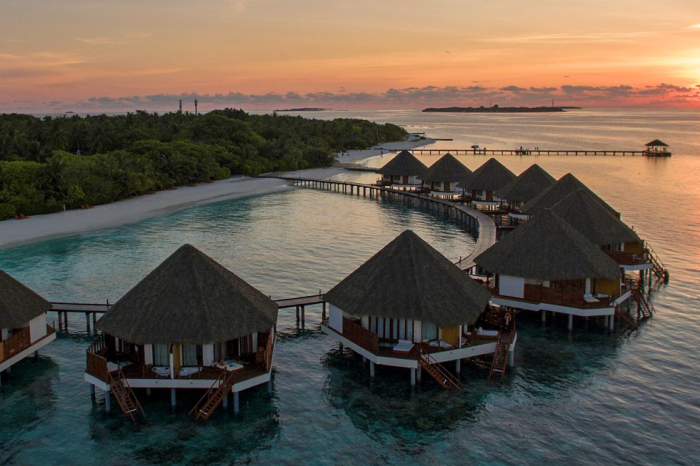 This exclusive and wonderfully-luxurious adult-orientated resort blends effortlessly with its stunning natural surroundings. Adaaran Prestige's dive centre, run by Dive Point, specialise in delivering concierge dive services and unique underwater memories exploring the best sites in Raa Atoll. Guests will enjoy first-class diving facilities, top of the line equipment and sensational extras such as free nitrox and private photography sessions. 
Located alongside partner resort Adaaran Select Meedhupparu, guests have access to several house reefs for truly unlimited exploration. Or, they can make the most of scheduled boat trips to the atoll's best sites, known for rip-roaring channels and vibrant pinnacles - what more could you ask for?
Great for: Expansive colourful house reef, superb concierge-style dive service.
Best time to visit: The northeast monsoon, between January and April, offers the best weather.
Aveyla Manta Village, Baa Atoll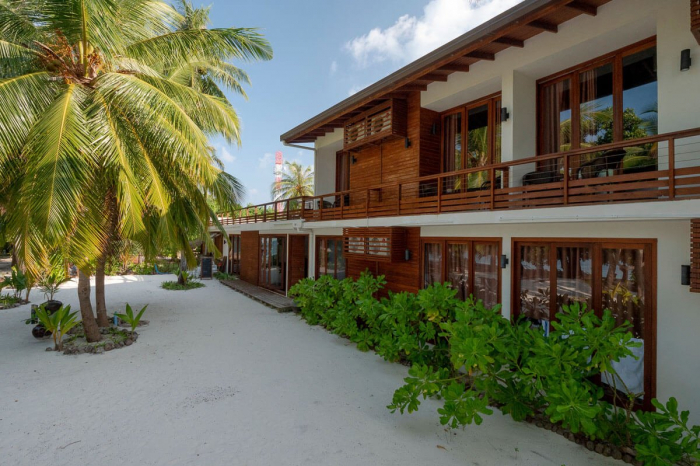 Aveyla Manta Village is a charming guesthouse on the local island of Dharavandhoo, in the heart of the Maldives' only UNESCO marine biosphere reserve. Overlooking the iconic Hanifaru Bay, Aveyla Manta Village guarantees unforgettable marine experiences in the Maldives, at a fraction of the price of a larger private island resort.
With a combined experience of over 30-years in the dive industry, this hotel's owners know exactly what guests want from their trip to Baa Atoll. And, the partner PADI 5-Star dive centre, Liquid Divers, guarantee professionalism, purpose-built facilities, and plenty of lifelong memories in Hanifaru Bay and beyond.
Great for: Five-star experiences without the five-star price tag, just a five-minute boat ride from Hanifaru Bay.
Best time to visit: The largest manta congregations occur during the southwest monsoon, particularly around the full or new moon between July and October.
OBLU Nature Helengeli, North Male Atoll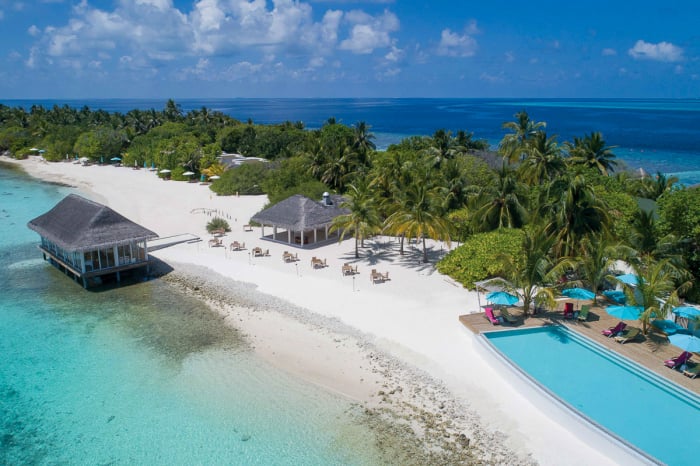 OBLU Helengeli is a genuine tropical island paradise offering luxury getaways with a twist. Located in the northeast of North Male, OBLU Nature Helengeli lies within one of the atoll's main channels, ensuring a continuous supply of current-loving creatures and powerful pelagics. As a result, this Green Globe certified resort has become a favourite among both snorkellers and scuba divers, boasting loads of modern scuba facilities and a tempting selection of exciting underwater experiences. 

This resort's partner dive centre, TGI Maldives, is one of the best-established operators in the country, and offers a range of diver-friendly facilities. These include free nitrox for certified guests and comfortable, custom dive boats which whisk divers away on quick trips to many of Male's top sites. What's more, the resort's own house reef.
Great for: Modern facilities and impressive pelagic action right on the doorstep.
Best time to visit: The atoll becomes a hotspot for reef manta rays between June and September every year, making it a great time to visit.
Sun Siyam Olhuveli, South Male Atoll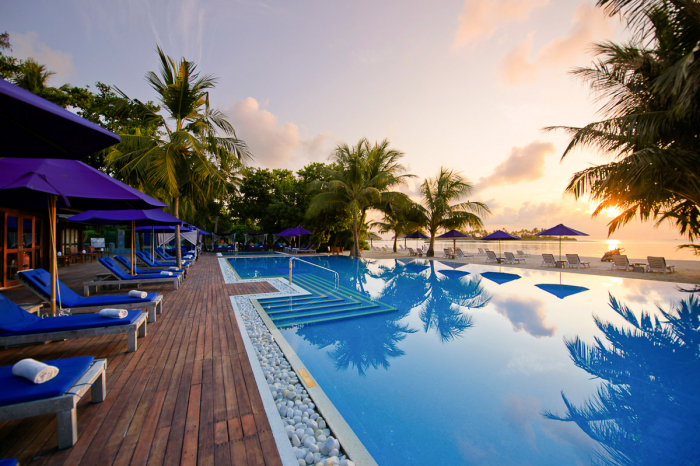 Sun Siyam Olhuveli is found in the southeast of South Male, just a stone's throw from some of the atoll's best diving, including Kandooma and Guraidhoo. These sites are renowned for reliable encounters with large pelagic marine life, particularly manta rays which come to visit cleaning stations and feed in the current. Or, if you'd prefer a relaxing dive, the resort's two house reefs are ideal for exploration.
Onsite, guests will have access to this resort's partner dive centre, Sun Siyam Diving, which comes expertly-equipped to cater for even the most adventurous underwater enthusiasts. As well as access to free nitrox, suitable experienced and certified guests can also enjoy DPV rental, sidemount support and rebreather facilities - ensuring every guest has the dive of their dreams.
Great for: Tech-friendly facilities and convenient access to some of South Male's best dive sites.
Best time to visit: Dive this region between May and October for the best chances of spotting reef manta rays.
Kuramathi, Rasdhoo Atoll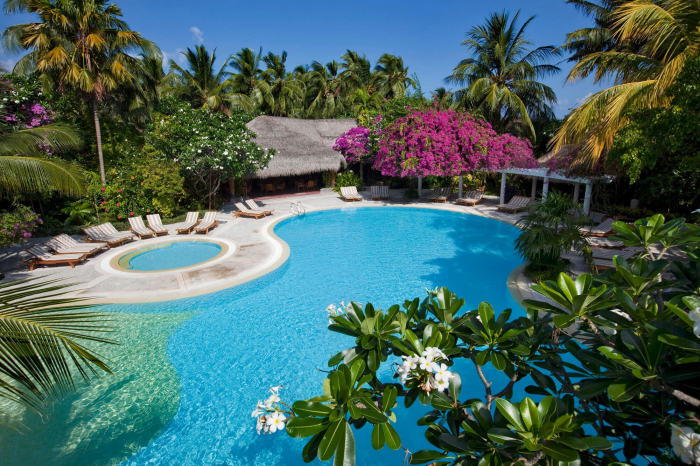 Situated on the southern tip of Rasdhoo Atoll, Kuramathi Maldives is the ultimate choice for discerning divers, with an array of first-class facilities and access to world-renowned diving in both Rasdhoo and North Ari. Amongst this resort's premium amenities are an Eco Centre staffed by a resident marine biologist, and a medical centre complete with one of the largest hyperbaric chambers in the Maldives, providing peace-of-mind for both environmentally-aware and safety-conscious divers.

Dives from this resort are conducted by the highly experienced Rasdhoo Divers who have been operating safe and professional dive excursions since 1994. Guests are free to explore the house reef day or night, while more than 20 other dive sites lie just a short distance away. And, if you're in the mood for a thrill, trips to Rasdhoo's legendary Hammerhead Point are also available several times a week.
Great for: Home to one of the Maldives' largest hyperbaric chambers for maximum peace-of-mind.
Best time to visit: Visit between January and March for your best chances to spot both hammerheads and manta rays.
Vilamendhoo Island Resort, South Ari Atoll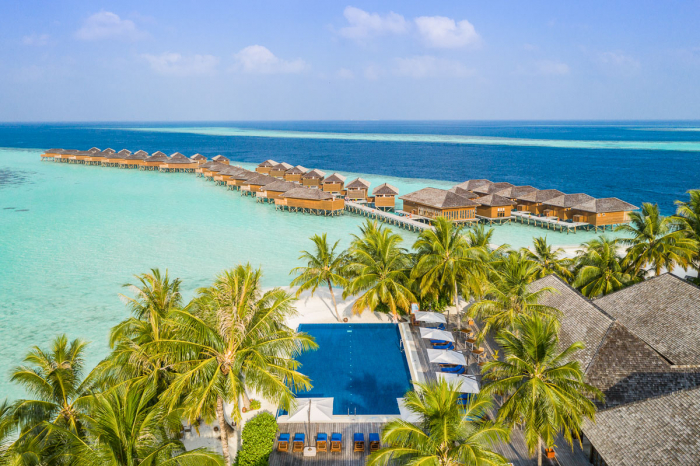 Located on the eastern edge of South Ari Atoll, not far from Dhigurah, Vilamendhoo Island Resort is a quintessential Maldivian paradise delivering luxurious getaways with a scuba diving focus. Dedicated underwater explorers are sure to love this resort's many perks, including free nitrox and a complementary orientation dive on the delightful house reef - after which you'll be free to plan and conduct your own dives, without a guide.
The resort's partner dive operator, Euro-Divers, is a well-established international chain of PADI 5-Star centres, guaranteeing high standards of safety and customer service. Guided dive excursions are offered throughout the atoll, but the resort lies conveniently close to a number of the best sites, including some of the most reliable spots for whale shark and manta encounters.
Great for: Reliable whale shark and manta sightings and a choice of adults-only and family-friendly areas.
Best time to visit: While whale sharks and manta rays are present all year, slightly higher numbers are recorded during the northeast monsoon, between December and March.
Ready for your next underwater adventure?
Search, compare, and book the ultimate Maldives getaway
Cinnamon Hakuraa Huraa, Meemu Atoll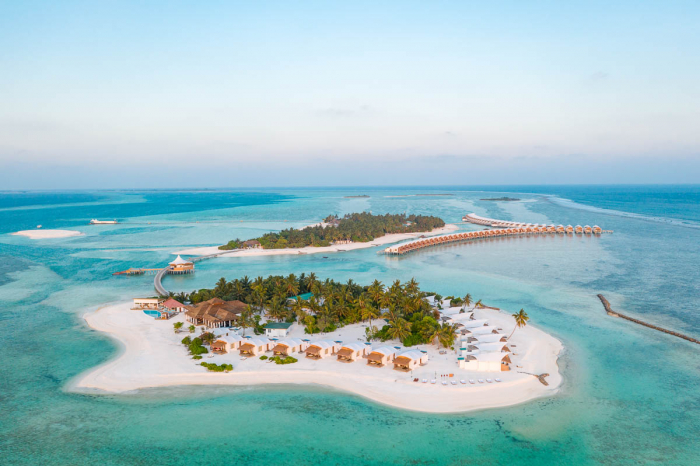 Cinnamon Hakuraa Huraa is a blissful private island catering to guests of all kinds with both adults-only and family-friendly islands. The resort's onsite partner dive centre, Dive and Sail, was the first watersports centre to open and operate in Meemu Atoll, and guests can now dive these secluded waters with those who know it best.
Sitting at the end of the resort's jetty, Dive and Sail offer a range of convenient facilities for divers, including a well-stocked shop, a small workshop, and an air-conditioned classroom complete with modern audio and video equipment. Over 40 dive sites are accessible from the resort and possible excursions include both dusk and night dives, providing plenty of choice for guests.
Great for: Seeing the best of Meemu Atoll thanks to expert knowledge from the atoll's pioneering dive centre.
Best time to visit: Meemu offers great diving at any time of year, though visibility is often slightly better during the northeast monsoon from January to April.
COMO Maalifushi, Thaa Atoll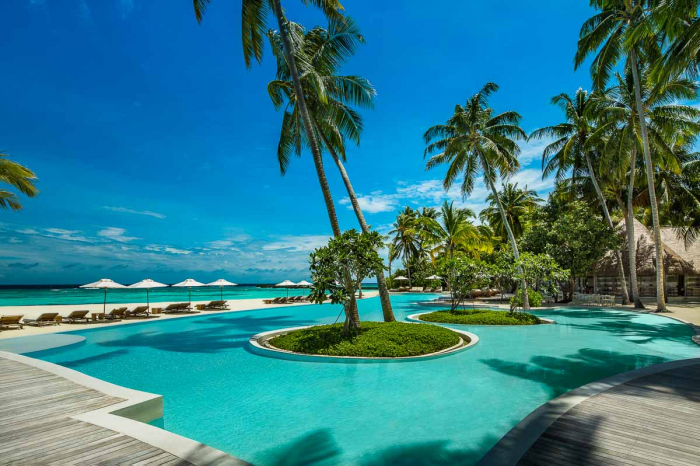 You may not have heard much about Thaa, but rest assured, the diving here is spectacular. And, COMO Maalifushi is the only private island resort in the entire atoll - making it the perfect choice for travellers looking to get away from the crowds. Sitting in perfect isolation within a shallow, sapphire lagoon, this resort is also the epitome of relaxation, guaranteeing an iconic Maldivian escape that won't disappoint. 
Thaa Atoll is well regarded for its diving and surfing, with several excellent breaks, seasonal manta ray sightings, and occasional hammerhead encounters. Thanks to fewer visitors, the reefs are also in great shape, and guests can even appreciate the kaleidoscopic coral displays in a new light with the option of nighttime fluoro-diving on the house reef.
Great for: The only private island resort offering access to Thaa Atoll's magnificent reefs.
Best time to visit: For the best visibility and diving conditions, visit during the dry season which runs from December to April.
Raffles Maldives Meradhoo, Huvadhoo Atoll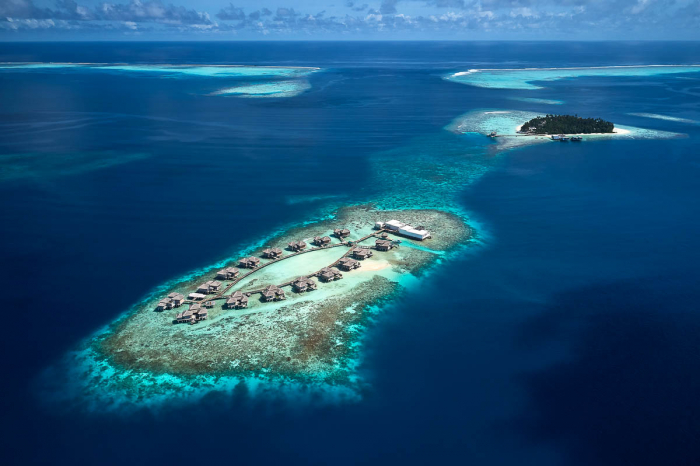 Located in far-flung Huvadhoo Atoll, Raffles Maldives Meradhoo is a new resort exceeding some of the highest standards of luxury in the Maldives. Discreet yet dedicated service is one of the hallmarks of this outstanding resort, which extends below the surface, with highly-trained marine butlers ready to enhance your every underwater experience.
Located in the Maldives' far south, swathes of this atoll's deep inner lagoon are yet to be fully explored, while the current swept walls and channels play host to 13 different species of shark. Boasting first-class facilities and an experienced team, this resort's dive and watersports centre is the top choice for exploring Huvadhoo's untouched underwater world.
Great for: Exploring untouched reefs and encountering up to 13 different species of shark.
Best time to visit: The dry northeast monsoon from December to April offers the best conditions, while the southwest monsoon from May to November is the best time to encounter large pelagic fish.
Fuvahmulah Dive School, Fuvahmulah Atoll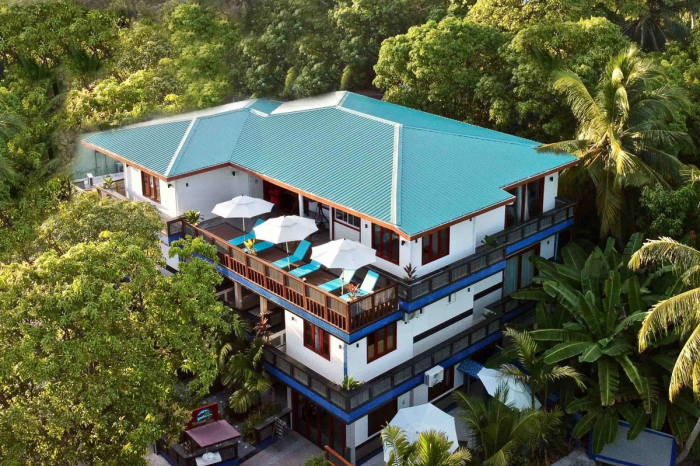 Fuvahmulah Dive School was the first professional diving school based on Fuvahmulah, and describes itself as the 'one and only' choice if you're looking for big shark action in the Maldives. Located in the Maldives' deep south, this island is renowned for its incredible encounters with thresher sharks, hammerheads, and giant oceanic manta rays. But, it's the guaranteed tiger shark encounters that really steal the show.
This exceptional frontier dive lodge is run by a team of professionals who have logged thousands of dives exploring and researching Fuvahmulah's unique marine environment. As a result, visitors can be sure that each and every shark encounter will be conducted in the safest and most responsible manner.
Great for: Diving with tiger sharks, hammerheads, thresher sharks and oceanic manta rays in a safe and responsible manner.
Best time to visit: You can dive with the tiger sharks every single day but the other big animals are more seasonal. Hammerheads can be seen from January until March, manta rays arrive between March and May, and thresher sharks are most common from April through November.
---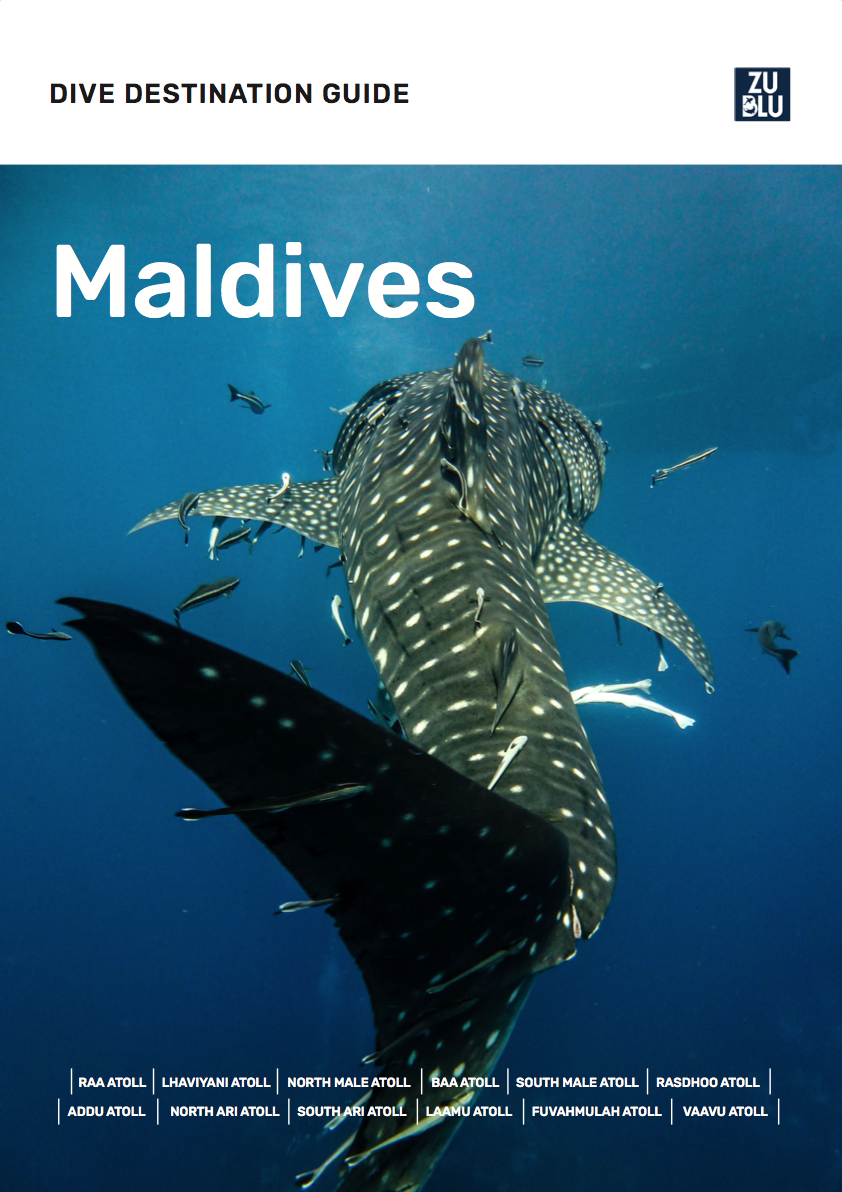 Complete guide to the best diving in the Maldives. Explore the atolls, seasons, and pro tips in this free 37 page destination guide.
---
---
Looking for your perfect Maldives getaway?
Contact one of our dive travel experts today.

---