Scuba diving in
North Ari Atoll
Experience North Ari Atoll's world-class resorts and local islands, and spectacular diving, all within easy reach of Male's international airport.
Highlights
A well-developed atoll with a variety of accommodation options
Dive famous thilas including Fish Head and Maaya Thila
Experience Fesdu Lagoon's legendary manta night dive
Easy access from Male International Airport
North Ari Atoll is home to hundreds of exciting dive sites providing some of the best diving experiences in the Maldives. Incredible marine life encounters with manta rays, grey reef sharks, and schools of barracuda await. And with authentic local experiences, luxury private island getaways, and everything in between, North Ari is the perfect escape for anyone looking for an idyllic Maldivian holiday.
North Ari Atoll Diving
Schooling reef fish

Year round
North Ari is home to some of the Maldives' best diving, boasting plenty of dive sites, and easy access to multiple locations from almost every island. Sheltered walls and reefs can be found, but the majority of North Ari's diving favours thilas and channels with strong currents. Manta rays, grey reef sharks, turtles, and eagle rays are all common sightings, as well as schools of barracuda, snapper, tuna, and trevally. Occasional whale sharks also make an appearance. Due to the strong currents, many of North Ari's dive sites are only suitable for more advanced divers.

Maaya Thila is considered one of the Maldives' top dive sites, where divers can find anything from nudibranchs and frogfish, to eagle rays, schools of barracuda, and even guitar sharks. Hafza Thila is a big draw for shark fans, boasting schools of reef sharks at a cleaning station, while Fish Head is another favourite, harbouring plenty of resident grey reef sharks. Other well known thila dives include Ukulhas Thila, Maalhos Thila and Orimas Thila. But, perhaps one of the most unique experiences occurs in Fesdu Lagoon, where a small population of manta rays congregates by the lights of liveaboards at night – allowing divers to watch as they swoop and barrel-roll in just 15-meters of water and often only inches away. Mantas are also seen at Dhonkalo Thila and Himandhoo during the NE, and at Gangehi during the SW monsoon, and North Ari also has a number of small wrecks at Fesdu, Halaveli and Kuramathi, all sunk deliberately on resort house reef. The atoll is narrow enough for the best sites to be explored from pretty much any of the resorts.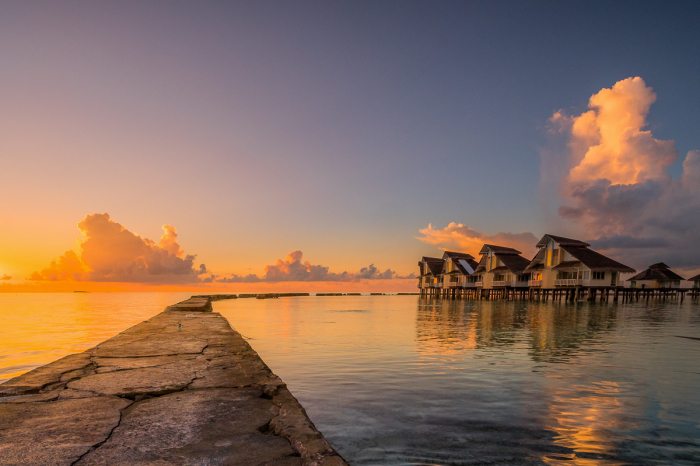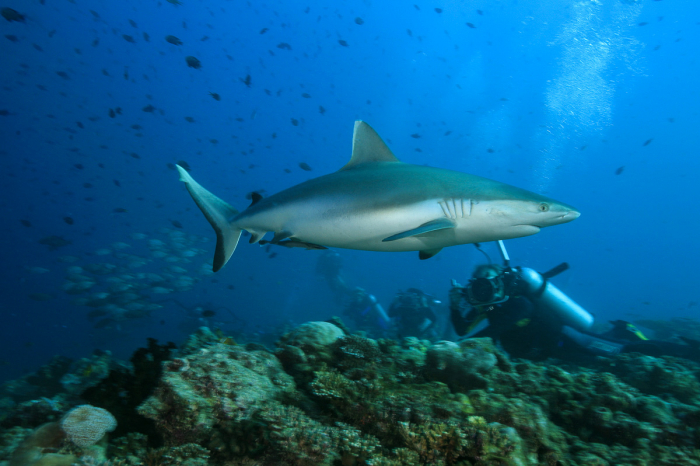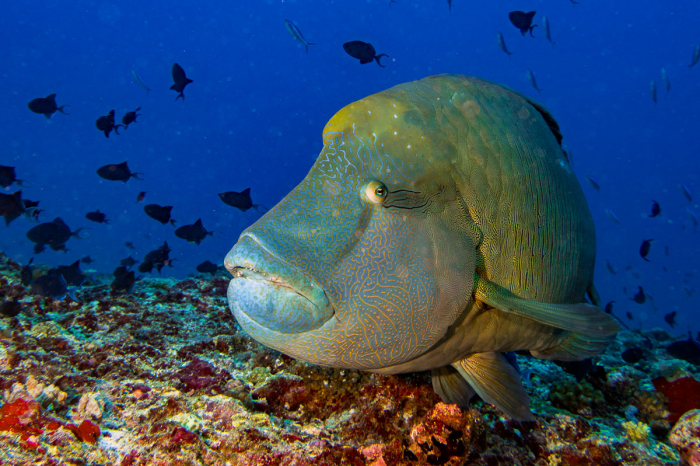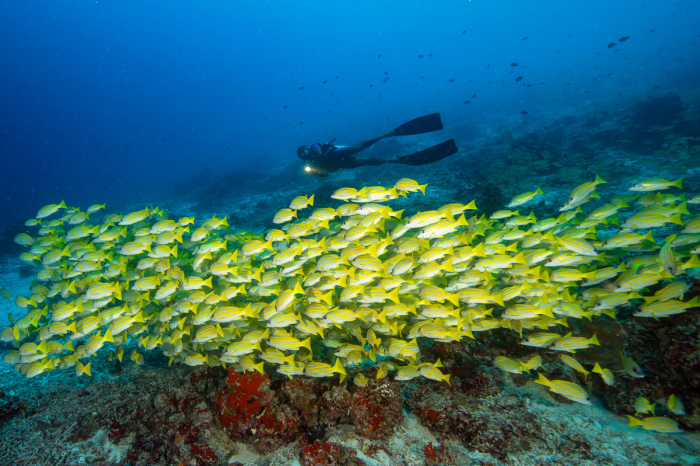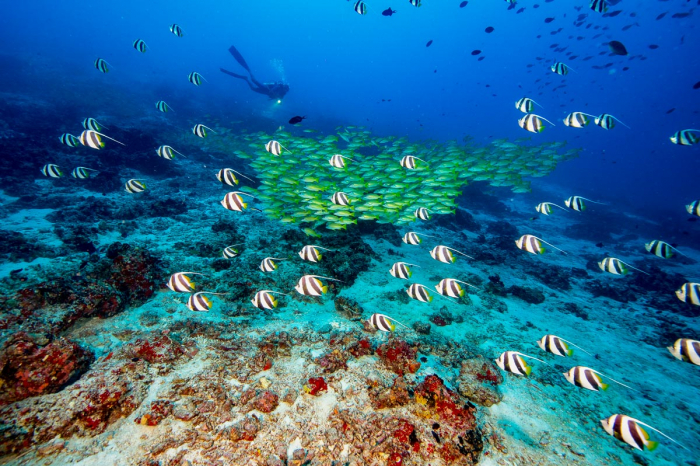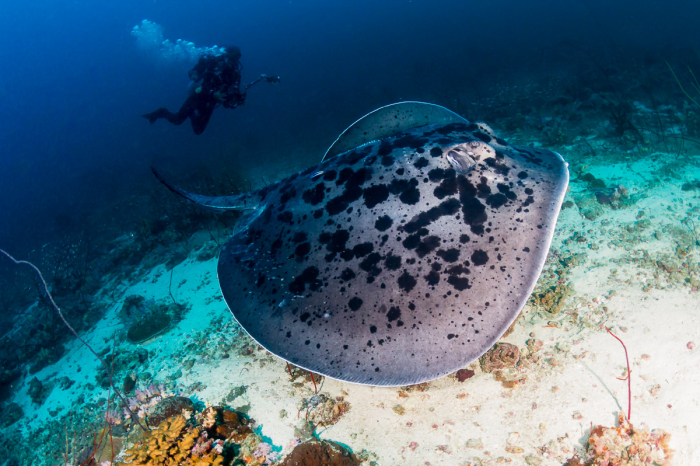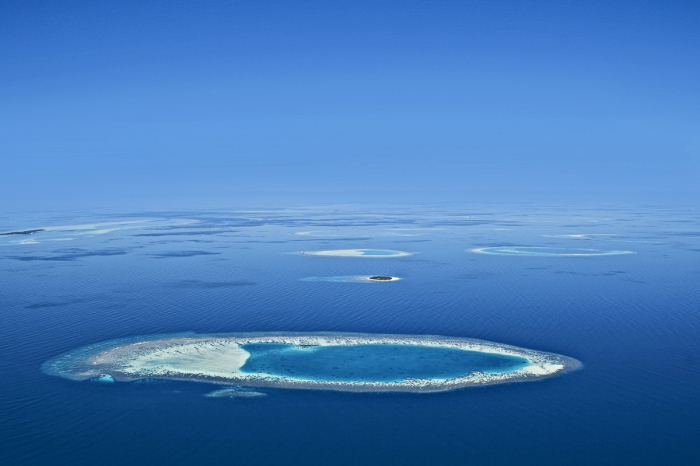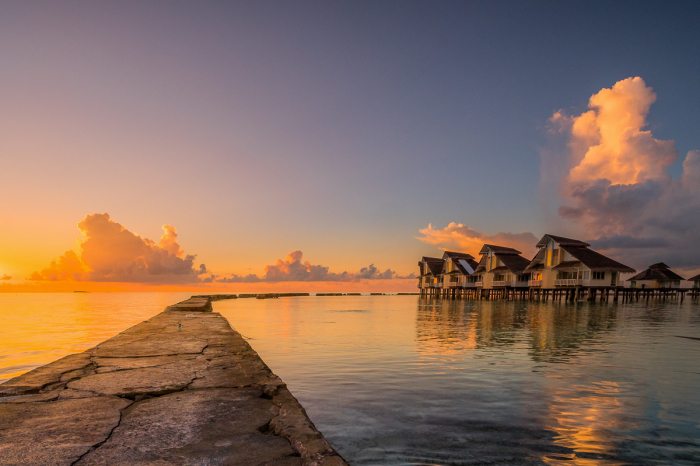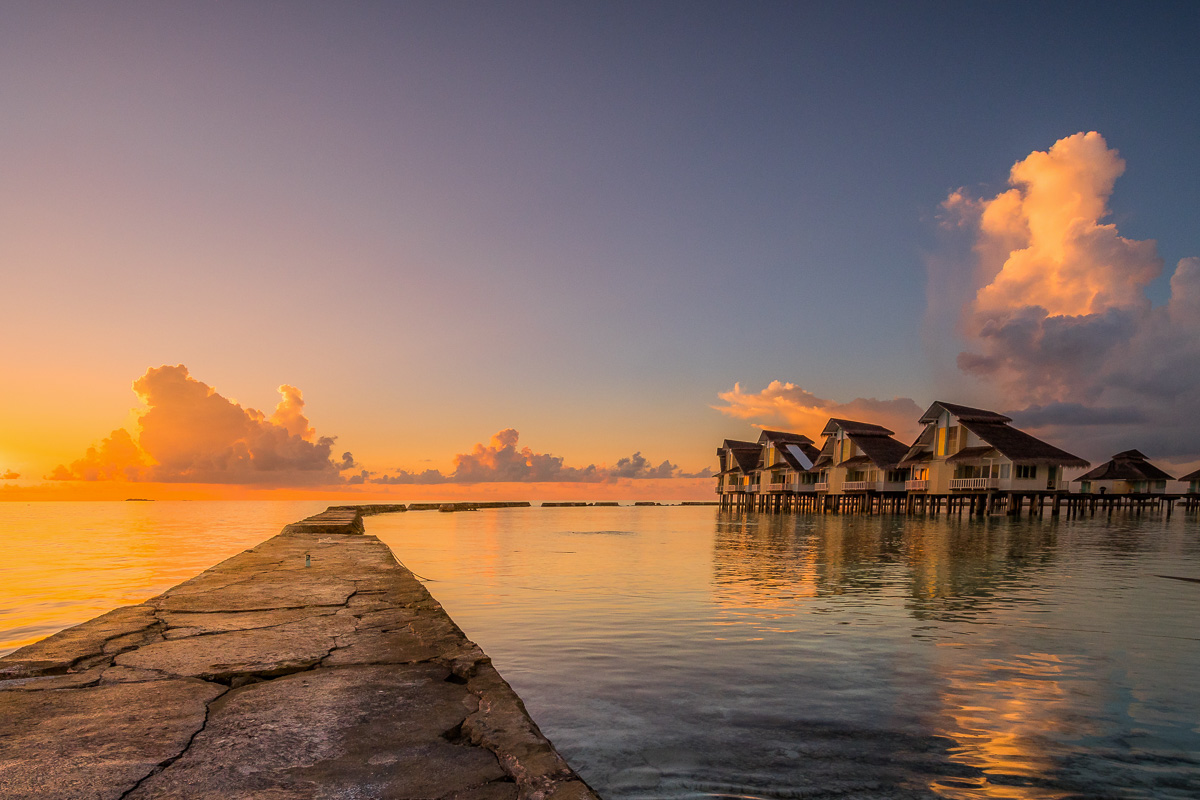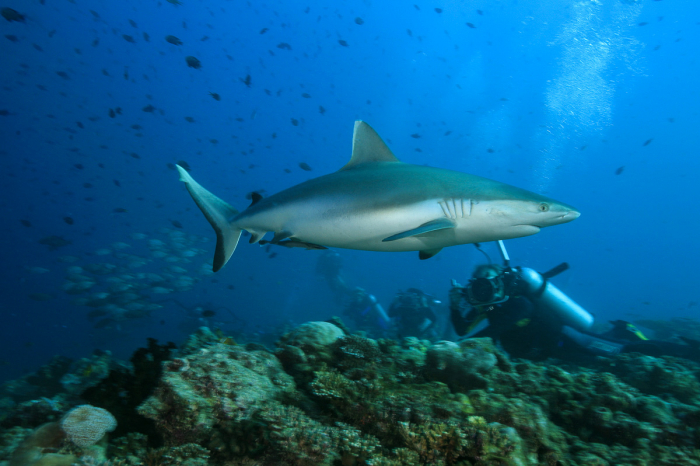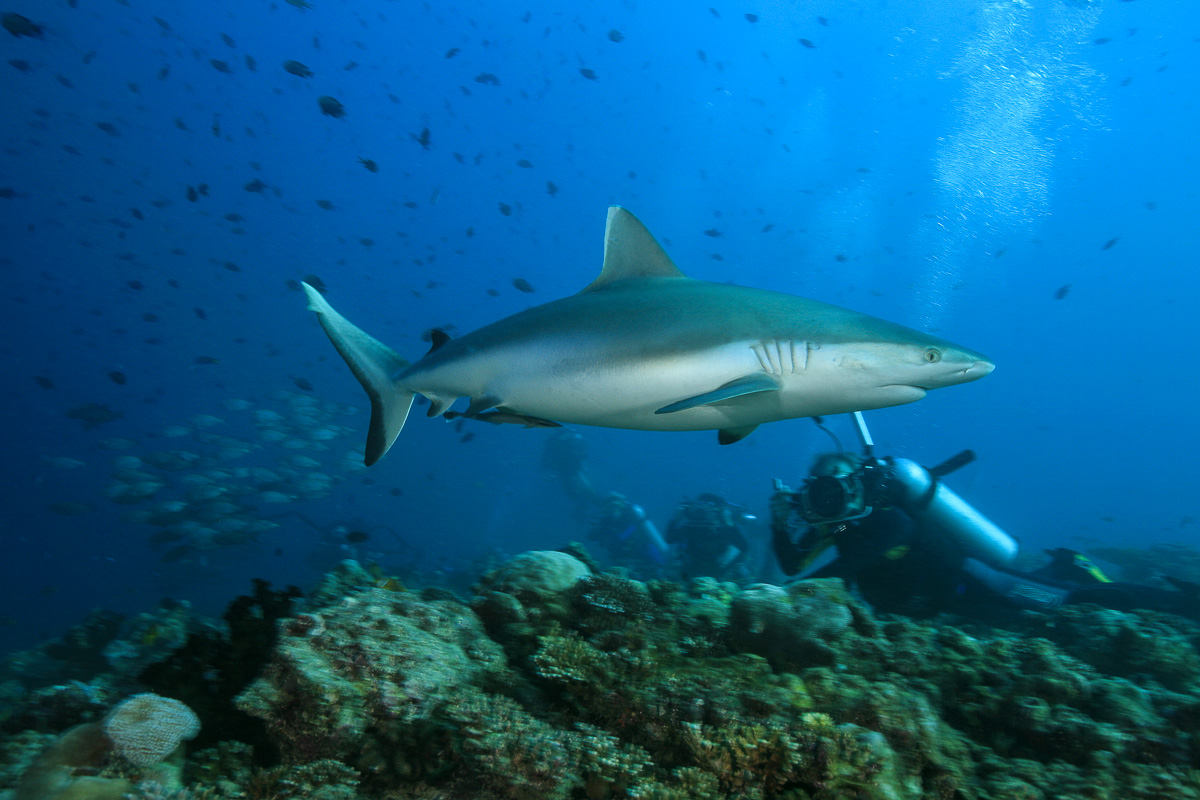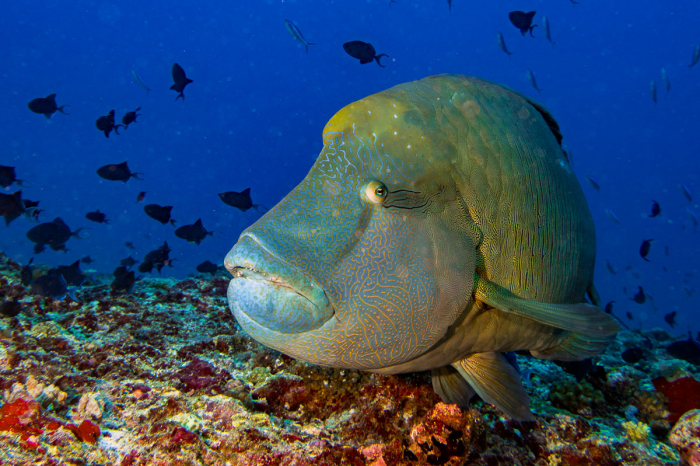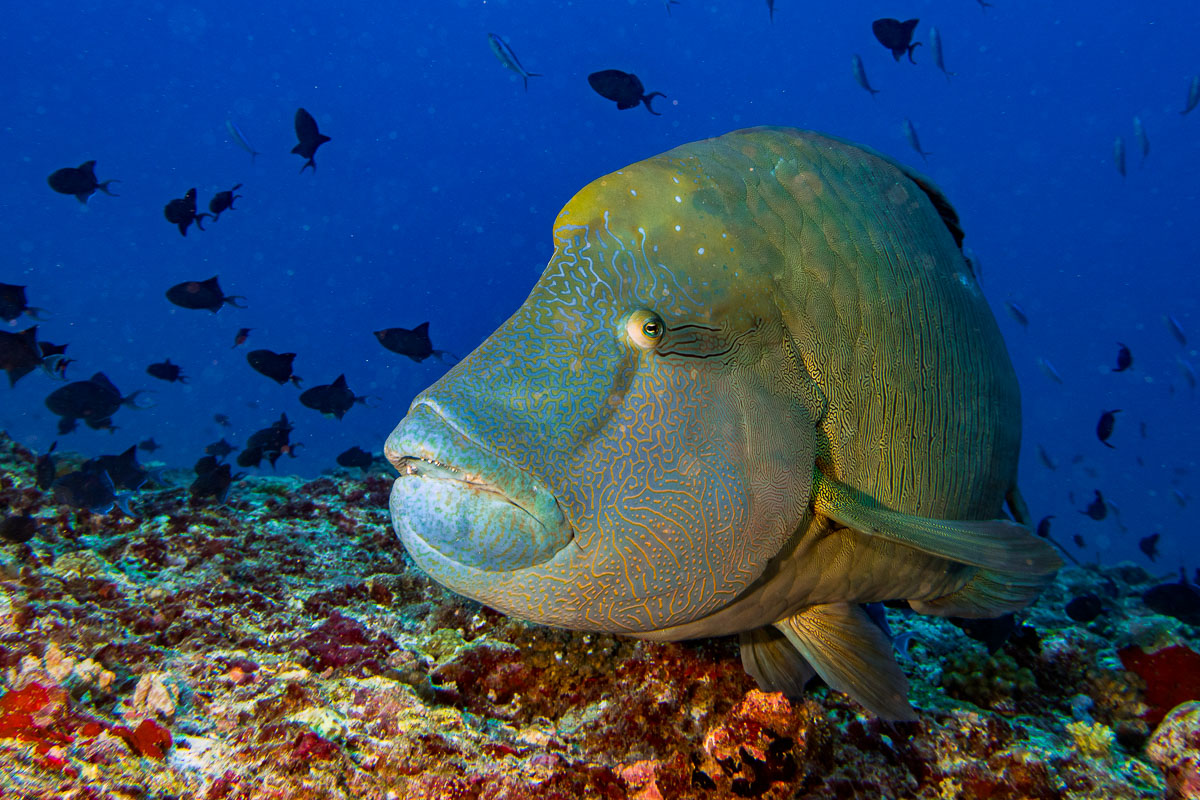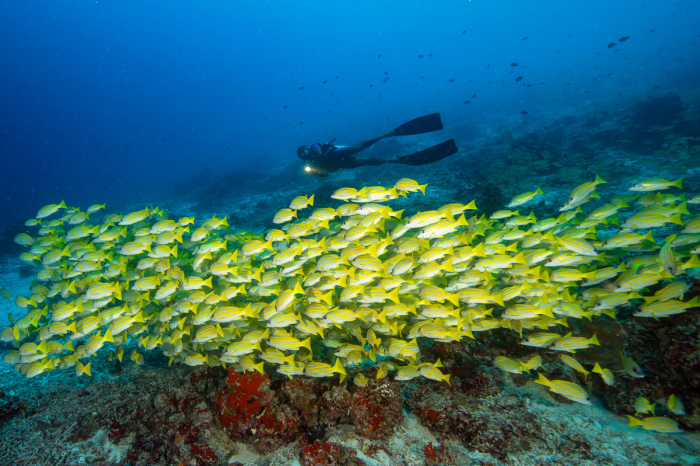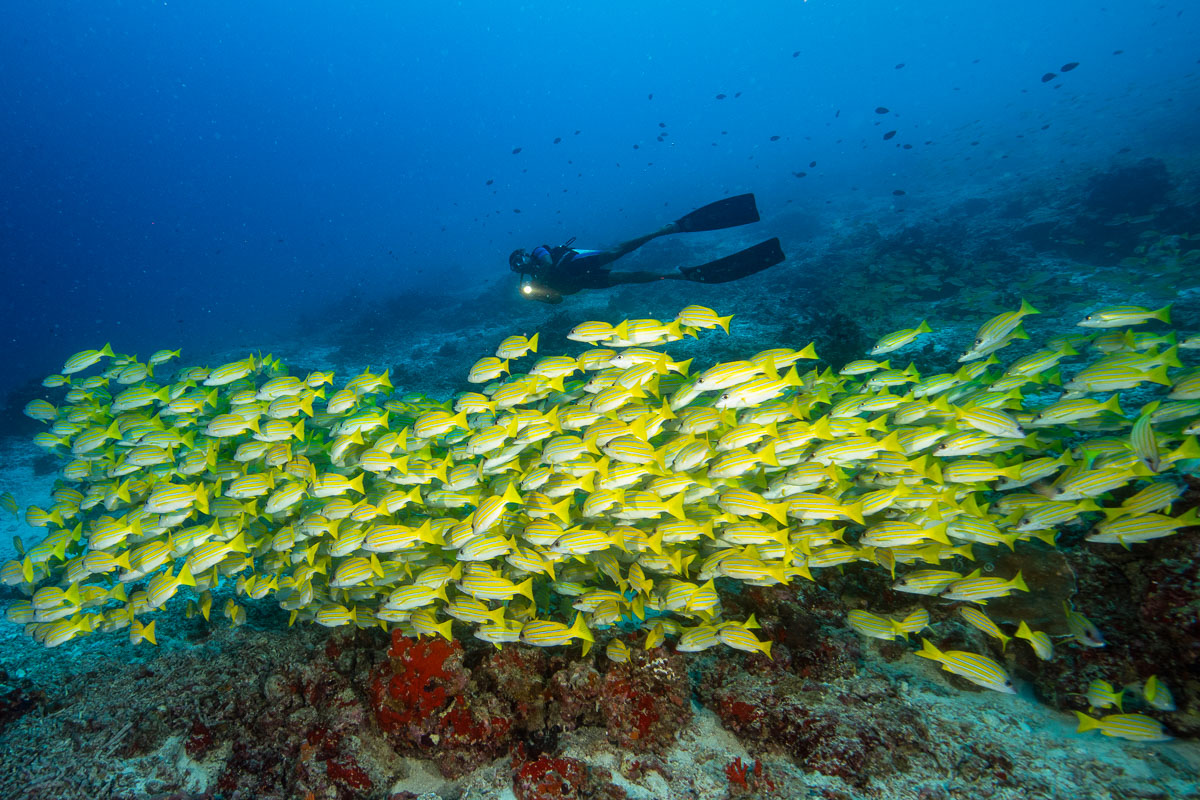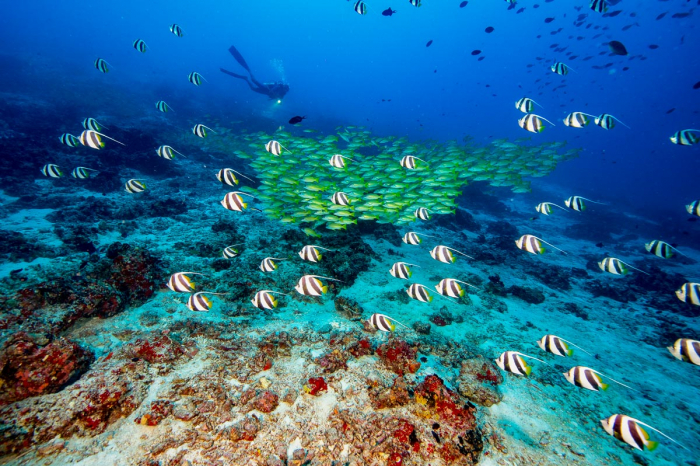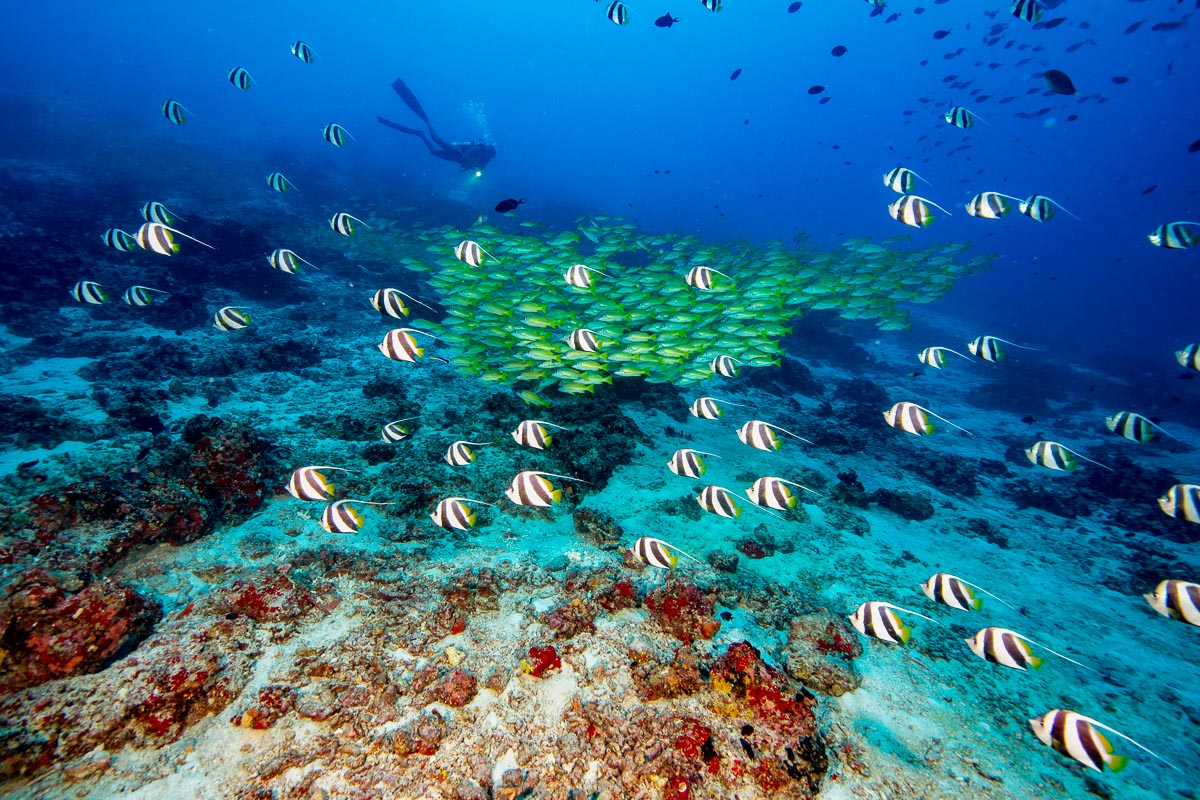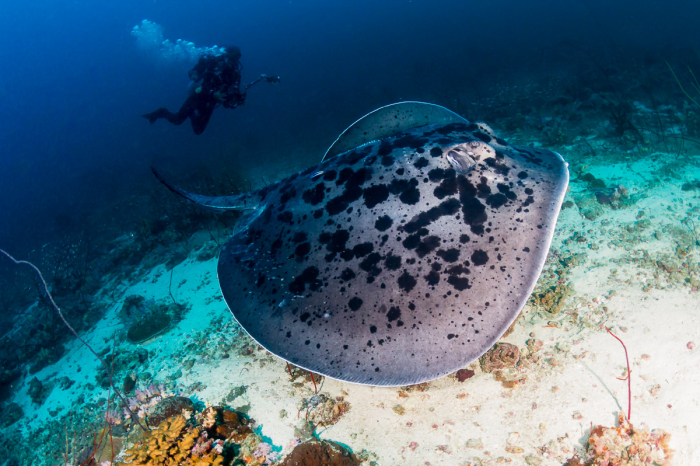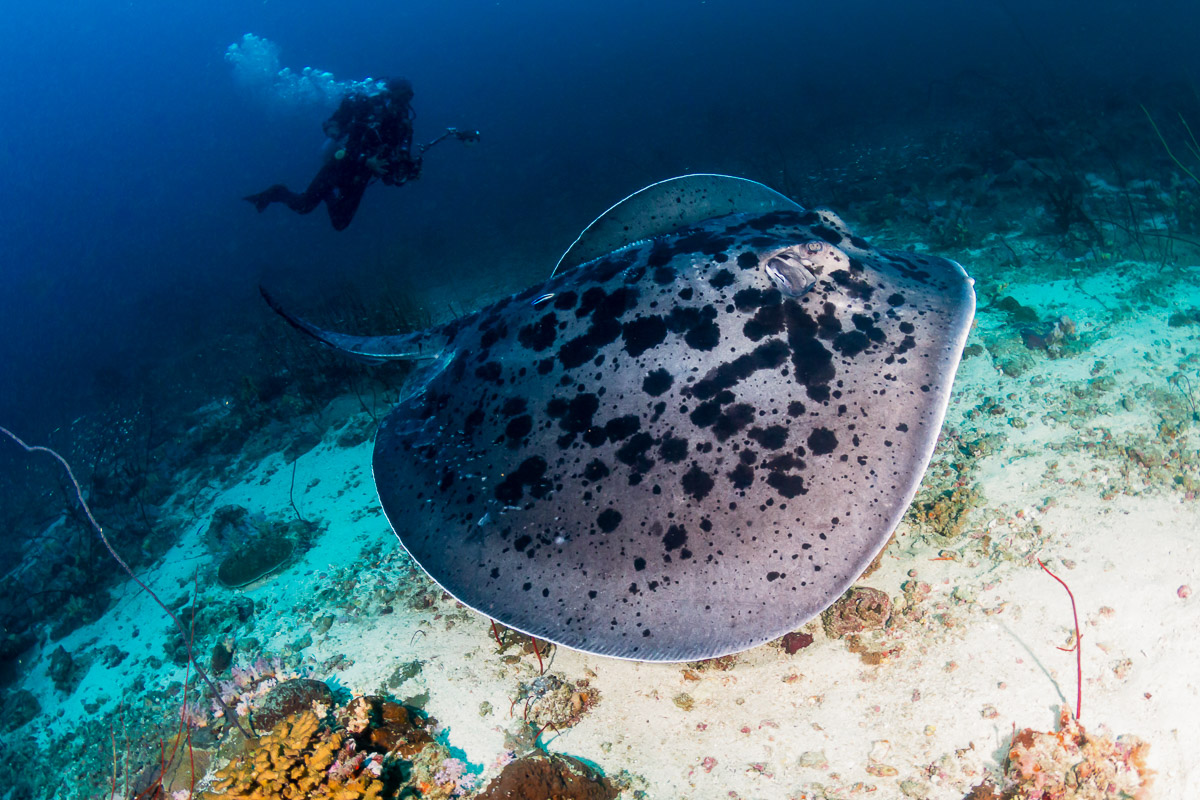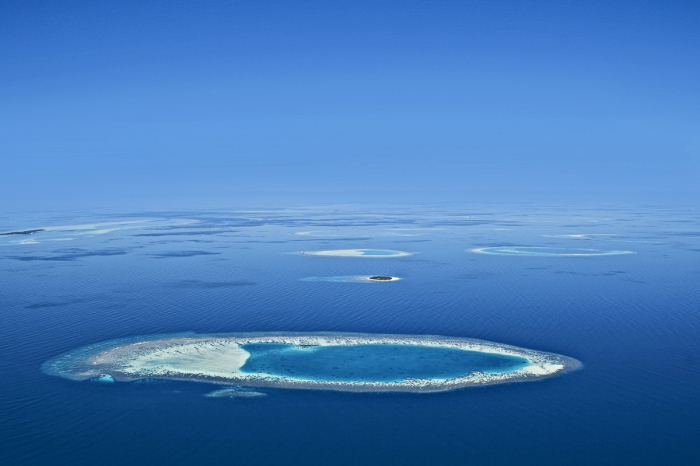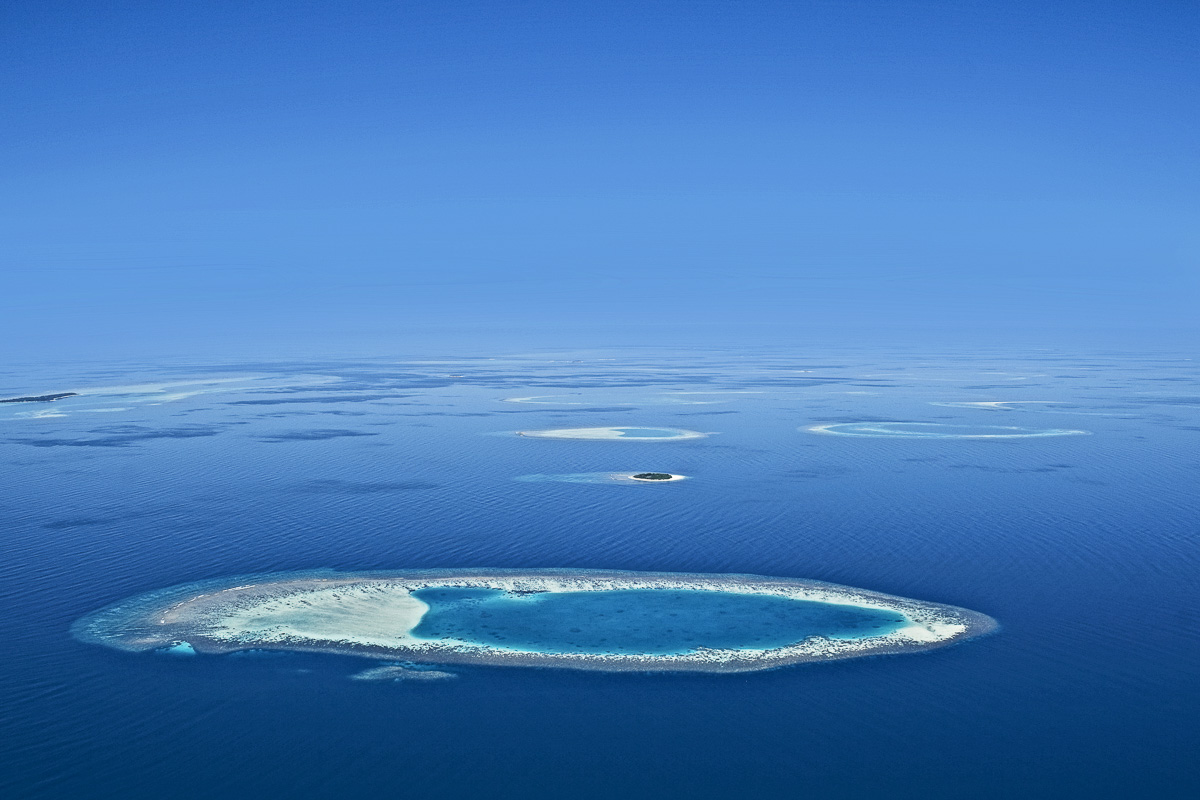 Diving Environment
Type
Drift, Reef and Wrecks
Level
Intermediate upwards
Diving Season
Year round, but December to May best
Top tips

Take a snorkeling tour on a dhoni, traditional wooden boat, to one of the shallow reefs on the interior of the atoll to discover aquarium-like reefs.
While visiting the Maldives, an Islamic country, please ensure you cover your shoulders and act respectfully on any local island visits.
The local currency is Maldivian Rupiah, but US dollars will be accepted if you visit any local shops.
About North Ari Atoll
Located to the west of Male, Ari is the second largest atoll in the Maldives and is divided into two sections – north and south. North Ari region incorporates the lone island of Thoddoo and Rasdhoo Atoll to the north and stretches down as far as Himendhoo in the south. While North Ari has no airport, its close location to Male allows easy access by speedboat or seaplane, helping to establish it as one of the most developed tourist destinations in the Maldives.

Popular among backpackers, holiday makers, and divers alike, North Ari is characterised by friendly locals, pristine beaches, and superb marine life. Featuring some of the best diving in the Maldives, this atoll boasts frequent visits from the ocean's most prized inhabitants including manta rays, whale sharks, and much more. With welcoming local islands such as Rasdhoo, Thoddoo, Ukulhas, and Mathiveri, and a dozen or so exclusive resorts, North Ari offers something for everyone – from the avid adventurer to luxury honeymooners.
How to get to North Ari
The Maldives' Ibrahim Nasir International Airport is located in Male and boasts connections from around the world. After a short transfer across the runway, guests can take either a 30-minute seaplane flight, or an hour long speedboat to North Ari. A local ferry service also operates between Male and North Ari, taking up to six hours.
Where to stay
With one of the most well-developed tourist industries in the Maldives, North Ari offers a wide range of accommodation options. Visitors can choose between local island guesthouses, laid-back resorts, and luxury private island getaways. The islands of Thoddoo, Ukulhas, and Mathiveri provide intimate local experiences, while the larger resorts often offer a more exclusive atmosphere. Liveaboards are also a great option for visiting the Maldives and allow divers to easily access some of the more remote sites such as Fish Head and Fesdu Lagoon.
Seasons and weather in North Ari
North Ari's tropical climate provides fantastic diving all year-round with water temperatures sticking between 25 - 30°c. Many people find the northwest monsoon between December - April a preferable time to visit due to drier weather and slightly calmer seas. During the southwest monsoon, from May - November, expect wetter weather and slightly rougher waters. The period of change between these two monsoons will bring the least favourable conditions.
---
North Ari Atoll dive resorts
Other popular destinations