Close encounters with powerful shark species top many divers' bucket lists, and the popularity of shark diving is increasing every year, accelerating the discovery of more and more incredible sites. 
While for many, a shark experience of any kind is enough to make a dive worthwhile, we understand the thrill that comes with an extreme encounter - the kind that truly blows your mind. So we've pulled together the ten best places to scuba dive with sharks from around the world, each offering its own unique adventure, but all delivering epic shark encounters...
---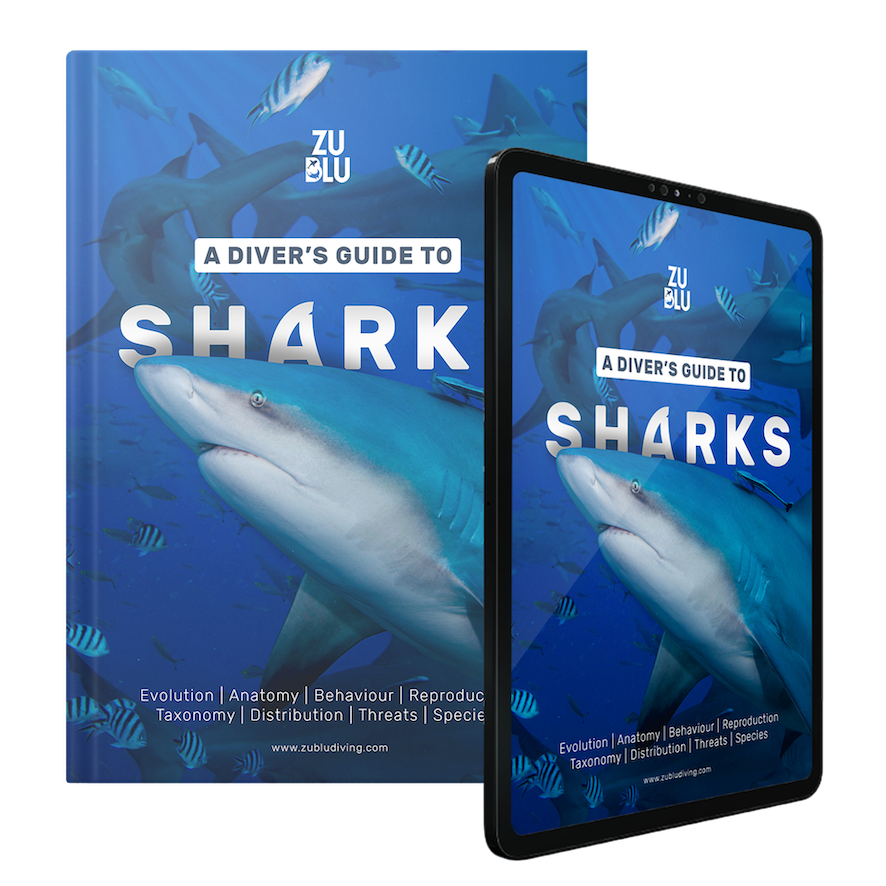 Everything you need to know about these wonderful creatures in a FREE 50 page guide. Read online or download today!
---
Fiji
Bull sharks | Tiger sharks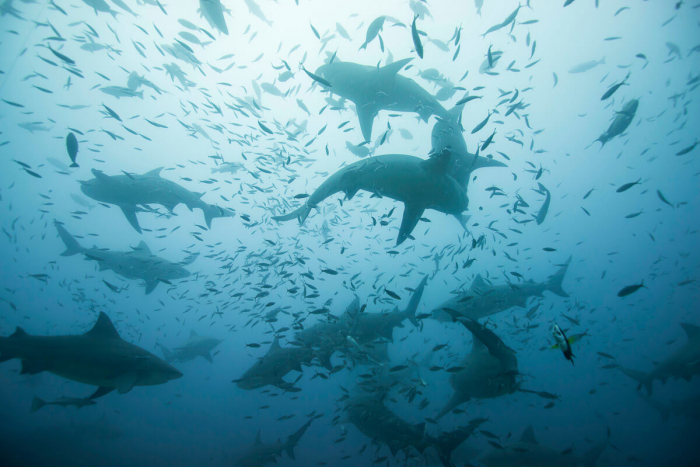 Lying off the southern coast of Viti Levu, the Beqa Lagoon may sound like a peaceful place, but beneath the surface lies one of the most infamous shark dives in the world. Known for face-to-face encounters with feisty predators such as bull and tiger sharks, this heart-thumping baited dive also attracts other species such as silvertips, reef sharks, and tawny sharks. Only 20 guests are allowed to visit this site each day and every dive is led by knowledgeable guides who chaperone both divers and sharks throughout the experience.
Back in 2004, the channel between the islands of Viti Levu and Beqa was designated as the Shark Reef Marine Reserve, along with the Fiji Shark Corridor that protects some 50 kilometres of Viti Levu's southern coast. And, while the sustainability of shark feeding is still a highly-contested issue, there can be little doubt that this incredible dive - and the team behind it - has made a huge contribution to local shark conservation.
But that's not even it. The 'Awakening Shark Dive', in the Yasawa Islands', allows certified divers of all levels get up-close-and-personal with bull sharks. Tiger sharks, great hammerheads, reef, and silvertip sharks can also be seen and a shark snorkelling trip is also offered for those who'd rather keep a little distance.
When to visit: Year-round
Palau
Grey reef sharks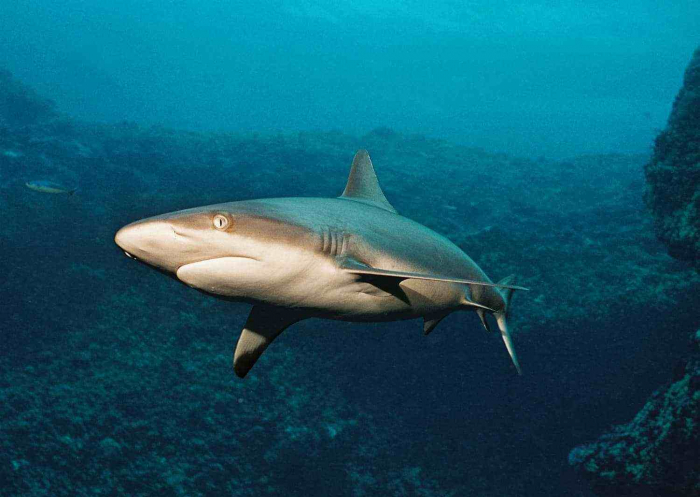 As the home of the world's very first shark sanctuary, established in 2009, you could dive almost anywhere around this progressive island nation and have a reasonable chance of seeing sharks. Leopard sharks and whitetip reef sharks are two of the most common species seen, but the biggest attraction has to be the impressive schools of grey reef sharks that can be found on several sites. Plus, lucky divers might also spot passing hammerheads, bull sharks, tiger sharks, and whale sharks.
Blue Corner is a favourite site for many visitors to Palau, consisting of a coral plateau extending out into the open ocean, directly in front of a break in the barrier reef. On an incoming tide, strong currents create crystal-clear visibility and encourage a frenzy of fish action. These currents increase at depth, but this is where you'll find the main event - schooling grey reef sharks. Simply clip in with a reef hook, and watch the action unfold.
When to visit: Year-round
Red Sea
Oceanic whitetips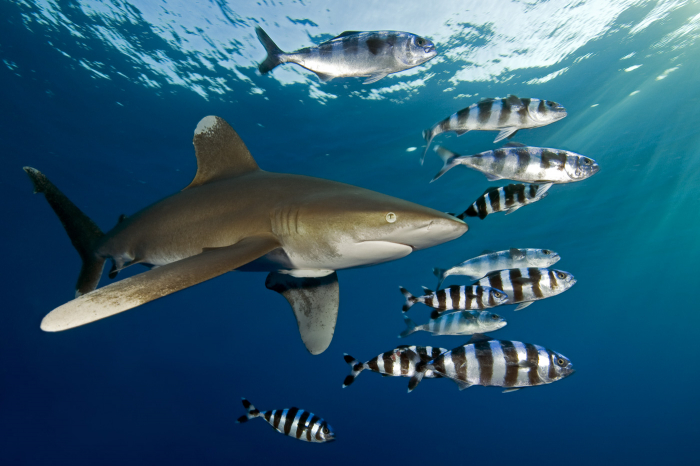 The Egyptian Red Sea is a haven for shark enthusiasts, offering seasonal encounters with hammerheads, reef sharks, and threshers. But, one of its most common inhabitants, particularly in the central and southern regions, is the elegant and critically-endangered oceanic whitetip. These formidable fish typically measure somewhere between two to three metres, although they can sometimes reach up to four metres long. Sightings are possible year-round, but are more common in the Autumn and early winter, creating a huge draw for divers. 

With their steep walls, deep water, and strong currents, central offshore sites such as the Brothers Islands and Elphinstone offer some of the best opportunities to dive alongside this powerful species. But if you're heading further south, don't worry, these remote regions also offer up high chances of an encounter. While oceanic whitetips have an inquisitive nature, these are not baited dives, and you may have to hover around in the blue for a while as the sharks get comfortable with your presence. And, as highly-opportunistic predators, it is important for divers to follow any safety instructions issued by their guide.
When to visit: Year-round (best between October and January)
Azores
Blue sharks | Mako sharks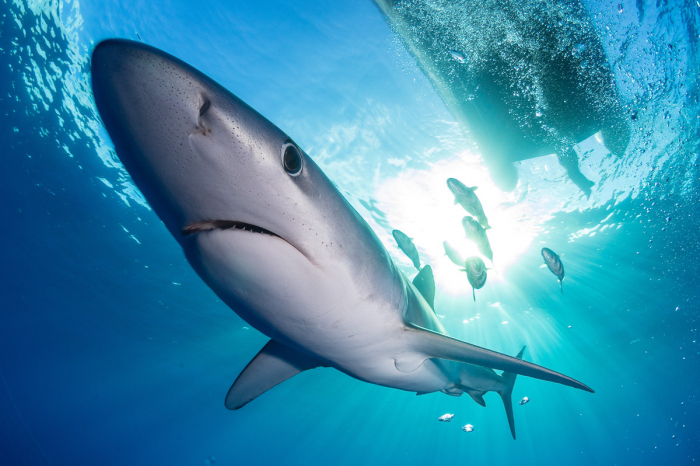 A long way out towards the middle of the North Atlantic Ocean, the Azores are one of Europe's best kept secrets - but not for long. This volcanic archipelago is quickly making a name for itself as a hotspot for pelagics of all varieties, from dolphins and whales to devil rays and whale sharks. And, for adventurous divers, the channel between the islands of Faial and Pico provides reliable sightings of beautiful blue sharks, along with the occassional shortfin mako passing by too! Popular sites include the aptly named Shark Point to the north, and the renowned Condor Bank in the south.
Taking about an hour to reach from either island, these dives take place in deep open water, where the sharks are lured towards the boat using a submerged chum bucket. While the sharks can smell the chum, minimal food is released into the water, creating a more controlled and passive interaction. The blue sharks seen here measure up to two-metres long and can be incredibly curious, often circling divers inquisitively. And, on days when the blue sharks seem a little shy, don't be disheartened, they often make themselves scarce just before a mako appears from the depths.
When to visit: July to October
Bahamas
Bull sharks | Tiger sharks | Caribbean reef sharks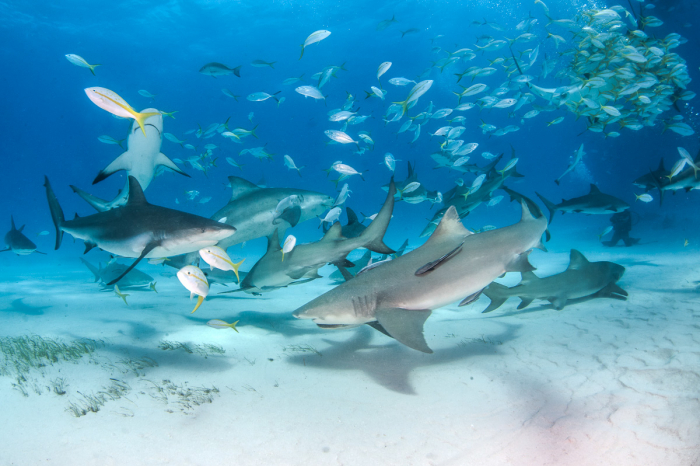 A staggering 700 islands and 2000 cays make up the Bahamas, all hidden away amongst a network of shallow sandbanks and surrounded by deep ocean trenches. It is these unique conditions, where fast-flowing, nutrient-rich waters meet the sheltered, sun-soaked shallows, that makes the Bahamas such an incredible shark diving destination. Here, divers can find a mix of baited and natural shark encounters, with a range of species including bull sharks, tiger sharks, Caribbean reef sharks, great hammerheads, and more. 
Tiger sharks are one of the iconic species found throughout the Bahamas, with Grand Bahama's Tiger Beach dive site offering the most reliable encounters. Despite being typically solitary species, they are regularly seen in groups here, with large numbers of pregnant females, leading many to believe that a breeding ground or nursery lies somewhere nearby. 
Bull sharks are regular visitors to the mangrove-lined coast of Bimini and often enter the local marina, where the island's renowned "bull run" takes place. This baited experience provides one of the only opportunities for shark cage diving in the Bahamas. Caribbean reef sharks are easily the most common species found in the Bahamas, and the so-called 'Shark Arena' off the coast of Nassau is well-known for passive everyday encounters. But, realistically, these guys are so abundant here, they can turn up on almost any dive. 
When to visit: Year-round
Malapascua
Thresher sharks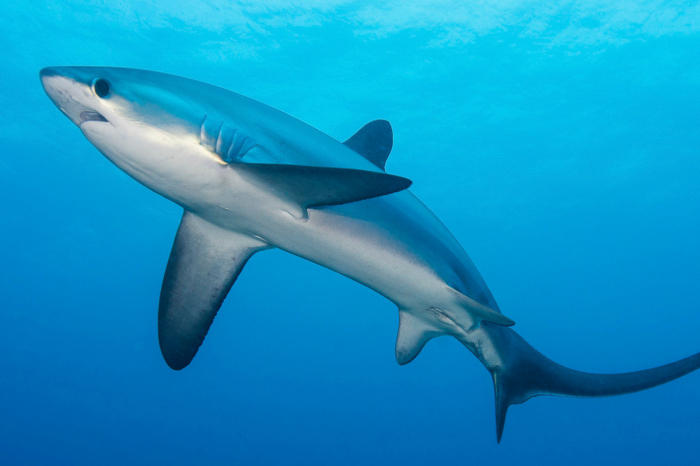 Thresher sharks are one of the more elusive shark species in this list, making this destination even more remarkable. Spending much of their lives well below recreational diving limits, these shy sharks have evolved to hunt in the dark depths, but at Malapascua's remote Monad Shoal threshers can be seen almost daily at relatively shallow depths. And when we say shallow, we mean shallow for a thresher shark, so you'll still need an advanced certification to be in with a chance of an encounter.
To catch a glimpse of Malapascua's thresher sharks, divers must descend before dawn, as this light-sensitive species skulk from the shadows to visit cleaning stations, before disappearing into the depths again as day breaks. Only one thresher shark trip is possible each day, and as most of the action takes place at - or below - 30-metres, the dives themselves are fairly short. But, despite this, witnessing these beautiful creatures is an experience that any shark enthusiast will not want to miss. 
When to visit: Year-round
---
Ready to start planning your next shark diving adventure?
Contact one of our dive travel experts today!

---
Guadalupe
Great white sharks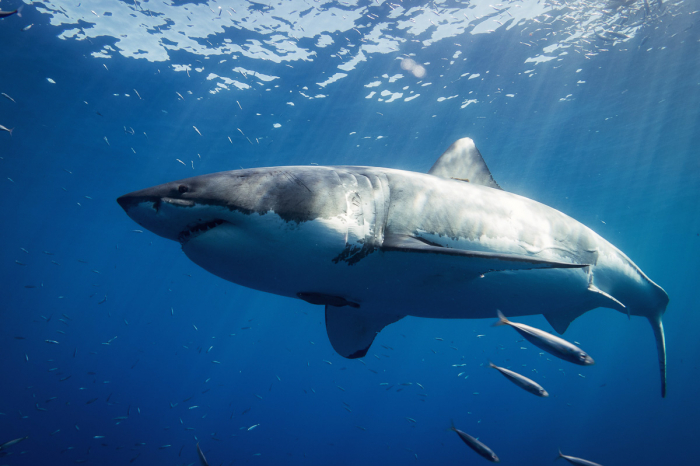 If great white shark diving is on your bucket-list, then Guadalupe is an absolute must! Located over 200 kilometres off Mexico's Pacific coast, this large uninhabited island is home to some of the best shark cage diving in the world - with more than 300 individual great whites identified visiting these remote waters. The season is short and the boat crossing is long, but, from the moment you see that first shadow in the distance, we promise it'll all seem worth it.

Two types of cages are used at Guadalupe - surface and submerged - allowing divers to experience different interactions with the sharks at multiple depths. The dives take place in deep, open water, with no reefs in sight and divers are supplied with air from the surface using a 'hookah' - so that means no cumbersome tank taking up space in the cage.
Visitors should expect high-octane scenes here, as liveaboard vessels lure these sharks towards the boat from the surrounding open ocean. Early in the seasons, sightings are predominantly of juvenile male sharks who enjoy putting on a show by striking lures at high speeds and sometimes even breaching the water altogether. Towards the end of the season, you're more likely to spot huge female sharks that dominate the food chain. 
When to visit: July to November
Cocos, Malpelo, and Galapagos
Scalloped hammerheads
It might seem a little odd to group these three destinations together - after all, the closest two are still some 600 kilometres apart. But, to divers in the know, these remote outposts each represent one corner of what is arguably the most incredible shark diving destination on the planet - the Hammerhead Triangle. Diving here is dynamic, challenging, and certainly not for the faint-of-heart. But, experienced divers who embark on this awesome adventure will not be disappointed. 
All located at least 500 kilometres from the mainland, the isolation of these rocky volcanic islands, plus their proximity to mind-boggling depths, provides the perfect hammerhead habitat. And we're not just talking about a handful of hammerheads either. Thanks to a network of underwater 'superhighways' and cold water upwelling caused by the meeting of two massive oceanic systems, scalloped hammerhead sharks gather here by the hundreds. In fact, these sharks are frequently seen schooling in such high numbers, that onlookers regularly recount the encounter as a 'wall of hammerheads'. 
And it's not just hammerheads on the agenda here, lots of other shark species pass through these waters including whale sharks, Galapagos sharks, tiger sharks, silvertips, and even silkies numbering in the thousands.
When to visit: January to May or June to November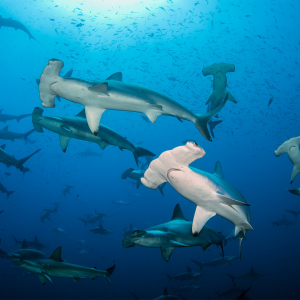 Recommended insight
Diving the Hammerhead Triangle
The Hammerhead Triangle is an imaginary region in the eastern Pacific defined by the isolated islands of the Galapagos, Cocos, and Malpelo. One of the planet's premier shark diving ...
Belize
Nurse sharks
You could dive almost anywhere in Belize and have a decent chance of seeing nurse sharks, but there's one site in particular that we simply couldn't miss. And, actually, it's not a dive site at all. Located just a mile or so south of the Hol Chan Marine Reserve on Ambergris Caye, the accurately named Shark Ray Alley, has become an iconic activity for many visitors to the region. Here, travellers can stand, swim or snorkel in crystal-clear water, completely surrounded by slow-moving nurse sharks.

This shallow stretch of sandy-bottomed water was once used by fishermen to clean their catch, and apparently the nurse sharks knew it. Ever since, with the arrival of any boat, the surrounding water begins to boil with nurse sharks, bustling one another in anticipation of an easy meal. And, as the name suggests, it's not just nurse sharks either. Scores of Southern stingrays also join the fun, dancing around astonished onlookers as they scour eagerly for morsels of food. While diving is not available here, this is still an amazing experience for any avid shark-enthusiast.
When to visit: Year-round
Raja Ampat
Wobbegong sharks | Walking sharks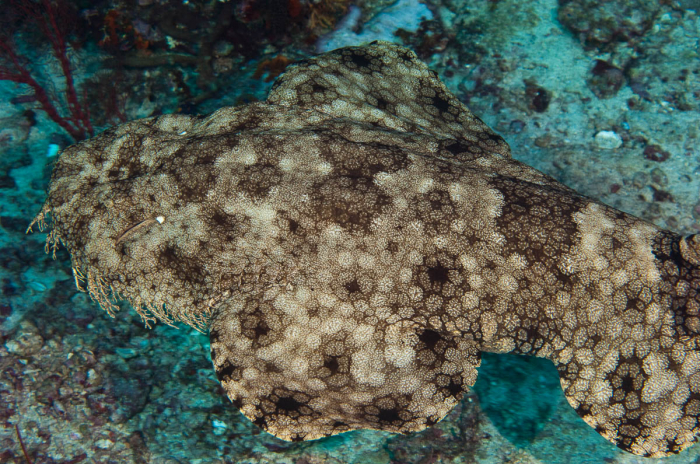 This might seem like an odd inclusion to the list, but a shark is still a shark, right? And these are two of the weirdest, most wonderful sharks out there. While they're not the stars of overly-dramatic Hollywood movies, both wobbegong and walking sharks are still formidable predators in their own right, and display some incredible adaptations to help them catch their next meal. 
Wobbegongs are a unique looking, flat-bodied species that have developed tassel-like camouflage that makes them look like a carpet of soft coral as they hide in small caves and crevices, waiting to pounce on unsuspecting prey. The walking shark, as the name suggests, takes a starkly different approach. Also known as epaulette sharks, this species has learnt to use its pectoral fins to literally walk along the seabed in search of prey - sometimes even walking right out of the water!
Raja Ampat is one of the best places in the world to see both of these incredible sharks, and is the only place to see certain species, such as the endemic Raja Ampat epaulette shark.
When to visit: Year-round
---
Well, there you have it - ten of the world's best places for shark diving. But no doubt some of you are looking at this list and thinking we've missed something - the biggest shark of them all. That's because we've dedicated an entire article to the subject of where to dive with whale sharks - definitely worth a read...
---
---