The Maldives is famed for its tranquil tropical setting and spectacular resorts, but below the waves awaits a very different experience. The beautiful atolls provide a backdrop for a variety of marine life, with current-swept channels and isolated reefs packed with exciting pelagic species - including sharks. And while sharks are common throughout this incredible diving destination, there's a handful of iconic atolls and stand-out dive sites which are not to be missed by any shark enthusiast. 
So keep reading to discover the best places to dive with sharks in the Maldives. 
---
Need help planning your shark filled holiday in the Maldives?
Contact one of our dive travel experts

---
Rasdhoo
Reef sharks and more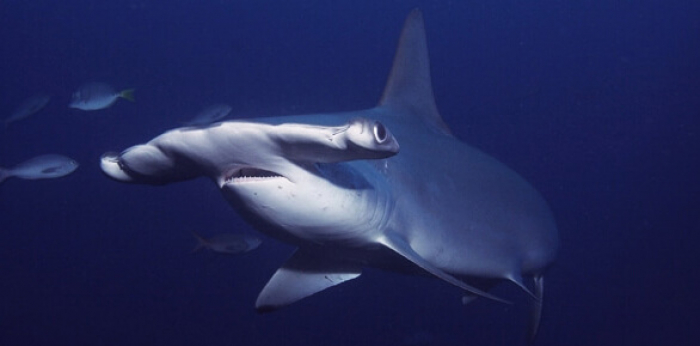 Rising out of the ocean depths, the small atoll of Rasdhoo has found fame as a destination of choice for those in search of sharks - including chance encounters with hammerheads - as well as spectacular dive experiences with other species such as manta rays and schooling fish. Combined with beautiful beaches and the welcoming community on the local island, Rasdhoo easily ranks as one of the Maldives' best shark diving destinations.
You'll start the day with a dawn trip to Hammerhead Point in search of the sharks out in the blue, then follow it up with a dive at Rasdhoo Madivaru - arguably the Atoll's most famous site. Here a horse-shoe shaped ridge is patrolled by grey reef sharks, whitetip reef sharks and schools of eagle rays while an expansive sandy bowl is home to whiptail rays, marble rays and patches of garden eels.
Throw in the school of large barracuda and divers have all the ingredients for a near-perfect Maldivian dive experience. Between November and April, manta rays can also be encountered at a cleaning station. To complete an amazing day, you can simply sit back and watch these gentle giants as they hover and cleaner wrasse pick their skin and gills clean.
Best time to dive: January - April
---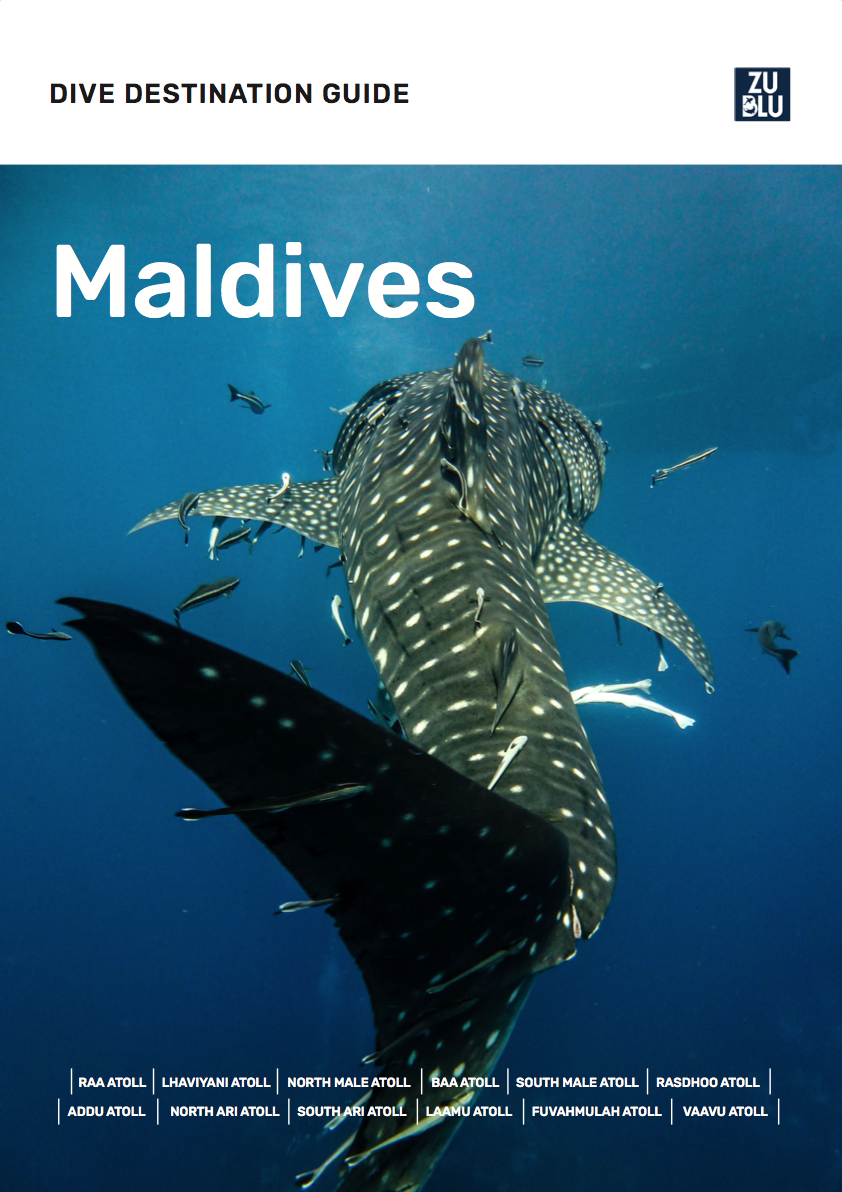 Complete guide to the best diving in the Maldives. Explore the atolls, seasons, and pro tips in this free 37 page destination guide.
---
South Male
Grey and whitetip reef sharks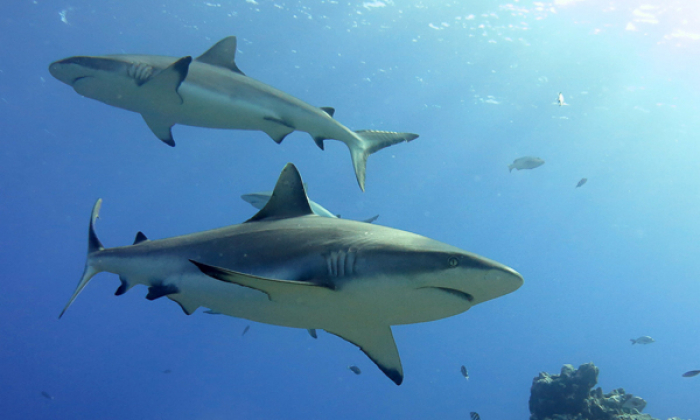 Despite its proximity to the international airport, South Male is a relatively quiet atoll, with just three local islands and a scattering of resorts. This atoll is often touted as one of the best for budget and solo travellers, with easy access and a tranquil, yet sociable atmosphere. The diving focuses on the channels in the east of the atoll wall, all of which offer plenty of action. 
Kandooma Thila - also known as Cocoa Thila - is one of the most popular sites on the atoll's eastern edge, and is among the most famous dives in the Maldives. The thila here sits in the middle of the channel, with the reef below acting as a cleaning station for manta rays. But, it's not just mantas that frequent this site - grey and whitetip reef sharks also patrol beneath the waves, parting schools of barracuda, jacks, red bass and trevally.
Further south, the protected Guraidhoo Channel provides exciting encounters with a range of marine life, including bannerfish, fusiliers, and rainbow runners, as well as trevallies, tuna, rays, and a friendly Napoleon wrasse. Amongst the impressive biodiversity here, divers will also likely spot yet more grey and whitetip reef sharks.
Best time to dive: January - April
South Ari
Whale sharks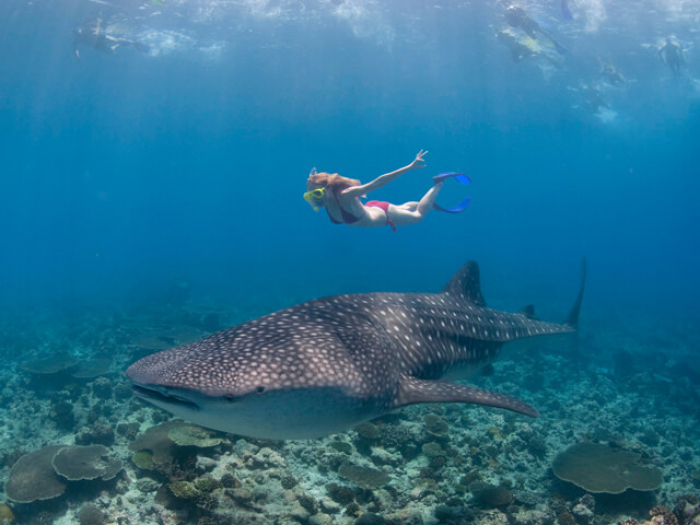 South Ari is one of the more developed atolls in the Maldives, but that doesn't stop it impressing visitors with its breathtaking natural beauty - and it certainly hasn't deterred the marine life. 
Whale sharks are South Ari's marquee attraction, with reliable sightings year round. In fact, the South Ari Marine Protected Area that covers the southern tip of the atoll, boasts near-guaranteed whale shark sightings. Organised tours cruise the reef searching for these sharks as they filter-feed on plankton near the surface of the water. Once a shark has been spotted, guests can enter the water with snorkels and swim alongside. 
While this entire protected area offers high chances of seeing a whale shark, the islands of Maamagili and Dhigurah offer some of the most consistent encounters. And, although whale sharks can be seen year-round, sightings do vary with the seasons. From December to April, during the northeast monsoon, the whale sharks tend to be seen more to the west, before moving over to the east between May and November, during the southwest monsoon.
Best time to dive: Year-round
Ready to start planning your dive holiday in the Maldives?
Search, compare and book from over 50 resorts
Vaavu
Grey and whitetip reef sharks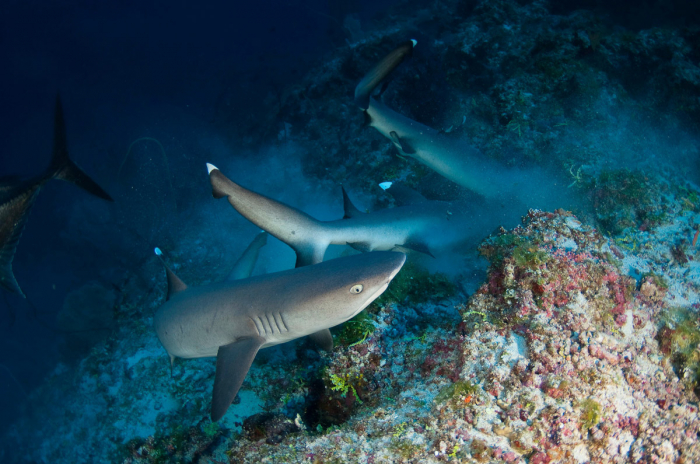 Facing the open ocean, the eastern side of Vaavu Atoll delivers some truly exciting diving - even by Maldives' standards, these channels are very special indeed. The strong tidal currents through these narrow cuts in the reef create ideal conditions for thrilling shark dives, and you can encounter large numbers of grey reef and whitetip reef sharks congregating amidst swirling schools of barracuda, snapper and trevally.
The signature site is Fotteyo Kandu which is considered one of the best shark dive sites in the Maldives. The narrow channel has swim-throughs, small caves and large overhangs to explore, as well as a drop-off covered in colourful soft corals, while at the mouth of the channel, large numbers of grey and whitetip reef sharks, and large schools of trevally and sweetlips can be encountered.
Nearby Miyaru Kandu, which translates to 'Shark Channel' certainly lives up to its name and large schools of grey reef sharks, whitetip reef sharks, plus tuna and Napoleon wrasse, are all commonly seen. Last, but not least, Kunaavashi Kandu or Second Channel is another incredible site that has beautiful soft corals, squadrons of spotted eagle rays and big marbled stingrays.
Best time to dive: January - April
Huvadhoo
Grey reef sharks, whale sharks, and more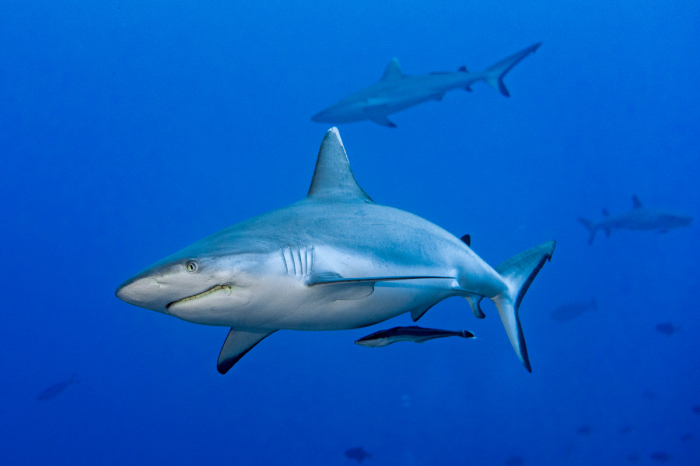 Huvadhoo is one of the largest and most secluded atolls in the Maldives. Lying almost 50-kilometres from its nearest neighbour, Huvadhoo's outer reefs are swept by powerful open-ocean currents that flow back and forth through the surrounding open ocean, luring large pelagics in from the blue. And, as one of the deepest and most expansive lagoons in the Maldives, these waters offer plenty of space for up to 13 species of shark.
The atoll's channels are a hotspot for shark encounters, with lucky divers often encountering dozens of whitetips, blacktips, and grey reef sharks on a single dive. Unusually, both silkies and silvertips can also often be spotted in the current, while leopard sharks and nurse sharks take shelter below. This isolated atoll is also the only part of the Maldives where spinner sharks have been seen. Whilst similar to blacktips in appearance, these interesting sharks are known for performing acrobatic leaps as they strike prey close to the surface. 
Incredibly, there's even more shark diving on offer in Huvadhoo, with the largest of them all making appearances between January and April. Whale shark encounters here are almost always conducted at night, with vessels attracting the sharks by shining spotlights on the water. Gliding through the inky darkness beside the biggest fish in the ocean is an experience you'll never forget.
Best time to dive: January - April
Fuvahmulah
Tiger sharks and thresher sharks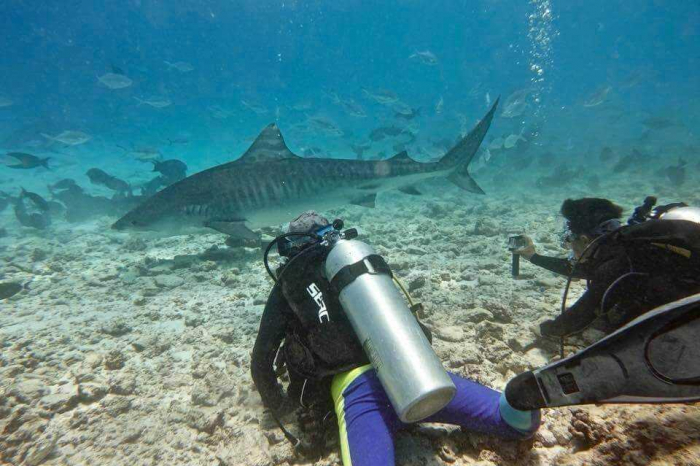 Nicknamed the Maldivian Galapagos, Fuvahmulah Atoll is one of Asia's hottest shark diving locations - book your trip today if you want to dive with tiger sharks, hammerhead sharks, thresher sharks and more!
Fuvahmulah's relatively unknown dive scene, unique location and isolation make it an ideal destination if you are looking for exhilarating diving in the Maldives. The atoll's famous tiger sharks can be seen every day, but you'll also have the chance to encounter hammerhead sharks, thresher sharks, silvertip sharks, oceanic manta rays, big schools of barracudas, yellowfin tuna, bonitos, sailfish and even Mola mola and pilot whales!
Tiger Zoos resident sharks are in no way aggressive, but we recommend that you book with a reputable and professional dive operator. Fuvahmulah Dive School's is the perfect choice and their experienced guides will ensure your encounter is both safe and responsible.
Best time to dive: December - March
---
Need help planning your next holiday in the Maldives?
Contact one of our dive travel agents for expert advice

---
---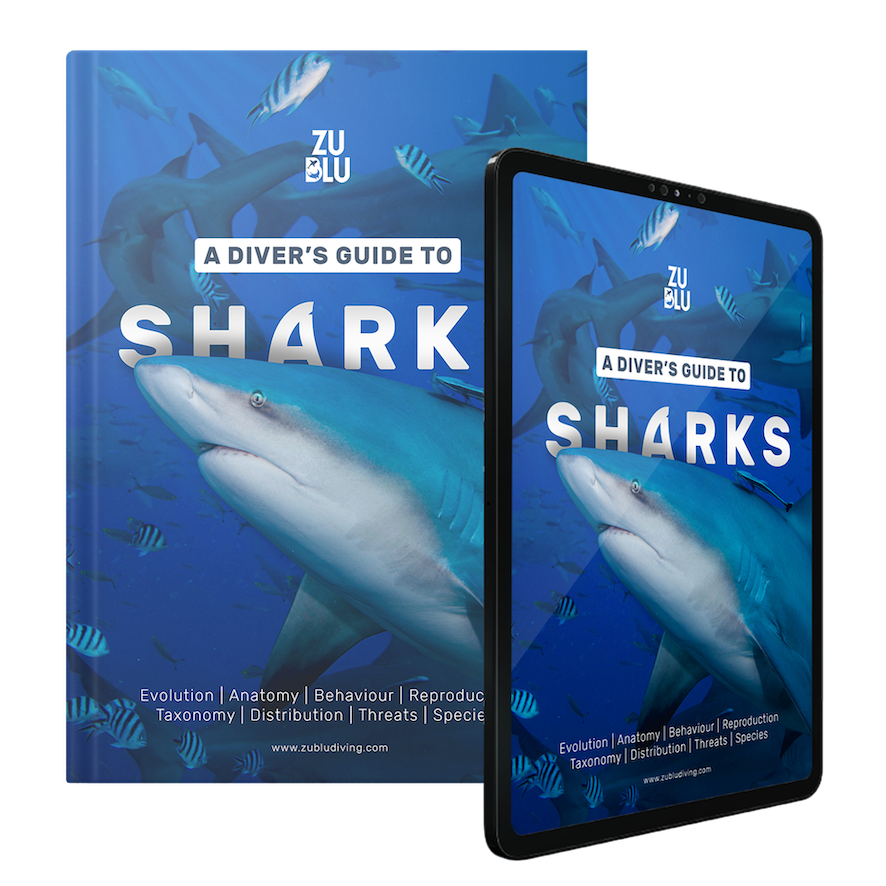 Everything you need to know about these wonderful creatures in a FREE 50 page guide. Read online or download today!
---
---
Join the ZuBlu community to receive the latest insights and unmissable adventures
Don't worry, we'll only send you really good stuff - and we never share your details
---