Scuba diving in
Baja California
Mexico
Baja diving is dynamic and diverse, with unique and dramatic landscapes, powerful currents, and close encounters with some of the planet's most impressive marine wildlife.
Diving highlights
Fascinating underwater topography with craggy reefs and volcanic formations
Chance interactions with rare wildlife like dolphins, rays, and whale sharks
Dynamic dive sites including sea lion rookeries packed with playful pups
Up-close encounters with up to ten species of sharks
Migratory humpback whales breaching, spying, and splashing on the surface
Spanning thousands of kilometres from north to south, Baja California is a massive and diverse diving destination - with each region boasting its own incredible underwater attractions. But, the peninsula's striking underwater world isn't its only attraction. This region's unique desert environment is just as stunning above water as it is below - with volcanic and barren landscapes set against a backdrop of dazzling turquoise and fascinating formations like Cabo's Lands End Arch!
Explore the Sea of Cortez, famously nicknamed the 'Aquarium of the world' by Jacques Cousteau, where divers can cruise vibrant rocky reefs, encountering sea lions, sharks, and even hammerheads and schooling mobulas. This region is also home to remote seamounts, well-preserved shipwrecks, and one of the planet's greatest marine protection success stories - Cabo Pulmo. Head a bit further south for unique underwater environments, including Cabo's famous sand falls, dynamic offshore dive sites like the Gordo Banks, and seasonal encounters with migrating humpback whales on the surface.
Up for an even wilder adventure? Baja's remote offshore diving areas can only be visited by liveaboard - letting you enjoy uncrowded dive sites packed with extraordinary marine wildlife. Giant oceanic manta rays, dolphins, and sharks are the stars of the show at Socorro and Revillagigedo - with a chance to spot whale sharks and schooling hammerheads, as well. Further north at Guadalupe, divers can observe Mexico's famous great white sharks, as they gather for an annual aggregation. 
---
Destinations in Baja California
Ready for your dive adventure in Baja California?
Top Baja California experiences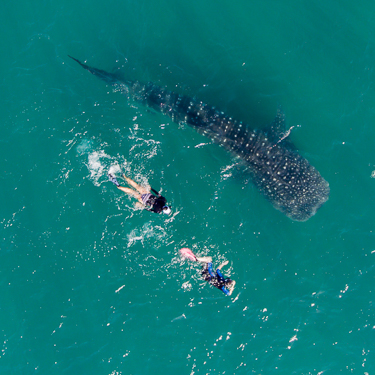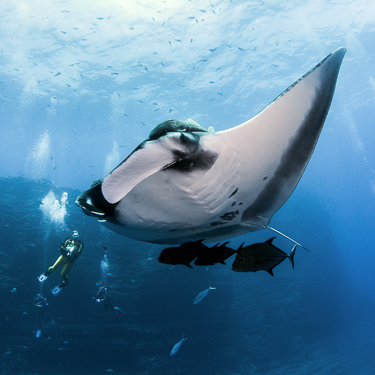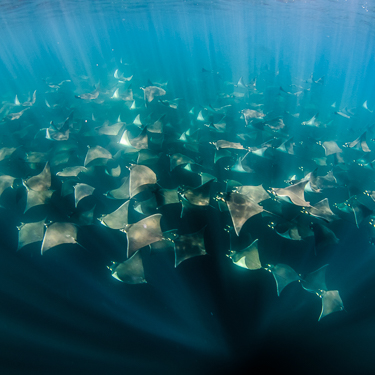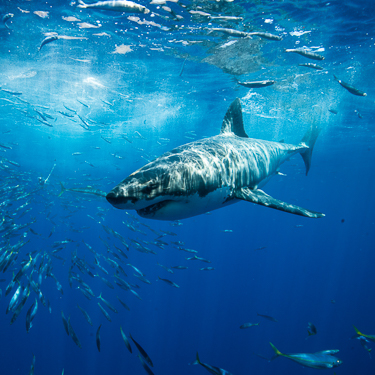 ---
Baja California diving seasons
Baja California is a year-round diving destination, but conditions do vary considerably depending on when you visit. Between June and August, temperatures on land can soar to 40˚C and beyond, combining with seasonal wind and arid conditions to create a harsh desert climate. And, between January and March, water temperatures can plummet to a frigid 22˚C or lower - requiring a thick wetsuit, hood, and gloves for most divers. When booking your trip, try to avoid American school breaks and religious holidays when dive sites close to shore might feel a bit crowded.
Sea of Cortez
Plan your trip between October February, but avoid December and the Christmas holidays for the best all-around experience. These months deliver excellent diving conditions and once-in-a-lifetime wildlife sightings. And, with a little pre-planning, it's easy to avoid the seasonal influx of tourists.
Los Cabos
Visit here between October and February for the best chances of spotting hammerheads, or between January and April for migrating humpbacks on the surface. Cabo San Lucas can feel a bit congested during December and is best avoided during this month if diving is your top priority. Late summer, June through August, can deliver outstanding diving conditions if you don't mind the harsh desert heat.
Socorro and Guadalupe
These two radically different offshore diving regions boast opposing seasons. Most liveaboards visit Guadalupe between July and October when the region's white shark population peaks. Revillagigedo and Socorro are dived during the rest of the year. And, a few pioneering liveaboards are beginning to offer combination trips during the shoulder season that bring the best of both worlds together in one itinerary!
Baja California top resorts