Stretching for hundreds of kilometres along Malaysian Borneo's western coast, the Borneo Banks is a string of remote atolls and shoals surrounded by deep water, dropping thousands of metres to the seafloor. The entire area is known amongst scuba divers for spectacular, off-the-beaten-path underwater experiences and pristine, untamed marine life. 
Layang Layang is little more than a speck within this vast island chain, but can rightly claim to offer some of the most dynamic diving on the planet. This unassuming offshore reef is amongst the healthiest on the planet, providing shelter for a wide range of fish. And, where small fish abound, predators are never far behind. In fact, this remarkable atoll is easily Malaysia's top big-fish destination. The combination of Layang Layang's remote location, awe-inspiring vertical walls, and thrilling pelagic encounters have made it a firm favourite among adventurous divers. 
Big marine life beneath the surface
Layang Layang's prime big fish locations lie at each end of the atoll, where divers descend up-current and drift out into the blue – as this is where Layang Layang's most famous residents can be found. Often starting with a lonely silhouette emerging from the depths, lucky divers can quickly find themselves facing a wall of scalloped hammerhead sharks. Offerings to the dive deities are recommended if you want to see one of these supersized schools, but encounters with smaller groups are relatively common. So much so, in fact, that you'd be unlucky to leave without an encounter or two.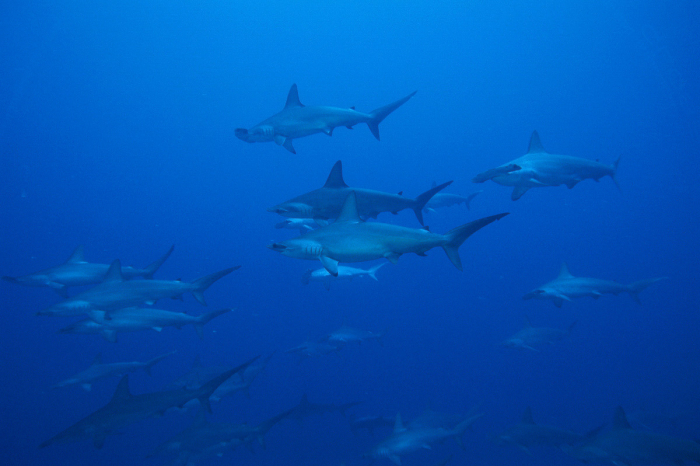 On the dives that you don't see a hammerhead, you won't surface feeling short-changed. Grey reef sharks, leopard sharks, black and whitetip reef sharks, and huge dogtooth tuna can be seen almost daily. Even thresher sharks can occasionally be spotted hanging around shallow cleaning stations or passing by in the depths. Dolphins, melon-headed whales and even orca also pass through every year, and will sometimes stick around long enough for divers to swim beside them during surface intervals.
But it's not just big fish that make this a spectacular dive destination. Layang Layang's biodiversity is a direct result of its thriving corals, so take some time to study the reef – you'll find fields of hard corals, forests of whips and walls festooned with beautiful sea fans. Turtles, triggerfish, and bumphead parrotfish can also be found, as well as schooling jacks and sweetlips, ensuring there's never a dull dive at Layang Layang.
Layang Layang's top dive sites
Layang Layang has around 15 dive sites, and in truth, any one of them could be included in this list. But here's a small selection of our all-time favourites.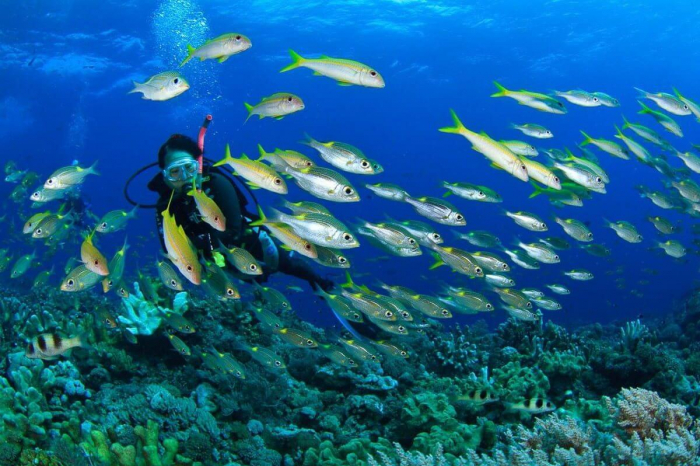 Gorgonian Forest
The strong currents found at Gorgonian Forest make it a great spot to encounter hammerhead sharks, among other big fish. And with exceptional visibility, you're more or less guaranteed a great view. Following a gentle slope to around 12 metres, you'll join the main wall and find yourself confronted by a huge barrel sponges and bright yellow and orange gorgonian fans. Fusiliers, pyramid butterflyfish, harlequin sweetlips, and midnight snapper can be found cruising the reef here, with giant trevally, unicornfish and dogtooth tuna passing by in the blue.
The Valley
Located on the far eastern tip, this unassuming dive site has plenty of cracks and crevices to search for ribbon eels, flatworms and nudibranchs – not to mention the rare golden anemone. Large hard coral formations also attract turtles, sweetlips and squirrelfish, with numerous triggerfish nesting in between. Amberjacks flash past beyond the reef and reef sharks and hammerheads can be seen patrolling in the blue. 
Wrasse Strip
This wonderful sun-soaked coral garden is home to red-cheek wrasse and slingjaw wrasse, among others, but is not quite the wrasse extravaganza you might expect given the name. This site is frequented by a variety of other species too, such as bignose unicornfish and juvenile mantas and eagle rays which use it as a cleaning station. Triggerfish can be seen scouring the leather corals, while fire gobies can also be found amongst the rubble beneath.
Shark's Cave
As the name would suggest, this site is ideal for shark spotting, with two ledges on a near-vertical wall. On the wall itself, black coral bushes, sea fans and barrel sponges provide cover for frogfish, while jacks, giants trevally and dogtooth tuna patrol beyond the drop-off. The larger of the two ledges features a small cave where whitetip reef sharks can be found sleeping, and watch out for hammerheads, grey reef sharks and rays passing by in the blue. 

D'Wall
This sheer, overhanging wall is festooned with brightly coloured barrel sponges and sea fans swaying in the current. Schools of scalloped hammerheads can be found in the deep water here, along with grey reef sharks, and even an array of dazzling macro species such as nudibranchs, pygmy seahorses, and anthias. Ascending from the depths, you'll find some vibrant coral gardens where you can search for skunk anemonefish during your safety stop.
Ready to start planning your dive holiday in Sabah?
Search, book and compare from out hand selected dive resorts
What to expect from a dive trip to Layang Layang
Flying in, visitors are greeted by a long, narrow reef surrounded by deep blue water. The oval-shaped reef stretches nearly seven kilometres and encloses a shallow lagoon dotted with small patch reefs, bommies and sandbars. Large colonies of migratory seabirds – including terns, frigate birds and boobies – take advantage of the atoll's remote location to raise their young, earning it the nickname Swallow Reef. 

During the 1990s, a portion of the reef on the southern side of the atoll was transformed into an artificial island, providing a remote outpost for the Malaysian Navy – complete with its own runway. This small airstrip now also services Layang Layang Resort, which has the only visitor accommodation on the island and is located just next door to the naval base.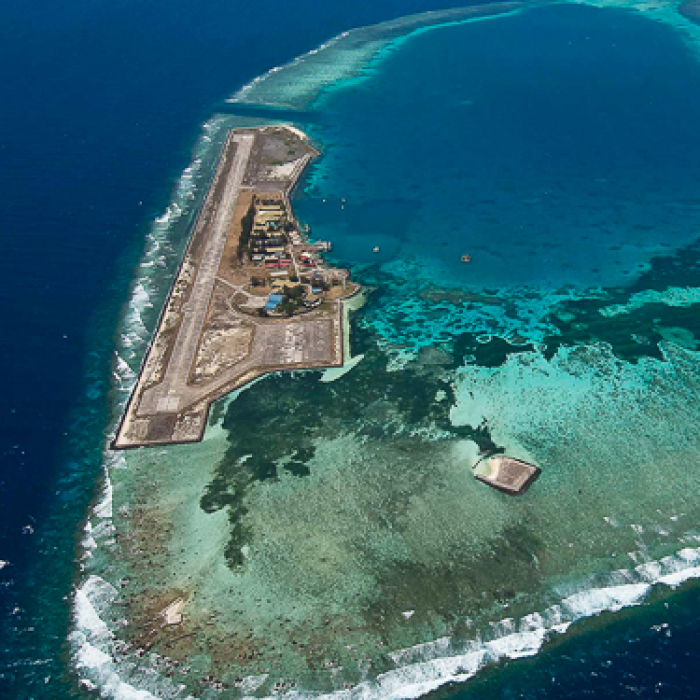 With such an isolated setting, you might wonder what on earth you can do to fill those surface intervals. Luckily, Layang Layang offers a range of pastimes to keep guests entertained. Within the shelter of the lagoon guests can go windsurfing and kayaking, and the colonies of seabirds can be visited by boat during the nesting season. For something a little more down-tempo, the resort provides massage services at the Raba-Raba House, as well as a pool, bar and satellite tv.
The logistics of diving Layang Layang
The gateway to Layang Layang is Kota Kinabalu, on the west coast of Sabah. This is the nearest city to the remote atoll and the only airport offering flights. Domestic flights to Kota Kinabalu from throughout Malaysia are easy to come by, and connections from Singapore or Hong Kong are also possible. Three-month tourist visas are issued free of charge at both Kuala Lumpur and Kota Kinabalu. 
The onward flight to the atoll itself is operated by MASwings and takes just one hour. But, only one flight is offered per week and the aircraft is small, meaning seating can be limited during peak periods. Return flights cost around $400 per person and are included as part of diving packages at Layang Layang resort.
Layang Layang is only open from March to August, and even then, it might close its doors earlier in the year depending on the weather. For the best diving, we recommend visiting early, sometime between March and May. This is when hammerhead sightings are at their best, water temperatures are around 26°C, and visibility ranges between 20-40 metres or more. Water temperatures and visibility can increase slightly throughout the year, but hammerhead sharks become less common. November through February brings heavy monsoon rains which ruin conditions and make diving too difficult.
---
Need some help planning your dive trip to Layang Layang?
Contact one of our dive travel experts today!

---
---
Join the ZuBlu community to receive the latest insights and unmissable adventures
Don't worry, we'll only send you really good stuff - and we never share your details
---