Ready to follow in Darwin's footsteps and dive the legendary Galapagos Islands? Discover the very best liveaboards - perfect for your next dive holiday.
The Galapagos Islands are easily the most exciting scuba diving destinations on the planet - full of diverse and dramatic marine life, including some of the ocean's most powerful pelagics. For divers, a liveaboard is by far the most immersive and cost effective way to visit, allowing you to reach iconic dive sites that are otherwise out of reach.
The top rated liveaboards in the Galapagos Islands
With diving this spectacular, your choice of vessel might well be the last thing on your mind. But we've listed our favourite liveaboards in the Galapagos - and what sets them apart from the rest - to help you make your choice.
Aqua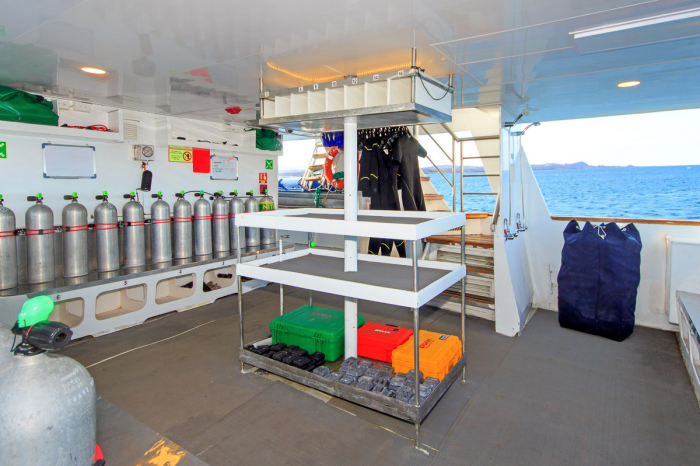 Aqua is a recently updated mid-range adventure yacht offering unique liveaboard diving routes through the Galapagos Archipelago. Remodelled in 2019, Aqua is one of the region's most modern vessels, delivering plenty of comfort at a reasonable price and enhanced by an experienced and attentive crew. Aqua offers a variety of scuba diving and naturalist focussed itineraries, as well as the option to combine both for the complete Galapagos experience.
Aqua's commitment to affordable comfort continues into its dive operations, with facilities carefully organised for maximum convenience and safety during each day of energetic diving. The vessel's generous dive deck provides plenty of individual space for up to 16 guests who are then transported directly to the action via zodiac. Photographers will also find a two-tier camera table to assist with gear maintenance and preparation. And, Aqua offers nitrox, top of the line rental gear and GPS locators for extra peace-of-mind. 

Best for: Budget-savvy travellers
Calipso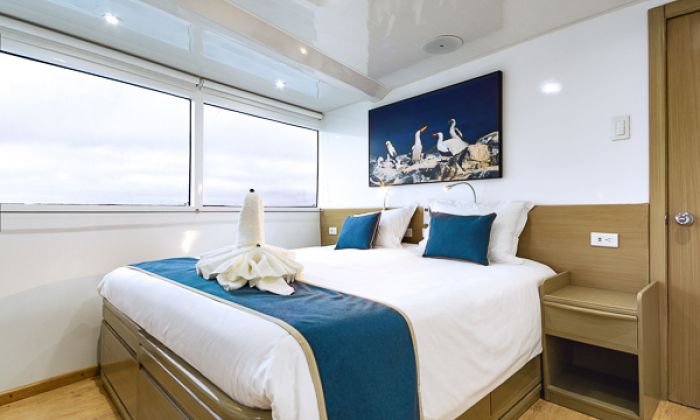 This phenomenal family-run liveaboard was renovated in 2019, and now boasts brand new everything - from the motors, generators and compressors, to the dive deck, dining area and cabins. The result of this overhaul is an impressively stylish vessel with a warm and welcoming atmosphere, providing a wonderful balance to its adventurous itineraries. And, beneath the style you'll find plenty of substance, with mouth-watering all-you-can-eat buffets, an on-deck Jacuzzi and barbecue area, and tempting 'add-on' excursions - both within the Galapagos and beyond to the Andes, Amazon rainforest, and more! 
Expanded specifically to facilitate stress-free diving, Calipso's dive deck comes equipped with individual stainless steel diver stations, a convenient bathroom, hot-water showers and a towel warming station. Plus, underwater photographers will find a three-tier camera table and dedicated rinse bin to help take care of their precious rigs. 
Best for: Excursions throughout Ecuador

Galapagos Aggressor III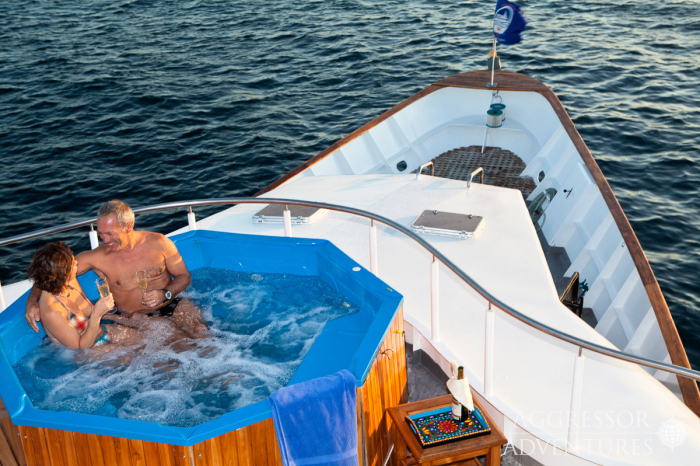 Part of the prestigious Aggressor Fleet, this superior modern motor yacht was custom-built to offer comfortable dive safaris in the remote Galapagos Archipelago. Personalised service from an attentive crew and an array of high-end amenities make the Galapagos Aggressor III feel like a floating hotel, not to mention complimentary beer, wine and cocktails once the day's diving is done. This 30-metre vessel accommodates 16 guests in superior comfort, offering a generous salon with modern entertainment centre, as well as plenty of room to spread out above deck on sun loungers, covered seating, and in an open-air hot tub.

All itineraries aboard the Galapagos Aggressor III include three days of underwater exploration at the legendary Darwin and Wolf islands - known for up-close encounters with hammerheads. The expert crew has decades of diving experience and can happily accommodate intermediate divers in this adventurous destination. Plus, this boat's camera facilities are among the best, with a multi-tier table, separate rinse bins, and blow-dry station.
Best for: Underwater photography

Ready to start planning your Galapagos liveaboard adventure?
Search, compare and book from our exclusive selection of liveaboards
Galapagos Master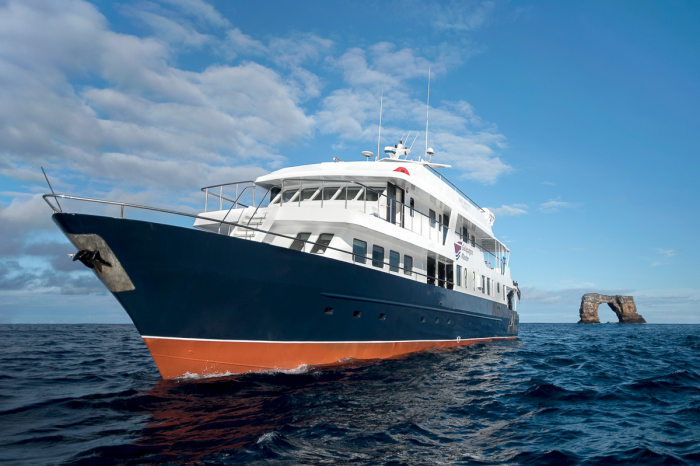 This renovated motor yacht is built for steady sailing and offers classic Galapagos adventure diving safaris, complimented by the luxurious touches for which Master Fleet is famous. Sample delicious meals in the dining room, followed by a cocktail from the adjacent bar, before heading topside to lounge on both sun and shade decks complete with comfortable seating and panoramic views.
The Galapagos Master offers extended voyages lasting between eight to ten days at sea. The vessel scours the islands' hotspots, searching for marine megafauna and exciting endemic wildlife, with a focus on the region's best sites - Darwin and Wolf islands. In fact, their ten-day itinerary includes two whole dive days at each! Discerning guests will also appreciate on deck facilities such as a nitrox compressor, dedicated rinse bins, and warm-water showers.
Best for: Dedicated divers

Galapagos Sky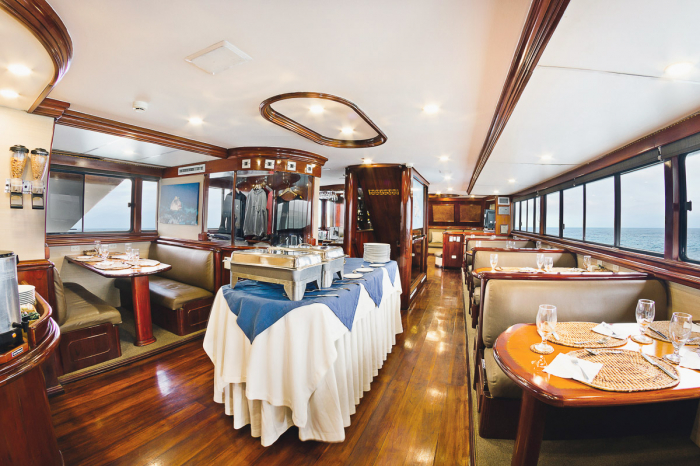 Galapagos Sky is a modern, comfortable motor yacht, with nearly 20-years of cruising experience in the Galapagos Islands - and it shows. The vessel operates in partnership with two prestigious operators - Ecoventura and DivEncounters - to offer some of Ecuador's very best liveaboard voyages and set new standards for luxury in the Galapagos. Onboard comforts include chic and modern interior decor, fine dining and imported wine. The entire vessel is finished with rich wooden accents and communal areas that invite social relaxation with plush comfortable seating - including hammocks and loungers on the top deck.
This boat's luxurious details continue through to the diving, with complimentary nitrox fills for new reservations, personal gear storage, and hot towels after every tank. Plus, Galapagos Sky's two tenders ensure there are no long surface swims. You'll also benefit from naturalist dive guides to help you make the most of your Galapagos experience. 
Best for: Five-star luxury

Humboldt Explorer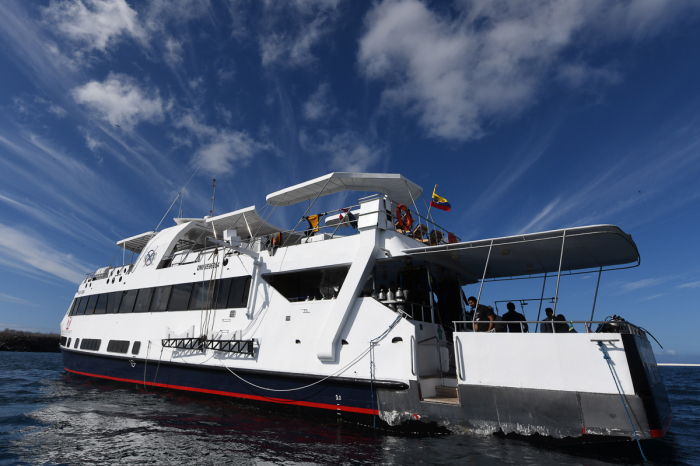 Constructed in 2009, this steel motor yacht remains one of the Galapagos' premier diving liveaboards and is now operated under the world's first Green Fins approved fleet. Guests will experience the ultimate Galapagos itinerary, dedicating maximum time to Wolf and Darwin Islands, alongside excursions to the Santa Cruz highlands in search of giant tortoises and North Seymour for a spot of bird watching. Plus, the team builds on extensive experience in the region to provide a warm and welcoming environment during each intrepid adventure. 

This vessel's wide array of convenient dive amenities all but guarantees guest satisfaction. As well as a large and spacious dive deck, Humboldt Explorer also offers naturalist guides, nitrox and extensive photography facilities to help divers make the most of their time in this remote region.
Best for: Sustainable dive safaris

Tiburon Explorer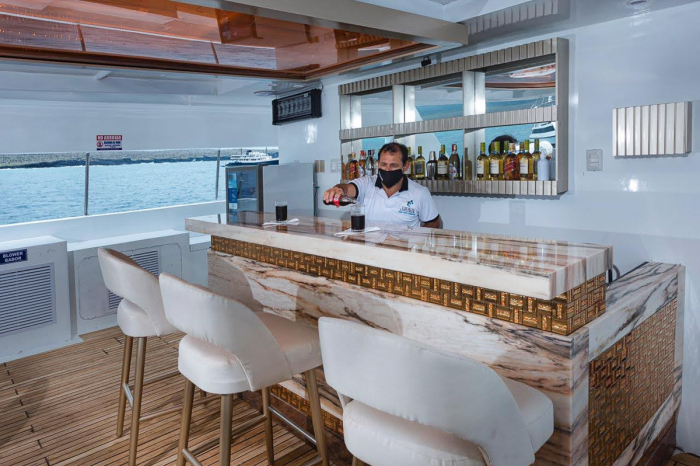 Brand new in 2020, Tiburon Explorer boasts all the attributes of its sibling vessel, Humboldt Explorer, with plenty of modern luxury. From the palatial lounge area with marble and gold accents, to the charming al-fresco dining tables and spacious cabins, everything on board Tiburon Explorer is designed with discerning divers in mind. You'll even find an open-air Jacuzzi on the sun deck, surrounded by daybeds, providing the perfect spot for an evening cocktail. And, while you relax your weary body after another day of diving, your mind can also rest assured that you're travelling with the world's first Green Fins approved fleet.

As with Humboldt, this vessel comes ready-for-action, providing a host of convenient amenities to facilitate easy, eco-friendly diving. The efficiently-designed dive deck is equipped with individual storage areas, a nitrox compressor, three freshwater showers, and a convenient bathroom. Meanwhile, a dedicated camera table, charging points and separate freshwater rinse tanks help photographers capture the perfect shot.
Best for: Eco-luxury

Solaris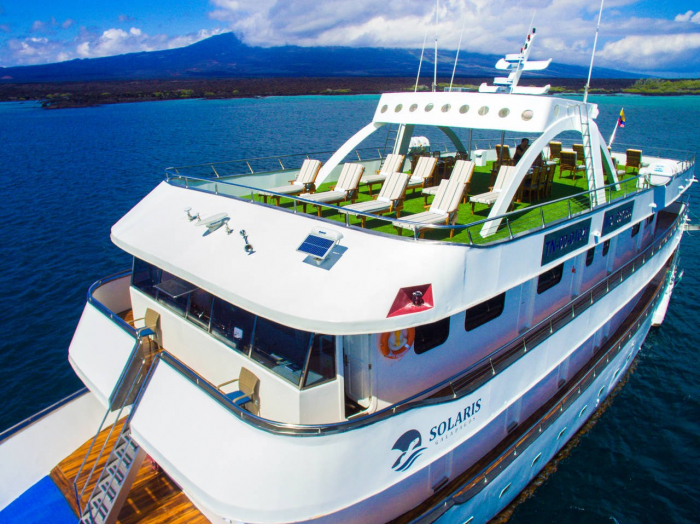 Built in 2019, this modern 36-metre motor yacht is spacious, comfortable, and contemporary. And, with no single's supplements, it also offers some of the most solo-friendly cruises in the Galapagos. Plenty of personal attention is guaranteed from Solaris' welcoming team, which includes an expert, park-certified naturalist guide to add extra insight to this hugely significant destination. This first-class liveaboard is both spacious and comfortable with stylish interiors that compliment the muted wooden finish. Outside you'll find more comfortable social spaces, including a sun deck furnished with loungers.
Itineraries aboard Solaris follow original and exclusive routes with flexible duration, starting from three-nights and lasting up to 14 action-packed nights at sea. Even their shorter routes still visit some of the most impressive and 'out-of-the-way' visitor sites. And, to make optimal use of your scarce time in the region, Solaris aims to visit two attractions each day, providing great value for money.
Best for: Non-divers and solo travellers

---
Are you ready to follow in Darwin's footsteps and discover the Galapagos Islands' legendary wildlife?
Get in touch with our expert team for all the latest dive travel details and start planning your trip today.

---
---
---