Grand Bahama and Abaco Islands
Secluded natural beauty and rich Caribbean culture - plus shark diving galore - combine to deliver one of the Bahamas' best all-round destinations
Highlights
Encounter tiger sharks, hammerheads, lemon, nurse and reef sharks
Swim, snorkel and dive with wild dolphins in the open-ocean
Experienced cave divers can explore kilometres of intricate underwater systems
Choice of accommodation and atmosphere to suit your personal travel preference
With the ultimate combination of secluded 'Out Island' surroundings and exciting tourist towns, Grand Bahama Island and the Abacos are a genuine paradise for sailors, divers and culture-connoisseurs alike. Boasting impressive natural riches - both above and below the water - these islands have long drawn explorers in search of adventure, while the desert-island ambiance has kept them coming back long after the adventure is done. Seek solitude in a secluded beach-front villa or relax in an all-inclusive resort, then set sail into sublime seascapes and thrilling scuba diving, with wrecks, caves, and heart-stopping shark encounters.
Scuba diving in Grand Bahama and the Abaco Islands
Schooling reef fish

Year round

Plentiful reef life

Year round

Caves & caverns

Year round
Both Grand Bahama Island and Great Abaco Island lie on the Little Bahama Bank, with plenty of shallow, sun-soaked dive sites, surrounded on all sides by deep ocean. And, like much of the Bahamas, the diving in this region is characterised by warm, crystal clear waters, intricate coral gardens, and inviting expanses of bright blue, as well as remarkable encounters with large predatory species.
Diving Tiger Beach, Grand Bahama
Without a doubt, some of the best scuba diving on Grand Bahama Island lies in the West End, where visitors can get up-close and personal with some of the ocean's most formidable fish. As the name suggests, the island's renowned dive site, Tiger Beach, is an adrenalin-filled dive allowing visitors to encounter numerous tiger sharks in calm, crystal-clear, and surprisingly shallow waters. This site is located some 30-kilometres offshore and can be enjoyed from the sandy bottom by qualified divers, or from a surface cage for those without scuba certification. Alongside tiger sharks, lucky visitors might also spot great hammerheads, lemon sharks, nurse sharks and Caribbean reef sharks that are tempted in by operators using the scent of a fish-filled crate.
Scuba diving from Freeport
Grand Bahama Island is also one of the few places where you are all but guaranteed to dive with dolphins in the wild, particularly around White Sand Ridge, off the island's northeast corner. Wild Atlantic spotted dolphins are the most common species found around this shallow sand bank, but bottlenose dolphins can occasionally join the fun. While White Sand Ridge undoubtedly offers the best chances of wild dolphin encounters, these charismatic creatures can occasionally pop up on almost any dive site around the island, particularly those in the West End.
Freeport is also emerging as a worthy wreck diving destination, with a handful of vessels either sinking or being deliberately scuttled nearby. Notable sites include the accessible Sea Star II, with its assortment of barracudas, amberjacks, snappers, and more, as well as the advanced Theo's Wreck, which sits at around 30-metres and allows entry at both the engine room and the expansive cargo space. Wreck enthusiasts should be sure to check out other local sites as well, such as Jose's Wreck, as well as the La Rose, Etheridge, Papa Doc, and Pretender wrecks.
Diving the Abaco Islands
The Abaco Islands are sheltered by a large barrier reef system and home to an extensive network of protected areas, such as the Fowl Cay National Park, Tilloo Cay National Reserve, and Pelican Cay Land and Sea Park. With shallow surrounding waters, many of the dive sites are perfect for beginners, featuring fabulous star and elkhorn corals and an impressive diversity of marine life. Walker Cay, however, offers several slightly deeper walls, as well as one of the best shark dives in the whole of the Bahamas, Shark Rodeo, where up to 100 blacktip and Caribbean reef sharks gather to feed. For wreck enthusiasts, there is also an old US Civil War gunboat that lies in just nine-metres of water near Man-O-War Cay, with its canons still intact.
Cave and blue hole diving
The extensive limestone platform of Little Bahama Bank is the site of a unique labyrinth of blue holes and underwater caves that has formed beneath Grand Bahama and the Abaco Islands, creating a world-class cave diving destination. In fact, Ben's Cave, located in the Lucayan National Park, extends some ten-kilometres underwater. Four cave systems can also be found beneath the pine forests of South Abaco, known as Dan's Cave, Ralph's Cave, Nancy's Cave, and Sawmill Sink. These caves and sinkholes feature air-clear water and a stunning labyrinth of interesting rock formations to explore.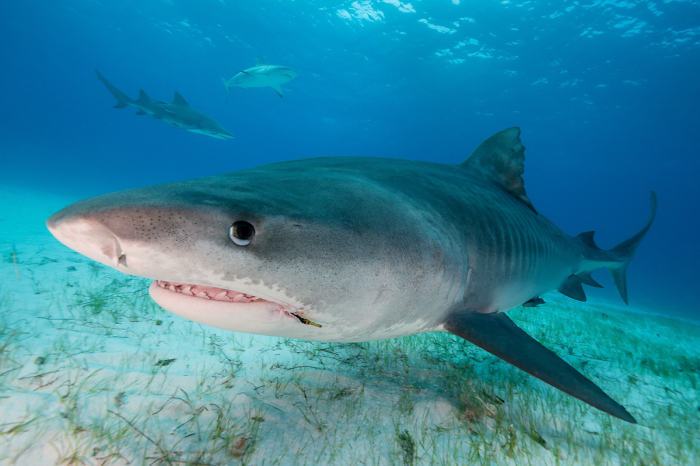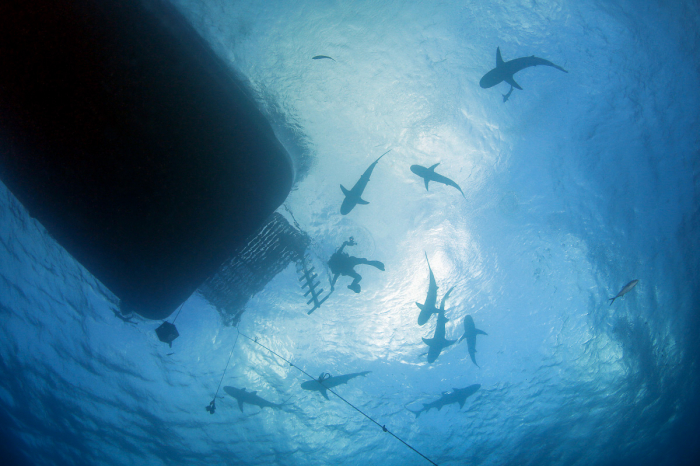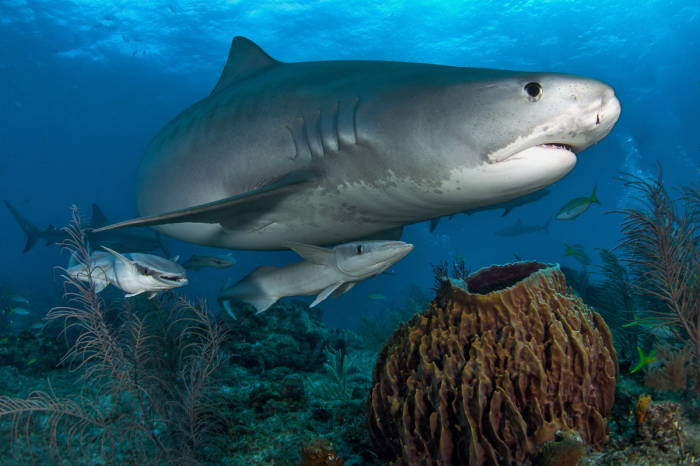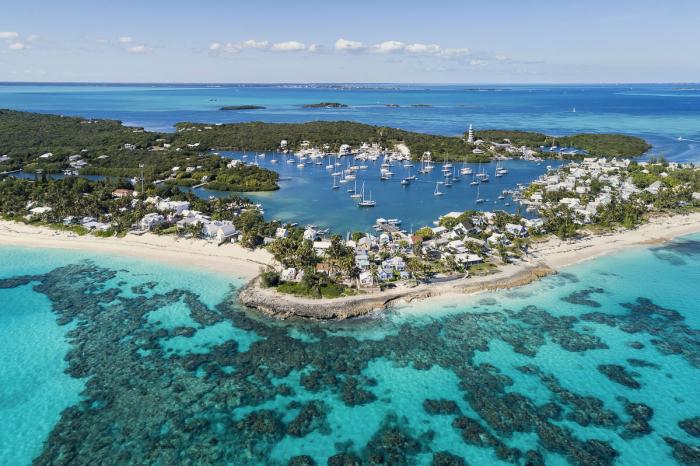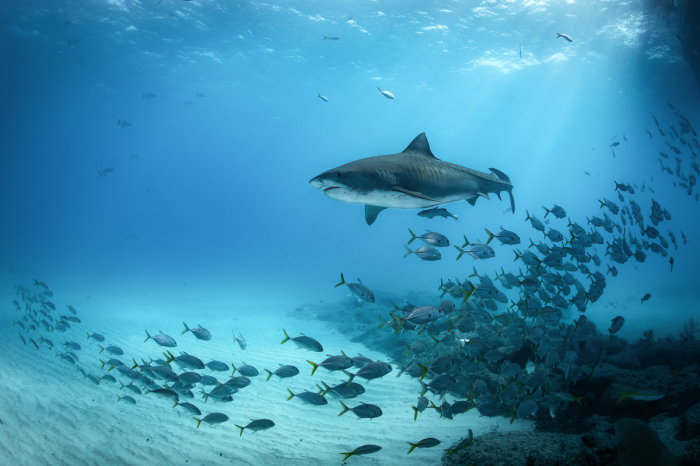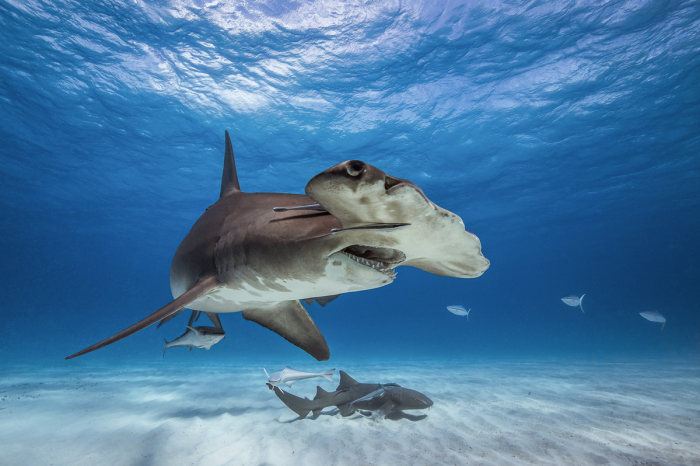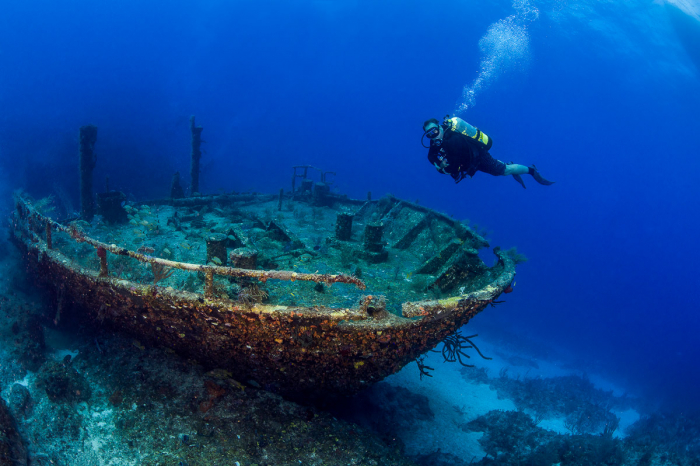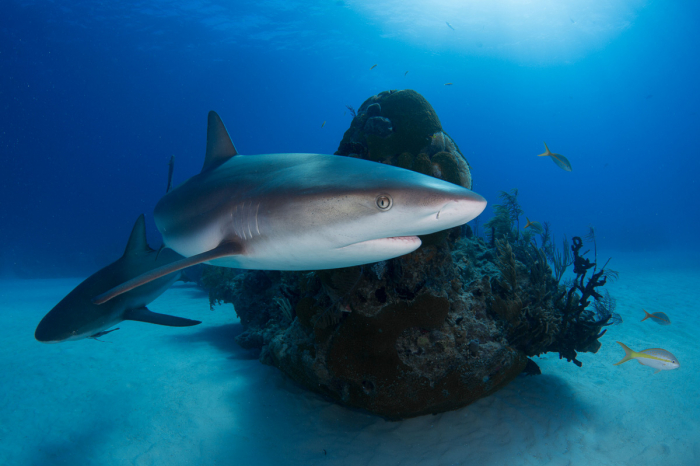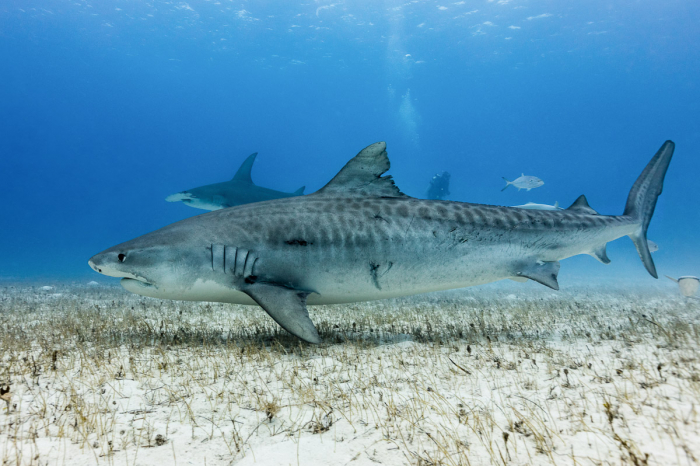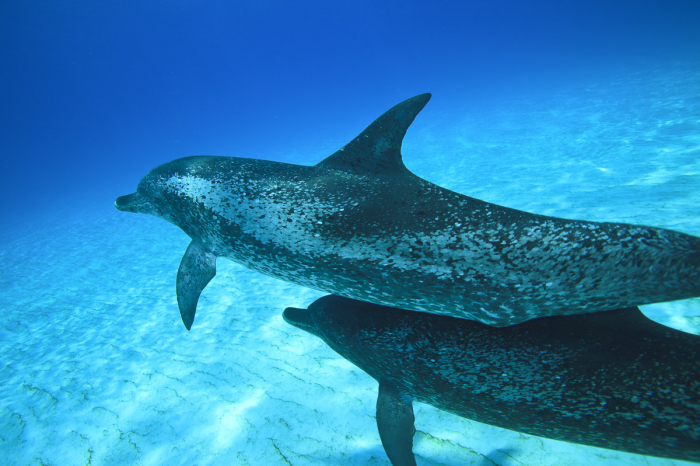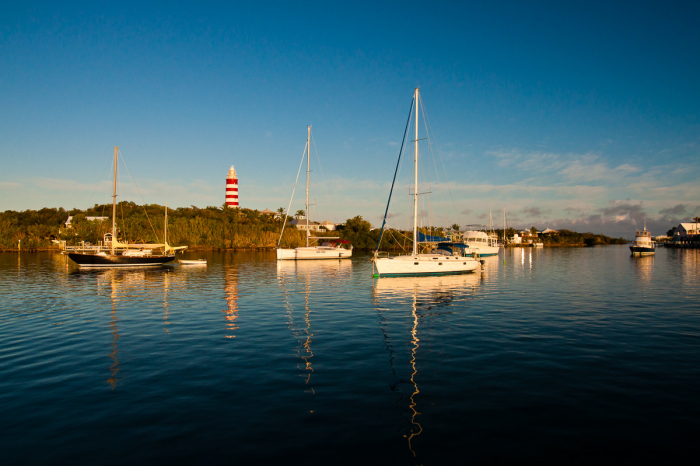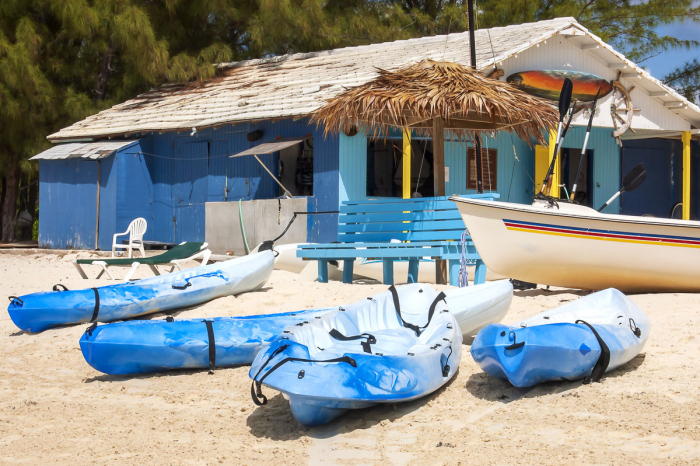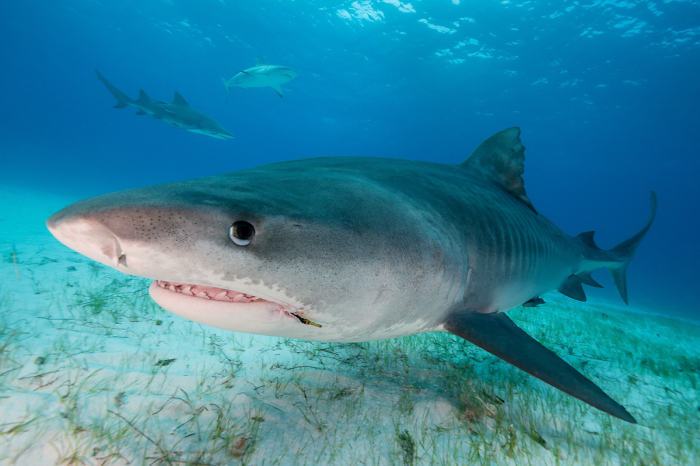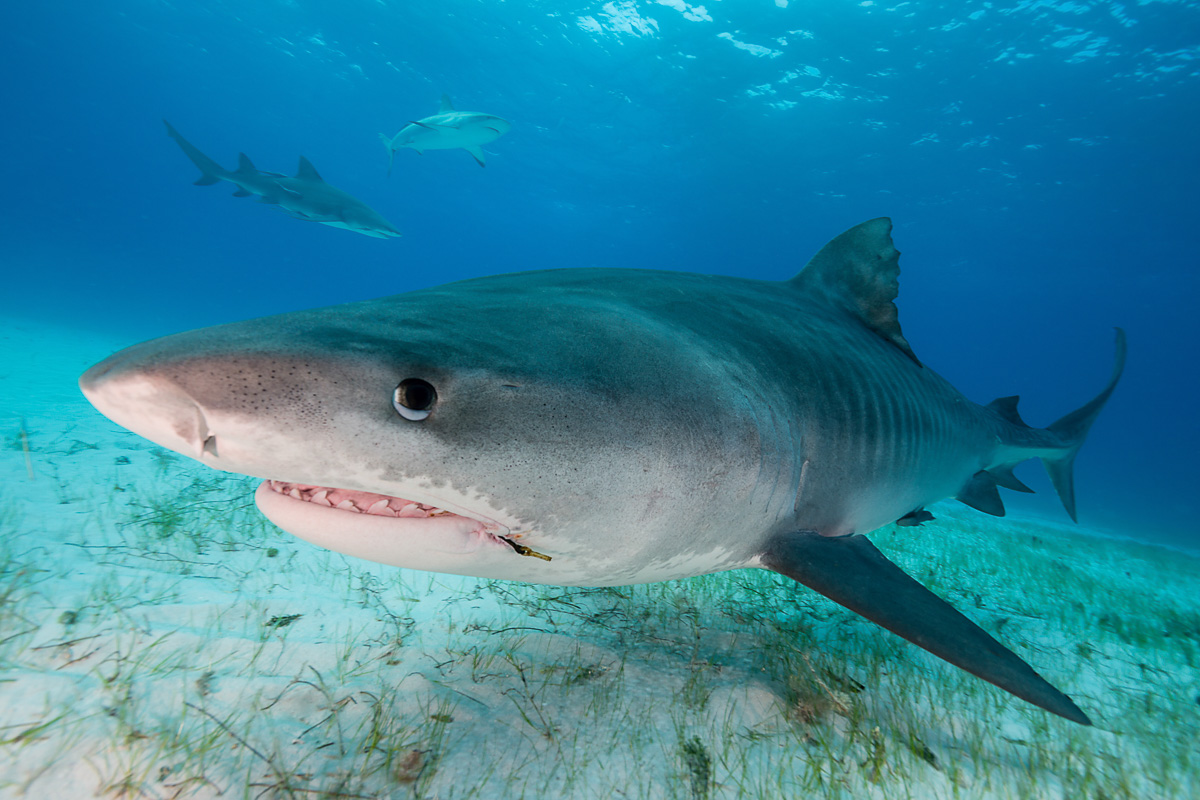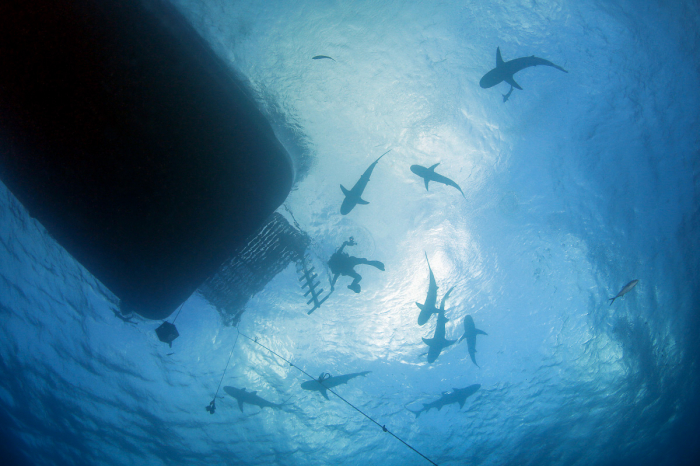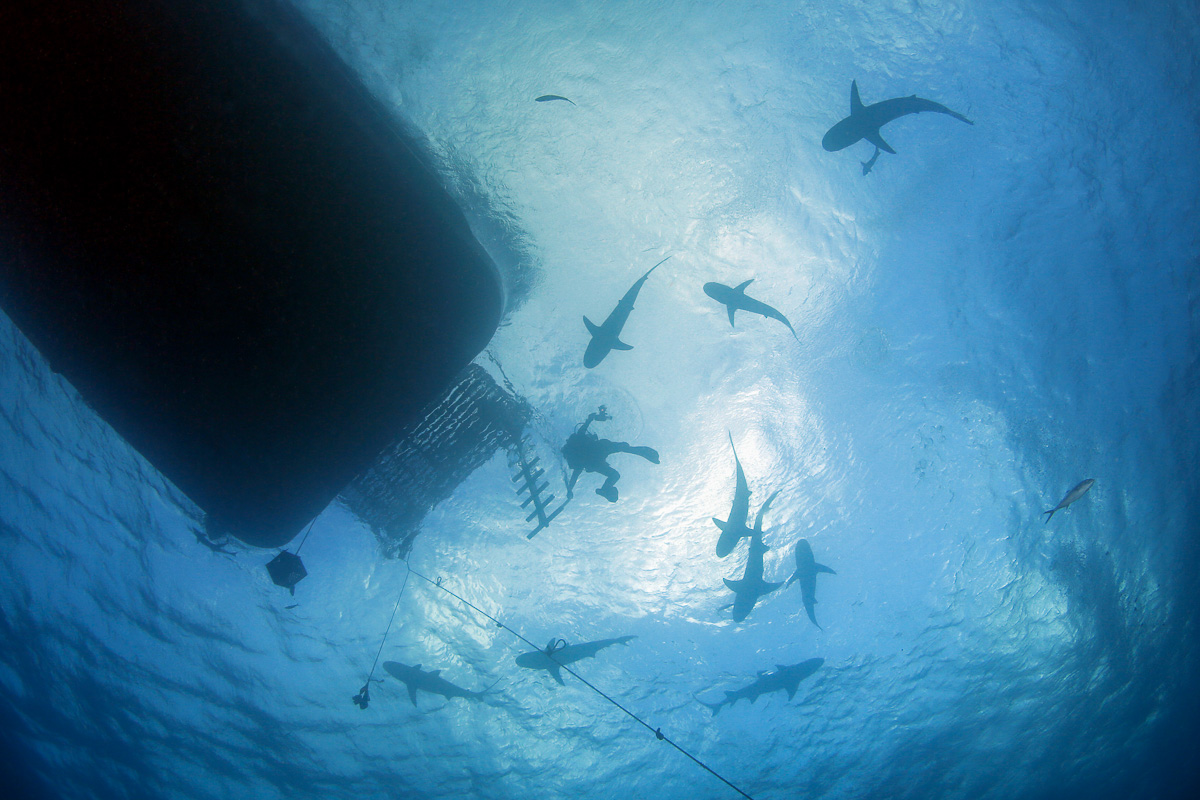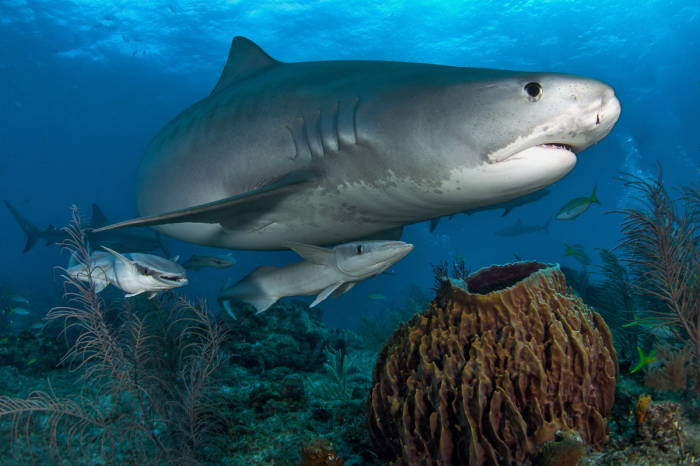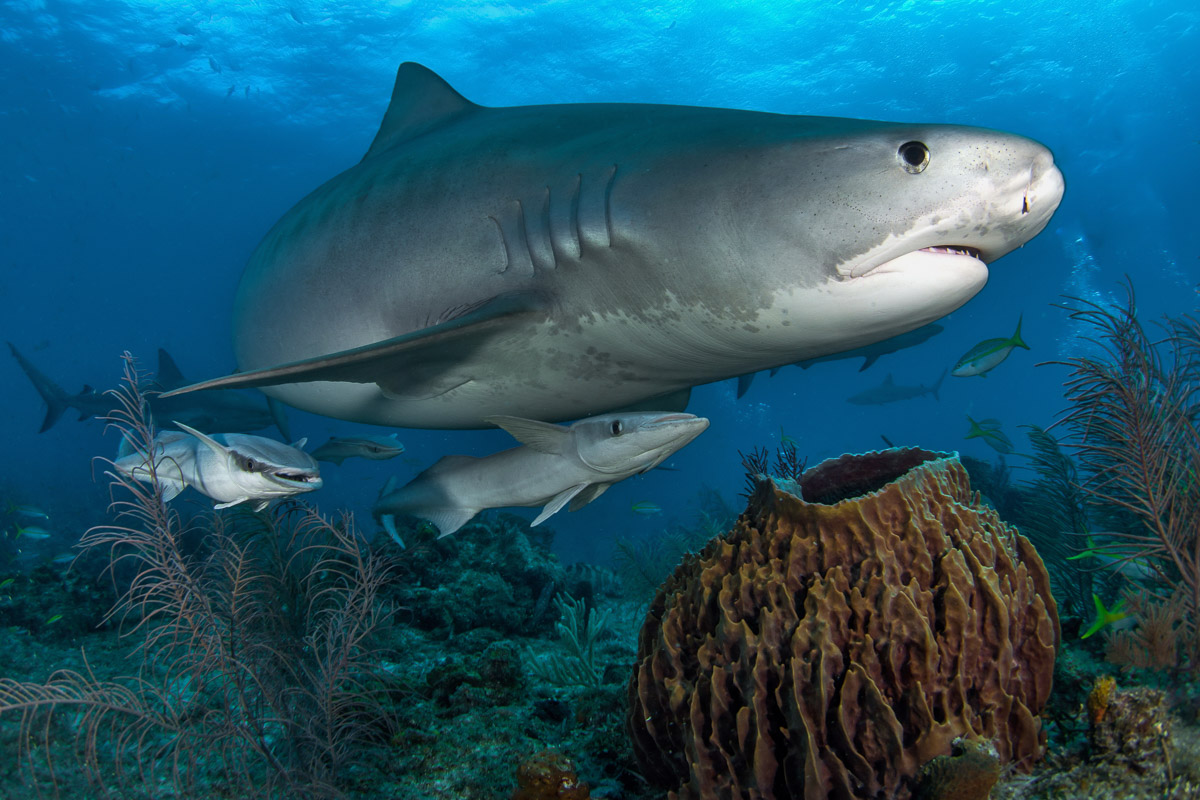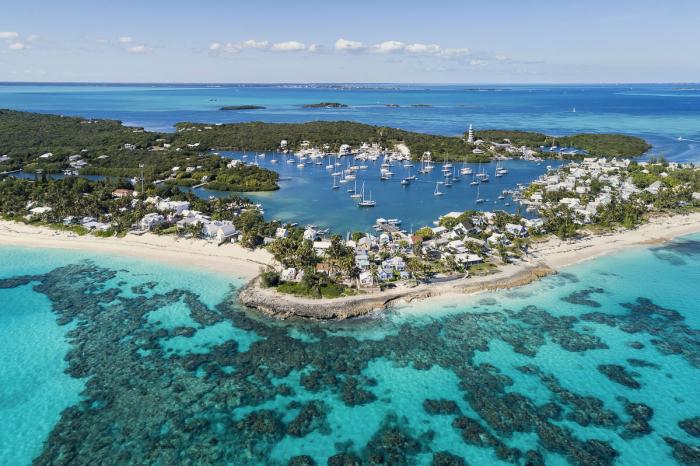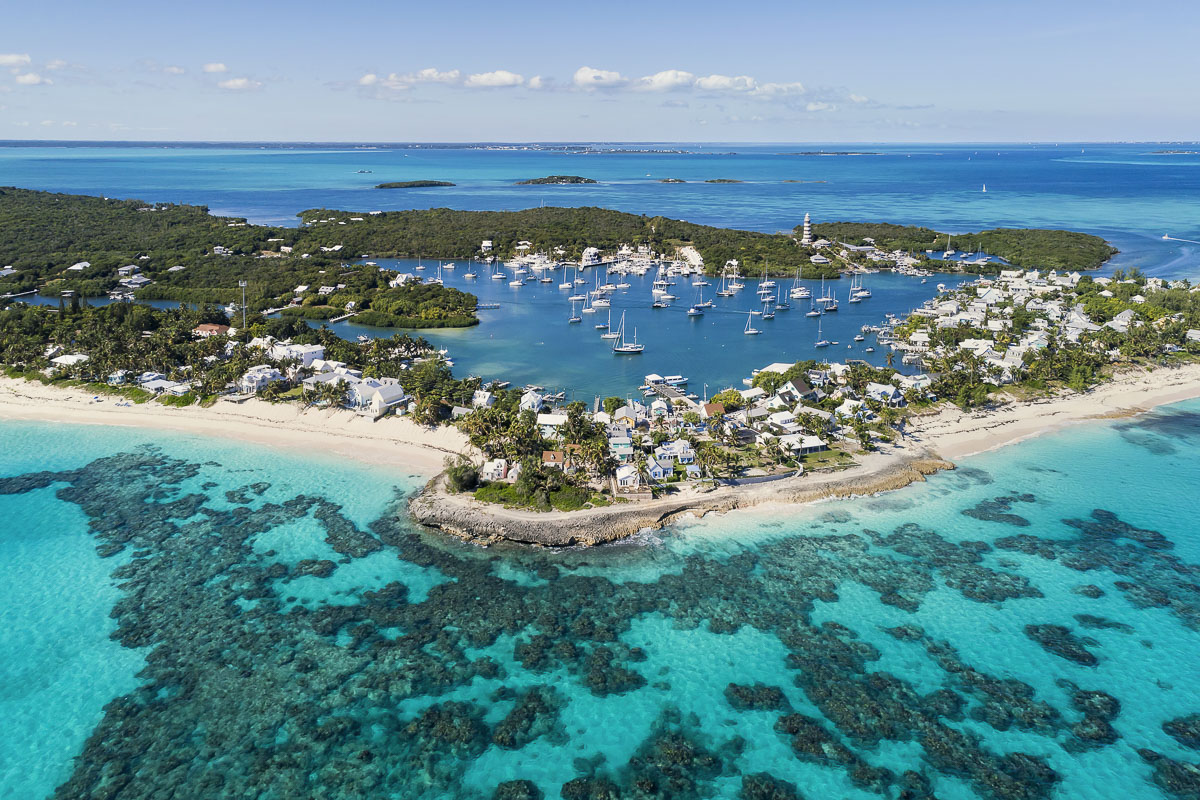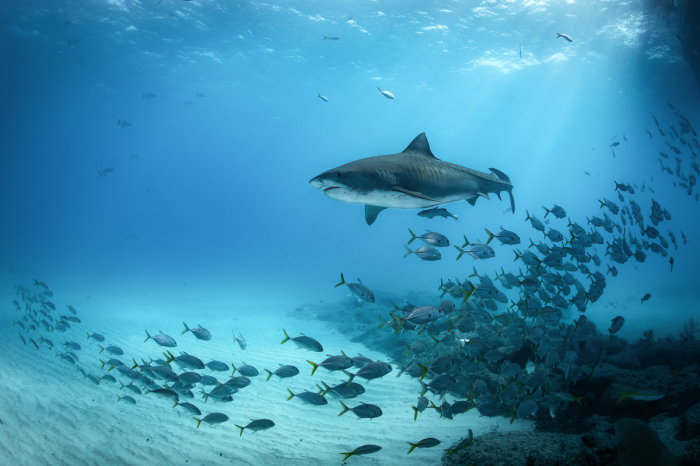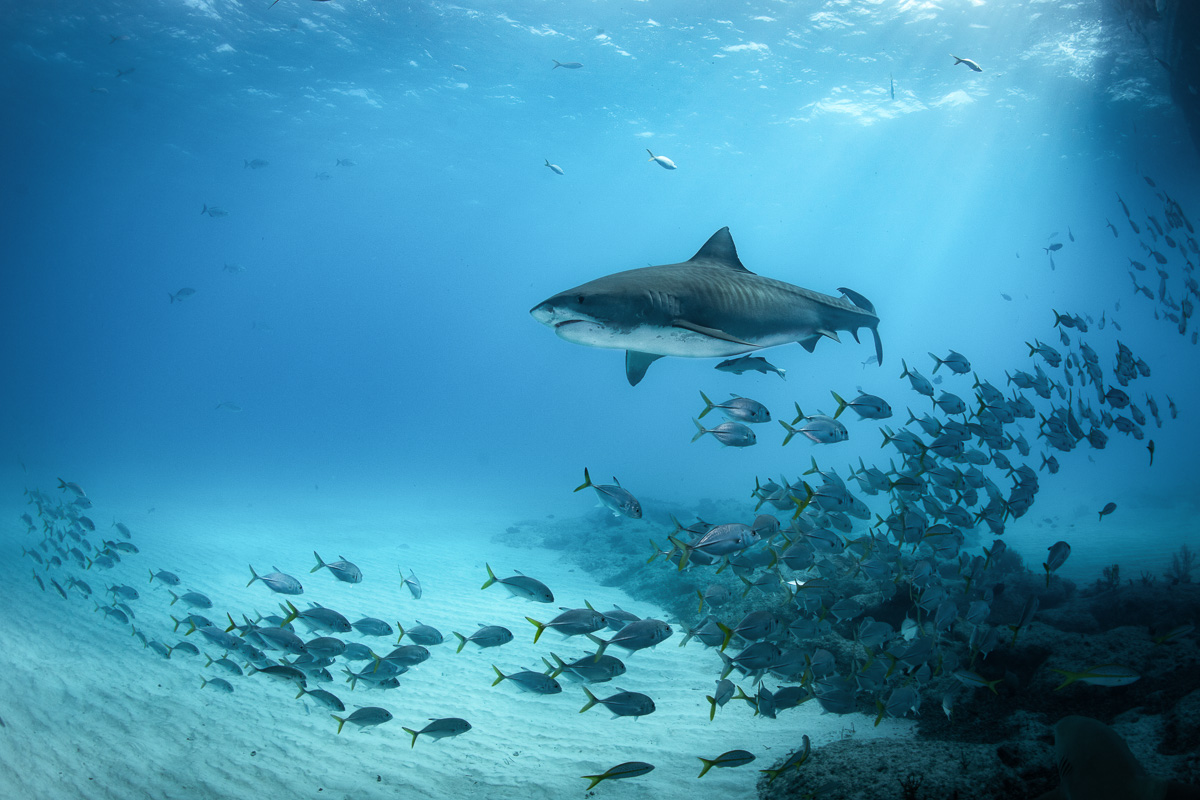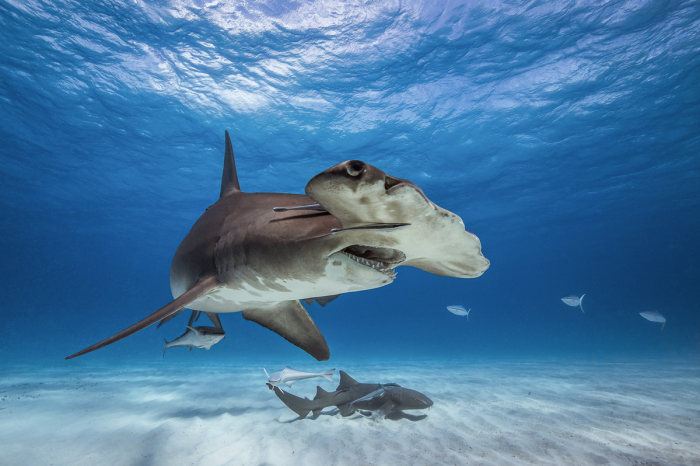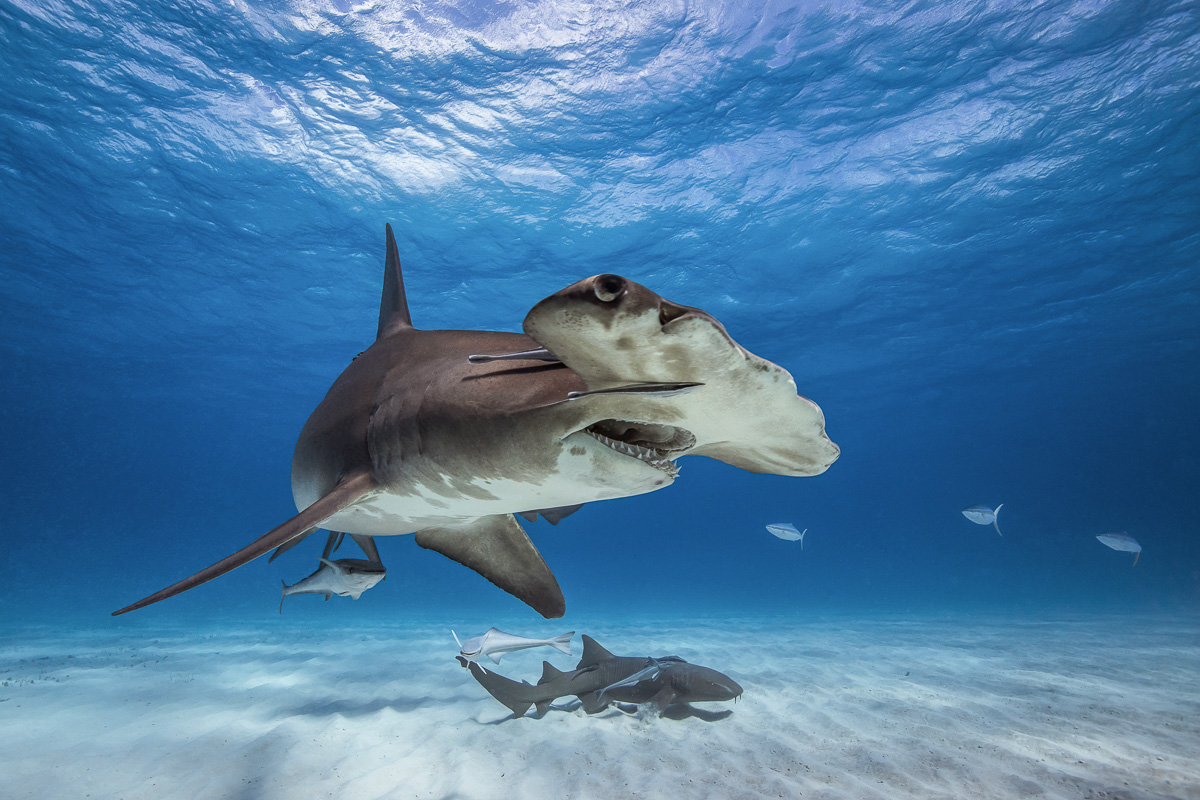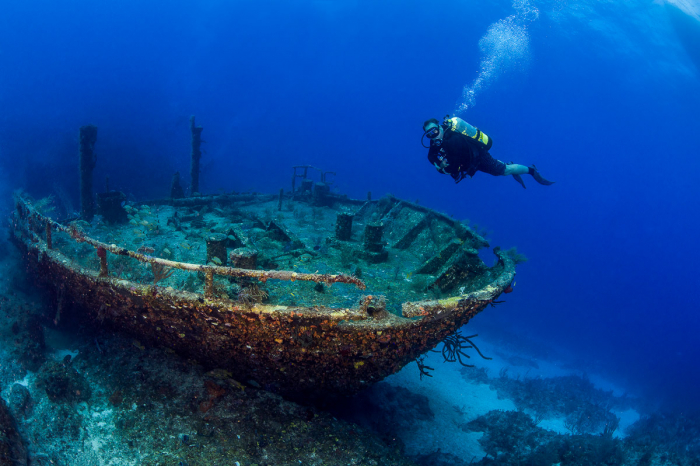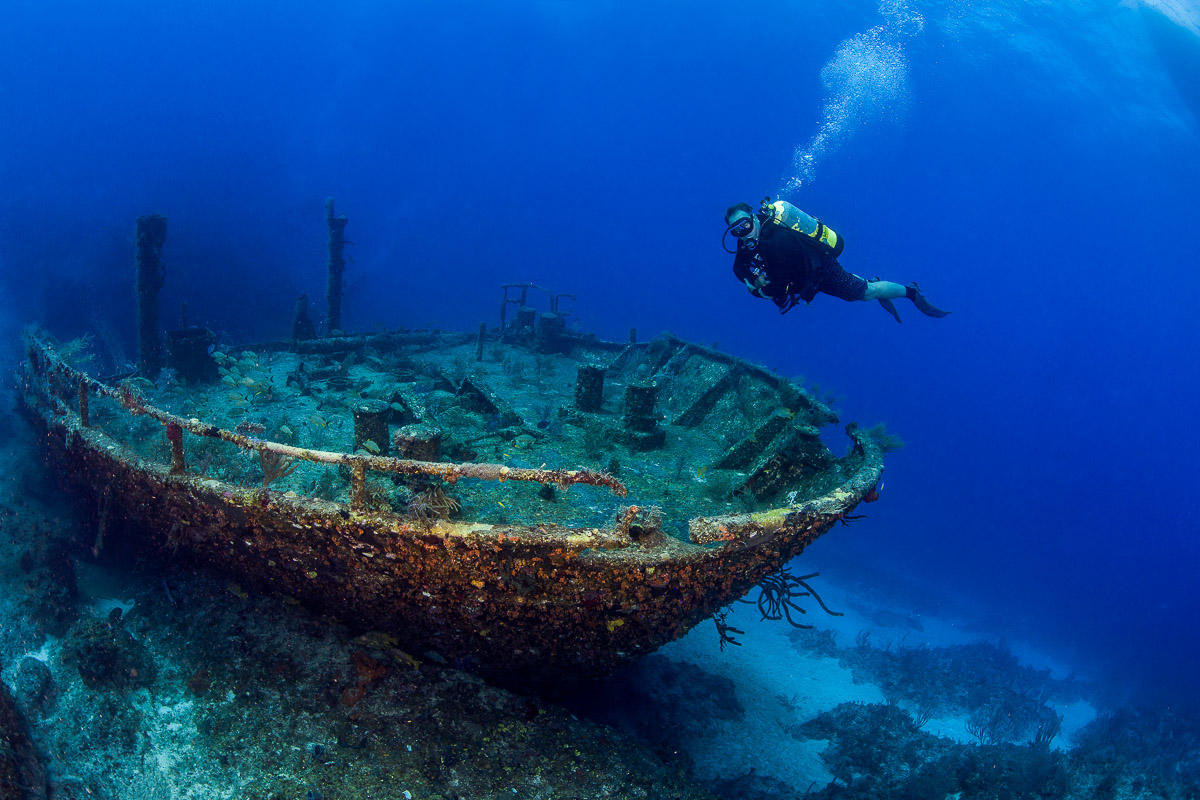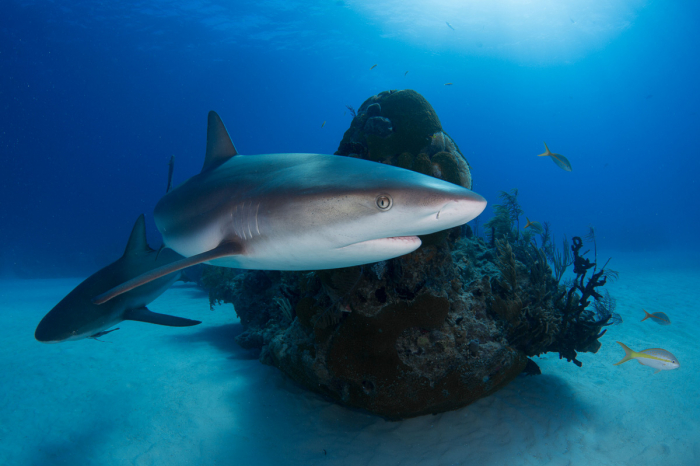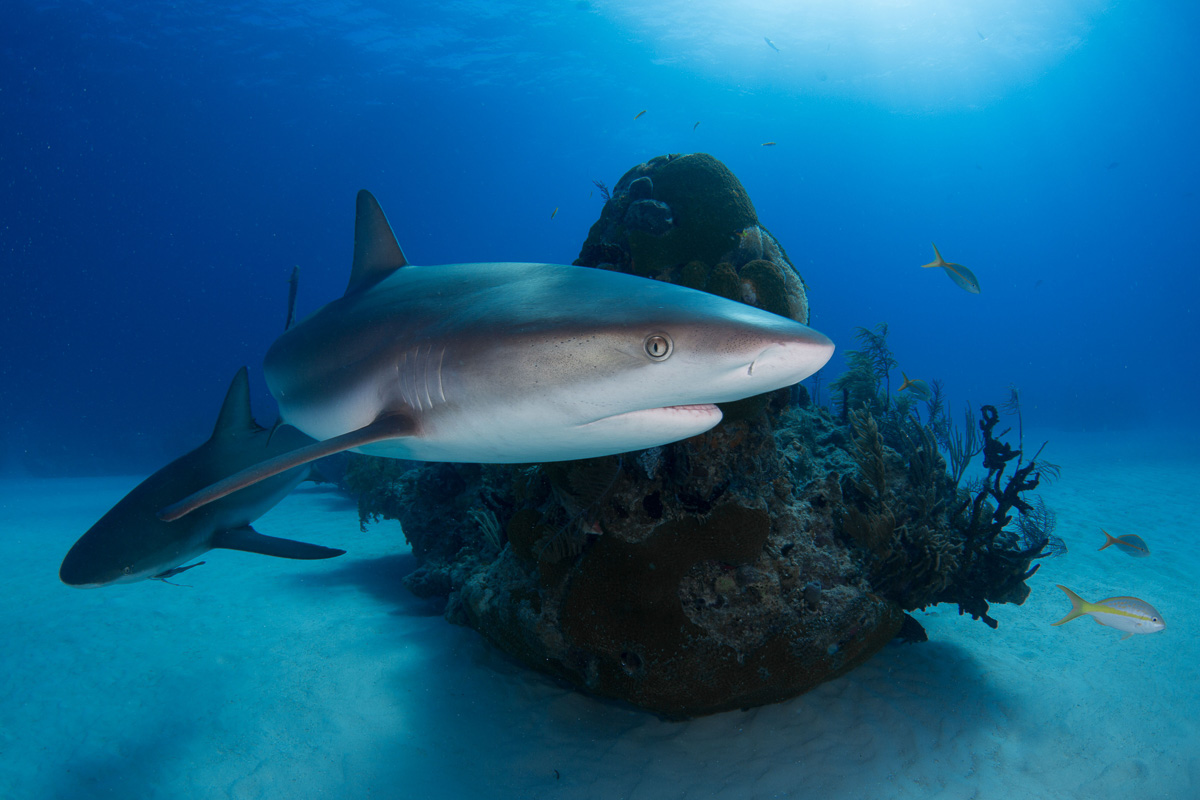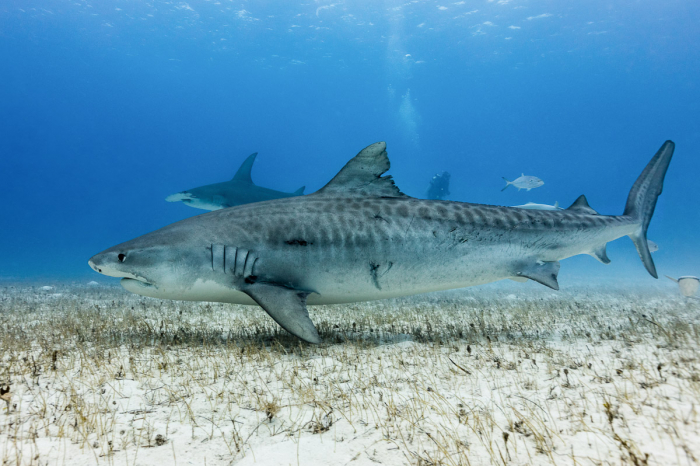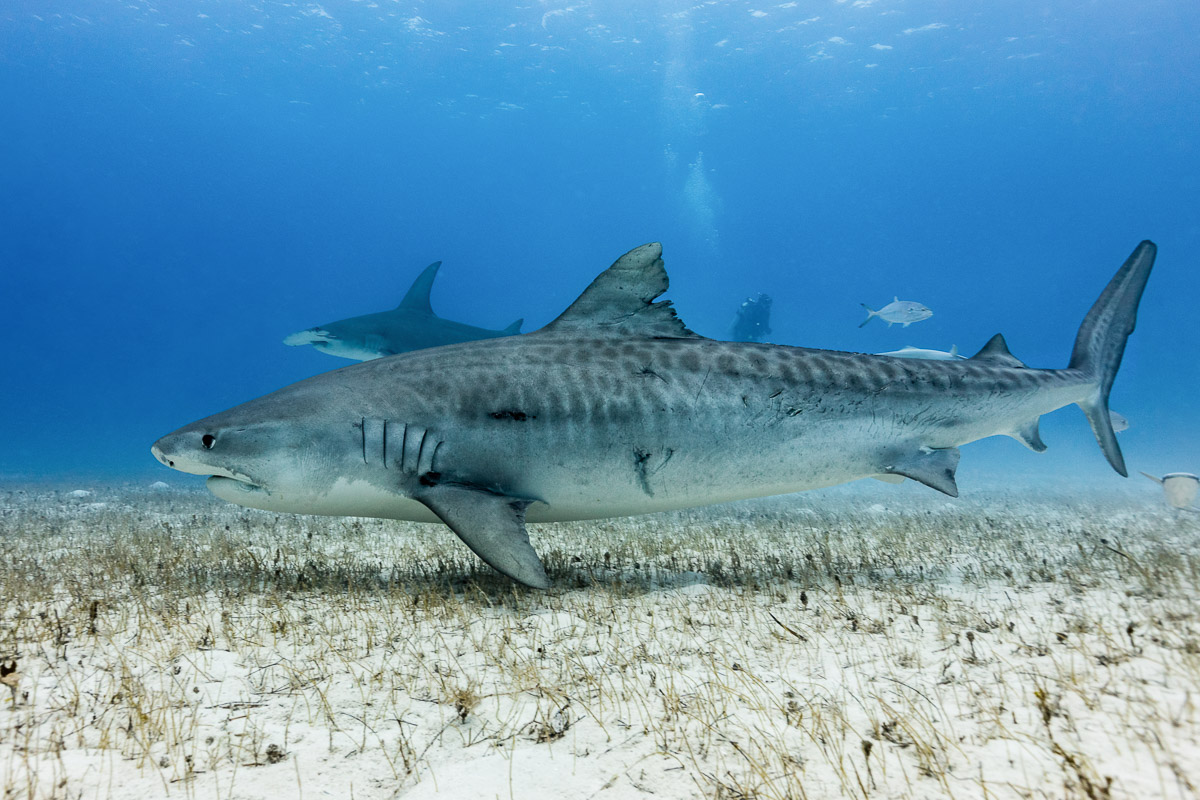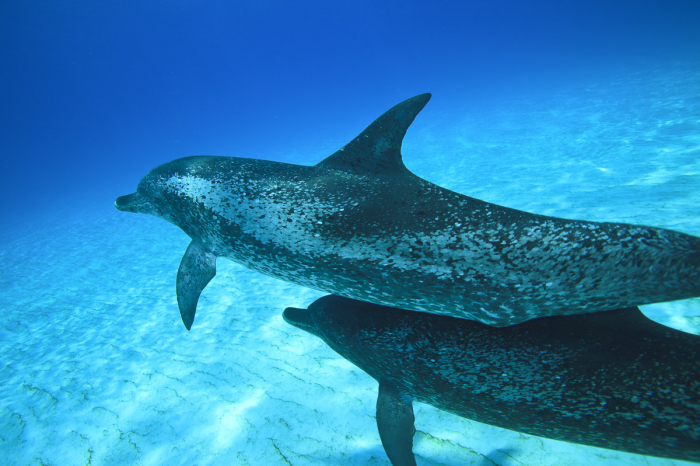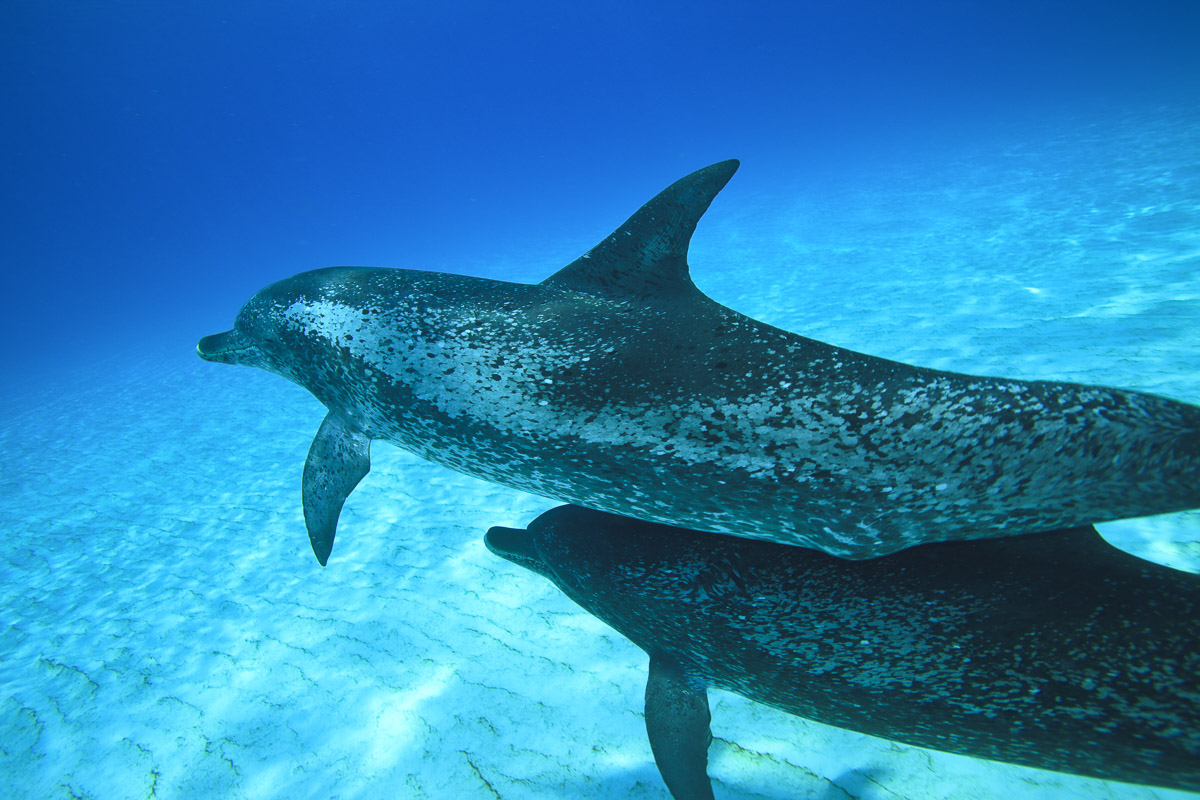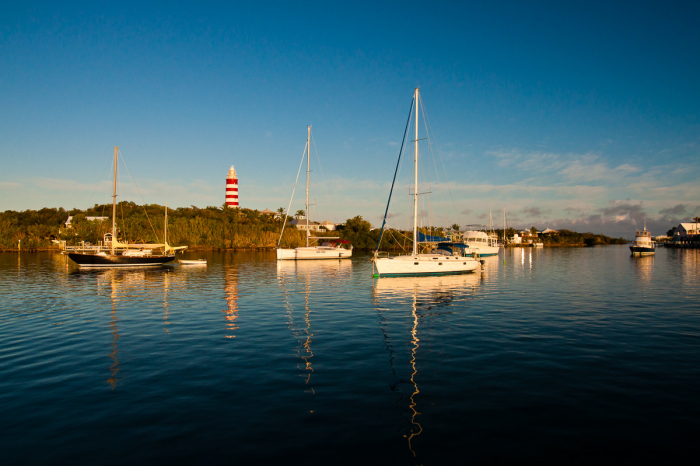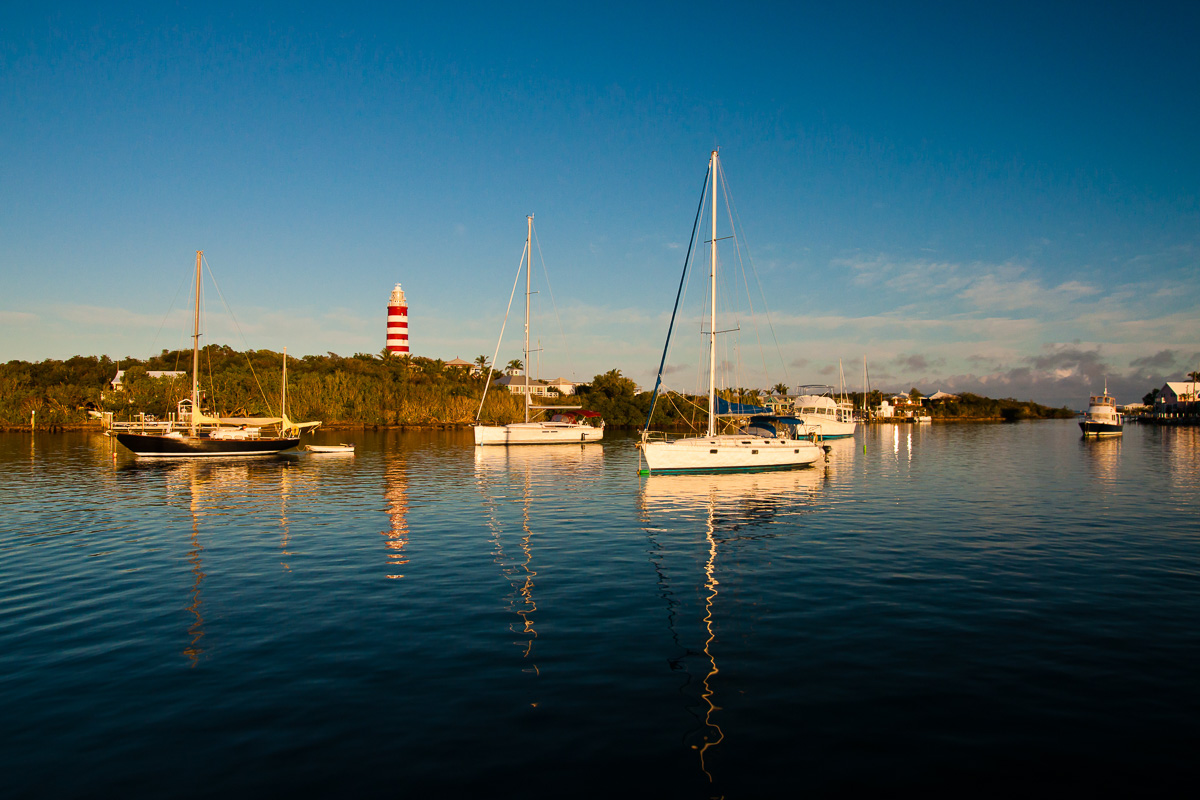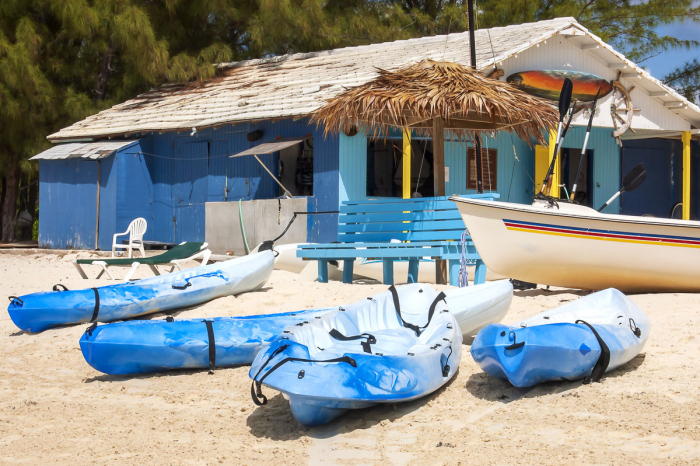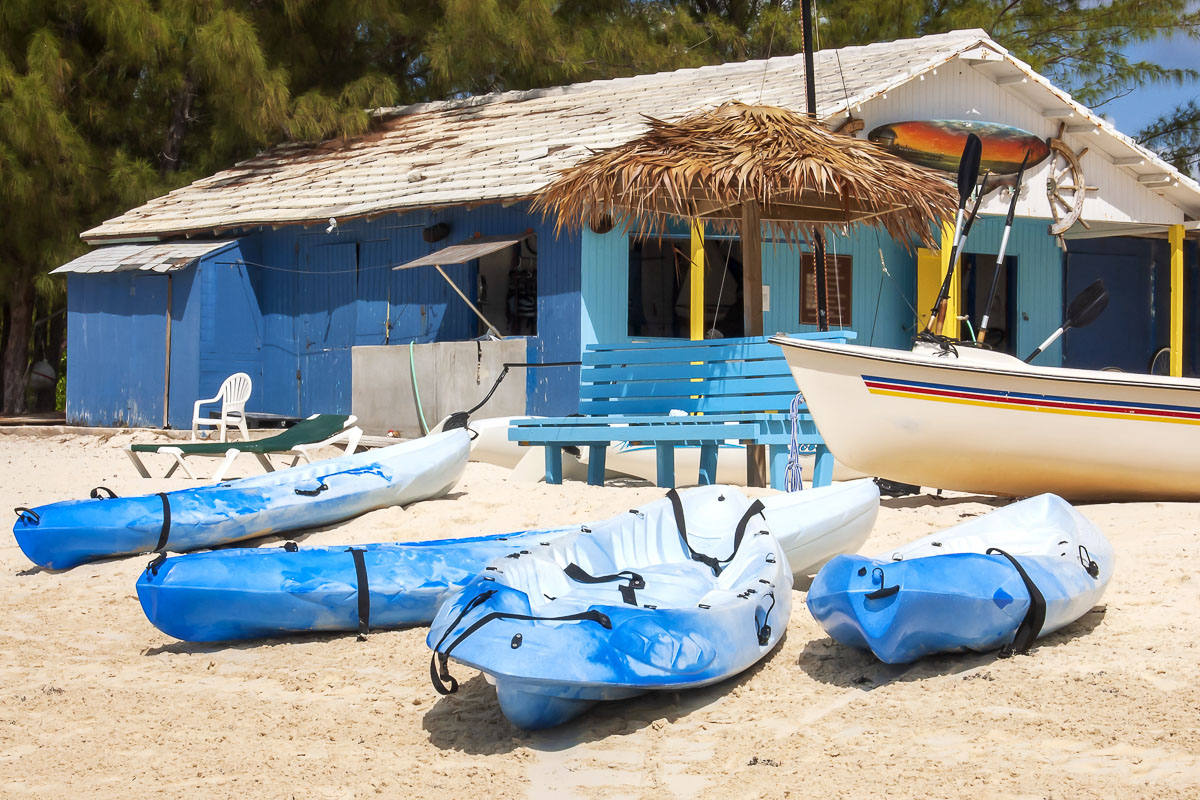 Diving Environment
Type
Sharks, reefs, wrecks
Top tips

Not a certified cave diver? Don't worry, several of the cave entrances feature large open caverns that are accessible to less qualified divers.
For the most impressive tiger shark feeding displays, visit between May and July.
Despite these islands' proximity to the US, cars and bicycles drive on the left side of the road.
Not all dolphin experiences are created equal. While some Grand Bahama dolphin tours utilise captive and trained creatures, the pods of White Sand Ridge are genuine wild animals.
About Grand Bahama and Abaco Islands
Less than 100-kilometres from Florida, Grand Bahama and the Abaco Islands provide a breathtakingly beautiful and wonderfully convenient vacation destination. And, combining one of the country's main islands, Grand Bahama, with the quieter, more romantic Abacos 'Out Islands', this northwestern corner of the Bahamas delivers plenty of choice that will satisfy every visitor. You'll find a typically colourful culture here filled with rhythmic rake 'n' scrape music, Junkanoo, and a rich diversity of traditions and beliefs drawn from native, European, and West African influences. And, in true Caribbean form, the local people are some of the most welcoming you'll ever meet, and are guaranteed to make your trip memorable.
While several tourist hotspots can be found, the region also boasts large uninhabited swathes of sand, forest and nature preserves, as well as sweeping emerald-green seas. These natural riches have long drawn visitors to Grand Bahama Island and the Abacos - providing the ultimate mix of relaxation and soft adventure. On land, visitors will find everything from charming colonial towns and countless local festivities to renowned championship golf courses. But, those who prefer the taste of saltwater will get to discover the true delights of this fishing, sailing, and scuba diving paradise.
Getting there
As the closest islands in the Bahamas to the US, getting to Grand Bahama Island and the Abacos couldn't be easier. The city of Freeport on Grand Bahama Island is connected to Miami via daily flights offered by American Airlines. Plus, both Bahamasair and Silver Airways provide daily flights from Fort Lauderdale. Visitors can also find direct flights to Great Abaco's Marsh Harbour Airport from Miami, West Palm Beach, Fort Lauderdale, and other cities. For visitors coming from elsewhere in the US, or overseas, a change-over at either Miami or Nassau will likely be required. A round-trip fast ferry service operates between Port Everglades and Freeport, and private vessels are also welcomed.
Once you arrive at your destination, there are various options for getting around, or hopping between, the islands. Flamingo Air offers several daily flights from Freeport on Grand Bahama to Marsh Harbour on Abaco, and a car-ferry service also connects these two cities. Bahamasair and Western Air Bahamas fly from Freeport to Nassau.
To get around within the islands themselves, local transport such as buses operate from 7am until around sunset, and are a great way of seeing the local way of life. Taxis can be found at hotels and other tourist areas, while private scooters and cars can be rented from the airport. Bicycles are another popular way to get around town, and many hotels will offer bicycle rental services.
Where to stay
With an enticing mix of boutique hotels and luxury resorts, as well as gorgeous beaches and championship golf courses, Grand Bahama is one of the country's most popular vacation destinations. Whether you're seeking a secluded guesthouse getaway or a lavish, all-inclusive resort, Grand Bahama Island has the ideal accommodation for you. And, with some of the friendliest local people in the world, you can guarantee exceptional customer service and personalised attention no matter where you choose to stay.
Grand Bahama Island is an adventurer's utopia, with everything from dolphin watching and eco-adventures, to jeep safaris and bike tours. Not to mention water sports such as kayaking, scuba diving, parasailing, windsurfing, and jet skiing. Those after a touch of cultural stimulation will also find ample entertainment, with the spectacular botanical garden known as the Garden of the Groves, prevalent rake 'n' scrape music, and vibrant Junkanoo festivals complete with colourful costumes, street parades, and dancing. Every June, the annual Grand Bahama Sailing Regatta is also held here, attracting a large number of visitors to the island.
Life in the Abacos Islands is distinctly slower-paced, with nature-based pastimes taking centre stage. The largest island in the chain, Great Abaco, is home to free-roaming horses and boars, as well as the namesake Abaco parrot. Protected by small barrier islands, the Sea of Abaco is a haven for sailors, snorkellers, and anglers alike, and offers plenty of seclusion and solitude with charming villages and romantic scenery.
Diving seasons and weather
As the northernmost region of the Bahamas, Grand Bahama Island and the Abacos benefit from a temperate year-round climate. There are some fluctuations in the weather, but thankfully, these generally have little effect on scuba diving. The dry season runs from November through April, offering less rain but slightly cooler weather. January and February are the coldest months, seeing average temperatures of around 20°C or more on land, and lows of about 25°C in the water.
During the rainy season, from May through October, average temperatures rise to around 30°C on land, and in the water. Thanks to the limestone composition of these islands, the rains cause little in the way of run-off, helping to maintain crystal-clear visibility throughout the year. The official hurricane season runs from June through November, although August generally has the highest chance of storms.
There are also some seasonal considerations if you're interested in seeing certain species here. Hammerheads make appearances from December to April, while March to June is the best time for spotting oceanic whitetips, and tiger sharks are most prevalent between May and July. Grouper spawn around the full moon between January and February, with May offering another period of coral and reef fish spawning. In late October and early November, it is also possible to witness the curious and captivating migration of spiny lobsters as they leave their homes and march single file into deeper, more settled water.
---
Grand Bahama and Abaco Islands liveaboards