Just a short boat ride off the coast of Cebu lies the tiny tropical paradise of Malapascua. The island is famous for its idyllic white-sand beaches, authentic environment, dining, and nightlife, and world-class scuba diving. 
But, the real attraction here lies further offshore, at remote sites such as Monad Shoal and Kimud Shoal. That's because, these submerged reefs offer reliable encounters with one of the ocean's most graceful pelagic predators, thresher sharks. 
Passive and peaceful shark encounters
Unlike many of the planet's most popular shark diving destinations, the experiences you'll have here are totally passive. You won't see any feeding, baiting, chumming, or other artificial attraction methods being used. And, the fact that the threshers would be here with or without human interaction, makes each encounter all the more mesmerising. 
During thresher shark dives, you'll be hovering out in the blue, or at a distance from the cleaning stations, so as not to disturb the sharks or the tiny cleaner wrasse that attract them. And, because thresher sharks are an extremely shy species, you'll want to avoid making a lot of commotion underwater. So, excellent buoyancy control, slow deep breathing, and dive communication without loud sounds like tank bangers are absolutely mandatory.
---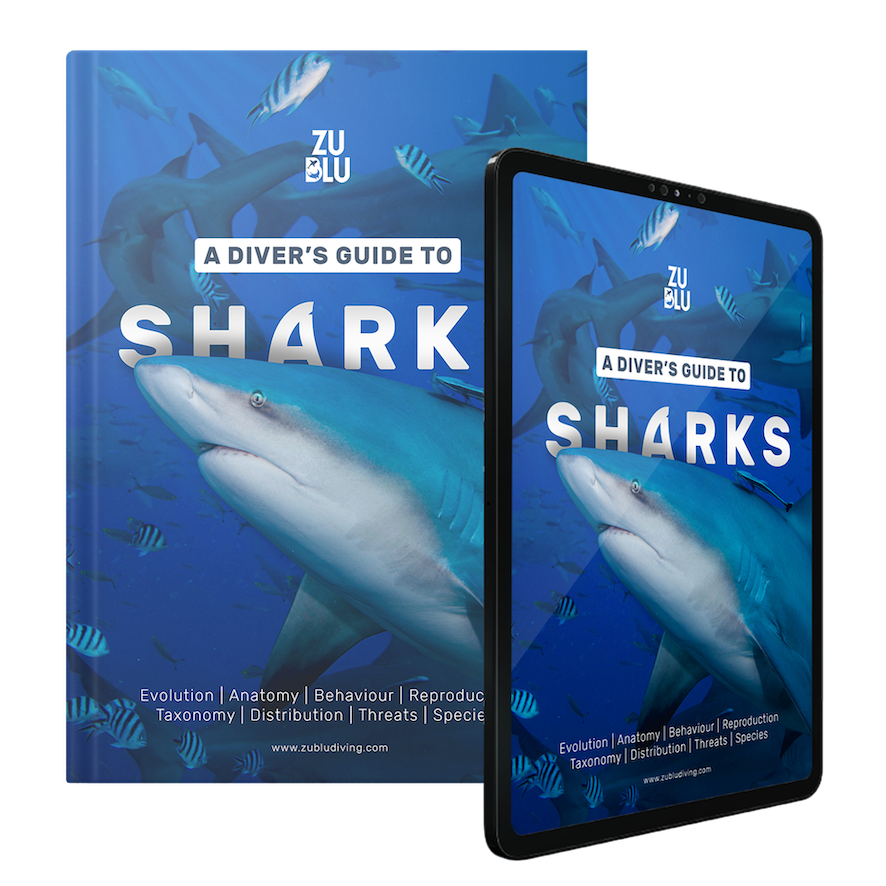 Everything you need to know about these wonderful creatures in a FREE 50 page guide. Read online or download today!
---
So what draws the thresher sharks here?
The first factor is Malapascua's proximity to deep water. Thresher sharks prefer to hunt for squid, sardines, and even juvenile tuna in the depths, coming closer to the surface only for a short time. In fact, technical divers on Malapascua have encountered threshers as deep as 100-metres, and it is believed that they venture far deeper, reaching maximum depths of 300-metres or more! Spending the majority of their lifetime in the dark has forced these sharks to evolve in interesting ways, such as developing their distinctly large eyes. 
While the threshers do spend the vast majority of their lives well below the recreational diving limits, Malapascua is one of the few places in the world where they make frequent appearances in the shallows. The sharks make these vertical migrations to visit various cleaning stations found around Kimud Shoal and Monad Shoals. At these sites, multiple species of wrasse turn up each morning, waiting to pick the sharks clean of parasites. Once they reach the cleaning stations, the threshers hover nearly motionless, waiting patiently in the queue for their personal spa treatments.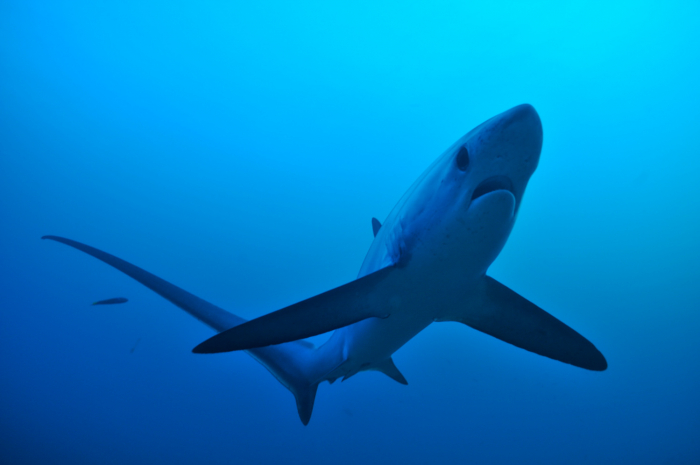 Thresher dives at Malapascua
If you're planning to dive with Malapascua's famous threshers, be prepared for an early start, as most boats depart before dawn. These sharks are extremely light-sensitive, thanks to their supersized eyes, and will retreat back into the darkness of the depths once the sun becomes too bright. For this same reason, flash photography is strictly prohibited during thresher shark dives.
Once you've taken the boat ride out to the shoals, your dive group will gear up, enter the water, and slowly descend into the inky water – and then the wait begins. Patient dive groups will be rewarded with multiple thresher sightings, and chance encounters with other cleaning station visitors, including both manta and mobula rays, and reef sharks. 
Monad Shoal or Kimud Shoal
While many know Monad Shoal as the famous thresher shark dive site of Malapascua, in recent years, nearby Kimud Shoal has revealed itself as a possible contender for the crown. In fact, some believe the threshers actually prefer this new site, possibly due to an increased presence of larger species such as hammerheads and tiger sharks around Monad Shoal.

Interestingly, these two neighbouring shoals offer slightly different experiences. At Monad Shoal, the sharks are rarely seen any shallower than 30-metres, so you'll need an advanced open water certification to join these dives. Kimud Shoal is slightly shallower in comparison, but is still a tricky site, meaning open water divers may be able to take part but should still be accompanied by an instructor.

In the past, just one thresher shark dive was offered each day at Monad Shoal, due to the advanced depths and the tendency for the sharks to disappear at first light. However, at the newer site of Kimud Shoal, the threshers tend to spend more time in the shallows, opening up the opportunity for a second dive.
Ready to start planning your trip to Malapascua?
Search, compare, and book from our hand-picked resorts
Science and conservation
Since 2014, the Thresher Research and Conservation Project has been studying Malapascua's sharks, with the goal of better understanding the species and protecting its future in the Philippines. These researchers were among the first scientists to document the threshers' relationship to cleaner wrasse, helping to predict where and when the most reliable sightings might take place. 
This organisation is currently working with dive centres on the island to help document individual shark sightings and track migratory movements. They also aim to learn about some of the threshers' most fascinating behaviours, including stunning prey with a powerful slap of their tails and breaching out of the water – with some sharks observed jumping metres into the air. 
Ready to get involved in citizen science and research?
Search from our ecoventure partners and make your next holiday count
Exploring Malapascua
Apart from incredible and nearly guaranteed close encounters with thresher sharks, the diving around Malapascua is simply sublime. You'll have a chance to explore stunning reefs encrusted in hard and soft coral, penetrate shipwrecks, observe and photograph mating mandarinfish, or even try your hand at technical diving. Other offshore sites, like Gato Island, are famous for their swim-throughs and caverns, cool macro creatures, and opportunities to observe multiple shark species.
This is a year-round destination, with peak tourist season falling between December and April. The island enjoys excellent visibility and warm water no matter when you plan to visit. And, thanks to the island's thriving reefs and cleaning stations, thresher sharks can be spotted here 365 days a year.
Malapascua's best resorts for thresher shark dives
Almost all resorts in Malapascua offers its own dawn thresher shark dives. But, which shop you choose can have a major impact on your experience! Keep reading for a quick rundown of our favourite operators.
Evolution Dive Resort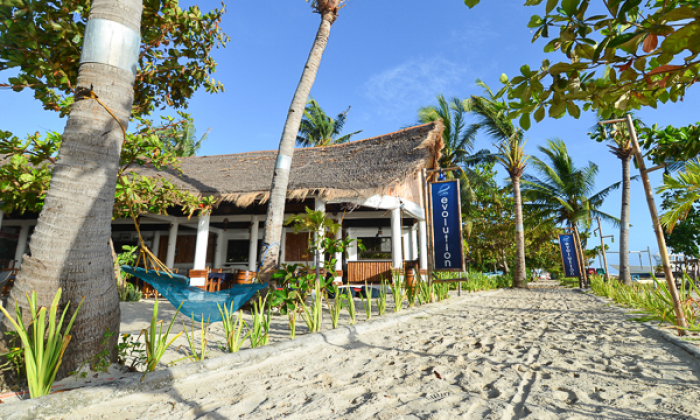 This small, friendly, beachfront dive resort offers a relaxed atmosphere, comfortable rooms, and an Irish pub – all centred around a social courtyard. Evolution boasts outstanding facilities for scuba divers as well, with top-notch rental gear, a modern camera care station, and all kinds of cool tech gadgets. This is one of Malapascua's most sustainable dive centres, earning a place among Green Fins' top ten operators. Their highly-skilled team also offers a variety of diving services taking guests deeper – ideal for spotting thresher sharks, who are commonly spotted below the recreational diving limits.
Devocean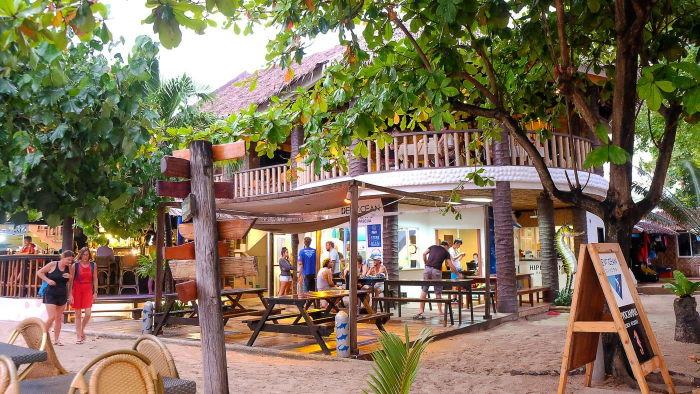 Tranquil tropical gardens, quiet and spacious guest rooms, and a fun family-style setting make this an outstanding option for all types of travellers. By day, you'll enjoy sparkling white sand and swaying palms, and a perfectly manicured property ideal for deep relaxation. After dark, Devocean transforms, hosting live music at the beach bar, and offering a delicious selection of global cuisine and tropical cocktails. Devocean is one of the island's best options for scuba students, with excellent facilities for starting or continuing your underwater education, and small course sizes, often with one-on-one instruction. 

Exotic Island Resort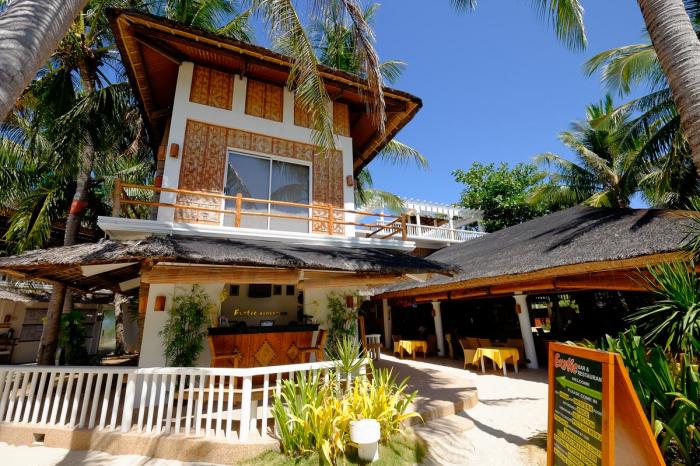 Exotic Island Resort is Malapascua's longest-running dive centre, and its team was the first to discover the island's legendary thresher sharks. For visitors, this adds up to unparalleled local knowledge and seamless diving service from a passionate team, plus excellent facilities with all that you'll need to make the most of your time in the water. When you aren't out exploring, Exotic Island Resort's facilities make it an ideal place for rest and relaxation - with surprisingly spacious and bright rooms, an on-site day spa, and delicious dining from a highly acclaimed international restaurant, and delicious coffee from the island's top reviewed cafe.
Ocean Vida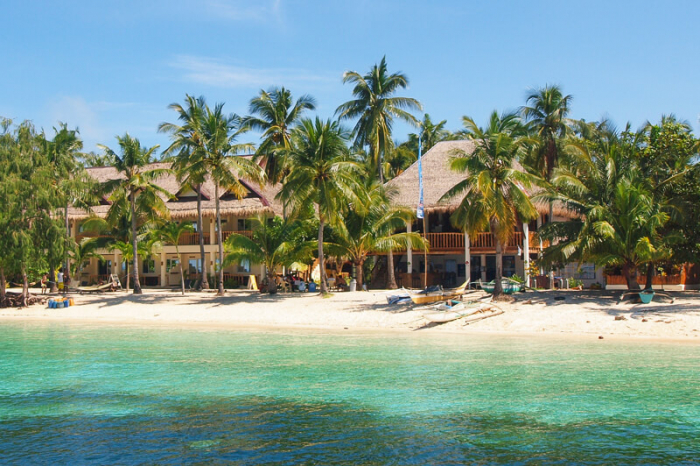 Perched on the stunning white sand of Bounty Beach, Ocean Vida aims to refresh the mind, body, and soul – with tranquil areas for relaxation, soothing spa services, delicious and healthy dining options, and daily yoga classes. Plus, this resort's modern and relaxing guest rooms guarantee plenty of privacy and individual terraces with views of the sparkling turquoise sea. Divers at Ocean Vida will benefit from over 30 years of local experience, enjoying high international standards for safety and fun, and seamless customer service both above and below water. This resort offers romantic couples packages, perfect for dedicated divers in love. 
---
Ready to book your dive holiday to Malapascua
Contact one of our dive travel experts today

---
---
Join the ZuBlu community to receive the latest insights and unmissable adventures
Don't worry, we'll only send you really good stuff - and we never share your details
---