When you think of scuba diving, what comes to mind? If it's warm, clear water, calm conditions, and light filled coral gardens, then the Caribbean might be calling! 
The Caribbean boasts beginner-friendly underwater experiences, incredible marine life, and a huge diversity of dive sites - from shore dives and plunging walls, to wrecks and thrilling shark encounters. You can also witness surprising marine megafauna migrations, explore fascinating limestone formations and even learn to dive with some of the most affordable options for scuba certification in the world.
Keep reading to discover the best diving destinations in the Caribbean, plus details of the can't miss dive sites, handpicked by ZuBlu's pro team of travel experts.
The Bahamas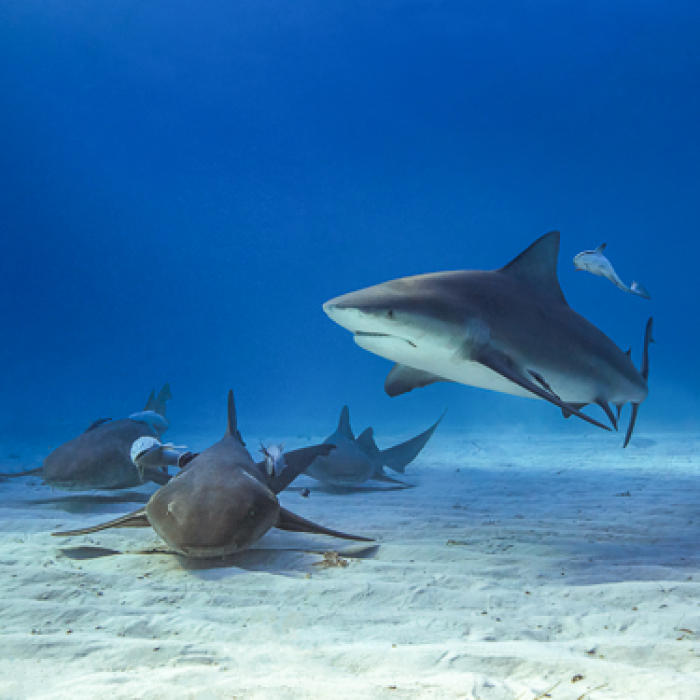 Famous for crystal clear water, sharks, and shipwrecks, the Bahamas is a dive destination in a class of its own! This chain of pristine islands boasts some of the most impressive underwater experiences in the Caribbean, alongside bull and tiger sharks, great hammerheads, and playful pods of dolphins. You'll also have a chance to explore over 30 wrecks, some made famous by the James Bond films of the 1970s, and fascinating limestone formations including caverns and blue holes.
Diving in the Bahamas isn't solely focused on action-packed adventure, though. Visitors can also enjoy laid-back reef exploration amid shallow, light-filled coral gardens and gentle currents clouded by colourful fish. The snorkelling is fantastic here, too, with plenty to see from the surface, including thriving reefs, sea turtles, southern stingrays, and nurse sharks. Plus, a chance to swim with the famous swimming wild pigs!
Highlights: Sharks, dolphins, wrecks
Top Dive Sites
Tiger Beach
Just off the coast of Grand Bahama, this site is famous for its close encounters with tiger sharks, lemon sharks, nurse sharks, and Caribbean reef sharks. Descend and kneel near the frozen-fish filled box with your camera at the ready - you never know what pelagic predators might turn up!
Lost Blue Hole
This collapsed limestone cavern found off the coast of Nassau drops vertically into the abyss, with massive stalactites all the way down. Explore just outside the blue hole to discover turtle grass beds teeming with macro critters, napping nurse sharks and loggerhead turtles. A seasonal aggregation of silky sharks also takes place here.
North Bimini
Divers on these featureless sand flats descend and kneel on the bottom, with a bait box and professional shark handlers nearby. Then, wait patiently for Bimini's famous hammerheads to appear. Pods of surprisingly friendly wild dolphins are also common around Bimini, often approaching dive groups for a closer look.
Explore the Bahamas
Search, compare and book from our hand-picked liveaboards
Mexico's Yucatan Coast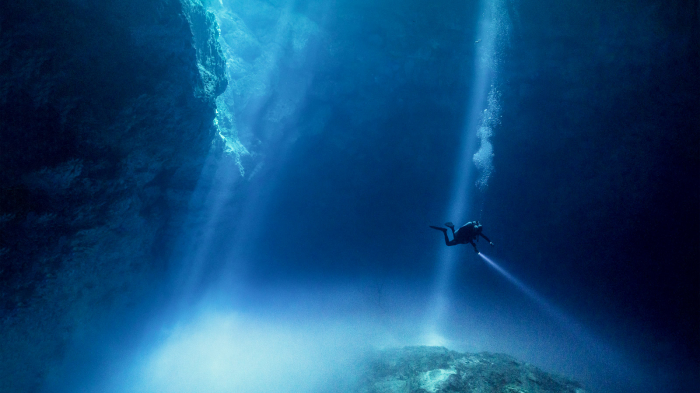 A true tropical paradise for divers, Mexico's Yucatan Peninsula offers a bit of something for everyone. Explore sprawling coral reefs and steep walls in search of sharks and rays, dive deep below the jungle in cenotes, or head far offshore to remote frontier diving destinations that are still well off the typical tourist radar. Simply put, this single destination has it all!
Besides these exciting and adventurous diving areas, the Yucatan also offers plenty of calm and shallow sites ideal for scuba students. This region also makes for an excellent classroom thanks to a large number of well-established dive centres boasting world-class facilities and highly experienced crews. And, with dive sites just minutes from the beach, miles offshore and, in the case of cenotes, even inland, you'll find outstanding sites and conditions year round.
Highlights: Cenotes, sharks of all kinds
Top Dive Sites
Banco Chinchorro
Located several hours offshore in the far south of Mexico, this remote biosphere is home to some of the very best diving in the Caribbean. Cruise the shallows in search of reef sharks and eagle rays and explore the mangroves and turtle grass beds where lucky visitors can come face to face with small saltwater crocodiles.
Santa Rosa Wall
Minutes from Cozumel's coast, this plummeting wall is one of the Yucatan's easiest to reach. It's also one of the most picturesque, boasting kilometres of hard and soft coral. Starting in the shallows, its dizzying drop-off plunges quickly to several hundred metres, making it a great place to spot passing pelagics. 
Dos Ojos
This secluded park, found deep in Tulum's jungle, is home to five cenotes. Dos Ojos, the park's signature sinkhole, is suitable for all skill levels, including snorkelers, while El Pit, the most impressive cenote in the area, boasts a vertical drop to 30 metres where hydrogen sulfate clouds obscure its depths.

Holbox and Contoy
These small islands north of Isla Mujeres are home to one of the planet's largest seasonal aggregations of whale sharks, gathering each year between March and May. Thanks to strict environmental protection, snorkelling groups are kept small here and only permitted to approach each animal for a limited amount of time while keeping a respectful distance.
Explore Mexico's Yucatan Peninsular
Search, compare and book from our hand-picked resorts
Belize
Belize is one of the Caribbean's classic dive destinations, and for a good reason. This tiny nation boasts unparalleled access to the Great Mesoamerican Reef, the planet's second longest barrier reef system, famous for flourishing coral gardens and fantastic marine wildlife, including sea turtles, sharks, and rays. You'll also encounter plunging walls dropping off into hundreds of metres of open ocean - ideal for spotting pelagics. 
But, Belize isn't just a reef diving destination. Despite its small size, the coast claims a wide variety of aquatic environments, including mangrove forests, seagrass beds, sand flats, and three of the four known coral atolls in the Western Hemisphere. This is also where you'll find the Great Blue Hole, one of the world's most breathtaking limestone formations, offering once-in-a-lifetime opportunities for adventurous exploration.
Highlights: Blue Hole, whale sharks
Top Dive Sites
Hol Chan Marine Reserve
Found close to Ambergris Caye and Caye Caulker, this is Belize's oldest marine park, and home to the world-famous Shark Ray Alley. Here, nurse sharks and Southern stingrays gather in great numbers, often joined by vast schools of bait fish. Hol Chan also boasts some of the country's most pristine coral gardens.
The Great Blue Hole
This limestone sinkhole at the edge of the Lighthouse Atoll is one of the planet's most famous dive sites thanks to its striking appearance. Explore the depths to discover fascinating submerged formations, but don't forget to look up as sharks commonly cruise the blue hole's perimeter.
Glover's Atoll
Found 45 kilometres off Belize's southern coast, Glover's is the least visited of the country's coral atolls. Incredible coral cover, near-vertical drop-offs, and close encounters with marine wildlife in all shapes and sizes can be expected here. Plus, you'll likely have the very best sites all to yourself with hardly another dive group in sight!
Gladden Spit
Each year between March and June, hundreds of whale sharks gather in these waters, off the coast of Placencia to feed on the spawn of Cubera snapper and other reef fish. Grab a mask and a snorkel and hop in to watch these gentle giants cruise slowly in the shallows, mouths agape and filtering vast quantities of seawater.
Explore Belize
Search, compare and book from our hand-picked resorts
The Bay Islands of Honduras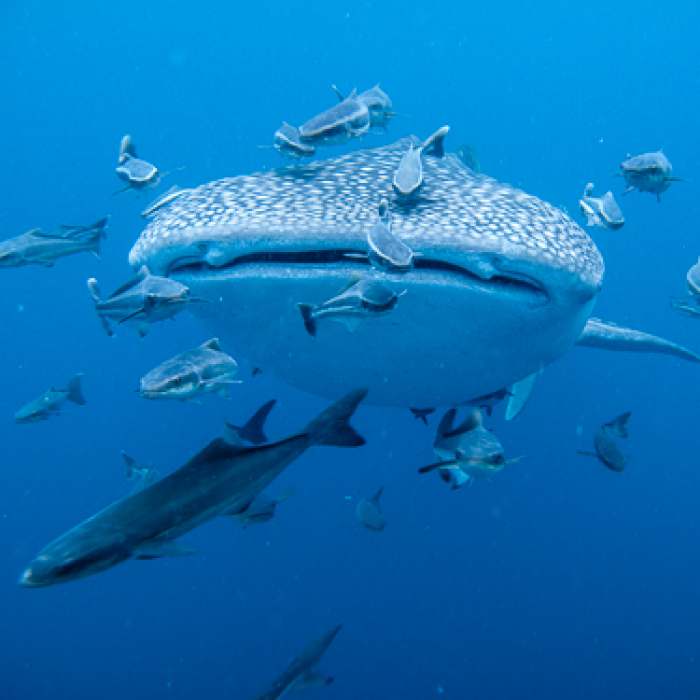 Some of the very best scuba diving in the Caribbean can be found in the Bay Islands of Honduras - Utila, Roatan, Guanaja, and Cayos Cochinos. While each of the islands has its own distinctly different personality, they all share a few key things in common - fantastic conditions and easy access to the biggest fish in the sea.
Honduras is also among the planet's most affordable and popular places to get scuba certified. Students can choose from a large number of well-established dive centres, with a range of courses running from beginner to pro. The islands also boast a wide variety of reefs and walls, some just minutes from the shore, plus protected marine parks teeming with marine life like sea turtles and nurse sharks. And of course, there's the whale sharks that can be encountered year round at Utila in particular.
Highlights: Learning, affordable, whale sharks
Top Dive Sites
Dolphin's Den
This labyrinth of tunnels on Roatan's northern coast leads beneath the coral to numerous secret caverns, one of which was the final resting place for several dolphins who presumably got lost in the maze. Finish your dive at the reef's edge, peering out into the blue where friendly pods often pass by.
Black Hills
This remote seamount is one of Utila's most famous sites for spotting whale sharks. You'll begin at depth, slowly working your way up and around as you explore this submerged mountain, clouded by colourful fish. Keep an eye out for napping nurse sharks, free swimming morays, and sea turtles, too.
Cayos Cochinos
With over a dozen dive sites in total, this seldom-visited area between Roatan and mainland Honduras offers some of the country's finest diving. You'll explore flourishing reefs and dizzying drop-offs, known for reef and lemon sharks, giant loggerhead turtles, and schooling fish by the thousand. The seamounts here are also known for whale shark encounters. 
Explore The Bay Islands
Search, compare and book from our hand-picked resorts
Turks and Caicos Island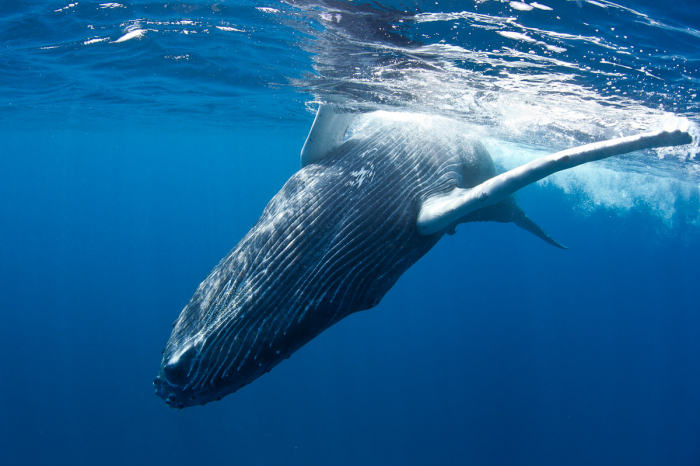 With pristine reefs, footprint-free white sand beaches, and far fewer visitors than neighbouring destinations in the Caribbean, the Turks and Caicos are a true tropical paradise. Often overlooked in favour of hotspots like the Bahamas and Belize, these islands offer up some of the region's most spectacular scuba diving. And, best of all, this diverse destination boasts sites suitable for all skill levels, from beginners to dive pros.

With two distinct sides to explore - the Turks Islands, and the Caicos - this destination is home to adventure and exploration suiting divers of every stripe. Snorkel with dozens of docile nurse sharks, tour kilometres of pristine coral, take on high-speed drifts in the Sandbore Channel, and explore breathtaking walls dropping into the abyss. If you're lucky, you might even spot migratory humpback whales en route to their seasonal mating and calving grounds!
Highlights: Humpback whales, sharks
Top Dive Sites
French Cay
Located due south of Providenciales, this island is famous for its annual aggregation of nurse sharks and outstanding diving overall. You'll find towering pinnacles, plummeting walls, and flourishing reefs - all clouded by schooling reef fish. Keep an eye out for passing humpbacks during surface intervals!
Sandbore Channel
This deep channel running between Providenciales and West Caicos serves as a superhighway for marine life, including pelagic sharks and rays. Be sure to keep an eye on the reef's edge during this high-speed drift, as you never know what might pass by in the blue!
Grace Bay
Providenciales' signature diving area, this stunning site offers some of the best scuba diving in Turks and Caicos, ideal for relaxed exploration. You'll tour fringing coral reefs, stone grottos, and deep walls. And, it's just minutes from shore! Keep an eye out for reef and nurse sharks, sea turtles, and eagle rays.
Explore Turks and Caiscos
Search, compare and book from our selection of resorts
Cayman Islands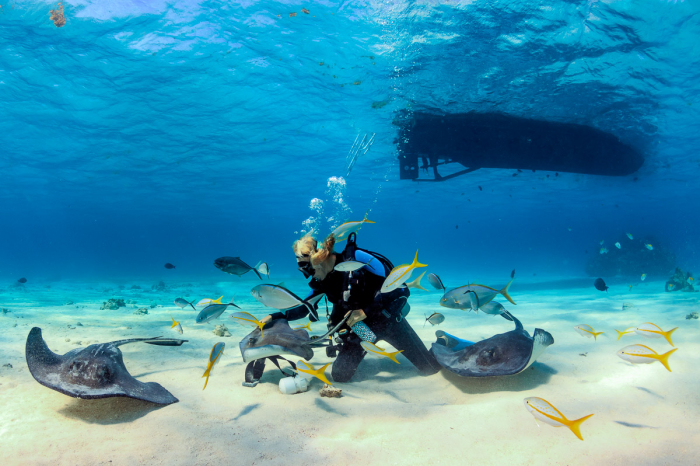 The Cayman Islands are a quintessential Caribbean diving destination, with colourful coral reefs, dramatic drop-offs, and some of the finest wreck diving in the Western Hemisphere. These islands are actually the peaks of a submerged undersea mountain range, offering divers a chance to explore right on the edge of the ocean's depths, where Caribbean reef sharks, sea turtles, and eagle rays calmly cruise by in the blue. 
With over 300 dive sites open for exploration between the three islands - Grand Cayman, Cayman Brac, and Little Cayman - you'll never run out of action packed adventures here. There's plenty for less experienced divers to enjoy, too, with shallow light-filled coral gardens boasting calm currents and excellent visibility. Iconic Cayman Islands attractions like Stingray City are even open to snorkellers, with some of the region's most exciting wildlife found in just a few metres of water.
Highlights: Wrecks, walls
Top Dive Sites
Bloody Bay Wall
Little Cayman's most famous wall feels endless, plummeting to hundreds of metres of water, and boasting a thick coral crust the whole way down. Swim past giant sponges and swaying sea fans, peek into small caverns and overhangs, and keep an eye on the blue - who knows what you might spot. 
The USS Kittiwake
With five levels to explore, this 77 metre long shipwreck off the coast of Grand Cayman is a wreck diver's delight. Try your hand at a few carefully planned penetration routes, allowing access to the mess hall, hospital, propulsion rooms, and ammunition lockers. Or, just enjoy the ship's exterior and surrounding sand flats.

Eden Rock
Famous for its series of submerged tunnels and tubes, this site is an underwater photographer's favourite, and it's a short swim from the coast of Grand Cayman. Schooling silversides by the thousand gather here, often joined by hunting tarpon. Head next door to Devil's Grotto for more fantastic photo ops with dramatic stone formations and giant shoals of bait fish.
Explore The Cayman Islands
Search, compare and book from our hand-picked resorts
Bonaire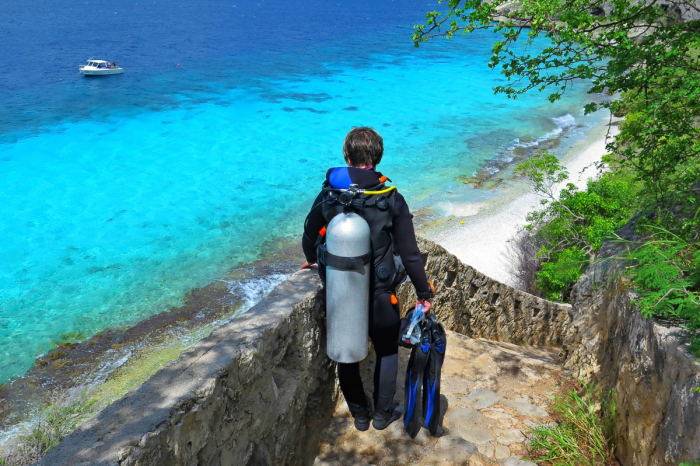 Known as the shore diving capital of the Caribbean, this island offers more freedom than any other destination in the region. Grab your buddy and dive gear, and hit the waves whenever and wherever you want - with accessible and easy to navigate shore dives, and calm conditions suitable for all skill levels. Designed specifically for divers, resorts here offer 24-hour service, drive through tank pick-up, and other perks to help you plan the ultimate adventure. 
Bonaire is truly Caribbean scuba diving at its best, with colourful reefs and walls loaded with marine life. In addition to its fantastic shore diving, the island also offers more challenging exploration on its windward side, multiple artificial reefs, and outstanding boat dives from Klein Bonaire - a small islet on the southwest coast.
Top Dive Sites
One Thousand Steps
This site does include a long walk down to the water, but it's worth it! Just below the mooring, you'll discover massive hard coral formations, home to small wildlife of all kinds. Keep an eye out for patrolling eagle rays, massive morays, and sea turtles napping in the shallows.
Bari Reef
This is one of the most biodiverse dive sites in the Caribbean, with over 300 fish species documented. Comb pristine coral gardens for small wildlife, including seahorses and octopuses. But, don't forget to look up! Huge parrotfish, schooling surgeons, and hunting tarpon and barracuda are commonly seen here!
Salt Pier
One of Bonaire's best artificial reefs, this pier's pillars host a fantastic assortment of macro. Search for cleaner shrimp, frogfish, and even nudibranchs. Massive schools of silversides also gather here, sometimes stalked by larger wildlife. Visit Salt Pier after dark for the island's signature night dive. 
Explore Bonaire
Search, compare and book from our hand-picked resorts
---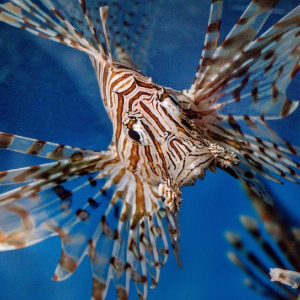 Recommended insight
Lionfish hunt: Tackling invasive species in the Caribbean
Lionfish are one of the ocean's loveliest creatures, but they're causing havoc in the Caribbean. Learn why and where to hunt them, and how to cook them too!
---
---
Join the ZuBlu community to receive the latest insights and unmissable adventures
Don't worry, we'll only send you really good stuff - and we never share your details
---