Looking for an adventurous dive holiday minus the tourist crowds? If so, you're in luck. Although renowned for a stunning underwater environment, dive tourism in the Turks and Caicos has remained very low key. For visitors, that means a dive holiday exploring one of the Caribbean's least developed destinations, complete with world-class scuba and snorkelling alongside sharks, migratory whales, and colourful reef fish. And, best of all, you'll likely have the signature sites all to yourself!
If you're ready to dive into adventure, this is your guide. We'll walk you through the best diving in the Turks and Caicos, complete with tips on where and when to spot the island's incredible marine life and detailed information on the famous reefs, walls, and wrecks.
Geography and essential tips for planning your trip
The Turks and Caicos is made up of a chain of 40 islands - only eight of which are inhabited - split right down the middle by a deep underwater trench known as the Turks Island Passage.
To the west of the Turks Island Passage, you'll find the Caicos Islands, made up of Providenciales, West Caicos, North and Central Caicos, South Caicos, and a few other outlying cays. Providenciales - often referred to as Provo - is the islands' travel hub and home to its international airport. Beyond Provo even the larger towns feel relatively undeveloped, surrounded by unspoilt coastline and kilometres of sparkling white sand. You'll also find many of the country's most exciting watersports and undersea attractions here, with seasonal gatherings of nurse sharks, thrilling wall dives, and some of the Caribbean's prettiest coral reefs.
On the east side of the Turks Island Passage, you'll find Grand Turk, Salt Cay, and a scattering of remote islands. Known as the Turks, these islands are home to shallow, light-filled coral gardens, plummeting walls, and seasonal whale watching. Grand Turk is the site of the country's cruise ship terminal and some of the most developed tourist areas. But don't let that deter you. Outside of its quaint coastal towns, this island remains relatively wild, with isolated beaches and wildlife sanctuaries waiting to be explored.
Ready to start planning your divinig holiday to Turks and Caicos?
Search, compare and book from our exclusive selection of liveaboards.
The Turks and Caicos Islands' diving highlights
The Turks and Caicos offer fantastic diving and snorkelling, with dozens of marine parks across much of the archipelago. These decades-long preservation projects have made a lasting impact, leading to healthier reefs and more marine life than neighbouring Caribbean Islands. And, with far fewer guests than other, more famous Caribbean destinations, you can expect uncrowded dive sites and crystal clear water, free from the run-off that agriculture and major tourist development bring.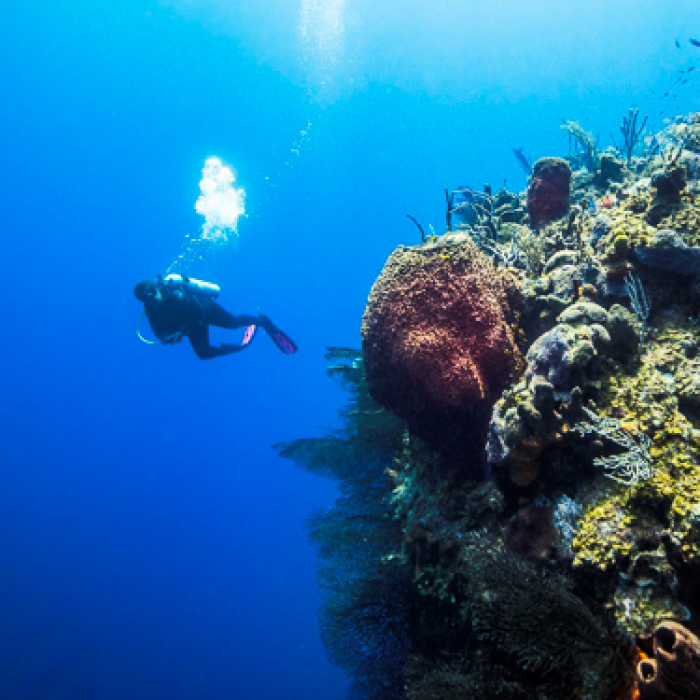 Vibrant coral reefs
Drawing nutrient-rich water back and forth between the islands, the Turks Island Passage is essential for fuelling the growth of this region's incredible coral gardens. Massive fields of both hard and soft species are common, as are walls encrusted with towering elephant ear sponges that cover the vertical landscape. For a chance to dive some of the Turks and Caicos' most stunning coral gardens, head to Grace Bay on Providenciales and nearby French Cay.
Dizzying drop-offs
Wall diving is a major highlight on most Caribbean dive trips, but few destinations even come close to the impressive walls found in the Turks and Caicos. The archipelago's submerged cliffs boast stunning near-vertical drops into the abyss and thick coral cover well below the recreational diving limits, as well as chance encounters with turtles, sharks, and rays. Don't forget to peer into the many caverns and overhangs, as they're often home to small macro creatures like nudibranchs and cleaner shrimp!
Historic shipwrecks
If you think that neighbouring Caribbean destinations like the Bahamas have a monopoly on sunken ships, think again! The Turks and Caicos are actually home to a surprising number of wrecks, with small fishing vessels, historic warships, and everything in between. Salt Cay's HMS Endymion is, without a doubt, the most famous, with a thick blanket of coral, plenty of wartime artefacts, and depths accessible to even beginners. A sunken Cessna 401 aeroplane and several smaller scuttled vessels can also be found nearby.
Migratory humpback whales
While plenty of places around the world host migratory humpbacks, few can promise the nearly-guaranteed sightings that Salt Cay is famous for. Each year between December and March, whale watching takes centre stage here, as these gentle ocean giants make their way south to the Dominican Republic's silver bank - where they'll spend the summer breeding and calving. Snorkelling with the whales is permitted, so long as visitors follow the strict environmental protocols. And, each year, at least a handful of lucky divers will have the good fortune of spotting a whale underwater - a once in a lifetime opportunity!  
And of course, sharks
No Turks and Caicos dive guide could be complete without the island's most famous residents - sharks! The archipelago is home to just as many of these graceful predators as nearby destinations. But, don't dive here expecting to find bait boxes and hand feeding. Instead, shark interactions remain passive and neutral - just as nature intended. Head to French Cay between July and September for a chance to snorkel and scuba dive with dozens of nurse sharks. And, while you're on the Caicos side of the archipelago, stop by the Sandbore Channel for a chance to spot pelagic species - including the occasional hammerhead. The steep walls around Grand Turk and Salt Cay are also known for close encounters with Caribbean Reef sharks, while lemon sharks, and the occasional tiger shark can be spotted in the Turks and Caicos - so remember to keep one eye on the reef's edge at all times!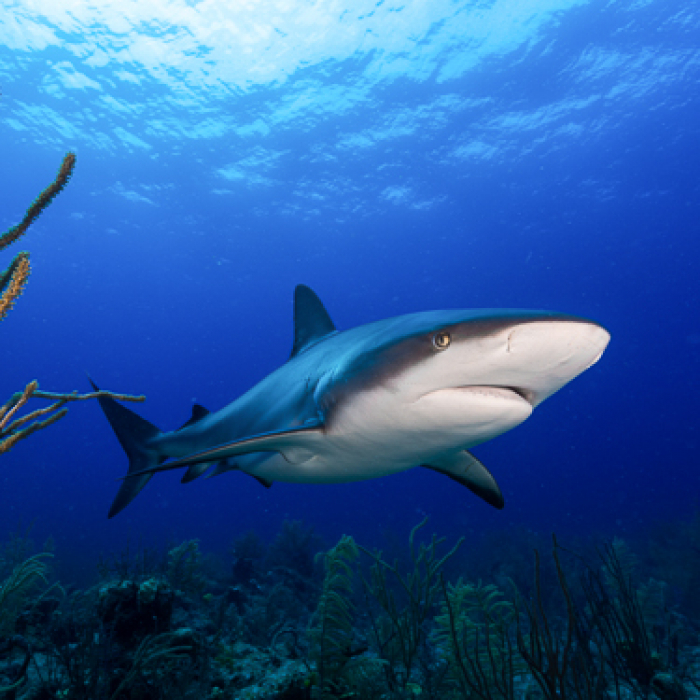 How to dive - land based vs liveaboard
With over 40 islands waiting to be explored, liveaboard diving is, without a doubt, the best way to tour the Turks and Caicos. Liveaboards offer eight to eleven-day safaris with up to five dives per day, representing excellent value for money. You'll also enjoy a relaxed all-inclusive atmosphere onboard, with your every need taken care of by a friendly international crew. Lastly, this is by far the easiest way to ensure you see both sides of the archipelago.
That said, there are plenty of land-based accommodation options that won't disappoint. Grand Turk and Providenciales both work well as a base or, better yet, split your time between the two! Both islands offer outstanding access to their neighbouring islands, famous for their world-class diving. 
Are you ready to plan your Turks and Caicos scuba adventure? ZuBlu's team of travel experts is here to help! We'll offer up assistance with planning and support during your trip for a worry-free holiday complete with some of the Caribbean's best diving!
---
Ready to book your diving holiday in Turks and Caicos?
Contact a dive travel expert today!

---
---
Join the ZuBlu community to receive the latest insights and unmissable adventures
Don't worry, we'll only send you really good stuff - and we never share your details
---