The Cayman Islands are widely regarded as the birthplace of recreational scuba diving, thanks to some pioneering efforts by local operators in the 1980s. And, thanks to a keen focus on conservation, many of the country's famous underwater spectacles are still well worth a visit today. But which Cayman Island has the best diving? Well, in an ideal world, we'd recommend visiting all three and deciding for yourself. But if you're short on time, or funds, this is the article for you.
Before we dive into each island, we feel it's our duty to emphasise the quality of diving in this country as a whole. Since the first stingray tours in the 1950s, and the development of a thriving dive industry in the 80s, the Cayman Islands have refused to rest on their laurels, adding plenty of new dive sites to their diverse portfolio - 365 to be exact, one for every single day of the year!
Not only does this mean more choice for visiting divers, but it's also allowed operators to routinely rest sites and alleviate the stress of dive tourism, helping to keep every site at its best - for both marine life and divers. So regardless of which island you choose, you're guaranteed the dive trip of your dreams in the Caymans.
Ready to start planning your holiday to the Caymans?
Search, compare and book from our hand selected resorts in the Cayman Islands
George Town and Grand Cayman scuba diving
Grand Cayman is the biggest and most westerly of all three islands, and the first port of call for most visitors. It's also where the local dive industry first flourished, meaning its infrastructure is highly developed, particularly around George Town, West Bay and the stunning Seven Mile Beach. The vast majority of dive sites and dive resorts are found here, but beyond the bustling streets and obvious commercial character, you'll find a full spectrum of Caribbean culture in Grand Cayman, particularly towards the east.
You could spend days scrolling through Grand Cayman scuba diving reviews, or you could believe us when we say, you'll struggle to find a bad one. This island boasts a staggering 240 dive sites waiting to be explored, including iconic underwater attractions such as Stingray City and the wreck of the USS Kittiwake, so you're bound to find something you love. And best of all, most of Grand Cayman's top underwater attractions are less than a ten minute boat ride from the shore. That includes its famous wall dives, thanks to the island's proximity to the Bartlett Trough which reaches depths of over seven-kilometres in some places.
Top Grand Cayman scuba diving excursions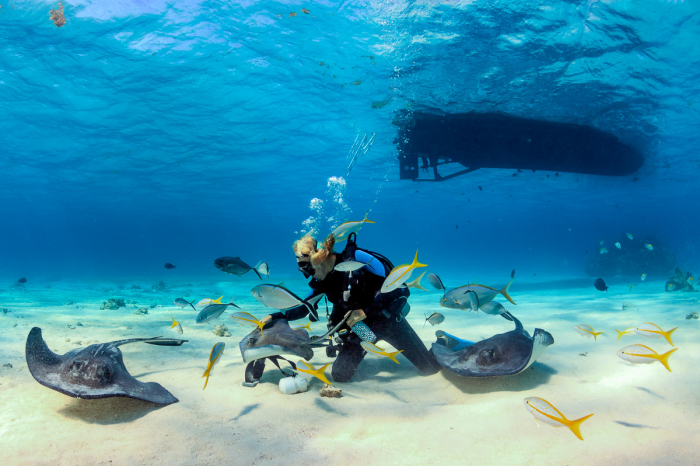 Stingray City
Stingray City is one of Grand Cayman's legendary scuba diving sites, having been 'discovered' as a tourist attraction in the 1950s. Today, divers can rest on the sandy seafloor while stingrays gather in anticipation of an easy meal - a behaviour left over from when fishermen used to clean their catch along the shallow sandbars of North Sound.
Devil's Grotto and Eden Rock
These two sites are so close they could easily be dived on a single tank, but it's best to take your time and enjoy each one individually. Both sites are riddled with tunnels, caverns, and swim-throughs that are easy to access - and easy to exit - making it a great site for divers of all experience levels. You'll find huge tarpon hanging out, schools of baitfish, and breathtaking rays of sunlight penetrating the labyrinth of passages.
USS Kittiwake
This impressive 77-metre vessel was decommissioned in 1994 and scuttled in 2011, having had dedicated penetration routes cut right into its structure. Thanks to its shallow location, the Kittiwake can be enjoyed with plenty of bottom time, and allows open water divers to explore the first three decks - while those with more advanced certifications can visit all five. Among the highlights are this vessel's mess hall, propellers, and smoke stack, as well as two recompression chambers.
Little Cayman diving
As the name suggests, Little Cayman is the smallest of the three islands, located 100-kilometres to the west of Grand Cayman. Several slumbering settlements are scattered around the island - home to just 200 permanent residents - while the surrounding tropical landscape has around ten times as many critically endangered iguanas. The pace is certainly slower here, making for a great nature retreat or intimate couples vacation. And although the diving infrastructure is less developed, you'll still have access to 60 superb dive sites - an impressive amount for an island of this size.

While shore diving is possible, the sites are rarely marked and most dives take place just offshore by boat. The island's northern coast is where most of the top diving can be found, with the deeper southern sites making great alternatives on the occasional winter days when the north becomes too rough. In any case, at less than one-kilometre apart, it's easy to explore both coasts in a single trip.
Little Cayman's iconic dive sites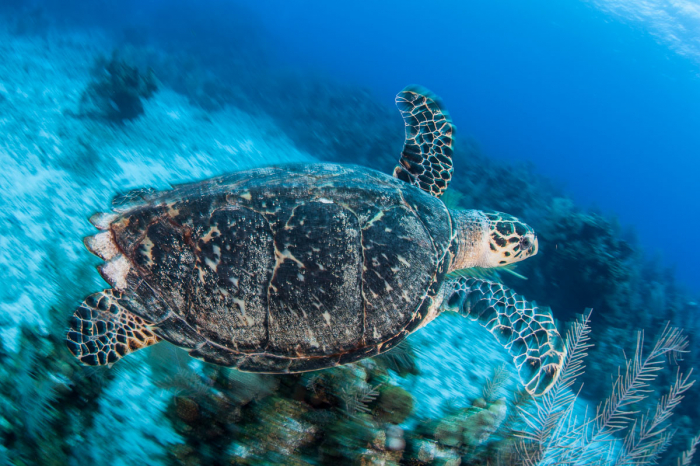 Bloody Bay Marine Park
Bloody Bay Marine Park is one of the best-loved dive sites in the Caribbean - which is very obvious from the reviews of Little Cayman diving that mention the site! There are actually around two dozen dive sites located here, each as enticing as the next, meaning you can descend more or less anywhere and still have the dive of your life. The bay's wall starts at just five-metres deep before plummeting rapidly beyond recreational limits, and is covered in both corals and sponges. 
Jackson's Bight
Located within the boundaries of the Bloody Bay Marine Park, Jackson's Bight boasts topography that rivals the beauty of the Bloody Bay Wall itself, with an enticing mix of chutes, tunnels, crevices, and reefs. Eagle rays, Caribbean reef sharks, and stingrays can all be seen, as well as an abundance of small reef fish. 
Cayman Brac scuba diving review
The most easterly, and arguably most authentic of the Cayman Islands is Cayman Brac. Tourism has yet to take a real hold of this charming island, making it perfect for outdoor adventure holidays - including diving. But, that's not to say the island is rough-and-ready, and you'll still find plenty of comfort in Cayman Brac's dive resorts and boutique hotels on the southwest coast, as well as the many stylish villas. And you'll be pleased to know, almost all accommodation here is diver-focussed, helping you explore this incredible destination with ease - both above and below the surface.

Cayman Brac boasts just a handful more dives than Little Cayman, with 65 registered sites including walls, reefs and swim-throughs with little current and stunning visibility. But, unlike Little Cayman, shore diving is an option on Cayman Brac, with a further two dozen or so shore dives dotted around the island. These sites are easily recognised by a numbered red stone marker, helping enthusiasts find and explore them at their own pace.
Best dive sites on Cayman Brac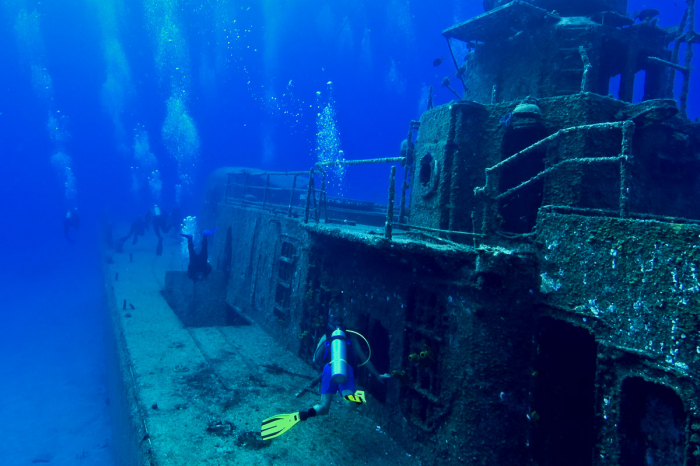 Kissimmee Wreck
Accessible from shore, this 12-metre tugboat lies at around 18-metres depth and is now almost upside down on the sand. The wreck is inundated with interesting life, such as octopuses, squid, juvenile spotted drum fish, and several species of shrimp, as well as stingrays galore in the summer months. From here, divers can also access the reef wall, making it the closest point on the island to do so.
Captain Keith Tibbetts
Scuttled in 1996, this 100-metre Russian anti-submarine frigate - now known as the Captain Keith Tibbetts - is easily the most popular wreck around Cayman Brac. Interestingly, this is the only diveable Soviet warship in the Western Hemisphere, and it still features its foreboding gun turrets. Certified wreck divers will also find multiple penetration routes. 
---
Still undecided about which island to choose?
Get in touch with our expert team for some extra advice, specifically tailored to your wants and needs.

---