Scuba diving in
Grand Turk Island
Grand Turk diving is world-famous for its reefs and plunging walls, thrilling all-natural shark encounters, and wreck diving and whales right next door at Salt Cay
Highlights
Picturesque reef and wall diving with sharks, turtles, eagle rays and schooling fish
Conditions for all with easy currents, excellent visibility, and warm water
White sand beaches and quaint coastal towns packed with cool Caribbean history
Whale watching opportunities during the seasonal humpback migration
Great wreck diving around Salt Cay with exploration suitable for all divers 
Grand Turk is the historical centre of Turks and Caicos and home to some of this tiny island nation's most impressive above and below water attractions. This classic tropical paradise boasts calm turquoise seas, sparkling white sand beaches, and swaying palms, not to mention an eclectic mix of accommodations favouring quaint guesthouses, quiet cottages, and low key luxury hotels. Grand Turk and neighbouring Salt Cay are home to some of the archipelago's very best scuba diving and snorkelling, with shallow light-filled coral gardens, plummeting drop-offs, and sharks galore - plus seasonal migratory humpback whales.
Scuba diving in Grand Turk
Schooling reef fish

Year round

Walls & pinnacles

Year round
Scuba diving in the Turks and Caicos is synonymous with coral gardens and calm, clear water. This is a dream destination for beginners, underwater photographers, and advanced divers alike, thanks to its wealth of wildlife and unspoilt reefs. The region is home to a stunning variety of marine species, from macro to mighty megafauna - and everything in between. And, with dozens of dive sites on offer, you could easily spend weeks here and not run out of new areas to explore. Head to Grand Turk's Columbus Landfall Marine National Park for some of the loveliest fringing reefs, or Salt Cay's Shark Point Canyon and Turtle Gardens for exciting encounters with some of the island's most prized species.
Grand Turk wall diving
While this island's shallow reefs are impressive, the real treat lies at the drop-off, where near-vertical walls plummet down toward the abyss. At legendary sites like Amphitheatre, stunning coral teeming with marine life extends well beyond the recreational diving limits, with highlights including massive fields of black coral, enormous elephant ear sponges, and spectacular schools of fish. The famous Grand Turk wall runs the entire leeward side of the island, dropping rapidly into thousands of metres of deep blue sea. Salt Cay is home to equally impressive walls, and both islands enjoy proximity to the Turks Island Passage - a massive cut through the seafloor known for encounters with humpback whales, dolphins, manta rays, and more!
Historic wrecks
Just off the coast of Salt Cay, the HMS Endymion, an 18th-century British warship, offers easy and accessible wreck diving. Most of this site lies between 12 and 18 metres, making external exploration possible for all divers, no matter their experience level. There's plenty to see with crystal clear water and plenty of artefacts still in place - heavy chains, anchors, cannons, and other wartime objects can be found. And, the area around the wreck is lovely as well, with arches, ledges, and beautiful coral gardens to be found. Salt Cay is also the site of several other wrecks, including a sunken Cessna 401 aeroplane and a few scuttled fishing boats.
Marine megafauna
Humpback whales migrate past Grand Turk and Salt Cay each year between January and March. And, while snorkelling encounters are never guaranteed, a few tour operators do incorporate whale watching and snorkelling, allowing lucky groups to get in the water alongside these giant animals. Because these whales are a highly protected species, strict environmental regulations are enforced.
Humpback whales are the most famous marine megafauna found around Grand Turk Island, but plenty of other large wildlife passes through this region as well! Caribbean reef sharks and nurse sharks are commonly spotted during dives, cruising the reef's edge or napping in sand channels. And, lucky groups might even spot hammerheads patrolling at depth, or occasional appearances by bottlenose dolphins and manta rays.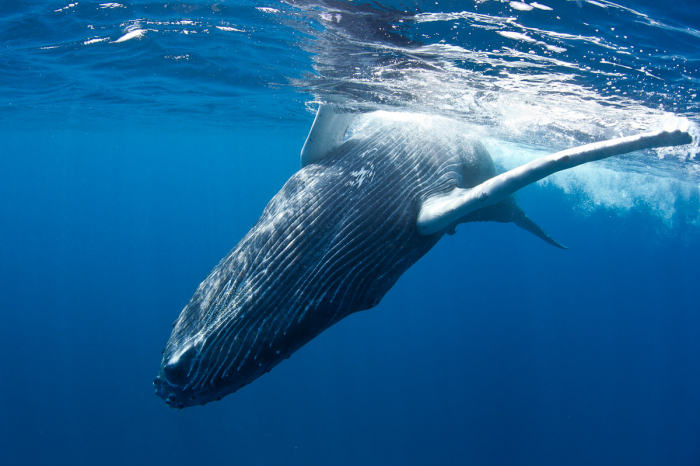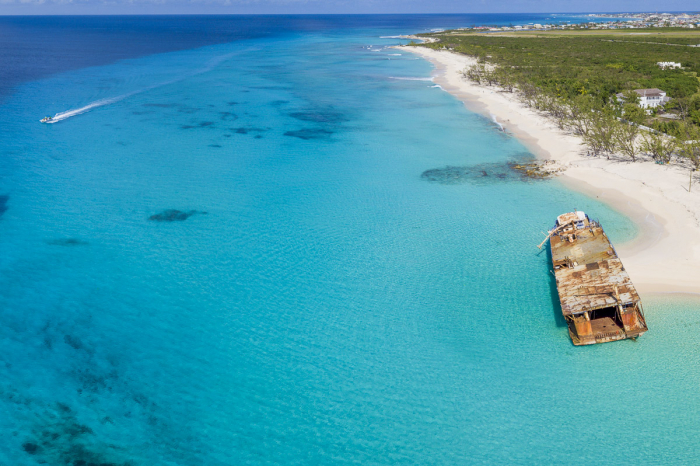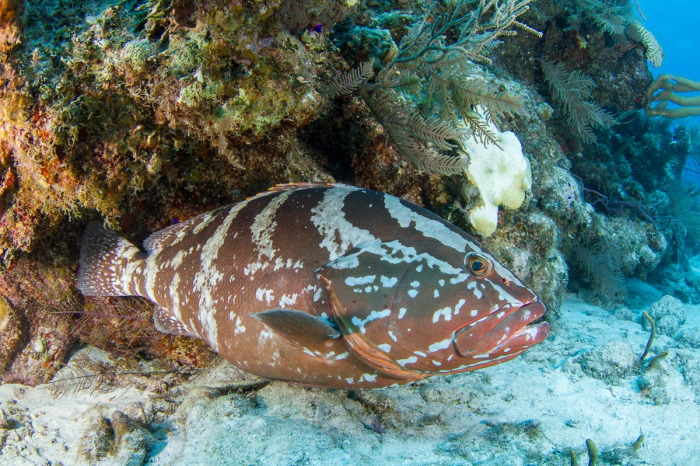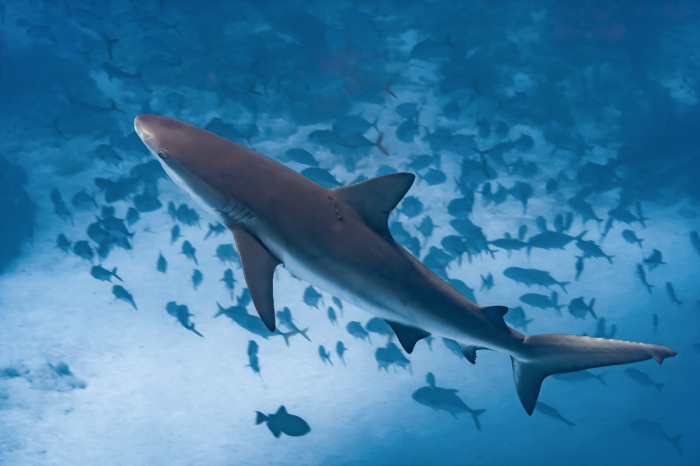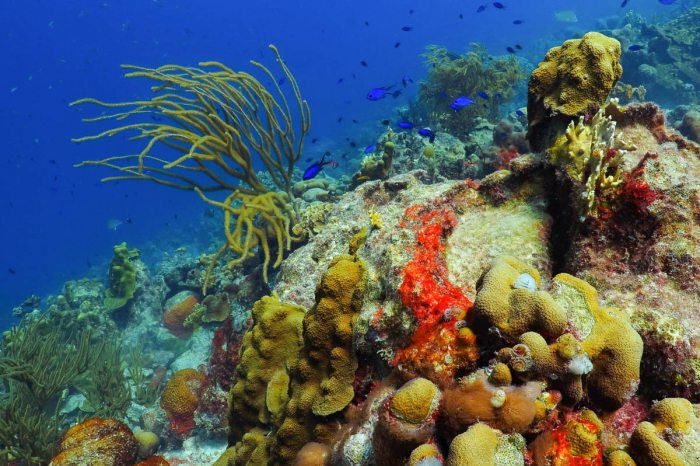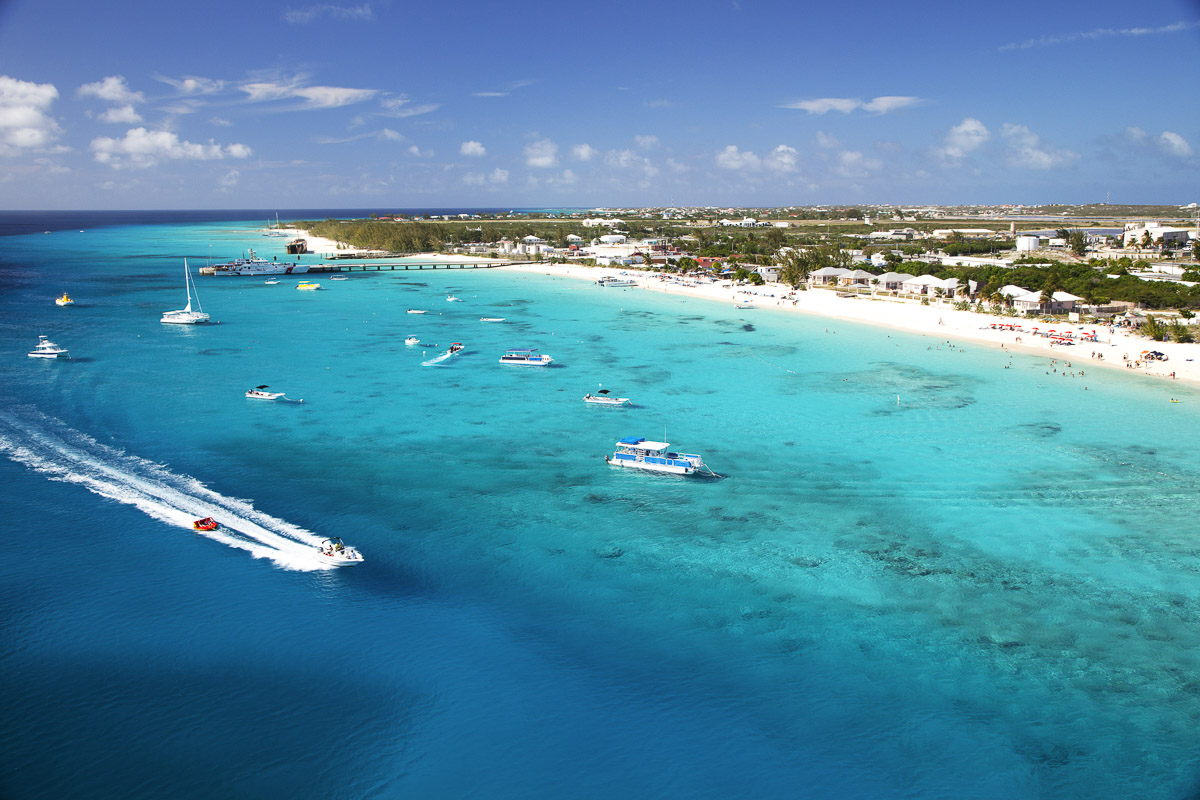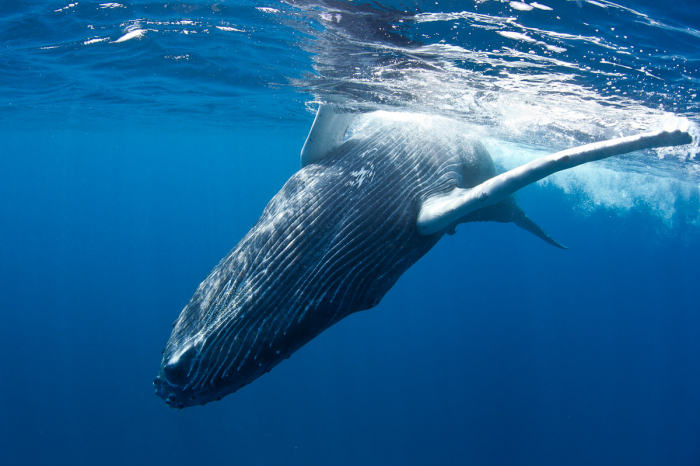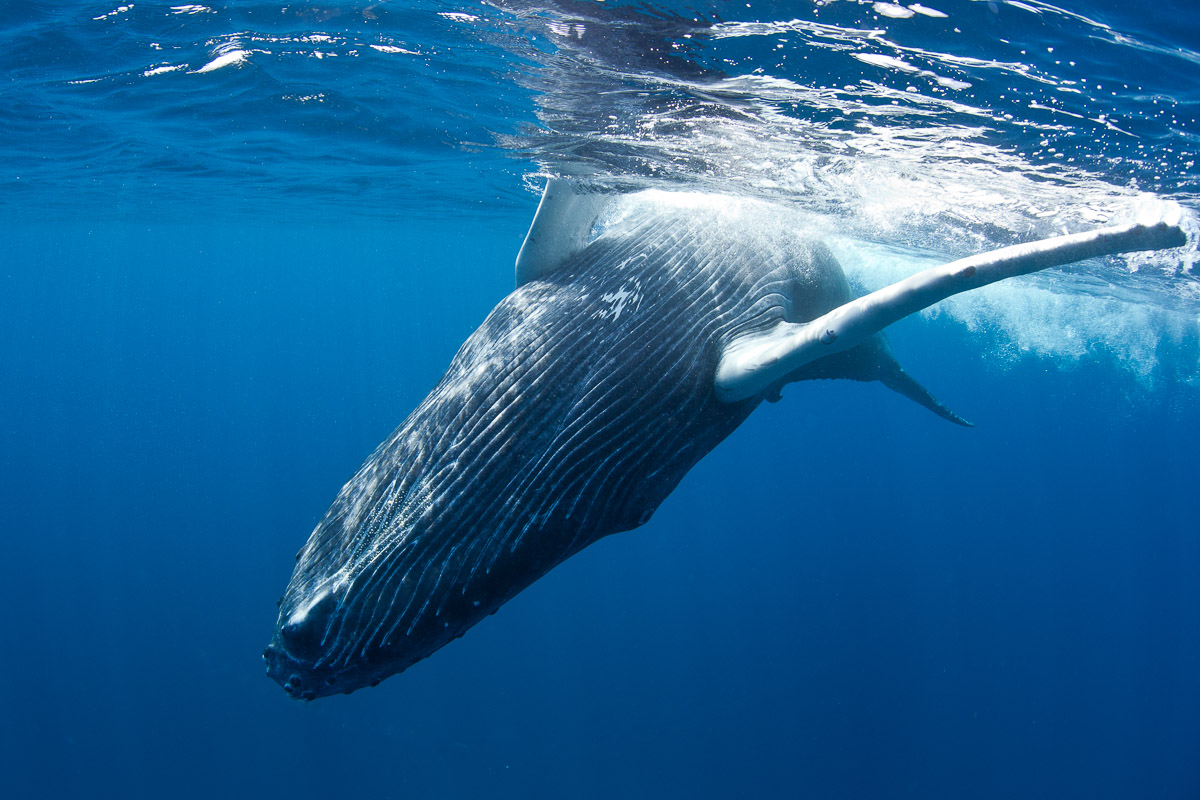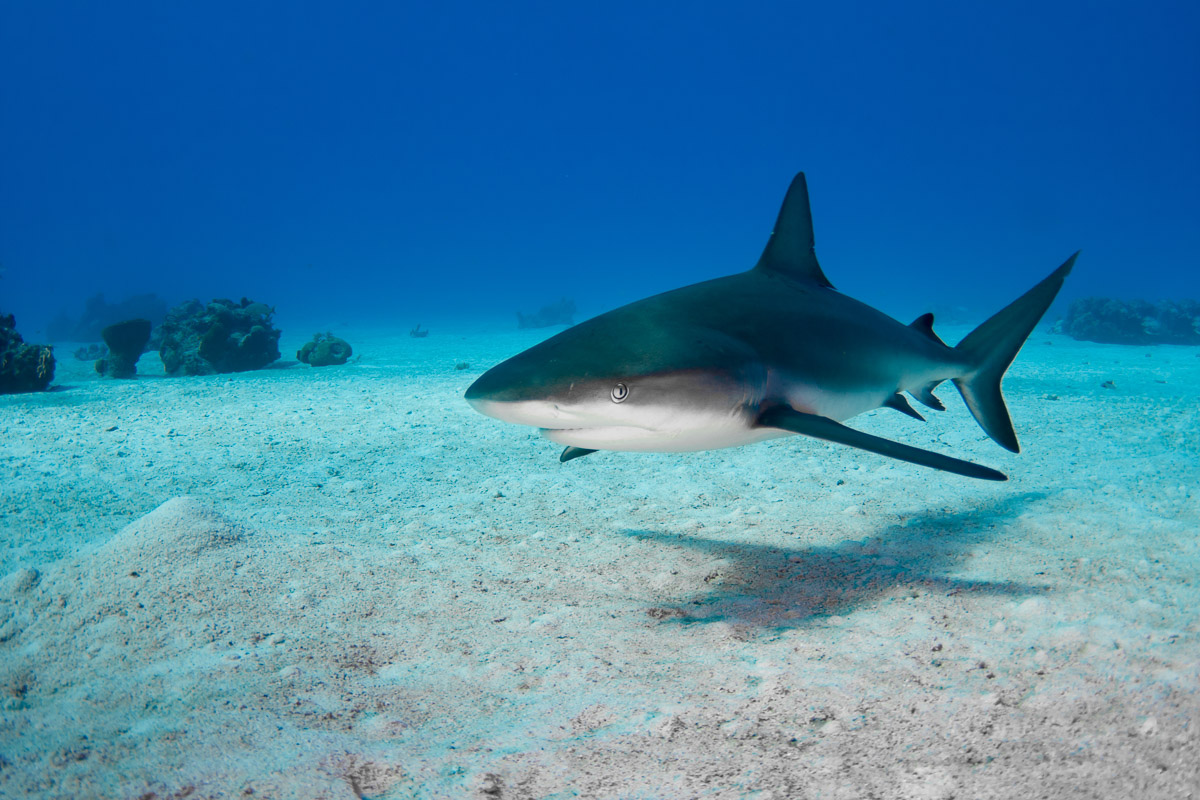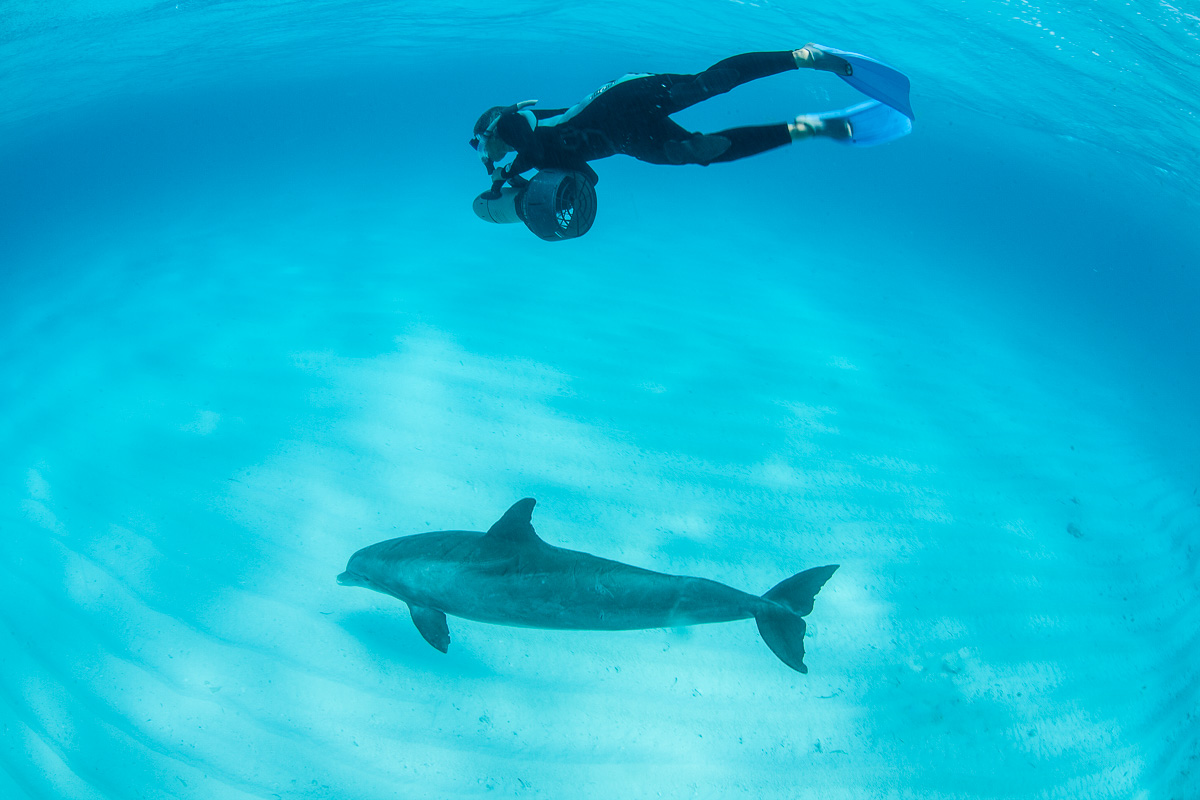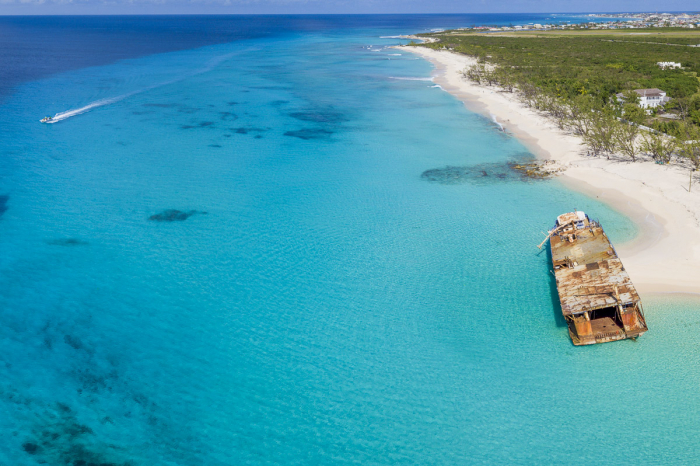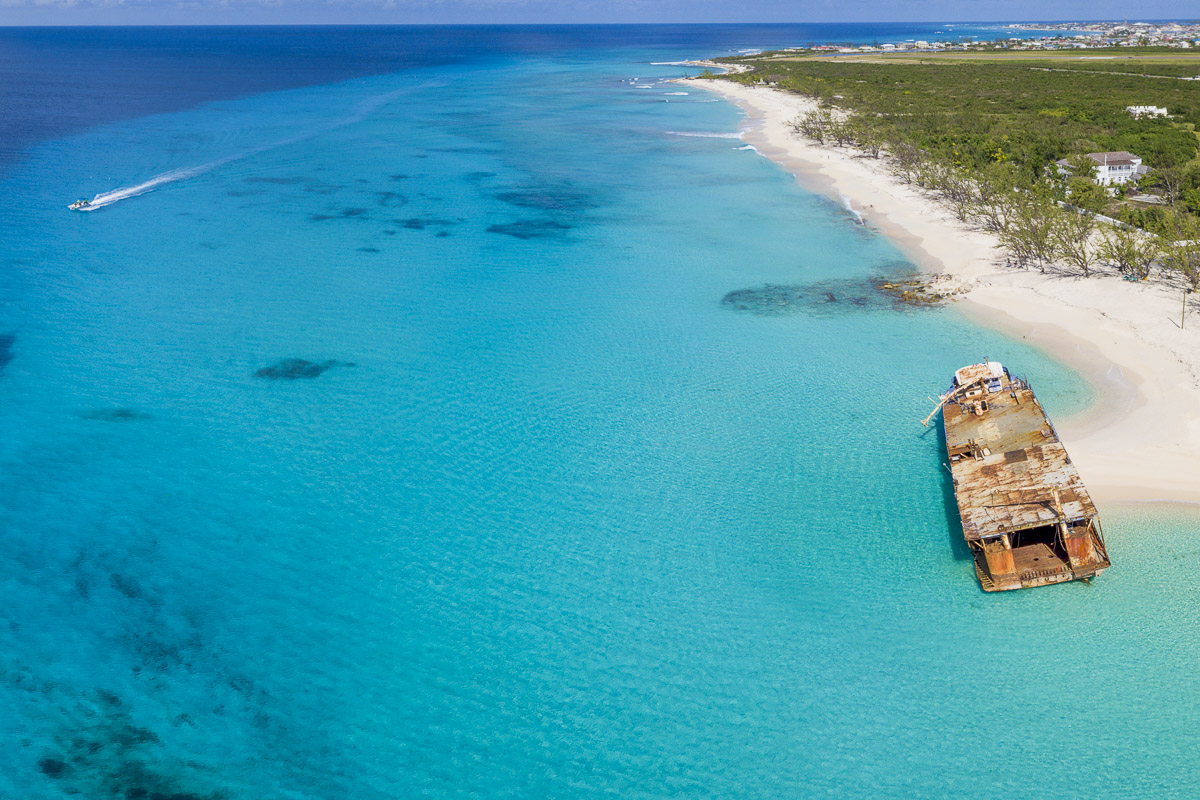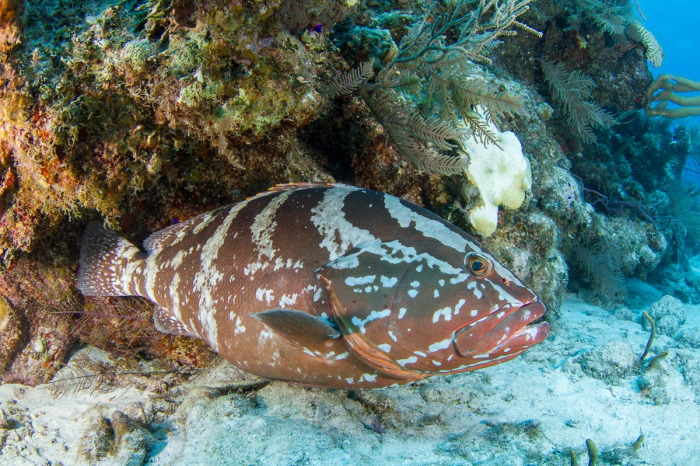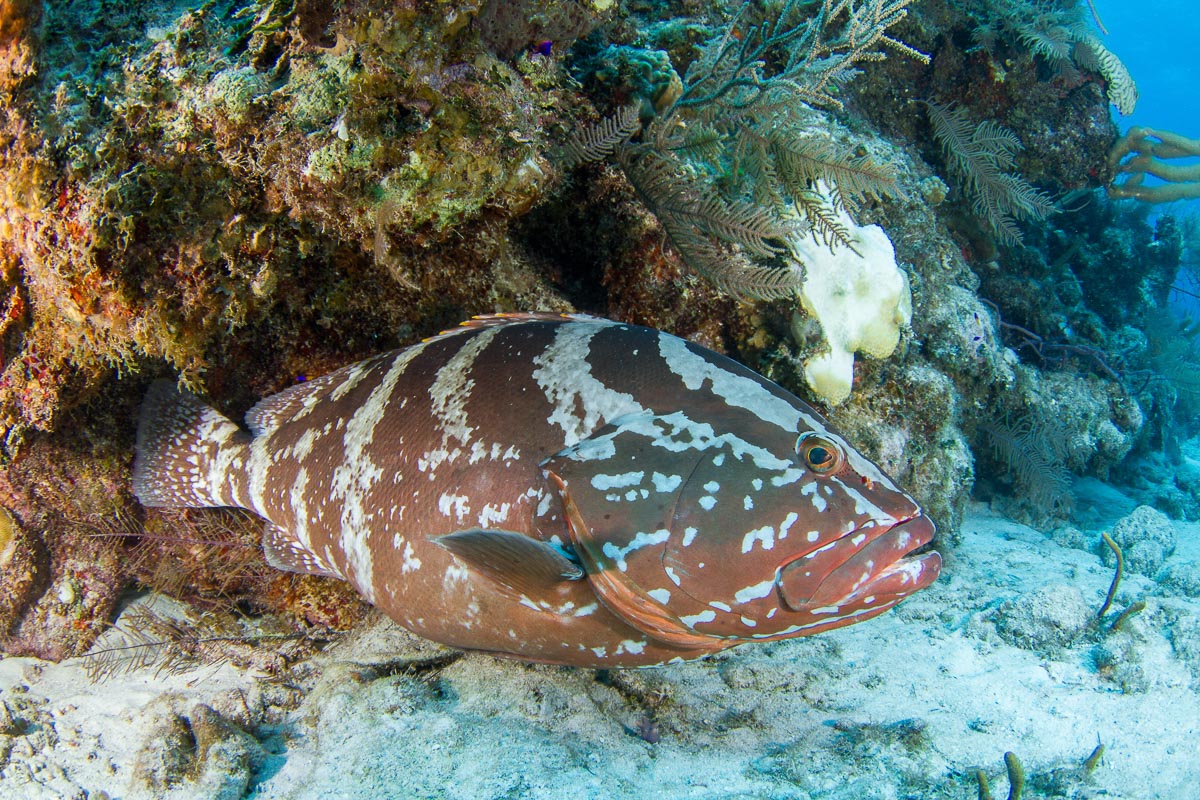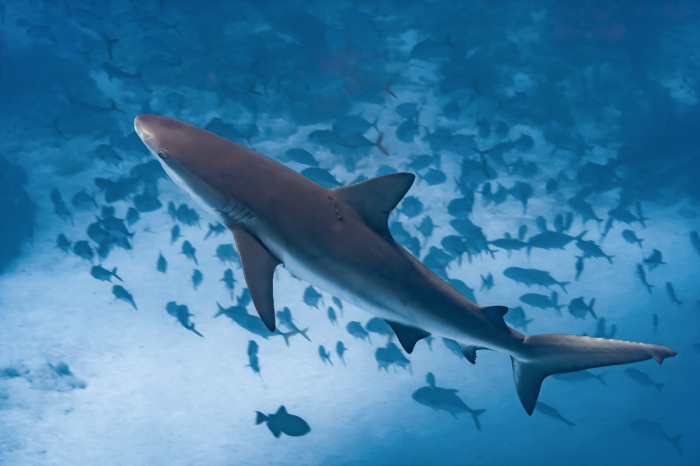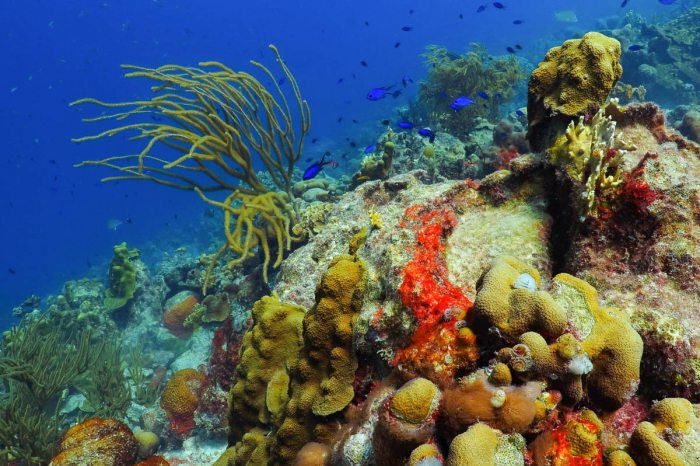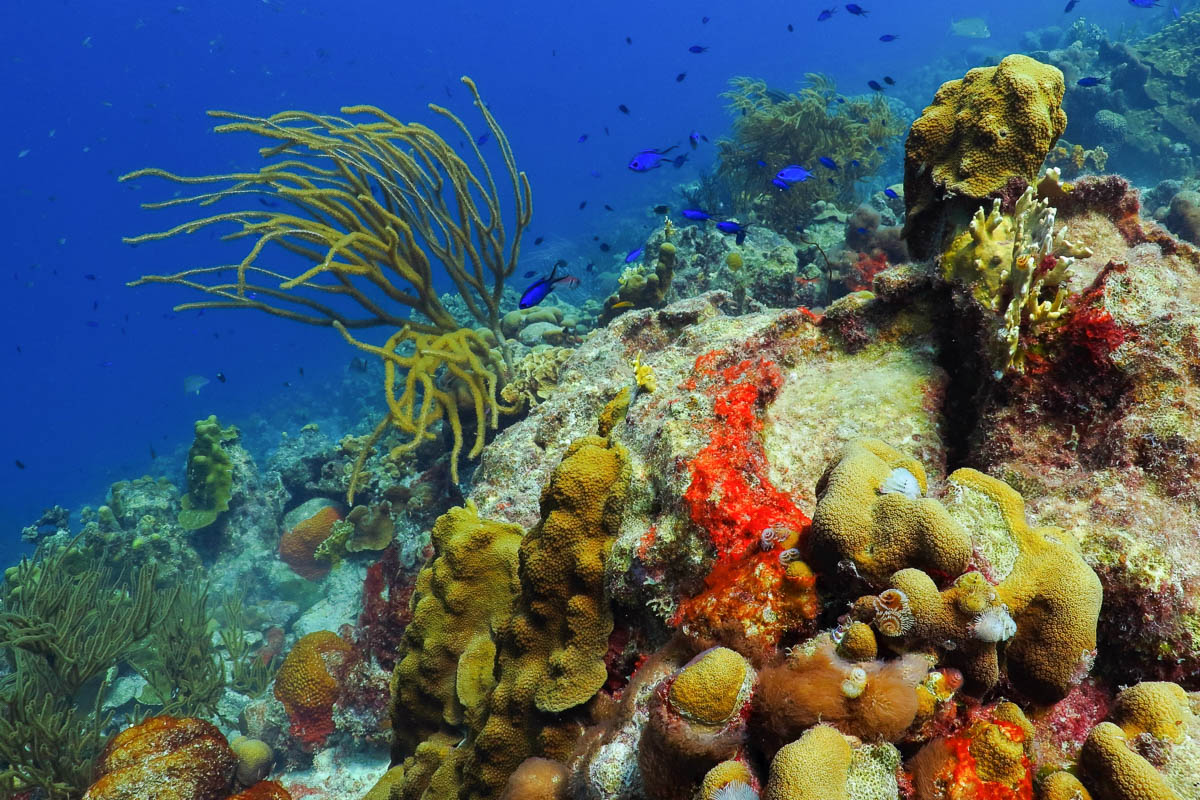 Diving Environment
Type
Reef, wall and wreck
Diving Season
Year round, best November to April
Top tips

Avoid visiting the Turks and Caicos during September, the peak of hurricane season - when 1 in 7 Caribbean storms make landfall here.
Photographers should pack for wide-angle and macro - this destination is home to far more critters than the rest of the Caribbean.
Take caution around the region's invasive lionfish - they are beautiful but dangerous, packing a powerful punch of venom in each of their spines.
Explore this chain of over 40 islands via liveaboard for the best overall value and a chance to dive the most stunning sites!
About Grand Turk Island
The Turks and Caicos archipelago is made up of two groups of islands, the Turks Islands and the Caicos Islands. The Turks consist of Grand Turk, Salt Cay, and a few other outlying cays, and are separated from the Caicos Islands by a 30 kilometre wide trench known as the Turks Islands Passage. Running north to south, this deep ocean trench serves as a superhighway for marine megafauna, most notably migratory humpback whales.
Grand Turk is home to the nation's capital and its cruise ship port, though Providenciales - within the Caicos Island chain - has come to host most of the archipelago's government and industry over the years. Despite its importance on a national level, Grand Turk looks much as it has for decades, with little to no major tourist development. Diving, snorkelling, and beautiful beaches are the primary attractions here, but there are also a variety of historical sites worth exploring, such as colonial architecture, salt production fields, and the country's only lighthouse.
Nearby Salt Cay has seen very little tourist development, making it a popular option for day trips, and visitors who prefer peace and quiet will be rewarded with some of the Caribbean's most authentic outdoor exploration. The island has next to no nightlife, and restaurant options are limited, leaving nature as the sole focus. Both scuba diving and snorkelling are phenomenal around Salt Cay, especially during whale season when lucky visitors might come across migratory humpbacks.
Getting there
All international flights to the Turks and Caicos arrive at Providenciales International Airport. To reach Grand Turk, you'll then need to take a domestic flight, lasting around 30 minutes. At just over 100 kilometres, the distance is too far for a boat or ferry crossing.
Once you've arrived in Grand Turk, your options for getting around are via private taxis and rental cars - no public transportation services are offered. This is a relatively small island, at around ten kilometres in length, so rental scooters, bicycles, golf carts, and ATVs are also practical options. Just remember, this is a British Overseas Territory, so you'll be driving on the left side of the road!
Salt Cay is even smaller than Grand Turk, running six kilometres from north to south. There are no taxis, rental cars, or bus services - or even paved roads - on the island, so your best options for getting around will be via golf cart, bicycle, or walking. Getting to Salt Cay is surprisingly easy, with short ferry rides offered multiple times each day from Grand Turk.
Grand Turk and Salt Cay are also regular stops on most Turks and Caicos liveaboards. These eight to eleven-night scuba safaris frequently combine the Turks Islands with the Caicos chain, traversing the Turks Islands Passage and hitting all the best dive sites in both areas.
Where to stay
Both Grand Turk and Salt Cay offer a picture-perfect tropical setting, backed by beautiful sandy beaches and kilometres of unspoilt coast. But, the two islands do have distinctly different personalities.
Grand Turk is surprisingly small, considering that it's the second most populated island in the archipelago and home to the country's capital city - Cockburn Town. Most accommodations, dining, and entertainment are found here, or on the central west coast close to English Point Beach or Pillory Beach. The island's northeast side also offer a few secluded options on the cliffs of Light House Road. There are no sprawling all-inclusive resorts here and instead, you're likely to encounter a mix of beach cottages, historic guesthouses, and tranquil hotels boasting a toes-in-the-sand atmosphere. Much of the island remains unspoilt, with rolling sand dunes, mangrove forests and palm groves, plus a few historical landmarks. The Turks and Caicos archipelago's only cruise ship terminal is located here on the island's southwest side, though few passengers ever leave the port.
If you're looking for an even more laid-back atmosphere, head to Salt Cay. This small island has no full-service hotels and just a handful of rental villas and beach bungalows. Most accommodations include bicycles and watersports equipment, as the island is small enough for visitors to walk or paddle almost everywhere. North Bay offers some of the country's very best beaches, with crystal clear water and hardly another visitor in sight. Balfour Town and North District offer a wider selection of dining and entertainment. And, South District is home to nearly half the island's population. This area is especially good for wildlife watching and birding, as it's adjacent to the wetlands of South Creek.
Grand Turk dive seasons and weather
The Turks and Caicos Islands have a surprisingly dry climate, with far less rainfall and humidity than neighbouring destinations in the southern Caribbean, thanks to the constant breeze offered by the trade winds. With the exception of the tropical storm season, the islands enjoy year-round sunshine and daytime temperatures between 29 and 32°C. Thanks to the lack of development, Grand Turk and Salt Cay enjoy 20 to 40-metre visibility all year round, with little to no run-off.
During the mild winter between November and April, nighttime air temperatures drop to around 23°C and the water reaches lows of 26°C. Then, between June and October, the rainy season brings warmer temperatures, hitting highs of 29°C in the water, and scattered rainfall, with a few days of precipitation per month.
This chain of islands is frequently impacted by hurricanes and tropical storms between June and November, with a peak during August and September. During these months, passing storms can create rough surface conditions and poor visibility - even if they don't make landfall.
The busy season in the Turks and Caicos is shorter than much of the Caribbean, running from December through March, with a major peak around the Christmas and New Year holidays. This is also whale season, with humpbacks migrating through the region's deep, nutrient-rich waters on their way to the Dominican Republic's Silver Bank.
Conservation
The Turks and Caicos have remained relatively free from large-scale development - with most visitors passing through as part of a cruising itinerary. This has allowed much of the country's coral reef ecosystem to remain pristine, with the exception of damage done by tropical storms.
The island's natural resources are managed by the Department of Environment and Coastal Resources (DECR), a governing body overseeing fisheries, development, maritime affairs, and protected natural areas. Today, the DECR is partnering with non-government organisations to protect the region's reefs with coral restoration projects and efforts to fight Stony Coral Tissue Loss Disease, as well as plans to monitor and maintain the population of invasive lionfish.
Grand Turk is home to several protected marine areas, the largest of which, The Columbus Landfall National Park, is home to some of the country's very best scuba diving and snorkelling sites, and some of its loveliest beaches. As the name suggests, historians believe this may have been the very first place where Columbus made landfall in the new world.
If you're interested in volunteer or citizen science opportunities during your Turks and Caicos vacation, you're in luck. Grand Turk hosts numerous conservation agencies focused on marine habitat preservation, sea turtle and iguana rehabilitation, coral reef restoration, and more.
---
Other popular destinations