Scuba diving in
Grand Cayman Island
The birthplace of recreational dive travel, Grand Cayman is home to spectacular walls, and famous sites such as Stingray City and the Kittiwake - all set against a stunning Caribbean backdrop
Highlights
Discover a staggering 240 diverse dive sites dotted around the island
Dive famous sites such as the USS Kittiwake and Stingray City
Breathtaking wall dives and beautiful barrier reef just minutes from shore
Lounge on Seven Mile Beach - one of the best beaches in the Caribbean
Enjoy duty-free shopping for designer brands in George Town
Grand Cayman scuba diving holidays deliver the ultimate Caribbean atmosphere thanks to the island's blend of beautiful beaches, reefs and vibrant culture. Whether you're after complete rejuvenation, cosmopolitan dining, energetic nightlife, or crystal-clear Caribbean waters, Grand Cayman is sure to deliver. Sink your toes into the seemingly infinite sands of Seven Mile Beach, enjoy duty-free shopping for designer brands in George Town, or head east for an authentic island experience and plenty of beautiful flora and fauna. And, no matter where your journey takes you, you'll enjoy world-class underwater adventures in the birthplace of recreational scuba diving.
Scuba diving in Grand Cayman
Schooling reef fish

Year round

Walls & pinnacles

Year round

Caves & caverns

Year round

Plentiful reef life

Year round
Home to a staggering 240 dive sites, Grand Cayman Island is a haven for adventurous divers. In fact, you could dive every single day here for more than eight months, and still not see the same site twice! Plus, having such a long list of dive sites to choose from has helped operators minimise their impact on the underwater world, keeping every single site in great condition. Visitors will find plenty of straight-forward shore dives around Grand Cayman, and many of the most popular drop-zones lie less than five or ten minutes away by boat.
For both divers and snorkelers, one of Grand Cayman Island's biggest draws is its exceptional stingray population. In fact, the western entrance to the island's lagoon-like North Sound is home to a shallow sandbar known as Stingray City. In years past, this sandbank was used by fishermen to clean their catch, and the smart stingrays caught on quick. Today, divers can sit in just four metres of water, surrounded by gentle stingrays searching for free food.
But, there's more than just the famous stingrays beneath the surface as the island is home to deep walls and a beautiful barrier reef. Located on the edge of the Bartlett Trough, which reaches depths of over seven kilometres in places, Grand Cayman Island has become famous among wall diving enthusiasts. The North Wall, particularly around Babylon Reef in the East End, is said to offer some of the island's best wall diving but, in truth, you could descend almost anywhere around Grand Cayman and be humbled by the sheer size, depth, and beauty of these coral-covered underwater cliffs.
Wreck diving
There are several noteworthy wrecks in Grand Cayman, found mainly in the well-developed George Town and West Bay districts. The 77-metre Kittiwake was scuttled in 2011 and now sits upright in the northern end of West Bay at a depth of around 18-metres. Before it was scuttled, penetration routes inside the wreck were carefully planned and prepared, and today this impressive vessel can be dived by all. Divers can visit its five levels, inside and out, including the mess hall, hospital station, propulsion rooms, and ammunition lockers. 
Before the Kittiwake was sunk, the wreck of choice for many divers visiting the Caymans was the Oro Verde, located just offshore from Seven Mile Beach. Once an intact wreck sitting at around 18-metres, rough seas and strong winds have since taken their toll, and divers now explore the scattered wreckage. Other George Town and West Bay wrecks include the Doc Poulson, Cali, and Balboa sites.
George Town scuba diving
The shore diving around George Town is second to none, with sites such as Devils Grotto and Eden Rock frequently named as favourites. Separated by a sand gully, these two shallow sites are both easily accessible and feature beautiful coral heads rising vertically towards the surface and a spectacular labyrinth of tunnels. A designated grouper spawning site off George Town's southwest tip is accessible by boat and features two worthwhile dive sites, Kent's Caves and Big Table Rock. To the south, is a dive site known as Japanese Garden, named after the abundance of staghorn and elkhorn corals that resemble ornate bonsai trees. The surge that has pummeled this southern wall over the years has formed a wonderful network of tunnels and caves here that are particularly impressive in the summer months, as baitfish attract larger predators such as tarpon.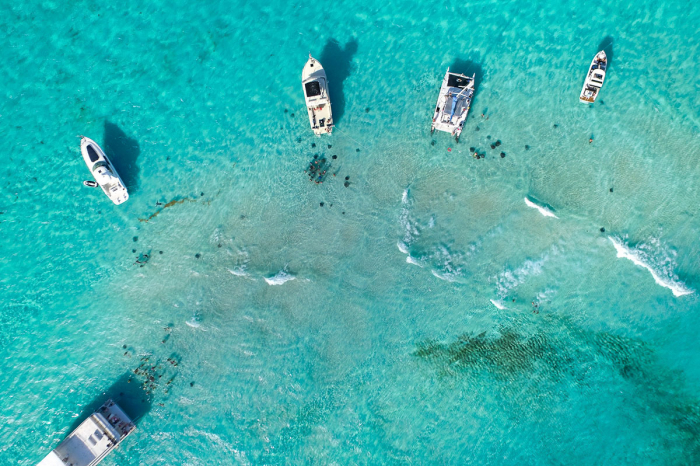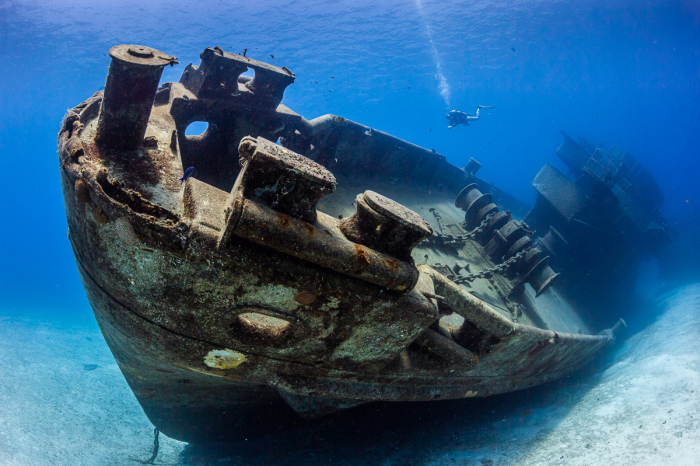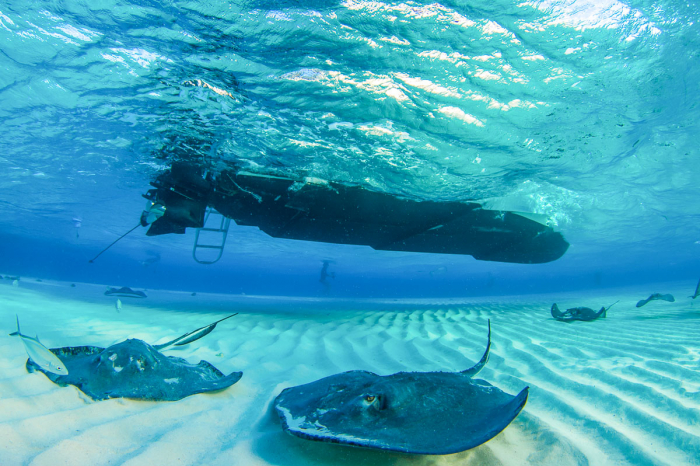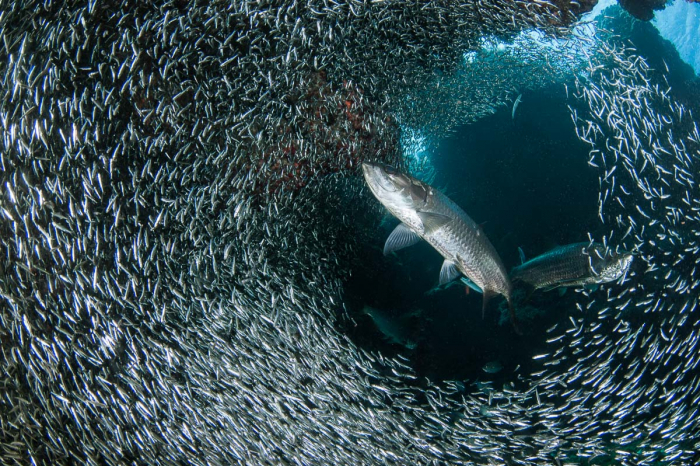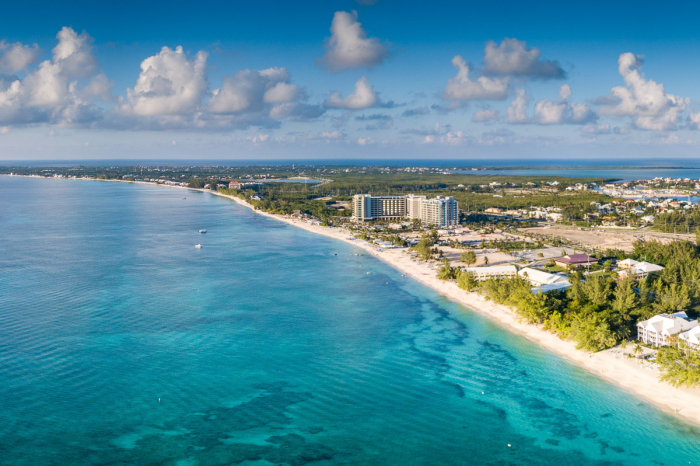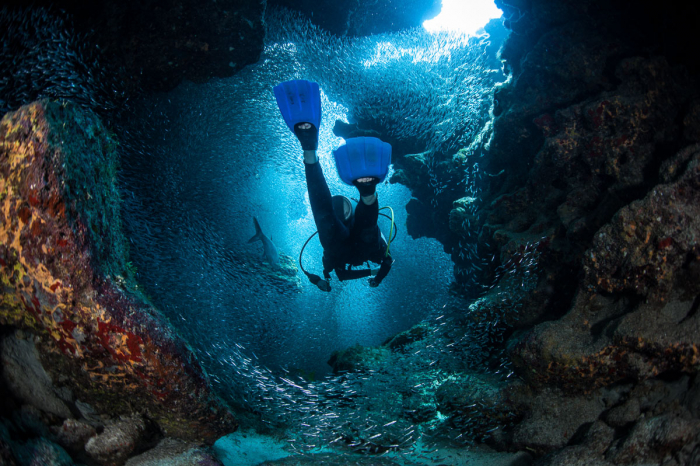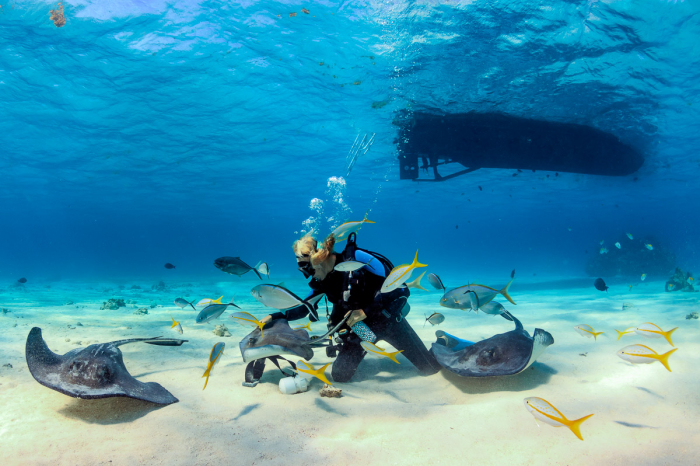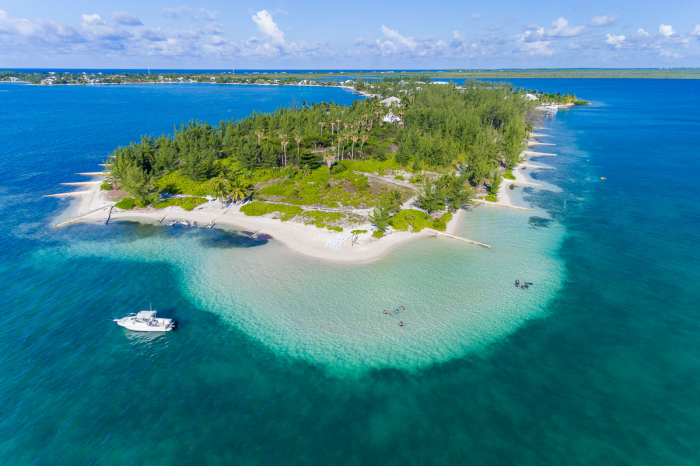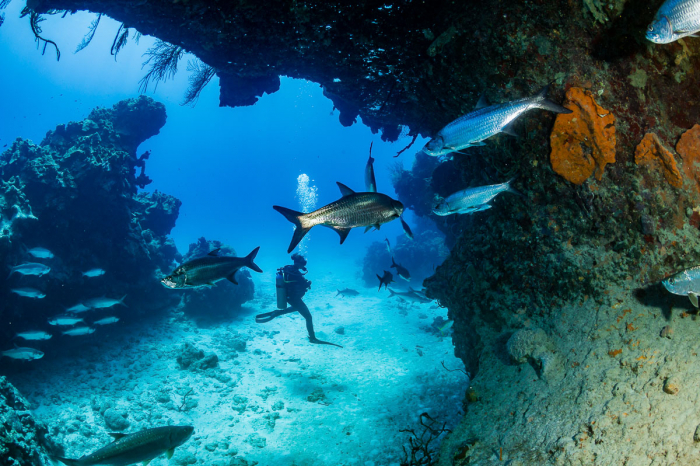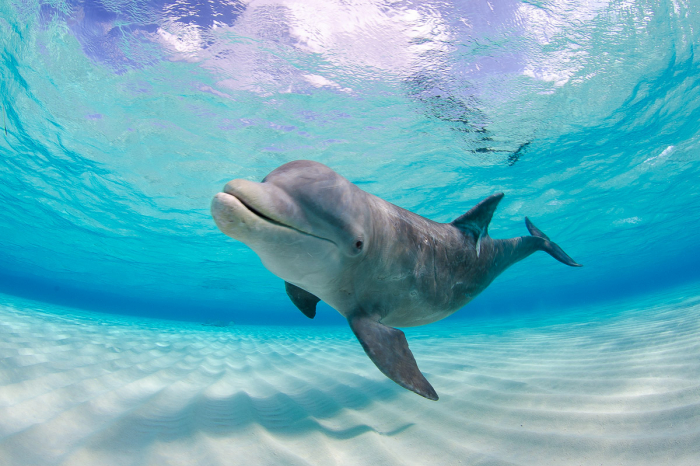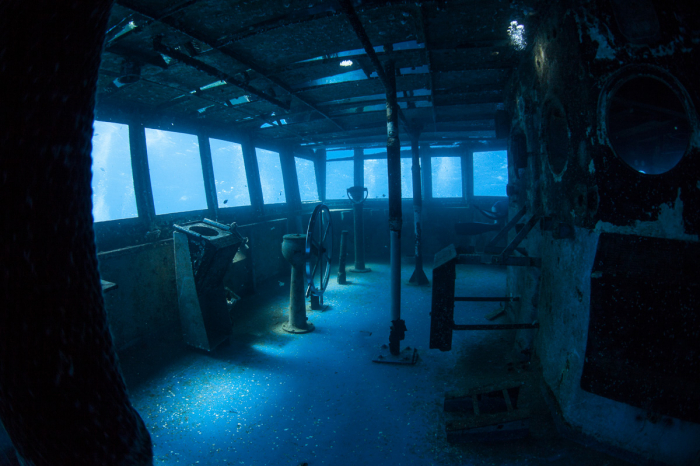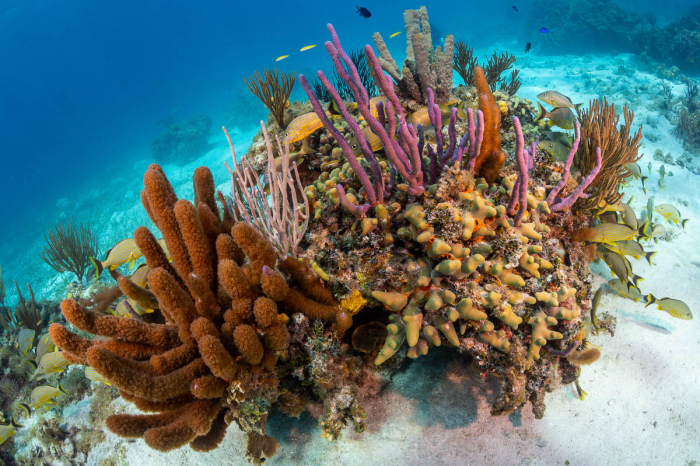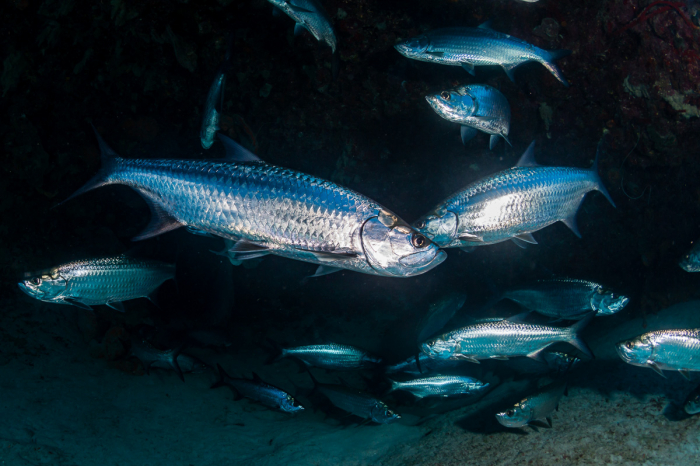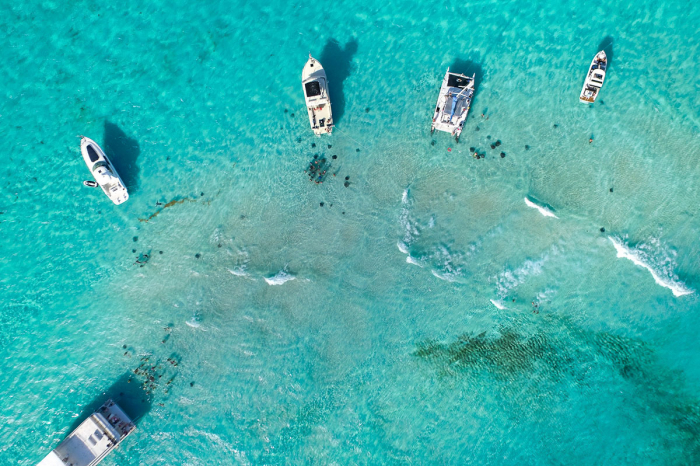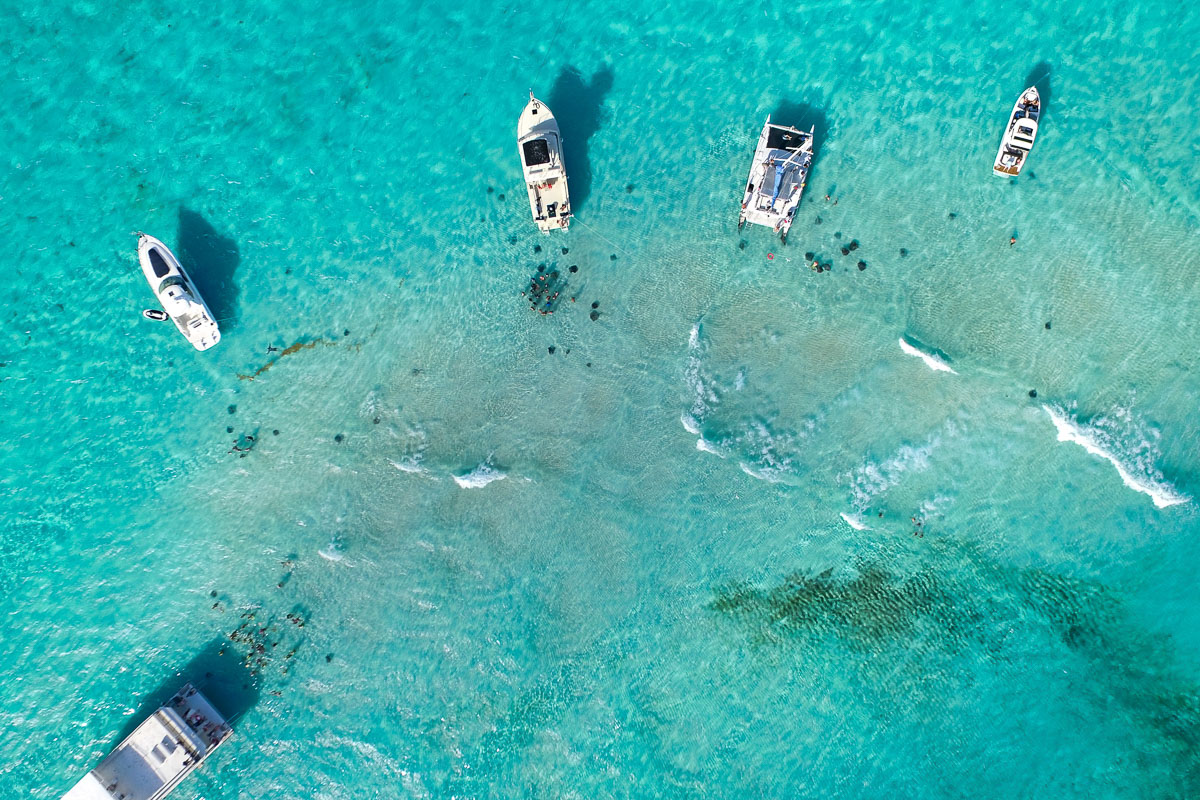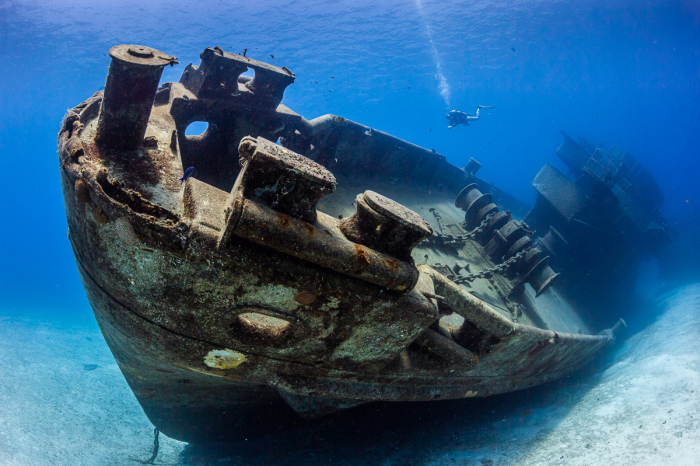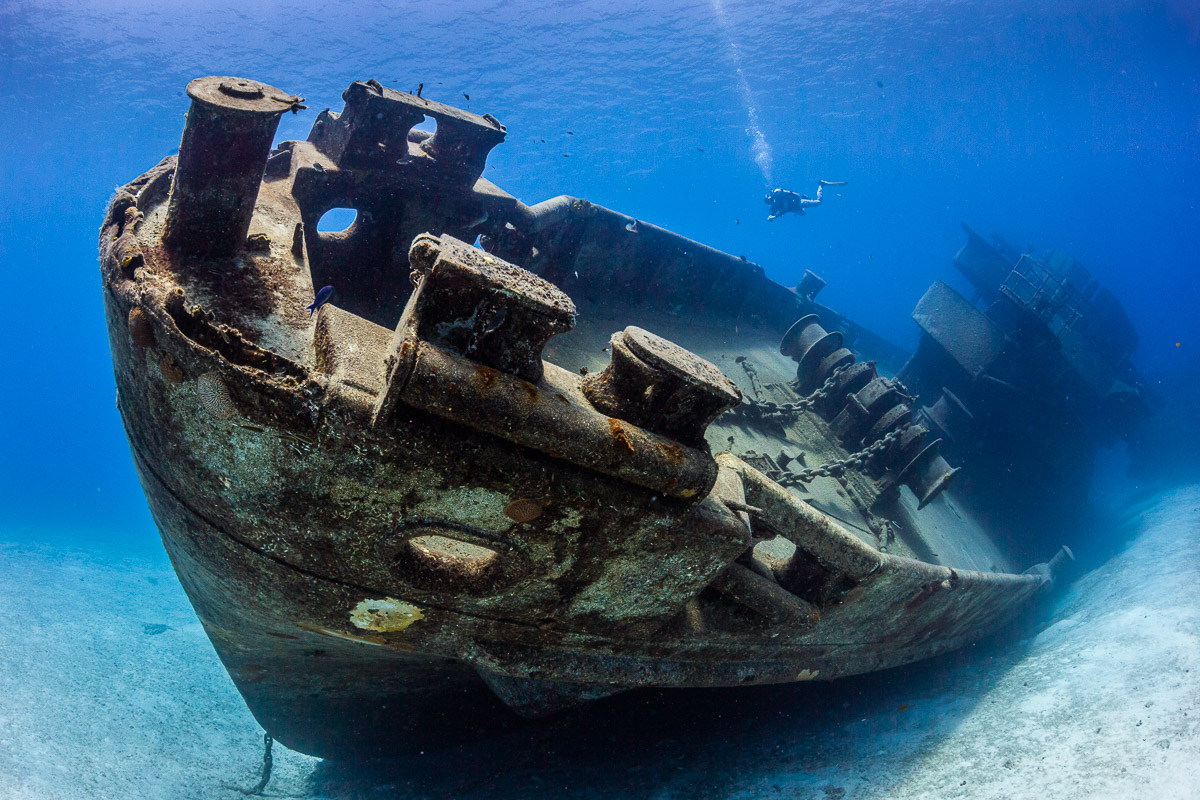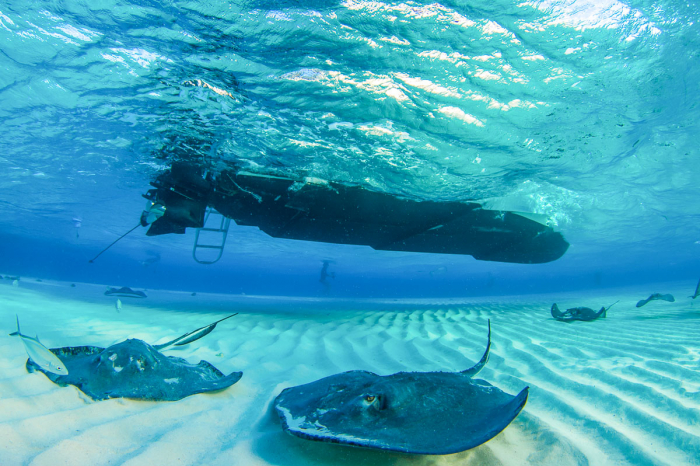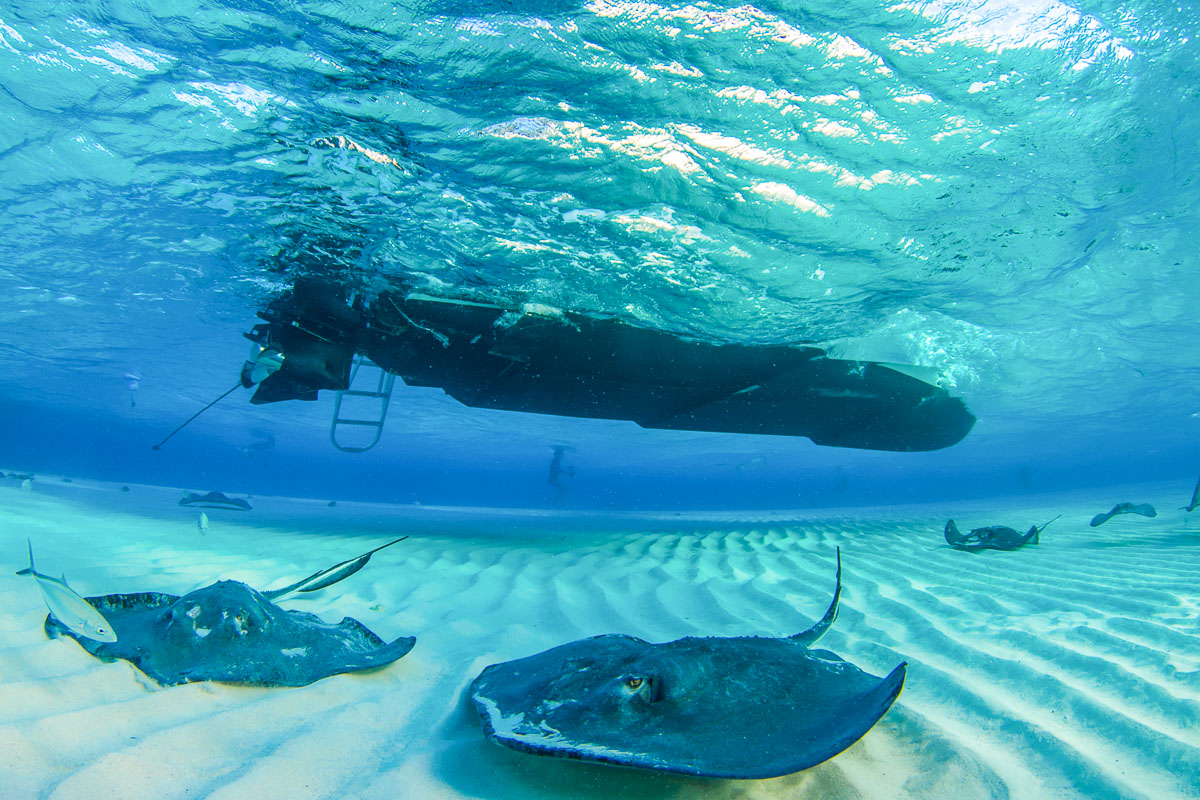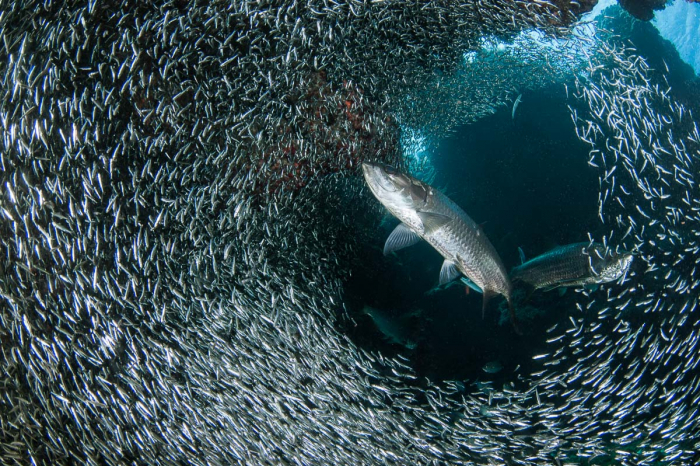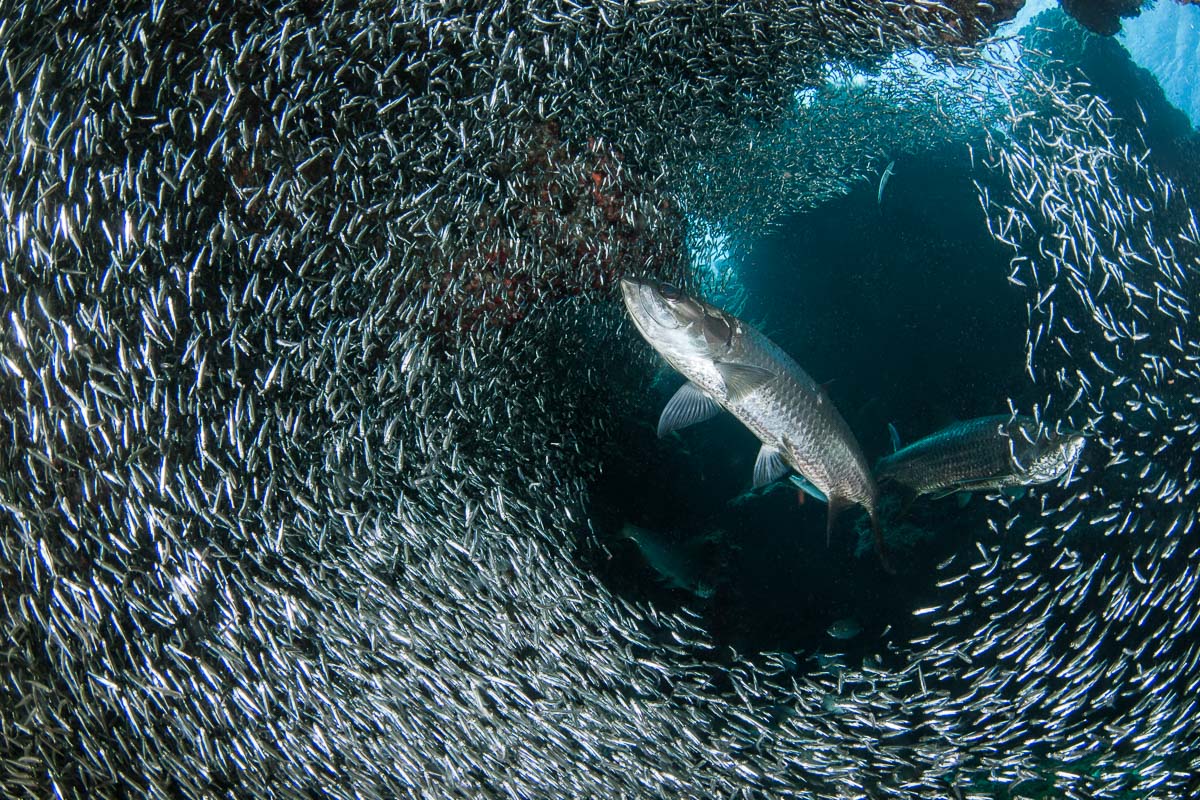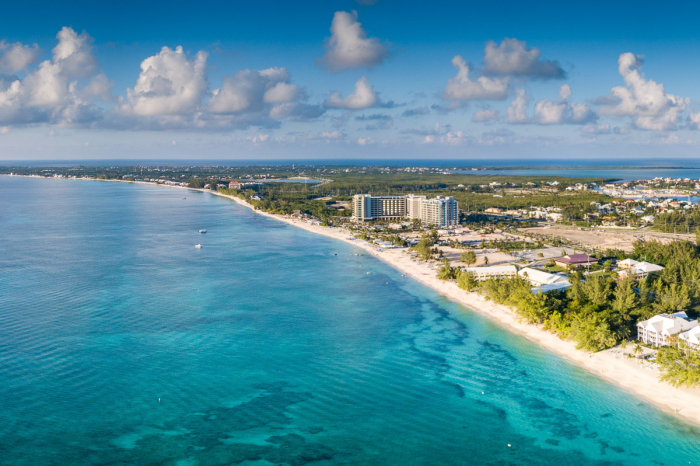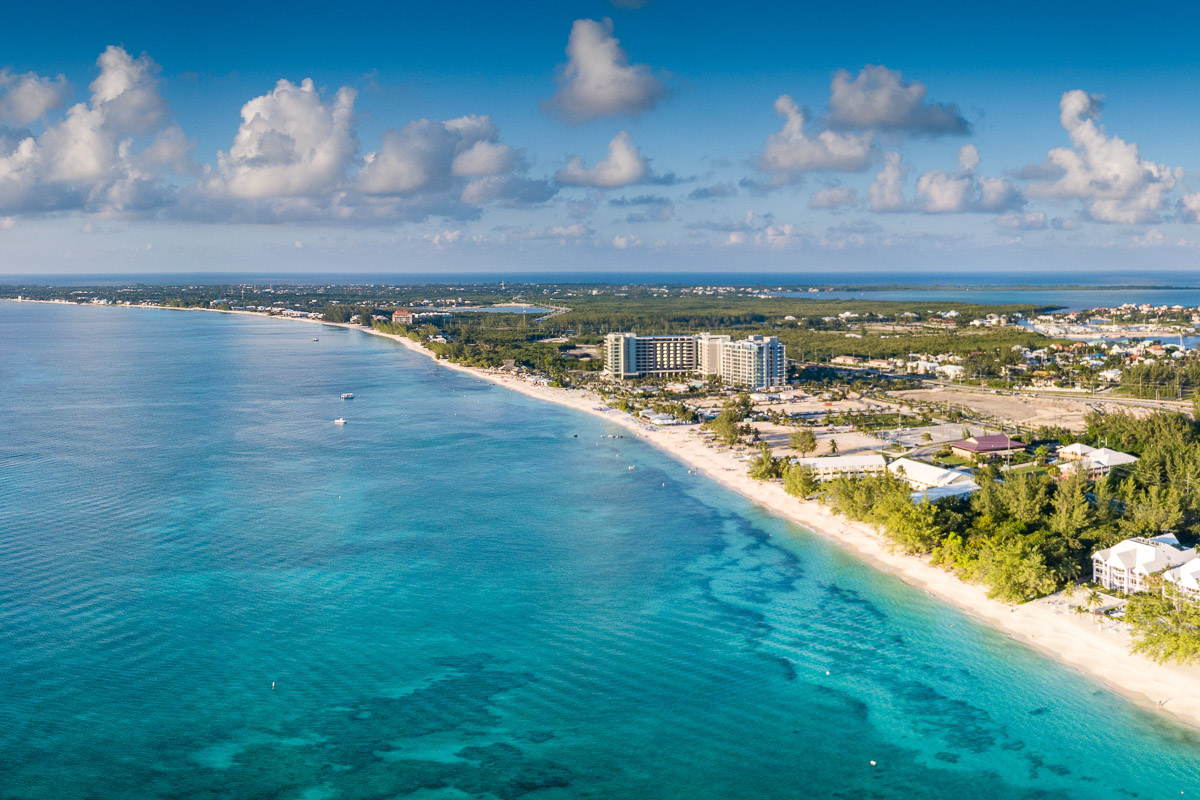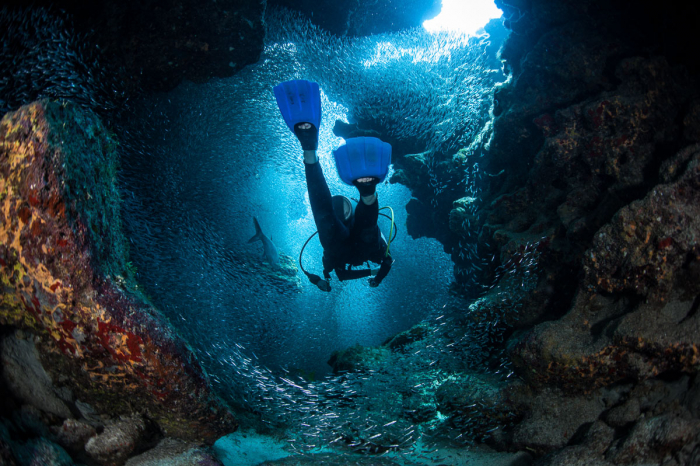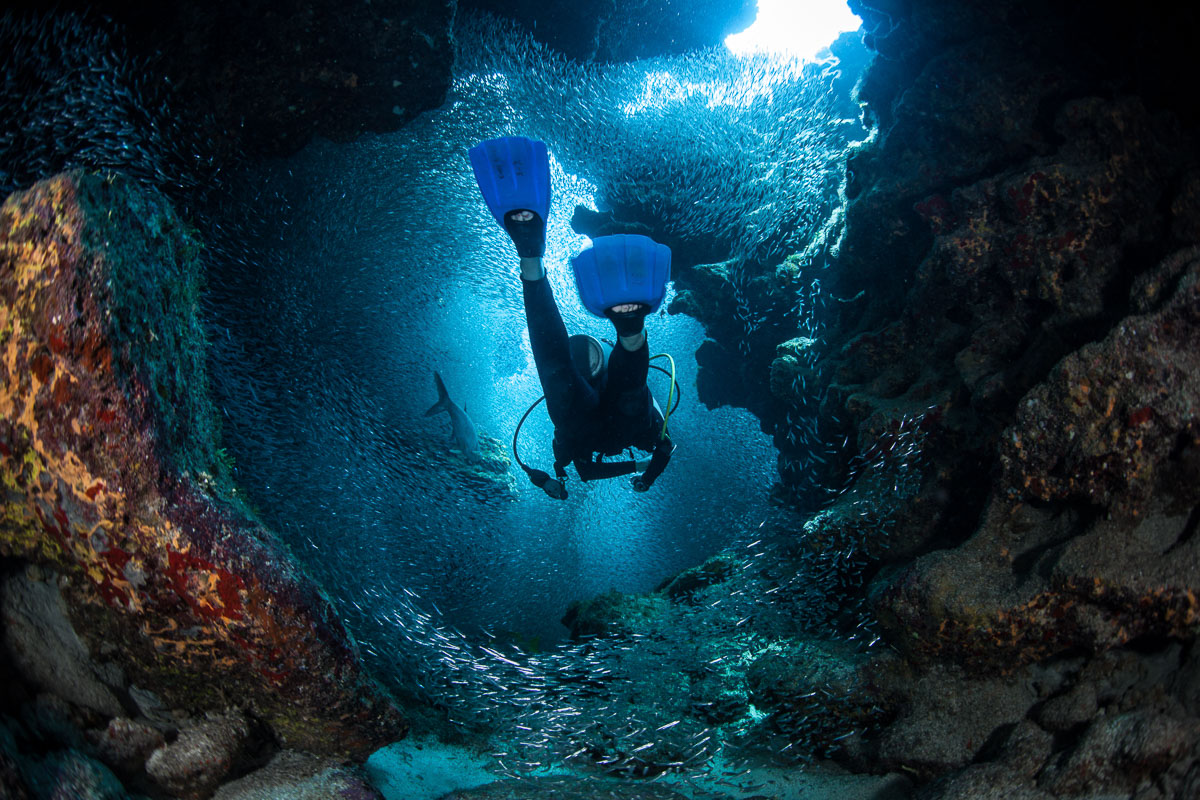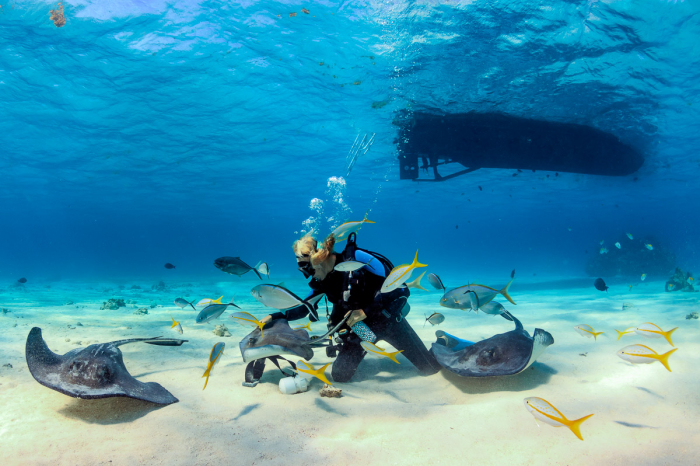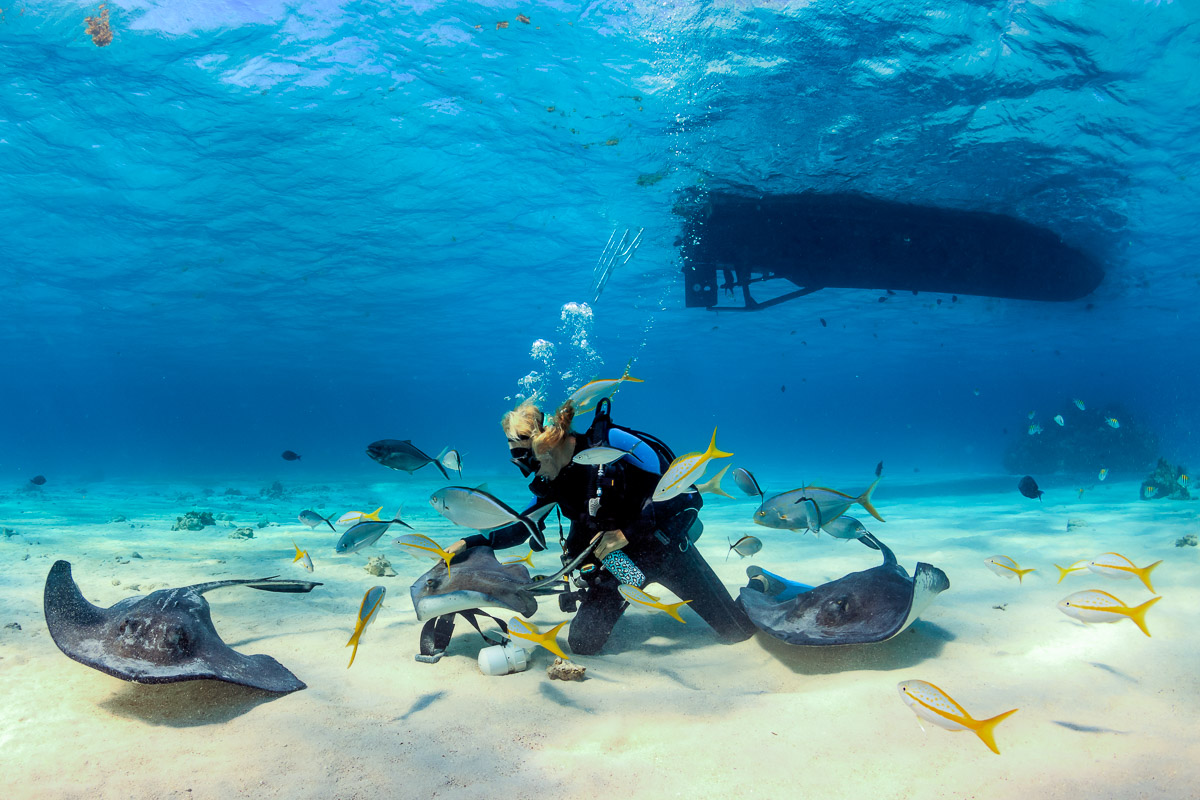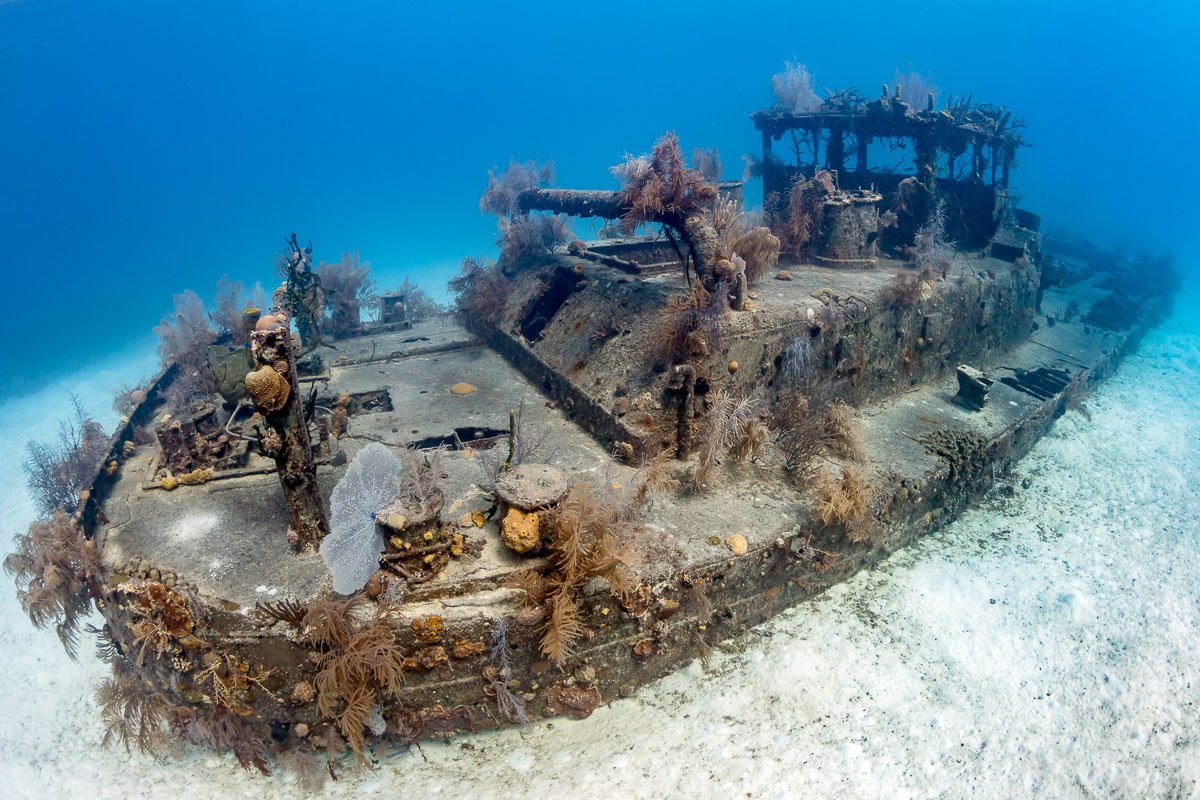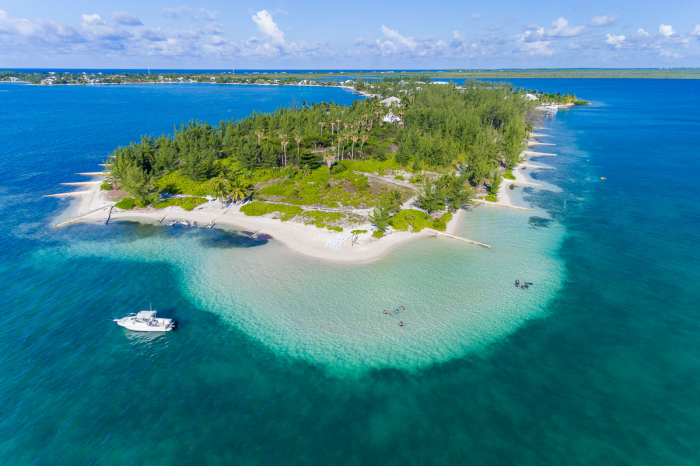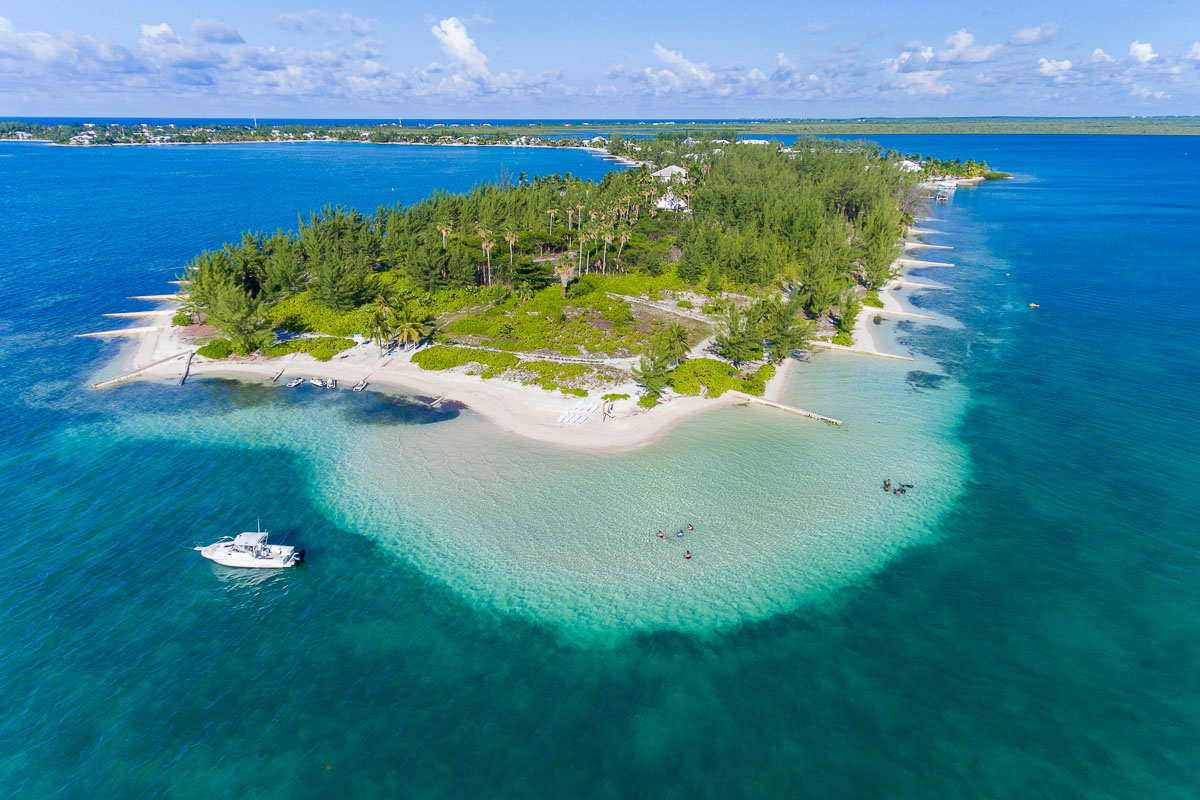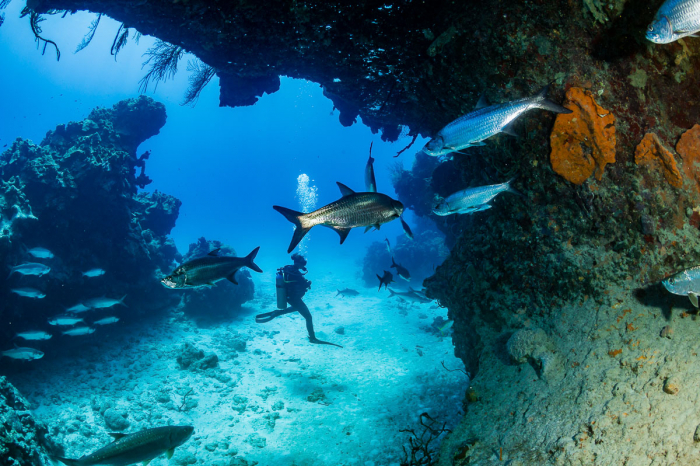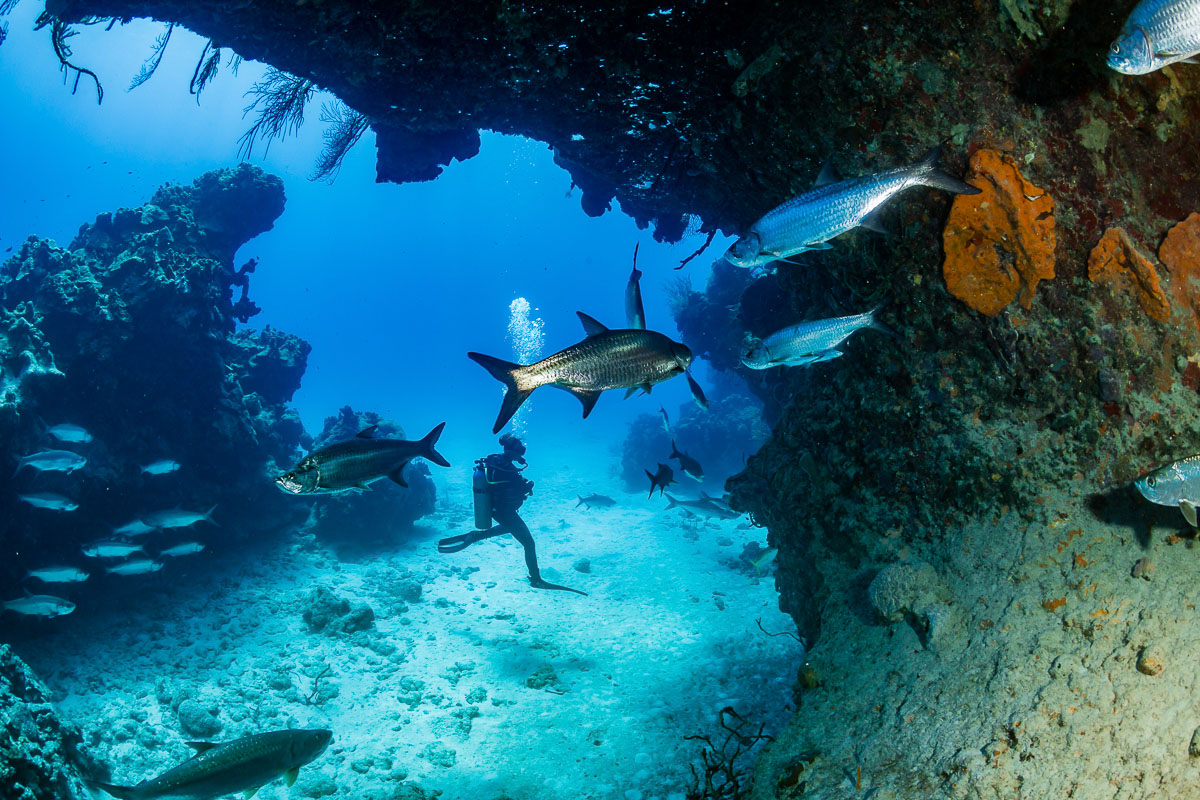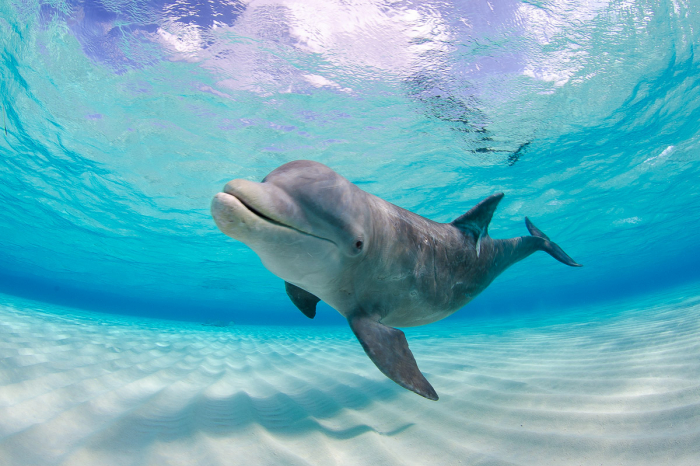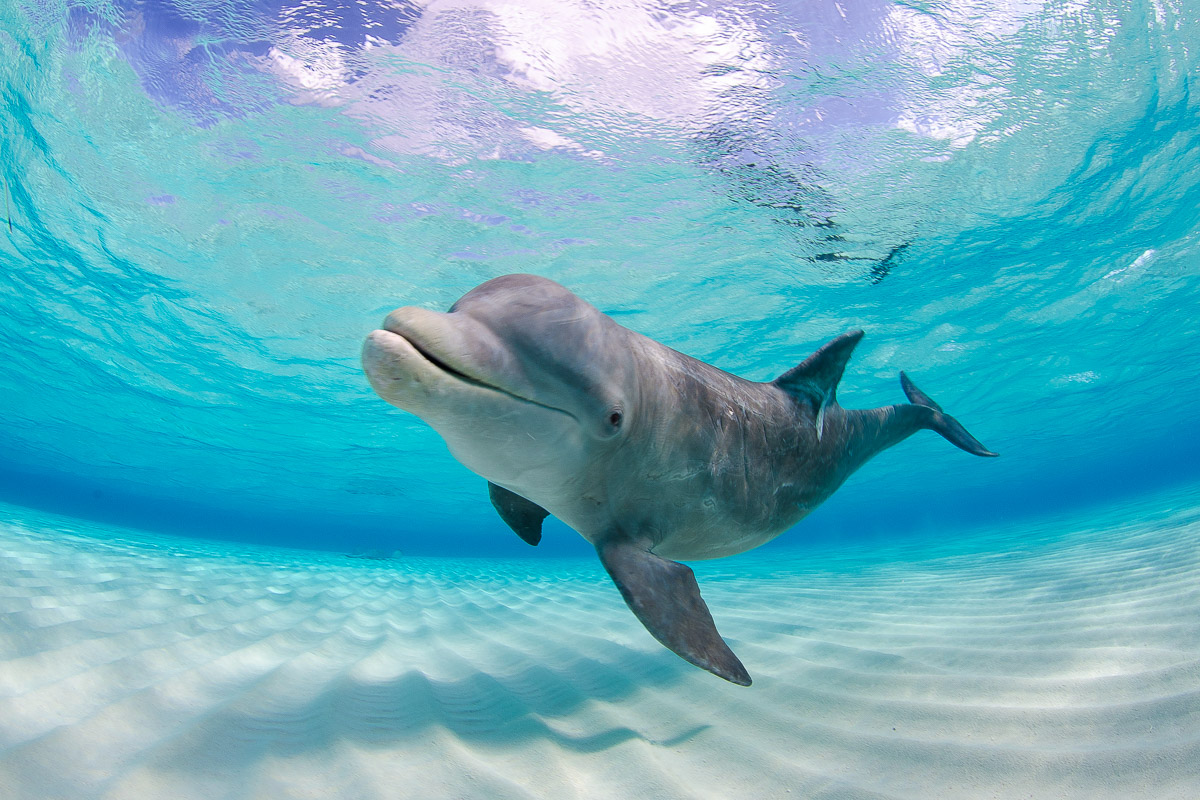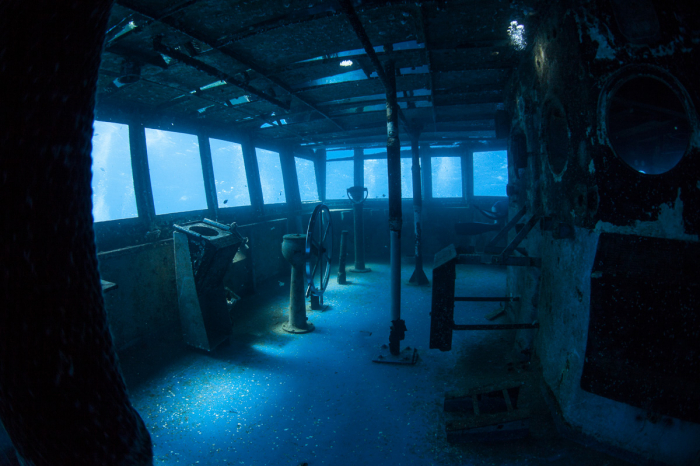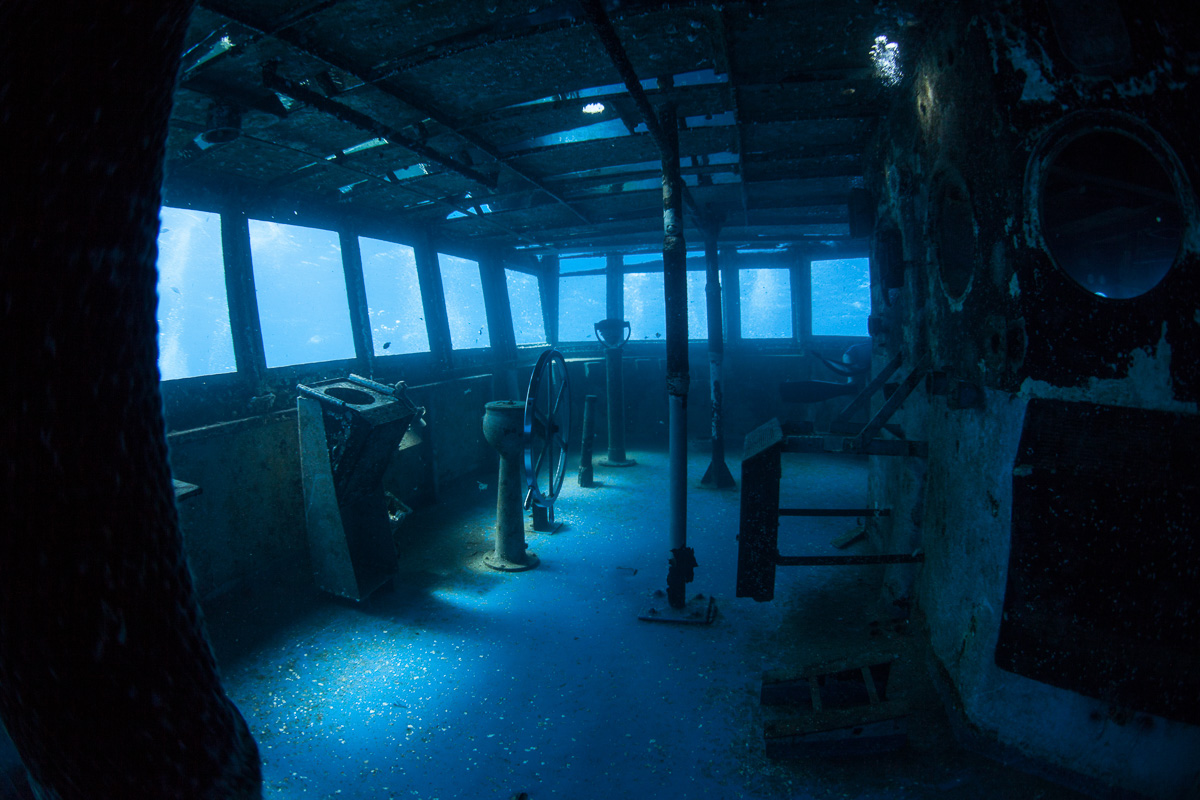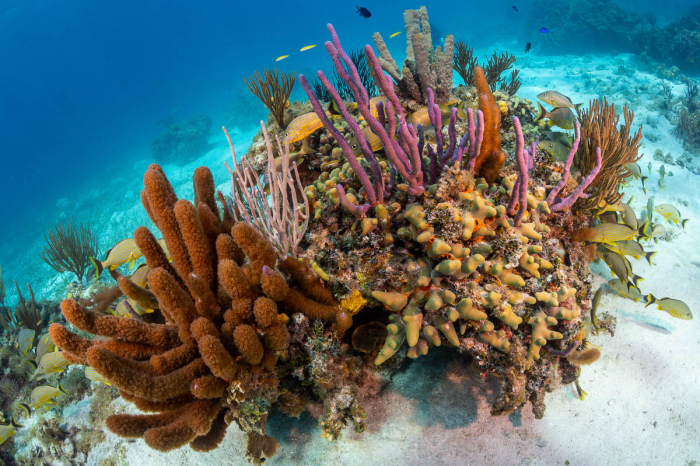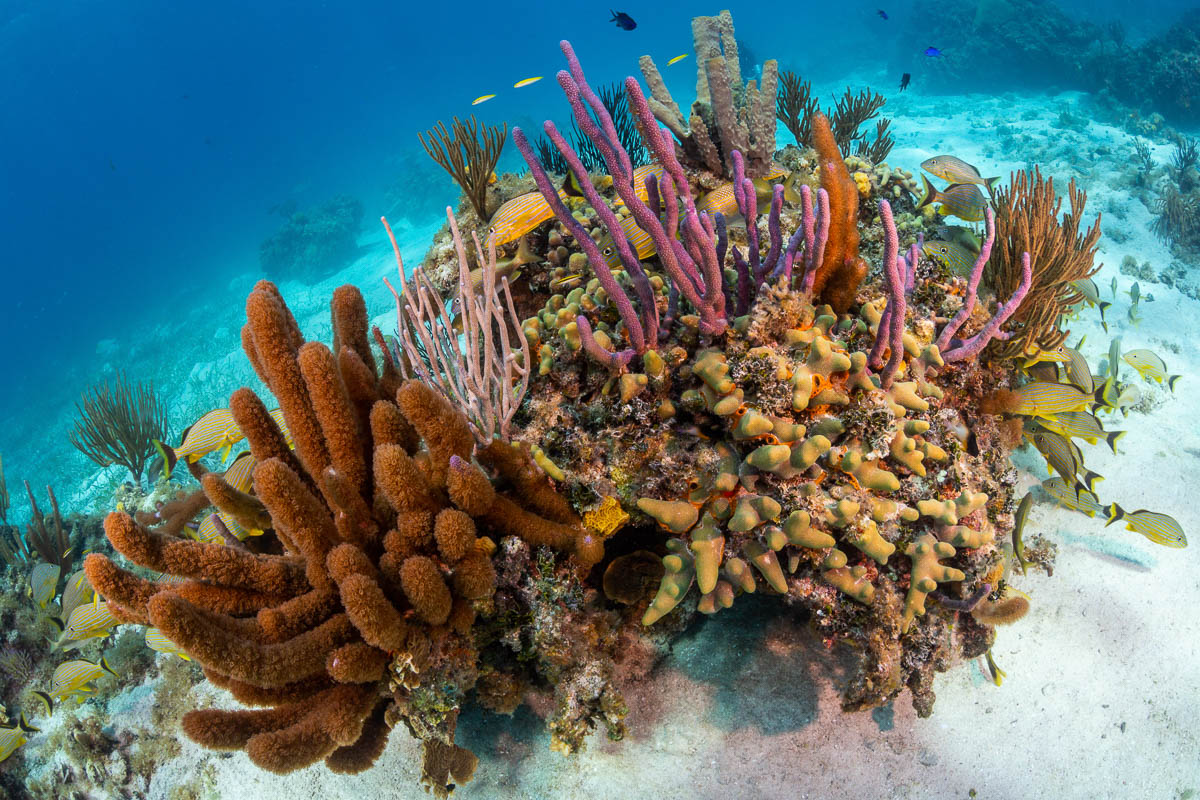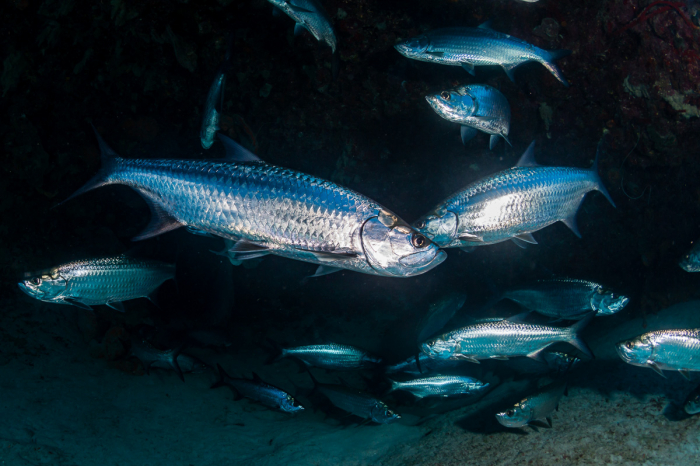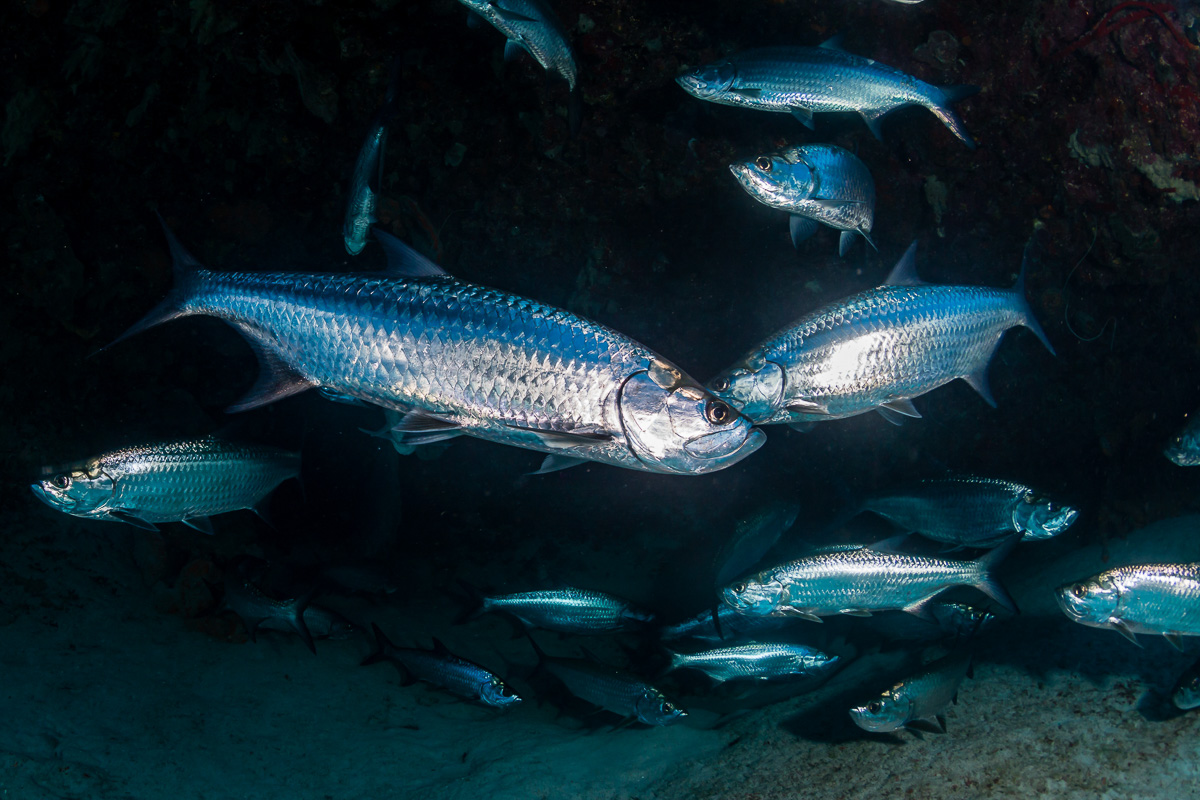 Diving Environment
Type
Walls, wreck and rays
Diving Season
Year round, best December to April
Top tips

Thinking of renting your own transport? Remember, cars and bicycles drive on the left side of the road here.
The Wreck Bar is allegedly where the very first Mudslide cocktail was mixed, back in the 1950s.
Most shops and businesses close down on Sundays, and fewer cruise ships visit as a result. Prepare to do very little, or make the most of this time and explore the comparatively empty streets.
About Grand Cayman
Grand Cayman is the largest and best-known of the three Cayman Islands. And with more than 100 kilometres separating it from its Little Cayman to the east, Grand Cayman appears alone in the Caribbean Sea's empty northwest corner. Even though it is just 22-miles long, this island is blessed with miles of sandy white beaches and warm, crystalline water, as well as a wealth of activities, attractions, and accommodation suitable for visitors of all varieties. And, alongside the island's obvious commercial character you'll also find the full spectrum of Caribbean culture, with old and modern architecture, music, aand events.
Grand Cayman Island is widely regarded as the birthplace of recreational diving, and divers have been exploring the island's underwater world for over 60 years. The Caribbean's first dive operator was established here in 1957 and since then, the Cayman government has identified more than 200 local dive sites as part of its Dive 365 initiative, many of which offer some of the best underwater experiences on earth. Perched on the edge of the plummeting Bartlett Trough, and boasting a beautiful barrier reef as well as a large, sheltered bay, Grand Cayman offers a bounty of underwater treasures - from wrecks to dizzying walls and shallow stingray encounters.
Getting there
The Cayman's Owen Roberts International airport is located on Grand Cayman, making it the easiest to access. American Airlines provides daily direct flights to the island from Charlotte, Dallas, Philadelphia, and Miami. Cayman Airways also flies to Dallas and Miami, as well as New York, Chicago, and Tampa, while Delta Airlines operates flights from Atlanta, Detroit, Minneapolis, and more. Coming from the UK? British Airways will have you from London Heathrow to Grand Cayman in a little over 12 hours, with a brief stopover in the Bahamas.
The island itself is easy to navigate, offering a wide variety of transportation options. If you plan on relaxing in a single area, using taxis or public buses might be the most economical approach. But if you want to get out and explore the entire island, a rental car is likely to be your best option. Organised tours to tourist sights are also easily available, and could prove cheaper if you only plan on visiting a handful of highlights.
Where to stay
As the most commercial of all the Cayman Islands, Grand Cayman offers plenty of accommodation and activities to suit every guest. The western half of the island is the most developed, and most of the Grand Cayman scuba diving resorts can be found in and around George Town, which acts as the country's bustling capital. Built as a fortress against invaders, this small city now features an international airport and port, and the streets throng with tourists from around the globe who come to enjoy the tax-free shopping, countless cafes, and fascinating heritage. But, beyond the busy streets, George Town is still a picture-perfect Caribbean paradise, with palm-fringed beaches and sparkling seascapes.
Further north, lies stunning West Bay and Seven Mile Beach. Many consider Seven Mile Beach to be one of the top choices for accommodation in the Cayman Islands due with its beauty, size, and plenty of watersports such as scuba diving, snorkelling, paddleboarding, sun-lounging, and more. You'll find a range of accommodation here, with an emphasis on sophisticated hotels and all-signing, all-dancing resorts.
Heading east, the atmosphere becomes more peaceful, as the resort towns give way to coastal enclaves that punctuate the thick, evergreen woodland. Here, destinations such as Rum Point offer a far more secluded getaway, where you can mingle with locals and immerse yourself in the eclectic culture of the Caribbean. In this half of the island, which includes Bodden Town, North Side, and East End, visitors will also find several nature reserves and protected natural habitats. 
Grand Cayman diving conditions and weather
The dry season on Grand Cayman Island runs from December to April. The cool northeast trade winds during this time help to moderate the high temperatures, creating a dry and pleasantly warm climate - perfect for hanging out on the beach. The odd day or two of windy, overcast weather is not unheard of during this period, but they are few and far between and rarely last long. Temperatures average 24-28°C on land and 25-28°C in the water. Visibility stays around 18-30 metres throughout the year.
Rainy season lasts from May through November, bringing short and intense rain showers on intermittent days, followed by clear skies and plenty of sun. Average temperatures rise by a few degrees during this time, hitting around 27-31°C on land and 28-30°C in the water. The official hurricane season runs from June through November, with the highest chances of a serious storm occurring between August and September. Divers often avoid these months, as wind and waves can churn the typically calm and crystalline waters, but with so many Grand Cayman scuba diving sites on offer, you can almost always find somewhere sheltered to explore.
Conservation
Between 2008 and 2012, an ambitious initiative called Dive 365 helped to designate 68 new dive sites, creating a total of 365 in the islands - one for each day of the year. While showcasing the incredible diversity of diving in this country, the initiative also meant dive sites could be closed temporarily, allowing the reefs to recover from diver pressure. As a result, the Cayman Islands' coral reefs are considered to be in good health, bouncing back to levels not seen since 1999, and defying the trend of coral loss seen elsewhere in the Caribbean.
For such a small island, Grand Cayman is also home to a long list of land and ocean-based protected areas, including replenishment zones, marine parks, grouper spawning sites, and the Little Sound Environmental Zone. These are all designed to protect natural habitats and provide safe spaces for species to replenish themselves.
---
Grand Cayman Island dive resorts
Grand Cayman Island liveaboards
Other popular destinations