Scuba diving in the
Yucatan Peninsula
Mexico
Mexico's Yucatan Peninsula is a classic Caribbean dive destination, boasting incredible underwater attractions, diverse diving, and over a thousand kilometres of picturesque coast and reefs.
Diving highlights
Discover thriving coral and biodiversity on the great Mesoamerican Reef
Warm water and currents ranging from mild to wild, with conditions for all skill sets
Seasonal encounters with whale sharks, manta rays, bull sharks and crocodiles
Range of diving with plummeting walls, light-filled coral gardens, offshore seamounts, and even an underwater museum
Explore underground limestone caverns and caves known as cenotes
The renowned Yucatan Peninsula has something for everyone, with world-class diving on the great Mesoamerican Reef right at its doorstep. Divers can explore coral gardens, drift along plummeting walls, and encounter incredible marine wildlife. The Yucatan Peninsula is also home to fantastic snorkelling, with lucky groups encountering whale sharks, sailfish, and even saltwater crocs! Well-preserved shipwrecks, an underwater museum, and calm, shallow reefs are found close to shore, promising short commutes to world-class sites, with plenty for beginners as well. And, non-divers will find plenty to do in this scenic region - with lush rainforests, ancient Mayan ruins, limestone cenotes, and the beautiful lagoons of Bacalar.
Thrill-seekers can take their adventures further here, with far-flung offshore diving and frontier exploration at incredible sites packed with marine megafauna like manta rays. But, there's plenty to see inland as well, thanks to the region's karst limestone caverns and caves. These cenotes are open for all levels of exploration, from snorkelling all the way up to technical and cave diving - taking highly skilled guests deep underground into Xibalba, once believed to be the gateway to the underworld by the Mayans. If that's not enough to get your heart pounding, Playa del Carmen hosts one of the world's most reliable seasonal aggregations of bull sharks with dozens of pregnant females sometimes spotted on a single tank!
---
Destinations in Yucatan Peninsula
Ready for your dive adventure in Yucatan Peninsula?
Top Yucatan Peninsula experiences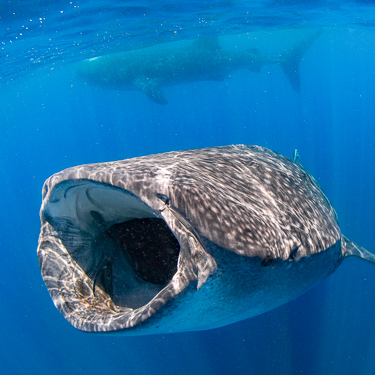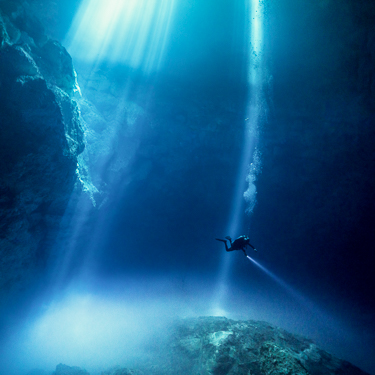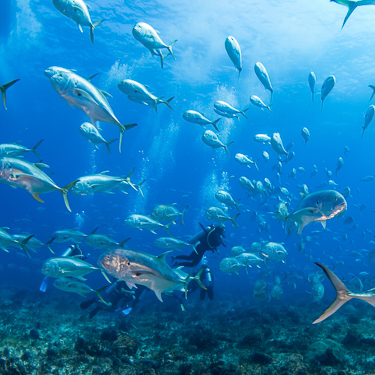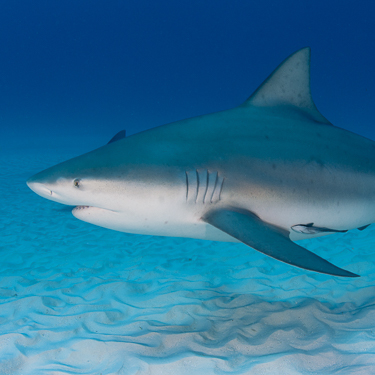 ---
Yucatan Peninsula dive seasons and weather
Mexico's Yucatan Peninsula is a year-round diving destination, but conditions do vary dramatically between the seasons. From June through October, temperatures on land can soar above 30˚C, combining with seasonal wind and rain to create a hot tropical jungle climate. During January and February, cold winds move into the region, lowering temperatures and making offshore sites challenging to reach. If you're hoping for calm, clear water and uncrowded sites, book your trip outside the peak tourist seasons around Christmas, New Years, and Semana Santa - the Mexican vacation associated with Easter week.
Cancun and Isla Mujeres
Plan your trip between May and September for whale sharks or December and March for sailfish. But, be sure to avoid the December holidays to avoid this region's seasonal influx of tourists.
Cozumel and Playa del Carmen
Visit here between November and March for the best chances of diving with bull sharks. Avoid storm season between August and November, especially if you're hoping to dive on Cozumel's wild windward side.
Tulum, Akumal and the Riviera Maya
While Akumal and the Riviera Maya are affected by storm season like the rest of the Yucatan Peninsula, Tulum's cenotes enjoy excellent conditions all year round. Just be sure to avoid Semana Santa here, as Tulum transforms into party central, attracting spring breakers from around the globe.
Mahahual, Xcalak, Chinchirro and Costa Maya
Diving in these more remote areas in the southern Yucatan Peninsula can be especially challenging during storm season when offshore areas are all but unreachable. Plan your trip during the summer months between April and August for the easiest commute to far-flung sites. 
Yucatan Peninsula top resorts