Scuba diving in
Cayman Islands
Explore the Cayman Islands and dive a different site every day of the year, including some of the best wrecks and walls in the Caribbean, and the famous Stingray City
Diving highlights
Dive a different site every day of the year with over 360 sites to explore
Delve into the islands' rich history of pioneers and privateers
Explore the USS Kittiwake, an impressive 77m wreck
Visit the famous sheer walls of the Bloody Bay Marine Park
Explore the only diveable Soviet warship in the Western Hemisphere
The Cayman Islands archipelago is made up of three protruding peaks of an otherwise submerged mountain range - the Cayman Ridge. Located south of Cuba in the midst of the Caribbean Sea, this island chain is dissected in two by a 100 kilometre stretch of open ocean, with Grand Cayman to the west, and the 'sister islands' of Little Cayman and Cayman Brac to the east. Together, these distinct islands form one highly cosmopolitan country that combines modern appeal with local culture and pristine natural surroundings - creating a genuine haven for divers and other adventurers.
The Caymans embody the essence of escapism, and while millions of visitors grace this archipelago's sun-baked shores each year, solitude is still easy to find - be it above or below the waves. Outside the bustling ports and cruise terminals, a trip to the Caymans is all about switching off, so expect to take life at a slower pace. You'll likely spend your days ambling between eateries, visiting the small museums, exploring the natural surroundings and diving of course. In fact, this island is a haven for anyone that loves nature, with endangered parrots, brown boobies and peregrine falcons to be seen, as well as the famous iguanas.
---
Ready for your dive adventure in Cayman Islands?
Top Cayman Islands experiences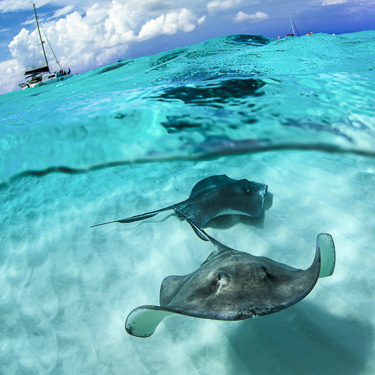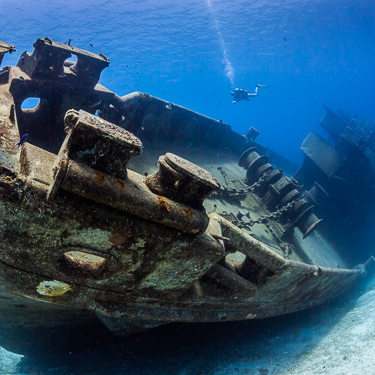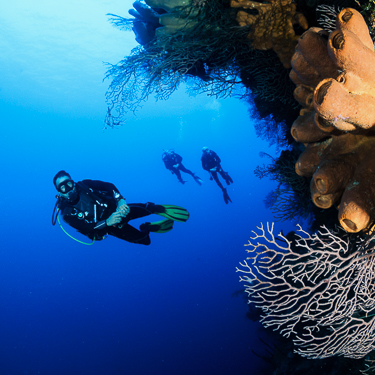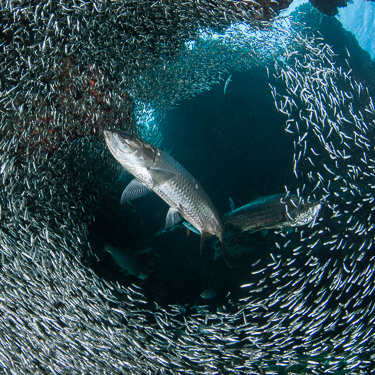 ---
The best time of year to dive the Cayman Islands
The dry season in the Caymans runs from December to April, when cool northeast trade winds help to moderate temperatures, creating a dry and pleasantly warm climate. The odd day or two of windy, overcast weather is not unheard of during this period, but they are few and far between and rarely last long. Temperatures average 24-28°C on land and 25-28°C in the water. Visibility stays around 18-30 metres throughout the year.
Rainy season lasts from May through November, bringing short and intense rain showers on intermittent days, followed by clear skies and plenty of sun. Average temperatures rise by a few degrees during this time, hitting around 27-31°C on land and 28-30°C in the water. The official hurricane season runs from June through November, with the highest chances of a serious storm occurring between August and September.
---
Cayman Islands top resorts
Cayman Islands top liveaboards