Imagine a place where you and your buddy drive right into a dive centre, grab yourselves a couple of tanks, and set off in search of adventure. Once you have found your spot, all you need to do is strap on your fins and descend amongst beautiful coral gardens, schooling fish and sea turtles. Well, that's what it's like diving on Bonaire!
This arid and windswept island is home to world-class scuba diving and snorkelling, with over 80 sites to choose from between the mainland and Klein Bonaire - and the majority of it can be enjoyed right from the shore. Plus, with plenty of self-guided exploration on offer, it's also one of the most affordable diving destinations in the Caribbean. 
We'll explore why Bonaire is such a fantastic destination, how and when to explore, and where to stay. And, we'll tip you off to the island's very best dive sites, home to the region's most impressive marine life and conditions to suit every diver. Dive in and explore what makes Bonaire the king of shore diving....
---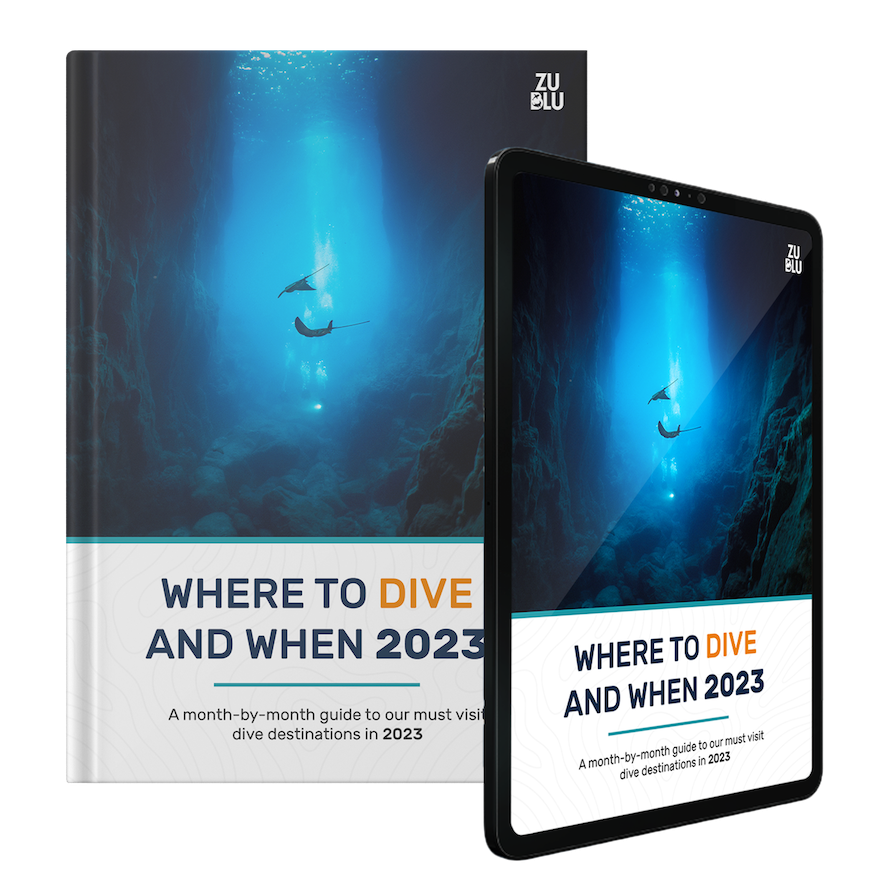 Need some inspiration for your next diving holiday? Download this FREE month-by-month guide to ZuBlu's top diving destinations in 2023.
---
What makes Bonaire's shore diving so special
Shore diving in Bonaire is amazing, thanks to many of the island's natural features. On the leeward side, where you'll find the best shore diving, the reef starts just a few fin kicks from shore. So, you'll just need to wade in, look down, and start your dive. You'll find expansive hard and soft coral gardens home to plenty of marine life, with calm currents and easy-going conditions ideal for beginner and intermediate divers.

Another big positive to diving in Bonaire is the impressive number of dive sites. The mainland boasts a whopping 63, with an additional 26 on Klein Bonaire next door! If you're diving from shore, you'll follow a map to each of the island's easy to find entry points. Just look for the yellow rocks dotting the road-side. And, many of the island's most popular sites even include submerged markers to keep you from getting lost or disoriented during a dive. 
Shore diving on Bonaire's "wild" windward side is incredible, too - but you shouldn't go exploring without a guide. Facing the open ocean, the reef here drops off far more steeply than on the island's western coast, beckoning big animals in from the deep and offering access to a few exciting drift dives. And, thanks to the region's powerful trade winds, you can expect crashing surf and chop on the surface. That said, this pelagic playground is well worth visiting if you're up to the challenge. Sea turtles, barracuda, tarpon, sharks and even the occasional manta ray can be spotted passing by in the blue.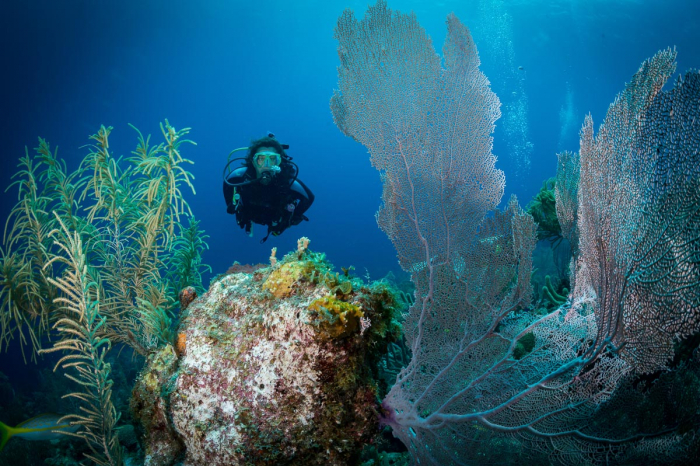 Dive your own way
One of the most exciting parts of planning a dive holiday in Bonaire is the flexibility to choose exactly how and when you want to explore. You'll find plenty of options for diving independently - or with a resort or dive centre. So which is best?
Self-guided exploration
If you're an advanced and adventurous diver who is comfortable with navigating on your own - the choice is clear. Go it alone! Bonaire's dozens of dive sites are clearly marked, with easy to follow instructions for where to enter and exit the water. On top of that, many of the most popular diving areas also have indicators on the reef to help you stay on course throughout each dive.
But, maybe you're less experienced and not 100% sure you can handle exploring without a guide. Well Bonaire is one of the best and easiest dive destinations on the planet, and a perfect place to learn! Just start with some of the easiest diving areas and work your way up. By the end of your holiday, you'll likely feel like an expert. 
With a number of drive-through tank services, daily delivery to your hotel or rental home, and some shops open 24 hours a day, renting your tanks couldn't be easier on Bonaire. Many dive centres also offer rental equipment, detailed maps for sale, and affordable gear services, should you need some help with your kit.
Hiring a dive guide
While Bonaire is a dream destination for independent exploration, there are still plenty of big benefits to hiring a professional dive guide. And, you'll absolutely require one to get to some of the island's very best sites. Bonaire's remote windward side is famous for powerful currents and pelagic action - a night and day difference from the island's typically calm waters on the leeward side. Diving independently on this windward coast is not recommended, even if you're highly experienced. The same goes for Klein Bonaire, the island's small offshore islet. These sites are visited less often than those on the mainland and are home to some of the area's most incredible coral reefs. But, you can't get there without a boat - and you'll be required to dive with a guide.

Even if you're planning to stick to Bonaire's easy shore dives, you might still want to hire an expert set of eyes. This island is home to a surprising amount of macro life, with seahorses, frogfish, and nudibranchs in all shapes and sizes taking shelter amongst the island's kaleidoscopic coral. Numerous juvenile reef fish and fascinating bottom dwellers can be found here too, but only if you know where to look! A professional guide can also assist you with camera equipment or even snap a few shots of you and your dive buddy exploring together.
Ready to start planning your dive holiday to Bonaire?
Search, compare and book from our hand picked selection of resorts.
Bonaire's best dive sites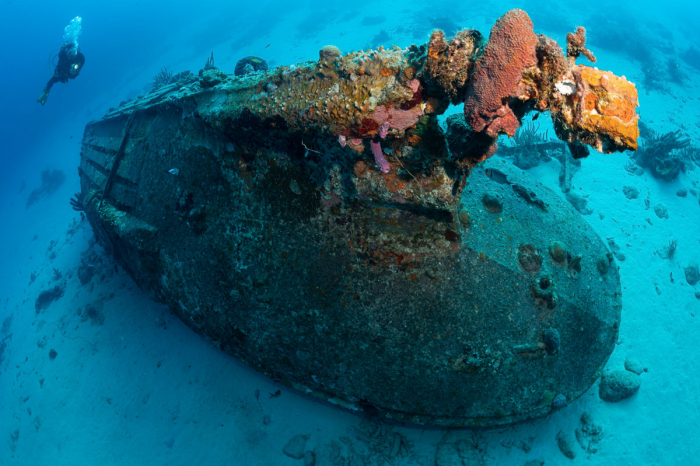 Leeward Side
With dozens of dive sites on offer in these calm, clear waters, it can be hard to choose just a few standouts. But, there are a handful of sites on Bonaire's leeward side that should be considered as "can't miss" experiences by many divers. Named for the long stairway to its entrance, 1000 Steps is beloved by divers and snorkellers alike, thanks to its shallow, easy to navigate reef system and mesmerising schools of fish. For contrast, pair this site with nearby Karpata - with one of the island's most impressive drop-offs and massive coral formations.
Head all the way to Bonaire's south to dive Lighthouse Point, home to expansive sand flats and fringing reef. Search for garden eels and stingrays in the sand, and don't forget to look up - massive schools of baitfish are often seen swirling overhead here. A little further north from Lighthouse Point lies Margate Bay, a fun drift dive with schooling margates, rainbow-coloured parrotfish, surgeonfish, sea turtles, and more.  
Windward Side
Though you'll have to enter through challenging surf, sites like Baby Beach are worth the extra effort. Regular reef and nurse shark sightings, squadrons of eagle rays, and a fantastic fringing reef delight divers who are up to the challenge. Just stay with your group during the drift, and don't forget to look out in the blue - that's where the big stuff is!
Boka Spelonk boasts one of the island's most challenging entrances, requiring a huge giant stride, but its dizzying drop-offs and thriving reefs mobbed by colourful fish are guaranteed to delight even the most seasoned of divers. Massive cracks, caverns, and overhangs add to this site's appeal. And, current permitting, you may drift onto neighbouring sites - Smurf City, Schiphol, Boka Canoa, and Boka Rincon are all stunning and right around the corner! 
Artificial Reefs
While Bonaire is famous for its thriving coral gardens, there are also a few man-made sites worth checking out. The Hilma Hooker wreck's 72-metre long hull is completely encrusted, and is home to plenty of fish and macro life. Keep in mind that this is a deep dive, bottoming out at around 30 metres.
The Salt Pier is shallow and easy to access, and each of its pillars and pylons is home to its own tiny ecosystem. Large schools of baitfish gather close to the surface, turtles nap in the sand, and there is a surprising amount of coral cover. But, the real treat here is the macro life. Scan this site for seahorses, frogfish and nudibranchs, then come back at night to spot a completely different set of critters. 
Klein Bonaire
This small offshore island boasts better visibility than the mainland and extensive coral cover, plus far fewer divers to share it with! No site shows off these features more than The Forest, where divers will encounter a massive expanse of black coral dotted by swaying sea fans and huge barrel sponges. 
On the island's southwest corner, Sharon's Serenity is home to one of Bonaire's most spectacular hard coral gardens. Huge stag and elk horn formations hide a massive population of reef fish, stingrays, and even a few macro subjects. This site is shallow enough for snorkelers to enjoy alongside divers, with plenty to see from the surface.
About the island
Getting to and from Bonaire is simple, with regular flights direct from Europe and the United States, as well as international connections via the neighbouring islands of Aruba and Curacao. On arrival, most shore divers rent a pickup truck, making it easy to handle tanks and equipment and drive without worry on the island's sand and gravel roads. 

Scuba divers are spoiled for choice when it comes to where to stay on the island. If you're hoping to combine diving with shopping, nightlife, and delicious island cuisine, choose a hotel or dive resort in Kralendijk, the island's capital. This colourful clapboard town is vibrant yet low key, ideal for a tranquil tropical holiday. Just outside of town, there's a great selection of small hotels, guesthouses, and private holiday rentals to choose from. And, on the island's windward side, you can find remote and secluded rentals, ideal for an isolated getaway.
As well as scuba diving and snorkelling, Bonaire is a dream destination for wind sports. There is also an expansive national park, home to flamingos and endemic species. While you're on the island, spend a day or two driving around to see the countryside, visiting historical sites, meeting the friendly wild donkeys, and admiring the breathtaking views where the desert meets the sea.
Bonaire diving seasons and weather
Bonaire has a warm, dry climate year-round, with sunny afternoons reaching 29-33°C and cool, slightly windy nights, thanks to the island's ever-blowing trade winds. Although the island sees very little rainfall, wayward tropical storms do occasionally pass through, delivering precipitation, humidity, and high winds. Though uncommon, these weather events typically take place during August and September. These storms can impact surface conditions and visibility, even if they pass hundreds of kilometres offshore. 

Water temperatures around Bonaire range from 27-30°C with the warmest months in August and September. However, most divers here prefer to wear a full wetsuit over a shortie. Diving independently means you can enjoy longer bottom times, so its best to dive suitably well insulated. 
Bonaire's busy season technically runs from November through April. But, if you're hoping to avoid the tourist crowds, avoid Christmas and New Year holidays and Easter week. Diving conditions are excellent between February and July, and in November when the island enjoys optimal weather and low visitor numbers.
---
Ready to book your diving adventure to Bonaire?
Contact a dive travel expert today!

---