Home to some of the Western Hemisphere's most impressive scuba diving - alongside tropical rainforests, ancient Mayan ruins, and a vibrant blend of cultures - Belize is easily one of Central America's most dynamic destinations. With easy access to the Mesoamerican Barrier Reef, visitors here can explore thriving coral reefs, come face to face with whale sharks, turtles and squadrons of eagle rays, and explore the sunken world of the Great Blue Hole - all within easy reach of the mainland!
If that sounds like your kind of adventure, you've come to the right place. Read on for ZuBlu's top tips on where and when to dive in Belize, the region's can't miss dive sites, getting around the country, and more!
What makes the Mesoamerican Reef so special?
Belize's diving along its barrier reef is beyond comparison in the Western Hemisphere, with an incredible diversity of dive sites and access to hundreds of kilometres of pristine coral. This hotspot for biodiversity, known as the Mesoamerican Barrier Reef, is one of the planet's most impressive barrier reef systems, second only in size to the Great Barrier Reef of Australia. Divers can explore barrier, fringing, and patch reefs mixed with sand channels and near-vertical walls encrusted in hard and soft coral, as well as mangrove forests, seagrass beds, and sand flats.
The Mesoamerican Reef is home to more than 500 fish species, 60 coral species, 350 molluscs, marine mammals, algae and seagrass. Critically endangered species can be found here, too, including saltwater crocodiles, green, hawksbill, and loggerhead sea turtles, Nassau and goliath grouper, and the largest population of manatees in the western Caribbean. And, thanks to its proximity to deep water trenches and reliable food sources, Belize is also home to a variety of bigger species including tarpon, reef and nurse sharks, eagle rays, and dolphins. Not to mention, one of the largest known aggregation of whale sharks!
Each of Belize's top destinations offers something special. The diving around Ambergris Caye, San Pedro, and Caye Caulker in the north, is dominated by fringing and patch reefs mixed with sand channels. It's also where you'll have a chance to dive the mangrove forest, home to some of the country's most impressive macro creatures and manatees. Around Turneffe Atoll and Lighthouse Reef you'll find more limestone formations along the drop-off, including pinnacles, caverns and overhangs, and of course, the iconic Great Blue Hole. Finally, the southern region, around Placencia, Southwater Caye and Glover's Reef, boasts some of the country's most dramatic walls and big fish action, but it takes a bit of effort to get there with long boat rides and open ocean conditions.

Best time to dive in Belize
This Caribbean destination boasts a warm, tropical climate year round, with a peak tourist season during the dry months from December through April. Daily temperatures average around 26°C during this time, with occasional cooling winds that can develop into powerful gusts, especially in the afternoon and evening. 
The rainy season runs from June through November, with daily downpours and a chance of hurricanes between August and October. This can bring lower visibility due to runoff from the mainland, as well as waves and choppy surface conditions.
Water temperatures fluctuate very little in Belize, ranging from 27-30°C throughout the year. Most divers are perfectly comfortable in a shortie or skinsuit, but you might want to bring a 3mm if you get cold easily. Visibility is good, fluctuating between 20-30 metres on most sites. Overall, the best time to visit Belize for diving is May, when you'll enjoy excellent diving conditions and low tourist numbers. And it's whale shark season!
Ready to start planning your dive holiday?
Search, compare and book from our hand-picked resorts in Belize
The best scuba diving in Belize
As well as Belize's famous reef system, the country boasts three stunning coral atolls - ring-shaped reefs made of coral surrounding a central lagoon - exceptionally rare in the Western Hemisphere. Add over 450 coral cays and islets to the mix, and you've got an unparalleled opportunity for adventure!
Ambergris Caye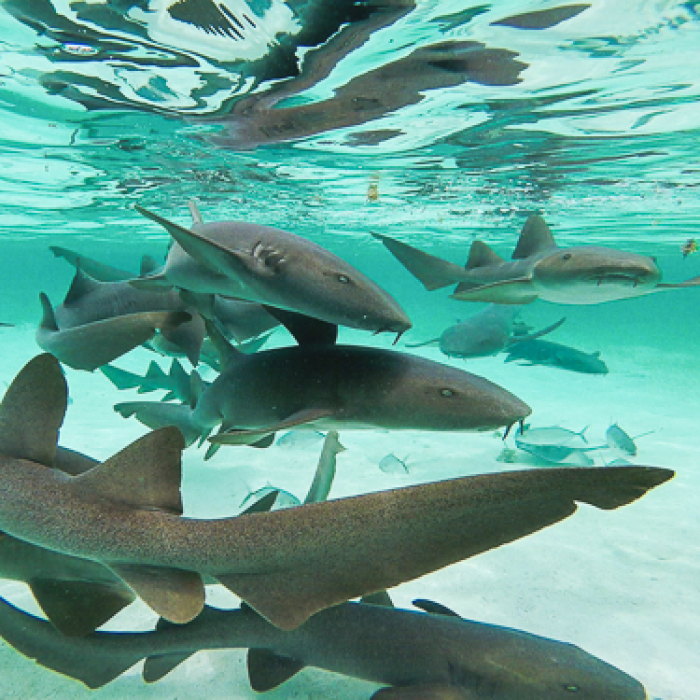 Ambergris Caye boasts sparkling white sand beaches, swaying palm trees, and calm turquoise bays for laid back reef exploration. This is also the home of Belize's oldest marine park - the Hol Chan Marine Reserve. You'll find four areas for exploration within the protected area, including vibrant fringing coral reef, turtlegrass beds, mangroves, and the world-famous Shark Ray Alley. Named for its signature species, this expansive sand flat is a snorkeler's paradise, with nurse sharks, Southern stingrays, and other animals gathering in the shallows. The reefs around Ambergris really come alive at night, with fascinating nocturnal animals and beautiful bioluminescence - millions of tiny microorganisms that light up and glow, casting vibrant neon blue light.
Lighthouse Atoll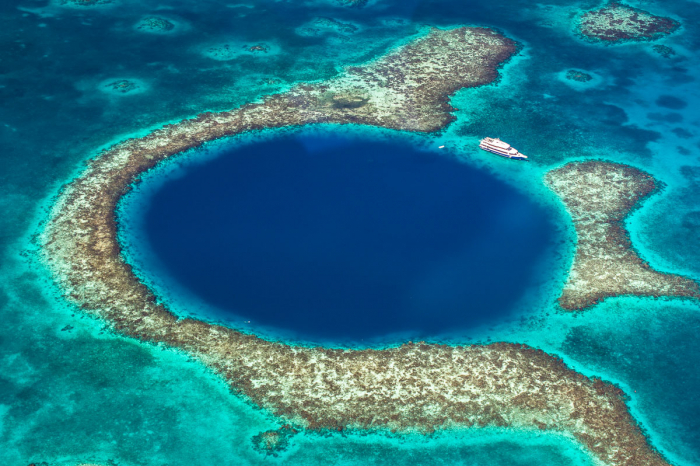 Belize's furthest offshore atoll faces the depths, with drop-offs to over 1,000 metres. So, it's the region where you're most likely to spot bigger marine life like reef sharks - especially around Half Moon Caye. The Lighthouse Atoll is also home to Belize's Great Blue Hole. This collapsed limestone cavern is over 300-metres wide and 125-metres deep, boasting fascinating underwater formations like undercuts and stalactites, and a powerful thermocline. Little marine life is spotted inside the formation at depth, but reef and bull sharks sometimes make appearances close to the surface.
Turneffe Atoll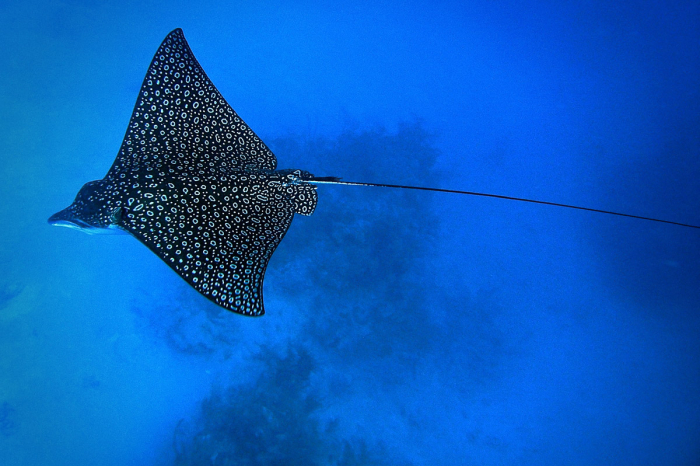 This diverse diving area is considered by many to be Belize's very best, thanks to its variety of sites and marine life. This is also Belize's most accessible coral atoll, with shorter boat rides from the mainland. Divers can encounter squadrons of eagle rays, massive moray eels, groupers, nurse sharks, and even reef sharks here! Schooling jacks and snappers are commonly spotted at the reef's edge, as are tarpon, one of Belize's signature species. But, don't get overly focused on the big stuff - there are plenty of seahorses, white-spotted toadfish, sea slugs, and cleaner shrimp hiding out in the coral. The Elbow is one of Turneffe's best sites, where a dramatic twist in the reef plus dizzying drop-offs creates an experience you'll never forget!
Glover's Atoll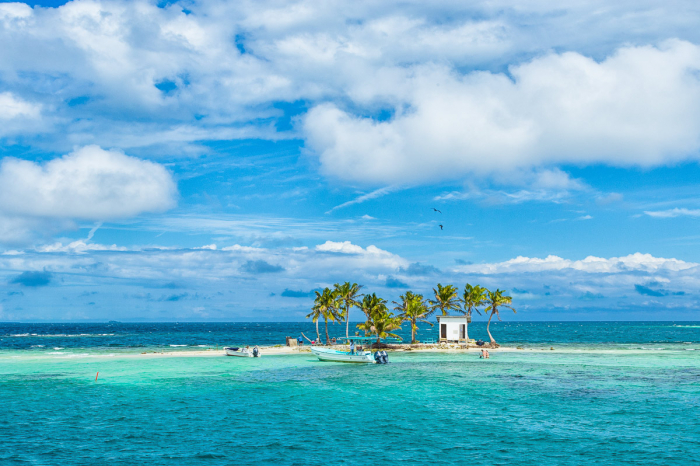 This is the most remote and least visited of Belize's coral atolls, located nearly 50 kilometres off the coast of Placencia. Divers can explore some of the country's most dramatic walls, with near-vertical drop-offs into the abyss dotted by caverns and overhangs, and fascinating underwater formations including a series of towering pinnacles. Glover's Atoll also boasts 700 individual patch reefs, each home to a staggering number of species. The atoll lies in close proximity to the Bartlett Trough - a deep ocean trench running all the way to the Cayman Islands, serving as a superhighway for marine wildlife. So, you never know what type of wildlife you might spot here. Whale sharks, reef mantas, lemon, reef, and nurse sharks all make surprise appearances - so be sure to keep one eye on the blue at all times.
Placencia and Gladden Spit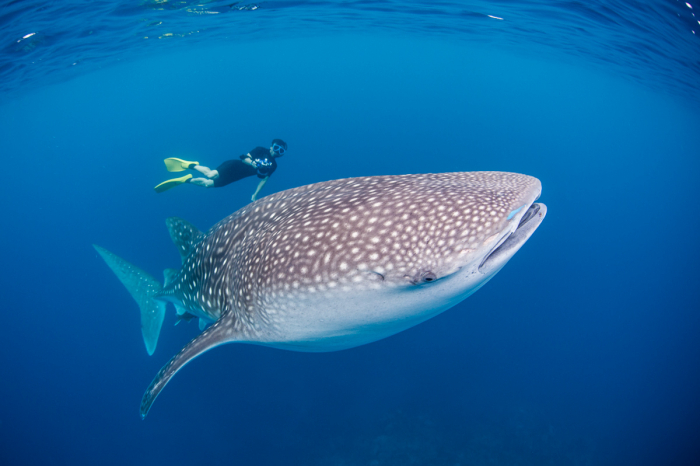 This is the whale shark capital of Belize, with a reliable annual aggregation taking place between March and June. Each year the whale sharks arrive to feed on the spawn of several fish species, including the Cubera snapper. So, for the best chances possible, you'll want to visit on or around the new moon, when the highest number of fish will be present and releasing their gametes. Sites around Placencia's Gladden Spit and Silk Cayes Marine Reserve offer the highest probability for a whale shark encounter underwater. But, most interactions take place in the shallows, as the sharks slowly cruise on the surface filtering thousands of gallons of seawater as they feed.
---
Need help planning your holiday in Belize?
Contact one of our dive travel experts today.

---
Tips on getting to the best diving in Belize
Getting to Belize is easy, with an international airport located just outside the capital, Belize City. Daily connections are available via the United States, Canada, and major hubs in Central and South America. On arrival, most guests book transportation directly to one of the country's resorts via ferry, private car, or domestic flight. 
Ambergris Caye, San Pedro, and Cay Caulker are the easiest destinations to access from the airport, with ferry services and domestic flights available every day. Turneffe Atoll and Lighthouse Reef require a little more effort to reach, with 90-minute water taxi rides and domestic flights throughout the week. Placencia is well connected to Belize City by daily domestic flights and buses, while Glover's Reef, one of Belize's most remote regions, can only be reached by helicopter or via a two and a half-hour long speedboat ride from Dangriga.
---
Join the ZuBlu community to receive the latest insights and unmissable adventures
Don't worry, we'll only send you really good stuff - and we never share your details
---