Looking for an encounter with the world's biggest fish? Southeast Asia and the Maldives are home to some of the world's best, and most reliable whale shark encounters. Keep reading to uncover the secrets behind these magnificent animals, and reveal the best places to dive and swim with them.

Despite being the largest fish in the sea, whale sharks remain shrouded in mystery. And, every year, the elusive and nomadic nature of these gentle giants compels tourists to visit far-flung destinations in search of a close encounter - the stuff of dreams for many scuba divers.

Locations such as the Galapagos Islands, Belize, Mexico and Australia have all earned reputations for regular encounters, but divers travelling within Asia also have an amazing chance of an encounter. So to help our guests live out their dreams and dive with a giant, we've put together a guide to the best destinations for close encounters with whale sharks in Asia - including exhilarating dive sites in the Maldives, Indonesia, Thailand and the Philippines.
Asia's best whale shark destinations
1. South Ari, Maldives
With year-round whale shark sightings almost guaranteed, South Ari Atoll is a spectacular destination for divers and snorkelers alike. Whale sharks can be found almost every day of the year in the plankton-rich waters of the Maamigili Marine Protected Area, which surrounds the reef at the southern tip of the atoll. Larger congregations of these sharks can be found during the coral spawning periods around the north-east monsoon which runs from December to March.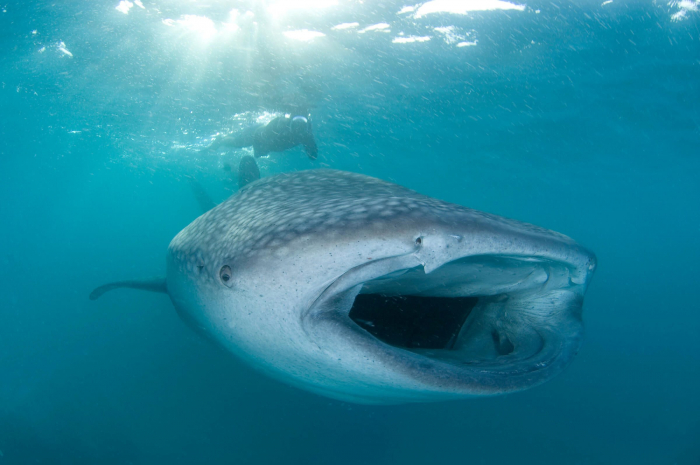 Resorts can often organise whale shark tours with experienced guides who know exactly where to look for these majestic creatures. Guests can enjoy the tropical beauty of the Maldives whilst keeping a close lookout for the distinctive shadow or a fin breaking the surface and once a whale shark is spotted, can snorkel alongside as they cruise and feed along the reef top.

Best time to visit: Sightings are common year-round, with larger congregations from December - March, during the north-east monsoon.
Best places to stay: Probably the best way to explore South Ari is to join a liveaboard trip - Carpe Diem and Blue Voyager have plenty of options. Otherwise, Boutique Beach, White Sands Dhigurah Resort and Mirihi are perfect island resorts.
---
2. Triton Bay, Indonesia
Triton Bay lies at the heart of Kaimana Marine Protected Area, in the far south of the Bird's Head Seascape, and is about as far from civilisation in Indonesia as it is possible to be. This remote area boasts spectacular scenery with dramatic karst cliffs, isolated pinnacles and islands as well as beautiful deserted beaches.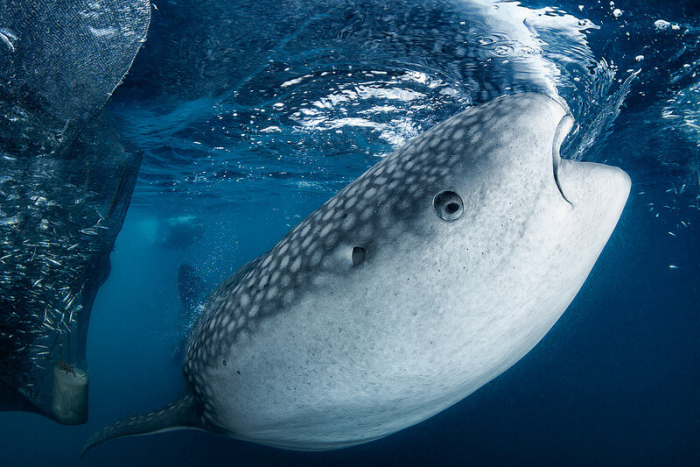 But one of Triton Bay's biggest draws are the whale sharks which congregate around large wooden fishing platforms known as 'bagans' to feed on anchovies and other baitfish. The local Kaimana fishermen have existed in harmony with the whale sharks for a long time, believing them to bring good fortune and a large catch. The 'bagans' target different species of fish at different times of the year, so encounters with whale sharks are never guaranteed. But if divers time their visit to coincide with the dark of the moon, when the fishing around the 'bagans' is at its best, they stand a very good chance of swimming with these huge sharks.

Best time to visit: Sightings are possible all season but conditions are best between October - March and chances are higher during the new moon. Triton Bay closes down from June to September when the strong winds of the southeast monsoon create rough conditions.
Best places to stay: The one and only Triton Bay Divers is the only resort in the area. But there are liveaboards that visit Triton Bay as part of trips exploring southern Raja Ampat.
---
3. Derawan, Indonesia
The string of islands, reefs and atolls that make up the Derawan Archipelago runs parallel to the coastline of Kalimantan's northern coast and offer a mix of different habitats including mangroves, fringing reefs and steep walls. 
Due to the effort required in getting to the islands, and the lack of any real tourism on the nearby mainland, these islands have remained 'under the radar' for many divers. Those who are willing to make the long journey to Derawan are rewarded with some incredible underwater experiences - including with whale sharks.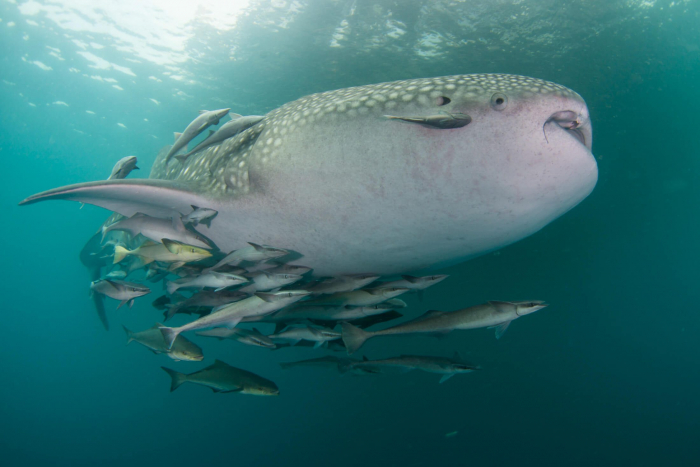 'Whale Shark Point' lies just 20 minutes from Derawan and is one of the area's best-kept secrets, with groups of these huge sharks congregating around the 'bagan' fishing platforms. Compared to other whale shark hot-spots in Southeast Asia, tourism in the Derawan area remains relatively low key allowing for a more relaxed experience.
In fact, Scuba Junkie Resort runs whale shark trips in collaboration with the local community, ensuring guests hire the boat and guide from the local village and that the community benefits directly from the presence of the sharks.

Best time to visit: Sightings at Derawan are typically possible from mid-September to mid-June. The strong winds which blow over the summer months force the fishing platforms, and the whale sharks, to more sheltered areas around Talisayan. Visit during each new moon to be in with a higher chance.
Best places to stay: Scuba Junkie on Dewaran Island is the closest resort to the whale shark 'bagans' but there are also alternative resorts on Maratua Atoll further to the east.
---
4. Koh Tao, Thailand
The island of Koh Tao is an idyllic paradise of white sand beaches fringed with palm trees, rugged hills and stunning sunsets. With protected shallow reefs and warm water, Koh Tao offers the perfect conditions for learning to scuba dive, making it a great dive holiday destination for all experience levels.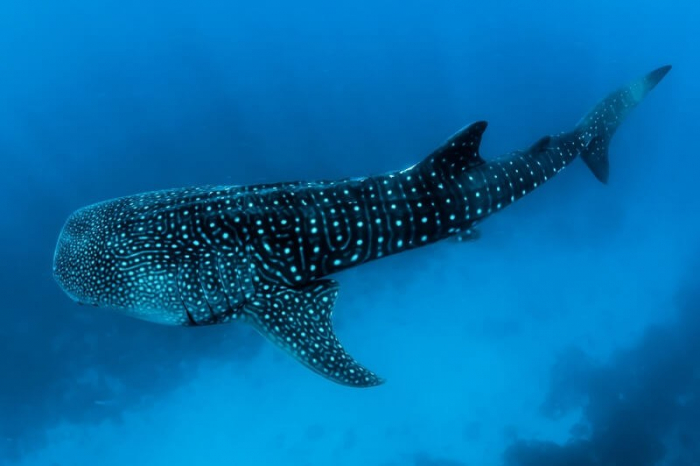 Whale sharks are also known to frequent the area around Koh Tao, particularly at famous sites such as Chumphon Pinnacles, Sail Rock, South West Pinnacle, Hin Wong Pinnacle and Shark Island. Some of these dive sites are not suitable for snorkelling and are more suited to advanced divers, but given the whale sharks like to visit other dive sites around the island, you never know what might swim by during your Open Water course - every season, a few lucky students get an encounter of a lifetime during a training dive!

Best time to visit: Whilst whale sharks can be encountered year round, there are two main seasons - the busy months of March - May and the quieter months of October - December when encounters are more frequent.
Best places to stay: The amazing Big Blue Diving is our resort of choice on Koh Tao.
---
5. Tubbataha, Philippines
Arguably one of the best dive destinations in the world, the remote Tubbataha marine park encompasses over 100,000 hectares of protected reefs at the heart of the coral triangle.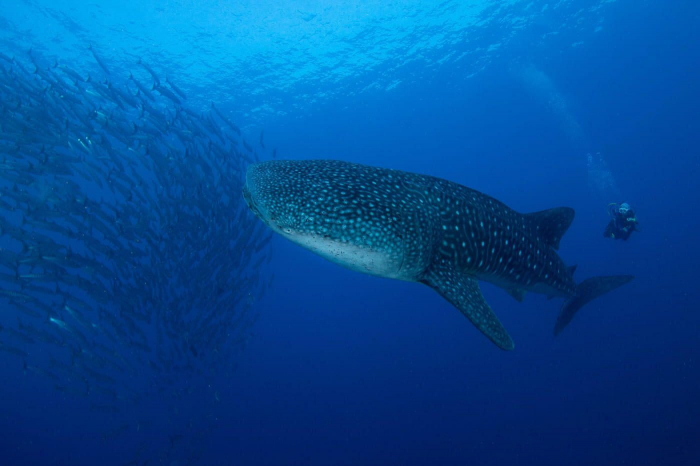 Located around 10 hours from Puerto Princesa in Palawan, Tubbataha is out of reach from any day-trippers, providing a buffer from the impacts of tourism and allowing marine life to flourish. The marine protected area comprises two large coral atolls, known as North Atoll and South Atoll, as well as a smaller coral structure named Jessie Beazley Reef, with whale sharks being seen around all three. Sightings of groups of sharks that enjoy interacting with divers are often reported here. Tubbataha is accessible only by liveaboard for just a few months a year, offering truly wild whale shark experiences. 

---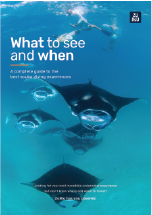 Discover when and where to travel for the ultimate underwater experiences in this free, 33 page guide to the best underwater experiences.

---
Wait, there's more!
Cenderawasih Bay on the eastern coast of the Bird's Head Peninsula also has regular sightings of whale sharks around the familiar bagans! Only accessible by liveaboard, this bay also offers beautiful diving on reefs along the southern coast and plenty of wrecks around Manokwari. 
Another great spot can be found at Hanifaru Bay in Baa Atoll, within the Maldives, where the funnel-like reef concentrates large amounts of plankton and attracts whale sharks which come to feed. It is also one of the few places on earth where whale sharks are known to congregate to mate. The area is protected, so only snorkelling is allowed, and visitors must pay a fee with all profits going towards the Baa Atoll Conservation Fund.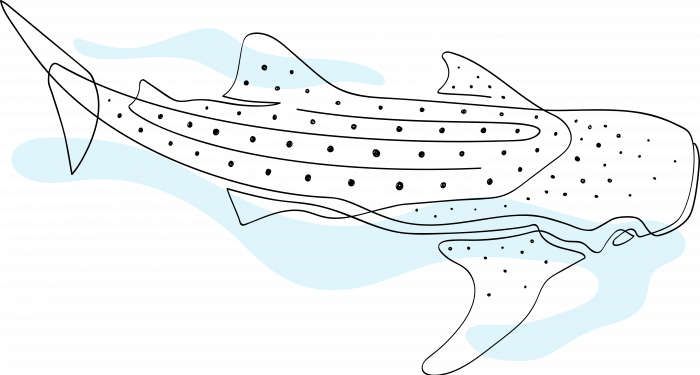 Whale sharks also migrate through the waters of Southern Leyte from November through May, with certain locations such as Sogod Bay being exceptional for sightings. Leyte is yet to be fully discovered by the dive industry, and as such offers peaceful, uncrowded waters. But if you're going to go in search of the largest fish in the sea, why not go a step further?
It turns out, Donsol in the province of Sorsogon attracts the Philippines largest whale sharks and hosts the largest known whale shark aggregation in Southeast Asia. The whale sharks are protected here and strict guidelines already in place, meaning you'll need a trained guide or spotter with you on every boat ride and only snorkelling is allowed.
Whale shark tourism to avoid
The town of Oslob, close to Cebu in the Philippines, is also famous for its whale shark watching, but at ZuBlu we believe this is an example of what to avoid. 
The sharks are regularly fed by the local fishermen, encouraging them to stay in the area longer than normal and increase any income from tourism. Although the natural whale shark season in Oslob is just a few months, sharks have been known to remain in the area for more than a year - because of the feeding!
These practices interrupt normal migration routes and can disrupt reproductive habits and for this reason, shark tourism in Oslob is not considered sustainable and we advise guests not to visit until the situation is resolved and rules of conduct for both the fisherman and the tourists have been put in place.
Whale shark facts
Whale sharks are members of the carpet shark family that includes nurse sharks, bamboo sharks, wobbegongs, leopard sharks and the carpet sharks themselves. They are a pelagic species, swimming in the open ocean throughout the tropics and in warm oceans above 21°C, but can also be found closer to land in lagoons or coral atolls.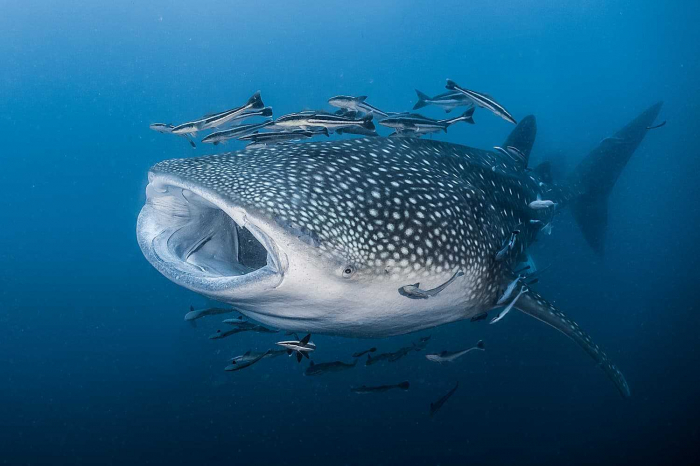 Although often seen by divers and snorkellers while feeding within 10-metres of the surface, these sharks have been recorded diving down to depths of 1,800-metres. Whale sharks are both solitary and highly migratory, travelling thousands of kilometres in some instances. The species' migratory habits are still largely unknown, meaning sightings are often pot-luck glimpses of lone individuals. Yet in certain parts of the world, such as Maamigili in the Maldives and Ningaloo in Australia, whale sharks are known to gather in larger numbers to feed.

---
Want to book your dream diving holiday?
Contact one of our dive travel experts today.

---
---
---
Join the ZuBlu community to receive the latest insights and unmissable adventures
Don't worry, we'll only send you really good stuff - and we never share your details
---