At first glance, the Seychelles and Maldives might seem very similar, both offering idyllic islands and atolls, beautiful beaches, luxurious resorts, and some of the very best diving in the Indian Ocean. So how do you decide which is right for your next scuba diving adventure? In this article, we'll explore what they have in common and how they differ, with details on what to expect above and below water, wildlife, conservation, and more! 

Keep reading for all the vital information to help you pick a destination and start planning your trip.
---
Ready to book your holiday to Seychelles or Maldives?
Contact one of our dive travel experts today.

---
Similarities between these remote archipelagos
The Seychelles and Maldives are both remote chains of islands and atolls in the Indian Ocean, famous for outstanding natural beauty, and world-class scuba diving and snorkelling. The main tourist hubs of these two tropical nations are similarly easy to reach - receiving daily arrivals from Europe, Asia and Africa, with access only becoming challenging as you travel to some of the far flung islands and atolls within each country. 
Both destinations are also synonymous with luxury, offering a tempting selection of exclusive private island resorts frequented by distinguished and discerning guests. But, if you prefer to get off the beaten path, or looking for something a little more affordable, you'll also find opportunities for frontier exploration, as well as midrange boutique hotels and authentic local guesthouses. 
The Seychelles and Maldives also share a similar colonial past and subsequent mix of cultures, with a rich history of spice trading and seafaring. For visitors, this adds up to interesting cultures, colourful local languages, and vibrant song and dance, along with famously warm hospitality and some of the friendliest locals you'll ever meet!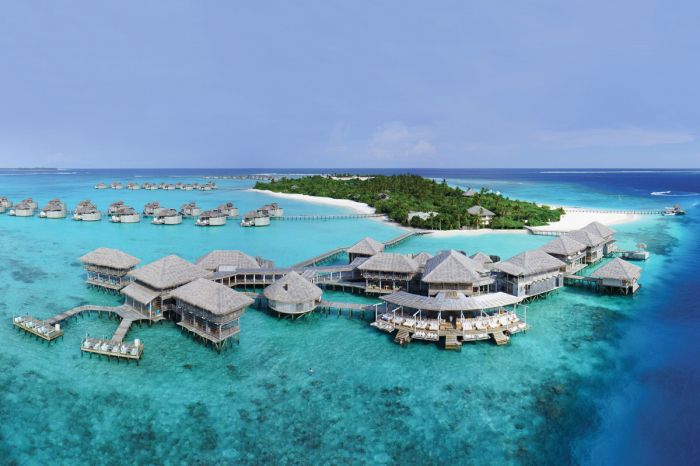 Seychelles or Maldives, what's the difference?
Whilst the two countries might share many similarities, there are also many differences - some of which are subtle, while others are likely to change your overall experience.  
Geography and topography
While they might look quite close on a map, the Seychelles and the Maldives are more than 2,000-kilometres apart. For example, Africa is the Seychelles' nearest landmass, located over 1,000-kilometres east, whereas the Maldives' nearest landmass is India, just 300-kilometres to the north. The countries' different geographical locations has influenced the island cultures and means the predominant weather patterns are markedly different.
With nearly 1,200 islands spread over 26 atolls and 90,000 square kilometres of ocean, the Maldives is one of the most geographically dispersed countries in the world. But, despite its impressive size, this country boasts less than 300-square kilometres of land in total! The Seychelles, on the other hand, is home to just over 100 islands, spanning more than a million square kilometres of ocean. With over 450-square kilometres of land, it's still a tiny country - but it dwarfs the Maldives by comparison. 
Both nations have picturesque, low-lying coral atolls, but the Seychelles is more famous for a completely different kind of scenery. Much like the Maldives, the Seychelles' southern Outer Islands were formed from coral. But, the northern Inner Islands broke off from a supercontinent hundreds of millions of years ago, and are made out of granite. This gives islands such as Mahe and Praslin a unique aesthetic with white sand beaches dotted by massive pink boulders. It also means the islands have mountain peaks swathed in jungle - a sight you simply won't find in the Maldives, which barely rises above sea level.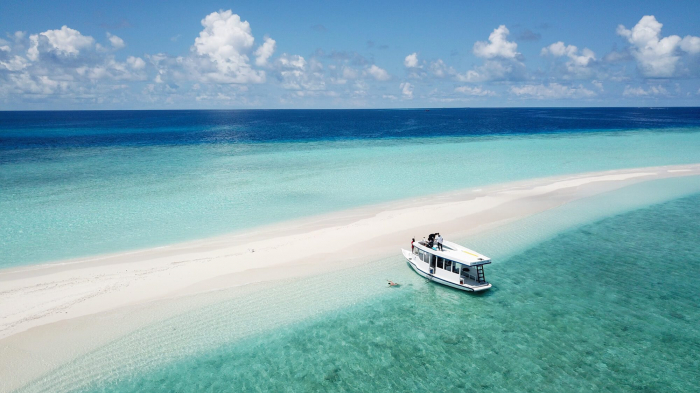 ---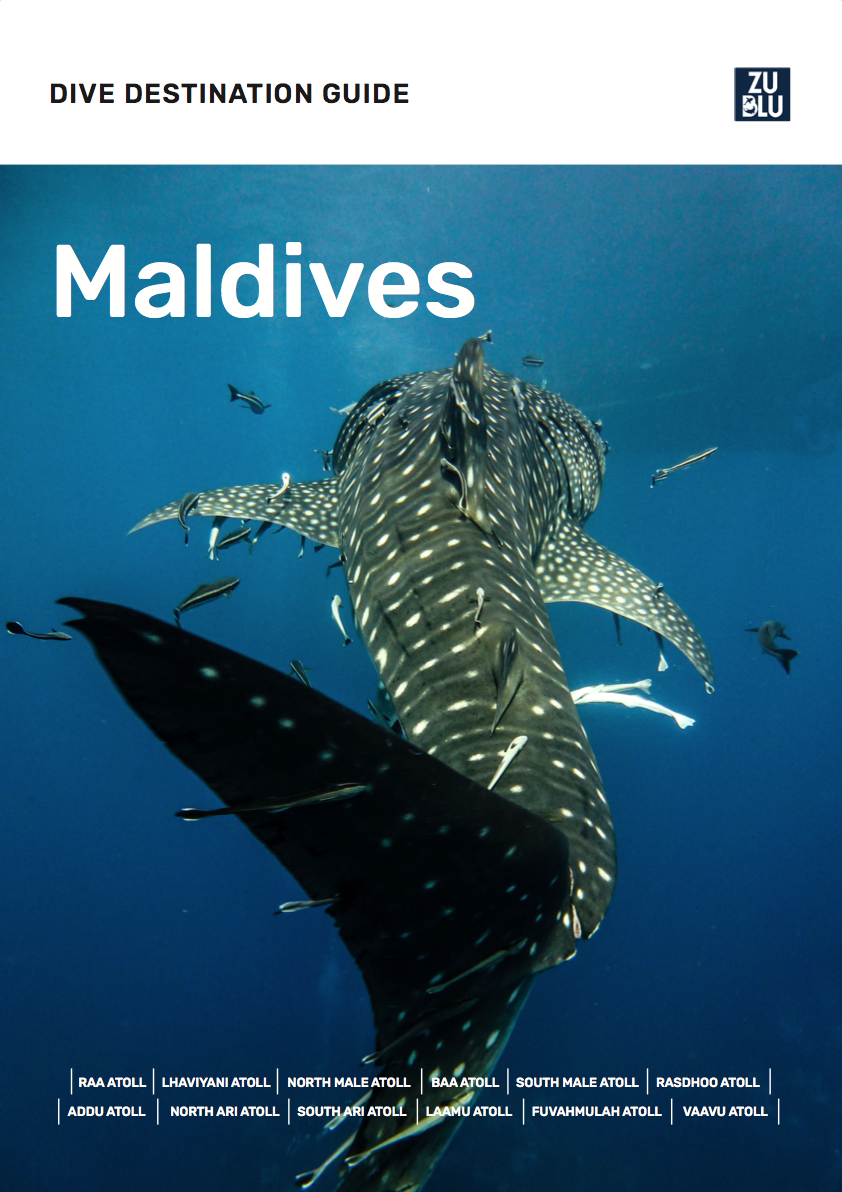 Complete guide to the best diving in the Maldives. Explore the atolls, seasons, and pro tips in this free 37 page destination guide.
---
Atmosphere
The Maldives is a classic vacation destination with a reputation as a far-flung playground for the rich and famous. Many of the islands in the atolls are occupied by exclusive private island resorts with high-end amenities, and surrounded by beautiful beaches and calm lagoons. Local islands, by contrast, offer homestays and small, quiet hotels immersed in authentic culture. Visitors should also note that many of the Maldives' local islands do not offer bikini beaches and the sale and consumption of alcohol are forbidden. 
While the Seychelles also offer plenty of opulent accommodations, including several exceptional private island resorts, the country's ambience is far more relaxed. The main islands are the only ones to see major tourist development, and even these hotspots still offer plenty of open spaces. Visitors can expect smaller resorts, and a low key version of luxury that lives in harmony with nature. 
Beyond the main islands, both the Maldives and the Seychelles offer more remote regions where it's possible to escape the crowds. These isolated islands and atolls are found far from the international airports and offer an adventurous atmosphere with fewer amenities but plenty of tempting oceanscapes to explore. In the Seychelles, the Cosmoldelo and Astove atolls are a top pick for frontier underwater exploration, accommodating just a handful of guests each year. The Maldives' southern atolls of Huvadhoo and Fuvahmulah are far better explored by comparison, but still offer a sleepy sort of atmosphere and some of the planet's best shark diving.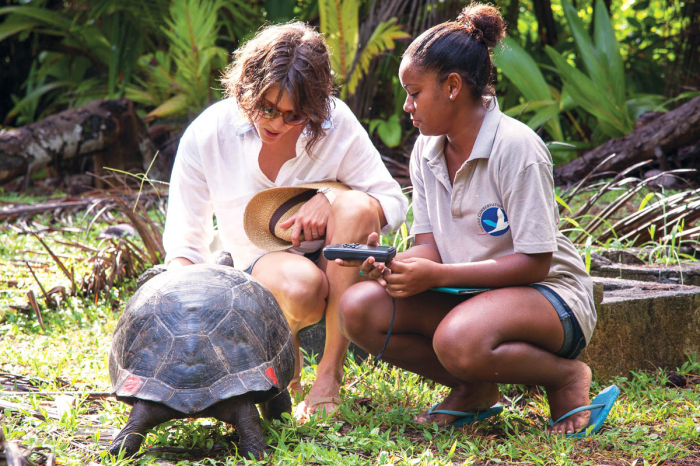 Ready to start planning your holiday to the Maldives?
Search, compare and book from our top resorts.
Sustainability
Conservation and protection are essential to these countries, with much of their income supported by tourism. As of 2020, the Maldives was home to 44 protected areas, covering 428,569 hectares of ocean and 273 hectares of land. These parks aim to preserve the region's signature species including whale sharks, manta rays, and the endemic flying fox, as well as the coral reefs that surround its idyllic atolls. 
In the Seychelles, conservation reigns supreme, with over 30% of the country's ocean and waterways under government protection as of 2021 - including 18 individual marine parks. The region's land-based national parks are extremely important as well, protecting fascinating endemic species like fruit bats, giant tortoises, and the world's largest coconut.
Ready to start planning your holiday to the Seychelles?
Search, compare and book from our top resorts.
Differences in the diving
From what wildlife you'll see to the type of sites you'll dive, some of the biggest differences between these two archipelagos are found beneath the waves.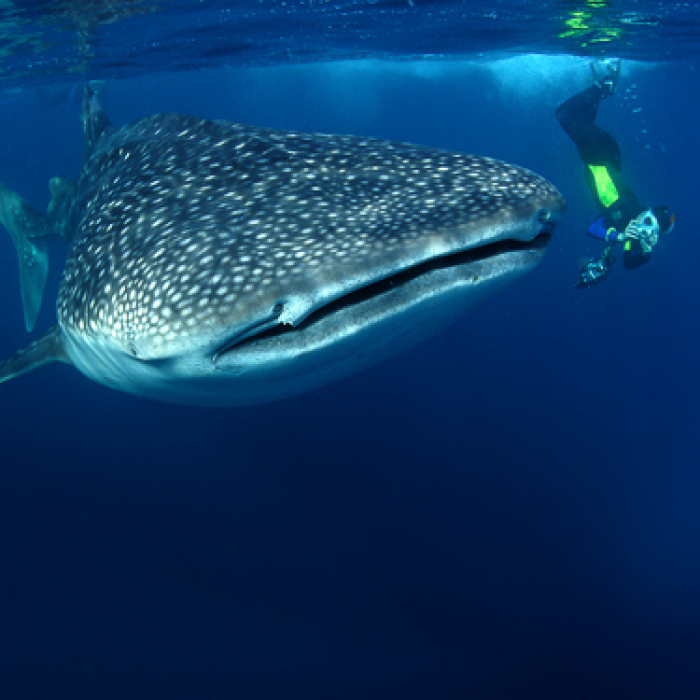 Underwater environment
Offering a wide variety of underwater experiences, both the Maldives and the Seychelles have plenty to offer divers of all skill levels. But, the environments you find yourself exploring still differ dramatically between the two. In the Maldives, some of the best diving is in channels that connect the inner atoll lagoons with the open ocean, funnelling nutrient-rich currents back and forth and attracting plenty of marine life. Within the lagoons, coral thilas also attract fish life galore and some are as famous as the channels. In the Seychelles' Inner Islands, diving tends to focus on boulder-strewn reefs and submerged banks, while the Outer Islands are home to atolls with plunging walls covered in pristine coral.

Despite its popularity as a tourist destination, and after suffering several bleaching events in recent years, many of the Maldives' reefs remain in good condition. Other areas, especially in the deep south, still lie largely untouched as well, with little impact from tourism and plenty of strong nutrient-rich currents that help fuel coral growth. In the Seychelles, deeper reefs along the archipelago's near-vertical walls, primarily around the remote Outer Islands, are about as pristine as you're likely to see. Fortunately, both destinations are home to vast coral gardens that add a bright pop of colour to the underwater landscape and appear far less prone to temperature-related bleaching.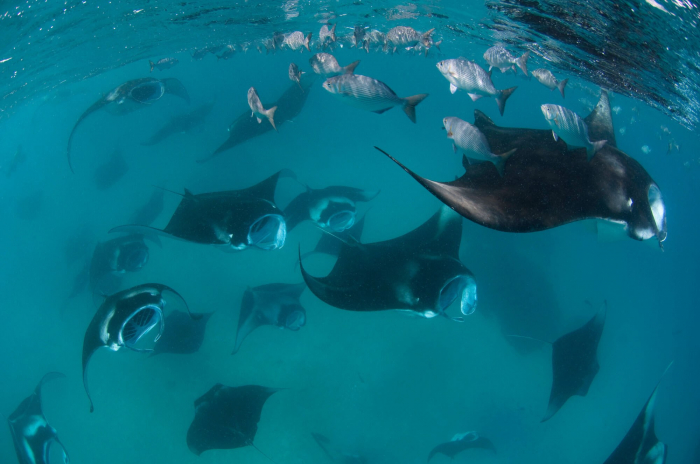 Marine life
Both the Maldives and the Seychelles are well-known for offering up-close encounters with large oceanic animals, including turtles, sharks, dolphins and rays. But, these destinations are actually home to a very different diversity of marine life, offering totally distinct underwater experiences.

In the Maldives, you're likely to spot sharks on nearly every dive. While the most common species are reef and nurse sharks, some areas boast regular sightings of tiger sharks, hammerheads, and even threshers! By contrast, the Seychelles has a much smaller population of sharks, but hosts wildlife that you're unlikely to dive with elsewhere, including sailfish and the Indian Ocean's only resident population of dugongs.
These far-flung island chains were once both renowned for encounters with whale sharks. But, today, sightings in the Maldives are far more reliable, especially if you're visiting known whale shark and manta aggregation sites like Hanifaru or South Ari Atoll. Whale sharks can still be seen in the Seychelles, but sightings are becoming increasingly rare. Mahe's North West Bay is often believed to offer some of the highest chances of an encounter during their peak season, between September and November, although many believe the Outer Islands are now the better option. The Seychelles is, however, home to resident reef mantas at D'Arros Island in the Amirantes Group, but with lower numbers and less predictable patterns than the Maldives.
---
Need help planning your next dive holiday?
Chat with one of our travel experts today!

---
---
Join the ZuBlu community to receive the latest insights and unmissable adventures
Don't worry, we'll only send you really good stuff - and we never share your details
---